The Reebok ZR8 is a treadmill model with an efficient and super interactive unit to keep you healthy and fit. It helps you perform both intense and slow workouts and makes sure you burn all the extra calories.
But is this machine worth your money? With so many other cheaper options available in the market, does the performance of the Reebok ZR8 treadmill justify its price?
You might have so many burning questions in your mind. So, without any delay, let's find their answers through this article.
Dig in for a detailed review of the Reebok ZR8 treadmill. From its essential features to its design flaws, you will find all the information here.
Features
This unit has a unique design that can help you increase your workout pace gradually. Besides, this folding treadmill model comes with some interesting features that enhance its performance. 
Highlighted Features
2 HP motor
Maximum speed 16kph
12 incline levels (electronic)
Soft drop folding mechanism
Handlebars with pulse sensors
Built-in speakers
24 pre-set programmes
Maximum user capacity of 110kg
10-years warranty on motor and lifetime warranty of frame
Dimensions and Assembly
The weight of the Reebok ZR8 treadmill model is 67 kg. But when packed, the overall weight increases to 78 kg.
Besides, here is a breakdown of this unit's dimensions:
When fully assembled, the machine measures 64x 29×56 inches.
However, its folded dimensions are 40x29x56 inches.
The folding dimensions clearly show that you can easily fit this unit in your small shared apartment. You can adjust this treadmill model in a corner or under your stairs.
Moreover, the soft fold mechanism means that you won't have to put much effort while folding or unfolding this unit. As a result, you won't hurt your fingers and will not drop this machine while fixing it. 
Delivery and Setup
Like most other Reebok treadmills, this treadmill model doesn't take much effort to start running. It comes almost assembled, and you only have to tighten a few bolts and remove the safety cap before plugging it into a socket. In addition, you can read the manual instructions to reduce your time and effort.
But, we would recommend you to get this machine delivered rather than picking it yourself from the warehouse. Also, if you don't have any help, let the delivery men put the machine in its rightful place. This treadmill model is heavy, and you won't be able to move it alone.
Console and Data Tracking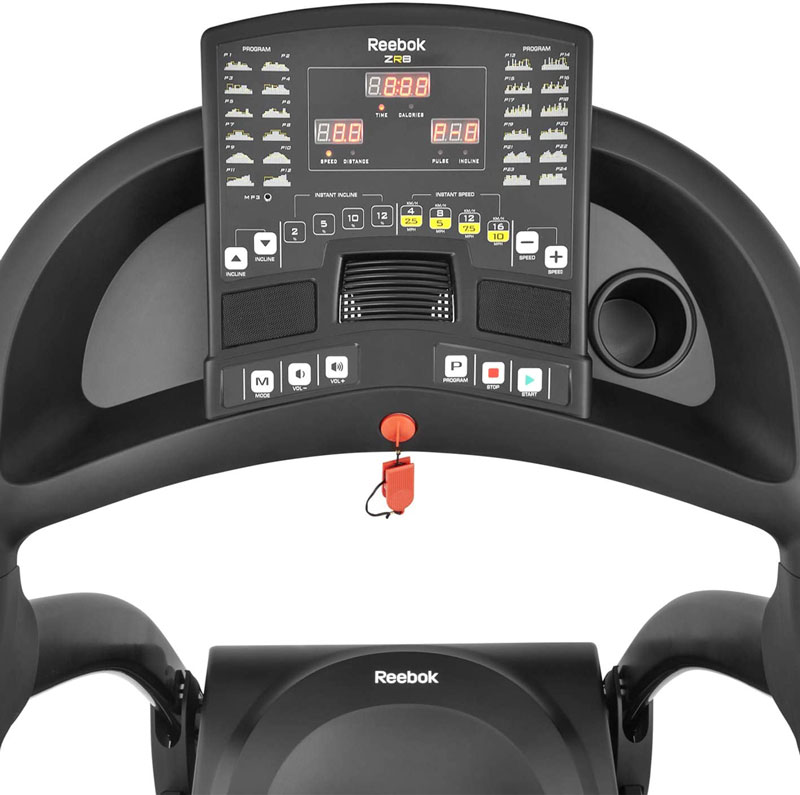 One of the most amazing things about Reebok is that all its treadmills have consoles with different looks and features. It is probably because the brand wants to meet the tastes of various people. However, all Reebok treadmills have great-looking consoles regardless of their models.
The Reebok ZR8's console isn't an exception. It meets high standards and looks pretty stylish. The console comes with three LED screens that display the usual data such as speed, calories, distance covered and pulse rate.
On both sides of the LCD, you can easily see 12 graphics that highlight the basic information about the pre-set programmes available.
In addition, the console's bottom contains buttons. You can use these buttons to adjust incline and speed. But you can also perform these adjustments by using the handlebars.
The buttons have a separation that contains built-in speakers. These speakers work well but don't expect a top-notch sound quality. Besides, this treadmill model doesn't provide a Bluetooth connection which might be a slight issue for people spending a lot on this unit.
There is a coin tray-like plate on the console's left side that can easily hold your tab or phone. And below the tray, there is an input jack as well.
Moreover, you will find a holder to keep your drinks or water bottle on the console's right side. This feature is quite helpful because it saves you from running to the kitchen whenever you are thirsty.
Most consoles do have a cooling fan on one of their sides. But this feature is missing in the ZR8 treadmill which might disappoint people with no windows or proper source of air in their gym area.
Overall, the console of this treadmill model is quite intuitive. It has a simple layout and has big buttons to help you start the machine without any help.
Speed and Incline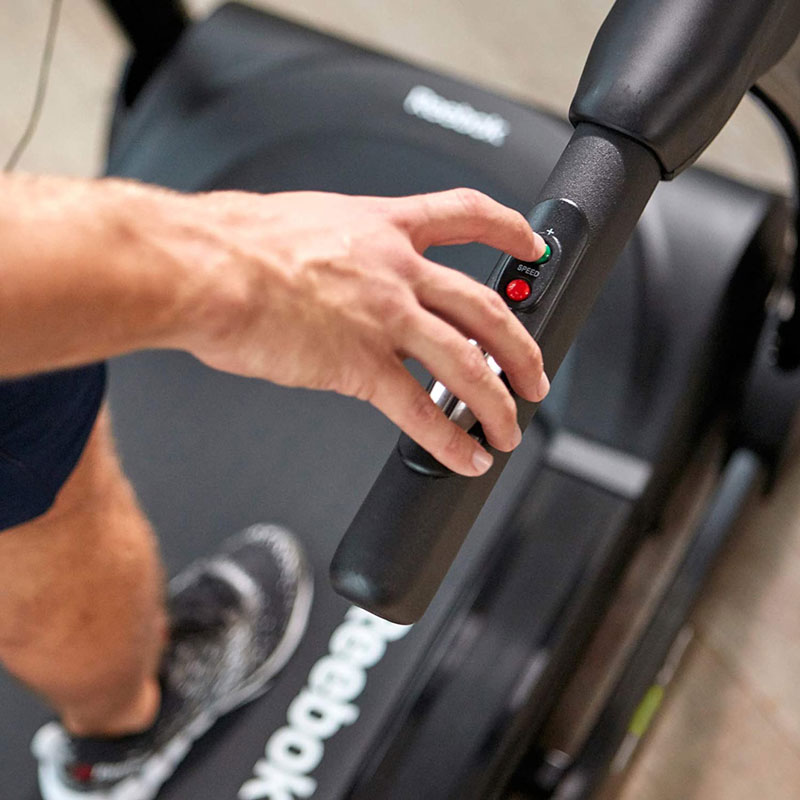 The Reebok ZR8 treadmill model features a 2HP motor. The motor works efficiently and can help you to reach a maximum speed of 16kph. However, if you are a fast runner or a professional, you may find this horsepower inadequate.
Despite this factor, the motor comes with a 10-year warranty which means you don't have to worry about its quality. As a result, the machine can work for a long and reliable period.
This treadmill model has 12 incline levels. The levels offer you to make your workout less or more challenging, which is relatively healthy for your fitness goals.
Noise
Unlike most treadmill models that you will find in the market, the Reebok ZR8 isn't a noisy machine. Instead, it comes with an efficient motor and a well-structured cushioning system that keep the foot strikes and engine noise quite low.
This factor clearly means that you can use this unit in your shared property quite easily. Besides, if you live in a closed neighbourhood, using this treadmill model at an odd hour won't be an issue for you.
Running Deck
This treadmill model has a running deck area of 50x 16 inches. The dimensions are pretty reasonable as the extra width and length add value for users who want to use the unit for running.
Another thing great about the treadmills belt is its cushioning system. The ZigTech system helps you to run comfortably on the machine and also reduces the impact on your knees. Moreover, you feel good about pushing yourself and experimenting with high speed.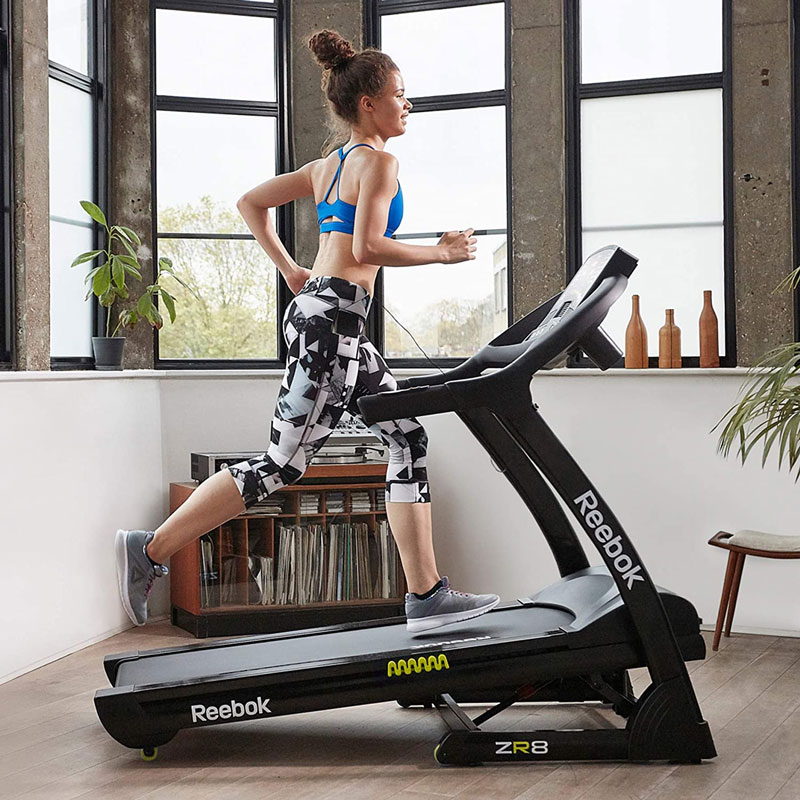 This means that you can use this machine for a slow walk after an injury. Besides, if you have an elderly member at home, they can also hop on this treadmill model and improve mobility.
The running deck on the Reebok ZR8 treadmill is relatively stable and well-built. It can easily hold a maximum weight of 110 kg at a time. However, if you are a heavier individual, you might want to try other models from the Reebok portfolio.
Safety Features
If you have ever experienced an accident on a treadmill before, we assure you that it won't happen again with the Reebok ZR8 treadmill model. It is because this unit exhibits a solid structure and durable parts that don't break easily.
But you will have to make sure to look after the unit. For instance, keep the deck clean and cover the treadmill when not in use. You should also keep any food items away from the machine, so its console and deck remain safe.
This treadmill model comes with a shut-off key safety feature. It is easily accessible and helps turn off the machine as soon as you drift apart or fall.
The unit's handlebars also help provide extra support. While they are often used for their pulse sensors, you can use them as support while experiencing an unstable situation.
Other than these features, the deck's cushioning system doesn't disappoint. It gives plenty of grip and comfort to your feet so you can run at high speeds without falling. Most treadmills have wobbly decks, but that's not the case with this model.
Warranty
You will love Reebok for its excellent warranty on its treadmills. The warranty tenure clearly shows the brand's quality standards.
For instance, the ZR8 treadmills come with a lifetime warranty on their frame. In addition, its motor has a 10-year warranty. Finally, all the parts and labour also come with a 2-year warranty.
The return policies of the brand are also quite user-friendly. For instance, if you have found any flaws in the treadmill's performance or quality, you can return the unit within 30 days from the date of delivery.
However, a brand's representative will check the unit properly before taking it back with him. So, make sure that your treadmill unit's quality hasn't changed.
Pros and Cons
Are you still confused about buying the Reebok ZR8 treadmill? Here is a summary of the units prominent pros and cons:
Pros
This is a perfectly designed unit for slow and intense workouts.
It is made from durable materials and has high-quality parts.
The treadmill is super-easy to assemble.
It comes with a good console with easy operations.
You can enjoy a pleasurable experience by running on the treadmill's comfortable and cushioned deck.
It comes with a shut-off key for high-quality safety.
Reebok offers an excellent warranty on this treadmill.
The treadmill offers 12 incline levels and noiseless performance.
You can keep your tablet, phone or bottles in the holders provided.
Cons
The Reebok ZR8 treadmill is an expensive unit.
It doesn't come with a Bluetooth connection.
The built-in speakers do not offer a good sound quality.
This treadmill model can't hold a weight of more than 110kg.
Since the maximum speed reached is only 16kph, it may fail to cater to most expert runners.
Reebok ZR8 Treadmill's Comparison with Competitors
The Reebok ZR8 treadmill is an excellent machine with so many good features. However, it isn't right to make a decision until and unless you have adequately compared it with other similar units in the market.
So, how does the Reebok ZR8 treadmill stand against its competitors? Is this machine worth its high price tag, or is there a better option available in the market? Let's find out!
When it comes to competitors, the ZR8 treadmill has two of them. The Reebok GT40S and York Aspire Active 120 treadmills are pretty similar yet different from ZR8.
Average Price
The average price of Reebok ZR8 is £1K, but you can easily find it on sale for £700 or less at times. However, we understand that this price tag is quite significant and many people might fail to afford it.
The Reebok One GT40S is quite similar to the ZR8 treadmill, but it is available for £599.99 only. Similarly, the York Aspire Active 120 is also around £600, which shows that this treadmill is cheaper than ZR8.
But that doesn't mean you shouldn't get the Reebok ZR8 because of its high price. Prices change with seasons, so it is always great to check the current rates and then decide.
Speed/Incline/Motor
Interestingly, all three competitors have 12 levels of incline and a maximum speed of 16kph.
Moreover, they have a similar 2HP motor and even the same maximum weight capacity. With these similar functional features, the high price of the Reebok ZR8 does raise a few questions.
Pre-set Programmes
The Reebok ZR8 treadmill has 24 pre-set programmes which is a significant number. But at the same time, the GT40s treadmill model has 36. That's quite a significant difference.
On the other hand, the York Active 120 treadmill offers only 13 workout plans. This number is relatively low when compared to ZR8.
So, after analysing these differences, we have concluded that the treadmill model ZR8 is a little overpriced. Considering the tough competition it faces, Reebok should take measures to lower its price in the market.
Verdict
We have finally reached the end of this review. The Reebok ZR8 is an excellent treadmill model with some great features and excellent performance.
Besides, the unit exhibits a solid structure that can hold a good amount of weight at a time. This treadmill also comes with essential components such as a tray and a bottle holder to make your experience convenient.
But we can't deny that when compared to its competitors, the ZR8 treadmill is a little pricey. So, if you love this machine for yourself, wait for a sale or find a trader that can sell you this unit at a low rate.