While on the hunt for the best and most well-received workout machine, you might have come across the Reebok Jet 100 treadmill. It is a wonderful addition to Reebok's ideal range of practical and affordable treadmills. Moreover, this machine gives the user the liberty to enjoy a high-quality workout under their safe roof.
In this article, let's review what this machine has to offer. Is the Reebok Jet 100 treadmill a perfect unit, or are there any design loopholes as well? 
How is it better than its similar versions available in the market? Read to find the answers to all these burning questions. 
Features
According to professionals, the Reebok Jet 100 treadmill has many non-complicated features, which makes it relatively easy to use for everyone. Moreover, this unit doesn't lack advanced functionality and serves its user pretty well.
Here are some aspects that you will easily find in the Reebok Jet 100:
Ease of Use
As a beginner or a veteran user, you would prefer a treadmill that doesn't require much homework to perform. On the other hand, an intuitive display and easy-to-operate system is a choice of everyone who hates wasting time understanding a unit.
The Reebok Jet 100 treadmill is just that and more. This unit features large buttons in white colour that works practically well for everyone. You don't have to make an effort to change settings or to fluctuate your speed. 
Unlike most other similar treadmills, this unit features a well-positioned monitor to check heart rate. In addition, it is located in an easy-to-grip position and presents accurate data only.
Besides, if you are a music lover, the Jet 100 treadmill also provides built-in speakers for convenience. So you only have to plug in your mp3 player and enjoy music without headphones. However, the speaker quality is not top-notch, so don't expect much.
Unfortunately, this treadmill model doesn't offer Bluetooth compatibility. So, if you are used to this technology, you might find it hard to work out on the treadmill.
The Reebok Jet 100 treadmill also features two holders to place your drinks or bottles. This means you don't have to leave your workout in the middle and run to grab a glass of water. Moreover, you will also find a holder to place your phone or tablet.
This unit also offers an adjustable fan. However, again, this feature doesn't offer much. It won't make you feel cool as a cucumber, but if you do not have access to windows or a ceiling fan, it may just save you from fainting due to extreme sweat.
Lastly, the treadmill is equipped with transport wheels. This feature is great for people who move their fitness equipment every now and then for a change of scenery.
Console and Data Tracking
Once this machine is plugged in, the first thing you will notice is the treadmill's LED screen. Unfortunately, like other Reebok models such as Jet 300, the screen isn't quite interactive. But it features easy-to-use and large buttons that work great for people who want to only focus on their running.
If you wear glasses, the bold buttons become quite convenient to operate. Besides, the console display's red digits are easily readable without putting any stress on the eyes.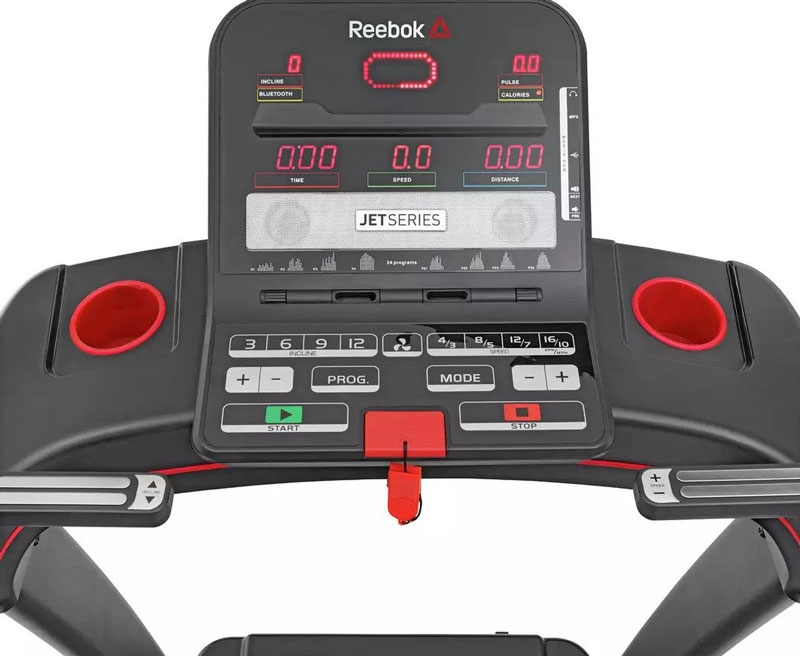 However, it is important to mention here that this console isn't very stylish. It may look like a child's toy to some.
But, for any piece of gym equipment, visibility should always take priority over style. So, it isn't a wide idea to reject Jet 100 just because of its basic-looking console.
In addition, the Jet 100 treadmill's console gives adequate feedback when it comes to data tracking. For instance, it does display your speed, calories count, pulse rate, incline, and distance travelled.
The Jet 100 treadmill offers 24 pre-set programmes, and you can access them easily. In fact, you won't even have to look at the manual to start a program.
These workout plans help adjust the incline speed automatically. Moreover, the console also allows you to modify the workout as per your speed and incline level.
Motor and Horsepower
If you want to experience brilliant traction, the Jet 100 treadmill's motor will not disappoint. It has a horsepower of two which gives enough power to reach a maximum speed of 16kph.
The 2HP motor is perfectly designed for strenuous workouts. But if you plan to use the machine continually, don't do that for more than two hours.
Since the motor in this treadmill is primary, it doesn't use much power, and so you are saved from paying huge electricity bills on even regular use.
This fantastic unit offers 12 levels of incline which means you have the opportunity to make your workout harsh and challenging.
Noise Levels
The Jet 100 treadmill is famous for its low noise levels. It means that you can focus attentively on your workout without worrying much about any disturbing noises.
Having a treadmill that works quietly is a blessing if you live in a shared property or in an apartment with thin walls.
However, like any other treadmill or workout machine for that matter, Jet 100 makes a noise at high speeds. It is because the belt moves quite faster than usual.
Durability
The Reebok Jet 100 treadmill is a solid piece of equipment. It offers excellent durability and longevity. Besides, since it is made of high-quality materials, you won't get a broken part right after using the unit for just a week.
This unit has a compact structure that makes it convenient to store it in your tight space. The treadmill has a width of 30 inches and a height of 54 inches. When folded, these dimensions are changed to 30 and 58 inches respectively.
Moreover, it has a weight capacity of 110 kg. That's a good number, but the machine might shake and get unbalanced if you are heavier than this weight.
While the Reebok Jet 100 treadmill offers a great build, it is a heavy unit. It weighs 80kg, and you will have a hard time transporting it from the warehouse to your home. So, even if you have to pay more, we would recommend you to choose van delivery.
Belt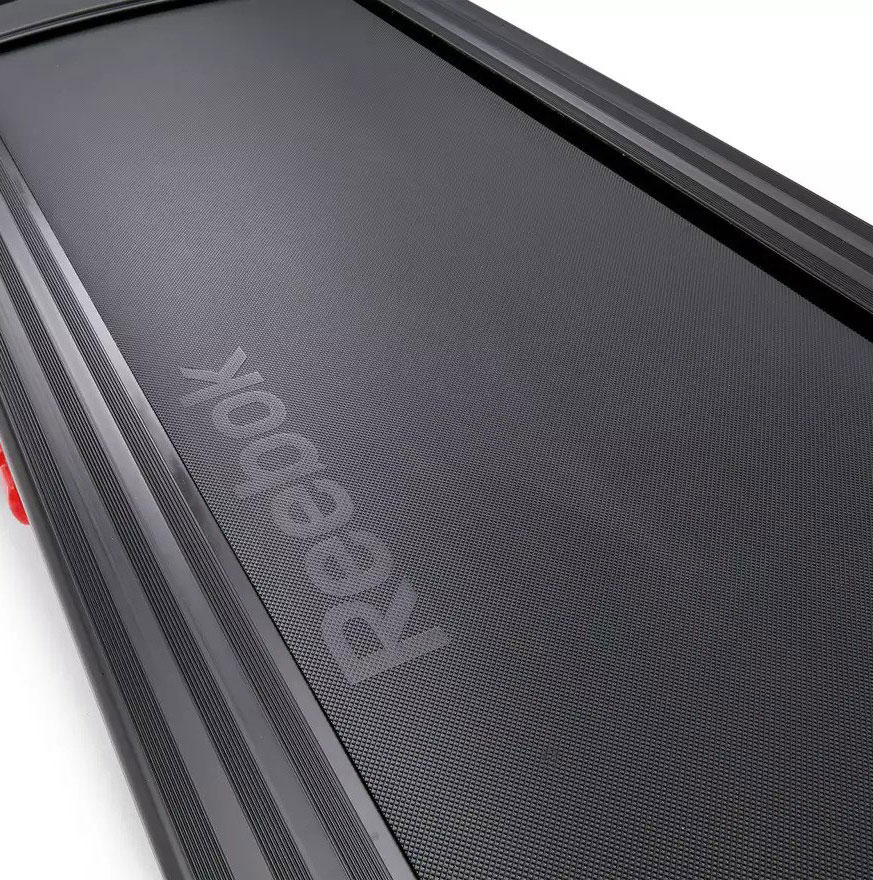 This treadmill has a durable, firm, and stretch-resistant belt. In addition, it comes with shock absorbers that reduce any risk of accidents and uncertainties that may harm you or intercept your workout. 
The belt has a length of 51 inches and a width of 17 inches. The width is a little more than most low-end treadmills, which significantly affects the user's comfort.
Also, here is an invisible detail that most users cannot see and are unaware of. The Jet 100 treadmill is equipped with Air Motion Technology.
Reebok believes in excellent cushioning for their machines, and even the low-end units have this quality. This technology helps provide your feet with pockets of air so you can run on the belt comfortably. It is safe to say that running on this treadmill feels like moving on a high-end mattress.
Safety Features
When you plan to buy a workout machine, giving attention to its safety features is quite imperative. It is because they increase the value of the unit and are a good sign of the unit's user-friendly qualities.
Similar to most treadmills like Jet 200 and Jet 300, the Jet 100 treadmill also has the safety feature of auto-stop. This function uses a red cord that you can clip to your shirt. When the cord is pulled, the magnet attached to the treadmill comes off, which automatically stops the treadmill.
This feature is commonly available on most treadmills. However, since it is designed for your safety, you should clip the cord even if you plan to run at a low speed.
The Reebok Jet 100 treadmill has two handlebars on its front. Upon first glance, you might find this addition strange, but these handlebars work well for support and help you regain balance when required. Moreover, the handlebars come with pulse sensors, so you can also use them to calculate your heart rate.
Warranty
Reebok offers a 2-year warranty on the frame of the Jet 100 treadmill. This is a pretty reasonable period, but compared to the lifetime warranty on the Jet 300 treadmill's frame, the quality of the former does raise a few questions.
Secondly, the brand provides a 10-year warranty on the motor and a 2-year warranty on different parts.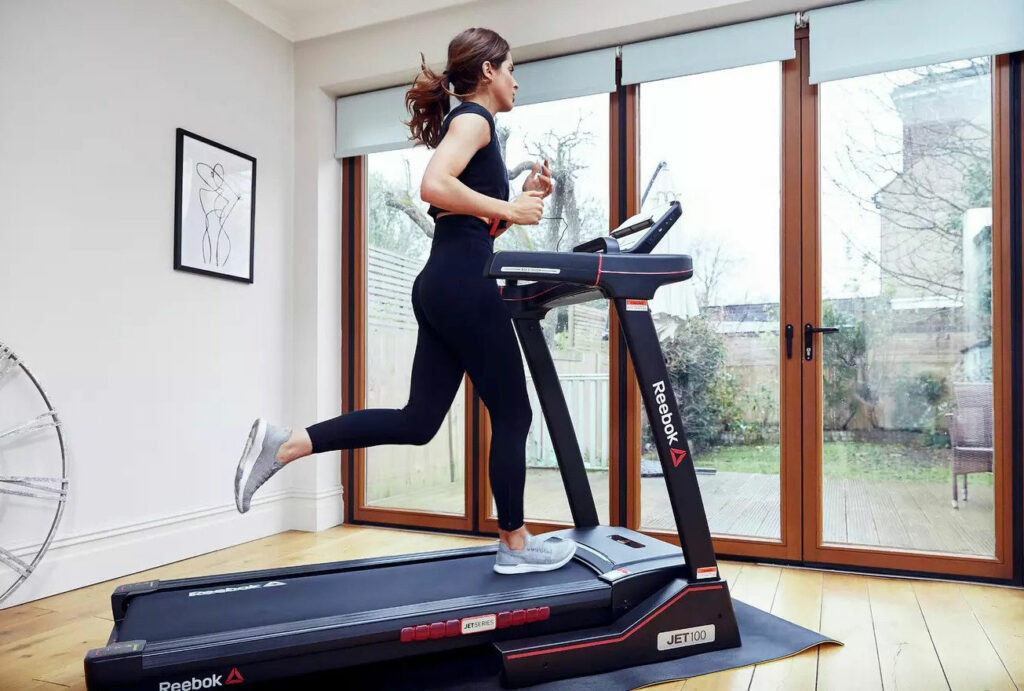 If you find a fault in your purchase or the machine fails to work correctly, you can return the Jet 100 within 30 days from the date of delivery. According to the brand's return policy, the unit should be in the same state as when bought, and Reebok doesn't pay for any delivery charges.
Pros and Cons
As you would have already guessed, this section will cover a summary of all the pros and cons of the Reebok Jet 100 treadmill. So, take a look and see if the good points outweigh the bad ones for you.
Pros
Made with solid material and so has a durable structure
Comes with an easy setup with big buttons and an intuitive display
Equipped with a powerful motor
Affordable piece of equipment
Contains many safety features such as emergency stop
Air Motion Technology for a smooth workout
Adequate warranty period
Cons
Doesn't come with Bluetooth integration
Heavy unit
Can't hold weight more than 110kg
Console isn't very stylish
Running time is a maximum of 2 hours
Delivery and Setup
The weight of the packaged Jet 100 treadmill is 76kgs. So, it is wise to have it delivered to your place rather than buying it from a store.
But the good news is that the treadmill arrives as 90% assembled. This means you don't have to put any effort into making it work.
However, you are required to lift the treadmill's frame, remove any safety caps and tighten the screws.
One of the best things about the Reebok Jet 100 treadmill is that it can easily fold. So, even if you do not have enough space in your accommodation, you can easily adjust it in your room's corner or under the bed as soon as it arrives.
Reebok Jet 100 Treadmill Vs. Competitors
The Afton Sole 85 and F65 are two major competitors of the Jet 100 treadmill. All of them are designed for domestic purposes, but the F65 treadmill has a much more powerful motor of 3.25HP. 
Moreover, both Afton Sole 85 and F65 have 15 incline levels compared to Jet 100's 12.
However, it is safe to say that Jet 100 is far less expensive than the other two. In addition, Reebok is an excellent brand with a good reputation, so investing in this treadmill will be safe and worth every pound. This factor is crucial for people who are buying a treadmill for the first time.
Reebok Jet 100 Treadmill Vs. Other Reebok Treadmills
It is crucial to analyse the performance of Jet 100 with other Reebok treadmills so you can make a wise decision. For instance, Jet 100 and Jet 300 are only designed for domestic use, but Jet 200 can be used in commercial and domestic spaces.
Besides, when it comes to pre-set programs, Jet 100 offers only 24 while Jet 300 has 27 of such workout plans. This difference is vital for people who consider such programs worthy of their money.
While Jet 100 has a 2HP motor, Jet 200 has a 2.25 HP motor and Jet 300 has a 2.5 HP one. Similarly, the incline levels in Jet 300 are 15, while Jet 100 only offers 12.
It is essential to mention that Jet 300 is an upgraded version of Jet 100, so it is acceptable to see these differences. However, the former is more expensive than the latter. So, if you are on a tight budget or are not a regular treadmill user, Reebok Jet 100 treadmill will make the best choice.
The weight capacity of both Jet 200 and Jet 300 is higher than Jet 100. It is 140kg for Jet 300, 120kg for Jet 200, and 110 for Jet 100. Therefore, if you are a heavier individual with a weight above 110kg, it is safe for you to go for other versions. 
There is also a Jet 300+ treadmill, but that is far more efficient than even Jet 300. Moreover, it is more expensive.
More Models
The Reebok Jet 100 treadmill is quite similar to Reebok's GT40S and GT30. All of them have the same number of incline levels and maximum speed range.
However, Jet 100 has a much more powerful motor than GT30. In comparison, GT30 has only 16 pre-set programs while Jet 100 has 24, and GT40S has 36.
Verdict
Overall, the Reebok Jet 100 treadmill is a great machine when considering all the aspects. It is pretty affordable and also exhibits all the essential features. In addition, the durability and functionality are up to the mark, which enhances the user experience.
You can use this treadmill for both light and intense workouts. Moreover, it is so easy to use that you can ask your elderly members to use it for an easy run now and then.