Have you ever considered buying an ab toning belt to achieve your dream body? If not, it's about time you save some funds and add this product to your fitness arsenal.
We all plan a host of training and diets to get our bodies in shape every year. However, it gets tricky for some to take out time for rigorous and extended workout plans with a busy lifestyle.
Fortunately, inventions like an ab toning belt exist. This fitness product helps tone your abdominal muscles and gives you a reason to stay fit.
If you are interested to know everything about this item, you have landed on the right page. Dive into our in-depth review of six excellent belts and buckle up for some amazing facts.
How Does an Ab Toning Belt Work?
We all want nice abs, don't we? Even those who already have good ones need better abs and look their best. However, can you get a six-pack by placing an ab toning belt on your body?
To find an answer, let's explore this electronic equipment in detail.
An ab toning belt uses EMS or electrical muscle stimulation to cause muscle contraction in our bodies. For example, when the belt touches your skin, the electric electrodes send pulses through the body and get the work done.
You are not required to do any sit-ups or push-ups during this process. Just wear the belt, fix it around the waist and choose the level of electrical current you want to experience for your desired muscle contractions.
While wearing a belt, you may feel many different prickly sensations in your body. For some people, this feeling is comforting
However, it may create a discomfort for many until they use one regularly.
An ab toning belt is quite similar to a nerve stimulation machine or TENS unit. However, a toning belt stimulates your muscles while a TENS targets your nerves.
Can an Ab Toning Belt Reduce Belly Fat?
A toning belt works amazingly for your muscles and is an excellent alternative to cumbersome crutches. However, this fitness invention may not be helpful enough to reduce belly fat.
The most major misconception among users about a toning belt is that this equipment may help to reduce their belly fat to zero. But when it doesn't, they feel disappointed and start questioning the belt's performance.
However, a toning belt was never made for that purpose. Instead, its main aim is to tone your abs, and that is why this tool works best for people with low muscle mass.
In fact, an excessive amount of belly fat can affect the overall performance of this belt. This is because it can hinder the transfer of electric current from the belt to the muscles.
So, before buying an ab toning belt, be clear of its objective and the results you should expect.
How to Use an Ab Toning Belt?
Every electronic abs belt varies, and it is always wise to read the specific instructions before using this fitness item. However, considering the general rule, ab toning belts are worn around the waist area. Moreover, they should be worn for between 10 to 60 minutes only.
If you want to achieve quick results, a high rate of muscle stimulation and a prolonged period can work effectively for your benefit.
But there is something important to mention here. The best ab toning belts may react with defibrillators or pacemakers. So if you use any of these devices, it's better to consult your doctor before wrapping an ab toning belt on your body.
How to Achieve Faster Results?
Many of you would expect to achieve maximum results while using an ab toning belt regularly.
We don't blame you for keeping high expectations from this fantastic invention. But to achieve results you can always make some lifestyle changes to complement the performance of the belt.
For instance, shift to a healthier diet and get rid of all the excess fat. This step will enhance the performance of the belt and give you toned abs in a much shorter time.
Moreover, spend some time working out while wearing this belt. If you do not have enough time and energy, practise some yoga moves and help maximise the belt's performance.
The Best Ab Toning Belts for Sale Review
So, have we convinced you enough to get an ab toning belt? We hope we have because you deserve this fantastic equipment to gain those perfect abs.
Without further ado, read through the reviews below and find a recommendation that may suit your requirements.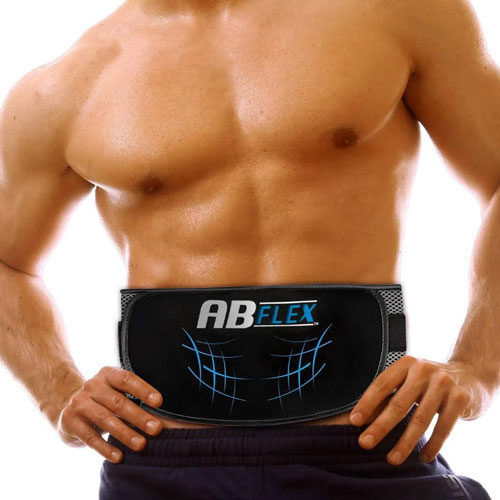 The Abflex ab toning belt is one of the best fitness equipment available. Its benefits undeniably outweigh its drawbacks, and that is why this belt has taken the first spot on this list.
This high performing ab belt work on EMS technology. The electric muscle stimulation transmits electrical impulses in your body that create muscle contractions similar to crunches and sit-ups. This technology works perfectly for busy individuals who find it hard to work out daily.
The Abflex ab toning belt offers 99 intensity levels. That is quite an impressive number.
You can control ten belly-busting program settings with the intensity level of your choice using an easy-to-use controller. The best thing about a controller is that it is simple to learn and operate.
You can start with a low-intensity level and gradually speed up the contractions to enjoy a fantastic performance. Also, to maximise your results, include a healthy diet and exercise in your routine.
The Abflex ab toning belt can easily adjust on your stomach area. Moreover, it is pretty lightweight and slim to carry on your body while you are working.
Besides, the design of this belt may suit both men and women. It is a slick piece that everyone would love to flaunt.
Moreover, you do not have to replace the pads at all. The belt only requires you to apply a long-lasting and cheap gel frequently on the pads to maintain the performance of this fitness tool.
With all the positives above, it is imperative to mention a significant flaw of this product.
The Abflex ab toning belt doesn't have powerful batteries, which means you may find the need to replace them frequently. That's quite a bummer and adds extra cost to your overall expense.
Pros
Slim and lightweight belt
Offers ten programmes and 99 intensity levels
Design perfect for both men and women
Doesn't require the replacement of pads
Comes with a remote controller
Cons
Batteries are not very powerful
Doesn't burn fat
Expensive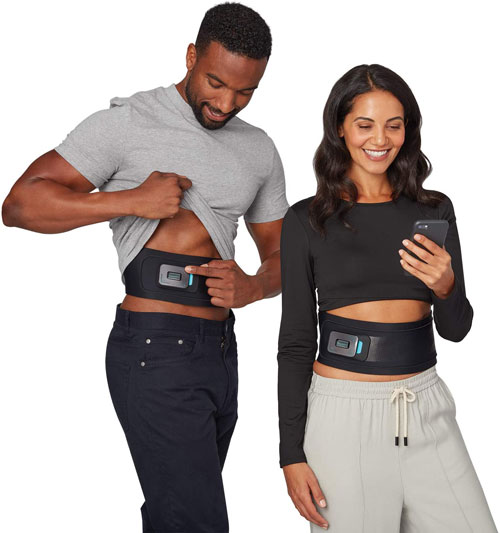 Slendertone is an Irish company famous for its products and fantastic marketing campaigns. The Abs8 is one of the well-received products that has changed the lives of many users around the world.
This toning belt is a better and more effective version of Abs7. According to the manufacturer, Abs8 can be used five days a week for a maximum of 30 minutes daily. When used as per instructions, this ab toning belt can produce significant results within four weeks.
The Abs8 toning belt comes with an LCD screen, ten pre-set workout programmes and a whooping 100 intensity levels. Unfortunately, the LCD is a little small.
However, it shows your battery left, intensity levels and programmes that you can use. Moreover, it also mentions your progress through the sessions completed. Thus, this device can also be utilised both passively and actively according to your preference.
The Abs8 is perfect for waists between 24 and 42 inches. It makes this belt ideal for many users who would love to have perfect abs. However, if you have a waistline of above 42 inches, go for some other belt option, or we would suggest you follow a healthy diet and workout routine to reduce your waist size.
This toning belt comes with a remote controller that works amazingly through powered batteries. The remote is easy to use and takes about three hours to charge fully.
The Slendertone Abs8 belt is super easy to wear and supports your body even while walking or jogging. Besides, its setup is pretty simple, and you can start by applying the gel pads on the right spot.
Overall, the Slendertone Abs8 is quite a fantastic product in the market. With its user-friendly features and excellent performance, it may make a great addition to your fitness kit.
Pros
Comes with an LCD
Two programmes and 100 intensity levels
Perfect for waists between 24 and 42 inches
Uses remote controller
Quick to wear
Cons
May not work well with people waist size above 42 inches
Small LCD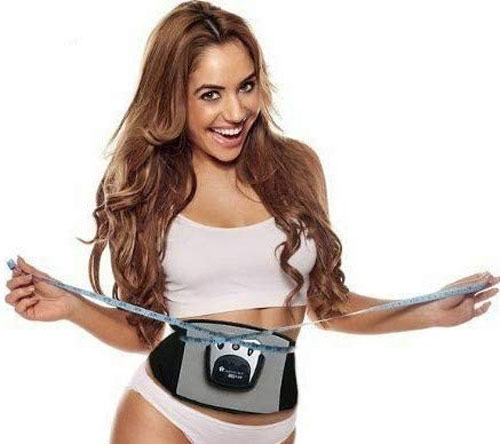 The Homefront Slim Pro-XV1000 is an advanced unisex belt that uses EMS technology to target your abdominal muscles. This machine has two water contact and wear-free electrodes that use conducting carbon.
With the presence of these electrodes, you may not require to spend money on gel pads or pad replacement anytime soon. However, if you prefer, you can use gel to prevent the pads from drying out.
The Slim Pro belt is amazingly slim, adjustable and flexible. Besides, it is pretty appropriate for waist sizes between 26 inches and 51inches.
This advanced ab toning belt by Homefront offers 40 levels of intensity and five pre-set programmes for your workout regimen. You can safely wear this belt for 22 to 30 minutes every five days a week.
The Slim Pro features an LCD in the middle of its design to show some primary data. Moreover, it has safety switches and easy-to-use controllers, making this belt perfect for most users.
When it comes to price, the Slim Pro-VX1000 is pretty affordable compared to many similar options in the market. You can easily find yourself in an appropriate setting and fix this belt on different parts of the body.
However, compared to the other two options above, this Homefront belt may not disappoint in achieving faster results for you. Besides, with few intensity settings and programmes, many users may not feel attracted to this item.
Pros
Affordable belt
Ergonomic design
Comes with an LCD screen
Offers 40 intensity levels with five programmes
Easy controllers
Affordable
Cons
May not product results faster than other options
Has fewer programs and intensity settings than Abs 8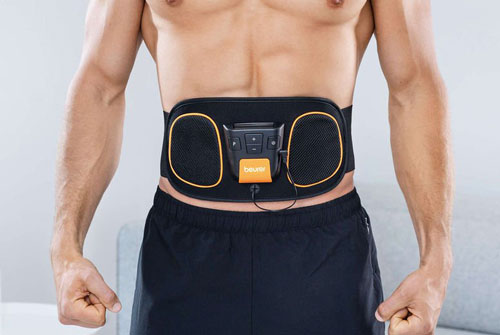 Is it hard to spare some time every day for a few crunches and sit-ups? We understand your situation as a busy lifestyle; it is nearly impossible even to move a leg sometimes. However, this hindrance shouldn't come in between your dream of getting toned abs.
The Beurer EM32 belt is quite an affordable piece of equipment for people looking forward to gaining powerful abs without putting in any effort. This product uses EMS technology to transmit electrical pulses in your body and initiate a muscle contraction process.
The EM32 toning belt has similar features found in Abs8's. The display and central controller are both user-friendly. The LCD screen displays five pre-set programs and 40 intensity levels for all kinds of users.
Moreover, the Beurer EM32 features an adjustable design that can suit all people with waist sizes between 26 inches and 55 inches.
This ab toning belt produces electrodes that are wear-free and are made of carbon. This implies that you won't need conduction gel or replace pads frequently.
Overall, the Beurer EM32 belt is pretty suitable for people with tight budgets. However, it is essential to mention a design issue here. This belt has a large strap which may be somewhat uncomfortable for people with trim waistlines.
Besides, this toning belt may fail to give you heavy abs quickly. To overcome that issue, you may need to do many resistance exercises and achieve the results of your dreams.
Pros
Affordable belt
Comes with 40 intensity levels and five programs
Adjustable
No gel pads required
Features LCD screen
Cons
Large and uncomfortable strap
May require workouts to gain bulging abs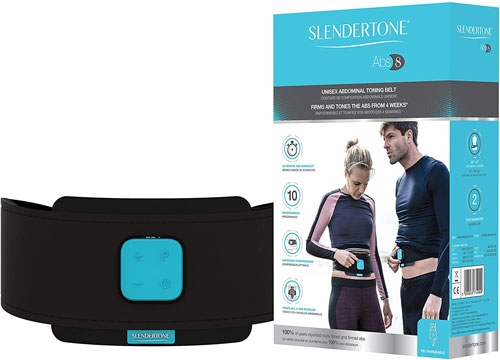 The Connect Ab toning belt is Slendertone's flagship product. Interestingly, this belt has almost all features similar to Abs8 except that it is controlled and connected through the Slendertone app.
In addition, this app has both iOs and Android versions, which makes it quite accessible for different users worldwide.
The process of setting the belt is pretty intuitive and straightforward. However, many users have complained about poor connections between their phones and belts. However, that isn't a primary concern as long as you can get a hold of their customer service to sort this issue out.
Moreover, to avoid this problem, make sure you have updated your phone's software and have downloaded the app's latest version only.
The Connect ab toning belt features a rechargeable controller that gives the required power to the belt. Moreover, it also has gel pads that improve the performance of this fitness tool. The controller has a screen, but it only shows the battery levels.
According to the manufacturers, you can use the Connect ab toning belt for a maximum of 30 minutes every day. For effective results, wear the belt five days a week.
The Slendertone app is pretty impressive for people with no exercise experience or little workout motivation. It allows you to choose from any five pre-set programs and 100 intensity levels to start your toning journey. Besides, it will compare your performance with other users to motivate you to do better.
However, many users aren't tech-savvy and don't know how to use a smartphone. For them, Abs8 can be a great alternative to the Connect toning belt.
The Slendertone Connect toning belt is made for people with waist sizes between 24inches and 42 inches. However, if you have a bigger waistline, you can always choose another belt from the list.
Pros
Controlled through an intuitive app
Straightforward operation
Offer 100 intensity levels
Powerful batteries
Great for people with zero motivation
Cons
Complaints about problems with the app
Offers only five programs
Not for tech-savvy users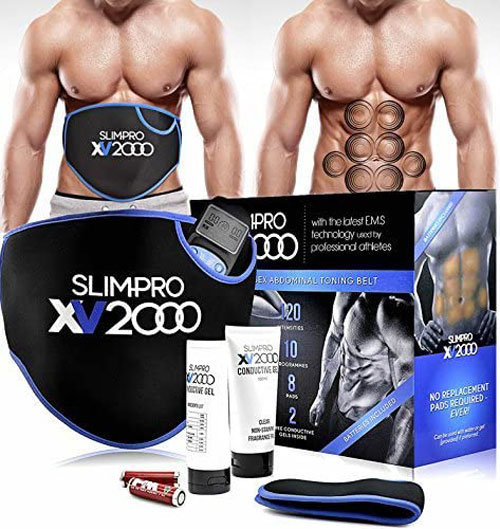 As an abdominal and an oblique toner, the Homefront XV2000 features an eight pad advanced technology. This ab toning belt also offers 120 user-friendly intensity levels with ten pre-set programs to support your dream for perfect abs.
The Homefront XV2000 toning belt operates through EMS technology and converts your flab into firm muscles. Besides, if you exercise daily and eat balanced food, this super-effective belt helps to improve your figure and health.
This toning belt features an LCD control that displays your performance with any other required data. Moreover, the belt has a flexible design that fits amazingly with water or gel. As a result, you do not require cumbersome and expensive pad replacements at all.
The Homefront XV2000 belt comes with an extension strap that can make this valuable product for people with a waist size of 47inches. Moreover, the belt is also accompanied by a 12-month warranty, batteries and the company's service support for a year.
According to the manufacturer, you can safely use this belt for 30 minutes every day. Wearing the belt five days a week will produce similar results to doing high-intensity crunches.
Pros
Used as an oblique and abdominal toner
Offers 120 intensity levels and ten programs
Flexible design
Offers 12-year warranty
Features an LCD screen
Cons
May not work well for waist sizes above 47 inches
Not made for tall users
Benefits of Using an Ab Toning Belt
Before you head out to find the best ab toning belt in the market, enlighten yourself with some fantastic benefits of using this fitness device.
Promotes Effortless Toning of the Muscles
We have already discussed how this belt can accelerate the toning of your muscles without you putting in any effort. There is no need to perform crunches or other floor exercises to achieve a tight abdomen when you have a belt wrapped around your waist.
Moreover, some users also claim that an ab toning belt can burn calories. This may be a little misleading as abs belts are not as effective in burning calories as cardio workouts.
But, the heat produced after your muscles contract may accelerate the metabolism and speed up the calorie-burning process. Also, the current passing through the body may affect your blood circulation positively and aid your body's fast metabolism.
Preferred for Physical Therapy
Most abs belts are also used for rehab and physical therapy. However, you will have to check with your doctor before using one for these purposes.
Most specialists use ab toning belts for their bedridden patients. This tool prevents muscle atrophy and aids muscle retraining.
Enhances Relaxation
You may wonder how an electric current passing through your body enhances relaxation, right? Well, it may not sound practical, but when used correctly and placed in the correct position, a toning belt can act as a massaging device.
It helps release relaxing sensations that can reduce stress and anxiety by a great deal. Besides, the stimulation promotes serotonin production that has a positive impact on your mood and sleep.
Comfortable and Convenient to Use
Do you know that you can wear an ab toning belt under your clothes while you are out for work? Some belts are so breathable and lightweight that no one would ever figure out their presence.
Besides, the pad in the belt sticks tightly to your skin, allowing you to move freely without worrying about the belt moving or falling off.
The simplicity in wearing this equipment is a wholesome benefit in itself. You just have to wrap the belt around your waist, set the current strength, and let the electrodes handle the rest.
While wearing this belt, you can easily do other tasks which makes this equipment pretty useful for many busy individuals.
How To Pick the Best Ab Toning Belt?
Here's hoping the above recommendations have helped you to shortlist your favourite ab toning belts. However, you may find selecting only one a little challenging.
But if you consider the factors below, the selection process will become quick and straightforward.
Waist Size
It is quite a prominent factor. However, still many people take it for granted before selecting the best ab toning belt.
So, before you buy a belt, make sure your waist size is accurate and meets the product's specifications. A large belt on a tiny waist is a waste of money, and so is a small strap on a big waistline.
Belt's Weight
A majority of the best toning belts are lightweight. However, you may be lured to buy the heavy ones if your budget is limited.
You have every right to pick a product according to the money in your pocket, but make sure it isn't heavier than your weight capacity. For example, a bulky belt may not stick well to your body and may drop often.
Besides, it will be uncomfortable to carry it, and you will always find reasons to take it off.
Available Intensity Levels
Toning belts offer many intensity levels and allow you to upgrade your potential after every few days. Moreover, a wide range of intensities helps you to advance from a beginner to an experienced consumer in a short time.
Number and Quality of Pad
It is easy to pick a belt that comes with the same number of pads that you prefer. However, it isn't quite convenient to identify and evaluate the quality of these pads without trying them out.
The high-quality toning belts often have comfortable and durable pads. And this factor is significant if you want to enjoy your belt for a long time.
Controllers
All toning belts have controllers. However, they may be different from each other in many ways.
For instance, most belts have buttons on them to control their programming. But many are operated using a remote control or a cord that attaches an app with the belt.
Depending on your understanding of technology, choose a belt that has an easy-to-use controller.
For example, some users may prefer the buttons because they may not know how to operate remotely. Similarly, some advanced clients may choose belts with cords to connect with an app and enjoy the number of programmes they offer.
Battery
Before buying your chosen belt, make sure you are aware of the type of battery it offers. Your understanding of the battery will help you decide whether you can afford the charging life or not.
Besides, different batteries use varying methods to charge. Most require a USB, while others may need a separate charger. If a belt's battery requires you to make an additional investment, make sure you know about that.
Warranty
It is always wise to buy an ab toning belt that offers a reasonable warranty period. Besides, you should always choose a brand that acknowledges the warranty and is always there to provide efficient customer assistance as required.
Customer Reviews and Expert Recommendations
Before choosing an electronic fitness item like an ab toning belt, always go through expert recommendations and customer reviews. This especially applies to beginners who have no clue about such equipment available in the market.
You can read reviews on the internet or ask people who have used a toning belt before. An expert's opinion will help you make a fast and, hopefully, successful decision.
What Is the Right Way to Look After Your AB Belt?
If you are not using your ab toning belt, make sure it is stored properly. For instance, please keep it in a dry and cool place with low humidity. Besides, store it in a pouch that you may get for free with the belt.
Moreover, you can hand wash your belt using lukewarm water. However, make sure to remove any pads or electronic parts before you start the cleaning process. Once properly cleaned, leave the belt to dry naturally.
If your belt comes with pads, you should maintain them to enjoy good belt performance. Unfortunately, most pads may only last for five sessions, and you will have to replace them with new ones.
To figure out the right time for replacement, look for the signs below:
Weak stimulation at high intensity
Pads fail to stick properly.
Pads look dry and thin.
How to Increase the Life of Pads?
If you want your belt's pads to have a long life, follow the tips below and save yourself from unnecessary expenses:
Clean your skin properly and wipe off any debris before using the belt. It will prevent any skin moisture and dirt from ruining the pads sooner than you expect.
Always cover the pads with a plastic sheet after using them.
Dry pads can be hydrated by sprinkling a few drops of water on them.
FAQ
Go through a list of some questions asked by users like you. You never know that an answer to any of these queries may solve a confusion.