Have you started stocking the best hex dumbbells for your home workouts? With the power rack, weight bench, and gym floor sorted, it is the right time to buy a set of these tools and initiate your fitness journey.
But why should you get hexagonal weight dumbbells only when there are so many different options available?
To find an answer to this genuine query, dig into this article. From different recommendations to a detailed buying guide, you should know everything before spending your pounds.
So, if you are ready, let's explore!
Hex Dumbbells Explained!
If you haven't seen a hex dumbbell before, let us draw a picture for you. A hex dumbbell contains three parts, two heads on each side and a handle. The heads are either made of rubber, cast iron, or urethane, while the handle is always made of solid steel.
What makes hex dumbbells different from their counterparts is their heads with six sides. The hexagonal heads are welded firmly with the handle to create a piece of one-piece equipment.
Hex Dumbbells Vs. Round Dumbbells
An 11 pounds hex dumbbell has equal weight as an 11 pounds round dumbbell. It means that the shape of your dumbbell doesn't affect your workout.
But what makes these two different from each other is their performance. For instance, hex dumbbells do not roll.
When thrown on the ground, these tools stay in one spot and are ideal for floor workouts.
On the other hand, round dumbbells roll and can be hazardous if the floor is slightly uneven.
Also, unlike round dumbbells, hex dumbbells are far less expensive. Their affordability makes them quite popular among beginners or people with budgeted home gyms.
Most dumbbells are usually available with contoured rather than straight handles. Besides, finding rubberised hex dumbbells is quite a task which often results in chipped paint on these tools.
Hex dumbbells are made of either of the three materials mentioned above. While the material under the spotlight is rubber only, let's understand each and see why rubber dumbbells stand out.
Cast Iron Dumbbells
These are some of the primary and entry-level dumbbells. Smaller cast iron hex dumbbells have heads and handles made of solid iron and often have a coat of grey paint as a finish.
Larger dumbbells have straight steel handles which are fitted firmly inside the iron heads through epoxy glue. Moreover, cast iron solid dumbbells are pretty affordable and are ideal for home workouts.
Rubber Dumbbells
Now to the show's hero, interestingly, rubber hex dumbbells also have iron heads, but they are coated with rubber for extra protection. The thick layer of rubber prevents any damage to your floor and racks. Moreover, these hex dumbbells are also pretty quiet when thrown on the ground.
While rubber hex dumbbells have a distinctive smell initially, it withers away with time like there was none.
You can easily come across many rubber hex dumbbells in various training studios and commercial gyms. Moreover, they are perfect to be used in homes because of their quiet and user-friendly nature.
Urethane Dumbbells
These dumbbells are classy yet more expensive than both the above types. Urethane hex dumbbells have steel or iron heads coated with solid polyurethane. While they have similar features to their rubber counterparts, urethane dumbbells are more durable and long-lasting.
These tools are ideal for professionals who love high-intensity workouts. Besides, urethane dumbbells are commonly used in various training studios as well.
While each material has a role to play and serve different users, rubber hexagonal dumbbells are ideal for home use. They are perfect for people who have just started taking their workouts seriously.
There are more benefits to rubber dumbbells than meets the eye. Let's read about them in the following section.
The Best Rubber Hex Dumbbells on the Market 2022
Now that you fully understand hex dumbbells and their benefits, it's time to get to the six well-researched recommendations. Each set is ideal in its way, so go through the reviews carefully before you make the final selection.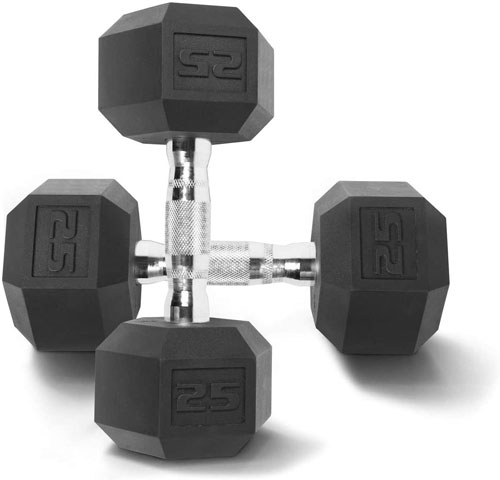 CAP Barbell is a famous fitness brand that makes quality yet affordable workout equipment. Included in its broad product portfolio is an excellent and durable set of two rubber hex dumbbells. Not only are these dumbbells well-constructed, but they are also available in many weight options.
These rubber dumbbells feature a top-quality design with durable rubber coating and a tight bond between the handle and the heads. In addition, the handle is made of robust cast iron and has a plating of chrome that increases the overall strength of these dumbbells.
The hexagonal heads prevent the excessive rolling of the dumbbells on the floor. Besides, the properly knurled handles ensure your safety and avoid slippage.
These rubber hex dumbbells are designed to perform various exercises such as squats, lifts and curls. Moreover, since they feature long-lasting finishing, they require minimum to no maintenance.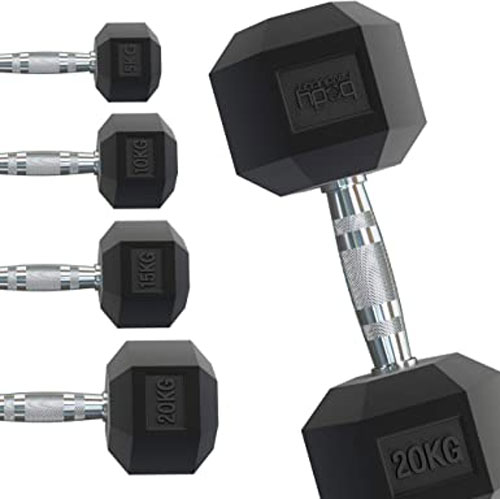 While considering the best hex dumbbells in the market, you will come across various manufacturers. While each will promise you better quality and performance, only trust those brands that have been tried and tested by people. This approach will save you lots of money.
The Body Revolution hexagonal dumbbells are pretty famous among fitness trainers. Made from cast iron, the dumbbells are protected by a rubber coating to prevent any damage to your surface. Besides, the ergonomic handles are made of solid steel and offer a comfortable and firm grip for all kinds of hands.
These rubber-coated dumbbells are available in weights ranging from 2.2 pounds to 88 pounds. However, you will only find a pair of 2.2 pounds dumbbells, while for the rest, you will have to buy dumbbells separately. This may add up to the overall cost and hurt your budget.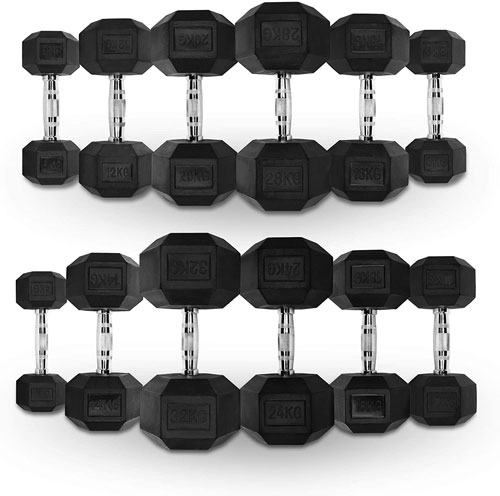 Featuring an impact-resistant design, the JLL hex dumbbells are pretty ideal for all kinds of fitness training. From Crossfit to Bodybuilding, these dumbbells can contribute positively to your fantastic workout experience.
Featuring solid steel handles and knurled texture, these rubber hex dumbbells are ideal for supporting a firm grip and providing comfort for your palms. Besides, the rubber-coated heads are durable and do not break easily when dropped on the floor.
The JLL rubber dumbbells are available for several weight options. From 2.2 pounds to 70.54 pounds, you have the choice to either buy them in pairs or separately.
As the weight of the dumbbells increases, you will find the length and width of the dumbbells changing too. However, the handle length remains the same, thus ensuring uniformity in the overall construction.
These hexagonal dumbbells are pretty affordable. Moreover, they can perfectly suit both a private and commercial setting.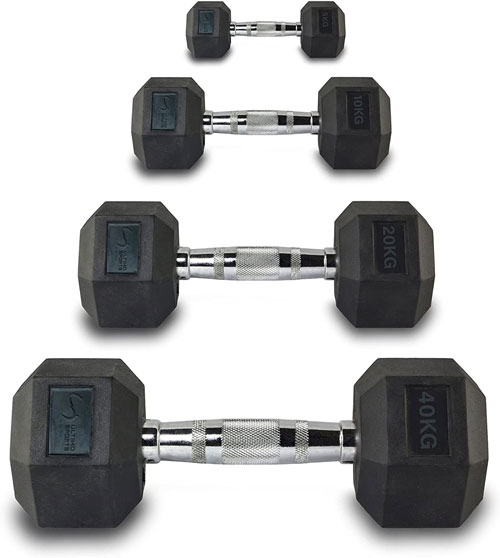 Like most hex dumbbells on this list, the Ultimo Sports dumbbells are also made of rubber weights and steel handles. The rubber weights have a hexagonal shape to prevent noise and floor damage if you drop these dumbbells on the floor.
Moreover, the cleverly designed steel handle has chrome plating and a knurled pattern to support your grip.
While the length of the handle remains the same, the dimensions of heads increase with an increase in weights. However, this change doesn't affect the quality of rubber used. You will get the same long-lasting durability with each dumbbell.
Overall, these hex dumbbells are pretty ideal for different kinds of weight training. Moreover, you can get your suitable weights in pairs or separately and work out with them as you like.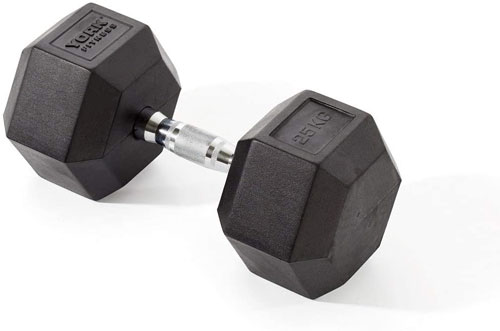 Do you live in a shared property? Does your fitness routine affect your flat-mates by the sounds your equipment makes? If yes, you should get your hands on the York Fitness rubber hex dumbbells right away.
The hexagonal shape of the fixed weights reduces the noise level by a great deal. Moreover, when dropped from a height, the dumbbells do not ruin your floor or damage other fitness equipment. Also, if you are into floor exercises, there are no better dumbbells than these to support your routine.
You can easily get these dumbbells in pairs available for weights 2.75 pounds, 5.5 pounds, 11 pounds, 16.5 pounds, 22 pounds and 27.5 pounds. So these are some of the most impressive weight options you have.
Like most other perfect hex dumbbells, these also feature an anti-roll rubber coated design and solid steel handle to generate performance. Besides, the knurled texture on the handle ensures a stable and comfortable grip to prevent accidents.
Overall, these dumbbells are pretty amazing and are suitable for both domestic and commercial setups.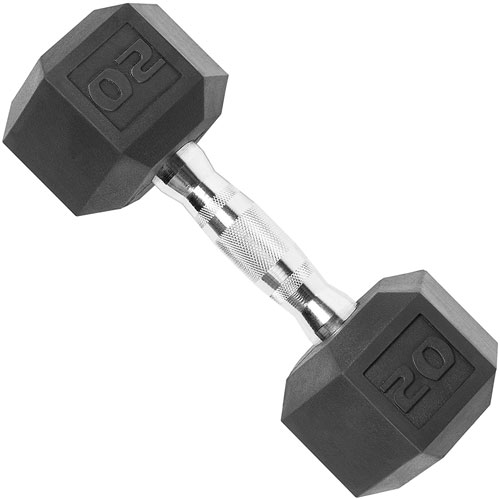 Taking the last spot on this list, the Cap Barbell hex dumbbells are no less than any of the options above. They might be a little expensive, but these dumbbells are versatile and offer a full-body workout.
Featuring durable rubber coating and hexagonal heads, expect these dumbbells to make no noise when dropped from a height. Besides, the deep knurling on the steel handle offers a solid grip and securing while you use these dumbbells.
Moreover, unlike most other similar dumbbells, the rubber doesn't produce any odour. That's quite a sigh of relief for users who are allergic to pungent smells.
The CAP Barbell solid dumbbells are available in sizes 5, 8,10 and 12. Moreover, you can get weights starting from 5 pounds and going up to 50 pounds with an increment of 5 pounds between each.
How To Select the Best Rubber Hex Dumbbells?
To make the selection process easy and quick, here is a list of some crucial factors to consider before choosing the best dumbbell set from the lot. Go through each consideration, match them with your requirements and opt for your favourite hex dumbbells.
Construction
Before selecting a set of hex dumbbells, make sure to evaluate the construction of your chosen tools. For example, are the heads perfectly joined with the handle? Is the knurling on the handle adequate to provide a solid grip?
Asking the manufacturer these questions will help you create a clear picture of the dumbbells, and you will be in a better position to select one according to your use.
Durability
The durability of the best rubber hex dumbbells is vital to consider. A dumbbell that fails to offer high durability will most probably break easily and may also cause many injuries.
The coating quality can analyse the durability of hex dumbbells on the handle and the strength of rubber used. Most hex dumbbells are made of non-virgin rubber, which is both solid and long-lasting.
Sizes
While selecting the best hex dumbbells, always check the options of sizes available. For instance, most dumbbells have similar handle lengths, but their heads' width and lengths vary. Depending on your use and skills, choose the size that you feel more comfortable with.
If you are a beginner, we recommend you start with small dumbbells and then slowly increase the dimensions with time.
Weight
The available weight for a hex dumbbell can vary for each manufacturer. For instance, some brands have a specific hex dumbbell available for weights ranging from 15 pounds to 50 pounds. Many have dumbbells starting from 3 pounds up to 120 pounds.
So, considering your use and matching them with the weight increments available, you can buy the dumbbells that meet your requirements.
Availability in Pairs
Not all hex dumbbells are available in pairs. Some manufacturers sell single fixed dumbbells, while others sell them in pairs. However, which one you should get depends on your workout's purpose and budget.
For instance, you might easily find small rubber dumbbells in pairs. If you are a beginner, this could be an excellent opportunity to save money and buy them as early as possible.
Customer Reviews and Expert Recommendations
If this isn't your first time buying fitness equipment, you would already know how customer reviews act as excellent guidance and help choose the best tool for your training. The same is applicable for hex dumbbells and if you want to bring the best equipment home, make sure to go through various customer feedback on the internet and learn from their experiences.
Moreover, you can also read articles written by experts on the most efficient and durable dumbbells that have served them well. However, before following the expert recommendations, make sure to avoid sponsored content.
Benefits of Using Rubber Hex Dumbbells
As we have already discussed some significant benefits of using rubber hex dumbbells, let's look at some other overlooked advantages.
Rubber Hex Dumbbells Are Water-Resistant
For those unaware, rubber is a water-resistant material. This characteristic holds great importance when it comes to your fitness arsenal. Water-resistant equipment has a long life and can be used in many ways without worrying about premature wear and tear.
Besides, water resistance saves the dumbbells from being damaged by sweat accumulation after every workout. While using rubber hex dumbbells, you won't smell your sweat on these tools, and that's the best feeling ever. Moreover, rubber doesn't require much maintenance and cleanliness, thus saving lots of your precious time.
They Are Perfect to Be Used In Rented Properties
Do you live in a rented apartment and have an annoying landlord? While this factor may resist you from working out with dumbbells and increasing the risk of damaging the floor, it shouldn't be the reason for you to stop achieving your fitness goals.
The benefit of working out with rubber dumbbells is that they do not damage the floor when being thrown from a height. Besides, these dumbbells land quietly, thus creating no noise to annoy your neighbours.
The Contoured Handles Provide Solid Grip
These dumbbells have thick and contoured handles. This attribute is far better and user-friendly than thin steel or chrome handles.
The contoured handles fit naturally within your palm and are also comfortable to use with long fingers. Besides, they don't often slip, which makes these handles ideal to use while lifting dumbbells.
Rubber Dumbbells' Anti-Roll Design Save You from Many Accidents
You might have come across news covering people who had faced injuries while performing floor exercises. The most primary reason behind these accidents is usually the round rolling dumbbells that hardly stay in one place when put on the floor.
To save yourself from injuries and hospital bills, investing in hex dumbbells is the best decision you can make today. They have an anti-roll design that prevents unnecessary rolling and allows you to perform different exercises with confidence and comfort.
Hex Dumbbells Help Build Strength and Muscles
Other than the above design and performance benefits, using hex dumbbells is essential for achieving strength and muscles. By performing different exercises such as shoulder press and bicep curl using these tools, you can gain muscle strength and build immense stamina.
Consistent Use of These Dumbbells Improves Your Heart Health
Like any other fitness tool, hex dumbbell exercises accelerate the process of blood circulation in your body. As a result, your heart pumps faster to distribute oxygen to different muscles in your body that you might be using during strenuous workouts with dumbbells.
This balanced circulation improves your heart muscles' health and saves you from various diseases such as heart strokes and attacks. Besides, the high demand for oxygen in your body forces the lungs to expand correctly, thus increasing their overall capacity.
How Can You Use Hex Dumbbells Safely?
Working out with hex dumbbells is similar to exercising with round dumbbells. But since many of you are beginners, it is wise to learn some key points before getting started. Moreover, this information is vital to reap all the benefits of using rubber hexagonal dumbbells, as mentioned above.
Don't forget to warm up before you start your weight training. It is essential to activate your muscles and prepare them for the challenges that await them.
As a beginner, make sure to ace the workout technique before performing various exercises. If misused, dumbbells can strain your back and also hurt your neck and shoulders. So, make sure to either watch videos or take professional help before lifting the dumbbells on your own.
Before using dumbbells, make sure to look in the mirror and evaluate your form. Is your back straight, and are your feet a shoulder-width distance apart? While each move will require you to maintain a particular form, as a general rule, keep your body tight and straight while performing all dumbbell exercises.
You should be able to control your breath when lifting and dropping hexagonal dumbbells during a workout. For instance, while lifting, breathe out and breathe in while you lower down the weights.
If you haven't ever tried working out with hex dumbbells before, here are some of the basic exercises you can perform:
Squats
Hammer Curl
Triceps Kickback
Lateral Lunge
Rotational Shoulder Press
How to Maintain and Clean Your Rubber Hex Dumbbells?
After using your dumbbells for many exercises, you would find the need to clean them to be maintained and used for a long time. Follow the steps below to see how can you do that:
Take a tub with a gallon of water
Mix two to three drops of popular dish soap in water
Take a dry and clean cloth and dip it into the mixture
Once it is damp, use the material to wipe the rubber dumbbells
Start with the six-sided heads and then move to the handle
Since rubber can damage exposure to UV rays, air dry the rubber dumbbells in your room before using them again.
As mentioned earlier, the smell of rubber can be very annoying, especially when the dumbbells are new. With time the odour does disappear, but you can use the tips below to eliminate the smell rapidly:
Improve the ventilation of the room where the rubber dumbbells are placed.
Dip a damp cloth in a mixture of Murphy or PineSol soap and water and run the wet fabric over the rubber heads. Let the dumbbells properly dry before using them.
If the above tips do not work, get a little adventurous and cover the hex dumbbells using a mix of baking soda and kitty litter. They have high absorbent power and can easily absorb the smell of rubber coming from the dumbbells.
FAQ
Here are a few common questions that may help you clear your unanswered doubts. Go through their answers and see if you know everything about hexagonal dumbbells.