If you want to build your muscle mass and bulk up, consuming a mass gainer with a balanced diet and regular workout regimen can do wonders for your body. Regardless of your body type, this supplement perfectly adds weight and muscle mass through a considerable amount of proteins and carbs present in its content.
Moreover, if you are skinny or underweight, you can use a mass gainer to get the much-needed nutrition for a healthy diet. But that's not all. There's a lot more than a mass gainer can do, and to know all, the only right way is to read this article.
So, without further ado, dig in to explore more about a mass gainer, its benefits and correct use. Besides, to help you find the best supplement from a million options, we have curated a helpful buying guide and a list of eight recommendations for you.
We hope this article will guide you to differentiate between a good and a bad mass gainer and will help to save you lots of money and time.
What Is a Mass Gainer?
As discussed briefly above, a mass gainer is a supplement designed to increase weight and muscle mass in your body. This product contains lots of proteins, carbohydrates, sometimes some healthy fats and lots of minerals and vitamins as well.
Moreover, high-quality mass gainers also include creatine as an additional ingredient to provide an energy boost for high-intensity training.
Number of Calories In a Mass Gainer
A minimum dose of an average supplement can provide you with as many as 500 calories. However, most high-quality mass gainers can also offer you 1500 calories from just a single dose.
If you are a man working out pretty hard with an ambition to gain a bulked-up body, you should consume 2500 calories per day. And if you are a woman with the same aim, a maximum of 2000 calories every day will benefit you.
So, while selecting the best mass gainer, it is essential to analyse your food intake and then calculate the amount of supplement you require.
How Much Carbohydrate and Protein a Regular Mass Gainer Contains?
To put it simply, a mass gainer has a rich content of both carbohydrates and proteins. However, when we analyse their inclusion in a ratio, the carbs to protein ratio present in a mass gainer is either 3:1 or 2:1. It means that this supplement has more carbs than proteins in its formula.
In a basic mass gainer, high carbs are often achieved through maltose and glucose. Moreover, most top-quality mass gainers include a perfect blend of low and high glycemic carbohydrates to overcome the post-training glucose replenishment.
The ratio above aims to provide two or three parts of carbohydrates to gain weight and one part of lean protein to enhance the muscle built.
The Type of Proteins and Carbs You Get from a Mass Gainer
In a basic mass gainer, you will find a rich blend of casein and whey protein. Since the former takes time to absorb in your body and the latter doesn't, you enjoy a protein hit right after your workout that remains consistent during the rest of the day.
While selecting a mass gainer, always look for a supplement that has more isolate whey protein or that uses a well-blended mix of isolate and concentrate whey protein. It is because isolate is the purer form of whey protein that absorbs quickly and is richer than others.
You shouldn't be buying a mass gainer that contains plenty of sugar when it comes to carbs. This rule even applies if you want to gain weight and generate instant energy after a workout. Instead, look for a mass gainer that contains complex carbs to enhance sustained energy and it should also have some simple carbs to provide a refuel to your body.
How Are Mass Gainers Different from Whey Protein Powders?
Now that you already know about a mass gainer, it is imperative to mention how this supplement differs from any whey protein powder. It is because many users often confuse the two and end up consuming them for the wrong purpose.
There are three main differences between a protein powder and a mass gainer.
Unlike a mass gainer, a whey protein powder has more proteins and significantly less carb and fats. A high-quality whey powder can contain almost 95% proteins in its composition. This percentage is a lot more than you find in a gainer.
Secondly, consider having whey powder rather than a mass gainer if you aim for a lean figure and shredded body. A mass gainer is ideal for bodybuilders or hardgainer as it helps them gain weight with high-calorie content. But a whey powder is designed for people who want to stay fit and gain lean muscles.
Lastly, utilising a mass supplement is a convenient, accurate and fast way to include all the macronutrients of fats, carbohydrates and proteins in your diet. However, a whey powder only allows you to enjoy proteins. For the rest of the nutrients, you will have to consume other types of food in your daily diet.
So, Which One Is Better?
It is hard to pick one from these two. Since both products serve different purposes, it isn't fair to compare them. So, it's better to analyse your goals and current body situation before choosing either of the two.
But since mass gainer is the hero of this article, we will pay attention to this supplement only.
Select the Right Time to Take Mass Gainer
There is no fixed amount of powder for everyone to consume. But, there are some specific times that are ideal to consume this supplement.
For instance, consuming the mass gainer after a workout helps to produce your desired results effectively. During training, you utilise all your energy and face a depletion of glucose levels in your body. To regain both, you need to have a balanced meal of macronutrients from a mass gainer that will absorb easily in your body.
You can also enjoy a mass gainer shake as the first meal of the day. Since your body may suffer from catabolism after long hours of going nutrition-free, the gainer will help provide instant energy and the proper nutrients to give you your desired results.
Basic Rules to Follow
If you want to consume a mass gainer for an extended period of your life, make sure you follow specific rules:
Start taking the supplement in small doses and then increase the amount gradually. Don't overload your digestive system, and give your body some time to get well accustomed to this product.
If you are using other supplements as well, limit overlapping their ingredients with the mass gainers.
Don't overload your body with stimulants. For instance, some mass gainers have caffeine in them, and if you are taking a cup of coffee and a weight gainer during the day, the surplus of this stimulant may give you a hard time while sleeping. So, pay attention to the amount of caffeine you are taking and its reaction to your body.
8 Best Mass Gainers Reviewed
Now that the essential information is out of the way, we have finally landed on the section that will help you find the best mass gainer in the UK. These well-researched eight recommendations are pretty practical and impressive. However, you should always select the one that meets your fitness targets.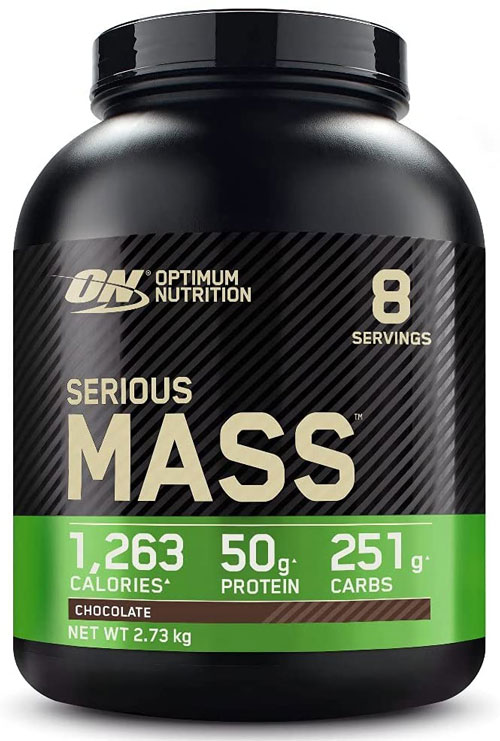 Optimum Nutrition is a well-known brand in the UK. This company is known to produce high-quality supplements for various users. As a significant part of its product line, the Serious Mass powder is pretty effective in many ways.
This product is pretty on point for the calories it offers per serving. The 1,263 calories with 50grams of protein and 251 grams of carbs in every serving make a unique product to consume and gain your desired results.
Besides, the inclusion of various vitamins and minerals in the formula ensures the healthy side of this product. In addition, this mass gainer contains less than 5 grams of fats, thus allowing you to use this powder only for mass gain and not for fat gain.
The Serious Mass powder is available in six different flavours. You can choose from chocolate, vanilla, strawberry, cookies and cream, peanut butter and banana to enjoy a shake every day. Most flavours are drinkable and produce a smooth and thick consistency when added to a balanced amount of water.
However, according to some users, the vanilla and strawberry flavours have a chemical after-taste and don't offer a good texture.
The formula of this powder is free from any artificial sugars. That's quite a plus point for people who avoid unhealthy supplements.
You can get this product in a 2.73 kg pack and as well as a 5.45kg jar. Both the packages are reasonably priced and provide good value for money.
Pros
Provides good calories per serving
Balanced amount of carbs and proteins
Contains fewer fats
Available in many favours
No artificial sugars
Cons
Strawberry and vanilla flavours may not taste good
Eight servings from a 2.73 kg pack may seem less for many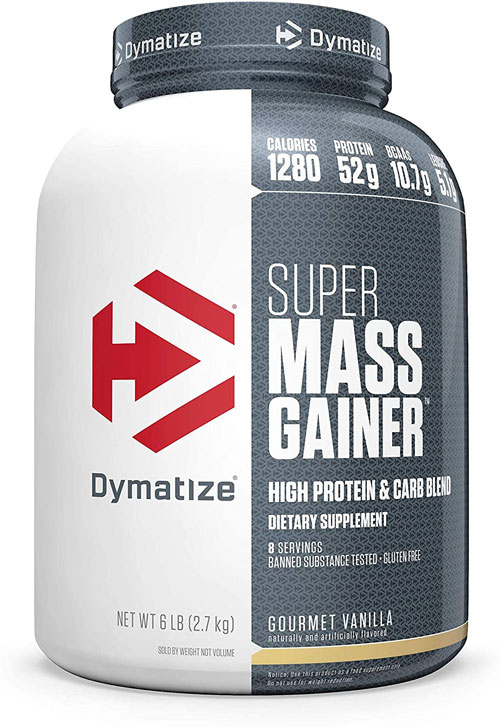 Another fantastic product on the list, the Dymatize Super mass gainer, is famous for many reasons. This vanilla powder is ideal for gaining muscle mass and weight in a short time. Besides, the formula helps you to gain strength to enjoy bodybuilding or other weight lifting exercises.
According to the instructions label, every serving of this powder can provide you with 1280 calories, 52 grams of protein and 252 grams of carbs. Besides, the formula contains 10.7 grams of branched-chain amino acids that are essential for the process of protein synthesis in your muscles.
The only problematic thing about this powder's composition is the high amount of fats. The mass gainer contains 10 grams of fats which may increase your fats rather than muscle mass if taken wrongly.
You can consume this product with both water and milk. Besides, taking it after a workout will help you gain more benefits than drinking it on any other part of the day.
While this mass gainer looks promising overall, customers have complained of its high prices on various forums. According to them, this product offers a small number of servings as compared to its high cost.
Besides, the unavailability of multiple flavours doesn't make this powder stand out from its competitors.
Pros
Made to gain weight
Contains substantial calories, proteins and carbs per serving
Can be consumed with both milk and water
Good vanilla flavour
Cons
Contains lots of fats
Expensive
No variety of flavours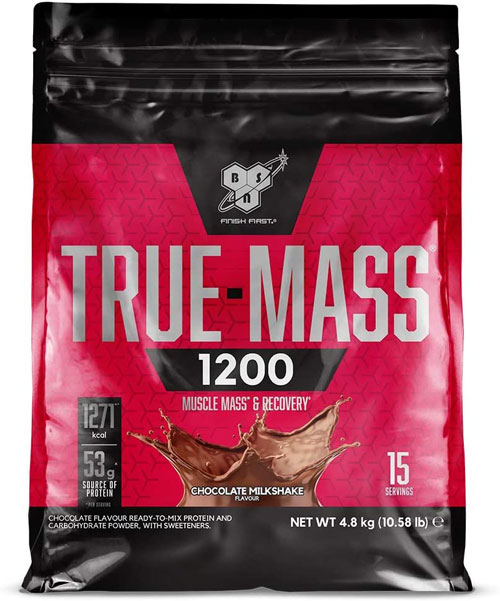 The BSN True Mass is a high-quality mass gainer made with excellent ingredients and well-balanced formula. Every serving contains 53 grams of proteins and 216 grams of carbohydrates. Besides, you get 1271 kcal to add a surplus to your overall calorie intake.
Besides the above nutritions, the powder also contains 5.5grams of fats, which is pretty sufficient for a well-designed mass gainer. There are also some amounts of fibres and salts to support your digestion system.
Available in three different flavours, this product is easy to make, doesn't take time to dissolve and tastes brilliant. However, some customers say some flavours leave a bitter and stale after-taste in the mouth, which may bother many of you.
The True Mass mass gainer is available in the pack of two sizes, 4.8kg and 2.64kg. The biggest package offers 15 servings at a reasonable price, so you have a good value for money.
But since the product doesn't come in a jar packing, you may find it hard to keep the powder away from air and moisture. This factor would decrease the product's value with time.
Pros
Contains a good balance of nutrients
Provides sufficient calories per serving
Available in three different flavours
Comes in two different sizes
Cons
Some flavours leave a bitter after-taste
Doesn't come in a user-friendly packing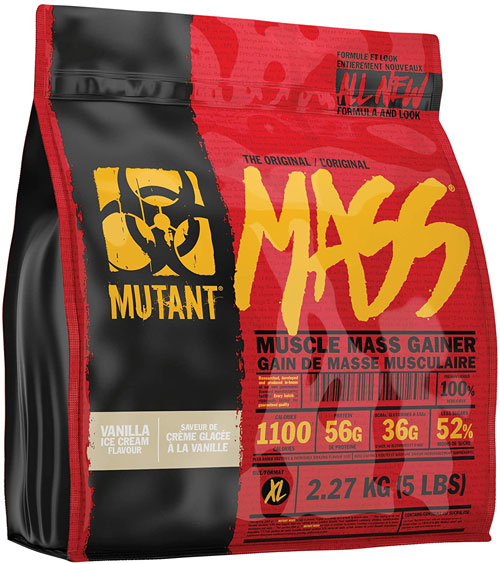 According to the manufacturer, the Mutant mass weight gainer is an award-winning product that can produce as much as 1100 calories per serving. Besides, this product can provide you with 56 grams of protein and 36 grams of branched-chain amino acids to support the protein synthesis process in your body.
Other than the above ingredients, this powder offers 192 grams of carbohydrates and various vitamins and minerals to aid a healthy body. The smart balance of nutrients helps repair your muscles and enhances your immunity against different bacteria and viruses.
This muscle gainer is available in six different flavours that most of you would like. However, some customers have complained of the imperfect texture of the powder and smell. Some also faced stomach aches after consuming a particular flavour.
However, if you want to try this product, read all the ingredients to spot any chemical that you may be allergic to.
However, if you want to try this product, read all the ingredients to spot any chemical that you may be allergic to.
Overall, this product isn't costly and can be a good option for beginners. In addition, since its calories per serving is lower than most other recommendations, you can use this product to give your body a good start.
Pros
Rich in carbs and proteins
Available in six flavours
Affordable
Can work for beginners
Cons
May result in stomach ache
Doesn't offer many calories per serving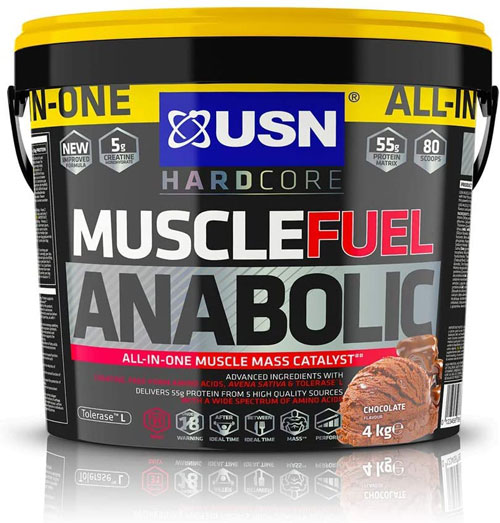 USN is a well-known supplement manufacturing company in the UK. Since it is a luxury brand, it charges high prices for its products. But that being said, the brand doesn't compromise on its quality standards which is quite visible in the Muscle Fuel Anabolic mass gainer.
Every serving of this product provides 55 grams of proteins and 77 grams of carbohydrates. Besides, there are 5 grams of creatine. However, when it comes to calories provided, each scoop serves you only 564 calories.
This amount might be too low for many, but this option is worth considering if you are looking for a low-calorie supplement for the slow mass building process.
The Muscle Fuel Anabolic supplement is available in eight different flavours. Most of the flavours mix well and taste good, but according to a customer complaint, the chocolate powder tastes like chemicals and breaks while mixing with milk.
Pros
Made for a low-calorie intake diet
Contains a good balance of all nutrients
Available in different flavours
Provides efficient results
Cons
Not ideal for skinny people or those who want to gain mass quickly
Chocolate flavour isn't good and lacks a smooth texture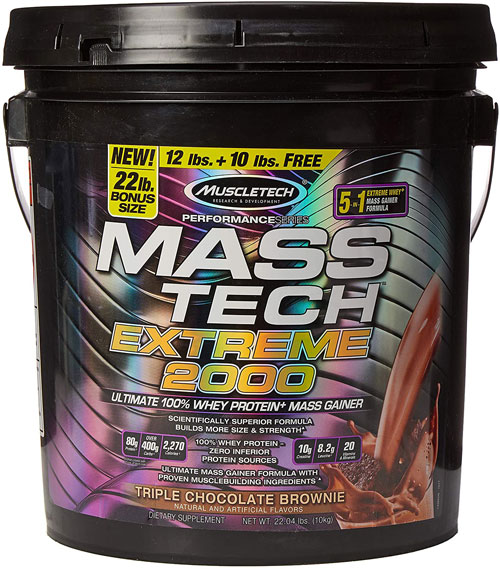 While this product offers ordinary packing, the Muscletech Performance Series Mass Tech Extreme comes with a balanced formula to help you gain weight quickly. You can get 2270 calories, 80 grams of protein and 400 grams of carbohydrates in every serving. These amounts are pretty impressive when compared to other mass gainers on this list.
Moreover, this product has various vitamins and minerals to aid your body's good health and accelerate all the muscle-building processes. However, the formula also contains milk and oats, which many people might be allergic to.
This product is available in the triple chocolate brownie flavour, which most of you may like. Besides, as per the manufacturer, there are no added flavours or sugars in the mixture, thus making this formula entirely natural.
You can add this powder to milk or water. Shake it well before consuming it after every workout. The manufacturer guarantees quick results and a healthy body within months.
Pros
Offers a high amount of calories per serving
Contains a good balance of nutrients
No artificial flavours
Can be used with both milk and water
Cons
Packing is pretty basic
People allergic to oats and milk should avoid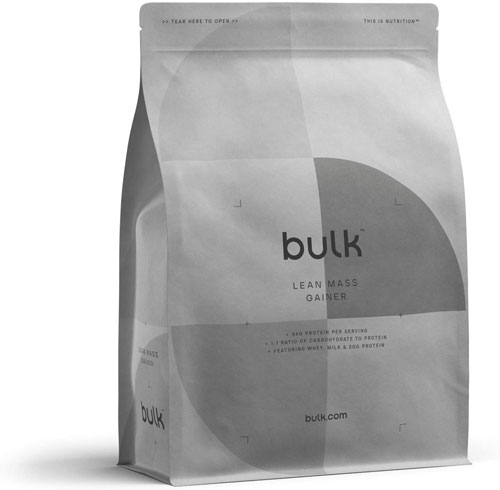 If you prefer a mass gainer with a grainy texture, only then the Bulk Lean will strike your fancy. Moreover, this product will tick all the right boxes for you if you are on a hunt for a product with a 1:1 carbohydrate to protein ratio and low-calorie count.
The Lean mass gainer is ideal for people looking to enjoy a slow mass development. The powder provides 34 grams of protein, 34 grams of carbohydrates and 338kcal per serving.
You can enjoy this product after a workout or early morning. But since it has a low protein and carbohydrate content, this mass gainer can also be consumed at night.
This powder is available in different sizes and flavours. However, you may get a grainy texture while blending this powder with milk or water. If that's not an issue with you, you should consider buying it.
However, if you love smooth shakes, blend with lots of water or choose a different product from the list.
This mass gainer isn't an expensive product, so that it may suit most of your budgets. However, it has a very basic and non-durable packing, so make sure you place it in an air-tight jar after every use.
Pros
Best for those who prefer the low-calorie intake
Can be consumed every time
Available in different flavours and sizes
Affordable
Cons
Not great for instant energy or mass gain
May create giant texture when mixed with a liquid
Packing isn't impressive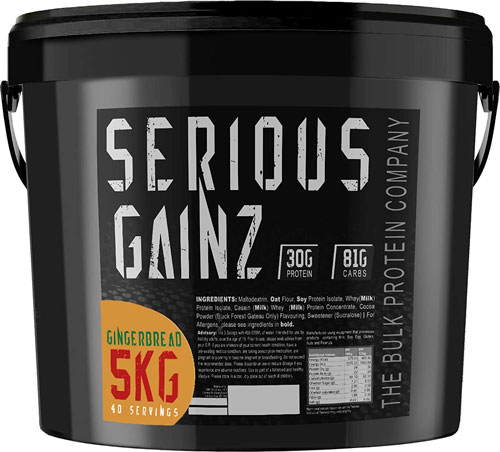 Taking the last spot on this list, the Serious Gainz by the Bulk Protein Company has received pretty impressive reviews from customers worldwide. In addition, this powder is available in different sizes and flavours, thus serving many users.
Besides, its formula contains 30 grams of proteins and 81 grams of carbohydrates per serving. So you will get 468 calories from every scoop of this powder. Compared to most other famous mass gainers, the calorie count is pretty low, but if you are looking for something similar, this product may be worth your money.
Moreover, the powder's formula also contains a substantial amount of amino acids. These substances accelerate the process of muscle development in your body.
This mass gainer is commonly available in a 5kg container (there are other sizes as well). The size offers 40 servings that mean you can easily use this powder for more than a month.
Overall, this option is pretty promising for many people. However, if you want to buy a high-calorie rich powder, consider other recommendations from this list.
Pros
Available in different sizes and flavours
Provides a good balance of nutrients
Contains amino acids
Affordable
Cons
Not great for high calories consumers
Doesn't offer fast result
How to Pick the Best Mass Gainer in the UK?
Do all the options above look promising? Is it hard for you to select one? We understand your dilemma and so are here with a technique to make your purchase easier.
Here is a list of crucial factors to consider before adding a mass gainer to your shopping cart. Go through these considerations, match them with your requirements and then buy a product that meets the criteria.
Types
Mass gainers are available in two different types. Most of the supplements commonly used are those that are appropriate for after-workout consumption. They have large quantities of easily absorbing carbohydrates and proteins and very minimum fats.
However, there are also mass powders that are made specifically for meal replacements. While they have a high quantity of carbs and proteins, these products are also rich in fats that contribute to hormonal production and muscle building.
So, choose a mass gainer that fulfils your criteria and desired use, depending on your intake plans and weight goals.
Nutrients Per Serving
While this factor depends on your goals, ideally, a mass gainer should have at least 50g of proteins in every serving. These should be whey proteins, isolate, casein protein or even a proper blend of all three. This quantity is essential for nitrogen balance and protein synthesis in your body.
Every 1 gram of fat can provide 9 calories, so it is vital to have them in your product too. However, their quantity depends on the type of mass gainer you want for your body.
But while selecting any type, stick to products with rich blends of Essential Fatty Acids, saturated fats and Medium Chain Triglycerides. These healthy fats are essential for your body's strength and desired weight goals.
As discussed above, carbohydrates are available in abundance in all mass gainers. But the protein to carb ratio can differ from product to product.
So, depending on the time you want to consume this supplement and your sugar sensitivity, it would be wise to select a mass gainer that would successfully work for you. For instance, you can go for products with maltodextrin, dextrose, or even both to instantly experience high levels of sugar.
But if you want low sugars, go for weight gainers with sources of complex carbohydrates such as oat flour or brown rice.
Dietary Needs
Do you need a vegan mass gainer, or non-vegan would do too? Are you gluten or lactose intolerant and want a product to meet those needs? You will have to ask these questions to yourself before buying a product.
Since mass gainers are available in a wide variety, the possibility of finding a customised product is pretty high. With some research, you can get a suitable mass gainer for your needs.
Flavours Available
You can easily find both flavourless and flavoured mass gainers in the market. Depending on your taste buds, choose a flavour that strikes your fancy. You can also try various fruity flavours every day to not get bored with just one.
Muscle gainers are also available in various textures. While most of the users prefer smooth shakes, you can also experiment with grainy textures if you like its value.
Value for Money
Before buying a mass gainer, make sure to compare its performance and nutritional value with its cost. A product with a high price but poor performance isn't worth your pounds. However, if a gainer is affordable yet performs well, you shouldn't let it go out of your cart.
Customer Experiences
People who have tried a mass gainer would be best to give you honest advice on the product's performance. So, before making a purchase, make sure to go through various customer reviews and recommendations to shortlist the best products for yourself.
Benefits of Using a Mass Gainer
If you are successful in consuming a mass gainer correctly, you will be able to reap the following benefits from this supplement:
Helps Gain Strength and Size
As mentioned earlier, a mass gainer is a great way to increase your weight and size if you are a slim or underweight individual. Since it is packed with high calories from carbs and fats, you can gain a lot of mass within a short time.
Similarly, if you are a bodybuilder aiming to gain more muscles, a mass gainer can help you achieve that goal. Besides, it also increases your body's strength and gives you more energy to perform well.
Provides Healthy Calories
Gaining weight from eating vegetables and fruits is far more helpful than from consuming junk and non-nutritional snacks. Believing in the same formula, a mass gainer provides you with high-quality macronutrients that help you gain the required calories and keep you fuller for a long time.
Offers You a Convenient Way to Enjoy Macros
Can you consume a large macronutrient meal every day? It is impossible, and even if you can, don't forget that it may leave you lazy and bloated. Moreover, it is not ideal to eat such a meal every day after workouts.
So, what can you do? Instead of consuming a substantial meal, you can easily drink a mass gainer shake and get your daily calories and nutrition.
Allow You to Keep Track of Macro Intake
It isn't easy to keep track of your calories through food. However, with serving sizes mentioned on the ingredient label, it is easy to calculate the number of proteins, carbohydrates, fats and calories you take in every day. This analysis helps you to achieve your target in a planned way.
Available in Different Varieties
All mass gainers help you achieve your calories targets. However, many are designed with optimal formulas that make this possible faster than the rest. Moreover, you can also find powders that are ideal for taking in a particular form or time.
With a wide variety available, you can easily select a powder that meets your requirements and budget.
How To Use Mass Gainers Properly
This section will help you guide on the essential steps to take to consume a mass gainer safely.
Determine the Amount Calories You Want
Are you aiming to gain a considerable number of calories or only a few? What is your current calorie intake, and how much surplus you would want to add?
Answering these questions will help you decide the quantity of mass gainer you want to add to your favourite liquid. You can use an online calorie counter to do all the calculations. Or you can also take help from a nutritionist or an expert to guide you on the proper consumption.
Decide the Number of Scoops of the Supplement
Once the above amount is determined, check the nutritional value of the mass gainer you are using. Then, tailor the intake of the supplement to meet your weight targets.
For instance, if you plan to consume fewer calories from the supplement, you can take fewer scoops than mentioned on the supplement's ingredient label.
But generally, people take one to two scoops because more than two often leaves the shake too lumpy to drink. Since the amount of scoops depends on many things, don't follow anyone and just consume according to your requirements.
Choose the Liquid of Your Choice
After determining the right amount, choose the liquid you want to add the weight gainer in. Here are the options available for you:
Water
A mass gainer mixed with water is the easiest way to enjoy the former's benefits. Moreover, a water base allows the powder to dissolve in the body instantly and provide you with all the essential nutrients.
Start with mixing the required scoops of powder in 250ml of water. Then, gradually increase the water's quantity. Finally, mix the solution in a shaker or blender and enjoy the drink as you like.
Milk
You can also mix mass gainer in milk. Both of them, when blended, will give you a creamy and thick shake to endeavour. Also, powder mixed in milk is an excellent replacement for your extra meals and can be enjoyed during breakfast time.
However, a mass gainer mixed with milk may slow down your digestion and not work effectively after a workout.
Yoghurt
Adding the mass gainer to the bowl of yoghurt will give you a much thicker shake than with milk. Moreover, you will also be able to enjoy more proteins present in the yoghurt.
Additional Food Items
If you want to make your mass gainer solution richer, you can also add other items such as oats, fruits and even ice cream if you like. Inclusion of your favourite food items makes the resultant drink more delicious to consume.
FAQ
Here are a few questions asked by users like you. If you have any doubts about the use and performance of mass gainers, go through this section to clear them.