If you don't want to delay your fitness goals for any reason, bringing the best door pull up bar home is the wisest thing you can do today. You might underestimate your body's capabilities and skip the idea.
However, we can assure you that with some motivation, perseverance and a few glasses of protein shakes, you will knock out many sets within a short time.
Not only does a door frame pull up bar help with an effective upper body workout, but it is also an affordable piece of equipment and doesn't take much space. These features make this tool entirely appropriate for your at-home gym.
So, if you are ready to invest, dig into this article for our eight best door pull bars recommendations in the UK. Also, find a buying guide to make this search super convenient.
Different Types of Door Pull Up Bars
You can find a variety of pull up bars in the market. From ceiling to door, each tool serves differently and has its advantages and drawbacks. However, today the equipment under the spotlight is a doorway pull up bar only, and it is available in two different variations.
Firstly, the door pull up bar usually has a lever construction positioned carefully on the door's frame. The mounting of this bar doesn't require any screwing and drilling but takes some time to fix the tool firmly.
In addition, a door frame pull up bar is great for a regular workout because they offer good security and durability.
On the other hand, door jamb pull bars are great for an occasional workout. They attach easily and can be removed within seconds. Moreover, they are far more affordable than the door frame ones.
However, the door jamb pull bars aren't relatively stable and may not be the best tools to offer vigorous workouts. Moreover, they can cause damage to the door frame through contact.
To avoid that from happening, you should be very careful with your use and avoid exceeding the maximum weight capacity.
But, in short, a door frame pull up bar is a relatively safer option for your home gym.
Benefits of Using a Door Pull Up Bar
Now that you know how to install a bar and its different types available, read to learn how this tool can help your body in many ways.
Strengthen Muscles
Do you know that a pull up bar can challenge all your muscles to give them the much-needed strength? This tool works great for both your back and arms muscles and tones them effectively.
Besides, a regular challenging workout with pull up bars increases your muscle endurance and can enhance your collective fitness level. After a month of consistent pull ups, you will love how strong your body will look and feel.
Establishes Strong Grip
A regular workout with pull up bars can help improve your grip. A firm grip is essential for other types of training like weightlifting. Moreover, it is also imperative for sports such as bowling and climbing.
Manages Physical Health
Pull up bars are a crucial tool for resistance training. Such exercises can improve your overall health by burning unnecessary fat, improving blood circulation and enhancing a better oxygen flow throughout your body.
A workout with a pull bar every day may also improve your backache associated with fibromyalgia and arthritis. However, if you suffer from any severe pain, ask your consultant before using this equipment.
Improves Mental Health
Strength training with pull up bars can also benefit your mental health. A consistent workout reduces anxiety, improves cognitive functions and decreases fatigue. Moreover, the positive results establish your self-esteem and make you feel good about yourself.
The Best Door Pull Up Bars Available Right Now
Aren't pull up bars amazing? If you agree, here are a few recommendations for you. Either select an option from the list below or consider the recommendations as an excellent start for your search.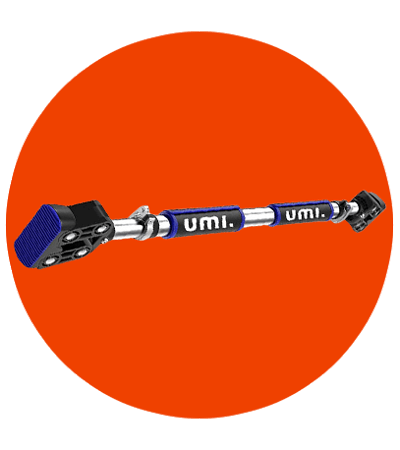 Umi. is Amazon's brand that offers excellent quality and price for its products. The Umi door pull up bar is one of the best items in its product portfolio.
With an innovative and advanced rhombus, the pressure spreads equally on both sides. This feature allows the bar to stay in one position without the extensive needs for drilling and screwing. Moreover, if you want to extend the length of the bar, simple twisting can do the job well.
The Umi door pull up bar has a durable steel body. Besides, it weighs 2.5kg that makes it heavier than many similar products.
The bar design also contains PVC material mats for a solid grip. This addition ensures the product remains sturdy on even a load as heavy as 200kgs. However, it would break if you exceed the weight limit.
This pull up bar has many features that ensure your safety. For instance, the nylon and rubber hand grips are non-slippery and elastic. Moreover, solid safety locks prevent unnecessary rotation.
The Umi door frame pull up bar can easily adjust within a length range of 28.3 to 36.2 inches. Besides, you can easily remove it from your door frame when not in use.
With the fantastic features mentioned, it is imperative to state that this bar is a little expensive. If you are an occasional user, you may want to try a cheaper alternative.
Pros
Solid-body with durable materials
Heavy frame and safety locks
Nylon and rubber mats for a firm grip
Width to adjust standard door frames
Cons
May not hold the weight above 200kgs
Expensive and not for occasional users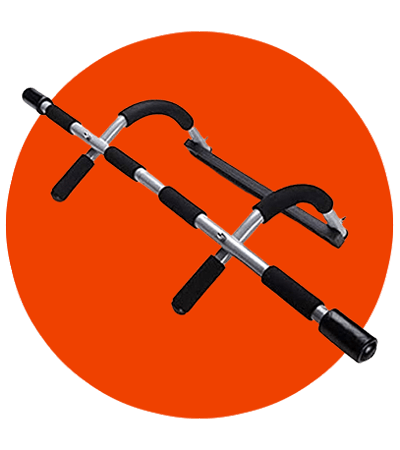 It may not be an appropriate product for professionals, but the Ultrasport door frame pull up bar is ideal for beginners. This product is pretty simple and doesn't require much initial assembling.
The Ultrasport door pull up bar has a metal body covered by padded foam for comfortable grip. Moreover, thanks to its durable frame, the bar has an excellent maximum load capacity of 100kgs.
However, anyone taller or heavier than this weight may find the limit as a hindrance.
This product is easily suitable for doors with a width between 24 inches to 32 inches. Besides, it can enhance your muscle and upper body strength to a great level. Since it doesn't require any expertise to utilise, you can start working out as soon as the bar reaches your doorstep.
Pros
Simple and quick assembling
Padded grip for comfort
Has a maximum capacity of 100kgs
Can adjust most standard doors
Great for a low-impact workout
Cons
Not for professionals
Doesn't have many safety features
Hindrance for those above 100kgs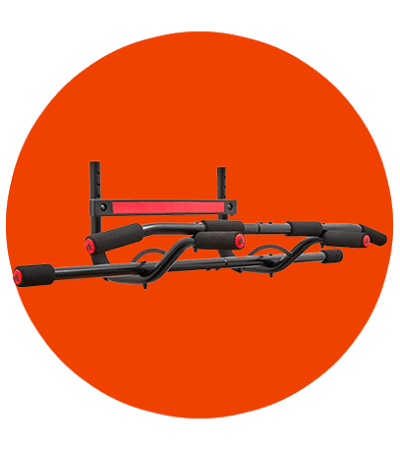 Adidas is a well-known brand that believes in delivering quality and offers a great product line. As a part of its portfolio, the Adidas door pull up bar reflects its high standards and performance. Available in black and red, this door frame pull up bar is a piece of versatile equipment that is both space-saving and cost-efficient.
Starting from its design, the Adidas pull up bar has a robust metal body with padded hand grips. The strategic structure of this product allows you to pull in three different variations while maintaining your body's posture.
Moreover, it comes with a counterbalance system that securely adjusts it on any standard door frame. Furthermore, the frame padding ensures that your door doesn't get damaged when this equipment is being used.
The Adidas Door Gym has a maximum weight capacity of 110kgs and comes with an adjustable height feature for tall users.
Overall, this product is perfect for beginners and intermediate gym enthusiasts. However, if you are a professional, you may not find the bar's value worth the expensive price tag.
Pros
Great design
Secure and durable
Can fit standard door frames
Foam padding prevents any damage to the door
Perfect for beginners
Cons
Can't hold weight more than 110kgs
Expensive product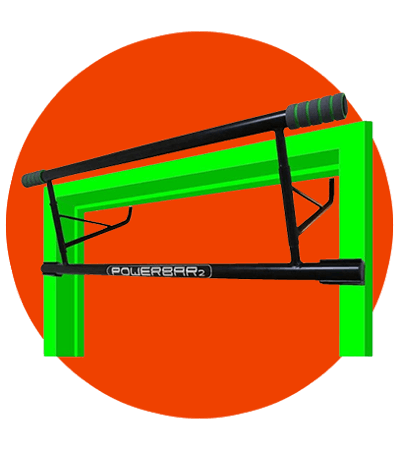 Taking the fourth spot on the list of the best pull up bars in the UK, this Innovative Fitness tool is made for professionals and expert fitness enthusiasts. The feature that makes this pull up bar stand out is its innovative welded frame, perfect for better security and performance.
Moreover, it is quite an affordable catch with non-complex assembling requirements.
The pull up bar offers excellent quality with a sturdy fit on all standard doorways. Besides, the Innovation Fitness door pull up bar also comes with rubber pads to keep your door safe from unnecessary scratching and damage.
This product can be easily removed from the door frame and folds into a compact structure when not in use. You can conveniently store it in any small corner of your home gym, like a drawer or under your bed.
The Innovation Fitness pull up bar has a weight capacity of 120kgs. However, if you weigh above that limit, this product may not strike your fancy.
Pros
Comes with welded frame
Sturdy and well-built
Rubber pads to prevent damage
Can fit standard doors
Foldable
Cons
Can't carry weight above 120kgs
Diameter of the bar may feel small for some users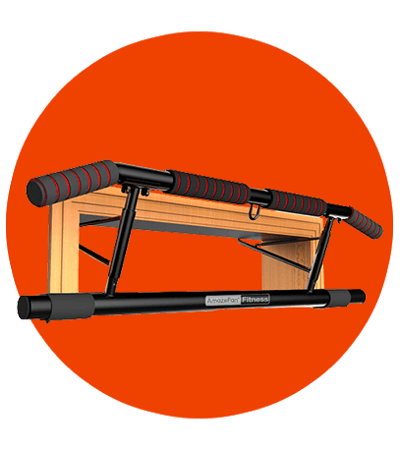 The best pull up bars require quick or no assembling or adjustment and are always ready to use. The AmazeFun pull up bar is one such product that demands no pre-workout efforts.
This product is made of a steel body covered by two foam and non-slip for optimum grip with its stunning and ergonomic design. Moreover, the AmazeFun bar comes with two professional wrist wraps to prevent your hands from any injuries.
The door pull up bar has two plastic pads on each side. These detachable covers prevent any damage or marks on the door.
Also, built for standard doors with a width of 23.33 to 36.2 inches, this pull up bar can adjust in every home gym. However, it may not fit doors with low wall clearance and thick trims.
The AmazeFun pull up bar has a maximum weight limitation of 200kgs and comes with a money-back guarantee.
Pros
Doesn't require any assembling
Can carry a maximum weight of 200kgs
Comes with free wrist wraps
Plastic pads prevent damage to the frame
Can fit standard doors
Cons
Cannot fit doorways with not enough wall clearance
Fail to adjust on doors with thick trims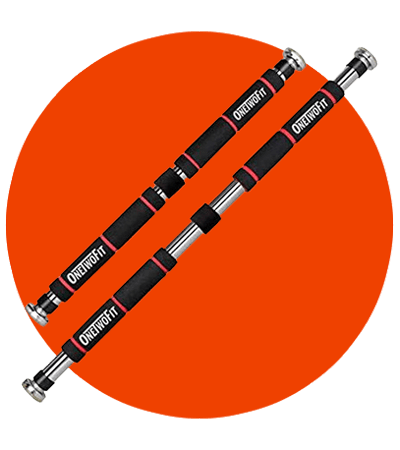 The ONETWOFIT pull up bar is a functional product with a heavy metal body and an adjustable frame. Moreover, it offers a comfortable grip through foam pads made for both beginners and professionals. The telescopic structure provides a sturdy construction that we all expect in a high-quality bar.
While fixing the pull up bar, you won't require any complex drilling or screwing. With some primary assembly material for better stability, the bar is ready to be used within a few minutes.
The ONETWOFIT pull bar also features rubber closures to prevent any damage to your door. Even if you live in a rented property, this product won't hurt any door frame.
However, avoid installing this pull up bar with tiles, glass or wallpaper surfaces. It is essential to save it from falling. Moreover, if possible, use your own suitable screws, as the ones that come with the bar may not be big enough.
Pros
Great telescopic structure
Metal durable frame
Easy installation
Comes with rubber closures to prevent damage
Cons
Not made for glass or tile surfaces
Screws that come with the bars are too small for safety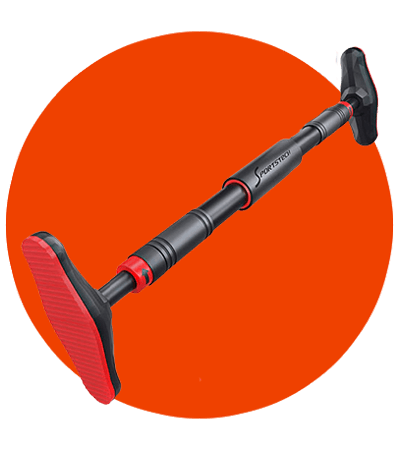 This innovative pull up bar by Sportstech offers class and performance. Its timeless design, non-slip grip, and technologically advanced lock system make this product quite valuable among its competitors.
The Sportstech door frame pull up bar has an innovative lock feature that includes a support pad for a regular workout. Moreover, the telescopic rod offers high quality and adjustability. It can easily fit on doors with a width between 26 to 35 inches.
This pull up bar's stable body can hold a maximum weight of 200kgs. Besides, it is a perfect product for basic training. However, if you are an expert and fancy intensive workout, we recommend choosing a bar more solid than this one.
Pros
Ideal for beginners
Comes with an advanced lock system
Fits standard doors
Great maximum weight capacity
Non-slip grip
Cons
Not sturdy enough for professionals
May damage frame surrounded by plasterboards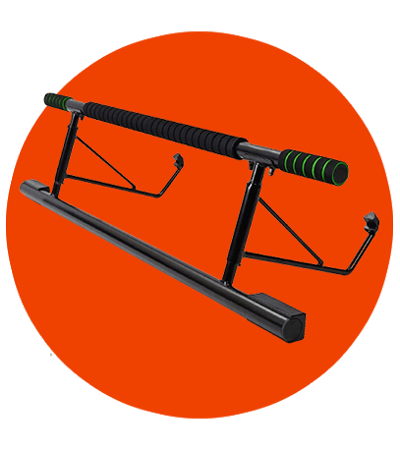 If you crave value for money fitness products every time, the Magnoos door pull up bar will tick all the right boxes. With a robust body, padded grip, and advanced safety features, there is no way you won't find this product appealing.
The Magnoos pull up bar simply hangs on the door frame and doesn't require any time-consuming installations. Moreover, when not in use, this product folds within seconds to store in a small space.
Made for tall people, this chin-up bar supports optimal motion and is ideal for both sit-ups and push-ups. The sturdy frame prevents unnecessary wobbling and can hold a weight of up to 130kgs. However, if you weigh above that limit, this bar won't suit your requirements.
A product that reflects durability and comfort, the Magnoos pull up bar is a worthy candidate on this list.
Pros
Perfect for tall users
Easy use
Foldable
Durable design
Great grip
Cons
Can't support the weight above 130kgs
A little pricey than other options
How to Install
While every door pull up bar may have a different assembling and installation process, here is a general step-by-step method to fix a self-supporting one:
Start with attaching the given plastic bar with two L-shaped bars.
You can use screws and bolts provided within the pack to do this job.
Once done, assemble the straight pull up bar by inserting the right piece into the left one.
Tighten both of them using small screws.
Now attach the straight bar with the bracket and make sure the adjustment is tight enough.
Once everything is fixed, place the pull up bar on the door frame and adjust well.
Make sure the installation is safe and firm enough to avoid any mishaps.
Once satisfied, start your training without making any further delays.
Some door pull up bars do not come with L-shaped parts and have a telescopic design. For such tools, either attach the holders to the frame and insert the bar. Or extend the pull up bar telescopically until it is secure enough.
How to Pick the Best Pull Up Bar UK
Are you overwhelmed by the above options? Don't worry, as this section will make the selection process much easier for you.
Go through some essential factors to consider before you invest in a door pull up bar.
Door Frame Measurements
It is crucial to measure the width of your door frame before selecting a pull up bar. Use a measuring tape to get the width and height. Then match the dimensions with the bar's description to choose the right tool.
Some old houses have wide doors and frames. So, you should be very careful while taking your measurements. A small error can make your investment go to waste.
Also, if you choose to buy a self-supporting bar, make sure the surrounding area is clear with no walls and furniture. If there are any such elements, make them a part of your overall measurement.
Durability and Sturdiness
Avoid investing in a door frame pull up bar that isn't durable enough. Make sure your chosen product has a strong body and is made of long-lasting material.
Moreover, after attachment, the bar should be sturdy enough to withstand all intensities of pressure. Besides, it should have a non-slippery surface to facilitate your grip for a long time.
Weight Limitations
Don't forget to check the maximum weight limitations of a pull up bar before you bring it home. A majority of door pull up bars have lower weight limits than ceiling ones.
Moreover, a standard door pull up bar can hold a maximum of 200kgs to 250kgs of weight at a time. So, make sure you know about this information and don't exceed the bar's limitations.
Negligence on this factor can lead to severe accidents and injuries. And that's the last thing you want to experience on your home fitness journey.
Safety Features
Safe door pull up bars are essential to keep you motivated this season. So, choose a unit that comes with various security features. For instance, a tool with strong screws and bolts is worth consideration. Moreover, a bar frame and an advanced lock system add value to the overall design.
Besides, if security is a big concern, buy a self-supporting bar. This option is far more stable and offers more than one grip variation.
Price
A majority of door pull up bars are affordable. It is why this equipment is very appropriate for home workouts. However, to save yourself from a vulnerable product, don't look for the cheapest bars.
Compare the qualities of all the options and then establish whether the value lives up to the price tag. A compromise on the bar's performance rather than its price isn't a smart move to make.
FAQ
Here are some questions that users like you have asked us before buying a door pull up bar. Read through to see whether a query answers your doubts.