Have you ever bought a protein bar and enjoyed it before hopping on a bus to work? If not, you will probably want to try this snack after reading this article.
Protein bars may sound boring, but they are an excellent form of food that can help you add significant proteins and other nutrients to your diet. Besides, if you skip meals because of a busy schedule, this easy snack will ensure you stay full for long hours.
However, not every protein bar is good. Some come with lots of sugar and artificial colouring. Therefore, finding the best bar can be tricky, and that's why we are here to help.
So, join us and read through this guide to know everything you would want to know about a protein bar. From our top 12 bars to essential facts for a successful purchase, there is a plethora of information waiting for you.
What Is a Protein Bar?
As the name suggests, a protein bar is an excellent source of protein. But with that, it is also rich in carbohydrates, fats, and even some minerals and vitamins. So a protein bar is a quick way to put something in your mouth when you have a busy day ahead or need something urgently to keep your energy levels high.
However, the composition of protein bars available in the market is not always the same. They come in different flavours with various ingredients. Besides, some bars are healthy, and others are not.
Nutrition in a Protein Bar
As discussed above, not all bars are created equally. It is because of different perceptions of many manufacturers and a variety of flavours.
For instance, some protein bars contain ingredients such as nuts and dates, and many have only whole grains. The difference in ingredients gives these bars a varying nutrient composition.
However, an average healthy protein bar often contains 20 grams of protein, 25 grams of carbohydrates, 10 grams of fat and 10 grams of fibre. In addition, some fantastic snacks also consist of B vitamins, calcium, iron and potassium.
However, many products have unhealthy sweeteners and added sugar as part of their composition. For example, the most common sweetener used in bars is fructose corn syrup. This ingredient can increase the levels of fructose in your diet, thus contributing to obesity, fatty liver, and obesity.
Many bars take their proteins from milk, yoghurt powder, and other dairy sources. However, you will also come across products that contain brown rice, pea, or soy. In addition, ingredients like egg whites and nuts are also common protein sources found in such bars.
Moreover, a few healthy bars use concentrated proteins instead of less processed ones to add more flavour to their composition.
Calories in a Protein Bar
Similar to nutrients, the total calories present in a protein bar also differ between products. For instance, some bars have calories as low as 150 per serving. But there are many rich and unhealthy bars that contain almost 400 calories.
Top Picks of the Best Protein Bars
Here's hoping that the above information has convinced you to purchase your first protein bar. If you agree, wait no more and go through our reviewed recommendations. We are sure you will easily find a bar that will match your taste and calorie requirement.
Best Vitamin Protein Bar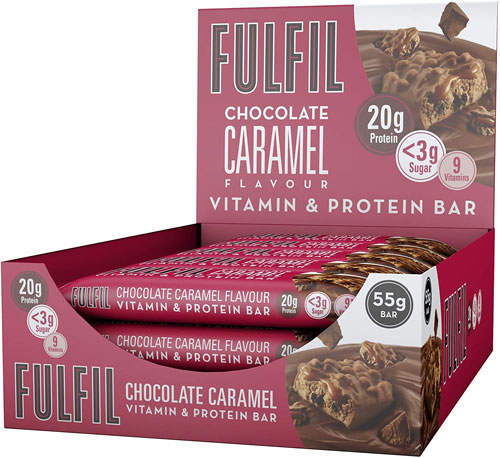 Serving Size (55g bar):
Calories: 192kcal
Protein: 20g
Sugar: 2.0g
Fat: 6.7g
Carbs: 14g
Fibre: 6.6g
Have you ever considered buying a protein bar right before a workout session? If not, you may want to try the Fulfil protein bar today and make this a habit. This bar is not only healthy but is also available in a delicious and mouth-watering flavour.
The Fulfil vitamin and protein bar is available in a 55-gram packing. Each bar contains 192 calories with 20 grams of protein and less than just 3 grams of carbs. This composition makes this bar pretty healthy for your daily use.
But most importantly, it contains nine different vitamins. That's quite impressive. These essential vitamins are enough to keep you active throughout the day.
As per the manufacturer, this product doesn't contain any added sugars. However, there are chocolate sweeteners present in this low-carb bar to give you the right flavour. The chocolate caramel bar tastes like heaven and, according to some users, melts easily in your mouth.
Before buying this bar, make sure to go through the list of other ingredients. This product contains milk, eggs, nuts, and some seeds that most people might be allergic to. If you are, prefer to choose some other option from this list.
Overall, this protein bar is pretty amazing and has an affordable price. You can buy the whole pack with 15 bars to store in advance for your daily intake.
Best Pland Based Protein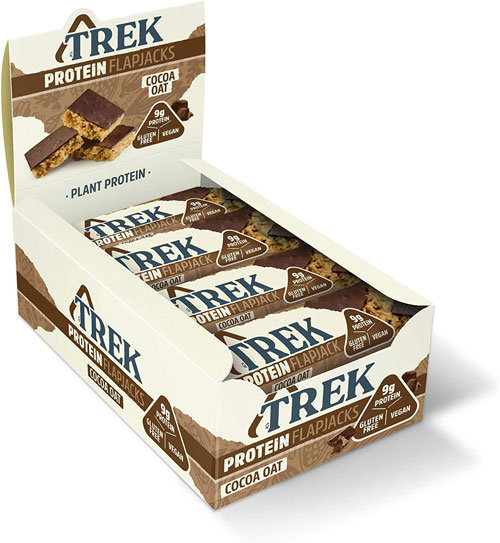 Serving Size (50g bar):
Calories: 227kcal
Protein: 9g
Sugar: 14g
Fat: 11g
Carbs: 22g
Fibre: 1.9g
Is it hard to find a vegan protein bar from the market? We understand your concern and are here to help. The Trek high protein bar flapjack is a vegan product with an excellent composition.
This bar contains healthy and balanced nutrients. However, with a low protein to carbs ratio, you might find this bar suitable for weight gain and instant energy rather than weight loss.
Every 100-gram bar contains 18.4 grams of protein and 3.9 grams of fibre. However, there are 43.9 grams of carbohydrates present in every 100 grams, of which 27 grams are made of sugar.
The Trek high protein bar has many plant-based ingredients. For instance, it contains gluten-free oats, soy proteins, vegetable oil, and artificial chocolate coating.
Moreover, this bar is available in five different flavours. You can either choose from Cocoa oat or Morning berry. There is also a lemon flavour available for those who love a little bit of tanginess in their snacks.
This protein bar is celery-free, milk-free, and egg-free. Besides, if you are allergic to sesame seeds, sulphur, or mustard, you will love this product.
Moreover, when it comes to its price, this product doesn't disappoint. You can get 16 bars in one single pack and store your favourite for more than a week's consumption.
Best Protein Bar Overall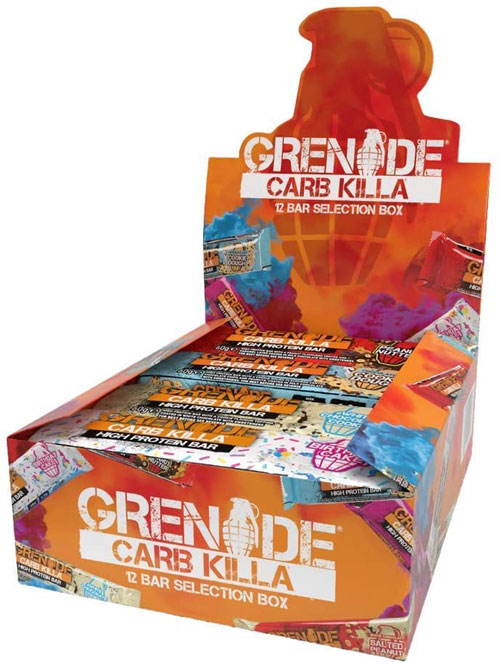 Serving Size (60g bar):
Calories: 242kcal
Protein: 20g
Sugar: 2g
Fat: 12g
Carbs: 19g
Fibre: 2.5g
It is tough to find protein bars that are both fulfilling and delicious. While many brands will promise you to fulfil your cravings, you will probably end up with a stomach ache after consuming their products.
However, the Grenade Carb Killa protein bars are nothing like that. Instead, they have a balanced protein to carb ratio and have a good balance of other nutrients to present you with a healthy snack.
Every 60-gram protein bar contains 20 grams of proteins and 19 grams of carbohydrates. Besides, there are 12 grams of fats and 2.5 grams of fibre to assist with your digestion.
A single protein bar also contains white chocolate, milk powder, and soy as an emulsifier. There are also extracts of seeds, eggs, and gluten in the composition. If you are allergic to any of these ingredients, make sure to go for a better and safer option.
According to the manufacturer, the Grenade Carb Killa bar is a certified product. Therefore, if you are an athlete or military personnel, this product may prove to be a good snack for you.
You can get this bar in different flavours. Flavour names such as Fudge Brownie, Dark Chocolate Raspberry, and Caramel Chaos will make you try them all.
Best for Muscle Gain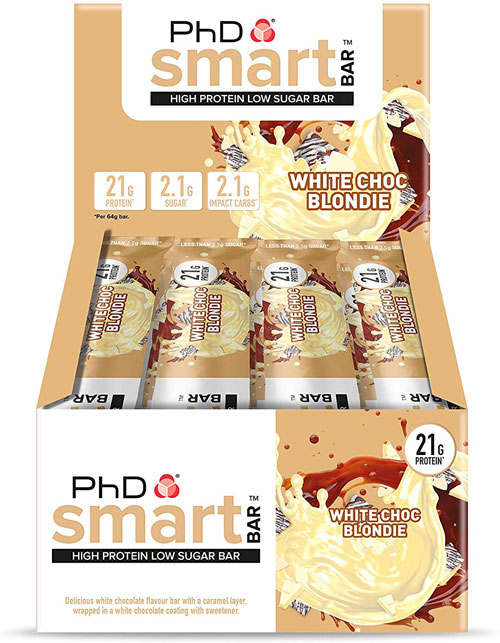 Serving Size (64g bar):
Calories: 238kcal
Protein: 21g
Sugar: 2.1g
Fat: 17g
Carbs: 23g
Fibre: 15g
The PhD brand has been in the market for a pretty long time. It is famously known to produce high-quality products but does the brand's protein bar live up to everyone's expectations? Let's find out.
This bar is available in many flavours, but when it comes to the best one, we can't deny that the white choc blondie ticks the right boxes. Every protein bar contains 20 grams of proteins but 24 grams of carbohydrates.
While this is a bad protein to carb ratio, only 2.1 grams out of the 24 grams are sugar. The rest of the carbs are healthy and natural. Moreover, a single bar contains just 11 grams of fat, thus reducing the chances of weight gain.
By eating a PhD bar every day, you can gain 261 calories at a time. However, if you think this number is too much for your body and fitness, you can exercise and eat healthy to balance the additional calories.
When it comes to texture, this protein bar doesn't disappoint. As per many users, it tastes sweet and creamy. Moreover, it has a perfect crunchy texture that most of you would like.
You can get a pack of 12 bars for your indulgence. Buying a package will save you the additional money that you may spend on separate bars.
Best Gluten Free Bar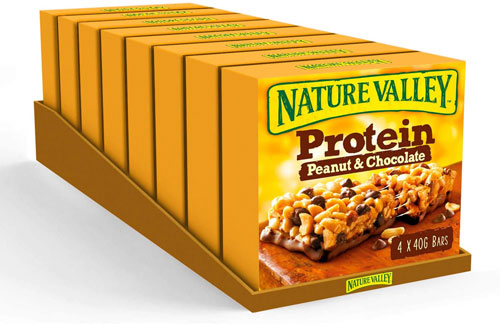 Serving Size (40g bar):
Calories: 192kcal
Protein: 10.2g
Sugar: 6.2g
Fat: 12g
Carbs: 9.6g
Fibre: 5.4g
Nature Valley is another famous brand worldwide. It has been around for many years, making it easy for new customers to trust its products. This company has manufactured some unique items in all these years, and one of its most loved ones is the peanut and chocolate protein bar.
This bar has the potential to become your everyday go-to snack. Each bar contains 10 grams of proteins and just 8 grams of carbohydrates. Besides, there is a good amount of fats for people who want to enjoy instant energy after consuming one bar.
When it comes to this product's ingredients, there are many you will find. For instance, roasted peanuts, chocolate pieces, sunflower oil, glucose syrup, and cocoa powder are available in healthy amounts. However, while some of the ingredients are healthy, many may increase your overall calorie intake.
Moreover, the bar also contains soy and milk. If you are allergic to these two, it's better to avoid this product.
The Nature Valley protein cereal bar is ideally suited for vegetarians. Besides, if you often miss your breakfast, keep this bar in your bag and enjoy it during your journey from home to work.
Best Taste and Texture Bar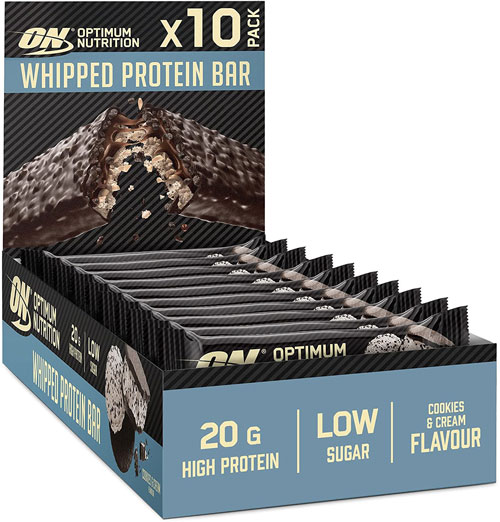 Serving Size (62g bar):
Calories: 207kcal
Protein: 20g
Sugar: 2.1g
Fat: 6.7g
Carbs: 18g
Fibre: 6.2g
If you buy fitness products regularly, you might have come across the Optimum Nutrition brand more than often. This company manufactures many products such as protein powders and bars, and each of them usually delivers good quality only.
The Whipped protein bar is no less. Each bar contains 20 grams of protein with just 2 grams of unhealthy sugar. Besides, the nutrient composition contains very few fats to prevent weight gain.
This bar is available in three delicious flavours. However, the Whipped protein bar contains milk chocolate, cocoa butter, coconut oil, and almond pieces. If you are allergic to soy, milk and nuts, you should avoid buying this bar.
As per the manufacturer, this bar is perfect to be taken before and after a workout. Besides, you can eat it in your breakfast or as a snack between meals. So, if you are a professional athlete or an overall active person, this bar will help you stay fit and full for a long time.
Best Cheap Protein bar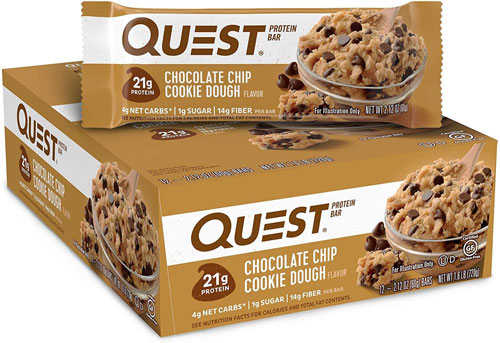 Serving Size (60g bar):
Calories: 180kcal
Protein: 21g
Sugar: 1g
Fat: 8g
Carbs: 4g
Fibre: 14g
Do you feel hungry after a workout session? Does your tummy feel empty after every work meeting? If yes, you may want to listen to your needs and get your hands on the best protein bars.
While you will find many products that suit your requirements, the Quest Nutrition bar will provide you with good taste and quality at an affordable price.
Each bar contains 21 grams of protein with just 4 grams of carbohydrates. Moreover, there is just 1 gram of sugar in every bar. This composition makes this product pretty healthy for different users.
The Chocolate Chip Cookie Dough flavour also includes some other ingredients. For instance, almonds, cocoa butter, milk corn fibre and sea salt are reasonable quantities. However, if you are allergic to nuts and milk, you may find this bar pretty useless for your needs.
This bar is also available in many different colours, so everyone has a product. Besides, since this product is generously priced, you can easily get yourself a pack to last for a week or more.
Best High Protein Snack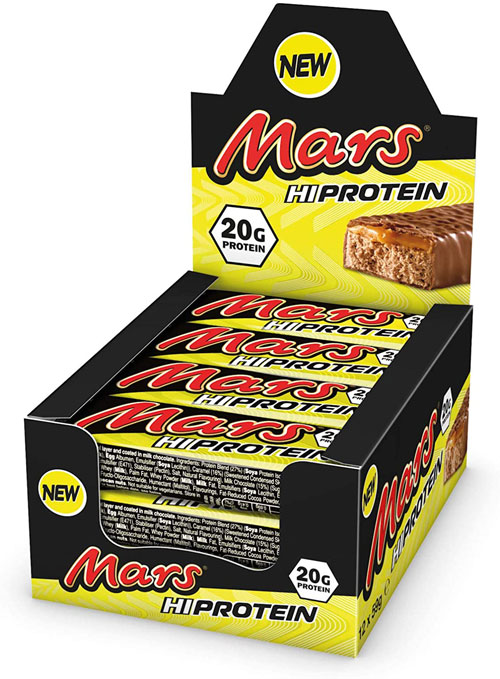 Serving Size (59g bar):
Calories: 207kcal
Protein: 20g
Sugar: 14g
Fat: 4.8g
Carbs: 23g
You might have tasted Mars chocolate but have you tried the brand's Hi protein bar? If not, you might be missing out on so much.
This product is not like your regular protein bar. Instead, it contains a delicious combination of caramel, milk, and nuts to give you 20 grams of proteins from just one serving. Besides, each bar has just 14 grams of sugar so that you can enjoy your snack without any guilt.
Other than these, the bar also has a good balance of fats, fibre, and salt. There is also palm oil, butter, vanilla essence cocoa, and barley mat as part of the overall composition. However, this product isn't vegan-friendly and isn't suitable for people with milk or nut allergies.
You can get 12 protein bars in one pack. Moreover, you can easily indulge in a bar after a meeting, during your breakfast or after a workout session.
Best Crunchy Peanut Bar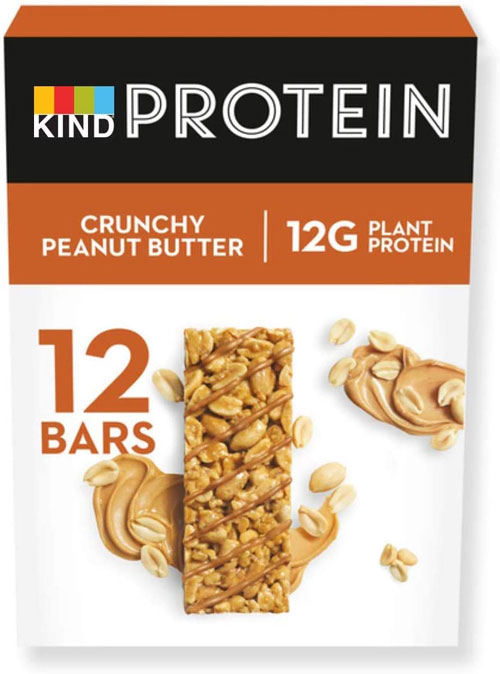 Serving Size (50g bar):
Calories: 249kcal
Protein: 12g
Sugar: 8g
Fat: 18g
Carbs: 12g
Fibre: 14g
Will you fancy a peanut butter bar with a crunchy texture for your breakfast? If you love peanut butter and are not allergic to nuts, we guess you would.
The KIND high protein bar is full of flavours and textures that give you 12 grams of proteins in every serving. Besides, you get a healthy product to fulfil your cravings with a high purporting of fibre and natural ingredients.
This product is a gluten-free snack that doesn't contain any artificial ingredients. Besides, there are no preservatives or synthetic oils present.
You can enjoy a bar or two every day before or after a workout. Moreover, if you often skip breakfast, this product can help you stay fit and energized during your mornings.
This bar is available in an affordable package. You can get 12 bars at a reasonable price without harming your monthly budget.
Best Tasting Protein Bar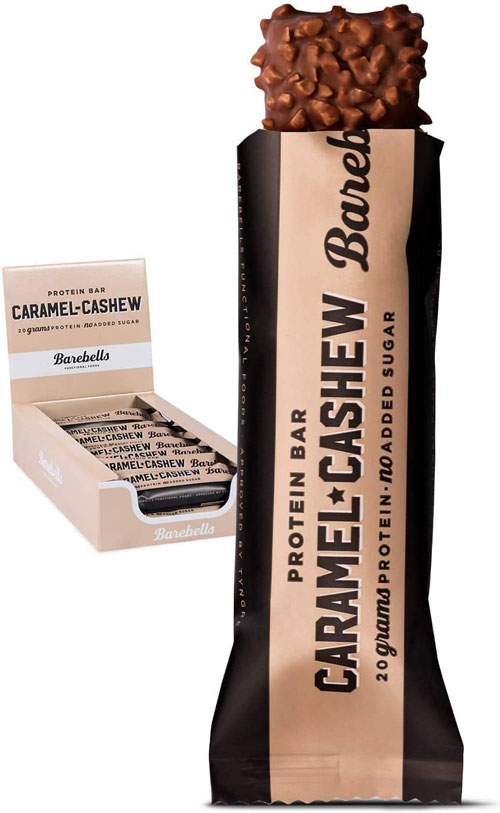 Serving Size (55g bar):
Calories: 199kcal
Protein: 20g
Sugar: 1.7g
Fat: 8.3g
Carbs: 14g
Fibre: 4.3g
Do you think you find it hard trusting the brands when they mention that their bars have no added sugar? Most of us do; however, some manufacturers don't lie and deliver precisely what they promise.
The Barbells protein bars may lack an attractive packing, but their quality is pretty excellent. Each bar contains 20 grams of proteins and just 2 grams of unhealthy sugar. Moreover, the total carbohydrates are just 14 grams, thus giving you a good protein to carb ratio.
This bar also contains some fats and fibres to keep your digestive system healthy. In addition, the salt content is very low, which is excellent if you want to consume more than one bar a day.
The Barbells protein bar comes in a range of different flavours. However, the Caramel Cashew has a deliciously nutty taste with a chocolate coating. Moreover, this product also contains milk and soy, which many people might be allergic to.
This bar is an affordable snack that is completely GMO-free. Moreover, when consumed rightly, it can help with muscle recovery and performance after every workout session.
Best Post Workout Snack
Serving Size (55g bar):
Calories: 213kcal
Protein: 20g
Sugar: 11.5g
Fat: 7.4g
Carbs: 20g
Just like Mars, you also have a Snickers protein bar. That's quite a news for people who have loved this chocolate all their lives.
This Hi protein bar is not only delicious but is also relatively healthy. Each bar contains 20 grams of protein and just 9.5 grams of sugar. Moreover, the fat content is pretty low, making this snack healthy enough for a good diet.
The bar contains many different ingredients. For instance, there is skimmed milk, caramel, palm oil, peanut flour, and some antioxidants. But, unfortunately, it also includes some allergens, such as peanuts and soybeans.
You can get this protein bar in a pack of 12. It means that a box can easily last you for a week if you plan to take one bar daily.
Best Natural Protein Bar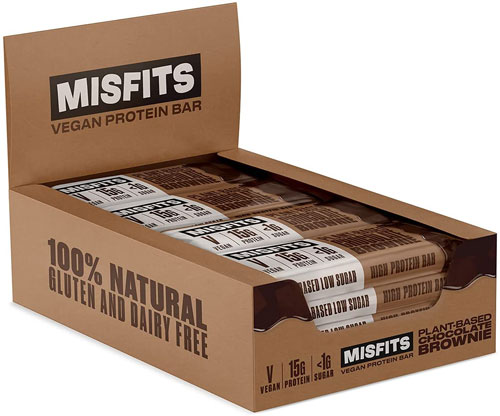 Serving Size (45g bar):
Calories: 198kcal
Protein: 15g
Sugar: 1g
Fat: 9g
Carbs: 8g
Fibre: 12g
Taking the last spot on our list, the Misfits vegan protein bars are quite a treat for vegetarians worldwide. With each bar serving 15 grams of protein and less than 1 gram of sugar, you can enjoy this snack without any guilt.
This protein bar contains 200 calories and is made from natural and gluten-free ingredients. However, the bar includes almonds which may not suit people with nut allergies.
The Chocolate Brownie flavour is quite a favourite among many users. However, there are four other flavours available as well for people with different taste preferences.
Overall, the Misfits protein bar is quite an affordable and delicious option for fitness enthusiasts. You can indulge in a bar before or after your workout to build energy and accelerate muscle growth.
When Should You Eat a Protein Bar?
If you want to consume a protein bar to fuel your workout, make sure to have one before starting your first exercise or right after your training.
As per a study, amino acids present in a bar may prove beneficial in repairing your muscles. Besides, the bar can help reestablish your energy levels which might be lost during the workout.
On the flip side, consuming a bar before training can enhance your energy to perform well. Similarly, you can also have one during your breakfast time to achieve the same advantage.
If simply put, the bar's time of consumption is entirely dependent on your tolerance, preference, availability and convenience.
Can You Consume a Protein Bar Late at Night?
According to some research, consuming a small protein bar before bedtime can prove to be quite beneficial. A bar with good protein content can boost muscle recovery during the night, help gain muscles, and generate a healthy metabolism.
However, it is vital to choose a bar with low-fat and healthy proteins only to gain the above benefits. Moreover, you should eat a bar or two at least three hours before you doze off.
How Many Protein Bars Can You Have in a Day?
The number of bars you can have in a day depends on their composition and your overall protein intake from other sources. For instance, a person who requires 45 grams of protein in a day should only eat one bar with 5 to 10 grams of protein. They should then consume the leftover proteins through other food sources.
However, if you plan to gain weight, you are free to eat three to four bars with high-calorie content. This activity will help increase your weight and achieve your goal.
But, do know that too much protein can be very harmful. While you might want to gain fat and muscles, consuming excess proteins can hurt your kidneys, and that's the least you want from consuming a bar.
How to Pick the Best Protein Bar?
We understand that the above recommendations are a little overwhelming. You might be finding it hard to select one, right?
So, to solve your confusion, we have some crucial factors to consider below. Go through these considerations, match them with your requirements, and select a bar that fulfils your criteria. With this simple practice, you will quickly make the correct decision.
Calorie Count
A bar with 500 calories will not benefit your weight loss efforts. This number makes almost one-third a fraction of your total required calories for the day, so be wise with your selection.
However, if you want to gain weight and enhance muscle mass, a bar with 500 calories will work. But please don't forget to read the ingredient labels before you pick a bar. Knowing the number of calories you are consuming through a bar will help you plan your food intake for the rest of the day.
Proteins
Always choose bars containing more than 5 grams of proteins. This amount will help you stay full for longer and will also contribute to the muscle recovery process.
Moreover, read the ingredients to know more about the source of protein present in the bar. For example, if you are lactose intolerant, you may want to enjoy a plant-based protein rather than a dairy one.
Carbohydrates
Before choosing a bar, take a glance at the type of carbs present in the bar. If you aim to lose weight, you don't want to consume more than 30 grams of carbohydrates. However, you can choose to exceed this limit if your mission is to gain fats and muscles.
Also, some bars have artificial sweeteners and sugar alcohols to amplify their taste. Both of these ingredients are added in most low carb bars to compensate for the low sweetness level. However, they aren't healthy ingredients.
Sugar alcohols have many drawbacks. For instance, they can cause bloating, diarrhoea and cramps in some people.
Protein to Carb Ratio
A bar with a 2:1 protein to carb ratio is perfect for weight loss. Moreover, it is also healthy.
However, most athletes and gym enthusiasts prefer bars with a 1: 2 protein to carb ratio to enhance their muscle recovery process and generate instant energy. Surprisingly, some marathon runners also select a bar with a ratio of 1:4 to prepare for a long run.
So, in short, the correct ratio depends on your goals and the reason behind consuming bars.
Fibre
If you want to reduce your unnecessary cravings, consume a bar with at least 6 grams of fibre. Most nut and fruit-based bars will have this amount of fibre.
Protein bars rich in fibre content are good for digestion and maintain your blood sugar levels. Besides, more fibre means that you won't crave another bar after feeling full by having one, thus saving your money on any additional purchase.
Fat
Your selected protein bar should have a balanced content of fats. Stay away from products containing unhealthy trans fats.
Instead, go for bars with a healthy composition of dietary fats. Such products are better than most granola bars that are commercially produced only to harm your body.
Other Ingredients
Some bars contain preservatives and different oils. It's better to avoid such products for the sake of your health.
Besides, when choosing a bar, read the ingredient list very carefully to find extracts of things you might be allergic to. For instance, some people have nut allergies, and most bars do contain their extracts. Similarly, if you don't eat meat, choose a bar that mentions its suitability for vegans.
Flavour
As mentioned earlier, protein bars come in different flavours. So, depending on your taste preference, read the ingredients to choose the right one.
Brand of the Bar
Protein bars are always in demand, and that's why you will find every other brand coming up with their versions. However, while selecting, make sure your chosen brand is known to provide high quality only.
You can read customer reviews and expert recommendations to narrow down your search. Besides, you can ask people around you to recommend the best brand for protein bars that they have tried.
Price
Don't go for cheap bars. They are usually high in carbs and are made with unhealthy ingredients. But that being said, don't overspend on this product as well.
You will find a variety of healthy and affordable bars in the market. Choose one that suits your monthly budget. If you plan to consume a bar every day, buy in bulk and save on overall cost.
Benefits of Consuming a Protein Bar
Now that you know what a protein bar is, here are some ways this snack can benefit you:
Works Great as a Meal Replacement
For some people, protein bars are an excellent replacement for their breakfast. While it isn't wise to compare this snack with a wholesome breakfast, there are a few bars that may work for you. For instance, bars with high-calorie levels and without artificial ingredients can make a good choice.
Moreover, some people use protein bars as part of their weight-loss plan. These diet plans allow the consumption of high-protein bars to maintain calorie intake and reduce portion sizes. In addition, such bars help you feel full for a long time and contain a good balance of minerals and vitamins.
However, that being said, it is not healthy to rely entirely on protein bars to lose weight. They aren't a healthy alternative to vegetables and fruits, and hence you should also include the latter in your diet.
Reduce Overeating
Do you have a habit of eating snacks between your meals? If yes, you might want to try healthy protein bars instead of chips or chocolates to fulfil your craving.
As mentioned earlier, protein bars come in different flavours. You can get chocolate or fudge brownie ones to meet the needs of your sweet tooth.
However, while choosing such bars, make sure they do not have high sugar content or artificial ingredients that might create a spike in your blood sugar levels. It is imperative to prevent obesity and other diseases related to excess fat.
Workout Support
Your body needs to have sufficient nutrients for it to perform well during a workout. So, you need to eat a protein bar before exercising to fuel your activity. The amino acids found in protein bars help generate muscle tissues and also accelerate the muscle repair process.
Offer Convenient Snacking
Are you always on the go? Is it hard for you to spare time for proper meals? As discussed briefly above, consuming a protein bar doesn't require any complications.
Open a packet, and you are good to go. Moreover, unlike protein powders that require mixing and measuring, a protein bar can be easily consumed without any hassle. The convenience associated with this snack makes it quite useful for busy individuals.
Can Help With Weight Gain
Do you want to gain weight? If yes, higher consumption of daily calories can help you achieve that goal.
Some protein bars contain more than 300 calories. Therefore, if consumed between meals, they can help you gain weight faster than any other food option.
However, while selecting a protein bar to experience weight gain, make sure to choose a bar with a wholesome composition only. Avoid buying a bar that may contain additives and added sugar.
Affordable Snack
A majority of protein bars are inexpensive. Moreover, they are readily available from various online and physical stores. This accessibility makes these snacks easy to buy and stock.
Moreover, a protein bar can be easily stored in your bag on a day at work. This product is available in compact packing, making it easy to store.
FAQ
Here are a few questions asked by users like you. If you have any doubts left, clear them by going through this section and make a purchase right away.