A tricep bar may look like a simple training tool, but its performance is worth every bit of your investment. Made to train your triceps and increase your overall strength, a tricep bar is a handy unit that can help you gain a desirable body.
If you have been craving a muscular build for a long time, a tricep bar is an ideal tool to invest in. But like any other equipment in your fitness gear, purchasing a bar isn't a piece of cake for amateurs.
Simply put, if you aren't an expert, you might end up buying a bar that may not suit your requirements.
We don't want you to make that mistake, and so we are here with this article. Read through to find a buying guide and five Olympic tricep bar recommendations to make your final purchase a success.
What is an Tricep Bar?
In simple words, a well-designed Olympic tricep bar looks like a 34 to 37 inches long metal bar with an oval shape. The bar has two parallel lines within the oval, which provide grip support for your hand while training.
An average Olympic tricep bar usually has an average weight of 10.88kg. It is equipped with weight plates at both ends that are safely fastened by bar clamps.
What Does a Tricep Bar Do?
Tricep muscles are one of the largest muscles in your body. They are found on your arms' back and are connected with your elbows.
These muscles are often targeted to achieve better overall strength and a toned body. Weightlifters and even general gym enthusiasts tone their triceps to reach an arm balance and ace various strength exercises in their training regime.
But it is not very easy for anyone to get their desired triceps. You require an ideal tool, like an Olympic tricep bar, and consistent efforts to fulfil your muscle goals.
An Olympic tricep bar is a specialist unit that makes tricep training pretty smooth. By holding the bar from various angles, you can tone the muscles without hurting your elbows, wrists or forearms. Unlike a straight bar, an Olympic tricep bar reduces the risk of injury while exerting pressure on your triceps and shaping them according to your taste.
5 Best Tricep Olympic Bars for You
So, the wait is over! Here are our five tricep bars for you. Go through all the well-researched recommendations and choose the one that may strike your fancy.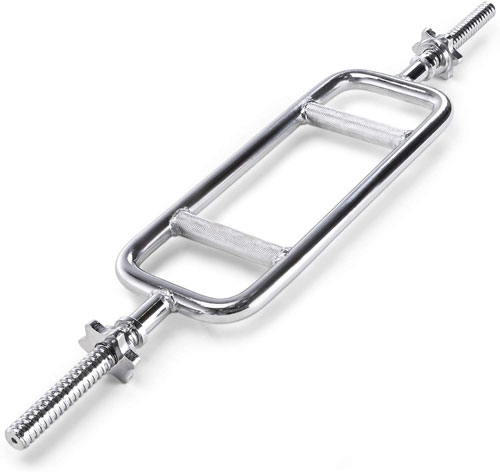 The Marcy threaded Olympic tricep bar has grabbed the first spot on this list for many reasons. Firstly, this hard-core and well-constructed tool is made from steel coated with chrome for additional protection and strength. In addition, this equipment has a corrosion-free surface that is long-lasting and cleans up easily.
Another worth-mentioning feature is the knurled handle. The ergonomic knurling ensures a robust and secure grip. Besides, the rugged pattern reduces the chance of any slippage without giving you any discomfort.
The Marcy bar saves you from the wrath of unstable weight plates. It comes with two lock collars that prevent the plates from moving unnecessarily on both ends. This gives you the security of performing various exercises at a comfortable pace and with confidence.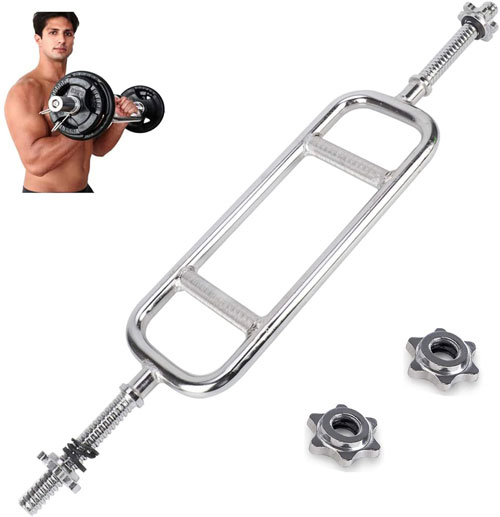 While this bar is a little bit more expensive than the above option, the Tonchean tricep bar is quite a luxurious fitness tool in many ways. Its price may not fit the budgets of many buyers, but you should at least read the review to convince yourself to save for this product.
Made from solid steel, this bar exhibits excellent durability and sturdiness. It also comes fully plated with chrome that increases the bar's value and enhances its life.
The best thing about this bar is that it doesn't deform easily, thus giving you the chance to experiment with it differently. Moreover, the bar exhibits threaded sleeves that increases its stability and reduces the risk of falling weights. Since it comes with a solid and safe structure, the bar is ideal for weightlifting and bodybuilding.
Another feature worth mentioning is the knurled surface. This bar has a grip with diamond-shaped knurlings that provide a non-slip surface to hold the bar. Knurlings give you control over this equipment to perform all exercises with ease.
This recommendation is an excellent product with many distinctive features. You can easily clean the surface with quick wiping and also store this tool conveniently.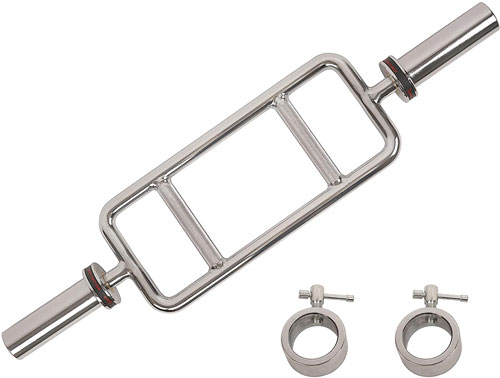 Sunny Health and Fitness is a well-known brand in the UK sports industry. The company has a broad product portfolio and is famous for its excellent quality standards and reasonable prices.
This tricep bar from this brand isn't an exception.
This 34-inches long fitness tool has a design that can support an excellent workout for all skill levels. Its structure is ideal for training your bicep muscles and engaging your upper body to witness some outstanding results.
The Olympic bar features rotating sleeves that help to spin the weight plates while you perform various movements. This factor reduces the stress on your wrists and minimises the resistance the plates may create to hinder your workout.
This well-designed Olympic tricep bar contains ring collars to lock the weights on its structure safely. Moreover, this bar is pretty wide to accommodate your training and reduce the risk of your arms touching the weight unnecessarily.
When it comes to the grip, this product doesn't disappoint. The diamond-shaped knurling reduces the risk of blisters and helps you form a tight grip on the bar. You can easily use this bar to lift heavy weights as per your liking.
This bar can hold a maximum weight of 91kg at a time. That's quite impressive for users who fancy a challenging tool.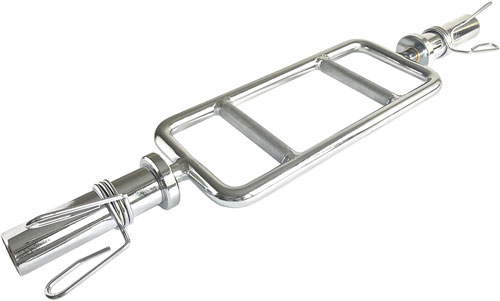 This Olympic tricep bar from Body Revolution should be an option to consider while you plan your hunt for the best tool. Made from heavy-duty steel and featuring chrome plating, this bar exhibits strength and durability for people who love toning their triceps. Moreover, the brass rushing sleeves are stable and sturdy enough to accommodate your strenuous and prolonged workout routines.
While discussing sleeves, it is also imperative to mention that this tool has rotating sleeves. This feature enables the weight plates to spin in sync with your movement. The free rotation gives you the liberty to exercise at your own pace without fighting against the resistance produced by stable and non-moving plates.
The Body Revolution tricep bar has cambered handles that offer excellent stability. You can hold the handles tightly without putting too much pressure on your wrists or arms.
Also, since the bar has a collar lock system, you can be assured of the tools safety mechanism. The weight plates won't move until you allow them to.
This bar has a weight of 10kg, which isn't too heavy. But when it comes to its weight capacity, you will be left impressed. This tricep bar can hold a weight of 120kg at a time, which, to be honest, is quite ideal.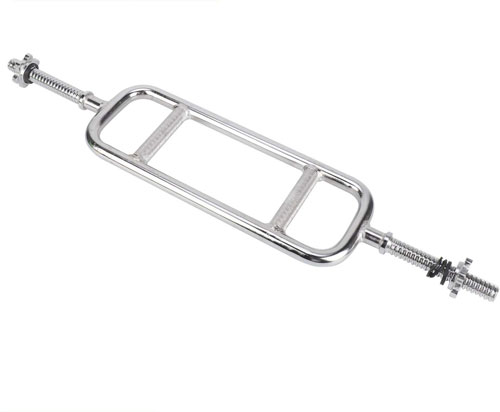 Taking the last spot on our list, the jxgzyy tricep bar is no less than all the options above. This 34-inches long bar is made for everyone and is a true example of strength and stability.
Made with solid steel, this item offers high durability, is long-lasting and won't deform on high pressure. Besides, this bar has a chrome finishing that maintains its smooth surface and reduces the chance of unnecessary rusting.
The Olympic tricep bar has knurled handles that accommodate your firm grip. This pattern provides you with a non-slip surface and reduces the risk of accidents and slippage while you perform your challenging moves.
The threaded sleeves of the bar may not be able to hold as many weights as an Olympic sleeve. But rest assured, threaded sleeves are far more secure and long-lasting than their other counterparts.
So, if you are a beginner, this bar may suit you. However, before selecting this tool, make sure you have enough savings in your bank to meet this product's hefty price tag.
How to Select the Best Tricep Bars?
We understand that selecting one best bar from a lot of five can be very complicated. When all of them seem fine, how can you pick one, right?
To help you out, here are some factors to consider before you make your purchase. Match these considerations with your requirements, and then find a product that ticks all the right boxes.
Material Used for the Frame
The material of the bar's frame is one of the most important factors to consider before you spend some pounds on this tool.
We can't stress enough that there is no better material than metal for a tricep bar. Bars with metal frames are durable and can withstand high pressure. Besides, they do not require much maintenance.
However, you might find metal tricep bars a little more expensive than those made from other materials. But ask yourself: do you need a cheap bar or a long-lasting and secure one? Bars with plastic frames are a no-no as they can't stand much punishment and may fail to load enough weights.
Weight Capacity
Do you want to use your chosen tricep bar for simple muscle toning and light workouts, or are you planning to utilise it for strenuous training? In either case, make sure your goal translates well with your product.
There are different kinds of Olympic tricep bars. For example, some may have the capacity to hold a weight of only 45kg, while many can easily withstand weight plates of 113kg.
Bars with high weight capacity may be a little pricier than those with low ones. So, before you select any of the options, make sure that your workout truly demands that capacity. Otherwise, buying that tricep bar would be a waste of money.
Sleeves
This is another significant aspect of a tricep bar. For those unaware, sleeves are the parts on a bar where you slide in your weight plates. However, not every Olympic tricep bar has similar sleeves.
There are two different types of sleeves available.
Olympic Sleeves
Olympic sleeves are smooth and straight. They are capable of adjusting Olympic plates and have a high general tendency to hold high weights.
A tricep bar with Olympic sleeves has clamping collars to keep the plates in one position. But in many cases, these collars are pretty weak and may not be solid enough to secure the plates.
Threaded Sleeves
These sleeves feature a screw mechanism to hold the plates in one place. In addition, a collar made of screws is quite effective in keeping the weight plates intact with the bar.
However, unlike Olympic sleeves, threaded sleeves cannot hold much weight.
Depending on your comfort and skill level, choose a tricep bar with sleeves that suit your needs. For example, if you are a beginner who prefers security while lifting, get a hold of a bar with threaded sleeves. However, if you are an expert with years of experience, you may only like Olympic sleeves for the challenge they provide.
Another thing to consider while selecting the right sleeves is their revolving movement. If the sleeves revolve, the weights can spin too, which means they will accommodate your every move. On the other hand, in static sleeves, the weights will act more like a hindrance than a support.
So, while selecting an Olympic tricep bar, give this factor utmost attention. Ball-bearing sleeves are pretty convenient for a tricep workout.
However, bars with spinning sleeves are often expensive, so make sure your budget supports this feature.
Grips and Handles
Not all bars come with similar grips and handle designs.
For instance, some bars are long and have wide spacing between their grips. Such tools are ideal for people planning light workouts or those who have oversized or overweight people. Moreover, wide spacing provides an unhindered activity for people with mobility issues.
On the other hand, small bars with narrow gaps between grips are pretty challenging to handle. While these bars are perfect for people with small hands, they may be challenging to work out with and may hinder your arm movement. Besides, small bars can keep only a limited amount of weight.
Tricep bars with smooth handles are a no-no too. They may cause blisters in your hands and can provide you with a poor grip.
So, keeping that in mind, go for a bar that comes with a knurled texture. Moreover, if rubber grips accompany the knurled surface, take that feature as a bonus point.
Expert Recommendations and Customer Review
While all the above factors hold immense importance, don't buy a tricep bar until you haven't read some expert recommendations. It is essential to shortlist the best products according to the experience of professionals.
Also, while making a selection, read through customer reviews as well. People like you who might have used a particular bar will be in a better position to explain its performance.
Benefits of Using a Olympic Tricep Bar
Other than strengthening your tricep muscles, an Olympic tricep bar also benefits you in the following ways:
It Works As an Adjustable Fitness Tool
Unlike most other units, an Olympic tricep bar is pretty adjustable. You don't have to have a certain level of skill to benefit from this equipment. A bar is unloaded and loaded according to your required weight and provides you with a manageable workout.
You can remove or add weight plates in the bar and make it weigh anywhere between 9kg to 113kg. A single tool can add versatility to your training and is ideal for challenging your abilities as you grow. It is why this bar can be used by both experts and beginners alike.
This Bar Helps Perform Various Exercises
Don't let anybody fool you by telling you that this equipment is only used for tricep curls. That's a common misconception, and you shouldn't fall for it.
An Olympic tricep bar can accommodate many exercises such as front raises, tricep extensions, and hammer curls, as mentioned above. Moreover, you can utilise this equipment while performing squats, presses and lunges too.
Allow You to Use the Hammer/Neutral Grip
To hold a bar correctly, you need to form a hammer grip. A neutral grip makes your palms face each other rather than making them look away.
This grip is one of the most comfortable palm positions for many people. It recruits a good amount of your upper body's muscles and provides you with ample security. Besides, a hammer grip is ideal for performing a large number of pull-ups without getting exhausted or losing strength quickly.
Your Tricep Bar Targets the Brachialis
Do you know that brachialis is a prominent muscle between your triceps and biceps and to make your arm look bigger and muscular, you need to make sure that this muscle grows effectively?
But for that to happen, you need the right tool such as a tricep bar to do the job. The brachialis is often the missing piece of most training routines. Targeting this muscle is essential to make your arms pop out.
A Olympic Tricep Bar Is Inexpensive
One of the reasons most people run away from working out is the availability of costly fitness gear. Unfortunately, not everyone can afford expensive units, and thus, it becomes impossible for them to achieve their body goals.
But before buying an Olympic tricep bar, you don't have to save for a year. It is much more inexpensive than most other bars in the market. While you will find a wide range of them, choosing the one that fits your budget should always be a priority.
You Can Use this Bar Conveniently
In order to make your upper body stay fit with a tricep bar, you don't have to find a particular space in your house or make an appointment with your gym. Instead, this bar can be used in any place at any time.
You can use it after your lunch or even before going to bed at night. Besides, since it can be easily moved, you can take it to a park and train under the soothing sun.
As opposed to treadmills or static bikes, a tricep bar is pretty portable, provided you can carry the weight plates as well.
How to Use a Olympic Tricep Bar Correctly?
Now that the essential information is out of the way, here is a step-by-step guide that will help you know the correct way of using a tricep bar. Take a look!
Load the Bar
Before performing any move, make sure you load the bar safely.
Remove the loaded clips present on both ends of the bar.
Now lift a bar's end and slide your chosen weight plate in.
Put the clip back and secure it properly to ensure the plate's firm placement.
Do the same with the other end of the bar and also make sure that the plate is of the same weight.
Secure the loaded clip and prepare to perform your exercise.
For an overhead tricep press or a basic movement with the bar,
Stand straight and keep your feet at a shoulder-width distance
Gently hold the bar's inner handles with a firm grip
Make sure the palms are facing inwards
Lift the bar with full force and place it behind the head
Move your elbows to lower and lift the bar for some time until you are done
While moving, make sure your back is straight, and your shoulders are not slouching
You can also use the bar to perform bench presses, hammer curl and other similar moves. Remember, just like any exercise equipment; an Olympic tricep bar can help tone your upper body only if you use the tool with consistency.
FAQ
Do you have any other queries in your mind? If yes, go through this section and see if you can clear your doubts.