To experience the benefits of aerobics to the fullest, incorporating an aerobic stepper in your workout sessions is the best decision you can make today. Why? Isn't this tool just a mere platform?
It is. However, this simple-looking equipment offers a secure surface to perform various exercises and play a significant role in increasing your blood flow.
Moreover, an aerobic step aids your endurance and can be used for a full-body workout. Besides, an adjustable aerobic stepper is relatively lightweight and uncomplicated to set.
If you are even 10% convinced by the above introduction and want to learn more, this guide will help you.
From stating the benefits of buying an adjustable aerobic stepper to listing down eight recommendations, continue reading to unpack all the information.
Best Overall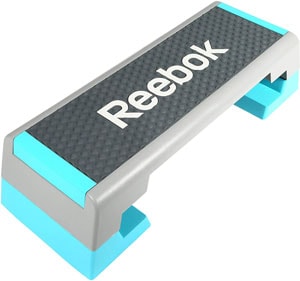 Reebok Exercise Step
30 Years of Aerobic Experience
3 Quick-to-change Height Adjustments
Best Seller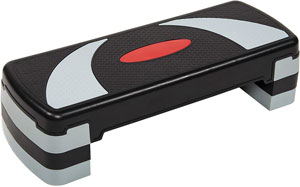 BalanceFrom Aerobic Stepper
Raisers Are Included
Constructed with the Durable ABS Material
Best Value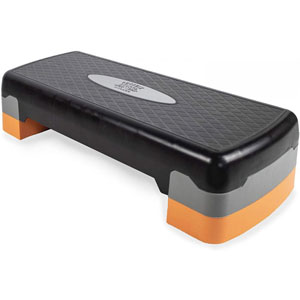 Phoenix Fitness Aerobic Stepper
Ideal for Low Impact Workouts
Compact and Light
What is an Aerobic Stepper
An aerobic stepper is explicitly designed for step aerobics. This form of exercise uses a platform raised for the user's convenience. Moreover, it is an up-tempo workout that makes your heart pump at an increased rate while you aim to stay fit.
Step aerobics is a great way to enjoy the benefits of cardio training without compromising your joints. Moreover, it boosts energy, balances your body, strengthens your core and establishes good heart health.
An aerobic stepper is quite a convenient tool that is quick to set up. You only have to put it on the ground and step down and up at your own comfortable pace.
Moreover, it is both portable and lightweight. You can carry it around anywhere with you and enjoy it both indoors and outdoors.
Besides, most aerobic steppers come with an adjustable height feature. So, you can set the stepper to suit your training routine and work out comfortably.
This tool is also super easy to store and won't take much space in your home.
The Best Adjustable Aerobic Steppers to Buy in 2022
If you are ready to invest in an adjustable aerobic step for your home gym in the UK, dig into our eight recommendations below. From high-end platforms to affordable ones, the list below covers quite a variety. Read to find out.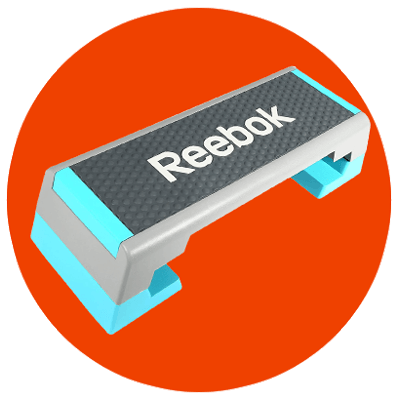 If you have a high budget and aim to spend on the best available option, look no further and buy the Reebok Women's exercise step immediately. It is one of the strongest and reliable steppers available in the market.
The Reebok aerobic stepper is highly stable, thanks to its well-structured design and secure surface. Moreover, its bubble textured base offers a firm grip.
Besides, the stepper's slip-resistance feet prevent unnecessary slippage or movement.
Made with a combination of plastic and rubber, this exercise stepper provides three height adjustments. You are free to tailor the platform according to your workout's intensity.
However, there have been complaints that the adjustment process can get a bit rigid at times.
The Reebok step has a weight capacity of 110kgs and has a reasonable length of 40 inches. It means that this product can cater to many users and does deserve a place in your UK home gym.
Pros
Offers great stability
Slip-resistant feet
Durable
Adjusted for three height levels
Sufficient weight capacity of 110kgs
Cons
Expensive
Offers initiative adjustments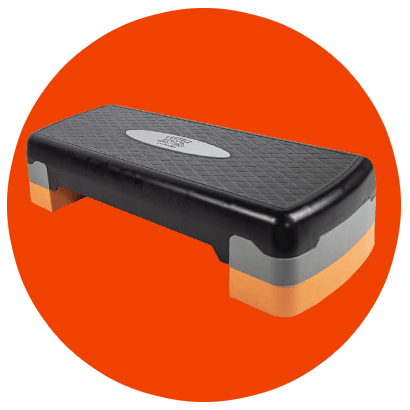 Step up on the Phoenix Fitness stepper and enjoy a wonderful low-impact workout under your safe roof. This product offers a rugged construction that enhances its durability and reduces slippage.
Moreover, with a height adjustment of 4 inches to 6 inches, you can utilise this tool for various exercises. However, since its maximum height capacity is just 6 inches, it may not serve many users.
The Phoenix Fitness exercise stepper is exceptionally lightweight and compact. You can store it under your bed or in a corner when not in use. Moreover, it is portable enough to carry it around different spots in your house.
However, many customers think that the aerobic stepper is relatively small for an average user. The product's width and length are not sufficient enough for HIIT workouts.
Besides, its rubber feet move on even the flattest surfaces when used for high-intensity training.
Pros
Great for low-impact training
Durable structure
Offers two height adjustments
Lightweight
Portable
Cons
Not made for HIIT training
May not serve many users because of low maxim height adjustment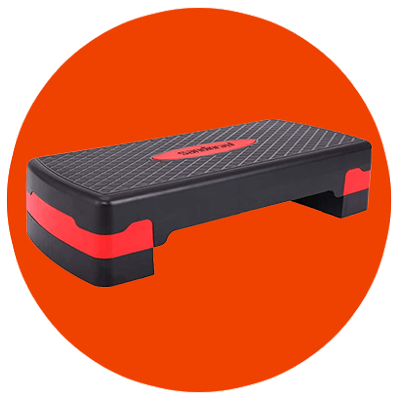 An affordable exercise stepper with outstanding quality is quite a catch. And the Jaxpety 27 inches aerobic step offers both elements brilliantly.
This fitness tool has an ideal length and width. Moreover, the Jaxpety aerobic platform is made of high-quality plastic to accommodate your high-intensity training.
It also has rubber pads on its feet to avoid unnecessary slippage and accidents. Moreover, the Jaxpety platform's surface is well-textured to provide a better grip for your shoes.
Available in a beautiful combination of black and red, this equipment is pretty easy to clean and blends well with the rest of your furniture. Moreover, it looks pretty stylish and compact when in use.
The Jaxpety aerobic stepper is entirely adjustable. You can adjust the height between 4 inches and 6 inches and tailor your workout accordingly. However, if your routine demands more height adjustments, you may want to look for an alternative.
Overall, this product is pretty good. However, you may find it a little pricey than some similar options on the list.
Pros
Durable and stable
Non-slip base
Lightweight
Has perfect width and length
Easily adjustable
Cons
Pricey
Height doesn't adjust to more than 6 inches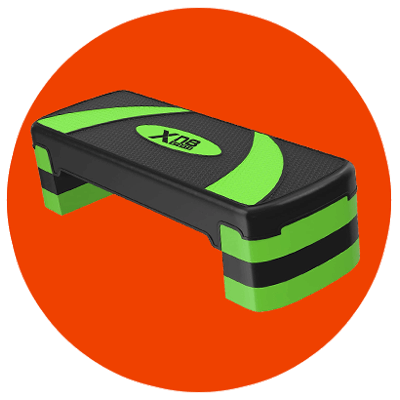 An Xn8 stepper is a perfect option for users looking for a variety of height adjustments. This tool offers three height adjustments limits, and the maximum height it reaches is 8 inches.
Besides, it has a length of 30 inches and a width of 11 inches. So even before going into much detail, the dimensions of this stepper look quite promising.
The Xn8 aerobic stepper comes with a dotted base to provide exceptional slip resistance. Moreover, the rubber feet stay in one place for a long time. However, it may trouble you on high-intensity workouts.
This fitness tool has a weight capacity of 115kgs, which is pretty impressive. However, if you weigh above that limitation, other similar options are available for you in the UK market.
The Xn8 is available in many different colours. Moreover, its design and properties are pretty appropriate for all genders.
Pros
Offers three height adjustments
Ideal length and width
Rubber surface reduces slippage
Great for low-impact workouts
Available in many colours
Cons
Not durable enough for high-intensity workouts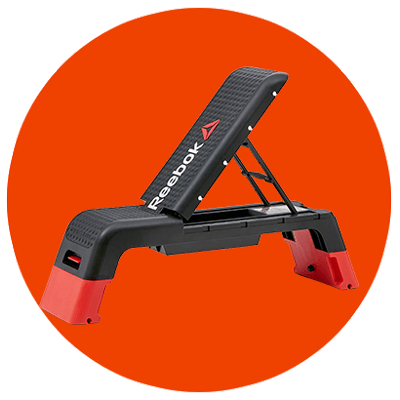 Reebok is a well-known brand and is famous for the quality of its fitness products. The Reebok Deck isn't an exception and lives up to its brand's popularity.
The features that make this product stand out from the rest is the deck. The deck can be used as both an incline and decline bench during your workouts.
When inclined, it can support your body while you improve your upper body strength with weights. However, on a decline position, this deck can attach your resistance tubes to its body and can help you perform some abdominal crunches.
Since the Reebok aerobic stepper deck has a weight capacity of 150kgs, it can suit many users and accommodate different exercise combinations. Moreover, this product offers two height adjustments (8 inches and 14 inches) and is exceptionally lightweight to carry around.
The Reebok Deck also offers a storage compartment that is unlikely to be found in any other product. You can use the space to store your dumbbells after a workout.
With so much to offer, don't expect to get this product at an affordable price. If you plan to buy this stepper, make sure you have enough pounds in your pocket to do so.
Pros
Comes with a deck that works as a bench
Stable and durable
Offers two suitable height adjustments
Lightweight
Comes with a storage compartment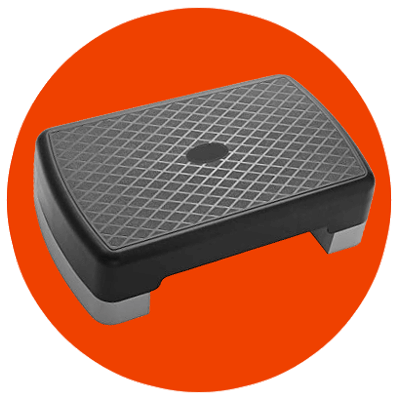 BalanceFrom aerobic step is made up of long-lasting ABC material that makes this tool highly durable. Moreover, this platform is extremely lightweight, affordable, quick to assemble and portable to carry around your house in the UK.
However, the BalanceFrom adjustable bench has a few concerning features that you should know. Firstly, it has a length of only 18 inches. That is way below the standard size every user expects from a platform used for high-intensity exercise.
The BalanceFrom aerobic stepper has tiny footpads that can't accommodate any running shoes. Moreover, the surface doesn't offer a good grip, and you may find yourself slipping frequently.
However, the width of this bench is 11 inches, and that's quite ideal. Moreover, this is an adjustable bench that can reach a maximum height of 6 inches.
But overall, the BalanceFrom aerobic stepper lacks the strength and reliability that one wants to experience while training.
Pros
Lightweight stepper
Assembles quickly
Affordable
Portable
Offers ideal width
Cons
Too small
Surface with poor grip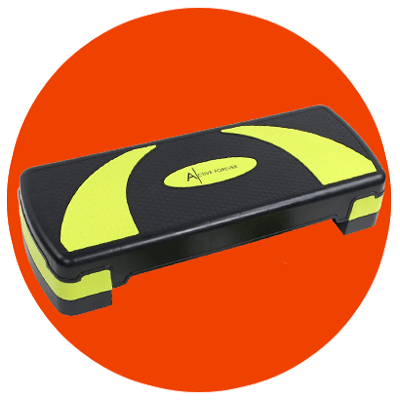 If you are a beginner starting your fitness journey, step aerobics workout is an excellent way to initiate this process. However, to keep you motivated for long, a stepper like the Active Forever board will be an affordable choice to start with.
This adjustable aerobic stepper from Active Forever offers three height adjustments with reasonable length and width. With a 30 inches long body and 11 inches width, you can be assured of the safe specifications.
Moreover, this tool is strong enough to hold 100kgs of weight at a time. However, if you weigh way above that capacity, how about you try an alternative. Also, since it is made of basic plastic, it may not be safe to use it for extreme workouts.
The Active Forever aerobic stepper is a piece of lightweight equipment and can be easily stored in any space. Moreover, you can conveniently carry it around your house.
Pros
Perfect for beginners
Affordable
Comes with three height adjustments
Offers excellent length and width
Cons
Cannot accommodate weight above 100kgs
Not appropriate for intense training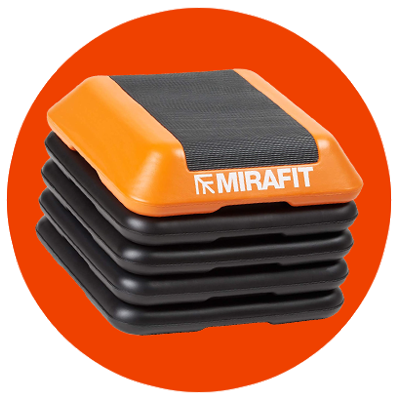 Do you want to bring the gym workout experience to your home? If yes, the Mirafit adjustable aerobic stepper will help you accomplish that goal.
As one of the most sturdy and lightweight steppers on this list, this product offers an exceptional user experience. It is available in a striking colour scheme or black and orange that looks quite beautiful. Moreover, it has a compact shape that doesn't take much storage space.
This aerobic step offers five height adjustments and comes with riser blocks. It is quite a rare feature and is only present in high-quality steppers.
The Mirafit adjustable aerobic stepper has a comfortable width of 15 inches. Besides, it provides a non-slip base for a safe aerobic experience.
However, the Mirafit stepper has a few loopholes in its design. For instance, it has a square shape that many may find uncomfortable while using, as most steppers are rectangular. Besides, the risers may slip if not adjusted properly.
Other than that, the Mirafit stepper is quite a compatible product for your home workout.
Pros
Lightweight and compact
Offers five risers for height adjustments
Has a perfect width
Non-slip surface
Cons
Square shape may not feel comfortable to adapt to
Risers may slip if not adjusted tightly
How to Pick the Best Aerobic Stepper In the UK?
Are you unable to decide which one of the above recommendations deserves a place in your UK home gym? We understand your indecisiveness, and so here we are with this section.
For an adjustable aerobic stepper to tick all the right boxes, it should meet some common considerations. To find out what these are, go through a list of factors below before purchasing the right aerobic step.
Types
There are two different types of aerobic steppers. They are simple steppers and shock absorber ones.
Each type uses varying materials as part of its construction.
A simple stepper has a plastic riser, while a shock absorber platform features springs. While both of them are good in their ways, the latter offers much more stability and can withstand your workout impact in a better way.
Stability
If your adjustable platform isn't stable enough, be prepared to get into unexpected accidents.
We might be sounding blunt, but that's true. An unstable stepper will not only affect your pace but can also harm your knees.
So, before investing in a stepper, make sure it doesn't move inappropriately, regardless of your workout intensity.
Strong Structure
Not all aerobic steppers are made of durable material. To avoid breaking the platform within a week of your use, make sure it is made from top-quality parts that don't break or separate easily.
Moreover, make sure your chosen platform can withstand your weight. Always go through the description to find the maximum weight capacity before you bring it to your UK home.
The majority of aerobic steppers have a weight limitation of 100kgs.
Adequate Dimensions
Buying an adjustable platform for your UK home gym without considering its height and width will be a complete waste of money. So, make sure your chosen tool meets your workout criteria.
The base's width and length should be enough to keep your steps hurdle-free. Moreover, the height of the tool should meet your comfort level.
If a stepper's height is adjustable and comes with many risers, consider it a bonus point.
Slip-resistance Surface
The stepping surface should be slip-resistance. Don't compromise on this factor.
It is imperative because a good slip resistance allows you to take comfortable steps even with sweaty feet.
Excellent Traction
Your chosen platform should offer reliable traction. If it does, it won't slip on surfaces such as hardwood floors. Moreover, good traction prevents the stepper from making marks or scratches on any surface.
Price
Not all aerobic steppers are available at a similar price tag. Some are expensive while others are cheap. However, your chosen platform should offer great value for money.
An aerobic step that provides all the good features at an affordable price is the best option to consider.
Exercises You Can Enjoy Using an Aerobic Stepper
There are a variety of moves you can enjoy using this adjustable platform. However, if you want to target a particular area of your body, look for specific exercises through online tutorials before stepping up on an aerobic stepper.
Here is a list of some very common movements you can begin with.
FAQ
Here's hoping the above information has helped you to make a decision. However, if you want to learn more, go through some common questions users have asked us. Find their answers below and clear any doubts.