Going to an expensive gym isn't the only way to tone your muscles – you can also use a wall mounted pull up bar for the purpose.
Unlike other workout equipment, these bars have no moving part or anything else that can wear out or malfunction. That's why once installed; they will last for years. And, interestingly, you can use them for way more exercises than you think.
Today, we'll discuss everything there is to know about wall mounted pull up bars. From their benefits and key features to the best options available in the UK, we'll try to cover it all.
What is a Wall Mounted Pull Up Bar?
A wall mounted pull up bar is a device that, as the name suggests, can be mounted onto a wall for bodyweight exercises. Fitness enthusiasts use them extensively. As a matter of fact, no bodyweight exercise routine can be complete without one of these.
Wall pull up bars can be used for:
Bodyweight exercises like pull-ups, chin-ups, leg raises, knee raises, toes to bar, L-hang, and L-side hang.
TRX strap exercise, which is an intuitive way of using body weight for strength and endurance training.
Hanging boxing bags for boxing and MMA training.
The list goes on and on. In fact, you can get creative to invent your own exercises too. The muscles that are involved in these exercises include the chest, biceps, triceps, shoulder, abdominal, hip, and lower back.
Now you might wonder that these muscles can also be flexed by using other types of pull up bars, such as ceiling mounted, door mounted, and free-standing bars. Right? Then why go for a wall mounted one?
Well, here's why wall mounted pull up bars are the best option among all types.
Key Features of Wall Mounted Pull Up Bars
Wall pull up bars have many advantages over other options, such as:
They can support more weight than other formats of pull up bars.
Door mounted, ceiling mounted, and free standing pull up bars come with a height limit, while the wall mounted ones don't.
Wall pull up bars are more solid and rigid than other options.
They do not limit the user's space like door-mounted or free-standing options.
Due to an extensive weight limit and an overall stronger build, you can hang punching bags and other training equipment from these bars.
Best Wall Mounted Pull Up Bars for Sale Review
Without further ado, let's have a look at the eight best wall mounted pull up bars available in the UK right now.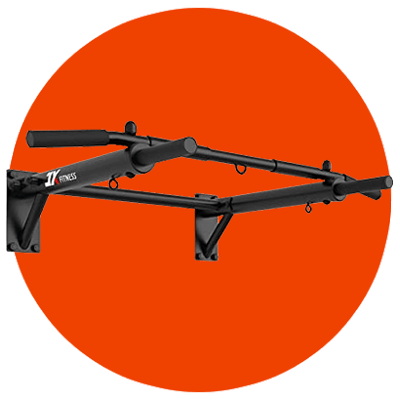 With the core structure made of heavy-duty steel and grips crafted from durable high-density foam, JX Fitness Pull Up Bar is strong enough to support up to 125kg.
Genius use of triangular supports makes the structure rigid and strong while also being lightweight. It's because triangles are among some of the most structurally stable shapes. The use of steel pipes further augments the strength. Moreover, eight special heavy-duty studs are included with the package to effectively and efficiently transfer all the load to the wall.
Three eyelets are there on the wall mounted pull up bar in a triangular shape to hang anything regardless of the weight. And to make pull-ups and chin-ups easy, a high-density foam grip is spread over a large area of the bar so that you can hold it in any position that suits your workout style.
Any exercise that needs a solid mounting point for toning the midsection and strengthening the upper body can be done using JX's simple yet versatile pull up bar. Whether you want it for pull-ups, chin-ups, hanging a boxing bag, or doing TRX workouts, JX Fitness Bar is suitable for all these purposes.
JX Fitness also offers a 2-year warranty on this pull up bar so that you don't have to worry about it failing on you.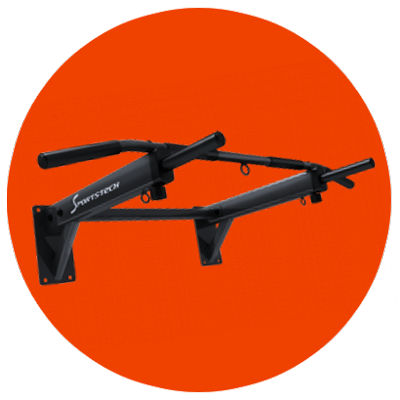 Sportstech 4-in-1 Pull Up Bar is designed to work with boxing bags, TRX bands, power ropes, and loops in addition to all types of chin-ups, pull-ups, and other bodyweight/hanging workouts. There are three grip positions on the Sportstech Bar, making up for six non-slip handles with foam covering that you can use for parallel, narrow, or wide grip.
In addition to the grip positions, Sportstech has also equipped the pull-up bar with three eyelets that you can use for a punching bag, TRX bands, or power ropes. All these exercise options in addition to the standard chin-ups, back practice, and pull-ups mean that this bar is, essentially, a gym mounted on your wall.
Sportstech Bar uses two large plates and eight heavy-duty bolts to connect to the wall. All in all, the high-strength steel, large mounting plates, sturdy bolts, and cross-strut supports contribute to making it strong enough to handle any operational condition that you can use it for.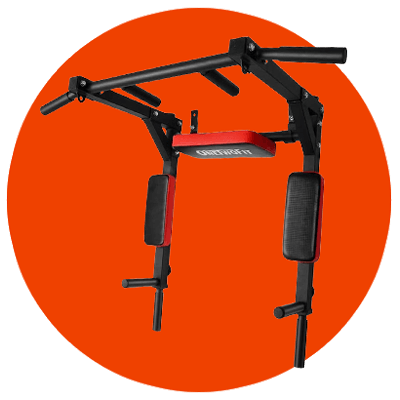 Onetwofit Multifunctional Bar is the one with the most features on this list. You can use it for pull-ups and chin-ups, dips, knee raises, push-ups, boxing bags, TRX training, power ropes, and slings.
In addition to being multifunctional, Onetwofit has made this pull up bar to be highly sturdy. The use of high-strength steel and a multiple-supported structure allows it to support loads of up to 200kg as you flex the muscles in your abdomen, waist, chest, and upper limbs.
While other products on this list only provide cushioning for hand grips, Onetwofit Multifunctional wall mounted pull up bar has rear resistant and sweat repellent high-density padding for your arms and back to make the workout as comfortable as it can get.
Installation of Onetwofit is also very easy. All you need to install is a hammer drill with a 12mm drill bit for concrete or brick walls. Onetwofit Bar comes with high-strength bolts that you'll be needing for the mounting process.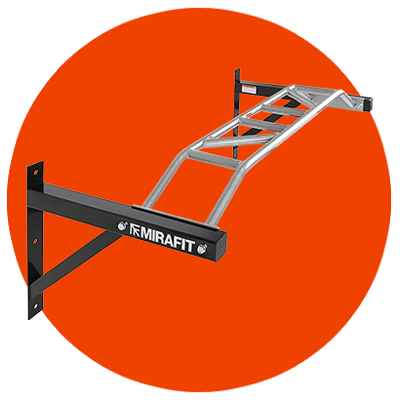 If you want a pull up bar that can support a lot of loads and looks spectacular, Mirafit Heavy Duty Bar, with its black and silver powder-coated finish, is the one for you.
Mirafit wall mounted pull up bar has a unique design as compared to all the other entries on our list.
Instead of using two separate bars for supporting the structural integrity of the whole apparatus and exercise, it has a single truss structure in the front to serve both purposes. The result is a lighter pull up bar that still supports 150kg of load. Also, the black side brackets and the silver powder-coated central piece further add to its distinctive look.
Mirafit Heavy Duty Bar is 1.2m wide and has the gripping surfaces carved out to facilitate easy grip and prevent the hands from slipping even when wet with sweat.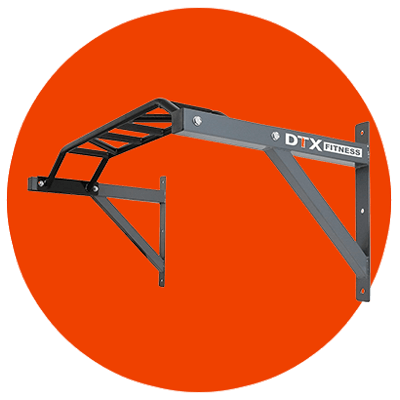 Another handsome minimalist design on our list is the DTX Fitness Multi Grip Bar. It comes in a dual-tone finish with black and grey powder-coated steel construction. The bar in the front, one you hang from, is also the structural support of the whole setup and has a truss structure to enhance rigidity.
Thanks to the innovative design, DTX Multi Grip Bar can bear up to 150kg of load. The total width of the bar is 1.2m, and the design allows the user to hold the 2.5cm diameter handle from any location to perform workouts with a parallel, narrow, or wide grip.
DTX wall mounted pull up bar is suitable for all kinds of bodyweight exercises that need a strong anchor point. As long as you weigh under 150kg, you can perform chest, arms, abs, and back exercises with utmost ease.
All the fittings needed to install the wall pull up bar comes with the package.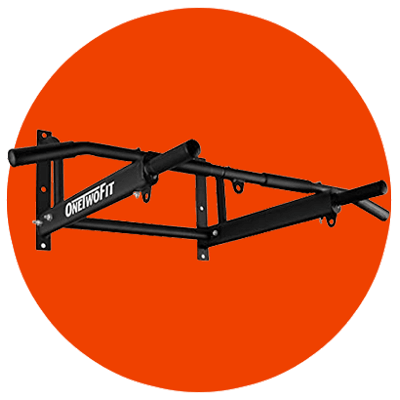 Onetwofit Pull Up Bar is for the ones who think the multifunctional offering from the brand is too much for them. Made on a minimalist design, this bar is also sturdy enough to support 200kg weight. It uses a 6-bolt design to transfer the load to the wall, which is a more stable and stronger approach than the traditional 4-bolt setup.
Onetwofit has used solid steel with powder coating to prevent rust and stains. Like all good pull up bars, it also has a set of soft cushions to increase your exercise time by keeping the workout comfortable for your hands. And thanks to the powder-coated steel construction, it can be used both indoors and outdoors.
You can use the Onetwofit wall mounted pull up bar for back, shoulders, chest, arms, triceps, biceps, strain, and abdomen exercises. You can also hang a boxing bag or tie TRX bands to it using the three eyelets provided for the purpose.
Onetwofit offers a 3-month unconditional return service on this product.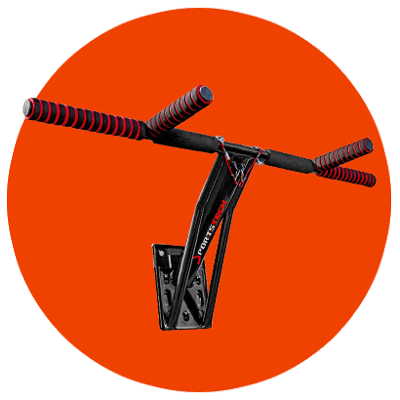 Sportstech Premium 2-in-1 Bar is an upscale offering from Sportstech, which also has another entry on our list. This bar has two mounting plates, for indoor and outdoor use, besides an easy-to-detach mechanism.
If you want to mount the bar outdoors with a tree or any other structure, that can be done using the tension belt provided with it. Transporting the whole thing is also easy, thanks to the bag that comes with the package.
Sportstech Premium wall mounted pull up bar is suitable for more than 40 exercises, including pull-ups, dips, leg lifting, and muscle-ups. Moreover, padded grips keep your hands comfortable and make it possible for you to work out for a longer time.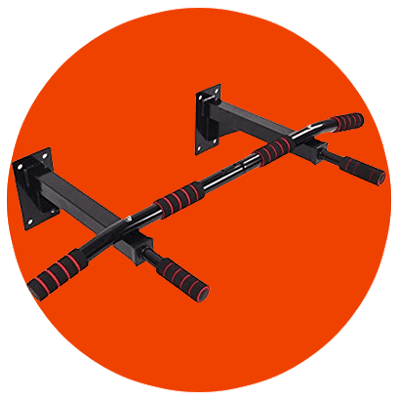 With a high-quality steel pipe as the main body and eight fixing holes, Grandma Shark Pull Up Bar is good for a 100kg load. To make the workout comfortable and extend your workout times, it has six gripping areas covered in soft and non-slip EVA foam.
This wall mounted pull up bar is not only lightweight but also extremely sturdy in quality. It will last a long time and won't fail, no matter how roughly you use it.
Things to Consider When Buying a Wall Mounted Pull Up Bar in the UK
It is true that wall pull up bars are better than other formats. But it does not mean that you can go and buy any product from any manufacturer.
Before you make the purchase, you need to consider a few important factors – because there are so many options in the UK market and, obviously, not all of them have the same properties.
Here are some important points to keep in mind:
Get the one that is in your price range.
Having the grips with foam covering is good to keep the hands from being tired during the workout.
Multi-function bars, such as the ones that allow hanging boxing bags and TRX straps, are better.
Try to buy a wall pull up bar that comes with the hardware needed to mount it.
Installing a Wall Mounted Pull Up Bar
After you've selected your pull up bar, the next thing that you need to know is how to install it. Though most of the products come with a detailed set of instructions, here's a little guide to make things simpler for you.
The most important thing you need to keep in mind is that the bar needs to be so high that your feet don't touch the ground when you grab it. You must also make sure that it is installed stable enough to support your weight.
Here are the steps you need to follow:
Determine the Location
First of all, you need to pinpoint the location where you want to install the bar.
Keep in mind that most pull up bars or their brackets are installed permanently, and even if you remove them, the holes will remain in the wall.
If possible, select a location with fresh air, because working out in fresh air is always good for the body.
Locate Drilling Locations
Once you have determined the location for installing the pull up bar, the next step is to select the location of the holes for its mounting brackets. While doing this, you need to make sure that:
The brackets are mounted at the correct distance to accommodate the bar.
The holes are drilled into concrete or wood or any structural material of the building, and not the cladding. If the holes are in the cladding, they will not be able to support the load.
Drill the Holes
After you have determined the location for drilling the holes, make a pilot hole. Now expand it using a drill bit of the size specified for the mounting bolts that come with or are recommended for the mounting brackets of the pull up bar.
Install the Bar
Hammer the studs into the holes and tighten the bolts to mount the mounting brackets of the pull up bar.
You need to use the appropriate socket/wrench for tightening the bolts and have to tighten them until they are snug. Do not over-tighten the bolts, as this can cause them to fail and come out of the wall when loaded.
Test the Bar
After you have installed the bar, give it a good tug and hang with it to make sure it is installed with enough strength to support your weight.
NOTE: Follow any specific installation instructions that come with the pull up bar you buy.
To Sum Up
Wall pull up bars are a good multipurpose workout accessory and can be used for a variety of bodyweight exercises. Unlike other formats of pull up bars, they do not have a height limit, do not limit userspace, and can also be used for boxing bags and TRX straps.
In this post, we have listed some of the best wall mounted pull up bars available in the UK that you can buy right now. We have also tried to explain everything else that you might want to know about these pull up bars. In case you have any other questions, feel free to scroll through these FAQs.
FAQ