What's the most important part of a gym? Is it the machinery or weights? If you ask us, we'd say gym flooring. Why? Because it's the most used part of any gym.
The usual flooring materials, available in the UK and elsewhere, are either too hard to comfortably work out or too fragile to be easily damaged by the weight of gym equipment. So, to save both your joints and your gym floor, you need to have a proper surface to work out.
Today, we'll try to cover everything there's to know about professional and home gym floorings.
From the qualities of a good flooring to its various types to the factors that you must consider while buying one, we'll try to explain it all. We'll also discuss some of the best options available on the market right now. Lastly, we'll try to answer the questions you might have on this subject.
So, let's start!
Properties of Good Gym Flooring
A good flooring must have the following properties:
Shock absorption. You want to cover the floor with something that can handle all the dead weights and protect the subfloor from damage.
Durability. It is the measure of the ability to resist abrasion and impact damage. A home gym floor with lower durability might work, but professional gyms need to have a floor that can last a long time.
Non-slippery surface. The flooring must not slip on the subfloor and must also not let you slip on it.
Noise dampening properties. Gym equipment can create a lot of noise. So the flooring must be able to reduce it as much as possible.
Fire resistance. This one goes without saying. You don't want to cover your floor with something that can catch fire easily. If you are using the flooring in the UK, having passed the ISO9239-1 test according to the EU standard DIN EN 13501-1 indicates safe flooring material.
Types of Gym Flooring
From rubber to plastic to composites, the UK market has almost every kind of gym flooring that exists today. Here are the most common ones you need to know about:
Rubber Gym Flooring
Rubber flooring is one of the most popular types and is typically present in the areas where you deadlift or use any heavy machinery.
Low price, durability, and ease of installation make rubber gym flooring an extremely suitable option for both personal and professional use.
Foam Gym Flooring
Foam flooring is the flooring-of-choice for cardio and MMA arenas, as it provides good cushioning to the body and prevents fatigue.
However, foam flooring is not as resilient as rubber and can get permanently deformed if subjected to heavy loads (like a treadmill or deadweight) for a long time.
Ethylene-vinyl Acetate (EVA) foam flooring can be an option if you require more comfort and durability. But it does come at a premium price.
PVC Gym Flooring
PVC flooring is one of the most versatile flooring types. It combines the durability of rubber with the softness and fatigue-preventing qualities of foam.
As a result, it provides excellent protection to the subfloor and adequate support to your joints during your workout. You can also use this flooring on top of a carpet.
Polypropylene Gym Flooring
Polypropylene flooring is also a type of plastic flooring but is much more rigid than PVC. It is commonly present in aerobic facilities and sports courts.
You can get the floorings in two forms:
Interlocking tiles: Interlocking tiles come as pieces of a jigsaw puzzle. You can put them together to cover the floor of any shape or size.
Flooring mats: Flooring mats come in fixed sizes and shapes.
How to Pick the Right Gym Flooring?
When looking for gym flooring in the UK, try to get one that fits your use. Here's some advice to help you decide:
Rubber flooring is the best option for using heavy machinery like treadmills or bikes, as it can support the load without being deformed.
For the ones who need a surface for frequent bodyweight exercises, the best option is foam flooring.
Gyms and other commercial/ professional facilities that get a lot of traffic need to go with PVC or composite flooring.
Interlocking tile flooring is the best for permanent use where you don't want to relocate the flooring.
Mat flooring offers greater flexibility and portability and is a suitable option for those who like to work out in the open.
The Best Gym Flooring Product Reviews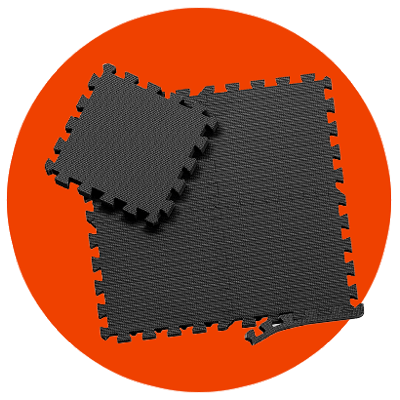 For the people who frequently perform bodyweight exercises, CrossFit, or yoga indoors, Gym Flooring Set, comprising of interlocking soft foam pieces, can be a great option.
Here are all the reasons which make this flooring worth considering.
Durable and Comfortable EVA Foam
Made of highly compressed, environmentally friendly, non-toxic EVA, and BPA-free foam material, Gym Flooring Set provides you with a comfortable surface for work out.
It is also incredibly durable and has a long service life.
Universal Size
The Gym Flooring Set has 18 1-cm-thick pieces measuring 30cm x 30cm each. The jigsaw-shaped sides of these pieces make it possible to install the flooring in any shape or size you want. Unlike mats, gym flooring tiles offer more flexibility to users.
Just arrange the pieces like those of a puzzle, and you are good to go. And if you want to expand the floor, add more tiles to make your gym area as big as you want.
Protects Your Floor
Gym Flooring Set saves your floor from any kind of scratches or dents, thanks to its soft texture. Also, the material is waterproof, which means you no longer have to worry about spilling any liquid on your floor.
Superb Insulation
As another great feature, the Gym Flooring Set is an excellent insulator of sound and heat.
So if you are working out on the first floor, the noise of your equipment won't disturb the ones on the lower floor. Also, if the floor is cold, you'll not have to worry about catching a cold while working out.
Multipurpose
You can use the Gym Flooring Set for any purpose, and it will not disappoint you. For instance, you can use it in:
Fitness and gymnastics rooms.
Playrooms.
Playgrounds.
Cellars.
Garages.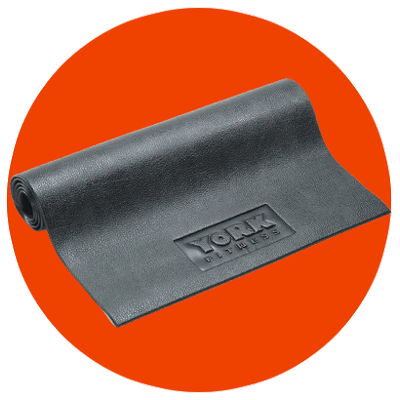 York Fitness Equipment and Exercise Mat is a suitable option for heavy gym equipment, such as treadmills, since it can handle a lot of weight. It does not slip and reduces sound and vibrations to a great extent.
Here's why this mat is a great option for both professional and home gym flooring in the UK.
Rubber Construction
York fitness mat is made of a 0.5-cm-thick sheet of comfy rubber. It is designed to protect the floor from the weight of the equipment and protect your bones and joints from a sudden impact.
Durable
York fitness mat has an elastic rubber construction.
No matter how heavy a machine you place on it, this mat will never deform permanently. And as soon as you take the load off, it will get back to its original shape.
Non-Slip
The rubber used in York fitness mat is textured on both sides. Due to the resulting friction, neither the mat slips on the floor nor does anything slip on it.
Acoustic Insulation
Rubber is very good at absorbing vibrations and damping sounds. It means that even if you feel like working out at midnight, the person sleeping in the next room won't be disturbed.
Large Size
York fitness mat comes as a 0.5cm thick 182cm x 76cm rubber mat. Its huge size allows it to be used under any treadmill or training bike, no matter the size.
Portable
Due to its rubber construction, York fitness mat has high flexibility. It allows you to roll this mat and carry it around like a shoulder bag for outdoor workouts, despite its large size.
Uses
The large size, flexibility, and elasticity of York fitness mat allow you to use it for a number of purposes, such as:
Placing under gym equipment.
Sit-ups.
Pilates.
Yoga.
Press-ups.
Skipping.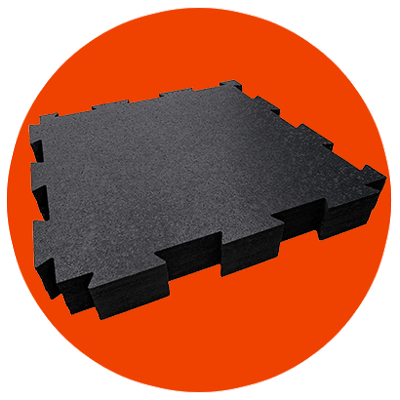 Rubber King Interlocking Tiles combine the benefits and durability of rubber with the scalability of flooring tiles. As long as you have this flooring, your floor will be safe from the weight and scratches of your gym equipment.
Durability
Rubber King flooring comprises 6-mm-thick rubber tiles with commercial-grade durability.
No matter if you use it for your home or a professional gym, this flooring will stand up to any challenge you throw at it.
Scalability
Unlike most rubber gym floorings that come in mats, this flooring comes in 48cm x 48cm interlocking tiles. All you need to do is to place the tiles on the floor, and the surface is ready.
The modular nature of these gym flooring tiles makes it possible to extend the floor area by adding more files instead of replacing the whole floor.
Comfortable Surface
What keeps people from buying rubber gym flooring is the concern with the comfortability of rubber. That's not an issue here.
These tiles use a 6-mm-thick layer of soft rubber, which's comfy in contact. It will cushion your body well enough to help you do your workout comfortably.
Eco-friendly
Rubber King flooring uses 100% recycled rubber, which means you'll be doing the planet a great favour by using it over other products.
Wide Variety of Uses
You can use this flooring for:
Benches.
Yoga.
Treadmills.
Bodyweight exercises.
CrossFit.
Cardio machines.
Deadlifting.
An Investment of a Lifetime
Rubber King flooring comesSome more benefits include:
However, the user reviews indicate that it will be there with you for far longer than five years.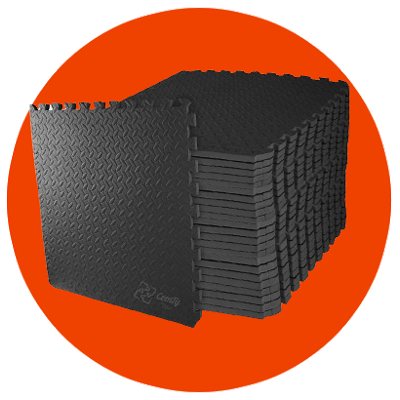 ComFy Mat Foam Exercise Mats come with adhesive strips, ensuring that your gym floor stably sticks to the subfloor.
Here are some more features that make this mat a top pick in the UK.
Comfort and Durability of EVA Foam
ComFy mat uses interlocking gym flooring tiles made of Ethylene Vinyl Acetate (EVA) foam. EVA foam is soft and comfortable and, hence, provides excellent cushioning to the body.
And unlike other types of foam, EVA foam does not get permanently deformed, no matter what. In fact, this foam is the perfect balance between softness and durability.
Also, EVA foam is free of any phthalates, lead, and latex, making it eco-friendly and healthy.
No Limits of Size
ComFy mat comes in the form of 61cm x 61cm interlocking tiles.
It means you can use these tiles for any size of floor, and can always expand your gym area by adding more tiles.
Does Not Move or Slip
ComFy flooring tiles come with free double-sided adhesive tape.
You can use this tape to glue the tiles to the floor, and they will not move a millimeter from their place no matter what you do on top of them.
Use for Anything and Anyone
You can use ComFy mat for:
All types of bodyweight exercises like push-ups, sit-ups, burpees, squats, and lunges.
Pet floor padding that is durable and water-resistant.
Indoor as well as outdoor applications.
Safeguarding your kids' playing area.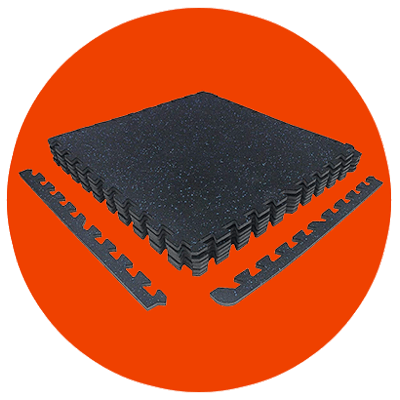 Amazon Exercise Mat is a multipurpose gym flooring that knows no bounds.
The durability and resilience of rubber added to the comfort and non-slip properties of foam gym mats make this mat a great option.
Some more features include:
Special Rubber
Amazon Brand-Umi mat uses a special rubber that has excellent skid resistance, incredible cushioning, and impeccable durability.
This exercise mat is another environment-friendly alternative on this list since no phthalates, lead, or latex has been used in its manufacture.
Scalability at Another Level
Measuring 61cm x 61cm each, these interlocking tiles have two detachable edge pieces.
You can install or remove these edge pieces so that any of the tiles can function as a center, side, or corner piece making this whole setup extremely scalable.
One pack (6 tiles) is enough to cover 25.5 sq ft (2.37 sq meter) area, and you can add more packs to expand the area as much as you want.
For a Wide Variety of Uses
Due to its modular design, transformable tiles, and versatile material, you can use Amazon Brand-Umi mat for any purpose you want.
Some of its uses include:
Gymnastics and fitness rooms.
Sports equipment.
Playgrounds and playrooms.
Garages.
Cellars.
Work Environments.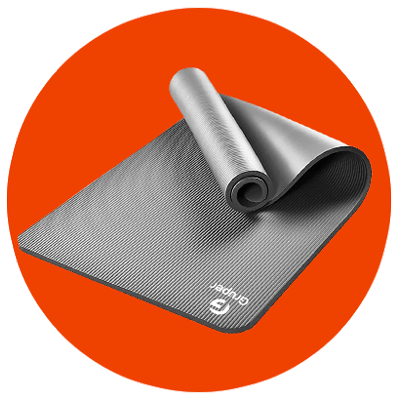 For those who like to work out or meditate in the open and are always on the hunt for portable and handy mats, Gruper Thick Yoga Mat can be a great option.
Here are some more features.
Foam-Rubber Hybrid
The Gruper mat is made of nitrile butadiene rubber with foam on top of it. Its base is incredibly durable, while its top – the surface where you'll perform all the exercises – is very comfortable.
Other than being durable, the nitrile butadiene rubber is also safe and non-toxic, making it the best choice for your health as well as the well-being of the planet.
Choose Your Own Thickness
One of the unique features of Gruper mat, something very few mats available in the UK offer, is that it is available in two thickness options.
If you prefer a more rigid surface or the exercises/ meditation you are going to perform need a hard surface; you can opt for a 10mm mat.
And for the people who prefer comfort and want more cushioning for their bodies during workouts, a 15mm mat is a great choice.
Longer and Wider
Another distinctive feature of Gruper mat is that it is longer (at 183cm) and wider (at 80cm) than most of the mats currently available.
It means that you can use this mat for any exercise, and you'll never run out of a cushioned surface for your workouts.
No Slipping
Since the Gruper mat uses a rubber base, it stays right in the place where you put it, no matter how vigorous an exercise you are performing.
You do not need any adhesive to glue this thing to the ground. The microstructure of rubber creates enough friction to hold the mat still on the floor.
As Portable as it Can Get
Portability is probably the biggest selling point of Gruper mat. You can fold and put it in a bag (included as well) to carry it around. At just over two pounds, you'll hardly notice you are carrying anything.
Uses
Gruper mat can be used for any workout or meditation session that needs you to have contact with the ground, such as:
Exercises like burpees, squats, push-ups, sit-ups, and lunges.
Yoga, pilates, and mediation.
All outdoor exercises.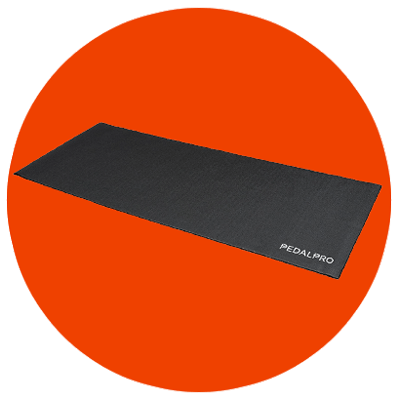 Do you want a minimalist gym mat to protect your gorgeous floor from the scratches caused by a trainer bike? If yes, PedalPro Floor Protector Mat is the one for you.
Here's what makes it a great gym flooring option.
PVC Construction
Made from PVC, one of the most versatile materials ever, PedalPro mat brings you the best of all worlds in one sturdy and durable package.
When it comes to putting load on it, PVC really has no limits.
You can put anything on top of this mat. And the floor underneath will be absolutely unaffected by any scratches, dents, and dirt.
Perfect Size
At 18cm x 70cm, PedalPro mat is just the perfect size. While big enough to be placed under any gym equipment, it is small enough to be carried around.
Waterproof
PVC is a 100% waterproof material, so no more worrying about sweat stains on the gorgeous wooden floor.
Uses
PedalPro mat is primarily meant to be used under gym bikes, treadmills, and other gym equipment. You can also use this flooring for:
Pilates.
Meditation.
Yoga.
Sit-ups, press-ups, and all other indoor/ outdoor exercises.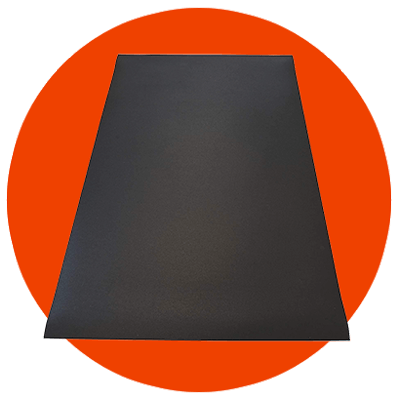 If you hate the odour of rubber mats and want flooring that protects the floor and improves the quality of the air you are breathing, Rubber King Fitness Mat is the perfect option for you.
Here are some features that make this mat a top gym flooring in the UK.
Thick Rubber Construction
Rubber King All-Purpose Mat is made of 6mm rubber.
The rubber used in this mat is non-vulcanized, which means no harmful chemical solvents are used during its manufacture. It is also free of the smell that's usually associated with rubber products.
Highly Durable
Rubber King mat has a long service life, and it can handle a lot of traffic.
Even if you do not or no longer use this mat for workouts, just put it on the floor of your house to protect the flooring in the busy areas.
Comes With Warranty
Rubber King mat is the second (and the last) mat on this list to come with a warranty.
You get a 5-year limited warranty on this product, even though this mat will last you way more than five years.
Uses
You can use the Rubber King mat for all kinds of workouts, yoga, and meditation. Other than fitness-related uses, you can also use it for floor protection in:
Gyms.
Home.
Office.
DIY workshop.
Garage.
Garden storage shed.
FAQ
Before You Go
Having proper gym flooring not only protects your floor from dents and scratches but also makes your workouts comfortable.
All flooring options currently available in the UK have their pros and cons. That is why your decision to buy a gym flooring must depend on the kind and intensity of use you want to put it to.