A barbell pad is one of the most useful fitness inventions. It acts as a cushion between your body and the barbell to save you from the latter's load. Besides, a barbell pad also helps protect your hip bone while you perform hip thrusts.
Made to serve as a necessary gym tool, a barbell pad can also be your best companion during lunges and squats. But since this piece of equipment is pretty basic-looking and all the options look similar, how can you differentiate between a worth-buying and worth-ignoring pad?
Don't panic, as we are here to help. If you plan to buy a barbell pad, our buying guide and eight recommendations in this article will serve as a great help. Besides, read below for a plethora of facts on a barbell pad to enlighten yourself with this tool.
So, if you are ready, let's explore together!
What Is a Barbell Pad?
A barbell pad is a tool that wraps ergonomically around your barbell. This material aims to reduce pressure on the neck, shoulders and hips while you perform various exercises.
Usually made from high density and superior quality foam, a barbell pad often has a quick slip construction that makes it easy to fit all kinds of barbells. You can utilise this pad every day and gain additional support to achieve your best results.
You might have come across people who would have suggested you not use a pad at all. However, according to us, those people are wrong.
If given a choice between comfort and squatting with a risk of injuries, which one would you go with? Obviously, the former and a barbell pad helps you to achieve that.
Start with using one and once you have built enough muscles and strength, leave the pad if you want to. But don't let people tell you not to invest in this fantastic tool at all.
How to Use a Barbell Pad?
Here are a few rules to consider while using a barbell pad for various exercises.
Before performing a hip thrust, make sure the pad's closed side is well-rested against your body. The pad should be lined up in your bar and body's middle. This position is imperative to allow the pad to serve as a cushion and make it convenient to lift the bar from the floor.
While using a barbell pad for squats, place the pad on top of your upper back muscles. Then push these muscles in the barbell bar while you pull the load downward.
8 Best Barbell Pads You Can Buy Today
Here's hoping that the above information has convinced you to buy a barbell pad right away. If you agree, we won't let you wait any further.
Find our well-researched eight recommendations below. While all the options are pretty impressive, you can easily select one that suits your needs.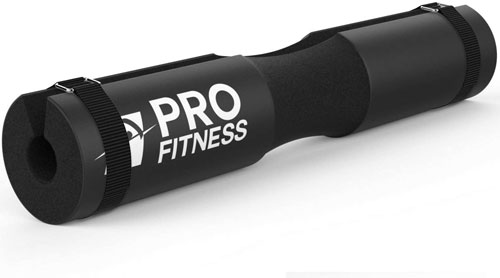 Are you tired of your stiff back and aching shoulders after every barbell squat session? Has this pain affected your overall performance and has demotivated you to give your best?
If yes, worry not as we have the best solution for you. The ProFitness barbell pad is an ergonomically designed wrap that will help you enjoy a barbell workout comfortably. Made with high-quality rubberised foam, this product is not only durable but successfully provides you with a cushioned surface between the bar and your body.
This barbell pad has an easy slide structure. The bar conveniently slides through any barbell and fits it well.
If you have an Olympic barbell, this bar will suit it the most as it is almost 17.5 inches in length and 4.5 inches in width. Also, the pad's thickness is 1.5 inches which is pretty adequate for many bars in the market.
This product is wrapped with a strap that keeps everything in place. However, straps take time to come off, which may be a hindrance to your workout flow.
Overall, the ProFitness pad is both lightweight and portable. You can keep the pad in your carry bag and take it along with you anywhere you go. Moreover, it is a good fitness accessory that deserves your attention.
Pros
Made with durable foam
Fits all bars
Adequate thickness
Lightweight and portable
Affordable
Cons
Straps take time to come off
May not suit bars with a length above 18 inches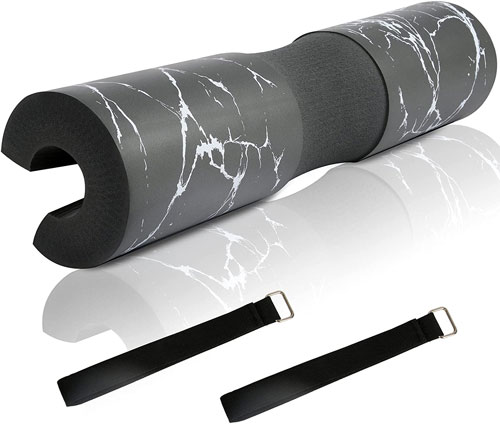 Power Guidance is a well-known name in the sports industry. The company has an impressive product portfolio, and each item exhibits excellent quality. However, despite producing remarkable performance, all products are most affordable for the general public.
The brand's excellent product line includes the Power Guidance barbell squat pad, which portrays competitive attributes. With a length of 17.44 inches and a suitable thickness, the pad can be used for various exercises. However, according to some customers, the pad's high thickness isn't made for squats as the pad increases the height of the bar, which may lead it to topple backwards.
But the above complaint may vary from person to person. So, it is wise to try the pad before using it.
This accessory is made of rubberised rubber, thus providing an anti-slip surface for the bar. Moreover, it fits most of the Olympic bars that you might want to use during your workouts.
The pad is lightweight and compact thus can easily be carried around in your gym bag. Besides, it comes with two straps to keep the bar intact in one place.
Pros
High-quality pad
Competitive price
Anti-slip material
Compact and lightweight
Comes with straps
Cons
May not provide full coverage to bars with a length above 17.44 inches
High thickness may not suit many individuals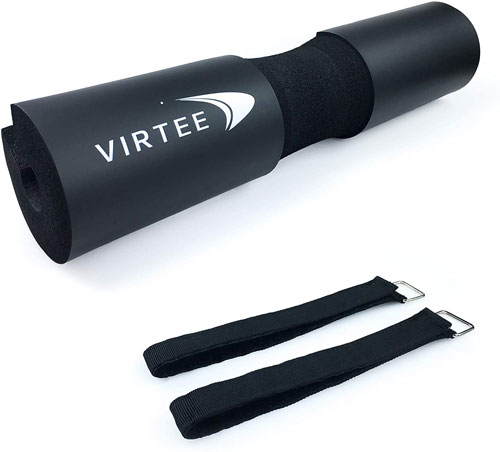 You might find the Virtee barbell pad costlier than most other options on the list. However, if you are willing to buy a high-quality accessory, this recommendation will suit your requirements.
The pad is made of high-quality foam to provide a comfortable cushioned surface between the bar and your body. The ideal thickness of the pad keeps your shoulders, neck and hips safe from extreme pressure coming out of the bar, thus reducing the risk of bruising and other injuries.
Another thing worth mentioning here is the pad's ergonomic design. The well-thought-out structure of the pad fits well in almost all standard and Olympic barbells. Besides, the 17.4 inches long pad can also be used for smith machine bars.
The Virtee barbell pad comes with a non-velcro closure making it convenient to put it on and off your bar. Besides, this accessory is accompanied by two straps to keep the pad securely in one place.
Pros
Comfortable pad for all bars
Ergonomic design
Non-velcro closure makes it easy to adjust
Comes with straps
Portable and lightweight
Cons
Expensive
May not provide full coverage to bars longer than 17.44 inches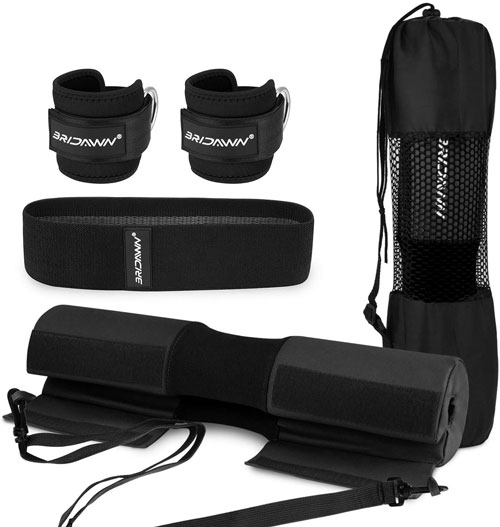 Taking the fourth spot on this list, the Bridawn barbell pad is unique from the first three recommendations. Firstly, this product is constructed by a combination of cotton-ammonia and oxford, both incredibly durable materials. Moreover, the pad is thickened with solid rubber that features a non-slip surface for your sweaty hands.
This incredible creation is 17 inches long and 3.7 inches wide. It comes with large hoop and loop fasteners which keep the pad intact in one place. This design is far better than the shoulder straps that most pads have.
Exhibiting an ergonomic design, you can easily carry this product in two different ways. It comes with a separate carry bag and also a strap. You can hold the pad in a crossbody way and look stylish while you head out to work out.
While this accessory is pretty fantastic, according to some customers, the pad is a little overpriced. However, this factor entirely depends on your budget, and if you can afford it, please consider this a great option.
Pros
Made from durable materials
Sufficient thickness
Comes with a hoop and loop security mechanism
Accompanied with a carry bag and strap
Cons
Considered overpriced by some customers
May not sit well with barbells longer than 17 inches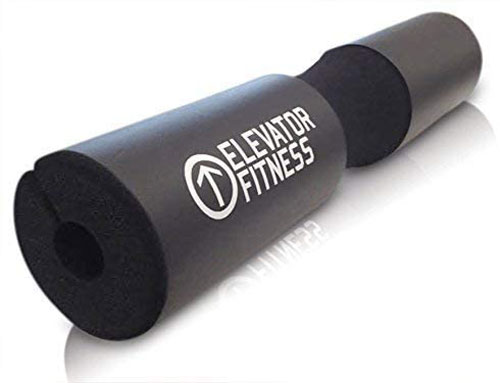 If you have enough budget for a good quality barbell pad, invest in the Elevator Fitness pad right away. Why? Read below for an answer.
Unlike most other barbell pads, this option is 18 inches long. Moreover, it is almost 3.5 inches wide. These are remarkable dimensions and may suit most barbell bars.
Moreover, this accessory features a neck groove to accommodate your form and provide you with immense comfort. The ergonomic design of this pad makes this option pretty effective for various exercises and users.
Made with rubberised foam, the pad is pretty durable and lightweight. So you can carry this tool with you anywhere you want and enjoy a workout in your favourite spot.
Pros
Good length
Made from durable foam
Ergonomic design
Lightweight pad
Cons
Pricey
May not suit bars with a shorter length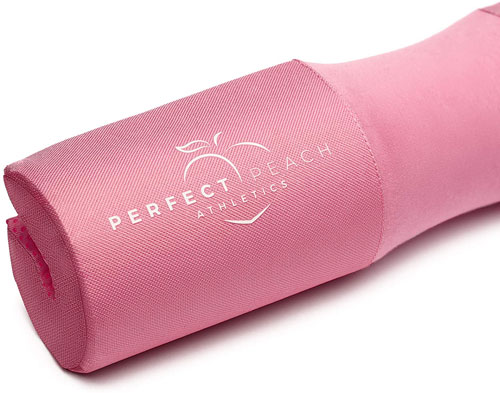 Are you a woman who likes owning good-looking and comfortable fitness accessories? If yes, you may want to add the Perfect Peach Athletics pad to your gear.
This product is made of thick, protective and soft foam to keep your neck, shoulders and hip from the external pressure of the bar. With this accessory wrapped around the barbell, you can comfortably experiment with as many weights as you want.
Moreover, since this pad is 18 inches long, you can use it with standard and Olympic bars. The ergonomic design of the pad can hold everything in place. However, since it doesn't come with straps, you may experience slippage with high weights.
The Perfect Peach Athletics pad is pretty affordable, lightweight and portable. You can flaunt it in a gym or use it safely in your personal space.
Pros
Ideal for women
Great length
Made with solid rubber
Affordable
Cons
Does not come with straps for added security
May not suit smaller bars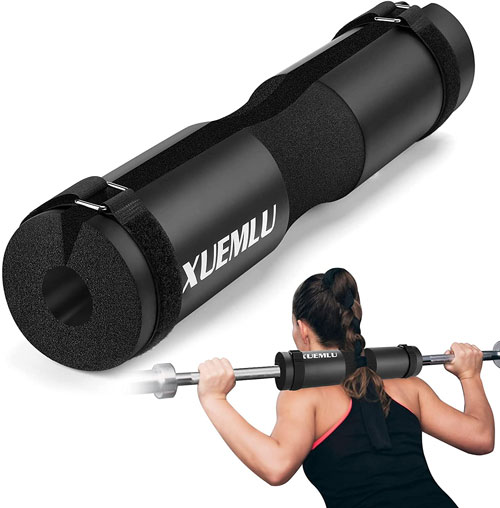 This 17.5 inches long barbell pad is pretty amazing in many ways. First, its 3.5 inches width makes the pad adjustable on many barbell bars. Besides, since the pad is lightweight, it can fit within your carry bag easily.
The Lxuemlu barbell pad is made of thick and soft foam that protects your neck and shoulders from unnecessary pressure. Moreover, its ergonomic design allows you to experiment with different weights without worrying about losing control of this accessory.
This product comes with two fasteners that keep the pad in one place. Besides, its anti-slip surface enhances the overall balance and stability.
However, with so much to offer, this product comes with a high price tag. So if you can afford it, make sure to try this recommendation.
Pros
Lightweight pad
May suit most bars
Made with durable foam
Anti-slip surface
Comes with two fasteners for added stability
Cons
Expensive pad
May not provide enough coverage to bars longer than 17.5 inches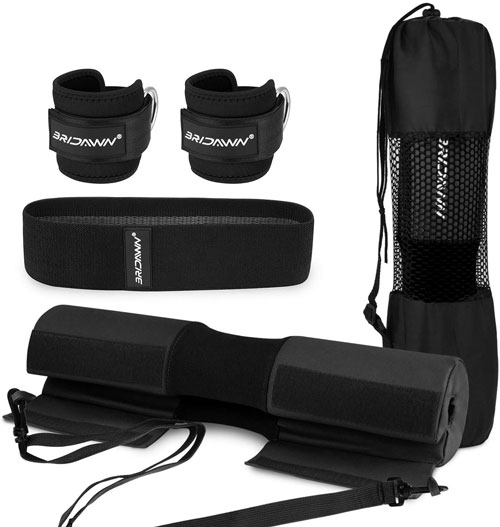 We are finally on the last recommendation of this article. Another pad from Bridawn, this accessory is no less than all the options above.
While this product is shorter than all options, it has all the necessary features that you may find in a high-quality accessory. For instance, the pad's 1.3 inches thickness is ideal for 1.1 inches Olympic bars. Moreover, its foam making and non-slip surface allow it to stay in one place regardless of increased sweat or weight.
The ergonomic groove design of the pad supports your neck and shoulders. Besides, the sturdy structure gives you the confidence to focus on your technique rather than worrying about the pad's position.
You can carry this pad by putting it in a carry bag provided by the brand. Or you can also use the carry straps to take it from one place to another.
Pros
Great groove design
Features non-slip surface
Portable and lightweight
Affordable
Comes with a carry bag
Cons
May not suit bars with a length of more than 16.3 inches
Not ideal for barbells with thickness more than 1 inches
How to Pick the Best Barbell Pad?
To make your selection easy and quick, we have come up with a list of some significant factors to consider before you choose the best barbell pad for you.
Read all the details about these considerations, match your requirements and analyse whether the above options meet the criteria.
Thickness and Material
The first factor to consider is the pad's thickness and material. It is because both of these elements will help you analyse the ability of the pad to withstand pressure on a heavy bar.
As mentioned earlier, barbell pads are either made of leather, foam or polyester fabric. All these materials offer good properties, but foam and leather are far more impressive than polyester when it comes to comfort and better performance.
Moreover, both foam and leather are slip-resistant. Leather doesn't absorb any sweat easily and doesn't even smell bad after prolonged use.
Similarly, when it comes to thickness, you will find some thick and some thin pads. When it comes to a pad's ideal thickness, choose one that falls between ¾ inches and 2.1 inches.
It is recommended to try the pads on your shoulders and hip bone with the bar before buying one. A pad with high thickness will provide you with more comfort than one with low.
Ergonomic Design
A barbell pad with an ergonomic design will help you lift the barbell comfortably. However, if a barbell pad doesn't have an even thickness and length, it may feel too thin or bulky, making it undesirable to use. Hence, the product you select must be a well-structured one.
Moreover, if you want to use a barbell pad for exercises that include various parts of your body, make sure that its design cleverly keeps the contours of your body in mind.
Securing Mechanism
When it comes to the pad's securing mechanism, straps are an essential factor to consider. Almost more than half of the barbell pads available in the market come with straps. These straps secure the bar and prevent it from spinning with heavyweights.
However, such straps take time to take off and which may hinder your workout flow.
Many other barbell pads without straps simply use a pop off and on design. While they are easy to wrap around or remove from a barbell, they may pop off unnecessarily at an irrelevant time.
You will also find a variety of pads with velcro flaps that cover the whole pad's length. The velcro flaps are a great and most commonly used securing mechanism. However, with time the foam stretches or compresses, leaving the pad saggy and useless.
Coverage
While searching for the best barbell pad, you will come across many options that won't cover the bar entirely. Such products are prone to slippage and may result in injuries. According to manufacturers, pads with low coverage usually have an anti-slip layer inside them, but you can't trust this factor as every user may rest the bar at a different angle.
So, if you want to feel protected by your chosen barbell pad, make sure it completely covers the bar. That's the best choice and safest choice you can go for.
Washable
Your pad is most likely to get sweaty with time. It may also catch dust and grime if not taken care of. But to maintain the performance of the pad, you should clean it now and then.
So, before selecting a pad, make sure its material is washable. Besides, also consider the duration it takes to dry. For example, if you want to use a pad every day, you need to ensure that its material dries up within a few hours.
Moreover, you can also go for barbell pads that come with removable covers. Thus, you can conveniently remove the cover and wipe all the dust and sweat before putting it on the pad again.
Price
Barbell pads are pretty affordable. Even the high-end options are not very expensive. But it all comes down to your budget.
However, regardless of your limitations, don't compromise on the quality and specifications of the pad. It is essential if you want to make it a regular part of your fitness regimen. It is useless to purchase a pad that may last a month only and do you no good.
If you can't afford a quality barbell pad now, wait for some time before you can make this investment possible. However, don't also overspend because many competitive quality pads are readily available at reasonable prices.
Expert Recommendations and Customer Reviews
Have you ever bought a fitness accessory before after reading a customer review or an expert recommendation? If yes, do the same before purchasing the best barbell pad as well.
Client reviews and expert recommendations are a great way to experience a pad and its performance way before you bring one for yourself. Moreover, such feedback will also help you shortlist the best pads from different varieties available in the market.
Benefits of Using a Barbell Pad
Now that you know how to use a barbell pad correctly, here is a list of a few benefits you can gain while regularly utilising this equipment. Take a look!
A Barbell Pad Provides Comfort
Have you ever felt uncomfortable while performing squats or hip thrusts? Does the barbell's load leave you with pain and unbearable pressure in your body? Don't worry; you are not alone.
A barbell bar is a heavy fitness tool. It can weigh as much as 20kg which isn't relatively easy to lift or workout with. Some people also use Olympic size barbells which are much heavier than their other counterparts.
Lifting such heavyweight items is not easy. A tiny mistake in the technique can lead to life-long neck, hip or shoulder injuries. For this reason, only many users feel restricted to experiment with the bar and make their workouts more challenging.
However, with a barbell pad wrapped around your bar, you don't have to feel hesitant at all. This thick tool provides a foam cushion for your shoulders, neck and hip while you lift at your own comfortable pace. In addition, it acts as a bridge between your body and bar, thus reducing the overall pressure on your body and preventing injuries to various parts.
This unique property of a barbell pad allows you to feel free to lift as many weights as you want. Besides, it gives you the comfort to pay more attention to your form and technique rather than worrying about prolonged pain.
This Tool Supports Your Bar
Your bar requires support while you lift it during exercise. Even if your technique is correct, accidents can happen if your bar decides to slip off. This mishap could lead to injuries and may also damage your other equipment and floor.
However, with a bar covered with a barbell pad, such incidents are less likely to happen. This is because the pads are made of slip-resistant materials. In addition, the leather or foam external surface helps you get hold of the bar even if your hands are sweaty.
Even pads made from polyester fabric do great work providing a slip-resistant surface for your hands while lifting. This property of the pad offers adequate support to the bar and helps you do as many reps as you want.
Moreover, similar to knee pads or wrist wraps, a barbell pad helps distribute the bar's weight evenly rather than keeping it accumulated on one point. This characteristic reduces the chance of the bar exerting all its pressure on one point only, thus giving your body the support to perform well.
A Barbell Pad Reduces the Chance of Bruising
Barbell pads exhibit shock-absorbing properties. This implies that regardless of lifting heavy weights, the chances of bruising reduces to a great level.
For instance, during hip thrusts, the barbell puts immense pressure on the hip bone. The intensity of stress is necessary to squeeze the hip muscles and gain desirable results.
However, this squeezing can also cause bruising, which may end up hurting your body and prevent you from doing a hip thrust workout again.
The same can happen to your neck or shoulders if your body gets bruised easily. However, with a barbell pad on your bar, you are saved from experiencing painful bruises. The thick foam layer from the pad protects your body so you can perform with weights freely.
Barbell Pads are Durable and Versatile
Do you know that most barbell pads have a one-size-fits-all design? Their design can fit all kinds of barbell bars, making them quite convenient for many users in your family. Moreover, since these pads are lightweight, you can keep them in your bag and take them with you anywhere you want.
Other than their weight, barbell pads are also very durable. They are usually made from leather, foam or polyester, which are all great materials for durability. As a result, you can use a pad for as long as you want without worrying about premature wear and tear.
A Barbell Pad Reduces Contact With Dust on the Bar
Do you think your barbell is always clean and ready to use? If yes, you might not be aware of the dust or grime present on the equipment. Barbell bars are often unclean because of accumulated sweat and germs from the floor.
However, it isn't always convenient to clean the bar properly before using it every time. So, what should I do? You can't just let the dust pass from the bar to your body, right?
The answer is simple. Covering a barbell with a high coverage barbell pad can prevent your body's direct contact with the bar. This way, you can avoid the germs and dust on the bar from touching your body.
It Is Super-easy to Store and Clean a Barbell Pad
After reading all the benefits above, don't you think a barbell pad is worth every pound? It is unreal how a simple and compact accessory can help you protect against injuries and allow you to lift a bar with confidence.
Adding to its list of benefits, a barbell pad doesn't require a specific storage space. Since it is an adjustable piece of material, you can keep the pad in a drawer, away from dust and grime.
Moreover, you can also clean the pad's surface using a wet towel to retain its quality. The pad dries quickly under room temperature and can be used again whenever you want.
So when compared to its performance, the maintenance requirement of this accessory is pretty basic and less time-consuming.
How to Fix a Pad on Your Barbell?
There are no complicated steps involved when wrapping the pad on a barbell. Instead, simply follow the basic steps below to do the job:
Start with releasing the Velcro fastener on the pad.
Now, slip the pad on your barbell bar.
Once adjusted, pull the barbell pad tightly.
Re-fasten the pad to secure it properly
Some accessories also have a handing loop to help with a quick release of this tool between exercise sets.
FAQ
Here are some common queries asked by users like you. Go through this section and clear your unanswered doubts.