Have you ever tried wearing a knee compression sleeve to reduce pain and improve activity? If not, you might want to try this product after reading this article.
Most of us take our bodies for granted until something wrong happens. For example, knee pain is a common problem that many people suffer from, and it is often caused by injuries or medical conditions like arthritis.
Moreover, this persistent problem limits the body's activity while performing various exercises. For example, an unsupportive knee hinders your movement and prevents you from carrying out even simple squats with ease.
However, by wearing a knee sleeve, you can change all that. This simple piece of fabric helps keep all your knee joints in place and provides a solid covering over them. Besides, it makes sure you move carefreely without worrying about cracking a knee.
If you are interested to know more about a knee compression sleeve, dig into this article. There is a plethora of information waiting for you, so don't delay and explore.
What Is a Knee Compression Sleeve?
If you haven't seen a knee compression sleeve before, let us help you imagine one through our words. A knee sleeve is a thin piece of stretch fabric that you can wear over your knees.
It is pretty similar to a knee brace and supports your knees while you perform various exercises. However, unlike the former, a knee compression sleeve offers better flexibility and has a low and slim profile.
How Does a Knee Compression Sleeve Work?
As stated above, a knee sleeve supports your knee and also reduces any pain. But you may wonder how it does that?
A knee compression sleeve warms up the area around a knee and enhances blood circulation. Most sleeves are made of neoprene that allow your knees to gain strength naturally.
Moreover, it also restricts the movement of the patella and offers excellent stability to your knees while you perform an activity. It also alleviates your knee pain by controlling it and reducing its impact.
How Can You Use a Knee Compression Sleeve?
You can use a knee compression sleeve in several circumstances. For instance,
Running
It can be worn while running. You can put on a comfortable sleeve and relieve pain while you run every day. Besides, while wrapping a knee compression sleeve during jogging or running, you can restrict the overuse of specific joints.
Powerlifting and Squats
The most important moves of powerlifting are squats, bench presses and deadlifts. Unfortunately, all these three movements can have a very adverse effect on your joints and can harm them with pressure.
By wearing knee sleeves before powerlifting, you can decrease muscle fatigue and also enhance your muscle coordination. As a result, you will feel more confident while lifting weight or performing squats.
Knee sleeves can improve your squats and also give your body enough support to work out. This is why most weight lifters and gym enthusiasts wear knee sleeves during their training sessions.
Cycling
If you opt to wear a knee compression sleeve during cycling, you may reduce your chance of any injury. Since cycling involves a continuous movement of your knees, it can cause premature wear and tear in this area.
Hence it is imperative to wear knee sleeves. They help warm up your joints and improve blood circulation to prevent excess use of your joints.
On Daily Basis
If you are not an active person but still suffer from joint pain, you use a knee compression sleeve while doing your daily chores. As stated before, this piece of equipment supports your legs and enables your smooth movements. Besides, the heat produced from the correct amount of compression reduces mild pain, so you can work without any physical hindrance.
Finally, the wait is over! If the above information has convinced you to get your first knee compression sleeve, dig into this section and choose from any of our recommendations. Or, if you are still confused, take this list as a good start for your search.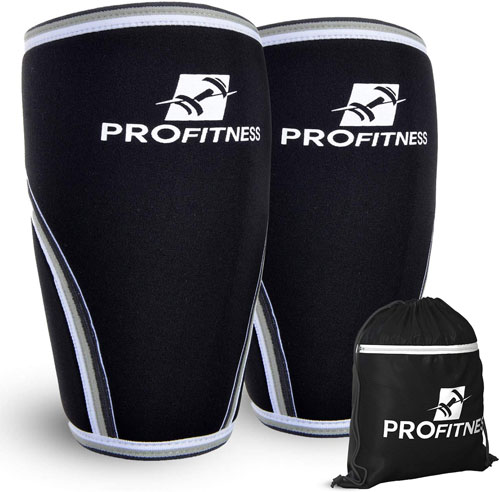 If you are a professional weightlifter and want to enhance your workout, the ProFitness knee sleeves will be the best game-changers. Since they are extra thick, they keep your muscles warm and maintain the structure. As a result, you get muscles with an improved form which reduces the risk of any injury.
Knee sleeves that slide and slip are not only irritating but could also be quite dangerous. However, that's not the case with this product.
This knee compression sleeve stays in its place despite rigorous workouts such as squats and powerlifting. Moreover, made with gripping technology, you can also perform lunges and deadlifts without losing your focus.
The ProFitness knee sleeves are pretty comfortable. They are made with flexible neoprene with a snug fit and excellent breathability. Besides, the nylon thread stitching keeps the sleeves in their shape and enhances their durability.
Moreover, since they are easily washable, you don't have to put extra effort into maintenance. You can clean the sleeves after using them every day so they do not lose their tight grip.
This product comes with a fantastic bag. The compact pack is ideal for keeping your sleeves and also storing your belongings in the outer pocket. Moreover, it works well to keep the sleeves in one secure place without you losing them now and then.
Overall this product is quite impressive. However, with so much to offer, expect this recommendation to be less costly than its competitors.
Besides, since these are 7mm thick sleeves, you might not find them suitable for a CrossFit or regular gym workout. Also, the extra thickness may not offer you better flexibility and might feel a little heavy on your legs.
Pros
Made with good material
Snug-fitting
Perfect for powerlifting
Comes with a bag
Washable
Cons
Not appropriate for regular gym goers
Expensive pair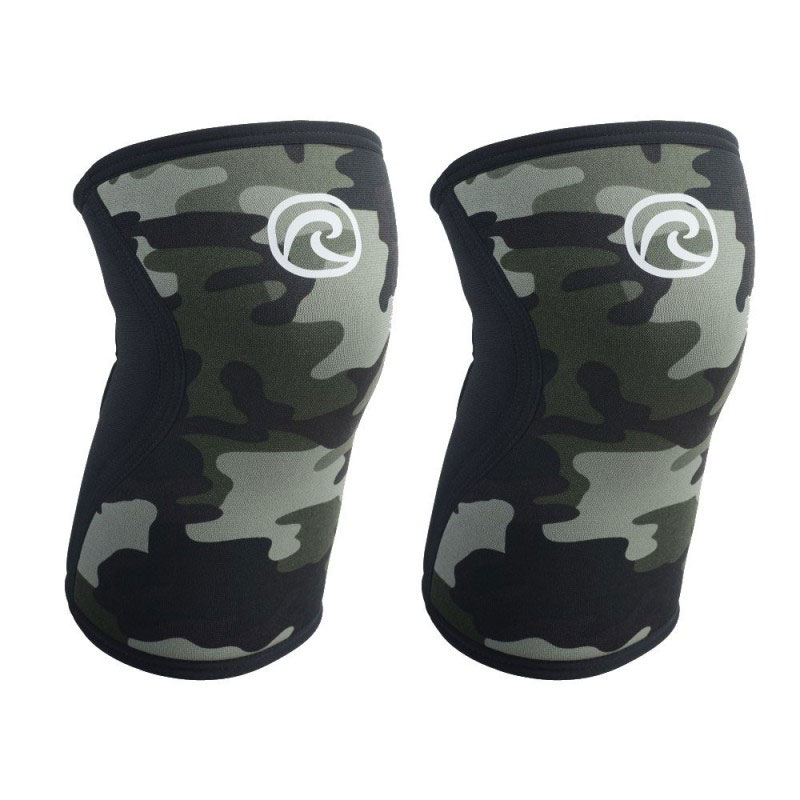 Have you ever felt severe pain in your knee joints while working out? Was the pain so intense that it hindered your performance and affected your desire to stay fit?
We understand your situation as most of us have gone through the same. However, we did the right to wear the best knee compression sleeve before and after a workout to support our body. You should do that too, and the Rehband 5mm knee sleeves can be your first purchase.
Made with nylon, this knee compression sleeve features an anatomic construction. As a result, the sleeve fits nicely on your legs and offers a snug fit. Besides, since it has a non-slip surface, the sleeve doesn't slide unnecessarily and is relatively easy to put on.
While the sleeve's thickness is less than the product's mentioned above, it offers excellent flexibility for CrossFit training and other basic exercises. If you are an amateur trainer, this sleeve will suit you the best because of its lightweight better adaptability.
However, for a comfortable fit, you will have to buy the sleeve according to the diameter of your knee. Moreover, you should make sure to avoid sleeves that are too loose.
The Rehband 5mm knee compression sleeve is pretty amazing when it comes to warming up and retaining temperature in a particular area. So if you suffer from a knee injury, this product will help you heal the area faster than expected.
However, the only problem with this product is that it comes with one sleeve only. For the other one, you will have to buy again, which may increase your overall cost. Moreover, it doesn't come with any bag, which might be a disappointment for many.
Pros
Made with flexible nylon
Best for a CrossFit workout
Warms the knees quite fast
Non-slip design
Ergonomic construction
Cons
Only one sleeve comes in a pack
Thickness may not be appropriate for powerlifters
Doesn't come with a carrying bag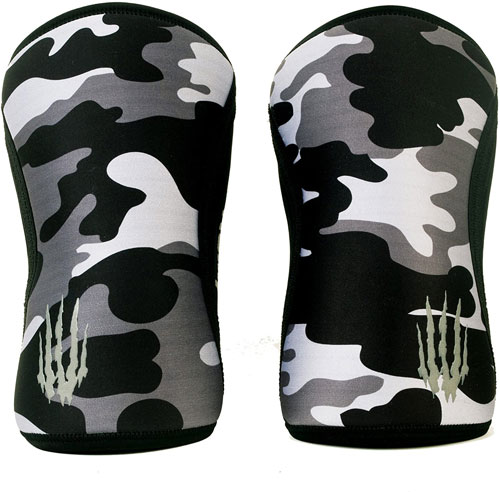 It is tough to find the right compression knee sleeve that supports your body and provides sufficient compression. However, with Bear KompleX knee sleeves, you can easily get that and much more.
With an option to get 5mm or 7mm thick sleeves, you can confidently perform all your exercises. For example, if you are into powerlifting, the 7mm knee sleeves will suit your needs, but the 5mm sleeves will match your flexibility if you love CrossFit.
These knee sleeves feature an ergonomic design. They provide a snug fit and adjust easily with your legs. As a result, you witness the right kind of compression, which feels sufficient to warm your knees and maintain the temperature.
If you opt for these sleeves out of all the other recommendations, make sure you wear them regularly for some time. They help increase blood circulation, which is excellent to heal any injury and reduce pain in your knees.
Bear KompleX knee sleeves are available in different styles. So if you are someone who likes flaunting your fitness gear, you can get a pair in any colour or pattern you like. Besides, according to the manufacturer, each design offers a unique character, so there is something available for everyone.
However, according to some customers, these sleeves lack well-stitched padding. Moreover, some think the sleeves lack proper sizing, and even the medium one feels quite tight.
To avoid that mistake, don't forget to check the specifications before buying this product. Besides, if possible, communicate with the manufacturer before adding the sleeves to the cart.
Pros
Available in two thickness option
Ergonomic design
Different designs and styles are available
Affordable knee sleeves
Cons
Lack well-stitched padding
Issues with sizing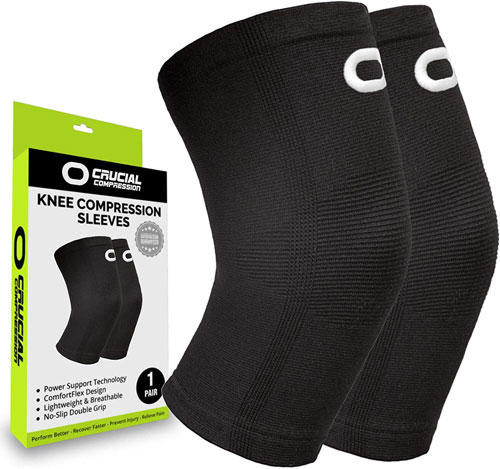 Have you recently suffered from a knee injury and want quick pain relief? If yes, you might want to put on the Crucial Compression knee sleeves and get instant support for your knees.
When worn, this gear prevents stiffness, soreness and swelling and makes sure your muscles are warm enough to enjoy comfort.
The Crucial Compression knee sleeves offer a snug fit that feels quite relaxing. They aren't too loose or tight and hence you can run, dance and exercise while putting them on. The breathable material is lightweight and offers a non-slip grip that keeps your knee compression sleeve adjusted in one place.
But with all the positives, there have been some customer complaints that you should consider too. Firstly, according to a user, the pattern in the inner layer of sleeves may cause irritation and welts. If it does, remove the sleeves, there and then.
Moreover, understanding the size chat can be problematic for some. However, the best solution is to contact the manufacturer and then make a purchase.
Pros
Affordable sleeves
Reduce pain
Non-slip grip
Made with lightweight and breathable material
Can be used while performing various activities
Cons
May cause welts on sensitive skins
Size chart is hard to understand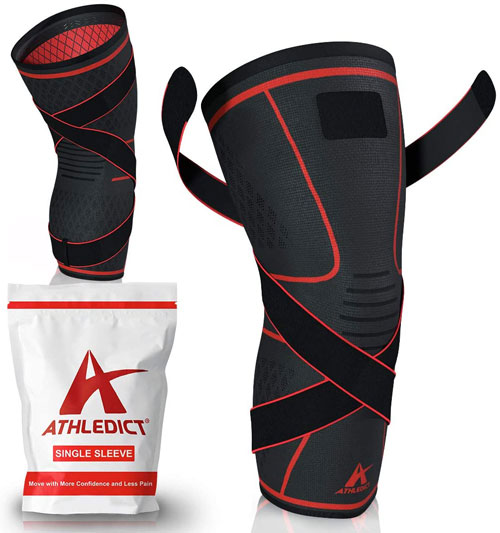 Unlike many other knee sleeves that may choke your legs and fail to offer good support, the Athledict knee compression sleeve will not only provide the proper compression but will also help you recover and relieve any pain.
This product comes with innovative support technology. For instance, the sleeve has a non-slip silicone design that prevents it from sliding down on your legs while you are genuinely focused on your workout. Moreover, the ergonomic shape of this product fits well with your body without making you feel uncomfortable.
Also, the unique feature of this sleeve is the removable and adjustable strap. It helps to customise compression according to your comfort and hence works well with everyone. Furthermore, the making and durability of this knee compression sleeve are excellent, and therefore you will love this product even after five years of use.
This is an excellent product, as mentioned above. But it does contain some loopholes worth mentioning here.
The Athledict knee compression sleeve is affordable; however, the price mentioned is the cost of buying just one piece. You will have to double the amount to book a pair home which may affect your budget.
Moreover, according to the manufacturer, the XL+ sizes can roll up quite frequently. If you have heavy thighs, this design error may be quite discomforting.
Pros
Ergonomic design
Feature removable and adjustable straps
Non-slip design
Durable material
Cons
Expensive sleeve
Larger sizes may roll up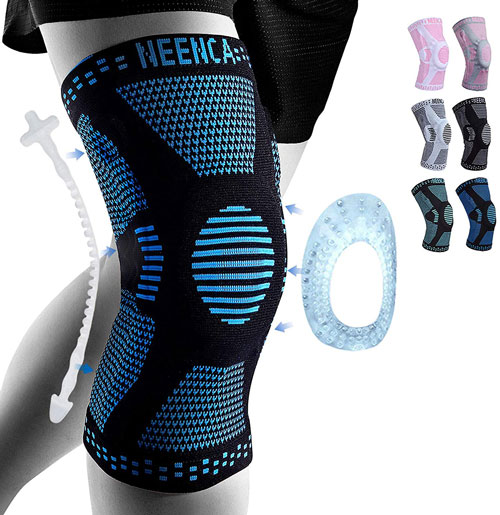 NEENCA might be a new brand for many, but it produces high-quality products always in demand. Moreover, the brand's knee compression sleeve is a favourite of many people worldwide, and there are many great reasons for that.
Firstly, the knee brace features spring support technology. In addition, this product features gel pads around the kneecap to support your patella. Besides, the metal stabilisers have springs that help the sleeve to fit perfectly on your knees.
All the above features are a part of a special function that helps keep your knee warm and improve blood circulation in that area. Besides, the gel lubricates your joints, thus helping to reduce the pain.
This compression knee sleeve has an ergonomic design made with high precision knitting. Moreover, the elastic fibre and breathable fabric prevent all kinds of extreme pressure on your skin. The material also helps evaporate extra sweat, thus making your knee compression sleeve feel lightweight.
The best thing about the NEENCA knee brace is that it is thicker than many other similar products. So, you enjoy adequate reinforcement without feeling any discomfort. This characteristic helps you to wear this sleeve all day and see great results.
While this knee compression sleeve is wonderful, you may find it costlier than other similar products. Moreover, the pack contains only one sleeve, and for two, you might have to pay double the price mentioned.
Pros
Spring support technology
Anti-slip design
Durable and breathable fabric
Thick sleeve
Cons
Pricey item
Thickness may not work well with CrossFit trainers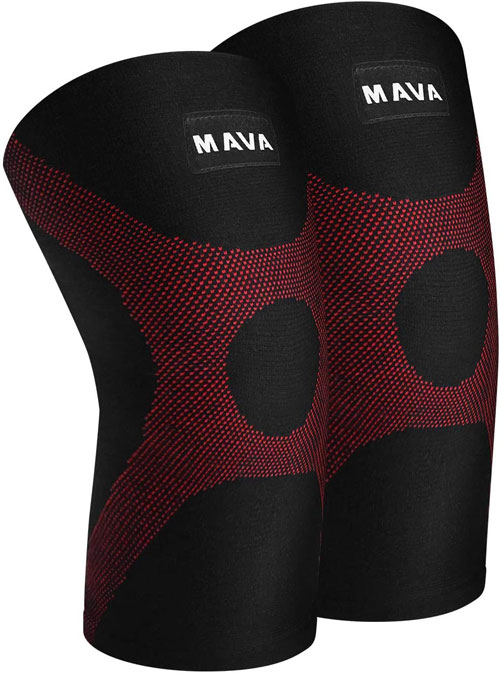 The Mava knee compression sleeves are pretty affordable when compared to similar products in the market. While some clients have complained about their poor compression and misguided length, you can always try them if they require short and less impactful sleeves.
These knee sleeves feature a comfortable design that is quite flexible and fits well with your thighs. Moreover, the shape of these sleeves does not restrict your movement and help you carry out all kinds of exercises at your own comfortable pace.
You can enjoy an optimal performance while wearing these anti-slip sleeves. Made with breathable nylon and spandex, you do not feel any irritation or itchiness. Besides, the fabric allows the sweat to evaporate, thus reducing any chance of you smelling bad.
The Mava knee compression sleeves can be worn for long periods. However, prevent putting these sleeves during the night as they may hinder blood circulation and suffocate your thighs.
Pros
Made with elastic and breathable fabric
Anti-slip
Flexible fit
Affordable
Cons
Doesn't offer adequate compression
Mis-guided length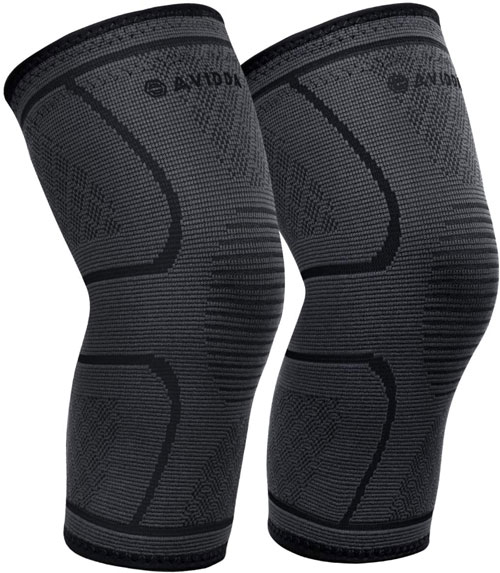 Do you feel mild pain in your knees? Has this pain stopped you from working out and staying fit? If yes, you might want to put on the AVIDDA knee sleeves right away and get rid of such discomforts.
These sleeves offer a unique knitted design that comes with silicone gels. The gels ensure that your sleeves stay in place regardless of your activity. Moreover, made with high-quality fabric, the sleeves exhibit durability and allow you to enjoy a smooth and soft feel.
The AVIDDA braces are ideal for all kinds of users. You can wear them while hiking, running and even playing golf. Besides, since these sleeves offer a good range of motion, you can maintain your peak performance and avoid unnecessary slippage.
The only problem we have with this pair of knee sleeves is their colour. For people looking for stylish or colourful sleeves, this product might be a disappointment. However, if comfort is above style, you will love these sleeves right away.
Pros
Features knitted design
Silicone gels prevent slippage
Good-quality fabric
Durable
Can be worn for many activities
Cons
Not very stylish
Expensive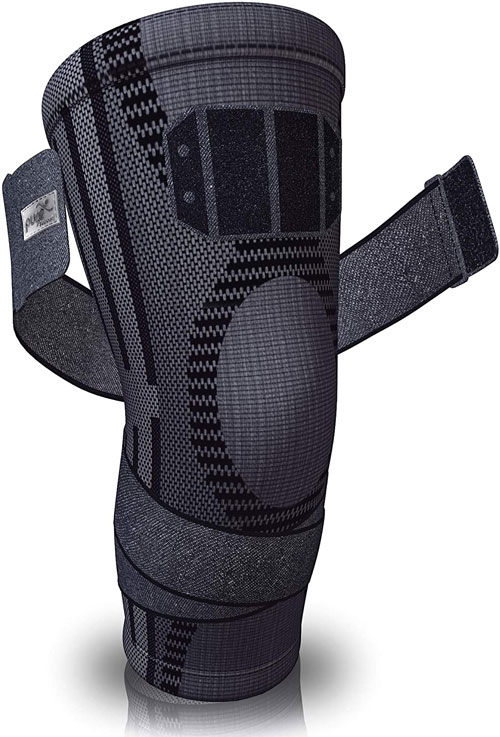 If your budget allows, the PURE SUPPORT knee compression sleeve is worth a try. It may look dull and quite basic from its design, but the sleeve features a wonderful compression technology that can help you get rid of pain or recover from a painful injury. This feature is perfect for reducing the impact of Arthritis, Patella or a Meniscus Tear that you may have gone through.
This product has a unique knitted design that you may not find anywhere. This feature ensures that the sleeve fits well with your legs and matches many joints in this area. The PURE SUPPORT knee sleeve also has a double strap to provide you with additional support.
So regardless of your activity, this product will not slip off from your legs. Besides, its breathable material will resist the accumulation of sweat on your legs, thus reducing any chance of irritation or allergies.
Pros
Features compression technology
Significant to reduce arthritic pain
Comes with double straps for good support
No-slip design
Cons
Expensive sleeve
Boring design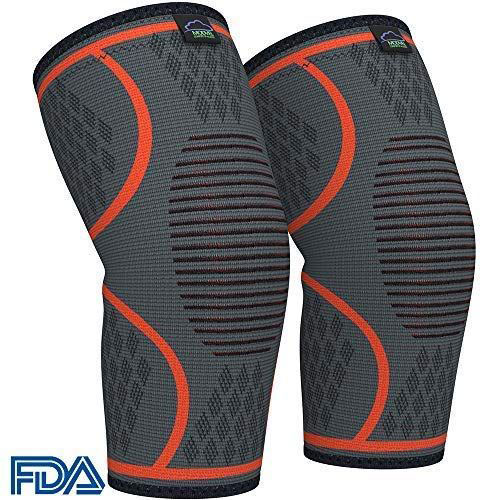 Finally, we have reached the end of this great list. While all the products above were great, our 10th knee compression sleeve is no less. Its ergonomic design and comfortable fit would want you to wear this product for as long as you want.
Besides, its breathable material will reduce any chance of irritation and allergies. The fabric is ideal for absorbing sweat and evaporating it so that you don't smell bad.
If you suffer from joint pain, this knee compression sleeve will improve your motion and reduce the pain's impact. Besides, it will enhance stability in your body and help you carry out different kinds of activities.
However, make sure that you buy the right size to reap all these benefits. According to the client, the size chart is a little misleading, and you might end up purchasing a too tight or too loose fit.
Pros
Ergonomic design of sleeves
Comfortable
Breathable material
Enhance motion
Cons
Size chart may misguide you
May have to make two purchases to get a pair
How To Pick the Best Knee Compression Sleeve?
All the ten recommendations above sound amazing, and it is very tough to pick the best one. However, by considering some crucial factors, you can make your selection quick and easy.
Below is the list of some essential considerations. Go through each and then match them with your requirements. Once done, choose a product that meets the criteria and then brings it home.
Compression Requirements
Knee sleeves that produce a good amount of compression are great. However, they are not always safe if you plan to wear a pair for an extended period.
Most athletes often own two pairs of knee sleeves. One offers good compression and is perfect to wear during competition, while the other is often true-to-size and is designed to wear comfortably.
If you want a knee compression sleeve to reduce pain and heal any injury, we recommend you choose an item with sufficient compression. Most sleeves with high compression find it hard to pass through the bare calves and often restrict mobility.
Correct Thickness of the Sleeves
Almost all brands manufacture knee sleeves with three thicknesses. So you can get sleeves that are either 3mm, 5mm or 7mm.
The 3mm and 5mm sleeves are way lighter than the 7mm thick sleeves. That is why they are more flexible and best for extended training. Moreover, such sleeves also help to regain control over the injured knees.
However, sleeves with 7mm thickness provide more stability and are very supportive during high impact exercises. This thickness is also appropriate for a knee that has recently suffered an injury and requires rehabilitation.
Most knee sleeves do stretch out after some time. However, you can avoid that by washing your sleeves regularly. This activity will help maintain the shape.
Purpose of Use
Do you want to wear a knee compression sleeve during powerlifting or to support your injury? The purpose of wearing a sleeve is quite imperative before you choose a pair.
For instance, powerlifters often wear long knee sleeves. However, you can't wear the same size for CrossFit or weightlifting, where lots of movement and flexibility is required.
Similarly, most powerlifters will find 7mm thick sleeves pretty adjustable and comfortable. But if you are a simple gym-goer, you might not look for a thickness more than 3mm or 5mm.
So, before selecting the best knee sleeves, you should be clear on purpose. If you are into more than one form of exercise, get more than a pair to meet all your requirements.
Stitching and Shape
There are various knee sleeves brands, and you will find them producing different types of sleeves. For instance, some sleeves come with non-slip grips to prevent them from slipping. Then some similar items also feature tapered stitching that allows the sleeves to be flexible and bend well with your knees.
You will also find knee sleeves featuring a trim with silicone gel. Such items offer a unique anti-slip technology that prevents them from sliding down to your feet during a focused workout.
If you have huge calves, you can also get cone-shaped knee sleeves. However, if your calves aren't too heavy, the cut sleeves will suit your needs.
While knee sleeves may look quite simple, they come in many shapes in sizes. And if you don't want to waste your money, do your homework well before heading out to make a purchase.
Lightweight and Breathable Material
It is tough to wear a knee compression sleeve that is too bulky. Moreover, knee sleeves that restrict motion are also not worth your money.
So, while selecting the best knee compression sleeve, make sure that your chosen product is made of breathable and lightweight material. In addition, it should offer a snug fit and an ergonomic design to support your activity.
Since most sleeves are made of neoprene, rubber or nylon, you won't have any issue with this factor. However, some cheap sleeves use poor-quality fabric that feels quite hard on your body.
Additional Accessories and Features
Some knee sleeves are pretty similar to knee braces and feature straps. If you require better support during your workout, such sleeves may benefit you. However, they will need more care while cleaning, so make sure you know about it.
Moreover, some sleeves come with carrying bags. The bag's price is included in the total cost of the sleeves and is helpful for storage. However, this additional accessory may affect your planned budget, so make sure you have enough money for that.
Price
If you want to buy a long-lasting and durable pair of knee sleeves, plan your budget accordingly. Such items are a little expensive, but their quality is always out-class.
However, if you only want a pair for short-term use, you can get affordable knee sleeves with no additional features or accessories. Such items are perfect for helping you recover from a temporary injury or reduce mild joint pain.
Client Reviews
Since there are many sports brands manufacturing top-quality knee sleeves, it is normal for you to get confused. However, you can always read non-sponsored and honest reviews of customers to get a clear understanding of a particular knee compression sleeve.
Such reviews are great to avoid unnecessary dilemmas and help you to experience the product's quality through the words of a user like yourself.
Benefits of Using a Knee Compression Sleeve
We have already discussed some primary benefits of using a knee compression sleeve. However, for your better understanding, below is an in-depth overview of the various advantages that you can reap from your favourite knee sleeves:
Helps Maintain a Healthy Lifestyle
Do you crave a healthy body that can move without any pain? Of course, we all do, but injuries happen without any warnings, so it's impossible to avoid them.
However, by wearing a knee compression sleeve, you can help your knee move with less pain. Besides, even if you don't suffer from any pain, wearing knee sleeves enables you to perform various exercises with comfort and encourages you to follow a healthy routine.
Support Your Running Pace
As mentioned above, knee sleeves are essential for people who run every day. Sleeves featuring silicone grips are often used for this activity as they stay in one place and provide the proper compressions.
Moreover, these knee sleeves prevent inflammation and save the runner's knees from getting swelled up. It reduces soreness and motivates the user to run every day.
Doesn't Compromise Mobility
One of the most user-friendly characteristics of a knee compression sleeve is that it does its job without compromising your mobility as a result, you don't face a decrease in your workout pace. Instead, it gets better with more knee support.
Besides, most knee sleeves are made of compression fabric which is quite breathable. This material absorbs all the sweat, which may otherwise make your skin slippery and hinder your motion.
Prevents the Anterior Knee Pain
As per some studies, knee sleeves made of neoprene are commonly recommended by many doctors to prevent anterior knee pain. In addition, according to some experts, neoprene knee sleeves aid quick recovery as this material is perfect for providing optimal compression on joints.
Improves Range of Motion
By wearing a knee compression sleeve, you can attain an improved range of motion. This characteristic can help you perform various exercises and allow you to participate in many kinds of sports.
Besides, a managed range of motion is ideal for carrying out regular tasks in life. It keeps you active and saves you from many physical challenges.
Works as An Effective Alternative to a Knee Brace
If you have worn a knee brace before, you would know how hard it is to wear it daily. A knee brace is much heavier and thicker than a knee sleeve. Besides, if you are an active individual, wearing a bulky knee brace may restrict your motion, but a knee compression sleeve won't.
So, simply put, a knee compression sleeve is perfect for young people suffering from a knee injury or pain. It helps support their body without putting any additional pressure.
Portable Fitness Gear
You won't need an extra bag or a huge place in your suitcase to carry your knee sleeves with you all the time. This fitness gear is portable, lightweight and compact and can easily fit in a small corner of your suitcase or even in your pockets.
Moreover, since it's effortless to clean a knee compression sleeve, you can take yours along on your travels and wash them every night to maintain their strength.
Inexpensive
A majority of knee sleeves are not expensive and are also available for people with tight budgets. However, you will have to research before finding the right sleeve because some cheap items often lack quality. And that's the least you expect from a purchase.
So, make sure that your chosen knee sleeves are durable and also affordable. An outstanding balance between quality and price can quickly help you find the ultimate option.
How to Wear Knee Sleeves for the Best Results?
It is pretty challenging to put on a knee compression sleeve without experiencing unnecessary folding or sliding. However, you can try the two methods below to wear one smoothly:
Wear the sleeve on your foot and then fold it into two halves. Once down, pull it on your desired area and then fix it back to its original shape.
If the above method doesn't work, you can slide the inside out sleeve on your foot before pulling it below the knee. Once done, flip the side of the sleeve and cover your knee with it.
Can You Stop Your Knee Sleeves from Rolling Unnecessarily?
Have you ever worn a knee compression sleeve, but it rolled back and failed to serve its purpose? Unfortunately, it is a common problem with such sleeves, and hence it is imperative to fix them in one position to warm up the concerned area.
So, firstly make sure you are wearing the right size of knee sleeves. A sleeve too large or too small will most probably roll.
Secondly, wear shorts when exercising or even resting with knee sleeves. Again, a minimum interaction between the two fabrics will prevent any slippage.
How Can I Wash and Maintain My Knee Sleeve?
It is common for your knee sleeve to get a little musty after absorbing sweat during workouts. However, you can keep it clean, so it smells good every time you want to wear one. Here's how you can do that:
Normal Wash
If your knee compression sleeve doesn't smell too bad, just hand wash as you do with some of your clothes. Or, if the manufacturer allows, simply put the sleeve in a machine and turn on the unit.
Intense Wash
For an intense wash, place the sleeve in a pan of boiling water for five minutes. Then remove the pan from the stove and add in some liquid soap. Let the mixture cool down.
Once it does, remove the sleeve and rinse it. Then air dry until all the moisture is out and it is ready to be used again.
Extreme Wash
If your knee sleeve is in terrible condition, just soak it in a water and vinegar solution. Please do this for 10 minutes before taking it for a hand wash. Once properly cleaned, air dry the sleeve until it's ready to be used again.
FAQ
Here are some common questions asked by users like you. Take a look at their answers and see if any of these queries clear your doubts.