Have you ever thought of investing in the best weighted skipping rope? While it may look like a simple tool, this fantastic equipment can improve your speed, strength and flexibility. Besides, you can use a rope correctly to benefit your cardiovascular health and even lose weight.
It is hard to expect a mere rope to do so much, but that's the truth. And to convince you to include a weighted skipping rope, we have written this detailed guide.
So, dig in and find what we have in store for you. You are in for a treat from our top eight weighted skipping rope recommendations to vital factors to consider before making a purchase.
What Is a Weighted Skipping Rope?
You might have heard about or used a skipping rope before. Most of us have spent our childhood days using a skipping rope while playing with friends.
However, if you have been the unfortunate ones, it is never too late to get acquainted with this tool.
A skipping rope is a cable made with either nylon, leather or PVC. Moreover, it has handles on it's both sides that help you control the cable. These handles are mostly made of aluminium or plastic; however, you might also find expensive skipping ropes with wooden handles.
A weighted skipping rope is a category of fitness skipping rope. This equipment carries additional weight in its handles and cable. So, considering its heavy structure, a weighted skipping rope is ideal for fitness enthusiasts aiming to gain some strength and stamina.
This piece of equipment generates additional resistance that positively impacts your arms and shoulders. A typical weighted skipping rope can have a weight between one to six pounds.
Moreover, this tool is generally preferred by expert jumpers, but many beginners can try it too. Since it is heavier and slower than other categories of skipping ropes, you can utilise one to understand the correct form and learn to focus on your right timing.
Our Top Favorite Weighted Skipping Ropes
Have the above facts and information convinced you to get your first weighted skipping rope? We think it's worth the investment and you shouldn't delay this purchase.
To help you out, here is a list of our well-researched eight recommendations. Go through their reviews and see if any of these deserve a place in your fitness gear.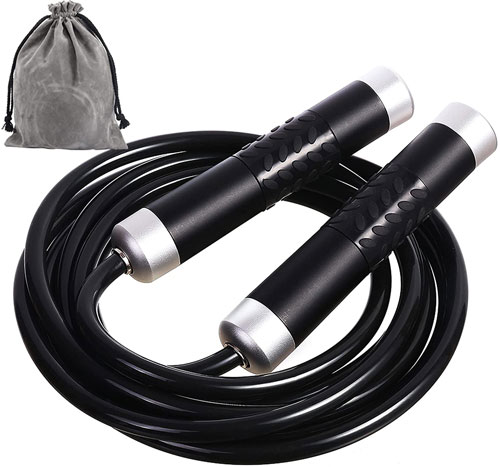 The Gaoykai weighted skipping rope has many excellent features, and that's why it is our number one recommendation.
Starting from its material, this weighted skipping rope is made of PVC material. Bold PVC mixed with aluminium make a solid combination and withstand all kinds of weights and external pressures. Besides, PVC weighted ropes are ideal for both beginners and professionals alike.
When it comes to material, we can't help from discussing this product's handle and grip material. The rope's handles are made of aluminium which is again pretty durable and long-lasting. Besides, the handles are covered with synthetic rubber grips, which absorb all the sweat from your palms and allow you to hold the weighted skipping rope with firm hands.
This rope also has high-quality ball bearings that ensure the rope's smooth rotation. While skipping with this product, you won't face any bending, winding, and unnecessary twisting incidents. If you are a beginner, this characteristic will help you learn the art of skipping sooner than expected.
The Gaoykai weighted skipping rope is almost 10 feet long. However, you can use a special screwdriver to adjust the rope according to your comfort. Since this rope provides the luxury of adjustments, you can use the rope for many different exercises and share this fitness tool with other family members.
Overall, this product is worth your investment. The price is also affordable, and it comes with a pouch to store your rope when it's not being used. However, you may want to use this rope on smooth ground. Since PVC isn't as solid as steel, the rope may break and lose its strength on very abrasive or rocky surfaces.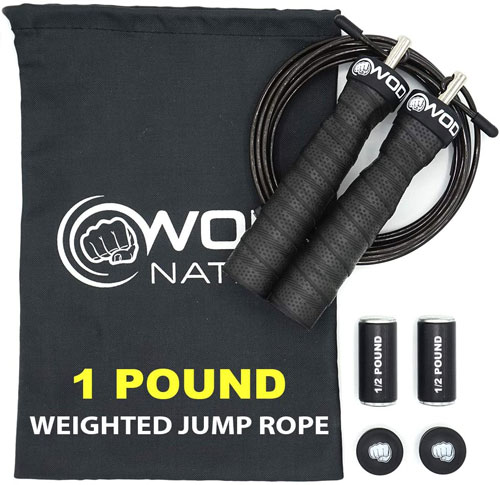 Skipping is not only fun and great for weight loss, but this exercise also helps to boost your mood. If you suffer from chronic anxiety and depression, a weighted skipping rope may help you kick all your stress hormones out of your system. Besides, since this activity makes you sweat, you feel great about yourself and feel much lighter.
However, you need to own a reliable and durable tool for skipping to do its wonders and benefit your health. A good and solid weighted jump rope can help you achieve all your goals and improve your cardiovascular health.
You will come across a variety of excellent and well-designed weighted ropes in the market. And among them, you will find the WOD Nation Atlas rope as a great candidate.
Not only is this rope much cheaper than most of its competitors, but its fantastic design and user-friendly features make this product worth considering. For instance, this rope is entirely adjustable and is supported by two aluminium handles. But what makes these handles unique is their ability to be removed.
If you are into progressive training, the 1 pound handles can be easily removed and replaced with heavier ones. Besides, you can adjust the handles and make them much lighter for the young and old members of your family.
Moreover, this fitness product is all black which makes it look pretty classy. The rope comes with a stylish pouch for storage purposes.
Overall this rope does a great job with skipping. However, since the rope doesn't have much weight, beginners may find it hard to match their skills with the rope's high speed. But if you are a professional and familiar with skipping rope, this item will suit you perfectly.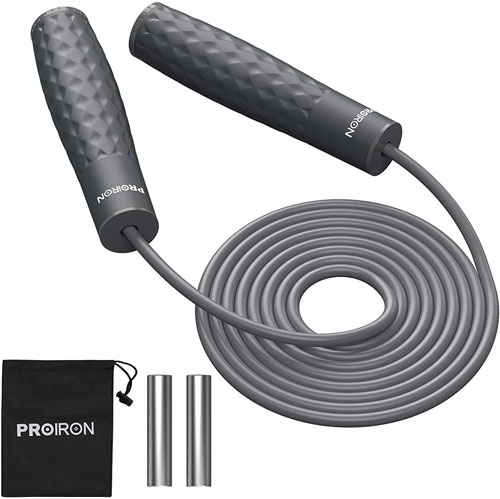 The PROIRON store is a well-established brand in the UK. The company is famously known for its high standards and competitive prices. Among its top-quality fitness products, there is a tremendous weighted skipping rope that will most probably tick all the right boxes for you.
This jump rope has various qualities and features that you might get attracted to. For example, the rope is made from PVC material which is considered exceptionally durable and solid.
Besides, the rope handles are made of silicone which offers an anti-slip grip. Moreover, the diamond pattern on the sleeves of the handle makes it convenient for you to hold the rope tightly.
If this wasn't enough, this tremendous weighted skipping rope features ball bearings inside its handles. You can remove or replace the bearings to adjust the rope's weight and experience smooth rotations during skipping.
The PROIRON weighted rope is also adjustable. In addition, this product has a built-in buckle that can help adjust the rope's length to match your height.
This quality makes this product pretty useful for a variety of different exercises. Moreover, you can buy a single weighted skipping rope and share it with other members of your family. This act saves your money for any additional spendings.
While using this weighted rope, you won't experience unnecessary twisting and tangling. Besides, since the rope is water-resistant and has a matte texture, you don't have to worry about its premature wear and tear.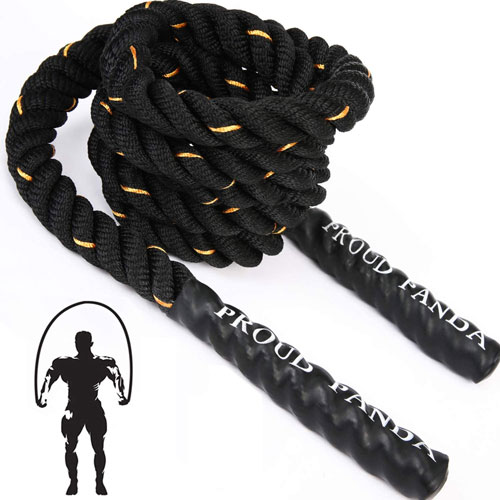 This 3-pound heavy jump rope by Proud Panda will give you a good burn and help you enjoy a powerful workout. According to the manufacturer, this rope increases your workout efficiency five times compared to an ordinary rope. Moreover, when used smartly, this product can strengthen your muscles and build your shoulders, thus giving you a solid and lean body.
The Proud Panda weighted jump rope features a three-strand design which makes this item very thick and durable. Moreover, this product is covered with nylon sleeves that help protect this rope against high friction.
This unique rope is made of polymer synthetic material that has high and long-lasting tensile strength. As a result, you can use the rope for as many exercises as you want without worrying about premature wear and tear. Moreover, this rope can be used anywhere, even on the most rigid surfaces.
The rope's handles feature thermoplastic technology, which makes them easy to grip. Moreover, they are filled with sol that helps retain the shape and prevents unnecessary sliding.
You can buy this jump rope for various lengths. For instance, according to the manufacturer, if you are 5.8 feet tall, a rope with a length of 9.2 feet will suit you. Similarly, if your height is above 5.8 feet, get a weighted rope with a length of 9.9 feet.
However, remember that this rope isn't adjustable. You will probably have to buy various ropes with different weights for progressive training.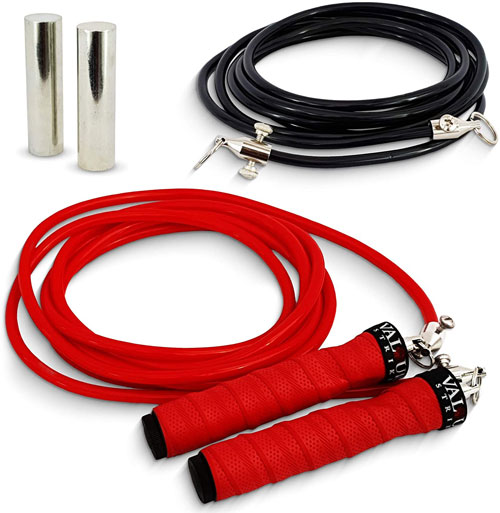 If you want to experience progressive workouts at home or even in your gym, the Valour weighted skipping rope will help you achieve your fitness goals. The manufacturer offers four amazing variations of ropes, so you don't have to buy a separate one.
For instance, you can use the black rope for a light workout. However, if you want something heavier, the red rope won't disappoint.
You can then remove or add the handles to your chosen rope to experience versatile training. This product works best for people who want to achieve significant benefits with a mixed-up workout.
The Valour weighted skipping rope has an excellent rotating mechanism. It is because the ball bearings offer an unhindered rotation that helps in providing you with a smooth fitness development.
With this product, you are free to use the skipping rope for your cardio and even a HIIT workout. If used consistently and correctly, you will feel a good change in your body with an efficient fat and weight loss process.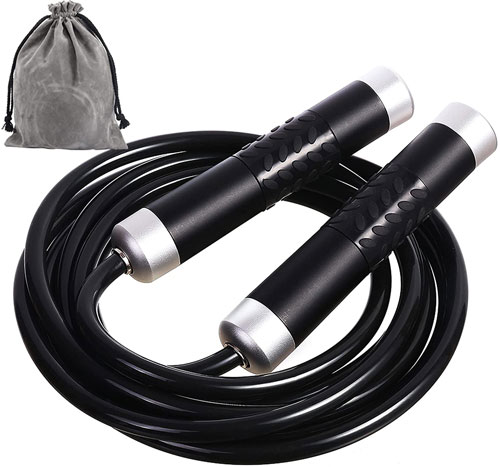 Since Gaoykai is a well-reputed brand, we couldn't help but include another jump rope from their product line. This item is perfect for all kinds of training, including cardio, HIIT and even boxing sessions. If you want to strengthen your legs and improve your endurance, look nowhere else.
This adjustable weighted rope is 10 feet long and is made of polyester cotton. Moreover, it is covered with a silicone sleeve that protects the rope from premature wear or damage. You can remove the sleeve while using this item and also adjust the length according to your height.
The Gaoykai weighted jump rope has aluminium handles which is a perfect material with superior durability. Besides, the handles have soft silicone sleeves with a wavy texture as solid coverings. This design offers a good grip and also prevents any kind of unnecessary slippage.
This rope also features ball bearings that prevent unnecessary twisting, winding and bending of the rope. As a result, you can use this product for high-intensity workouts without worrying about falling.
The weighted skipping rope is relatively inexpensive and can hence easily suit most budgets. However, you may get a little disappointed by its looks as it isn't a classy piece. But since it does the job, you can ignore the poor design.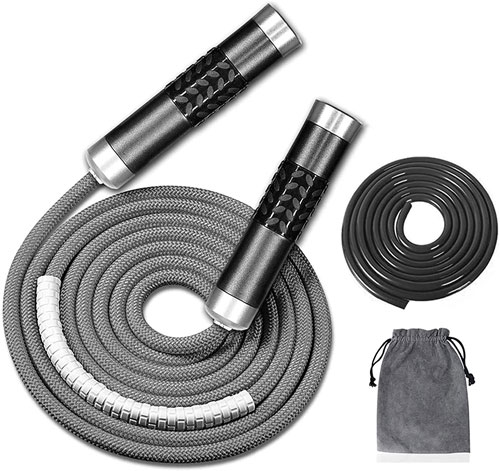 The Redify weighted jump rope features a solid rope made from PVC and braided cotton. The unique combination of these materials makes this product perfect for long skipping sessions. Moreover, you can quickly shift from a PVC rope to a cotton rope within a few seconds.
This fitness product features very durable aluminium handles. Moreover, since the handles have silicone grip, you do not experience any kind of slippage.
It is because these grips have an oval design that enhances friction and prevents the handle from sliding from your hands while you are jumping with complete focus.
The above unique features make this rope ideal for Crossfit training. Also, if you are into MMA and boxing, you will love using this weighted skipping rope.
The Redify weighted skipping rope is 10 feet long and has a spiral structure. It is wear-resistant and produces no odour. Moreover, this whole product weighs 1 pound and features a built-in lock that you can use to adjust the rope's length.
Overall, this product won't disappoint you. Regardless of your skill level, the weighted rope will accompany you everywhere and help you achieve all your fitness goals.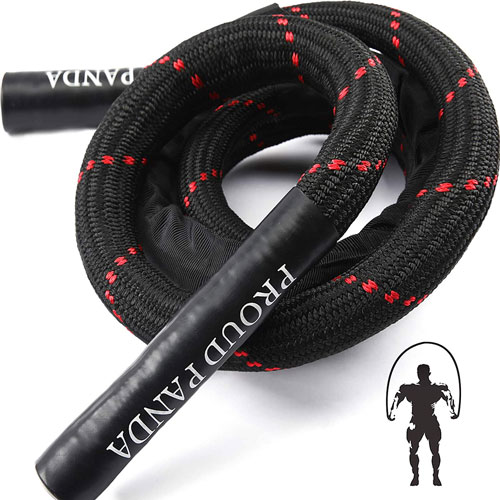 Taking the last spot on this list, the Proud Panda weighted skipping rope is no less than the other seven options above. It is heavier than most other options and has a design to help you experience impactful jumps.
This product is made of synthetic polymer fibre, which is highly durable. Moreover, the rope's lines are carefully woven to make this product more tough, stylish and much softer than most other three-strand braided ropes. Also, the rope's ergonomic and rubber handles are comfortable to hold.
However, despite the above features, this product isn't adjustable. That's quite a bummer for people who might want to experience progressive training with a rope.
But since this product is affordable, you can buy different ropes of varying lengths and use them for exercise sessions or load training. Also, before choosing a suitable rope, make sure to measure your height. For instance, if you are above 5.8 feet, look for a rope at least 9.9 feet long.
This product comes with an extra rope sleeve. The purpose of this addition is to increase the wear resistance of the whole creation. Also, by placing the sleeve in the rope's middle, you can increase the overall life of this fitness item.
Benefits of Using a Weighted Skipping Rope
Using a weighted skipping rope is tough, but if done right with regular practice, this exercise can benefit you in many different ways. Here are a few examples:
Helps Burn Calories and Lose Weight
Almost all categories of skipping ropes are great when it comes to reducing weight and burning calories. However, weighted skipping ropes are magical when it comes to this benefit.
This tool allows your muscles to stay activated throughout the skipping process. Moreover, swinging with a heavier rope is more complex than a lighter one; thus, you use more energy and force to pass it through your body. As a result, you burn many calories in a limited time.
If you aim to lose weight for a long time, a weighted skipping rope can be your number one weapon. However, to achieve your goal, make sure to keep your diet healthy. Besides, perform other training exercises as well to create an overall balance.
Best for Learning
Contrary to common belief, learning to skip using a weighted rope is far easier than with a lightweight speed rope. Unfortunately, the latter is quite challenging to swing and isn't too ideal for beginners.
Have you tried skipping rope before and ended up experiencing many falls? If yes, you might have been using a light rope.
A weighted skipping rope helps to slow the rotations so you can receive helpful physical feedback. This feeling then enables you to establish better coordination which results in faster learning.
Skipping Is Fun
Do you run on a treadmill or jog outside only to get bored after a short duration? We understand your struggles and thus suggest you try skipping to gain health benefits. However, it is hard not to smile while jumping, and with your favourite music in the background, this exercise feels as refreshing as dancing.
Great for Your Cardio Health
You can improve your heart circulation by using a weighted skipping rope regularly. It also helps to improve the oxygen flow to different parts of your body, thus benefiting your muscles and organs. Moreover, when your heart pumps at a healthy speed, the risk of strokes and heart attacks reduces by a significant level.
Engages Your Muscles
While using a weighted skipping rope, you engage many muscles in your body. For instance, your shoulders, arms, core and back are in constant motion.
Besides, a weighted rope activates your pecs, thighs, hips and glutes as well. It isn't wrong to say that a weighted skipping rope provides full-body training. You can use this simple tool to target and tone specific muscles in your body.
It Is Versatile
There are many ways in which you can utilise a weighted skipping rope. For instance,
This rope is pretty helpful for cool down and warm-up exercises
You can use it outdoors or use it inside when the weather isn't suitable
This tool can be used while lifting, boxing and jogging
It offers a variety of workouts, so you don't get bored
Inexpensive and Portable
Unlike a treadmill or any other heavy fitness equipment, a weighted skipping rope is highly portable. Pack a rope and take it with you wherever you want. This tool doesn't take much space and easily fits in a gym bag.
If you are travelling, taking this piece of equipment with you would reduce the chances of missing a workout. There's nothing better than that.
Moreover, when compared to similar workout tools, a weighted skipping rope doesn't cost much. So you don't have to spend thousands of pounds on this tool which is excellent if you are running on a tight budget.
But that being said, weighted skipping ropes are available at a wide price range. So if your budget allows, there's no harm in investing in an expensive one that can last for long and has great additional features.
How to Pick the Best Weighted Skipping Rope?
If you want to enjoy a weighted skipping rope for a long time, you need to ensure that this tool is long-lasting and fits your requirements. Hence it is imperative to choose a product that falls under specific considerations.
Below is a list of some crucial factors to consider before buying a weighted skipping rope. Go through them in detail and match them with your requirements. Then choose a product that fulfils the criteria.
It does sound as simple as it looks. Please try this method to make a successful purchase.
Length of the Rope
As discussed briefly above, the rope's length should complement your height. For instance, before purchasing this tool, make sure the rope can efficiently run through your armpit to the floor and back to your armpit. In short, multiply the distance from the armpit to your feet by two.
The rope's length should be ideal for training and working out. A longer rope may cause hindrance to your flow and might also be tough to handle. Here are some examples of rope's length in relation to different heights:
If you have a size of 5'5'', get a rope with a length of 8'4''.
An 8'10'' tall rope would suit a person with a height of 5'9''.
If you are 6' tall, a 9' rope will meet your requirements.
While getting a rope with the length is imperative, investing in a flexible tool is also crucial. A rope with an adjustable size reduces the fear of purchasing a too small or too long tool and can be used for a variety of exercises.
Moreover, if you have many users of this tool at home, they can all adjust and use this rope without any issues.
Weight of the Rope
There is no fixed rule on choosing the right weight. This determinant varies from person to person, according to their skill levels and goals.
For instance, if you aim to use this equipment to enhance your stamina and strength, only a heavy rope will work for you. However, if you plan to use this tool for simple cardio training, get your hands on a light tool.
As a beginner, you should get a lightweight rope and then gradually increase its weight with enhanced strength. Moreover, if you aim to build muscle mass, you should invest in several weighted ropes with varying weight levels. This will help you adopt a progressive load approach quite easily.
Material
While choosing a weighted rope, you should give immense importance to its material. It is because this factor determines the speed and durability of this item.
As mentioned earlier, most ropes are available in four different materials. They are vinyl, leather, fabric and steel.
For beginners, ropes using fabric are more appropriate because they are pretty slow.
However, fabric ropes are also less durable and more prone to premature wear and tear.
If you plan to use a weighted skipping rope on abrasive floors or outdoors, you should buy either a vinyl rope or a leather one. The tools made from steel are usually the fastest and hence used mainly by advanced jumpers.
Handles
No one would want to waste their money on a rope that slips more than often. So, investing in a tool with anti-slip handles is pretty crucial. Moreover, this factor determines the overall control and speed of skipping.
You should always choose a weighted skipping rope that comes with memory foam covered handles. This material prevents the rope from suffering any damage and also absorbs all the sweat from your palms.
Ball Bearings
Get one with ball bearings if you want to invest in a long-lasting and durable weighted skipping rope. These fantastic additions help the rope to curate smooth and hinder-free rotations. Besides, a rope with ball bearings doesn't break easily and is significantly safe for all kinds of training.
Special Additions
Many weighted ropes come with notable additions that help increase their value. For instance, some products come with extra handles with weights to aid your progressive training.
Moreover, many ropes are accompanied by silicone sleeves to protect the rope's strength and increase its life. You can also buy products that come with their separate pouches for safe storage purposes.
Expert Recommendations
There are so many sports brands that manufacture weighted skipping ropes. However, you cannot trust all, and hence it is essential to do a little homework.
For instance, read different expert recommendations before buying a rope. But make sure to ignore sponsored or paid suggestions.
Also, you can look for various client reviews before making a purchase. These testimonials usually draw an accurate picture of the product's performance and are often reliable.
How to Use a Weighted Skipping Rope?
Before you buy a weighted skipping rope, you should skim through the rules and methods required to use this tool appropriately. Here are a few essential tips that you should follow while skipping with this unique fitness item:
Arm Positioning
Wide arms while skipping will do you no good. You will mostly like to trip more often because of the short rope length that this arm position creates.
So, to avoid that, make sure your chest is up, and the arms are very close to the body. Besides, keep the core engaged as you skip with focus and force.
Use Your Wrists
If you are moving the arms to move the weighted skipping rope, you might not benefit from this exercise. Moreover, you may also end up over-utilising your arm muscles and tiring them way too quickly. If that's not your purpose, make sure to use your wrists rather than arms to skip for a long time period.
Make Sure Your Head Is Up
The biggest mistake you can make while jumping is looking down and waiting for the rope to pass through your feet. This error will make your trip and may also demotivate you to take this exercise any further.
So, while skipping, make sure your head is also positioned upwards. Look straight with focus and jump as soon as the weighted skipping rope crosses your head. Keep your timing in mind and establish a proper rhythm while you skip.
Make a Video
If you want to ace the art of using a weighted skipping rope, make sure you practice with lots of focus and attention. Watch expert videos if you can, and learn about skipping in detail. Besides, if possible, make a video of yourself in every session to keep a check on your form.
Size Your Weighted Skipping Rope Properly
Before using this tool, make sure it is correctly sized. To do that, put your foot in the middle of your rope. Then, allow both the handles to reach the height of your shoulders.
The end of the handles should be parallel to your shoulder; no length differences are allowed.
Also, while selecting a weighted skipping rope, buy an adjustable one that you can easily according to your required size. Or you can get one that meets your height's standards.
A Basic Skipping Rope Workout
Now that you understand the essential rules, you can make a basic move with a weighted skipping rope.
Hold the rope's handles in your hands using fingers.
Position yourself correctly by sticking your elbows and making sure the rope is in front of you.
Start with a two-minute workout. Keep both the feet together and jump lightly.
Hold a ¼ pound rope and skip at a very slow pace for three minutes. Take a break of 30 seconds and then skip for the next 30 seconds. Repeat this process for three minutes.
Now take the same rope pound, and do the same as you did previously but at a medium pace.
Accelerate your workout with a ½ pound rope and use it for three minutes at a slow pace.
Increase your speed gradually and let the rope do its work.
If you feel exhausted, stop after you're done with the last step. However, if you love a challenge, shift to 1 pound heavier rope this time and skip for the first three minutes at a low speed and then increase the pace in the next three minutes.
This workout is great to get used to different weights of ropes. Besides, you will slowly learn to understand your timing and get affiliated with the correct speed.
FAQ
Here are some common questions that many users ask us. If you still have any doubts regarding a weighted skipping rope, clear them and make a successful investment.