Have you ever thought of buying an adjustable squat rack for your gym space at home? For those unaware, this is an intimidating yet essential fitness centrepiece of every workout area.
If you love powerlifting or just enjoy moving weights, a squat stand can offer you immense functionality, versatility and safety to lift as many pounds as you like. It is a multi-functional tool that can assist you in many ways while you work hard to gain muscles, burn calories and become strong.
But that's not the only thing that this piece of equipment offers, and it's not fair to cover everything in the introduction section only. So, if you want to know more, you will have to read this interesting article.
The buying guide and our reviews will help you understand a squat rack better, and you never know; you might find your perfect stand from here.
So, without any delay, dig in.
Why Should You Get a Squat Rack?
Have you ever performed a squat? If not, you may want to try one to experience this amazing move.
Squats are one of the most potent yet efficient forms of exercise. Almost all workout plans have squats included because they involve a fluid movement of your large muscles. However, squats may prove harmful when done without support.
So, how can you progress in a squats workout without injuring yourself?
A squat stand or rack is a tool that assists you to progress on your workout journey and ace your squats every time. It holds a bar ( mainly Olympic) and allows you to squat at your own safe pace.
By adding weights on the bar, a squat becomes more challenging and tests your potential. In short, if you are a weightlifter, a squat rack is more of a necessity than a luxury.
However, most of you might not know how to use a rack to gain its potential benefits.
So, before you plan to get your hands on the best folding squat rack in the UK, learn the art of using it properly.
Benefits of Having a Squat Rack in Your UK Gym Space
A squat rack can help you improve your squats and makes you an expert pretty soon. But there are many more perks of using this equipment that nobody will tell you.
To find what these are, read the section below:
Squat racks allow you to lift heavy weights safely when you do not have an instructor to supervise.
They establish your confidence and give you peace of mind to take up more challenges.
It does not restrict your barbell, thus providing sufficient flexibility to your lift.
Best squat racks are mostly available within a wide price range thus giving you the liberty to choose your favourite one with your limited budget.
The Best Adjustable and Folding Squat Racks on the Market
Have we convinced you to invest money in the best squat rack? We hope we have, and to make sure you get the best one for your UK home gym, find our well-researched recommendations below.
Each option is perfect in its way. Choose the one that matches your budget and basic requirements.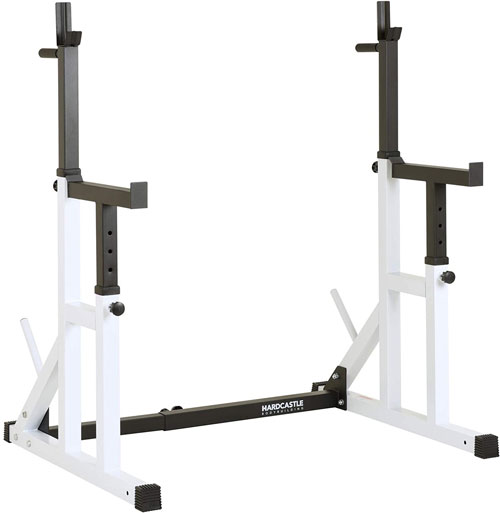 Are you struggling with weights during powerlifting and squats? We understand your concern, and many enthusiastic athletes like you may feel disappointed when they fail to progress.
However, have you done anything to overcome this issue? If not, let us tell you that it's not too late. By bringing the Hardcastle adjustable squat rack to your home, you will improve your form and enjoy a comfortable workout without fear of having injuries.
The Hardcastle squat rack is a little heavy, but its solid structure and design are pretty compatible in many ways. This free-standing equipment is made of alloy steel and comes with a good powder coating finish. The fantastic combination enhances the equipment's overall durability and makes this rack perfect for different workouts.
This squat rack comes with spotters and has an adjustable width and height. This factor makes this flexible piece of equipment pretty useful for many users in your family. Besides, you can enjoy both basic and advanced routines comfortably.
The Hardcastle squat rack features a robust steel tube. The 50mm frame can easily hold one to two solid Olympic barbells at a time. Besides, this piece of equipment comes with 13 levels of racks, ten settings for width and seven adjustment levels for the spotter.
The width of the rack can be adjusted between 78cm and 123cm. The rack height can move from 93cm to 151cm, while the spotter height can vary between 65cm and 95cm.
Overall this product is pretty ideal for many users, but it has a few drawbacks that might make it unreasonable for many. For instance, this rack doesn't come assembled, and if you aren't a technical person, you may require help to fix the parts.
Besides, the equipment isn't made for users above six feet. Some users have complained about the rack's height being a little short for them. Moreover, some thought they couldn't perform bench presses properly because of the inadequate width.
Pros
Robust body
Comes with spotters
Adjustable width and height
Good weight capacity
Reasonable priced
Cons
Requires assembling
Not for tall users
Heavy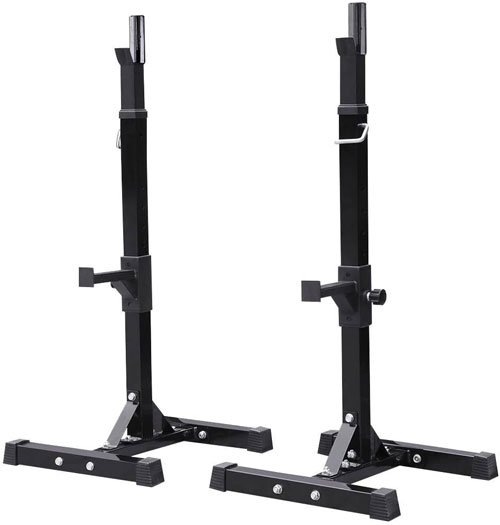 Performing barbell curls and bench presses may seem challenging for beginners. But with the right squat rack, even the most challenging workouts become safe and exciting to do.
This is because you feel secure and confident to give your best. However, consistent practice is key to ace every workout designed for both beginners and professionals.
Yaheetech is a well-known brand in the UK that offers quality exercise equipment at reasonable price tags. You can easily find top-quality fitness tools sold under this brand, and one such product is a heavy-duty and solid squat stand.
This adjustable stand features adjustable height between 114cm and 179cm. You can easily use the 14 safety pins placed at a 5cm gap to choose your required measurement. That's quite a fantastic feature for many users in your UK home gym.
Another great thing about the Yaheetech squat stand is that it comes with anti-skid pads on its feet. Thus, it prevents the floor from any damage and also reduces the risk of any slippage.
The Yaheetech adjustable squat stand is equipped with high-quality nuts that add value to the overall strength of this product. However, since this stand comes disassembled, you might have to fix each part yourself. If done incorrectly, you may fail to use this stand safely.
This practical rack can hold both Olympic and standard bars. Besides, it is portable and can be used in a new workout spot every day.
However, compared to a power rack, this squat stand is not very durable and doesn't have a lot of weight capacity. So if you plan to use it for many heavyweights, the product won't be very ideal in that situation.
Pros
Affordable squat stand
Adjustable height
Non-skid pads for stability
Uses high-quality nuts
Can support both standard and Olympic bars
Cons
Comes disassembled and may take longer to assemble
Not as durable as a power rack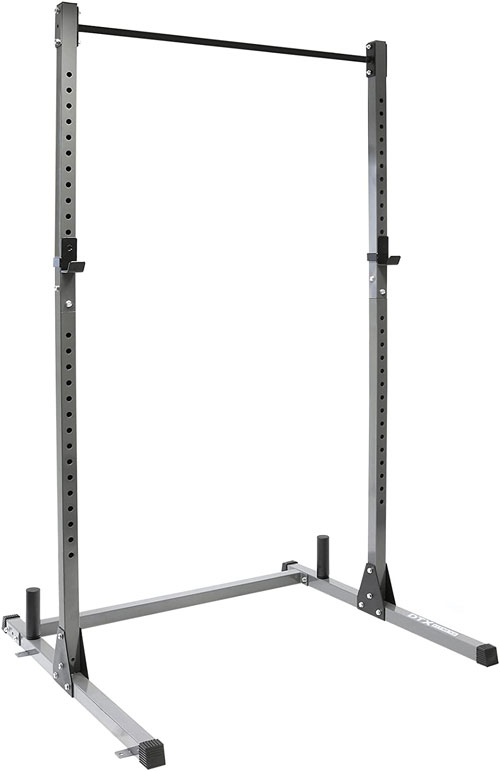 Have you ever thought of buying a power rack with a slim design but solid structure? We understand that it is a rare combination but an excellent one. If you want to get a squat rack for your home, any equipment that takes less space and provides stability is best to own.
The squat rack is just that and more. Perfect for chin-ups, bench presses and pull-ups. Besides, it comes with a free pull up bar, so you don't have to buy one separately.
This adjustable squat rack features a whopping 28 bar's height adjustments. The maximum height it can adjust to is 221cm, and the width of 134cm.
The rest or tube can easily hold an Olympic or a standard barbell stably. Besides, thanks to the rack's solid steel framing and powder coating, you can place a maximum weight of 200kg on this squat stand.
The product sticks comfortably to the ground and doesn't wobble. You also get ground anchor nuts and bolts to attach the frame firmly with your floor.
However, this equipment doesn't come assembled. You will have to read the instructions in the manual or watch videos to fit every part correctly. A slight error may lead to injuries and crush your demotivation.
Moreover, the squat rack doesn't have spotter arms. That's quite a bummer because you may require this feature to ensure your safety if you are a beginner.
Despite the drawback, this user-friendly rack may suit most small UK spaces. Also, unlike other power cages, the rack is pretty affordable and may suit your limited budget.
Pros
Adjustable height
Affordable rack
Stable structure
Good weight capacity
Sticks firmly with floor
Cons
Doesn't come with spotter arms
Difficult assembling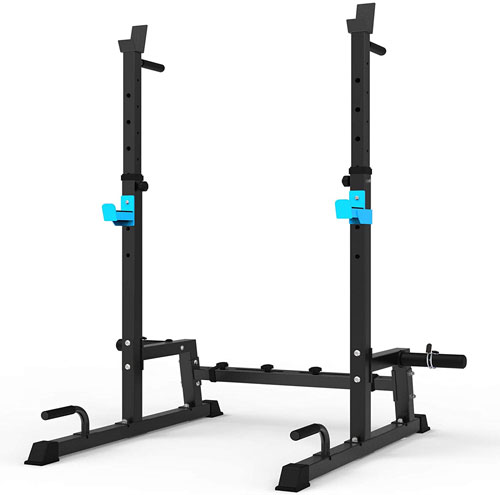 Most people run away from exercising because they fear the injuries it may cause. While working out has more benefits than drawbacks, a fitness routine may seem fatal if done wrongly or with unsafe equipment.
The JX Fitness squat rack is a perfect supportive stand for both professionals and beginners alike. It provides a safe and stable rack for your barbell and boosts your confidence so that you can progress.
This squat stand features a stable base and frame. Made with solid, durable steel, the stand has a weight capacity of 400kg. Besides, the bottom of the rack has anti-slip caps that prevent this equipment from damaging your floor and slipping unnecessary when loaded with heavyweights.
The JX Fitness adjustable rack features many weight and height adjustments. It has five levels for different heights available at a gap of 10cm. Similarly, for width, there are four levels available with a gap of 12cm between each.
The adjustable dimensions of this stand give you the liberty to use this equipment for many exercises. Besides, if you have a large family, many members can utilise this fitness tool according to their comfort level.
You can safely use the JX Fitness squat rack with other fitness tools such as dumbbells and weight benches. Moreover, you can keep it on a new workout spot every day and enjoy variations in your surroundings.
The rack comes with a two-year warranty, and according to some consumers, the company provides excellent customer service at all times.
However, while mentioning positives, it is essential to highlight a few flaws as well. This squat rack doesn't come assembled, and you will have to do the job yourself. But according to some users, the assembling procedure is tedious and time-consuming.
Pros
Adjustable rack for many exercises
Ideal for both professionals and beginners
Anti-slip caps keep the base stable
Comes with a two-year warranty
Can be used with other fitness tools
Cons
Can't hold a weight of more than 400kg
Assembling is cumbersome and time-consuming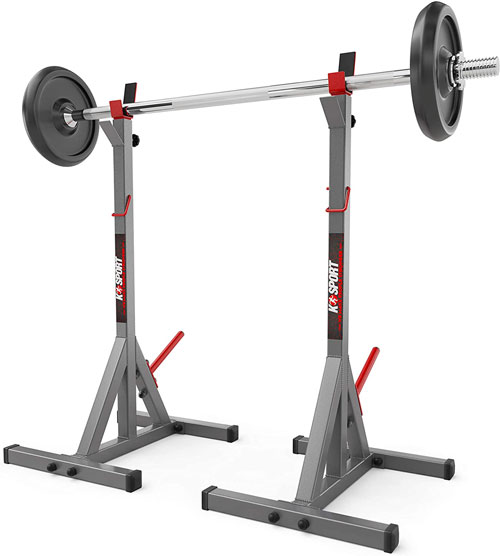 Does your UK home gym have any fitness equipment except for a compatible squat rack? If yes, you might want to get your hands on the sturdy and stable K-Sport Olympic squat rack and challenge your limits to achieve great results.
The equipment is an absolute delight to own. It comes with a high-quality and solid bar holder so you can comfortably ace every lift like a pro. Besides, the rack shelves are made of sound-insulating material to block all noise and prevent unnecessary sounds.
As one of the best squat racks on the list, this equipment by K-Sport has an adjustable height. You are provided with seven levels of adjustments to choose from according to your height and exercise's demand.
Besides, the adjustability offers an excellent benefit for different members of your family with varying heights. A single rack can be used by many people saving a significant expense.
The product features rubber pads in its bottom. The anti-slip pads prevent the frame from any slippage and also save your floor from any damage.
Moreover, this durable rack is made of solid steel that can hold a weight of 250kg at a time. Besides, the weight stand can easily fit a barbell with a maximum weight of 16kg. However, if you are someone heavier and own a big barbell, you may want to try some other racks from the list.
Overall, the K-Sport squat rack offers a good value for money and can suit many gym enthusiasts. But remember, the frame comes in parts. You will have to assemble this equipment yourself, and this may take some time and effort.
Pros
Solid steel construction
Affordable rack
Rubber pads to prevent damage
Adjustable height
Perfect for many members of a single family
Cons
May not suit weights above 250kg
Assembling may be tough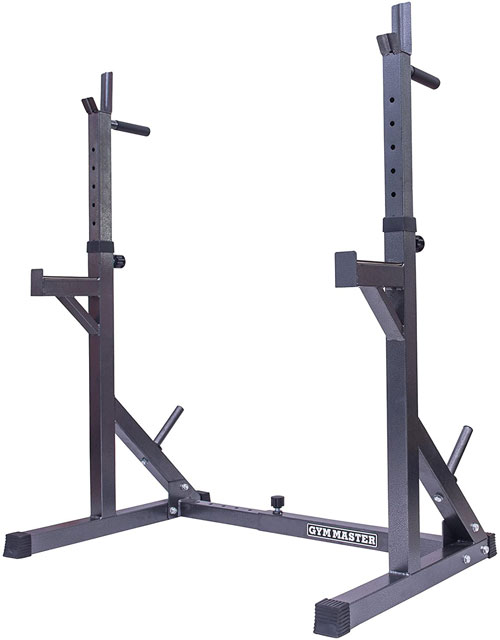 The Gym Master squat rack is also a dip station that works as a versatile tool in many ways. This adjustable equipment can be used for varying exercises and weights. Moreover, many members of your family can use it.
This product is made up of solid steel and features a stable construction. Besides, unlike many other best squat stands on the list, this tool assembles pretty quickly. However, you will have to buy the required tools and nuts yourself, which may add to the overall cost.
The Gym Master rack can easily be adjusted for 13 different heights with a gap of 5cm between each level. Similarly, you can also choose the most appropriate width from the ten levels. Each height is 5cm apart from the other.
This affordable squat rack has a weight capacity of 250kg. You might find that limitation enough if you aren't a professional lifter. But if you are, the above capacity may be too low for your standards.
Overall, this affordable and adjustable squat rack is pretty impressive for a primary home setup. It is portable and lightweight than many racks and can be used from a different spot every day.
Pros
Versatile equipment
Adjustable height and width levels
Easy assembly
Lightweight
Affordable
Cons
May fail to hold the weight above 250kg
Doesn't come with essential assembling tools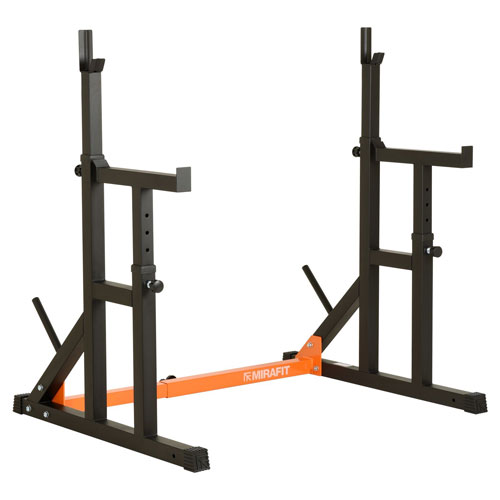 Mirafit has a fantastic reputation worldwide. Used by thousands of gym enthusiasts, Mirafit's fitness equipment offer class and versatility in many ways. Moreover, the company is famous for manufacturing durable and high-quality tools that don't break your bank.
The M1 squat rack is no exception and has achieved quite an impressive rating from many users. This fantastic equipment is made of solid steel and features an improved design that comes with weight poles.
Moreover, The adjustable rack offers 13 rest positions for your barbell. Each position has a gap of 5cm between them. Therefore, you can easily adjust the height between 93cm and 151cm.
Also, the rack has ten settings for the width with a gap of 5cm between each adjustment. Therefore, the minimum width is 78cm, and you can extend it to 123cm quite conveniently.
If that wasn't enough, the M1 features seven spotter levels to provide you with enough security during all kinds of workouts.
The Mirafit M1 squat rack has a maximum capacity of 250kg for the barbell rests and 50kg capacity for the storage poles. This is quite a competitive weight limitation. However, if you want to use heavier weights, you can go for some other racks mentioned in this list.
This equipment comes with rubber pads on its bottom. These pads prevent the rack from slipping and also save your floor from any irrecoverable damage.
Pros
Classy rack by a reputable brand
Solid structure
Features adjustable spotters, height and width
Comes with weight poles
Affordable
Cons
May not hold the weight above 250kg
Not for professionals looking for an advanced rack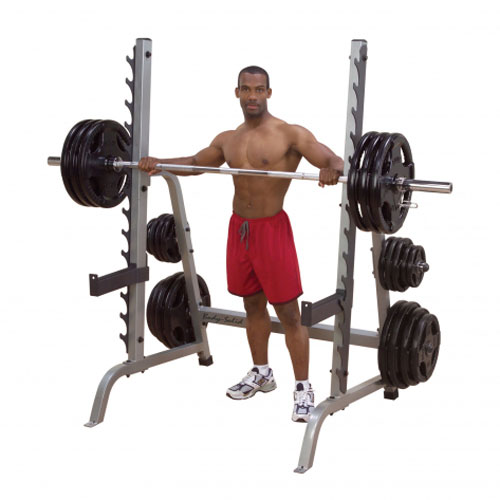 Taking the eighth spot on this list, the Body-Solid squat rack is a piece of heavy-duty equipment and super effective for coaches and professional trainers. While this squat is pretty expensive, the stand is a solid performer that accommodates your lifting capabilities.
The product is made up of 11-gauge steel and features a four-side welded structure. Moreover, it provides you with four storage posts and offers easy access to your weight plates. This well-thought-out construction gives you immense safety plus also keep your training space organised at all times.
Unlike many other squat racks made for home gyms, this fitness tool has a huge weight capacity of 453kg. Besides, it offers many adjustable height levels to enjoy different workouts to enhance your strength and stamina.
The Body-Solid rack provides a three-year warranty for many of its parts. Moreover, the company is well-known for its excellent customer service.
But despite the amazing positives of this equipment, the rack has a few worth-mentioning drawbacks as well. Firstly, this equipment is hefty, and you may find it hard to place in your small UK gym space. Besides, the Body-Solid squat rack might be too advanced for beginners who want to start their weightlifting journey with a simple-looking stand.
Pros
Solid construction
Industry-standard design
Excellent weight capacity
Adjustable heights
Perfect for professionals
Cons
Too heavy
May not suit many beginners
Expensive
How to Pick the Best Squat Rack for Your UK Gym?
Before you select any of the options above, consider some essential factors. This technique will help you pick the most appropriate squat rack for your gym area and save you lots of money and hassle.
Type
While choosing a squat rack, you will come across different styles and types. Obviously, you won't need them all so which one should you pick?
To make a wise decision, it is essential to learn about each type in detail.
Power Rack
For many users, the power rack ticks all the right boxes. It is because this rack is versatile, accessible and has many fantastic safety features.
Interestingly, a power rack is also called a power rage and is quite a favourite among gym trainers.
This is because a power rack looks similar to a huge box that you can stand in while lifting a bar and weights. A power rack becomes your private space to practise your lifts within your comfort zone.
Half Rack
A half rack is designed to look like a half of a power rack. While this option may not be as safe as the power rack above, people love it for its low price, open design and space-saving feature. Moreover, this type is much safer than a regular adjustable squat stand.
Squat Stand
Most people choose a squat stand because of its flexible nature. It is a free-standing tool and does not require a wall to support it.
Besides, a squat stand is loved for its praise-worthy stability and a new additional feature of a pull-up bar.
You will come across various squat stands, but it is easy to make a mistake and buy the most inefficient ones.
So, before choosing a squat stand, do not compromise on the quality, or you will regret it later.
Folding Squat Rack
There is no better option than an adjustable folding squat rack for your home gym. This rack is sturdy, folds easily and can be customised according to your preference.
Most folding squat racks are also lightweight and portable. Besides, they are available at a wide range of prices for different users.
Combo Squat Rack
It is a specialised rack made for powerlifting. A combo rack features a bench and a complicated design. While this is a new type of squat rack, it isn't very common among home gym owners.
The best combo racks are well-suited for commercial gym spaces only. Besides, they are expensive and may not meet your budget.
Weight Capacity
The weight capacity of your chosen rack plays a significant role in your selection. For example, your squat rack should be able to hold your weights safely. Besides, it should have the capacity to carry a few pounds of your weight while you perform different exercises.
Having a suitable weight capacity will reduce the chance of any accidents. Also, it will help you gain confidence and eradicate the fear of any injuries from your mind.
Safety Features
If your chosen rack doesn't have safety bars, straps or clips, you will be making a big mistake by bringing it home. Most safety features might require you to pay extra to get them, but that cost is far less than the one you may have to pay at a hospital to treat an injury.
Portability and Footprint
If you want to keep a squat rack in your in-house gym, you should be clear on these two considerations.
Adjustable squat racks take a lot of floor and floor-to-ceiling space. If you go for a standard power rack, it will easily take at least 16 square feet of the floor.
However, a squat stand and a half rack will take much less. Besides, a folding squat rack will fold up and adjust in a tiny storage space when not in use. So, before you pick a rack, make sure it can easily adjust in your UK gym.
Also, when considering high portability, you will most likely find a squat stand as the most appropriate option. Power racks will be either fixed on your floor or would have to be mounted on your UK gym walls. They cannot move and would even require an expert hand to position them correctly.
Squat stands and folding squat racks are portable and can easily be placed at a new workout spot every day.
Construction
A heavy-duty rack with 11-gauge steel construction is ideal for many reasons. It is durable, has a well-balanced design and can easily be used for many purposes.
However, many of you would want to try a less stable squat stand before choosing a heavier rack.
Moreover, while considering the construction, make sure to look at the rack's hole spacing as well. According to the industry's standards, the holes on the rack's bottom should be 25mm apart, while the holes on the top must be at a distance of 50mm from each other.
Attachments
You will find many brands offering various attachments with their squat racks. Here is a list of some add-ons that you may find useful:
Landmines
Cable attachments
Flywheel
Dip stations
Band pegs
Utility seats
Different pull-up bars
Price
You can easily find a squat rack according to your limited budget but remember, cheap racks lack quality and may not last long. So, if your pocket doesn't allow you to buy a good quality rack, wait for a few months before you can afford one.
Besides, when buying a rack, you may feel attracted to purchasing the attachments too. However, these add-ons don't come for free and may add up to your overall expense.
So, only buy an attachment if you find it necessary for your workouts.
Expert Recommendations and Customer Reviews
Since this will be your first time buying a squat rack, it is always wise to seek expert recommendations. You can go through various articles on the internet or ask a trainer in a gym before you bring a rack home.
Besides, customer reviews will make it easy to select an item. You will find those reviews quite relatable and reliable in many ways. So make sure to read them before investing.
How to Set and Use a Squat Rack for a Squat Correctly?
Before we explain the steps of using a rack safely, learn how to set this equipment properly.
Start by stripping all the weight from the rack. The equipment should be empty before you set it up.
Set the position of the bar. Please make sure that the height of the bar is perfectly right before you use the flexible tool.
Find the adjustable and folding parts of the rack and adequately set them according to your shoulder height.
Make sure to use safety bars at all times. The bars should be placed at the correct height.
Once you are done with your workout, put the bar back on the rack and remove all the wights so you can use the squat rack for the next training session.
Get Into the Right Position
Once your bar is set, and all the adjustable parts are firmly fixed, test the bar's height.
You can do that by grabbing the rack's bar at an arm's length. While doing so, make sure the floor is parallel to your arms.
Once the height is corrected, your next step is to use your hands to grab the rack's bar. While doing so, make sure to place your hands at a shoulder-width distance.
If you aren't sure about your central position, take help from the notches and knurling. For instance, place your index fingers in the same position as the notches on both sides of the rack's bar.
Moreover, always keep a tight grip, place your head in the centre and duck under your rack's bar. These three tips are super necessary, and if you fail to carry them out, you will disturb your bar's balance and get injured.
Besides, settle the bar on your shoulders and upper body. Never place it on the neck.
Lift the Bar Correctly From the Squat Rack
Before lifting the bar from the adjustable squat rack, contract the core muscles and take deep breaths. Be mentally and physically prepared for the weight you will be lifting. This is important to save your back from any injuries.
Your shoulders should be squeezed together and pulled away towards the bum. This position gives the bar a solid surface to settle on.
With your tight grip, the correct position of the barbell and braced core, you are now perfectly ready to lift the weights off the squat rack.
Keep a Strong Position of the Foot
While holding the weight stably on your back, slide your feet gradually back in a line. This step helps to prevent the bar from rocking from one side to another.
Moreover, it keeps the weight away from the rack and prevents any collision between both of them.
Keep your feet at a shoulder-width distance and turn out your toes. Keep your back straight and solid and signal your body to sit in a squat position.
Safety Points to Consider
To ensure your safety, it is always wise to practise the points below:
If you are a beginner, try the above sequence with an empty bar first. This tip will help you get used to the bar and the weights you will experience later.
Add weight gradually. Don't get over-enthusiastic and suffer the consequences later.
Before using a squat rack, make sure your weight plates are adequately secured with clips.
Make full use of the safety bars. They support your body and save you from falling on the ground.
Avoid these Mistakes
If you want to use a squat rack safely and correctly, make sure to avoid the following mistakes:
Giving Up
A squat rack may look very intimidating, but you will have to try it to reap the rewards. So, the first mistake to avoid is not trying or giving up very soon.
Not Checking Your Position
Do you know that even the most experienced athletes check their form several times before making the right move? You might know everything about squatting, but checking your foot and form position is crucial if you are using a rack for the first time. Do not rush and take this step seriously.
Loading Excessive Weight
Have you heard of the term "ego lifting"? Loading excessive weight at the early stage of weightlifting is foolish and not worth the effort.
Adding No Weight
We don't want you to go overboard with weights, but it isn't also suitable to add anything at all.
Remember, a squat rack helps you to progress and get accustomed to weights gradually. So, to achieve that objective, don't get stuck and experiment with weights slowly.
Other Ways of Using a Squat Rack
You have already learned how to use a rack for squats. But that's not the only purpose of this gigantic equipment.
Interestingly, squat racks can be used for many other exercises as well. Here is a list of four excellent movements that can help you utilise this equipment properly in your UK home gym.
Have you noticed how each exercise requires you to settle on a particular form and position before carrying it out?
While using a squat rack, this factor is critical and should be followed by both beginners and experienced athletes.
FAQ
You should have already picked your final choice by now. However, if you are still indecisive and have some doubts, go through a list of questions asked by users like you.
Maybe an answer to any of these queries proves successful in solving your dilemmas.