A folding weight bench sitting in the corner of your home gym is a fitness necessity in every way. But, how?
Have you ever considered acing some curls, presses, and split squats but failed every time? If yes, you may want to add an adjustable weight bench to your fitness arsenal to upgrade your training.
However, it is not easy to choose the best folding weight bench. With millions of options available, there is a high chance of you investing in the wrong tool.
So, what should you do? The answer is simple. Read through our guide to select your ultimate weight bench.
if you are ready to pump up your heartbeat, dig in for all the details.
Best Overall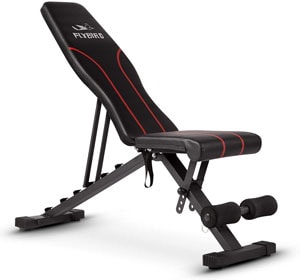 FLYBIRD Weight Bench
Weight Limit 273 kg
High Quality Bench
Fast Adjustment
Best Seller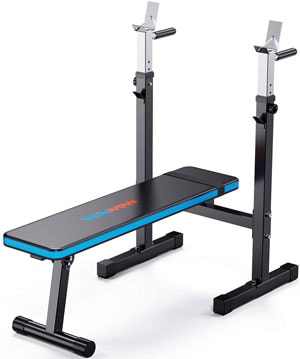 WINNOW Weight Bench
Adjustable Barbell Height
Includes Dip Station for Pull-ups
Best Value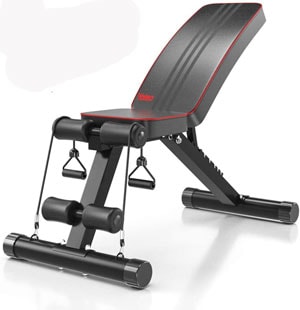 Yoleo Weight Bench
Versatility Adjustable Weight Bench
Comfortable & Ergonomic Design
Heavy-Duty Steel Construction
Why Should You Get a Folding Weight Bench?
In a world with different weight benches, why do we recommend a folding one for your home gym? Is it not safe to spend money on an Abdominal bench or an Olympic weight bench?
A folding weight bench can work both as an adjustable weight bench or a flat one. If flexible, it allows you to settle your body on a comfortable incline that you may position according to your comfort.
Moreover, when flat, it gives you a solid base to perform your chosen lift; however, you like. That's a rare feature that other kinds of benches fail to deliver.
But most importantly, folding weight benches are explicitly made for at-home workouts.
Unlike some other weight benches, the best folding unit easily wraps up and becomes a piece of compact fitness equipment when not in use. This feature is pretty suitable for users with tiny houses or apartments.
Most benches look tacky or block walkways, and that's why most people avoid owning them for their in-house gym. But when a tool is foldable, it doesn't take any space and easily adjusts under a bed or a drawer.
Moreover, most foldable benches are pretty durable to support your weight. Some units also come with foam rollers on their legs for easy transportation. In short, a folding weight bench is quite an efficient companion for all kinds of exercises at home.
But there's more to this tool than meets the eye. A weight bench is a great way to stay fit and active every day. If you don't believe us, read further to find a list of a few significant benefits of investing in a weight bench.
Best Folding Weight Bench Product Reviews
With so many benefits mentioned above, it is hard to stop yourself from buying a weight bench. So, if you are ready to make this investment, go through our top ten recommendations below.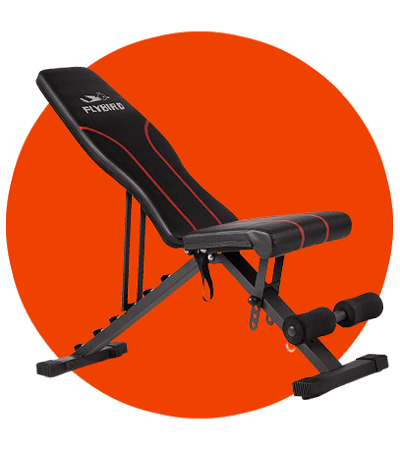 FLYBIRD has a limited product portfolio and is comparatively unknown. It manufactures only waist straps and weight benches. However, that doesn't mean that FLYBIRD doesn't excel in what it does.
The adjustable weight bench offers excellent performance, stability, and comfort like you would expect from any home gym tool. This bench is made of alloy steel that provides durability and commercial thickness for better stability. Also, the weight bench has a weight capacity of 272Kgs when it is 10Kgs only.
Besides, this bench has a triangle structure that makes it unique among all competitors. The modern design makes sure you enjoy comfort throughout your workout.
This tool is entirely adjustable. For instance, you can position the seat for four different levels. Moreover, the back can also be adjusted according to your ease.
With just a quick pull off of the support bar, you can also alter the placement of the bench, and you are good to go. However, the adjustments are not enough for users with a height above 6 feet. If you are someone similar, choose an alternative option.
The FLYBIRD bench comes with a padded backrest and seat. Both are made from leather which is easy to maintain.
However, you may find the seat too long for a sitting position. It isn't a significant design error, but most people may find that uncomfortable.
Overall, FLYBIRD is an affordable weight bench that folds easily and becomes a compact tool to store under your bed.
Pros
Intense steel body with a significant weight capacity
Comfortable seat and backrest
Affordable
Adjustable for different levels
Made from leather that is easy to maintain
Cons
Not ideal for tall users
Seat may feel too long for a sitting position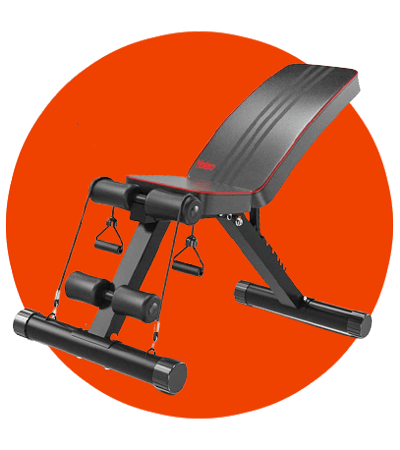 With seven backrest's adjustable positions and a weight rack for working out your chest, the Yoleo weight bench is quite a good piece of equipment. Moreover, its fantastic design and solid body make it a pretty commendable tool to hold 149kgs at a time.
The Yoleo adjustable weight bench is easily foldable and quick to assemble. Moreover, its non-slip cover and super soft padding make it a comfortable surface to place your body. The knee pads made from plastic allow security during workouts and prevent interaction between the tube and the floor.
With a fantastic leather surface, the Yoleo bench is an ideal tool to own. However, it isn't perfect for professionals who demand exceptional stability during training. Moreover, the bench's same-width structure may make minor hindrances in a smooth motion that serious athletes would mind.
Pros
Excellent weight capacity for non-professionals
Comes with resistance bands and a weight rack
Easy folding mechanism
Non-slip cover
Comes with knee pads to avoid scratching
Cons
Same-width structure may affect performance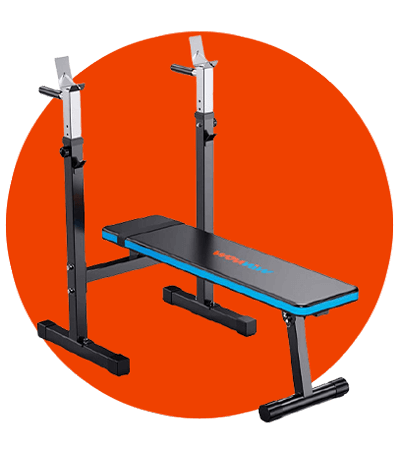 As a multi-functional fitness unit, the WINNOW folding weight bench is quite a treat to use. It comes with six adjustable heights for its barbell rest and two hand grips for various exercises.
This tool has a solid steel body that holds a good amount of weight at a time. The safety knobs on the bench provide additional security and stability required for your training.
The WINNOW bench runs on a unique system. The soft cushion bed quickly shifts from an incline to a flat position.
Moreover, the lifting flat can be pulled downwards for an ab workout or sit-ups. There is also an effective dip-station for all kinds of pull-ups.
The bench surface is fully padded with water-resistant and tear-resistant material. The leather base is easy to clean and is highly durable for beginners.
This bench has a non-complex folding mechanism. It wraps up in a compact unit with only three easy movements, ready to be stored anywhere around your house.
But with all the positives above, the WINNOW weight bench has a few negatives. For instance, it is an excellent entry-level bench but isn't powerful enough for professional trainers. Moreover, the unit may be a little small for heavy and tall users.
Pros
Offers six adjustable heights
Secure design
Multi-functional unit
Easy folding mechanism
Cons
Isn't suitable for tall users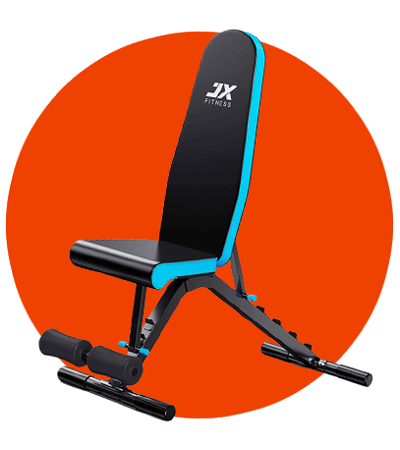 The rich combination of good quality and versatility isn't something you find in every training tool. However, the JX fitness bench exhibits both factors brilliantly.
The JX bench is ideal for various exercises such as shoulder presses, bicep curls, leg workout, and ab training. Moreover, its design supports full-body movement without making you feel uncomfortable or exhausted.
This fitness bench has a solid and triangular design. Besides, its padded surface gives you an easy base to perform even the most hectic exercises at your own pace.
The JX fitness bench is an adjustable unit. You can either use it as an inclined base or a flatbed for weightlifting. The three adjustable heights for the seat and six different positions for the backrest makes this unit ideal for all family members.
With a weight capacity of 272kgs, the JX bench is great for many users. However, this unit is a little more expensive than most other benches on the list. Moreover, most clients have complained about the low-quality wood used for the backrest and seat.
Pros
Perfect for all kinds of exercises
Padded base supports the body
Adjustable backrest and seat
Can hold 272kgs at a time
Cons
Low-quality material used for seat and backrest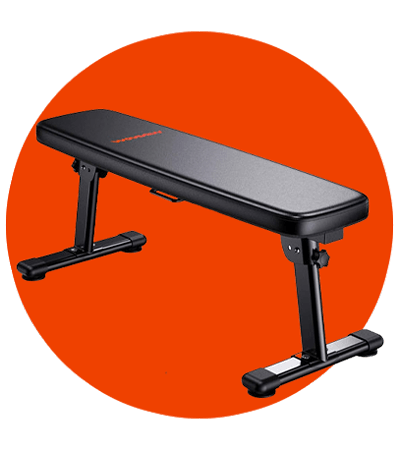 The WINNOW folding bench is perfect for beginners or people looking for occasional workouts at home. Since it is not adjustable, it may not be ideal for many exercises. But as a flat bench that can fold smoothly, this unit offers excellent comfort and space-friendly features.
With a rugged construction and steel body, you can trust this bench for its excellent durability. Moreover, the foam padding provides a comfortable experience of training at home.
The WINNOW bench comes with a carrying handle. That's quite a unique feature and helps to carry the unit anywhere around your house. Moreover, this tool folds up into a compact piece of equipment that you can easily store under your bed.
This weight bench has a weight capacity of 130kg. However, if you are heavier than this weight limit, you can easily consider other options on the list.
Pros
Convenient folding
Steel body for durability
Comes with a carrying handle for transportation
Suitable for beginners
Cons
Can't hold more than 130kgs
Not adjustable, so it may not suit many users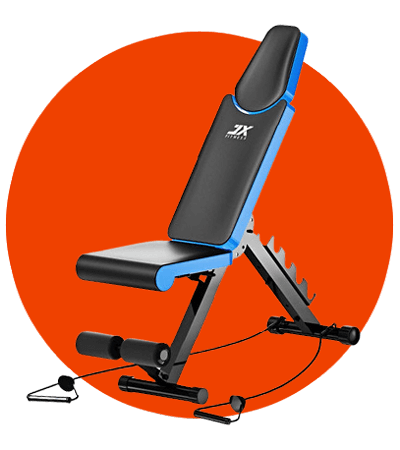 Do you know why many people stop exercising while staying at home? It is because a majority of exercises are so complex that it becomes hard to follow them every day.
However, with an affordable workout tool like the JX folding weight bench, even the most challenging movements become easy to handle. This supportive equipment enhances your fitness experience without demotivating you.
The JX fitness bench is a classic incline and flat bench to cater to all kinds of exercises. Moreover, its solid and tubular design offers the perfect stability you require on high-intensity workouts.
This unit is also quite comfortable, thanks to its thick foam padding. You can easily lift your body from the seat without feeling any pain.
The JX bench has built-in wheels for convenient transportation. Besides, it folds into a compact unit that can fit in any small apartment in the UK.
However, despite its good features, many users have complained about the unit's flimsy bolts. Also, most customers think it doesn't adjust smoothly because of tightly locked pins.
Pros
Affordable bench with adjustable heights
Stable unit
Transportation wheels for easy movement
Quick assembling and folding
Cons
Flimsy bolts are not safe
Locking pins too tight to make any adjustments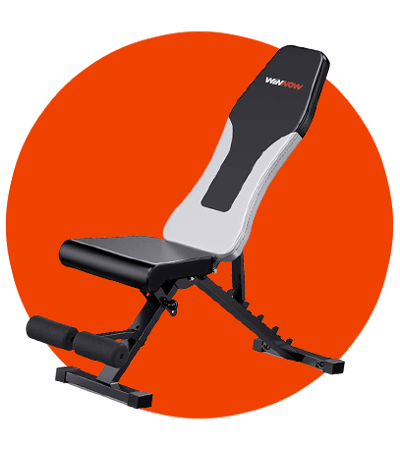 As one of the best units on the list, the WINNOW adjustable bench is another worth mentioning product from this renowned brand. This product is a reasonably priced item from WINNOW's portfolio and is quite an effective companion for your quarantine days.
The WINNOW adjustable bench offers six backrest's positions and four height adjustments for your seat. Moreover, it can decline, incline, or be used as a flat bench according to your training needs.
Made with heavy-duty steel, the bench provides good stability and sturdiness for beginners. Also, the non-slip rubber feet offer good security and prevent the floor from any scratches.
However, there have been bad customer reviews on this product not holding weight more than a few hundred kgs. Some users think that the bench works well with a mat placed under its legs.
Considering the complaints above, the WINNOW bench may not be appropriate for professional or heavy-weight users.
Since this unit has a foldable design, it wraps up conveniently into a compact bench. You can either store this tool in a drawer or place it against a wall.
Pros
Adjustable bench for different exercises
Offers good stability for beginners
Folds easily
Non-slip feet prevent scratches on the floor
Cons
Too basic for professionals
May require a mat under its legs for stability
Doesn't have a good weight capacity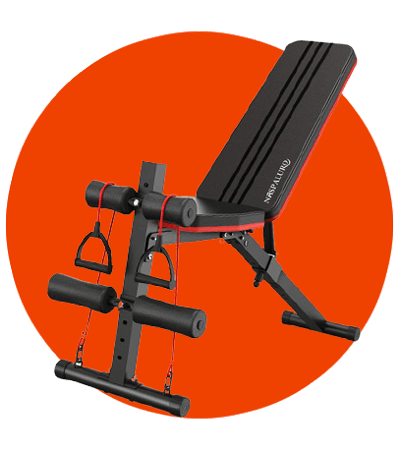 The Naspaluro bench is the eighth-best unit on this list. However, its design and adjustment levels are far better than many other benches on the list.
With seven adjustable positions and an ergonomic design, this weight bench is quite a deal. It is made of thick steel that offers good durability and longevity for all kinds of training. Moreover, the Nnaspaluro bench can hold up to 136kgs at a time.
This unit has an anti-slip foam for comfortable support. The padding relieves pressure and prevents muscle fatigue after complex training.
The Naspaluro folding weight bench comes with a supine board. You can use this accessory with dumbbells and resistance bands. The unit also comes fully assembled, so you may not have to waste time on any adjustments.
Pros
Ergonomic design offers support
Seven adjustable levels
Comfortable padding
Comes with a supine board
Arrived fully assembled
Cons
Cannot support the weight of more than 136kgs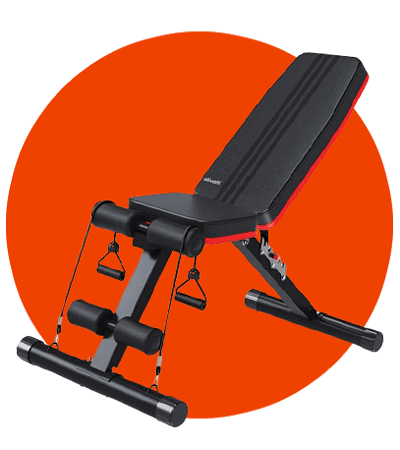 If you are into regular strength training, the Ativafit bench may strike your fancy. Made with thick steel and durable padding, this unit is ideal for different high-intensity workouts.
The Ativafir weight bench offers seven adjustments to position your backrest comfortably. Moreover, it comes with thick pipes running all over its structure to provide you with better stability.
This bench has a weight capacity of 140kgs. That's quite commendable. However, if you weigh above that weight mark, you may want to consider some other bench. Moreover, the unit isn't suitable for tall users, and it doesn't have an extended surface.
Pros
Durable unit for all exercises
Offers adjustable positions
Robust body
Suitable for both professional and intermediate users
Cons
Not for overweight individuals
Can't adjust a tall user comfortably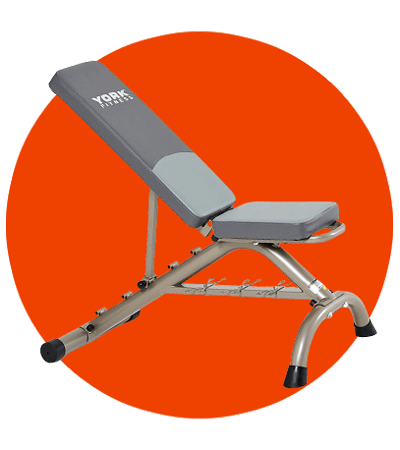 When buying any best fitness unit for your home gym, always consider its value for money. Not all expensive benches serve the purpose, and not every cheap item is worth your use.
The York bench is a foldable unit with five-seat adjustment positions and offers a good incline for many exercises. Moreover, it has a solid tubular construction that exhibits its sturdiness. It has a maximum weight capacity of 200kgs, which is quite impressive.
Like most other best weight benches on the list, this tool also has a padded seat and backrest to allow you a comfortable workout at home. It folds smoothly without much effort from your side.
But that being said, the York fitness bench is an average-looking unit. It has a boring design that may not appeal to many users. Moreover, it is a little heavier than most benches on the list.
Pros
Adjustable bench with a solid structure
Great weight capacity
Padded seat and backrest
Smooth folding
Cons
Basic design
Heavier than most similar units
Five Amazing Benefits of Owning a Folding Weight Bench
Here are five ways in which a folding weight bench can help you enjoy a smooth workout:
Offers Great Support
While weightlifting, it is essential to have some support on your back and spine to do all reps efficiently. Without a tool, you may not be able to lift yourself and keep your body in balance.
A fold-up weight bench acts as excellent support for weightlifting. It helps lift your body with ease so you can perform all kinds of exercises without worrying about an injury.
Moreover, all folding adjustable weight benches also come with padded surfaces. This feature provides additional comfort to your back while you burn some calories.
Besides, a folding weight bench helps build a safe posture. For instance, this tool holds your body together in a stable position while you are exercising. It improves your body's form, which is what we all expect after a tiring training at home.
Provides Versatility
The best weight benches for workouts are not just appropriate for weightlifting. They can also help you perform various forms of exercises such as a back attack, booty bridge, crunches, and so many more.
You can place a fold-up weight bench in your favourite spot and can even do chest presses and split squats according to your comfort.
A weight bench opens doors to different kinds of resistance training. If you are a beginner who knows nothing about fitness, this tool can help you build your confidence. Moreover, it can give you a chance to perform all forms of exercises at your own pace.
Helps to Cater to Specific Muscles
As the best supportive equipment, a folding bench can help you target a specific muscle in your body. For instance, a planking workout can do wonders if you want to tone your arms and shoulders. Just fix your toes on the bench to gain balance and enjoy positive results.
Improves Workout Speed
It is far quicker to lift your body from a bench while weightlifting than to rise from the floor or do exercises while standing without support. If you want to increase the intensity of your workout and improve your performance, a weight bench may be necessary.
Strength and high-intensity training are challenging, but a bench can help build your stamina without exhausting you.
Moreover, with such exercises, you also benefit from a healthier heart, improved immunity, and strong muscle endurance.
Can Be Used By All Family Members
A folding weight bench isn't a tool for young adults only. It can also be utilised by your senior family members or people with poor mobility.
Moreover, it can also work as excellent support for users recovering from an injury but craving a fitness routine.
How to Pick the Best Foldable Weight Bench?
The above options are helpful. However, if you are still unsure how to select the best bench, go through some worth considering factors below.
Strength
Before selecting a bench, make sure you ask yourself a few questions. Is it strong enough to hold my weight? Does it have a sturdy frame to support my exercise routines?
The strength of a foldable bench is essential so you can use it for a long time. Moreover, a robust unit should be made with durable material and have a stable structure. No one wishes to break the bench within a week of training and cry over a wasted investment.
Besides, if your chosen bench is perfectly coated, it is a bonus point. A reliable coat finish prevents any unnecessary rusting and scratching that may make your equipment look old quite quickly.
Adjustability
Not all folding benches offer adjustability. Some offer only two levels of adjustments, while others remain in a flat position throughout your workout. However, that's not a feature you should go for.
To enjoy a folding weight bench to the fullest, make sure your chosen unit has a backrest that can be positioned according to your comfort. You should be allowed to incline or decline the bench as per your exercise's demand.
A bench that doesn't offer this flexibility restricts you to benefit from a variety of exercises. It usually results in a boring workout and reduces the motivation to stay fit.
Some folding weight benches also come with adjustable legs. If you can get your hands on that unit, you are in for a treat.
Comfort Level
When you invest in a gym tool, you expect it to give you a comfortable experience. Without an element of ease, it becomes extremely tough to achieve your fitness goals.
The comfort level gained after using a bench primarily depends on its padding. The best benches are those that come with thick and soft pads to support your back while you are lying. However, also make sure that the surface isn't too mushy so that your body sinks in and finds it hard to lift itself.
Moreover, the material of the pad should be anti-slippery and easy to clean. Weight benches with leather or vinyl padding are often considered great and easy to maintain.
Folding Mechanism
Since we are talking about folding weight benches in this guide, it is crucial to consider this factor. Not all units have smooth folding mechanisms, and it is pretty useless to buy them.
Before selecting a folding weight bench for your home gym in the UK, always check whether the legs wrap up quickly into a compact unit. Moreover, consider the unit's weight to make sure you don't require help folding it properly.
Dimensions
If you are a tall fitness enthusiast, you should measure the dimensions of the weight bench before it takes a spot in your home. If a unit can accommodate a height above 6 feet and doesn't take much storage space, it is definitely a deal-breaker.
However, if a bench doesn't offer the above facilities, you should skip the idea of buying it. It isn't comfortable and safe to exercise with your head hanging in the air from one end of the bench.
Additional Accessories
Many of you may fancy additional accessories with your bench. For instance, some units come with storage compartments, leg bars, and resistance bands.
If you like these extras, you shouldn't hesitate to buy the product. However, remember that most accessories are not free of cost and may add to your overall expense.
Duration of the Warranty
If you are purchasing a piece of expensive gym equipment, make sure it offers an extended warranty. There is no point in spending your money on something that doesn't have a guarantee to survive at least a year.
Price
Folding weight benches are available at a wide range of prices. You can choose from affordable to expensive tools according to your budget.
However, most cheap items are usually uncomfortable and do not offer much durability. They may not suit you if you are into regular exercise.
But if you are an occasional user or a beginner, you can start with a low-priced bench and jump to an expensive one after establishing your love for fitness.
FAQ
To enhance your knowledge on folding weight benches, go through some common questions below. Since users like you have asked them, you may find the answers helpful to make your final decision.