Have you ever thought of buying a dip belt to accelerate your performance during bodyweight exercises? If yes, you have landed on the right page.
This fitness accessory is designed to make your simple workouts more challenging. Besides, it helps to put excess weight on your body, thus allowing you to reap more benefits. Worn on the waist, dip belts are ideal for strengthening the upper body and making you feel good about yourself after a hard training session.
So, if you are interested in getting one for yourself, wait no more. This guide will help you find the best dip belt available in the market. Moreover, the additional facts will assist you in learning more about this tool.
What Is a Dip Belt?
If you haven't seen a dip belt, let us help you imagine one. Well, a dip belt looks like a leather or fabric belt that you wrap around your body in your hip area.
This accessory usually has straps or chains that help to attach weight to your body. Moreover, a dip belt is secured by either clips or carabiners to keep the belt in one place.
You can wear a dip belt during your home workouts or even in gyms. Besides, if you want to progress in your strength training, this tool will help you achieve your goals.
Best Dip Belt Deals
Have the benefits above lured you into buying your first dip belt right away? We have done our search and are here with our top 8. Go through their reviews, and if any of these click you, don't wait any further to grab it.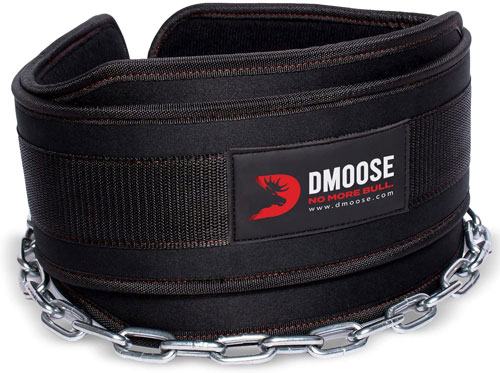 Moore is a well-known UK brand. It is famous for its quality and also the price of its fitness products. And within the brand's fantastic product portfolio, it's quite a popular dip belt.
This dip belt is perfect for people who are into CrossFit, bodybuilding, weightlifting and pull-ups. Besides, even if you are not into complicated workouts and are just a general fitness trainer, this product will serve you too.
Made with neoprene, this belt can help target your traps, rhomboids, pecs and other muscle groups. Its resilient design ensures you perform your best and care less about the belt falling. In addition, the dipping belt's enhanced construction gives this product much-needed durability and reduces the chances of premature wear and tear.
However, according to some users, this dip belt lacks solid stitching. In addition, the threads are often loose, which isn't great for this belt's prolonged use.
Moreover, this product comes with a 36 inches long chain and D rings or carabiners. While the chain's length is perfect, it seems cheap and doesn't live up to the price. The same goes for the D-ring, which has poor-quality springs that require replacement.
Other than the above negatives, this belt is fully adjustable, which is a great thing. Moreover, it has a broad back, a great design idea for people requiring support in that area. Also, since it is an inexpensive item, you can try it as a beginner and experience its worth.
Pros
Made with breathable neoprene
Durable material
Wide back for support
Adjustable
Cons
Loose stitching
Low-quality chain and carabiner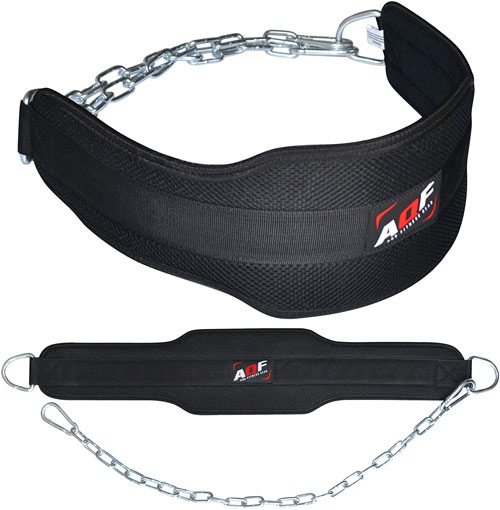 Do you crave a good-quality belt but have a minimal budget? If yes, you might want to try your hands on the AQF dipping belt as it is pretty affordable.
This product is 6.5 inches wide and offers high quality. Made with neoprene and mesh materials, the belt is fully adjustable and can hold as many weights as you want. Moreover, with a solid chain, you can easily fit the belt according to your waist's size and adjust it according to your comfort.
The AQF dip belt features speed clips on both sides. This design helps to put on this belt quickly and get into the workout. However, some users say the clips are not very durable and may come off on heavier weights.
Moreover, the clips do not fit through the weight plates with a hole of 1 inch. This design error might create problems for some. However, if you use plates with wide holes, you can ignore this manufacturing mistake.
Overall, this belt feels quite comfortable on the body. Therefore, it can help to add more weight and intensity to your exercises. Besides, the belt enables you to experience a progressive load workout and enhance your stamina.
Pros
Made with solid materials
Adjustable belt
Comfortable to wear
Fits all waists
Inexpensive belt
Cons
Clips may not feel solid enough
Not ideal for plates with 1 inch wide holes

Taking the third spot on this list, the Harbinger dip belt might be a little expensive, but it offers a top-class quality. Constructed with durable and long-lasting polypropylene, this product can hold a good amount of weight at a time.
Moreover, the belt comes with steel grommets that help secure the chain to the belt. You will also find how amazingly the belt features a contoured design. For instance, its wide back offers excellent support and fit while you are busy performing strenuous exercises.
This dip belt features a carabiner mechanism. While this system is entirely secure, you will be a little disappointed seeing the quality of the carabiner. It isn't sturdy enough, and for the price of the belt, the quality isn't top-notch.
However, other than the above negative, the 30-inch long chain is quite solid and ideal for carrying out all kinds of dips and chin-ups. Besides, you can use this product to increase your strength and power.
Since the Harbinger dip belt is adjustable, it fits well on all types of waists. In addition, you will love it for its comfortable fabric and easy use.
Pros
Durable belt
Can hold good weight
Wide back
Long-chain
Cons
Expensive item
Weak carabiners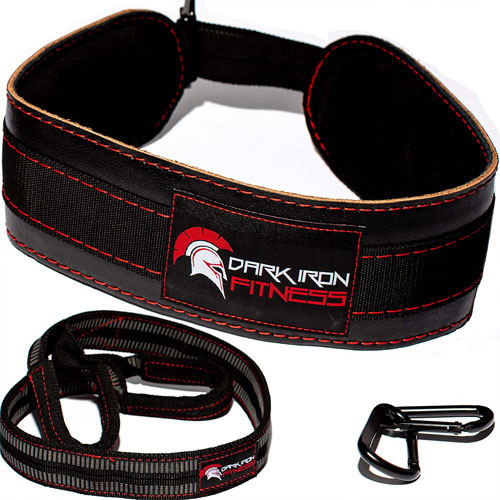 According to the manufacturer, the Dark Iron Fitness dip belt is designed to offer comfort and build strength. Instead of a chain, the belt comes with a 40-inch long strap that can hold six Olympic weights at a time and has a weight capacity of 270 pounds. While belts with chains are more durable, this product will leave you spellbound by its performance.
Made with genuine leather, the dip belt is durable and solid. It won't break easily and will give you a long-lasting experience.
Since the belt is designed for ultimate comfort, it features padding that feels as soft as a pillow. The comfortable extra layer prevents pain without adding to the overall weight or giving an impression of bulkiness.
The Dark Iron Fitness belt comes with a secure buckle system. The metal buckle is quite solid and adjusts this item perfectly on your body. Moreover, since this belt is adjustable, it fits all waist sizes and can be used by more than one individual.
However, with so much to offer, this belt is a little expensive. So, make sure if you want to buy this item, save enough money in your bank.
Pros
Leather belt with solid construction
Comes with a long strap
Good weight capacity
Soft padding for comfort
Secure buckle system
Cons
Expensive belt
The strap may not be as durable or long-lasting as a chain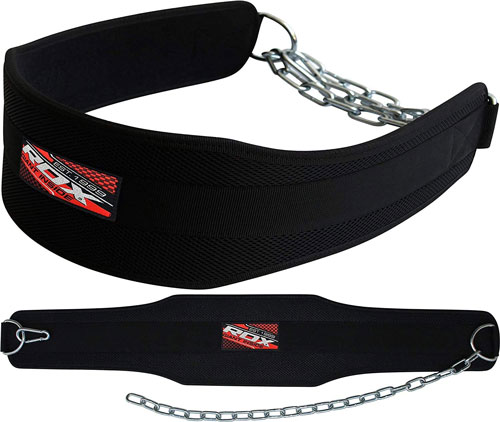 The RDX dipping belt is made of durable polypropylene. This hard-wearing material is long-lasting and supports your back. Besides, the incredible weight capacity of this material allows you to perform various weightlifting and CrossFit exercises.
This dip belt also has a unique EVA padding. The padding is packed with high-quality tight stitching to provide additional support to your lumbar area. Moreover, this soft padding prevents the belt from slipping down when the weight increases.
The RDX dipping belt has a width of 6 inches. Besides, it comes with a 24 inches long steel chain capable of carrying heavy weights at one time. However, as some customers' complain, the chain has protruding edges that aren't safe for your fingers.
A strong shackle secures this belt. This feature also supports a convenient weight attachment, thus providing excellent support to the chain. The belt also has rust-proof carabiners that allow you to perform all dips safely.
One of the best things about this belt is its versatility. However, some users think that this product lacks flexibility. For instance, when bent, the product takes time to return to its original shape.
Pros
Made from durable material
Versatile belt
Soft padding for better support
Robust shackle and carabiners
Cons
Chain has pointed edges
Not flexible enough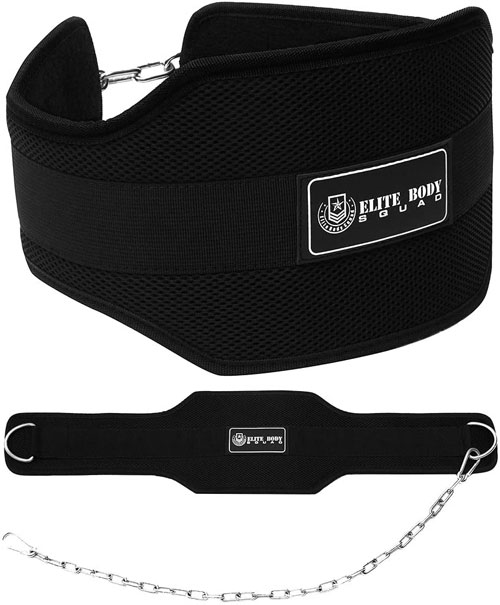 If you are looking for a lightweight yet durable dip belt, this option by Elite Body Square will most probably tick all the right boxes. While this item is expensive, it offers a sturdy and ergonomic design that can adjust to all kinds of bodies.
This dip belt is relatively broader than many other options on this list. It has a 7-inch width which offers comfortable support to your back. Moreover, it comes with a 30-inch long chain that can help you enjoy different kinds of exercises.
The chain on this belt features a clip design. Therefore, you can easily remove and add weights without worrying about any accidents. However, some users say the clips are not very strong and may open with high weights.
This belt doesn't slip unnecessarily, which means you feel safe and confident while performing even the most dangerous workouts. In addition, the product features a double stitching sheath that adds durability and strength to this product. According to the manufacturer, the belt is tested to hold 88 pounds at a time easily.
Pros
Lightweight belt
Ergonomic design
Pretty wide belt
Comes with a double stitched sheath
Cons
Expensive belt
Clips are weak in some pieces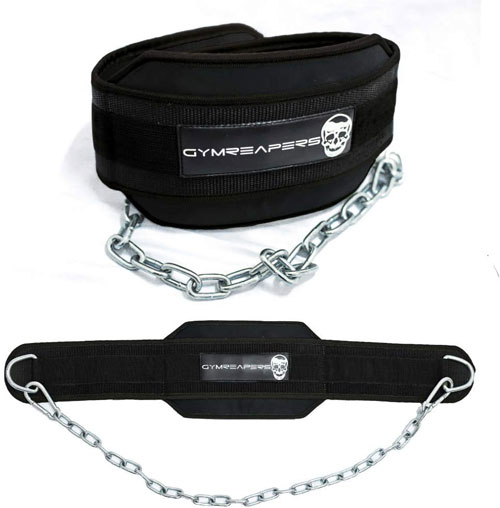 The Gymreapers dip belt is a solid product with lots of unique features. While this item is a little costly than the other options, its durability and ability to hold heavyweight will persuade you to try this item.
This belt comes with a 30-inch long chain made of steel. The chain offers a secure fit and allows you to hold your desired weight.
Moreover, made with durable neoprene, this product has a contoured design that offers adequate support for your waist. Besides, the solid carabiners ensure that the belt and the chain stay in one place while you focus on your workouts.
However, this belt doesn't come with comfortable padding. As a result, if you suffer from a backache, the belt may worsen your situation rather than improving it.
Pros
Durable belt
Comes with a long chain
Contoured design
Solid carabiners
Cons
Expensive belt
Lacks padding for users with weak backs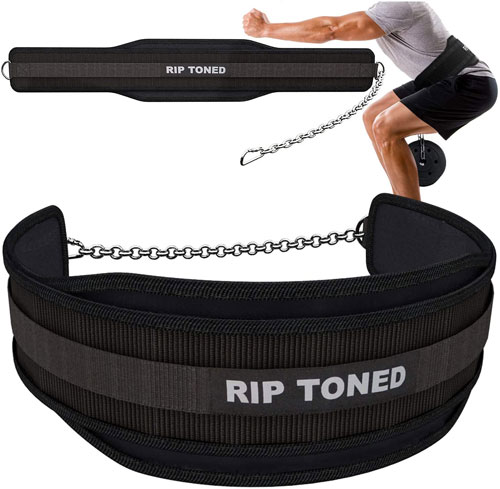 Do you think you haven't progressed in your bodyweight training because of the lack of resistance and weights available? Have you failed to achieve an increase in your strength and stamina for a long time?
If yes, you might want to try the Rip Toned dip belt during your workouts. This belt has a 34 long inch that allows you to add many weights at a time. Moreover, the strong carabiners help you perform various exercises with comfort and confidence.
The Rip Toned dip belt is a little more expensive than many of its competitors, but you will be amazed at how easy it is to use this tool. You can put it on and off with ease and enjoy a smooth training session.
However, it is vital to mention that this belt doesn't come with any thick padding. While the absence of this feature makes the belt look less bulky, the lack of padding isn't suitable for people with back issues.
Pros
Long belt
Good weight capacity
Solid carabiners for safety
Ease to wear and remove
Cons
Expensive belt
Lacks secure padding
How to Pick the Best Dip Belt For You?
If you feel overwhelmed and indecisive by the recommendations above, we have a solution for you. To pick the best dip belt for your use, consider the factors below. Once done, match them with your requirements and then buy a product that meets the criteria.
Doesn't that sound easy? Try this method and make a successful decision quite easily.
Material
As mentioned above, most quality dip belts are made of leather. However, many are also made of materials like nylon and neoprene.
All these materials offer different durability. Since some are stronger than others, make sure to make the correct decision when choosing a belt.
Moreover, not every material feels comfortable when placed on your body. For instance, leather belts might feel harsh and hard for a week or two. So, if comfort is a priority, you might want to consider nylon or neoprene over leather dip belts.
Strap Vs. Chain Design
While introducing you to a dip belt, we mentioned how they come with either straps or chains. You can use a belt with either of these to hang the weight.
However, a dip belt with chains is far more durable and secure. Therefore, you can choose a belt that comes with steel chains and features reinforced stitching.
Moreover, it is imperative to choose a belt that features a long enough chain to pass through all kinds of weights easily. A shorter chain might be inadequate to connect all your desired weights in one go.
Belt's Size
Most dip belts are available in a one-size-fits-all size. However, many of these come with buckles that help to adjust your fit. This feature is significant for people with small frames.
Style
If you want to experience a comfortable fit, your dip belts should have a broad style. In addition, this style is essential to distribute the weight evenly throughout the belt's structure.
Moreover, you will also come across belts that might not enclose your waste entirely. However, while they may look compact, ignore them as they are least secure. A belt that wraps completely is worth your money and efforts.
Weight Capacity
Before buying the best dip belt, always check its weight capacity. You don't want to end up buying a product that may fail to hold your desired weight with ease.
Moreover, when loaded with extreme weights, some belts break down easily, resulting in accidents. And we are sure you may not be ready to experience that discomfort right at the start of your fitness journey,
Versatility
Do you want a versatile dip belt or only want something to help you perform your dips with ease only? Then, depending on your goals, select a belt that can meet your targets.
For instance, some dip belts can also be used as sledge harnesses or weight belts. If you want a product that can be used in many ways, you can go for a versatile belt. However, if you want it to serve a single purpose only, don't spend much money and choose a simple-looking item.
Price
The price of a dip belt may vary from brand to brand. Moreover, the factors like durability and features also affect the overall cost of a product.
For instance, a durable belt might be more pricey than a non-durable one. Besides, a dip belt with many connectors is often more expensive than a belt with one.
So, choose a belt that matches your requirements and budget. We would suggest you never go overboard with price. However, if you expect a dip belt to serve you for long, cheap options may not work for you.
In short, keep a balance between quality and price, and you are good to go.
Benefits of Using a Dip Belt
If you are successful in achieving the above form and using a dip belt correctly, you can reap the following benefits from this tool:
Offers Chest Gains
Have you been trying to gain a heavy chest with basic bench presses and pull-ups? If yes, you might want to raise the workout challenge level and enjoy better gains by wearing a dip belt. This tool amplifies the benefits and helps you achieve your desired chest size and strength.
Provides Tricep Gains
A dip belt works amazingly for your triceps as well. Tricep dips help tone your upper body muscles and make them grow stronger with time.
However, tricep dips with a belt are not accessible. The process takes time before you become an expert and requires lots of patience.
Great for Back Gains
By using a dip belt regularly, you can also strengthen your back muscles. While many exercises can help you do that, you experience better and quick results by wearing the belt.
Moreover, if your form is correct, this tool can help you get rid of disturbing backaches. However, if you suffer from chronic pains, ask your consultant before wearing a dip belt to a workout session.
Enhances Stamina and Strength
It is tough to work out with a dip belt that has many weights. However, if accomplished, this tool can help you gain enhanced stamina. You feel more solid and robust than before, increasing your ability to perform other strenuous exercises and carry more weight.
Moreover, a heavy and well-shaped body looks not only pleasing but also feels healthy. If you are into sports or want to become a professional athlete, working out with a dip belt will surely help you achieve your career goals.
Do Not Require Spotters
Have you ever performed bench presses? Remember how you required spotters to help you complete all your exercises safely?
Well, with a dip belt, you don't need any of that. You can lift as many weights as you can without having spotters near you. This benefit is great if you are running on a tight budget and limited space.
Increases Body Stability
A dip belt workout helps polish your body's stability. It demands balance and coordination from your muscles to perform dips with care. And as a result, you experience a stable body with a high ability to carry heavyweights.
Doesn't Require Any Setup
You don't have to have a proper setup while using a dip belt. This accessory can be used anywhere within your comfort zone and without additional tools. Moreover, there are no technicalities involved with this tool, and hence everyone can use it except for kids who might not be strong enough to wear and use the belt.
Low-Cost Item and Portable
There is nothing better than a fitness tool that can be used anywhere you go. So you can take a dip belt to your gym or even on holiday. This tool doesn't take much space and adjust pretty well in small carrying bags.
Moreover, unlike many other accessories, a dip belt is a low-cost item. Moreover, even the expensive ones don't feel too costly, provided you have an adequate planned budget.
How to Use and Wear a Dip Belt?
Since this will be your first time using this tool, a dip belt may look overwhelming at the start. However, with our step-by-step instructions, you can wear and use this accessory pretty comfortably.
But before that, take care of these four points:
When wearing a dip belt for the first time, start with lighter weights and then progress to heavier ones. This step is essential to allow your body to get used to this tool.
Make sure to use a dip belt while maintaining a proper form. A failure to do so can lead to a regretful injury.
While wearing a dip belt, take care of the weight distribution. For instance, if your chosen weight plate isn't adequate for your belt, attach a dumbbell or kettlebell tightly with a chain to attain a balance before performing an exercise.
Lastly, to avoid accidents, you can always check various YouTube videos for guidance. Such content can visually help you to use this tool appropriately.
Here are some basic instructions that you should follow while using a dip belt:
Start with unclipping the belt's chain and wrap it on your waist.
Place the weight in front of the belt and pass the chain through its hole.
Now reattach the weight and the clip to your belt and stand straight to support this accessory.
Once you have positioned yourself correctly, lower down the belt's plate so that the chain extends.
Make sure that the weight should fall between both your legs.
When you are confident with the dip belt, take hold of any apparatus and start performing your dips.
Grab the bar tightly and push your body upwards.
Now lean forward with a straight back and extend your arms.
As the last step, lower down your body while bending the elbows.
Now press yourself back up and repeat everything as many times as you want.
FAQ
Here are some common questions asked by users like you. Since you are learning about dip belts, you might have many queries in mind. So, to find an answer for them all, dig into this section for all the details.