Have you ever thought of using a wall ball to build muscles, enhance your workout speed and increase your strength? If not, you may want to bring this killer and versatile tool home right away and start training with it.
While this ball may look like a simple piece of equipment, it is pretty effective for your body and can do many wonders if used correctly.
However, before you purchase the best wall ball, you should know everything about it. So, don't wait for any further and dive deep into this article. From interesting facts to six recommendations, there is a plethora of information waiting for you.
What Is a Wall Ball?
Wall ball, also known as a soft medicine ball, is filled with a heavy stuffing that gives it its softness. The purpose of this ball is to throw it with force on the wall and let it bounce back with power.
Moreover, wall balls usually have nylon, synthetic leather or vinyl outer shells that are pretty soft. This outer layer is designed to make the balls bouncy and give them a soft surface to absorb impact. Besides, this solid shell allows you to grab the ball with ease while working out.
Most users often confuse a wall ball with medicine and a slam ball. However, in the real world, all three of them are pretty different.
Wall Ball Vs. Slam Ball Vs. Medicine Ball
Now that you know what a wall ball is, let's learn briefly about its other counterparts to avoid confusion. A slam ball, unlike a wall ball, is a more rigid and heavier tool. Besides, it is either filled with sand or gel to avoid it from bouncing back.
On the other hand, as the name suggests, a hard medicine ball is rigid and does not bounce. Therefore, it comes in between a slam ball and a wall ball when it comes to weight. Besides, unlike a wall ball, this tool isn't made to hit against your floor or a wall.
A wall ball is the softest equipment compared to both the other options, and hence it is quite an excellent tool for beginners who want to learn various workout techniques.
The Best Wall Balls for CrossFit, According to an Experts
Have you convinced you to get your hands on your first wall ball? If yes, here are our six well-researched options for you to choose from.
You can either select a ball from this list or consider these recommendations as a good start for your hunt.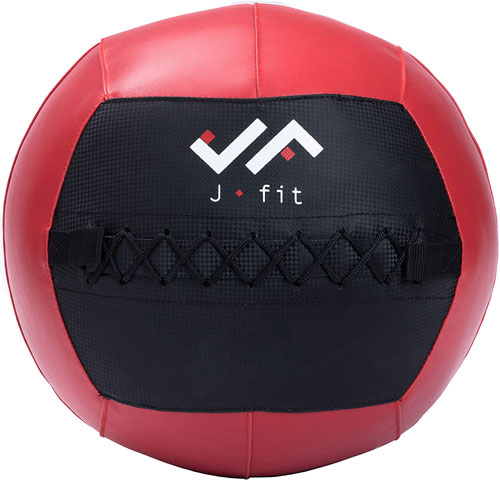 The JFIT wall ball is a versatile piece of equipment that you can use while performing strength and plyometric workouts. While this is a soft ball, it has a durable construction that can withstand all kinds of pressures.
The outer shell of this item is made of vinyl. This material is known for its durability, and it also offers an excellent grip for all users. Moreover, this wall ball features laser-cut triple stitching, which is again a representation of its toughness.
To make sure that the ball remains balanced, it has been hand-stuffed to ensure an even distribution of the stuffing.
The JFIT soft ball is available in 10 different weight options. Most of the balls have a diameter of 13.7 inches except for the 4 pound one, which has a 9 inches diameter.
Overall, this product is pretty impressive, but you will find it expensive when it comes to the ball's price. However, if we talk about value for money, we think this ball offers a good one.
Pros
Offers durable construction
Made with solid vinyl
Balanced ball
Available in 10 weight options
Cons
The 4-pound ball is smaller in size than the rest
Expensive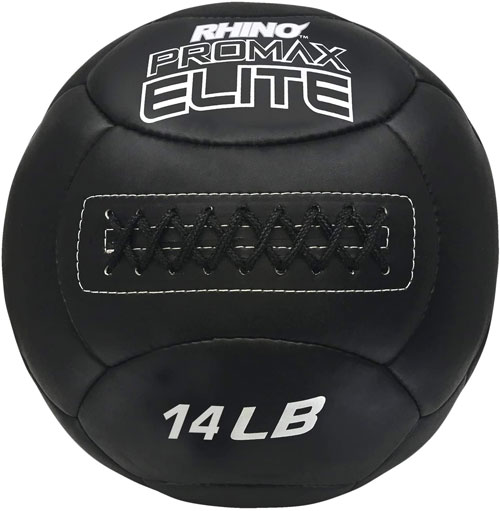 Rhino Promax ball by Champion Sports offers a unique way to gain a fit and reduce weight. Unlike traditional workouts, this piece of equipment ensures you get your dream-like body while enjoying fun and safe training. You can incorporate this wall ball in your daily CrossFit workouts to gain agility, strength and better coordination.
Owning a vinyl exterior, this wall ball features a solid outer shell to withstand all degrees of pressure. Besides, vinyl offers a non-slip grip that gives you all control over this tool.
Besides, the Rhino Promax ball's ergonomic and large build ensures you have an easy time throwing and catching the ball against a wall. This is especially important if you are a beginner and lack good coordination.
This soft medicine ball is available in two different weight options. It is the only discouraging factor as most other manufacturers offer various weight options to complement multiple skill levels. If you can't even handle a 14-pound ball, you would have to see other options from this list.
Pros
Hard outer shell
Durable design
Large in size
Balanced ball
Available in 14 pounds and 25 pounds weights
Cons
Not many weight options are available
Heavier than many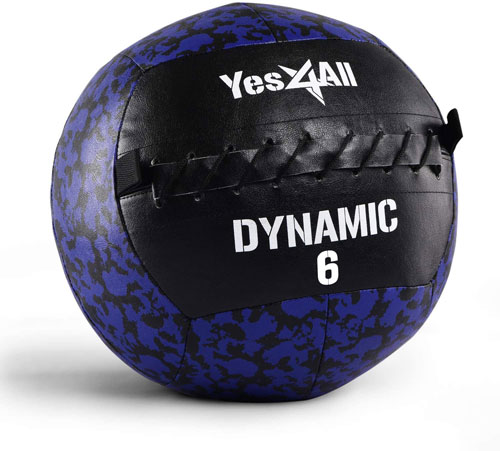 Yes4All is a famous sports brand worldwide. This company doesn't compromise in its quality standards, and that's pretty much visible in all its manufactured products. Moreover, this brand produces affordable items such as its famous wall ball.
This soft medicine ball features double stitches to secure its cotton batting. Moreover, the vinyl outer shell makes sure you experience a smooth ball performance without any hassle. Besides, this product has a vibrant and challenging appearance which gives you the comfort to use this time with all your force.
The Yes4All wall ball is available in different weight options and colours. Moreover, each of them has a universal dimension, which is impressive for both beginners and professionals alike.
While this ball looks pretty promising, according to some customers, it lacks a good balance. The product may fail to bounce in a straight direction which might ruin your workout.
Pros
Well-made ball
Durable shell
Available in different weights
Comes in various colours
Affordable
Cons
May lack good balance
Doesn't feature triple stitching for security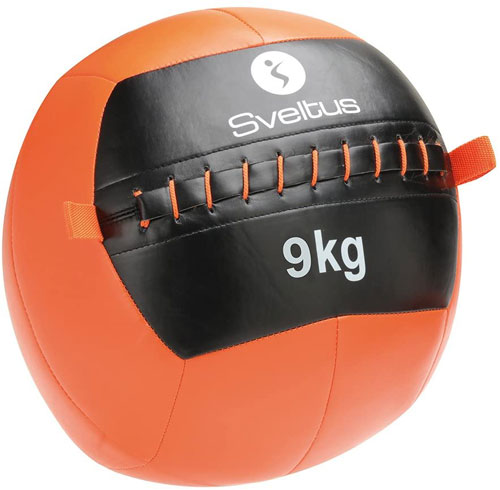 Do you fancy a bright coloured wall ball to fit well with the rest of your fitness gear? If yes, the Sveltus wall ball will strike your fancy.
Available in different weights, this product is pretty impressive for both beginner and intermediate trainers. However, the highest weight it offers is just 20 pounds which might not be enough for professional or experienced CrossFit enthusiasts.
The Sveltus wall ball has a suitable impact absorption property and also doesn't bounce. These characteristics make this product pretty useful for new learners.
Besides, this product features an excellent grip and gives you all the control. So you can experiment with your wall ball moves without worrying about losing the grip.
With orange straps and lace, this ball features a stylish and ergonomic design. If you aim to train your legs and arms in a fun way, this product deserves a place in your kit.
Pros
Well-designed ball
Stylish and bright
Available in different weights
Great for beginners
Affordable
Cons
Doesn't have a weight option for experienced users
Lacks triple stitching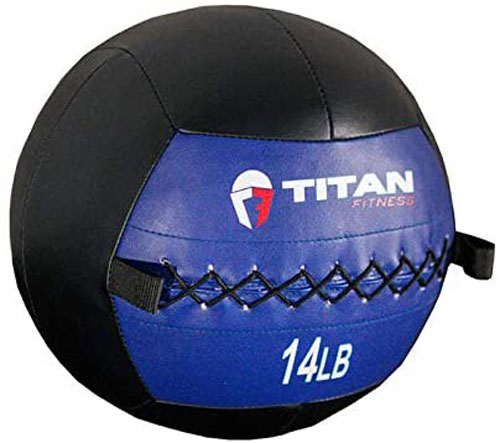 This soft medicine ball by Titan Fitness deserves your attention. With an outer shell made of faux leather, this product offers excellent grip and durability. You can hit the ball against a target as many times as you want without worrying about this item breaking down into pieces.
The Titan Fitness Wall ball is 14 inches in diameter, slightly more than the universal size. Its huge size makes the ball easy to hold in hand and throw or catch with ease. However, if you have small hands, you might feel a little challenged while working out with this tool.
This wall ball features an even distribution of the filling and double-stitched seams for a good performance. Besides, the black and purple colour combination make this item look more stylish than most other balls.
Pros
Leather ball offers solid durability
Big in size
Features double-stitched seams
Available in a black and purple stylish combination
Cons
Only one weight option is available
Not for people with small hands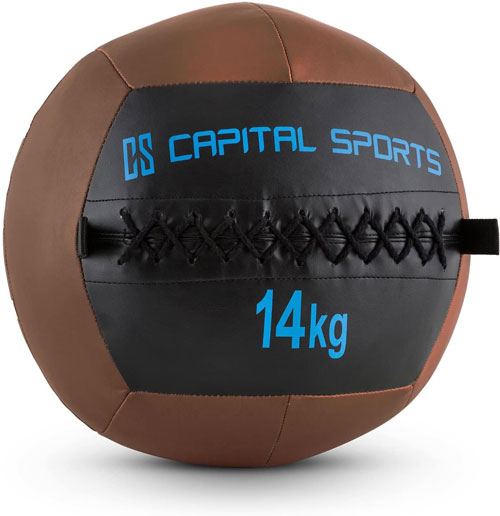 Taking the last spot on this list, the Capital Sports wall ball is an affordable item with great features. The product's outer shell is made of leather and features a classic sewn design.
Moreover, the leather outer shell offers a firm grip and excellent durability for both intermediates and beginners. As a result, you can utilise this tool during strength and agility training sessions without worrying about messing up your pace.
The Capital Sports wall ball is available in many weight options and colours. However, the highest weight available is 30.8 pounds which may be low for many professionals or experienced users.
Pros
Affordable ball
Made of leather
Durable making
Excellent design
Available in many weight options and colours
Cons
Highest weight available may be too low for professionals
Not available in triple-reinforced seam design for added security
How to Pick the Best Wall Ball?
It isn't easy to pick one ball from a lot of six. When all of the options look promising, how can you ensure that your selected item is the perfect one?
Well, we have an answer to your problem. Here are some significant factors to consider before you choose one wall ball for your workouts. Match these considerations with your requirements and select a product that falls under your set criteria.
Outer Shell
Before buying a wall ball, you should make sure that it is durable enough to be thrown repeatedly against any wall. So, balls with an outer shell made of either vinyl, leather or nylon are considered the best picks.
Moreover, if your chosen ball has double reinforced stitching, it is worth your pounds. Double or even triple stitching ensures the product stays intact without breaking or splitting into two halves.
Grip
A ball with a good grip is not only safe to use but also performs well. Even if your technique is perfect, a ball with poor grip will be unable to support your workout. So, do consider this factor essential.
You can select a ball that is pliable and soft. Moreover, it should be made from either vinyl or leather as these materials offer powerful grip and feel good in hands.
Impact Absorption
If your chosen product fails to absorb enough impact, you should probably throw it in the trash and avoid using it again. There is a high chance that you may miss a catch which might cause the ball to hit you on the face rather than collide on the floor.
In that case, a ball should be able to absorb the impact rather than transferring it to you. If it does the former, that's a bonus, and that ball is worth keeping in your fitness arsenal.
Balance
You should always consider the even distribution of the filling before buying the ball for your use. It is vital to ensure the ball's balance and its ability to provide a consistent bounce. A well-balanced ball doesn't turn unnecessarily and often has a straight and focused flight path.
Weight
A wall ball is available in a wide weight range. For instance, you can buy a ball weighing anywhere between 4 to 50 pounds. However, the ideal weight for you is determined by your fitness level and goals.
So, make sure to buy a ball that can complement your skills and help you learn and perform any exercise smoothly.
Price
While wall balls are not very costly, you may be lured to buy the cheapest options to save yourself money. However, remember that most cheap balls have low quality and poor durability. If you don't want to experience accidents or poor performance, buy a ball that stays intact for long and gives a good bounce.
Similarly, don't go overboard and purchase an expensive ball. While it may promise good quality and performance, if you can get a similar item at an affordable cost, buy the latter.
Customer Feedbacks
Before buying your favourite wall ball, make sure to go through customer reviews and expert recommendations. Such feedback and experiences are a great way to understand a product before you invest money in it.
So, you can either join a buyer forum or read articles online to look for manufacturers of wall balls with high or low ratings. This way, you would know which brand is worth your pounds and which one should be ignored.
Benefits of Using a Wall Ball
If you are successful in acing the techniques and rules mentioned above, you will be able to reap the following benefits after using a wall ball regularly:
Provides a Full-body Workout
If you thought that throwing a ball against a wall won't make you fit, you might want to start wall ball training right away. While using this versatile fitness correctly, you can target as many muscles in your body as you wish.
For instance, a simple ball move positively impacts your glutes, biceps, hamstrings, chest, back, shoulders, triceps and core muscles. In addition, you can make the moves challenging to tone other muscles of the body as well. If you are consistent with a wall ball workout, you will be amazed how this training can successfully change your whole figure within a short time.
Benefits Your Heart and Lung Health
Throwing the ball and then catching it with speed, results in an increase in your heart rate. A pumping heart is a sign of good health and powerful muscles. Besides, if your heart is pumping at a reasonable rate, your muscles and organs will benefit from an even distribution of oxygen.
Moreover, if you use a soft medicine ball regularly, you will notice your lung capacity increase with time. This benefits your breathing and makes it easy for you to practice more intense workouts.
Increases Stamina and Explosive Power
Have you recently been struggling with athletic activities? If yes, you may want to try using a wall ball to build enough stamina and explosive power to support your workouts.
It isn't easy to hit a ball with force and then catch it to avoid accidents while squatting. But performing this move regularly, you can help your body increase the strength, stamina, and power that every athlete wants.
Burns Calories and Reduces Weight
Like any other explosive workout, a wall ball exercise also helps burn lots of calories and reduce weight. While using this tool, you would love how your body will sweat, burn calories and tone your muscles to get a lean figure.
However, to support the weight loss process, make sure you balance your wall ball workouts with a healthy diet and other CrossFit exercises.
Reduces Stress and Improves Sleep
Since using a wall ball comes under CrossFit training, you might know how such exercises help instantly reduce stress. If you have been suffering from anxiety and depression lately, hitting the ball on the wall and catching it again releases endorphins in your body. These hormones can help change your mood and kick all the stress out of your system.
Besides, working out with a wall ball makes your body tired enough to help you enjoy a sound sleep at night. It primarily works for people with insomnia and other sleep disorders. Good sleep directly reduces stress and allows your body to feel active during the day.
Enhances Focus, Concentration and Coordination
If you do not want the soft medicine ball to knock you out, you will have to keep your focus and concentration intact while using this tool safely. A wall ball workout trains your brain to exercise with attention and improve your direction to achieve great results.
Besides, a squat with a ball improves your hand-eye coordination and overall balance of the body. These two elements are pretty essential to improve your timing, accuracy and throwing skills.
Works as an Inexpensive and Portable Fitness Tool
A wall ball isn't a costly item. Besides, it is readily available and can be used anywhere you want. This equipment doesn't require a complicated setup.
You only need to have a ball and a target to use this ball and reap all the above benefits. The portability and low price of this tool make it quite convenient to be used by various users. Even if you have a tight budget and can't afford complex machines, a wall ball will keep you fit for as long as you want.
How to Use a Wall Ball?
Using a wall ball is pretty straightforward. Here are the steps you should follow:
Hold the wall ball in your hands.
Stand with your feet at a shoulder-width distance while you do so.
Now squat down and keep the ball opposite to your chest.
While standing up again, throw the ball on the wall in front of you.
Make sure the ball should hit a raised target on the wall.
The target should be many feet above the head.
As the ball bounces back, catch it with your hands and squat down again.
Repeat all the steps and do as many soft medicine ball hits as you can.
As per experts, you can start with three sets containing 15 reps of the above move. You can take a minute break between each set to recollect your body.
If you feel challenged at an early stage, choose a lightweight ball to ace your technique first. Once successful, you can also add variation to your wall ball moves by adding side throws and reverse rotations within your workout.
Important Rules to Follow
While using a wall ball, you need to ensure your technique is appropriate to avoid unnecessary fatigue. Here are some rules that require your attention:
Height of the Target
As a standard rule, the target is set at 10 feet from the ground for men and 9 feet for women. A height more or lower than these can be problematic for the overall technique.
Now, once the height is attained correctly, you should pay attention to the distance between you and the target. You shouldn't stand :
Too close to the mark and end up not seeing it correctly.
Too far from the target and end up putting immense pressure on your arms while throwing the wall ball with force.
So, what should you do? This may vary from person to person but stand anywhere between 0.5m to 1m away from the target if you are an average heightened individual. Moreover, keep the soft medicine ball close to you before you throw it on the wall.
Squat Position
While sitting in a squat position, make sure the elbows are tight. They shouldn't touch the knees and must be in a rack position. This setup is vital to prevent the ball from pushing you downwards.
While standing from the bottom squat position, allow your arms to go all out and exert immense pressure on the ball, so it hits the right target.
Coordination
Coordination plays a vital role while using a wall ball. If you are failing to catch the ball after throwing it on the wall, you will probably allow it to hit you on the face.
While this coordination is achieved from practice, make sure you follow the correct technique and all your strength to make this work out quicker than expected.
Timing
Similar to coordination, your timing also plays a significant part in making wall ball exercises successfully. If you are a beginner, we suggest you practice with the essential move as much as you can until you understand your timing.
However, if you are an experienced athlete, repeat various receiving techniques to adjust and get used to your catch timing.
FAQ
Here are some common questions asked by users like you. If you still have doubts about a wall ball, go through these queries and see if they can provide you with solid answers.