If you plan to practise weight lifting at home, we would suggest you to get the best bumper plates for your ease. These equipment are not just the coloured or black versions of the standard weight plates. But they are designed to give you a safe and quiet experience of competitive lifting at home.
Moreover, bumper plates are ideal for lifts like squats, cleans and snatches that involve dropping the bar on the floor. Made with rubber, it does not damage a surface or platform when dropped, saving you lots of maintenance costs and hassle.
There is more to this equipment than meets the eye. So, if you are interested in finding all the important details and getting yourself the best Olympic bumper plates, dig in right away.
Introduction to the Best Bumper Plates
Bumper plates are weight plates but with high-density rubber. Moreover, they have a solid steel core that looks after their overall strength and durability value.
However, the most attractive characteristic that they own is a uniformity in their size.
Unlike other standard weight plates, bumper plates have the same diameter. So, instead of a different size, they have varying construction and thicknesses.
This smart design quality has two significant benefits. Firstly, as the bar drops on the ground, all the weight from the plates falls at the exact moment. This action distributes the overall forces across a large surface area and prevents any damage to your UK gym floor and plates.
Secondly, since bumper plates are lighter than many standard ones, they are perfect for some exercises. In addition, they have large diameters, which make them super convenient equipment for many activities like the barbell hip thrust.
Moreover, it is perfect for beginners. Since you may drop weights frequently at the start of your training, owning a bumper plate would mean less overall damage and a noiseless workout.
But do these characteristics make them better than iron ones?
Bumper Plates vs Iron Plates
When it comes to choosing between Olympic bumper plates and iron plates, many buyers are left confused. However, both of them are pretty different to each other and serve a unique purpose.
For instance, rubber bumper plates offer more resilience and bounce than iron plates. Besides, they are more durable and solid than their iron counterparts. An iron plate accidentally thrown on the ground may break and cause your heart to skip a beat for a second.
Moreover, they are a long-term investment that stays in shape for a long time. Therefore, they do not require much maintenance. However, iron plates require regular attention and cleanliness and should be given the right workout conditions to retain their shapes.
Olympic bumper plates are far more expensive than iron plates. However, their construction and design outweigh their price tag and make them the perfect fitness equipment for all enthusiasts.
Types of Bumper Plates
Now that you can differentiate between a bumper and an iron plate, let's look at the different types of bumper plates available in the market.
Competition Plates
If you are interested in learning competition-level weightlifting, the competition bumper plates will meet your criteria. Competition plates have similar dimensions and weights.
However, they are more expensive than any other type.
So, if you want to own the best bumper plates in the UK, save enough money to work out with competition plates and witness a change in your stamina and skills.
Training Plates
Trainers usually opt for training bumper plates because they offer varying standard weights and are made with all specifications in mind.
In addition, most commercial gyms usually store training plates for use, and they are also quite popular for home workouts.
Technique Plates
Technique plates are lighter than both the above types. This characteristic makes these plates perfect for physical therapy and rehabilitation. Moreover, they are perfect for mastering the art of weightlifting slowly and steadily.
Also, if you have no experience of using any training tool before, using the technique plates can be a good start to embark on your fitness journey.
Why Should You Buy?
We have already discussed how bumper plates are pretty promising for their quiet performance, durability and safety.
However, these plates also offer some unconventional benefits that you should know about. Read through the list below and convince yourself to buy this equipment right away.
Flexibility
With three different types available, you can use it according to your skill level and stamina. For instance, if you can't perform at a competition level, you can buy training plates to kickstart your fitness journey.
Simply put, it provides commendable flexibility in your workout. And are available for every skillful user.
Encourage You To Lift More
Since bumper plates are safe and quiet to use, you can use these properties to encourage yourself to lift more weight. You automatically feel secure using it, and give your body the liberty to apply as much force as it can.
Offer Workout Versatility
You can conveniently use bumper plates both outdoors and indoors. Since they do not rust like iron plates and can be used in a humid environment, you can change your workout spot every day and practice some carefree weightlifting.
Moreover, these plates can be used to perform versatile exercises. For instance, you can use Olympic bumper plates to enjoy thrusts, bench presses, overhead lunges and snatches.
Here's hoping the above information has helped you gain enough knowledge on it. So, are you ready to make a purchase now? If yes, head over to the next section to find what options we have reviewed for you.
Our Top 6 Favorite Bumper Plates for Home Gym
Since you are a first-time buyer, all the products below will suit your needs and requirements. Read the reviews and make a choice.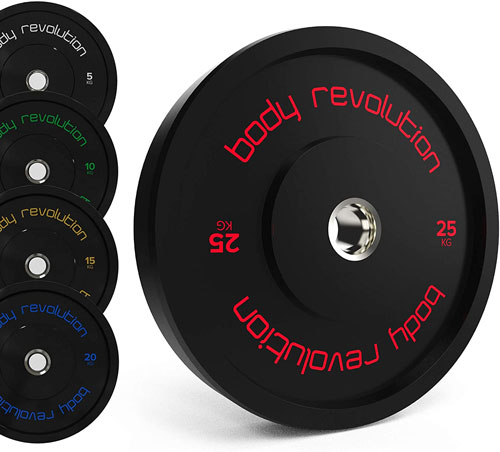 Strength training and weightlifting are two unique forms of exercise that can benefit you in many ways. For instance, a consistent strength workout can enhance your muscle endurance and increase stamina. Besides, weightlifting can increase muscle mass and also initiate weight loss.
However, it is vital to incorporate the right and durable bumper plates in your workout to accomplish all these health goals.
Body Revolution is a famous brand in the UK fitness industry. It has an extensive product portfolio and manufactures quality fitness items for all genders and ages.
The Olympic bumper plates by Body Revolution are no exceptions and completely live up to the brand's high standards.
These plates are made with solid rubber and feature a stainless steel ring or hub. Made with durability and longevity in mind, this equipment has a robust structure that can support your beginner-level weightlifting and training in every way.
Besides, these black plates come with colour codings that represent their size and weight. All the codings are done as per IWF standards, so you can easily trust the reliability of these plates.
A slim design makes it easy for you to stack as many plates on a bar as you can. Moreover, thin plates are easy to store in limited storage space.
These are available in weight ranging from 5kg to 25kg. You can get them in pairs and use them for training in your UK home comfortably.
However, while buying the Body Revolution plates, go through customer feedback. Some consumers have complained of quality control problems with a loose metal ring and wrong Olympic diameters.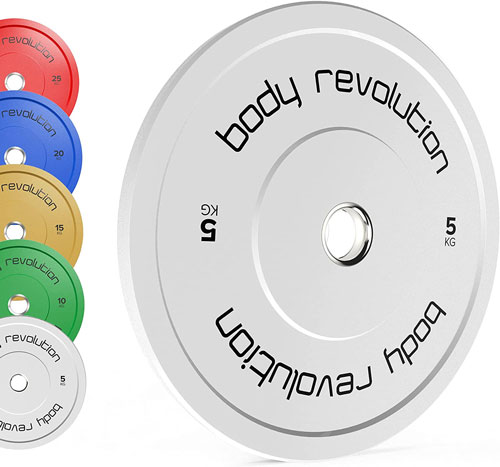 Do you like matching your fitness equipment with the overall vibe of your home? If yes, adding the Body Revolution colour bumper plates to your fitness kit will definitely enhance your gym's ambience and brighten up your space.
Perfect for two inches long barbells, these colourful bumper plates are made with durable and long-lasting rubber. Moreover, they feature steel rings that can easily fit in your bar without any effort.
These features make them quite effective for heavy training. Also, they allow both beginners and professional lifting enthusiasts to experiment with the weights without worrying about damaging the floor.
This product has a thin and smart structure. This well-thought-out design allows easy storage and good portability. Besides, you can conveniently fit as many plates in a barbell as you like and lift them to your maximum potential.
These plates are available in colours white, green, yellow, red and blue. Each colour represents a different weight as per IWF standards.
Moreover, they have similar lengths and widths, but dimensions range from 2.3 cm to 8.3cm. The bumper plates are available in both pairs and quads.
These plates are pretty user-friendly and definitely deserve a place in your gym.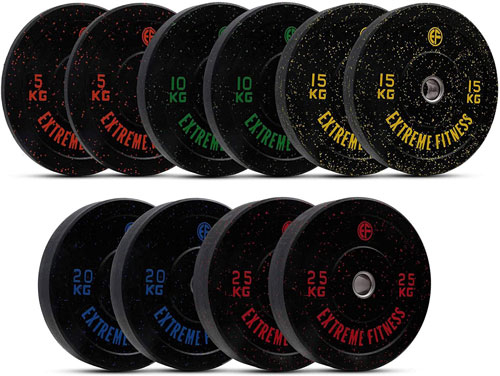 The Extreme Fitness rubber bumper plates are a piece of revolutionary fitness equipment in many ways. Made with heavy-duty rubber and solid steel insert, these plates are perfect for safe and effective weight training at home.
These plates can easily adjust in a two-inch standard barbell. Moreover, they have the perfect thickness making them convenient to store and carry around from one place to another.
According to the manufacturer, the bumper plates can withstand all kinds of pressure and can even be used outside your house under warm weather.
Besides, the plates won't damage your gym floor when thrown from a height. Also, the noise they make after landing on the surface is equal to none.
The barbell weights have a diameter of 45cm and are available in weights ranging from 5kg to 25kg. You can get the plates in pairs and practice your favourite lifts at your own pace.
However, a noteworthy drawback of these plates is their price. These tools aren't inexpensive, so be ready to spend a handsome amount to bring these fantastic plates home.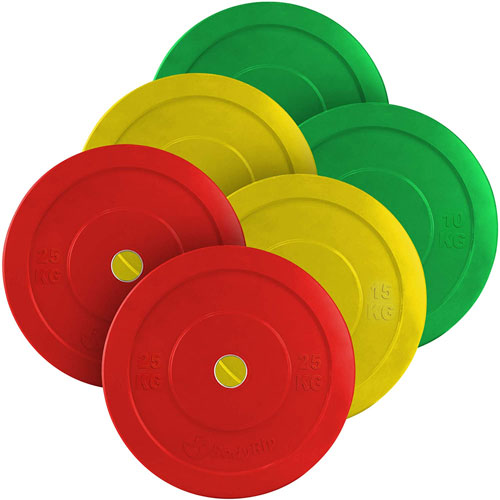 Do you fancy bench or military presses? Are you craving to excel in biceps curls or deadlifts? If yes, how about you haven't bought the BodyRip bumper plates already?
While they are a bit on the pricier side, the BodyRip bumper colourful plates are quite a catch when it comes to performance and workout versatility. Made from solid rubber, these plates can absorb pressure and withstand all falls without breaking easily.
Moreover, when dropped from a height, the BodyRip plates do not make any noise. That's quite a plus point if you love working out quietly and do not want to disturb your other housemates.
The BodyRip bumper plates come in a set that includes pairs of three weights, 10kg, 15kg and 25kg. You can use each pair according to your skill levels and increase weight lifting capacity gradually.
The plates are available in colours green, yellow and red. This set will brighten up your gym space and complement your other decoration pieces.
Since these plates are thin, you can store them easily in your chosen storage corner. However, if you love showing off, the plates can make great exhibits as well.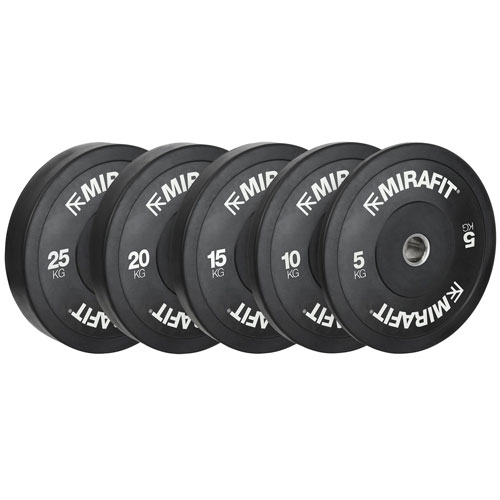 Who doesn't like solid bumper plates in a classy black coating and finishing? Of course, we all do, and the Mirafit Olympic weight plates make a great candidate
These bumper plates feature robust rubber construction and a steel hub. These elements reflect the plates' durability and make them ideal for different kinds of strength training exercises.
The Miraft plates have a 45cm diameter precisely according to the IWF standards. Besides, they are available in different thicknesses as per their weight. For instance, a 5kg plate has a thickness of 2.4cm while a 25kg one is 8.4cm thick.
Moreover, each pair has the weight label and brand logo printed in white to ensure easy usability.
Mirafit rubber bumper plates are pretty affordable than many plates you find in the market. Besides, this brand doesn't compromise its quality and produces all fitness equipment according to international standards.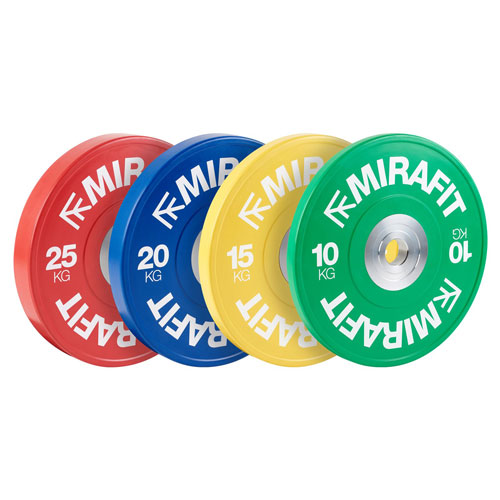 With 1% weight tolerance, the narrow bumper plates by Mirafit are favourite among many professionals and beginners alike. They offer a reduced width and exceptional design that can help upgrade your weight lifting levels to new heights.
The product is available in four different colours, red, green, yellow and blue. The green plates measure 10kg each, while the yellow ones weigh 15kg. The blue and red plates weigh 20kg and 25kg, respectively.
However, there is no 5kg weight plate which is quite a bummer. Therefore, most beginners choose to start with a lower weight to build their strength gradually.
This equipment can fit all kinds of bars and have thickness according to IWF standards. Moreover, they are available at a competitive price and are backed by positive customer feedback.
Factors to Consider Before Buying Best Olympic Bumper Plates
Have the above recommendations left you a little confused? Don't all the bumper plates look excellent and promising?
We understand your situation, but there is a way to get out of it smoothly. Before making your final decision, consider the factors below. Match these characteristics with your needs, and then find bumper plates that have your required features.
Doesn't that sound simple? Try this technique to find out.
Durability
When it comes to buying any fitness tool, durability is the most crucial factor to consider. After all, no one wants to break a plate within a week of its purchase and lose demotivation for a long time.
However, many are cheap and flaunt an inferior making. Some also lack sufficient finishing. Therefore, there is no point in buying such bumper plates and wasting your money.
So, before you choose it, make sure they can last for many years and accompany you on your everyday workout.
Thickness
Thin bumper plates are far more valuable and practical than thick ones. They can easily fit in your bar and have a better weight distribution.
Besides, they use high-density materials and have steel weights for efficient performance. Thin bumper plates do not look thick, but they are heavy and can achieve many lifting targets.
Also, thin plates can be stored conveniently and can also be carried around from one place to another.
Design
If you want bumper plates specifically for your UK home gym, don't overlook the colour, making and overall design. It is worth sparing some time to find a product that looks great in your hands and matches the feel of your house.
Most of them are available in black, while some competition-level plates are available in different colours. Different colour codes make it easy for you to identify the plate you want for your workout.
Sometimes it is hard to measure the thickness of bumper plates through a simple glance. But with coloured variants, it is easy to pick one with a larger or smaller diameter.
Besides, coloured bumper plates help create a funky vibe and can brighten up your dull gym room.
Bounce
Since it is common to slam bumper plates on the ground, it is imperative to take their bounce level seriously. Bumper plates with a minimal bounce are the best and safest choice.
Impact Noise
All bumper produces less noise than iron. However, while selecting among the best bumper plates, it is always wise to try throwing them from a height to evaluate between the levels of noise produced.
This factor is imperative if you live in a shared property or a tight neighbourhood.
Material
All best bumper plates are constructed using dense rubber. Since this is the main component of this equipment, there are various rubbers available that you should consider. Each one of them contributes to the varying functionality, durability and price.
Virgin Rubber
Virgin rubber is the most durable yet pricier material. However, if your budget can allow, bumper plates made with virgin rubber are worth every pound.
Training such as Olympic weightlifting and CrossFit require you to drop the bar more than often. In that case, you may need a material that doesn't bounce too much. For example, Virgin bumper plates offer low bounce and are less annoying and safer to be used at home.
Recycled Rubber
If you have a constrained budget, you may find recycled rubber bumper plates pretty cheap. But are they durable? No.
Moreover, they are far bouncier than virgin rubber plates and thus a risk to your safety. Besides, recycled rubber smells a lot, and you might have to place it outside in the air for a week to get rid of the disturbing scent.
Crumb Rubber
Crumb rubber is again an inexpensive choice of material. Made after joining many rubber pellets together, this material is commonly used in many fitness tools.
However, we wouldn't recommend you add crumb rubber plates to your carts when it comes to bumper plates. Crumb rubber bumper plates are brittle and may start chipping when dropped frequently.
Looking at the list of rubbers available, it is wise to conclude that virgin rubber offers much more durability and positive performance than the other two.
However, if budget is a significant issue, you can try the crumb or recycled rubber as well. But use these plates carefully, and don't experiment much with your workouts.
Bumper Plates Rings
While choosing a bumper plate, don't take its hub for granted. A hub or inner ring makes the centre of the plate and slides onto the bar's sleeves as you prepare for a workout.
Most inner rings are made of steel, but there are many that have durable chrome plating. Choose a material that sits well with the overall making of the plate and supports its structure.
If possible, use hooks to connect the hubs with your bumper plates. These accessories keep the rings intact in one place and prevent any accidents.
Expert Recommendations and Customer Feedbacks
If you want to make sure that your chosen plates are worth every pound, read through customer reviews and expert recommendations. Honest testimonials are a reliable way to trust a product's quality and performance.
You can ask different gym enthusiasts around you or search on the internet for the most preferred brands. Doing a little homework will save your money from being wasted and keep your workout motivation consistently high.
FAQ
To help you make your final decision, go through a list of questions asked by customers like you.