Have you ever considered using one of the best massage guns to relieve muscle pain? If not, we think it's about time you bring this fantastic invention home.
Sore muscles, backaches and leg stiffness are some of the most disturbing discomforts in life. They may be caused by sleeping wrongly or exercising tirelessly. However, whatever the cause may be, a massage is necessary to get quick relief from these pains.
But it is impossible to visit a massage specialist for your muscle therapy every other day. So what should you do?
The answer is simple. You should get your hands on the best massage gun in the UK and use its advanced technology to achieve optimum comfort. If you don't know which one to buy, read through the reviews and buying guide below and pick your favourite.
But first, let's explore this equipment in detail.
What Are Massage Guns?
Have you seen a drill machine? If yes, you may find massage guns pretty similar. These fitness devices come with different pieces, including a foam roller, a handle and massaging heads to get the job done.
Besides, massage guns operate with the help of their respective motors that generate enough power to give your muscles much-needed comfort.
Purpose of Massage Guns
Massage guns were invented to provide you with the benefits of percussion therapy. For those unaware, percussion therapy is a wonderful technique to boost the muscle recovery process and enhance blood circulation in your body.
We all like spending hours working out and weight lifting to test our potential. However, most of the time, we cross our limits and are left with extreme muscle soreness after an intense training session. In that case, percussion therapy works as a blessing and brings us back to our normal state.
The percussion technique involves using massage guns to exert gentle pressure on your target muscles. The tips of the best massage guns jiggle, compress and rub the tissues of our muscles and get the job done.
This method reduces muscle stiffness, improves blood flow and helps alleviate pain. Moreover, percussion therapy reduces stress on joints and bones by eradicating tightness in your body.
Using a massage gun is pretty similar to going to an expert. But, unlike a trip to a specialist, you can use a gun however and whenever you like.
How Can You Use a Massage Gun Safely?
Massage guns are made for the general public, and they are pretty easy to use. You just have to switch on the machine, set the required speed and use it on your muscles.
However, to enjoy this tool safely, follow the tips below and avoid making any mistakes.
Always start with the lowest speed first.
Hold the gun firmly at 45 degrees to prevent any mishaps.
Keep your massage guns away from the neck area, clots or sprains.
Don't use this tool on your head, face or chest.
Don't get over-enthusiastic and avoid crossing the time limitations of using this tool as per the instructions.
Use the gun for two minutes only on your target muscles.
For a warm-up routine, use the gun on each muscle for 15 to 30 seconds to promote blood circulation.
People with high blood pressure issues and osteoporosis should consult their specialists before using a massage gun.
Our Top 8 Favorite Massage Guns
Your wait is over. Here are our eight best massage guns in the UK for you.
All the recommendations are excellent in their own ways. However, you will have to read every review in detail to agree with us.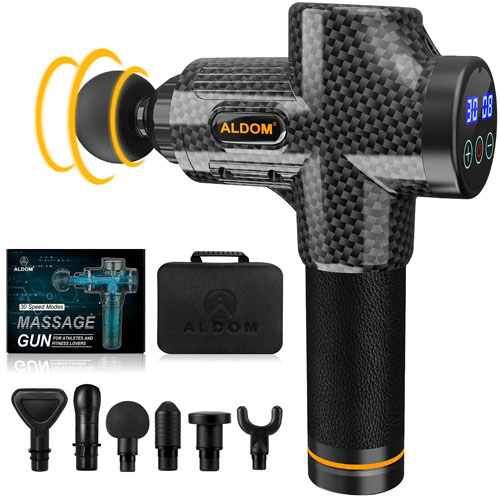 Aldom is one of the most famous brands in the UK. With a broad and attractive portfolio, Aldom has gained immense attention and good reviews from its excellent consumers.
The massage gun by Aldom is a powerful product in many ways. Its distinctive features and top-notch performance has made this unit earn the number one spot on our list.
Aldom massage gun is a unit that helps relieve soreness, improves blood flow and accelerates the process of muscle recovery in your body. It is a deep tissue massager that provides you with effective percussion therapy regardless of your pain's intensity.
One of the best things about this well-designed device is that it comes with six different massage heads. So you can use this machine on your back, arms, shoulders and legs and benefit from various impacts.
Besides, the muscle massager offers 30 different adjustable speed modes. That's quite an impressive feature and gives you the liberty to utilise this gun according to your comfort.
You can easily choose between 1800 pulses per minute and 4800 pulses per minute. This gun also allows you to adjust between different pressure levels so you can enjoy every moment of the massage.
The Aldom massage gun runs using a brushless motor which is almost noiseless. So you can use it in a crowded gym or your shared home without disturbing the people around you.
Moreover, this compact unit runs on a lithium battery which keeps the gun operative for eight to ten hours on complete charging. However, there have been customer complaints about the battery getting too hot when used for a long time.
The model also features an LCD screen that displays your speed level and charging status. This unit also comes with a storage case.
Pros
Powerful device with 30 speed adjustments
Comes with six head attachments
Noiseless performance
Comes with a long-lasting battery
LCD screen displays essential data
Cons
Battery may get too hot
Expensive gun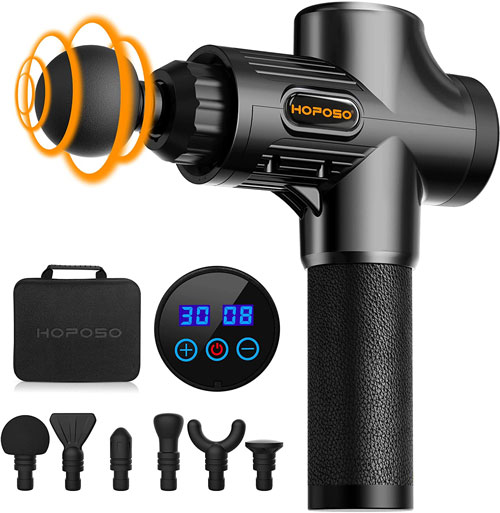 Have you ever felt extreme muscle soreness after an hour of weightlifting? Was the pain so bad that you found it hard to get up the next day to work out again? Did that pain affect your motivation to exercise regularly and stay fit?
If you can relate to these questions, we know what you should own right away. The Hopso massage gun can help reduce muscle stiffness and increase the flexibility of your body. Besides, this machine can improve your blood flow and help re-develop the motivation to exercise daily.
The massager is a powerful unit and features 30-speed levels to choose from. Levels one to ten prepare the muscles through slight sensations, while levels 11 to 20 are perfect for muscle relaxation.
However, if you are craving a deep tissue massage, choose any speed level between 21 and 30. This massaging gun offers speeds between 1800 and 4800 pulses per minute. Moreover, a touch button on the gun can be used to adjust the intensity according to your comfort.
This percussion machine comes with six customised massaging heads. These valuable accessories allow you to experiment with your massaging technique and target all the painful muscles in your body.
The Hopso massage gun weighs 1Kg which may be a little heavy for some. However, its ergonomic design and non-slip grip reduce vibration and make it easy to hold.
This massager takes about four hours to charge which is pretty long. But when fully charged, it can work for six to eight hours straight without any errors.
Moreover, the device comes with vents that allow the heat to escape and prevent the battery from heating up.
The massage gun comes with a case so you can store it conveniently.
Pros
Features 30 speed levels
Comes with six heads
Ergonomic design
Long battery life
Cons
May feel heavy
Takes a long period to charge fully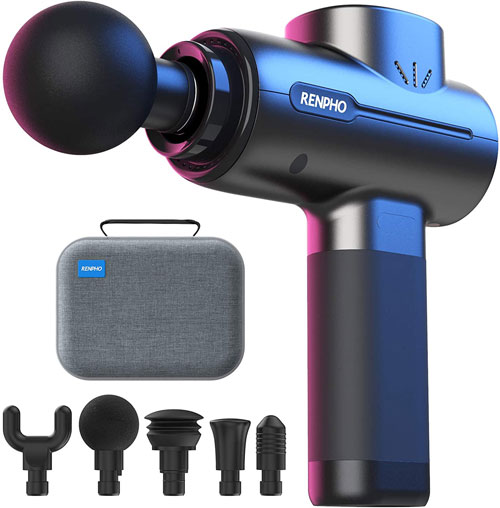 If you are a professional who loves flaunting your fitness equipment, the Renpho R3 mini massage gun may become one of the best tools to own. This compact machine does its job perfectly and looks pretty stylish.
The R3 has a durable and metal casing and has a brushless motor to give you a praise-worthy performance. Besides, it penetrates every large and small muscle to relieve you from extreme soreness and aches.
This mini massage gun weighs only 0.6kg. That's quite a low weight for a gun as powerful as this one. This means that you can carry this unit everywhere you go and use it for as long as you want.
Compared to most other massagers on the list, the R3 comes with only five massage heads and provides five levels of speed. You can choose an intensity between 1800 to 3500 pulses per minute.
The R3 device's highest speed is pretty low than offered by the two guns above, and if this is a concern, you can buy an alternative.
This massage gun is a noiseless unit with a large battery. The battery doesn't take long to charge and keeps the gun operative for a long time.
The device comes with a case and has a convenient port for charging. You can use a USB or a regular phone charger to activate this machine anywhere in the world.
Pros
Lightweight and compact gun
Noiseless tool
Runs on a powerful battery
Comes with a free case
Charges easily with a USB
Cons
Offers only five massaging heads
Highest speed is a little low than many competent massage guns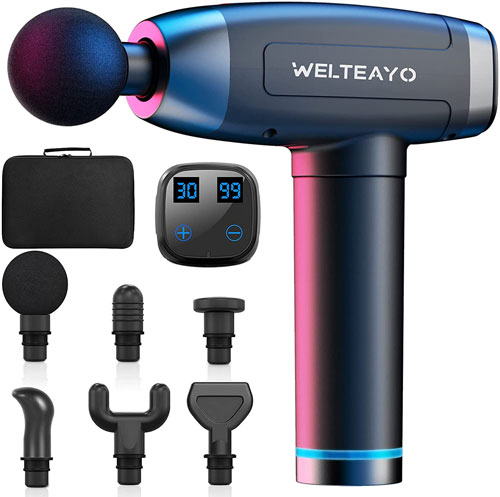 Do you live in a shared property in the UK? It must be challenging to work out with your noisy massage tools, no? However, the struggle doesn't mean that you should skip massage therapy for good.
We understand your problem, and that's why we have the Welteayo massage gun on our list. This noiseless equipment can be your best companion both before and after a strenuous workout. It not only improves blood circulation, reduces soreness and enhances flexibility but can also be used conveniently in a place with so many people around you.
The massage gun features 30 adjustable speed modes and comes with six head attachments with various shapes. The highest speed it offers is 3200 pulses per minute with a 12 mm stroke depth and 55 impacts every second. This adjustability allows you to choose ahead and speed your choice and enjoy a comforting massage every time.
This model is a cordless tool and runs using a lithium battery. The battery has a long life and takes only three hours to charge fully. Unfortunately, the gun also has a shutdown feature which may cause inconvenience for many.
Overall, the Welteayo massage gun is a compatible product in many ways. It comes with a case and a charging adapter. However, the adapter is made for UK plugs and may cause a problem for people who want to travel abroad and take the gun with them.
The device also comes with a 12-month warranty, so you have plenty of time to test this product.
Pros
Noiseless unit
Offers 30 speeds
Six head attachments
Long-lasting lithium battery
Comes with a case, adapter and warranty
Cons
Shutdown feature may be an inconvenience
UK adapter may not work for foreign style plugs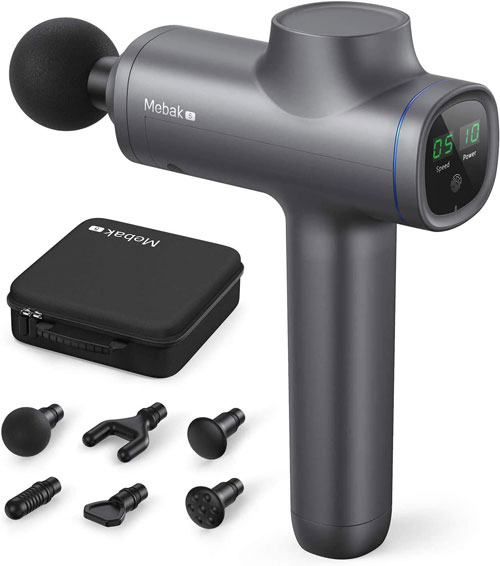 The Mebak massage gun is a solid tool with a dark grey body. Made for regular gym-goers, athletes and even occasional trainers, this device is a practical unit to relieve pain and stress from aching muscles.
The Mebak massager weighs 0.8kg, and that's an impressively low weight. Moreover, it runs on a 24V motor with noiseless technology. The combination of low weight and silent performance makes this machine quite impressive and valuable for many users.
This massage gun comes with six head attachments that you can adjust according to your requirement. Besides, it features five levels of speed modes to give you the liberty to enjoy percussion therapy at your own comfortable pace.
If you have issues with products that have low battery lives, the Mebak massage gun won't disappoint you. It takes only a few hours to charge, but it can efficiently operate for six to eight hours when fully charged.
The Mebak device is super convenient to use. It features a button that takes control over its performance. Besides, it has an LCD that displays the charging units and speed levels.
This model comes with a storage case. Moreover, the case allows easy portability and takes to carry this excellent machine anywhere you go.
Pros
Made for different users
Noiseless unit
Lightweight
Six attachments
Long battery life
Cons
Five adjustments for speed may be too few for many
Basic design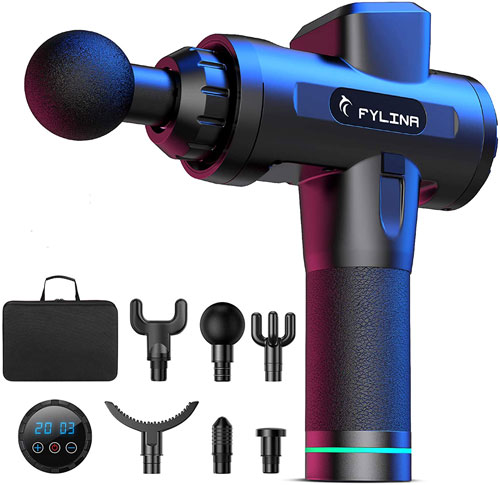 Most of us suffer from extreme muscle stiffness post-workout. But instead of using an effective massage gun, we choose to lay on our beds and cry over our aching bodies.
If you do that too, we won't let you follow this habit again. When you have a powerful invention like a massage gun, there is no point in stressing about painful back and legs.
The Fylina massage gun is one of the most popular products these days. Thanks to its unique user-friendly features, compact size and excellent performance, many athletes love to use this unit after every strenuous training session.
The device features six easily replaceable massage heads. It means you can use the right head shape to open your muscle knots. For example, the round massage head is perfect for large muscles present in glutes and legs, while the umbrella, claw and fork heads are adequate for smaller muscles.
The massage gun has 20 modes for speed. You can choose a relevant intensity between 1800 and 3300 pulses per minute and enjoy an optimal recovery. First, however, start with a lower speed to make your muscles get used to the vibrations and slowly shift to faster speeds for a powerful percussion therapy.
For adjusting the speed, you can use the crystal screen on this unit. This attractive touch display shows your speed levels and also the charging units.
The model can run for eight hours on a full battery. However, it may take four to five hours to charge completely.
The massager also has a shutdown safety feature that shuts the device after 10 minutes, and you are required to restart the unit. While this feature can save you from overusing this tool, it may also be inconvenient for many.
Pros
Comes with six massage heads and 20-speed modes
Features touchscreen
Can be used for eight hours on complete charging
Durable and portable gun
Comes with a case
Cons
Safety shutdown feature may be an inconvenience
Highest speed level is a little low than many powerful guns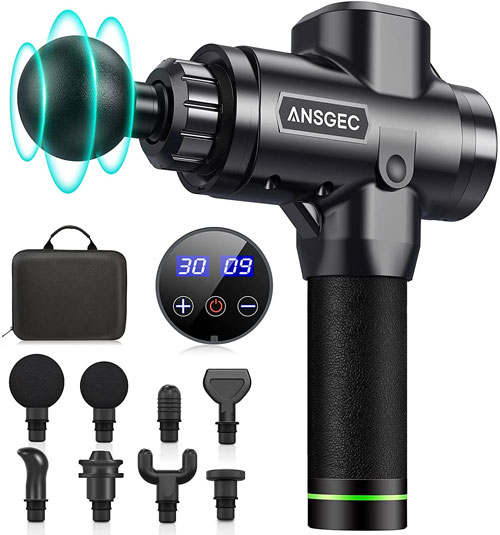 Taking the seventh spot on our best massage guns list, this unit by ANSGEC is pretty promising and effective in many ways. Unlike many other massage guns above, this machine comes with eight head attachments offering you the opportunity to enjoy various massaging techniques. Moreover, it runs on a 24V brushless motor that provides a noiseless performance every time.
The massage gun is ideal for relieving pain, reducing soreness and accelerating muscle recovery after a challenging workout. Besides, this unit can boost your blood flow, improve your range of motion and give you the flexibility required to exercise daily.
This massage gun features 30-speed levels. You can choose an intensity between 1200 and 3500 pulses per minute with a 14mm amplitude. Moreover, with the proper head attachment, you can adjust the speed of penetration and experience effective therapy on any part of your body.
The device has an ergonomic design with a robust anti-slip handle. The structure of this gun minimises vibrations and prevents all kinds of accidents. Besides, this tool comes with a carry case so you can store it properly.
Other attractive features include an LCD screen and a powerful battery. When fully charged, the battery can last for six hours. However, you may find the charging period a bit longer than the standard.
Pros
Quiet motor
Eight head attachments
30 adjustable speed levels
Anti-slip handle
Powerful battery
Cons
May take a long period to charge fully
Maximum speed lower than many guns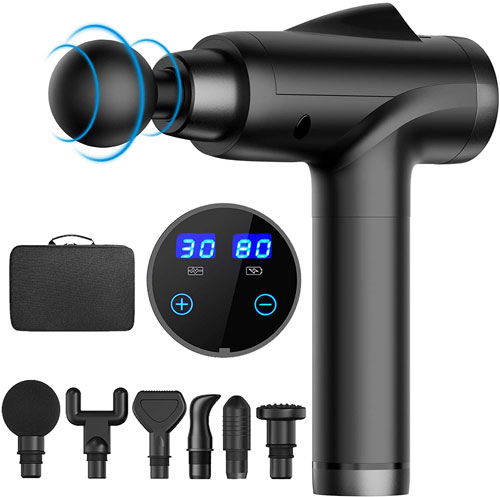 The BDBKMG massage gun is our last recommendation for this article. However, it is no way less compatible than the other seven options above. Furthermore, this device has many similar features that you see in a top-notch and classy unit.
This massage tool features a high-torque noiseless motor with powerful performance. With a maximum speed of 3300 pulses every minute, this gun can give strokes as deep as 12mm and provide effective muscle relief throughout your body.
Moreover, the six replaceable head attachments give you the liberty to enjoy smooth percussion therapy. You can use the round head for your calves, hips and leg muscles, while the bullet head is excellent for your joints and palms.
If you want to massage your spin, the U-shaped attachment will do wonders. Moreover, for the shoulders and back, the wedge-shaped extension will be enough.
The BDBKMG massage gun has a crystal touchscreen as a part of its design. This initiative display shows your speed level, and charging units left. Moreover, this machine uses a lithium battery that charges quickly. But there have been complaints of a short charging life that lasts for a maximum of four hours only.
Overall, the massage gun is a reliable tool. While it may look straightforward and basic, it can provide you with a well-deserved massage after every workout.
Pros
Noiseless tool
Six attachments for different parts of the body
Features crystal touchscreen
Simple design and use
Cons
Maximum speed may be low for many
Doesn't operate for more than four hours on a fully charged battery
Benefits of Using Massage Guns
We have already discussed how a massage gun can reduce stiffness and work positively to treat muscle soreness. But there is more to this equipment than meets the eye.
Here are a few benefits of using the best massage guns before, during and after a workout.
Provide Vibrational Healing
Have you ever heard about vibrational healing? This process uses subtle energies and vibrations to make you experience independent healing. Moreover, it works according to a person's energy field and is often considered super effective.
Interestingly, massage guns provide vibrational healing to your body and enhance lymph and blood circulation in your body.
Promote Rehabilitation
Do you know that a massage not only accelerates the recovery process but also prevents all kinds of re-injuries? The best massage guns promote the rehabilitation process in your body and improve the flexibility of injured muscles.
Prevent the Accumulation of Lactic Acid
Often after long and extensive workouts, your body may produce high lactic acid levels to compensate for low oxygen levels. This process may lead to cramps in your muscles and make you feel nauseous and exhausted.
However, the effective use of a massage gun can reverse this effect by releasing toxins and lactic acid from your muscles to other tissues. This act reduces lactic accumulation and prevents muscle soreness by a great deal.
Recharge Your Nervous System
Massage guns are pretty efficient when it comes to activating your nervous system. They help stimulate your receptors that promote vasodilation in your muscles and skin. This helps to release tension, improve mobility and allow your muscles to relax.
Improve Sleep
A massage session through the best massage guns can help you sleep better. With relaxed muscles, improved blood circulation and steady oxygen flow, you can enjoy a sound sleep without any pain.
Besides, a massage gun works better than any pain killers or sleep medicines. This tool doesn't have any side effects and gives your body much-needed relief.
Reduce Anxiety and Depression
Have you ever felt happy and content after a good message? This process accelerates the production of serotonin in your body that changes your dull and depressed mood into a good one.
Massage guns work similarly and give you a reason to be happy. Moreover, the increased blood circulation enhances your brain's performance and kicks the stress hormones out of your system.
Give You All The Control
Gone are the days when you would have to wait for hours and sometimes even days to get an appointment from the best massage therapist.
With the best massage gun in your fitness kit, you have all the control over your discomforts. You can use it whenever you like without waiting for an expert to give you relief from excruciating muscle pain.
Moreover, its ergonomic design allows you to use this tool conveniently on any part of your body.
How to Pick the Best Massage Guns in the UK?
Have the above recommendations left you indecisive? We understand your confusion and are here to help.
If you are unable to select a massage gun from the list above, don't worry.
Instead, follow our approach. Consider the factors below before making a purchase. This method will help to make your decision quick and easy.
Power and Speed
When it comes to the best massage guns, the first crucial thing you should consider is their power and speed. Most guns come with various speed settings, while others only have two.
Since pain tolerance differs every time, it is wise to invest in a gun that can provide different pressures and speeds for varying pains. For instance, some sore muscles are too tight and require intense massaging to become soft and flexible and vice versa.
The varying power and speed options are also imperative if you want to use this tool for many people in your family. Of course, the older members would not want to experience high speed and power. However, the young ones would love a massage in a high-intensity setting.
Motion Type
The motion and mechanism of guns vary a lot. Some units would only provide you with basic vibrations. However, many would give you the taste of actual percussion therapy.
Depending on your preferences, choose a massage gun that can meet your motion requirements. If you want to use this tool daily, it should live up to your expectations.
It is because massage guns are expensive, and you don't want to waste your pounds on something that would give you no benefits.
Portability and Durability
Massage guns usually have solid structures. However, you will also come across cheap guns with fragile bodies and weak designs. Those tools are a waste of money because a gun's body should withstand the power from the motor and should be able to transfer that energy to your body.
Besides, when it comes to design, portability is also crucial. This is because one of the primary purposes of buying a massage gun is to carry it around with you without making it look like a burden.
Most massage guns are portable and can easily fit in a suitcase or carry back.
However, many units are heavy and bulky. As a result, they may look robust and perfect to use, but their heavy structure may not support your use, and you may fail to utilise the guns' potential frequently.
In short, before choosing a massage gun, make sure it is lightweight, has an ergonomic design and can be easily carried around from one place to another.
Accessories and Attachments
Most massage guns come with various accessories and attachments, for instance, different heads.
If you want to massage your legs and back only, you will be easily satisfied with a basic gun with two to three attachments and accessories. However, if your purpose behind getting a gun is to target specific areas in your body, more attachments will always prove beneficial and give an experience worth enjoying.
However, a gun with more accessories is likely to be expensive than the one with fewer. Therefore, if you have a limited budget, you may want to take these additionals seriously.
Battery Life
If you are like the general public, you would definitely fancy a gun that provides a good and long battery life. Besides, you would always want a tool that charges quickly and easily. That's a common factor that we all look for in all electronic items.
Noise
No one likes noisy massage guns. The purpose of getting a massage is to enjoy comfort in a relaxing environment. However, if you select a gun with a loud motor, this tool may become a source of discomfort for you.
Besides, people living in shared UK homes or closed neighbourhoods should consider the noise factor seriously. If you don't want to annoy your neighbours or housemates with the noise of the motor every day, buy a gun with more impact and less sound.
Price
There are different massage guns available in the market. Some are pretty cheap, while others are way too pricey. However, while selecting one for yourself, you should always consider your budget and preferences.
For example, if a gun is too pricey and comes with various attachments, it is useless to buy it if your use is minimal. In that case, a budget-friendly gun with simple settings will do the job.
However, if you are a professional trainer and love getting massages now and then, an expensive gun will prove more useful.
Customer Reviews and Expert Recommendations
It is always wise to seek customer reviews and expert recommendations before investing in the best massage gun. Expert recommendations will help you find a gun that professionals in the industry would suggest.
Moreover, the customer reviews will give you an overview of this tool from the eyes of a common user who would have spent their hard-earned money on this gun.
FAQ
To help you understand a massage gun in a better way, we have listed a few common questions asked by users like you. Find their answers below and see whether a reply solves your doubts as well.