Have you ever seen a power bag? This piece of equipment might look quite simple, but it allows you to enjoy a full-body workout without other fitness tools. Besides, you can use this fantastic invention during weightlifting or CrossFit to take your training to a great new level.
So, if you want to add a power bag to your fitness arsenal, read the article below. We have jotted down some amazing facts and information to help you understand more about this tool. Besides, a buying guide and a top recommendations section will help you choose the best bag available.
What is a Power Bag?
A power bag is a term used to cover a series of different bags with various fillings and grips.
For instance, sandbag weights are usually made from leather or PVC and come with two or more handles. Moreover, they often look like a cylinder that can be used in many ways. Moreover, sandbag weights are filled with sand that helps maintain their weight for all kinds of workouts.
Power bags are also filled with water at times and are quite popular. Such power bags have pins that can be pushed in to add or remove water according to your convenience.
Most sandbag weights and aqua bags are also adjustable, which make them pretty useful for full-body workouts.
Simply put, a power bag looks like a cross between a duffel bag and a punching bag. A majority of sandbag weights weigh between 2 and 400 pounds which means that there's a bag for everyone.
The Best Sandbag Weights to Buy This Year
We hope that the above information has convinced you to invest in a power bag right away. So, if you are interested, dig into the reviews on our six recommendations and make a choice.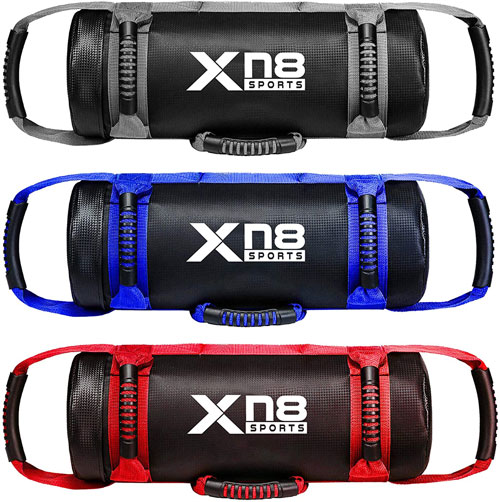 The Xn8 power bag is quite a favourite product among different gym enthusiasts worldwide. You can use tools to build muscles and enjoy a full-body workout every time.
Made with high-quality leather, this bag is impact-resistant, durable and also easily washable. Moreover, this item comes with an EVA underlay that helps you enjoy this bag with comfort even during strenuous workouts.
This power bag features nylon handles that are pretty amazing with their grip. However, a few customers have complained about the handles' poor stitching at a few places. Also, there have been issues with plastic inserts that come off from the handles on high pressures.
You can get this power bag in three different weights. However, the delivery might be an issue with heavyweight options, so make sure to talk with the manufacturer beforehand.
Pros
Made with durable leather
Comes with padding
Nylon handles with good grip
Available in many weights
Cons
Handles feature-poor stitching
Heavy bags are not available everywhere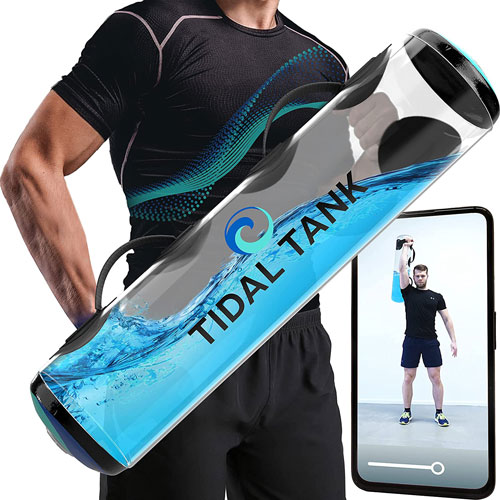 This power bag is unique because it comes with a water filling. The Tidal Tank is a perfect alternative for people who don't prefer sandbag weights. This item can help activate even the smallest muscles in your body and be filled with enough water to reach its maximum capacity of 45 pounds.
Moreover, you can use this bag anywhere as without water it weighs just 3 pounds. It can be easily folded to make a place in your carrying bag. Moreover, it follows a simple filling procedure that involves opening the pin and placing the bag under a faucet.
While this power bag is quite durable and well-designed, it is an expensive item. Moreover, it can not be used by people who need something heavier than 45 pounds.
Pros
Durable tank
Perfect for people who don't prefer sand filling
Easy filling with water
Classy design
Cons
Expensive
Weight capacity, not more than 45 pounds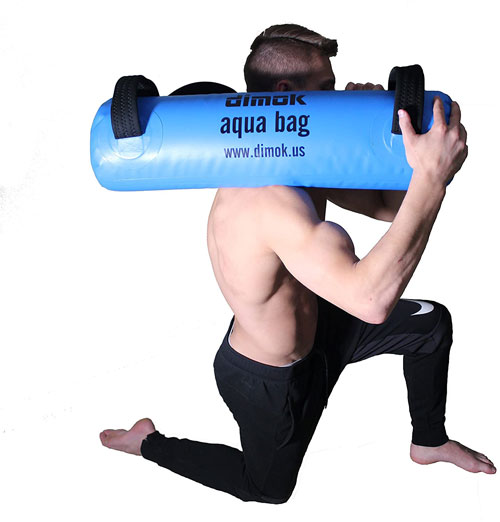 The dimok aqua bag weighs only two pounds when empty, but this bag can reach a maximum weight capacity of 45 pounds with a water filling. You can use this power bag for different kinds of workouts and can also take it with you on your travel plans.
This product is quite sturdy when filled. Moreover, made with durable material, the power bag exhibits a solid structure to help you attain your fitness goals. However, unlike most sandbag weights, this item is a little pricey, so make sure you have enough money to buy it.
Pros
Comes with easy filling
Lightweight without water
Foldable design
Durable and sturdy
Cons
Expensive
May not work for users who demand higher weight capacity
Synergee Adjustable Fitness Sandbag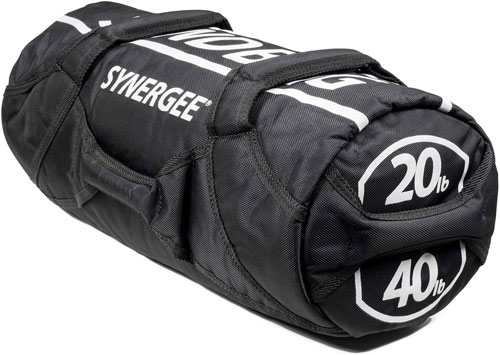 This sandbag is made of a nylon outer shell which is both waterproof and durable. Moreover, the covering of the bag features reinforced triple stitching, which makes this product perfect for even strenuous workouts.
The Synergee sandbag is entirely adjustable and comes with many filler bags. You can feel the bags with sand as they can hold a maximum of 20 pounds at a time. This power bag also comes with velcro and zippers to keep everything together.
Overall, this product is quite a fantastic recommendation. However, it is an expensive power bag that many users might find above their planned budget.
Pros
Made with durable nylon
Comes with reinforced triple stitching
Velcro and zippers can hold everything together
Comes with filler bags
Cons
Expensive item
Cannot hold the weight above 45 pounds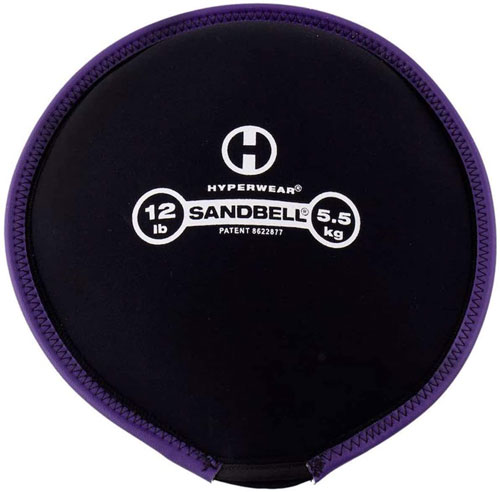 The Hyperwear sandbell sandbag is a unique product that can be used as a medicine and slam ball. It isn't like a traditional power bag and comes filled with odour-free sand. Moreover, it can be used as a free weight for studio and group workout sessions.
While this product is different and offers a good design, it isn't a pretty durable sandbag. According to a few clients, the sandbell busts open within a few months.
Moreover, since it comes with a filling and isn't adjustable, you can't use this product for various exercises. Therefore, you will have to purchase a different sandbell with a new weight every time.
Pros
Unique shape
Can be used as a slam ball
Affordable item
Perfect for group workout sessions
Cons
Not adjustable
Non-durable for strenuous workouts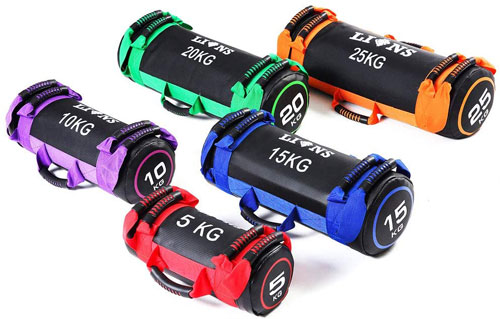 The Lions sandbag weights are ideal for power training. They come with different weight capacities and can be used in several ways.
Moreover, made from stretchy PVC material, the power bag offers excellent flexibility during workouts. The durable design and clever structure provide you with optimum comfort while you aim to achieve your goals.
However, some customers say the internal bags with sand fillings do not offer a secure closing. This means that there is a chance of a sand leakage. Moreover, the bag's handles may come off because of poor stitching, so make sure to test your product properly before bringing it home.
Pros
Made from PVC
Provide optimum comfort
Affordable sandbag weights
Available in different weights
Cons
Poor stitching of handles
Inner bags lack secure closing
How to Pick the Best Power Bag?
It isn't relatively easy to pick just one best bag from six fantastic options. So, to help you make a successful decision, we have come up with a list of some imperative factors to consider before you make a purchase. Match these considerations with your requirements and then choose a product that fits the criteria.
Durability
It isn't a good feeling to use a power bag for some time only and then see it breaking down into small pieces. Moreover, no one wants to experience filler fly and seam rip just because the bag is unable to do its job correctly.
So, make sure before you buy sandbag weights, analyse their construction, durability and material to test their aggressiveness against your power. Besides, if you are spending enough money on a power bag, it should exhibit a structure that can stay for a long time.
Weight Capacity
When it comes to sandbag weights, the weight capacity dramatically varies according to a different exercise. For instance, if you are into squats, you will require heavy sandbag weights to make the whole training challenging.
Many power bags are adjustable and can be filled or removed with filling according to your exercise requirements. So, invest in a power bag that offers this facility and has zippers or pins to make the filling process more manageable.
Filler Bags
Most sandbag weights come with filler bags that can be filled with sand according to your weight requirement. However, some products have more filler bags than others which means you can enjoy a higher weight capacity.
Moreover, more filler bags suggest that you can use a single power bag for versatile workouts within your home or gym space.
Price
Similar to varying weight capacities, you can also find sandbag weights available at a wide price range. Some are affordable, while others are expensive. So, depending on your budget, you can quickly get a power bag that offers good quality and doesn't hurt your pocket.
Benefits of Using a Power Bag
We have already briefly discussed how a power bag is a fantastic invention in many ways. But many benefits are still unexplored so let's cover them in this section.
Increases Power and Speed
A power bag workout works magically to increase your power and speed. You can use this tool to enhance your pace by holding it on your back and working out at high speed. Besides, if you are a professional runner, this item can help you gain momentum and power to participate in different marathons.
Improves Your Shape
Have you ever felt disappointed and unmotivated after looking at yourself in the mirror? Of course, we all crave fit shapes and bodies, but it isn't easy to find the correct tool to make that possible.
However, with sandbag weights, you can get your dream-like body. They work like a barbell or kettlebell but are far more accessible to workout with and produce excellent results. Besides, if used for appropriate exercises, sandbag weights can help you lose weight and burn many calories quickly. 
However, to benefit from a power bag, you should ensure that it has an adequate weight to complement your goals. Moreover, you should also follow a healthy diet and adopt good habits to create impressive results for yourself.
Enhances Endurance and Strength
Consistent use of sandbag weights can also help to enhance your muscle endurance and strength. It isn't easy working out with such bags, and the challenge they demand works positively for your body.
This power bag improves your muscle strength and helps you to carry out various other exercises as well. For example, if you are into swimming or other sports, a power bag can become your best companion to train you for such activities.
Portable Piece of Equipment
It is pretty convenient to take sandbag weights with you on your travel expeditions. You can quickly remove the sand from the bags and reduce their size to fit a small carrying bag.
Similarly, you can remove the water from a power bag and fold it to fit in even a tiny suitcase. Without water, a power bag is quite lightweight and easy to carry.
Saves the Floor
Have you ever accidentally thrown a barbell on the floor only to get a damaged floor in return? The sight isn't worthy of your eyes, but it isn't always possible to avoid the weights from falling on the ground.
However, if you use a power bag instead of other weights, you might not face such incidents. Since it is a bag filled with harmless sand or water, a power bag doesn't hurt your floor even if thrown from a good height. Moreover, it doesn't even bounce back, which is a great benefit for beginners.
Caters to All Fitness Levels
One of the best characteristics of a power bag is that it is designed for everyone. Regardless of your stamina or skill levels, you can use this tool to gain strength, balance and coordination in your body.
Moreover, if there is more than one user of a power bag in your home, you can easily increase and decrease the filling to get the required weight for all users.
How to Use a Power Bag?
One of the most imperative factors while using sandbag weights is understanding the balance between coordination and stabilisation.
The sand or water filling in a power bag constantly moves, so your body has to work itself to maintain the balance. This act creates tension and constant action in your muscles which is great if they haven't moved for a long time.
You can use a power bag for different exercises. Here are a few essential tips to utilise this tool properly:
For squats, place the sandbag weights on your shoulders while holding its handles from your hands. Once done, jump from the ground energetically. Repeat the above two steps and do as many sets as you want.
You can also use a power bag for forward lunges. For that, you only have to stand straight with the power bag on your back. Once appropriately positioned, lunge forward with your leg while maintaining your position and repeat with the other leg too.
Lastly, you can also use sandbag weights to move it from one side to another while sitting in a particular position. This workout is excellent for your stomach and doesn't take long to finish.
A power bag is an ideal tool to make your routine training more functional. Moreover, when used consistently, this piece of equipment produces swift results for everyone.
FAQ
Here are some common questions asked by users like you. If you still have some doubts regarding a power bag, go through the questions below and see if the answers can clear your queries.