A recumbent exercise bike provides the perfect workout solution for the ones who are too busy.
Whether it is a TV show or office work that does not let you exercise, you can burn your calories and build muscles while doing anything you want, thanks to these innovative workout machines. Due to their unique functionality, both beginners and seasoned fitness enthusiasts can benefit from recumbent exercise bikes.
If you don't know what these bikes do or where to get them in the UK, don't worry. Today, we'll tell you everything that you might want to know about recumbent exercise bikes. From their benefits and types to the best models available in the UK, this article will cover it all.
What is a Recumbent Exercise Bike?
A recumbent exercise bike is a stationary bike that you ride in a reclined position. It enables you to watch television or work on a laptop while working out. As a result, you can work out for a long time without being bored or tired.
Recumbent bikes are generally more comfortable than upright bikes because the reclined seating position reduces strain on the spine and makes workouts easier. Since you can work or entertain yourself while working out, you can significantly increase the duration and intensity of your training.
Now we don't mean that upright bikes are not a good workout option. We're just saying that they both are different. Let's see them face-to-face.
Recumbent vs. Upright Bikes
Let's start with the similarities.
Both recumbent and upright bikes are great for cardio workouts.
There's less strain on your joints than treadmills and jogging while using both.
A range of workout intensity settings is available in both.
Moving on to the differences, here are a few notable ones.
| | |
| --- | --- |
| Recumbent Bikes | Upright Bikes |
| Reclined seating position | Upright seating position |
| Larger seat | Smaller seat |
| Comfortable for upper body | Can cause upper body fatigue |
| Best for lower body cardio exercises | Works for whole-body cardio exercises |
| Pedals located in front of the body | Pedals located under the body |
| Supports the back and spine | Limited to no spine and back support |
| Little to no upper body workout | Almost as like riding an actual bike |
Considering how much it rains in the UK, you should go for a recumbent exercise bike if you want to work out in peace. There are other benefits of these bikes too. Let's see.
Types of Recumbent Exercise Bikes
The working principle of all recumbent bikes is the same. You have to pedal it, and something is there to make pedaling harder for you. Bikes are different only in terms of the method used to resist your pedaling.
Recumbent exercise bikes can be of two types, which are:
1. Flywheel Bikes
The simplest system a recumbent exercise bike can have for providing resistance is a flywheel-brake arrangement.
In these bikes, a heavy metallic wheel (flywheel) is attached to the pedals. It rotates when you move the pedal. Either friction brakes or an electromagnetic setup is used to resist the motion of the flywheel. You can adjust the level of resistance provided by the bike with a knob.
The characteristics of such bikes include:
Inconsistent force requirement while pedaling.
Size and weight of the flywheel influence the quality of the workout.
Brake pads that provide resistance need to be replaced after certain intervals.
Most commercial gyms use this type of recumbent exercise bike because they are not too expensive and require little to no maintenance.
2. Air Resistance Bikes
Used by high-end gyms, these bikes are the finest of the bunch. Instead of a flywheel, you drive a large fan with the pedals, and air resistance is what makes the pedaling difficult for you.
The factors that make them better than flywheel bikes include:
Resistance increases with speed, making it feel like riding a bike.
Different gear ratios are available, giving it a more natural feel.
The fan creates airflow that can cool you down when working out.
No need for electricity or changing brake pads.
The differences in recumbent bikes are due to the features offered by different models. Let's now have a look at the features that make a good recumbent bike.
Our Top Picks of the Best Recumbent Exercise Bikes
Let's now have a look at some of the best recumbent bikes that you can buy in the UK.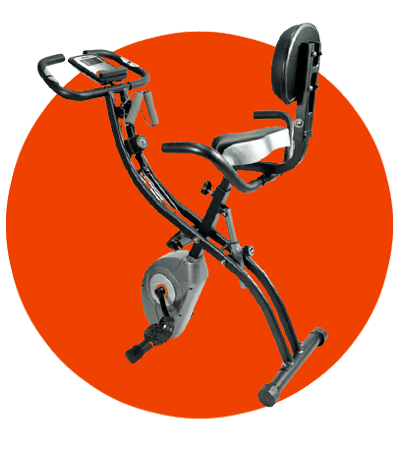 Ativafit exercise bike is popular due to its portability and smart size. Its X-shaped design makes sure it takes the least space in your room while being fully stable and safe to work out on. And if you want to move it, the built-in wheels allow you to do so without having to ask someone for help. You can also easily fold the bike and put it away when not in use.
Sitting and working out on the Ativafit exercise bike is comfortable for your hips and back. The size of the seat is kept large to decrease pressure on the hips when working out. And the back is designed to give you proper spine support.
Skid-resistant pedals with pedal straps make sure that your feet won't slip even if you exert all your force working out on this recumbent exercise bike.
Ativafit exercise bike is equipped with everything that you'll need for a thorough workout. Its magnetic resistance system has eight different levels that you can choose from to make your workout easier or harder. The resistance provided by this sophisticated system is smooth and consistent regardless of your pedaling speed.
Ativafit has fitted this recumbent exercise bike with a computer and an LCD screen. The heart rate sensors in the handles monitor your workout, and the LCD displays time, distance, speed, heart rate, and calories to help you keep track of your exercise.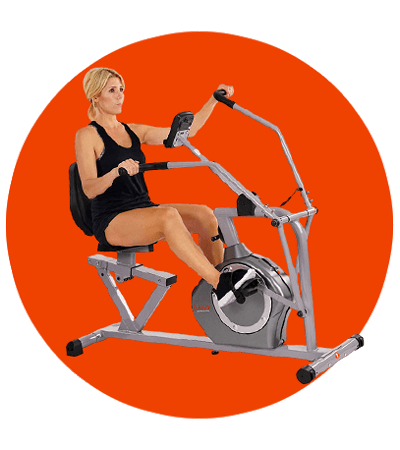 Sunny exercise bike is a full-body workout solution. Fitted with moveable handlebars, this workout machine lets you work your legs and arms in sync. And if you want a workout just for the hands, place your feet firmly on the ground, and you've got yourself an isolated arm workout.
Getting on and off is easy, thanks to an innovative step-through design that lets you sit on the bike and start pedaling without the need for swinging your leg over the bars. And a patented seat angle adjustment system enables you to adjust the sitting posture without getting off the seat.
Weighing just under 42kg, Sunny exercise bike can support a user weighing up to 160kg. If you want to move the bike, you won't have to lift 42kg because it comes with built-in wheels for the purpose. Sitting on its comfortable and fully-supportive cushioned seat, you can fine-tune the resistance of the magnetic flywheel by selecting one of the eight difficulty levels.
Sunny recumbent exercise bike features a heart rate sensor to keep an eye on your body's performance throughout the workout. The data is sent from the sensor to an onboard microcomputer that displays everything from the distance to the calories you've burnt on the LCD in front of you.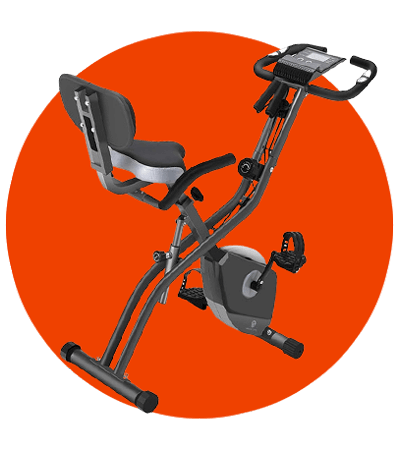 Magic Life exercise bike is designed to be comfortable for you and others around you. Its small size, which can get even smaller when folded, and the ultra-quiet magnetic resistance system make sure that it causes no inconvenience to anyone. However, the portability and smart size have not made this recumbent exercise bike any less capable. It is a 2-in-1 workout solution with pedals for your legs and resistance bands for your arms.
As recumbent bikes are all about user's comfort, Magic Life has equipped this bike with an adjustable seat so that anyone can work out comfortably regardless of their height. The cushioned over-sized seat distributes the user's body weight over a large area of the hips, eliminating the possibility of saddle sores, while the backrest provides optimum spine and lumbar support at the same time.
The Magic Life exercise bike is equipped with a pulse monitor that tracks your heart's performance in real-time and relates it to the LCD monitor positioned in front of you. There, you can also monitor your performance in terms of distance covered and calories burnt.
Pedaling resistance is more finely controlled in thcan is recumbent exercise bike than other offerings on this list. It has 10 resistance levels, so you select the one that best fits your comfort and fitness goals. Another thing that sets this bike apart is that Magic Life offers a 12-month limited warranty on it. So if any of the parts fail, they'll replace it.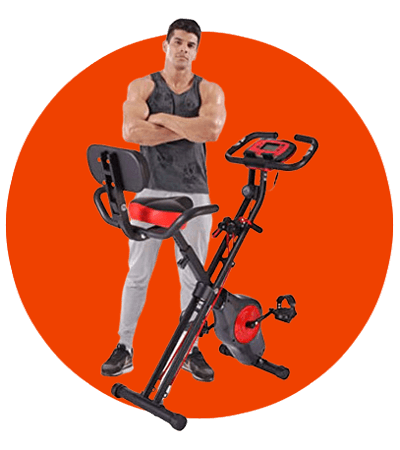 Yyfitt 2-in-1 exercise bike has it all. This recumbent exercise bike is foldable and stylish and can transform between an upright and a semi-recumbent bike. Yyfitt also offers one of the largest seats in this category – a seat that supports your back fully and makes the workout highly comfortable.
The seat is not only comfortable but can also be adjusted to two different height settings so that you can sit in the most convenient and healthy posture according to your height. And, when you're done working out, you can fold the Yyfitt bike and store it out of sight.
Yyfitt bike is not just 2-in-1 in terms of sitting portion; it is also 2-in-1 regarding the exercises it supports. Its arm resistance bands let you work out your upper body while you are paddling to strengthen your lower half.
Speaking of lower body exercise, the level of adjustability here is incredible. Unlike other bikes that have 8 or 10 resistance settings, Yyfitt offers 16 levels of adjustment. It's the finest possible control of the resistance your legs will have to work against when working out. And since a heavy magnetic flywheel provides this resistance, your paddling experience will be smooth and quiet.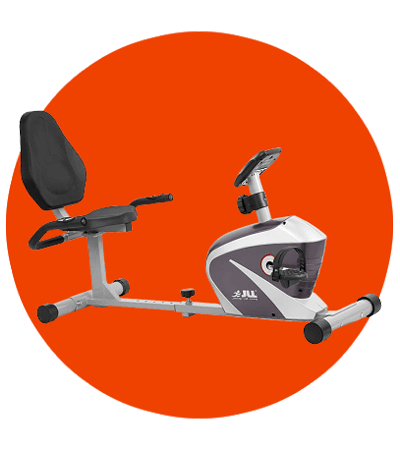 JLL RE100 exercise bike is designed with the utmost attention to comfort. The seat here is every bit as comfortable as any office chair. You do not have to move your leg over a bar or rod to start paddling. Just sit on the seat and put your feet on the paddles in front of you.
Also, you don't need to worry about your height. JLL RE100 has seven levels of horizontal adjustment, allowing you to move the seat nearer to or further away from the paddles as per your comfort. Moreover, moving the RE100 around is also very convenient. The end caps on the frame also act as wheels, and you can easily push the bike from room to room.
As per the functionality of JLL RE100, you get a 5kg flywheel that is driven by a belt and is incredibly smooth and quiet. A magnetic arrangement provides the resistance, and you can choose a suitable level from eight different resistance options.
Last but not least, you can keep track of your workout through the large LCD monitor right in front of the seat. Hooked to the monitor are two heart rate sensors, one on either handle. The monitor keeps you posted with a real-time pulse, distance, speed, calories, and all other relevant data you might need to know.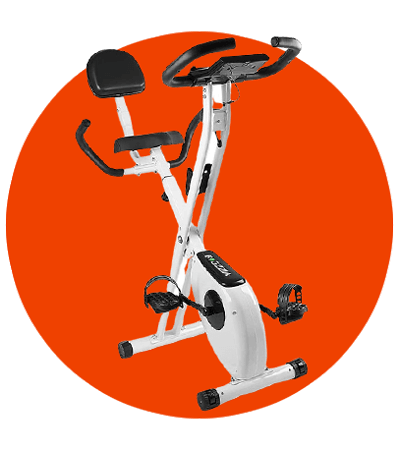 Bigzzia exercise bike is meant to be a 2-in-1 solution.Whether you want an intense upright paddling experience for building leg muscles or just a mild recumbent bike exercise, you can enjoy both with the Bigzzia bike. The lightweight metallic frame weighs in at just 18 kg but can still support 100kg of user weight. And the built-in wheels make it possible for you to transport this bike from one place to another with utmost ease and convenience.
Bigzzia recumbent exercise bike is designed to be comfortable for a range of different users. Its seat is cushioned to provide the optimal level of comfort and can be adjusted in three different ways to make sure you always work out from the position that's the most suitable for you.
A distinctive feature of the Bigzzia bike is the adjustable strap paddles. You can size the straps at your convenience for a better workout experience. These paddle straps also ensure that your feet don't slip off the paddles no matter what angle or speed you are cycling at.
You can adjust the magnetic flywheel in this bike among eight intensity settings; 1-2 for warm-up, 3-4 for cardio training, 5-6 for fat reduction, and 7-8 for muscle building and sharpening.
An LCD monitor is installed right in front of the seat to provide real-time information on your workout. It collects heart rate data from the sensors mounted on the handles and distance and speed data from the flywheel. The onboard computer calculates the calories you burn and displays all that data right in front of you.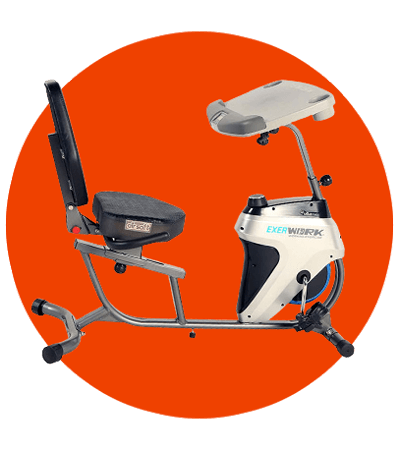 Exerpeutic exercise bike is the most advanced entry on this list in terms of design and technology.
Starting with the design part, Exerpeutic offers something that no other recumbent bike on this list has. It has a 2×1.25 ft desk built in the front of the seat. You can use this desk to place your laptop or any other working equipment up to 20kg weight.
Exerpeutic is the best option for people who want to save time by working on their computer while working out. Or, you can just watch your favorite TV show along with the workout; the possibilities are endless here.
The advanced design of this recumbent exercise bike does not end there. It also comes with a Bluetooth system that transmits all the workout data to the MyCloudFitness app that you can download on your Android device or iPhone. This app can keep track of your workout routine and display the data in interactive ways.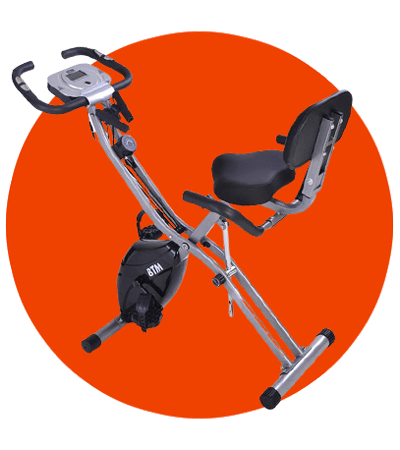 Merax fitness bike is an all-in-one indoor fitness machine. You can set it up as a recumbent bike or an upright bike. Moreover, there are integrated resistance bands that you can use for upper body workouts. The 2.5kg magnetic flywheel used in the Merax fitness bike has 10 different difficulty levels to control your workout's intensity. The design is foldable so that you can fold the bike and store it to save space after working out.
Merax's seat is designed to be as comfortable as possible. While the back provides ultimate lumbar support, the seat itself is made of very soft foam to minimize fatigue in the hips when working out. You can adjust the seat angle to fit your natural sitting posture to work out in the most convenient position.
Merax recumbent exercise bike is equipped with an LCD that gives real-time info on various workout parameters like your heart rate, the distance you have covered in a workout, time, speed, and the calories burnt. It also gives you the RPM of the flywheel – something not many recumbent exercise bikes measure and display.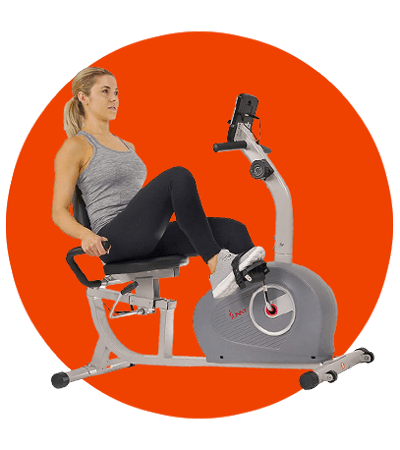 Sunny magnetic bike is another offering from Sunny Health & Fitness.It offers the same step-through design. Getting on and off is easier as you do not have to step over a bar. The weight limit for the user is 100kg, meaning almost anyone can confidently work out on it. Interestingly, the bike itself is lightweight and is fitted with transport wheels so that you can move it around without needing anyone's help.
The seat in this recumbent exercise bike is comfy, wide, and can be adjusted to your liking. While working out on recumbent bikes, it's your back and not your legs that give up first. That's why Sunny magnetic bike offers optimum lumbar support so that you can work out for those extra ten or twenty minutes that build up your muscles.
Safety is the next big thing that's been given due attention while designing the Sunny magnetic bike. The paddles have universal straps that prevent your feet from slipping when you are working out at a fast pace. And the frame is designed to stay planted on the ground and does not move from its place no matter how intense the paddling gets.
Paddling resistance is provided by a magnetic flywheel that has eight different difficulty settings. You can adjust it for anything from warm-up and leisure cycling to muscle build-up difficulty levels.
Sunny magnetic bike keeps you posted on your performance metrics via an LCD display, showing the time, distance, RPM, speed, calories burned, and pulse. You also get a phone/tablet holder in the front that you can use to place your devices to listen to music or watch videos, or just to simply have them there to keep an eye on the notifications.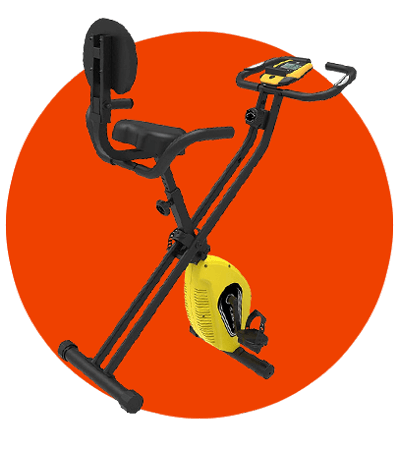 Fit4home exercise bike is a 2-in-1 design that can be used as the traditional upright exercise bike as well as a recumbent bike, thanks to the adjustable angles.
Its lightweight steel frame clocks in at just 15 kg but is incredibly sturdy and can support up to 100kg of user weight. All those qualities, and still, the bike is foldable. It has such convenient dimensions that, once folded, you can store it under your bed, making it the best option for people living in small apartments.
Fit4home recumbent exercise bike comes with a 2.5kg magnetic flywheel with eight levels of resistance adjustment. The magnetic system provides a smooth paddling experience and consistent resistance regardless of the speed. And the seat is adjustable, so you can move it to the position that suits you the best. For optimum comfort and a premium feel, the seat is upholstered in leather.
A pulse sensor senses how fast your heart is beating during the exercise and sends this data to the LCD monitor to help you track your activity. It means you can easily know your cycling distance, time, and calories burnt during the exercise.
Safety is also one of the things Fit4home really cares about. The anti-skid frame and wheels make it possible for you to work out on any surface without the danger of the bike slipping or moving from its place.
Benefits of Working Out on a Recumbent Exercise Bike
If you think recumbent bike workouts are a piece of cake, think again. They are among some of the most intense workouts out there.
Here are some areas where you can benefit from such workouts:
1. Stronger Heart, Lungs, and Veins
Sustained aerobic workouts improve the strength of your heart, increase lung capacity, and decrease resting heart rate. Such exercises are also helpful in regulating blood pressure, relieving stress, and boosting your mood.
A recent study has shown that working out on a recumbent bike at 80 to 100 pedal strokes a minute and performing four sets of 60 seconds can get you all the above-mentioned benefits.
2. Increased Muscle Strength
When you work out on a recumbent bike, the quadriceps, hamstrings, shins, calves, and glutes are involved. A study recently found out that performing recumbent bike exercises for eight weeks considerably increased the muscle strength in older females.
Another research showed that even though the muscle energy output is the same whether you work on an incumbent or an upright bike, recumbent bikes require the involvement of more muscles.
3. Comfortable Workouts
Other than offering all the benefits of cardio workouts, incumbent bikes are comfortable to work out on. The design of the seat makes sure your upper body does not fatigue, while the large size of the seat reduces the possibility of saddle sores.
4. Highly Customizable
Recumbent exercise bikes offer you incredible freedom of customization. You can set them to any level of resistance and recline their seats at any angle you want.
Features of a Good Recumbent Exercise Bike
When you buy a recumbent bike, you need to make sure it serves you well. The features you might want to look in them include:
1. Resistance Adjustments
The most important feature of any recumbent bike is the levels of resistance it offers. You need to go for the one that has a wide range of adjustments so that you can work out at any intensity level.
2. Size
Consider this one carefully. You don't want a bike that takes up half your living room, right? Recumbent exercise bikes are available in different sizes, so choose the one that suits you.
3. Technical Features
Different makers offer different technological features, such as:
Bluetooth connectivity.
Heart rate monitoring.
Digital display.
Preset workouts.
There are a lot of other features, too, depending on the brand. You don't need all of them; just get a bike with the ones that will help you with your workout.
4. Seat Size and Angles
Lastly, and most importantly, comfort is one of the aspects that you cannot overlook. Larger seats are more comfortable, and the more seat angles you have, the more relaxed you can be while working out.
FAQ
To Sum Up
Recumbent exercise bikes are a better alternative to their upright counterparts as the seating posture in this arrangement does not put much stress on your spine. These bikes are available in a number of configurations and designs. The choice depends on your personal preference, your budget, and the kind of use you are buying the bike for.