If the UK's unpredictable weather stops you from cycling every day, we recommend you to get the best turbo trainer right away.
A turbo trainer can convert a regular bike into a static fitness unit within minutes, and you can spend hours on it while staying in your home.
Moreover, this training tool enhances your cycling experience and can even bring the outside inside through extraordinary features.
Doesn't that sound fascinating? Of course, it does, and we are sure you want to explore more on this tool before you spend some pounds, right?
So, without delaying any further, dive deep into the plethora of information we have for you in this guide. From different types of bike turbo trainers to the eight best recommendations, you are in for a treat.
What is a Bike Turbo Trainer?
Simply put, a turbo trainer is a static training unit that holds the backside of your bike. You can either fix the wheel on the turbo's roller. Or remove the wheel and let the cycle's chain run on the turbo's cassette.
Both ways help to transform a running bike into a static machine that you can use indoors for exercise. For example, a turbo trainer works like a contraption so you can cycle at your pace and avoid knocking over your furniture and house plants.
Besides, this equipment is a great way to utilise your bike in dark and cold months. Also, if you are running short on time, this trainer can help you cycle inside without being stuck in traffic or being blocked by pedestrians.
Different Types of Turbo Trainers
Before selecting a turbo trainer for your indoor cycling plans, you need to enlighten yourself with the three different types.
Direct-Drive Turbo Trainers
A direct-drive turbo is quite a powerful trainer. Moreover, it helps to enable an authentic ride and enhances the accuracy of cadence and power.
To use a direct-drive turbo trainer for your cycle, simply remove your bike's rear-wheel and mount that part on a turbo's integrated cassette.
Some direct-drive units are also smart turbo trainers. It means they are efficient in data transmission and have some high-end features like Road Feel.
Smart trainers can easily connect with a training program such as Zwift and give you a virtual cycling experience. These units use an ANT+ connection or Bluetooth to do this job.
Direct-drive trainers are also famously known for providing quiet training. If you live in a shared apartment in the UK or have a house with thin walls, getting this turbo will make your flatmates and neighbours quite happy.
With so much power, functionality and precision to offer, the direct-drive turbos come with a hefty price tag. They are the most expensive units among the three options, but the results they deliver are high-quality and unique in every way.
Wheel-on Turbo Trainers
As the second most famous type of trainers, the wheel-on turbo trainers work when the wheel of your cycle is mounted on the roller. The rear wheel then pushes against the roller to generate resistance.
All wheel-on trainers are pretty cheap and quite common among home users. However, they are far less potent than a direct drive turbo and fail to offer a realistic feel when riding.
However, some expensive smart trainers operate with rollers and are as powerful as any direct-drive turbo trainer.
Rollers
Most professionals opt for rollers mostly. This type of turbo trainer allows your bike to be placed on two rollers.
However, those rollers don't offer any kind of resistance and don't even offer security for your unit.
So, why do some experienced trainers prefer a roller? It is because it is pretty convenient to carry it around. A roller is a portable trainer that can adjust in your car.
Moreover, this type of trainer works quite well with core training. Since it requires you to maintain your balance, riding a roller engages your body for good.
A roller trainer with a speed sensor or a power meter can easily connect with Zwift. However, you won't get any feedback and may not experience a realistic ride.
Best Turbo Trainers That Simulates the Outdoors
So, what do you think? Aren't turbo trainers worth an investment?
If you can't see your expensive bicycle sitting idly in a corner and giving you no return on your investment, wake up and get your hands on a suitable turbo right now.
However, with so many options to choose from, you might make the wrong choice. But with this list as guidance, we won't let your pounds go to waste.
Read through the eight recommendations below, and see if any of these strike your fancy.
For your information, all the units mentioned below are wheel-on turbo trainers.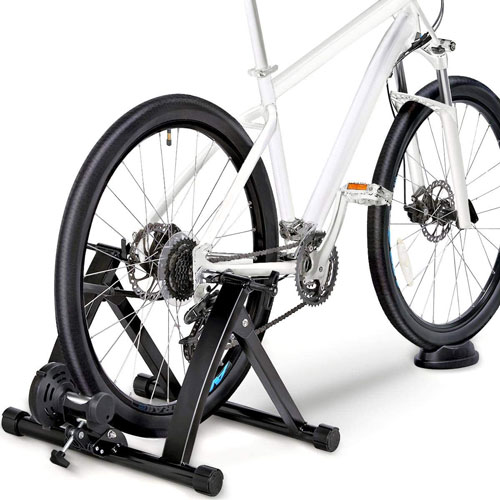 Yaheetech bike trainer is a sturdy unit that has a solid construction and design. This unit runs on magnetic technology and is made up of alloy steel to support 120kgs at a time.
Moreover, the Yaheetech trainer has an M-shaped structure for excellent stability and adaptability. All these features make this unit quite compatible with bulky indoor bikes.
This indoor trainer can accommodate 700C wheels or sizes 26 inches to 28 inches. Moreover, it features a release skewer that works quickly and demands a compatible wheel to function correctly. If you aren't a technical person, this feature will help set and pack the trainer in no time.
The Yaheetech trainer looks quite promising from the above information. However, it is vital to list some drawbacks to get a clear picture.
This unit runs on magnetic technology, which may be simple to operate but doesn't generate a realistic road-like feeling. Moreover, this trainer runs on manual operations. It doesn't have control handles, and you have to step down to change your resistance level every time.
So, considering the price of this unit, the missing features should have been there to make this unit an all-rounder.
Pros
Simple to set up
Stable
Durable
Good maximum capacity
Fits with most standard bikes
Cons
Expensive
Doesn't offer realistic performance
Demands manual efforts to change resistance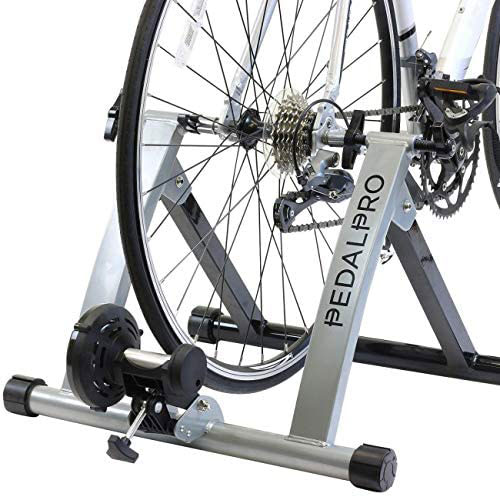 Made with a combination of aluminium and steel, this trainer is pretty lightweight and quick to set up. Moreover, it is portable and has good packability.
Besides, the PedalPro bike trainer is suitable for bikes for 700C wheels or 26 inches to 28 inches wheel size. However, it can only accommodate bikes as heavy as 90kgs. If your unit exceeds that limit, you may want to try some other trainer from the list.
The PedalPro trainer doesn't offer many resistance level options. Therefore, you will have to compromise your workout intensity and only train on the provided gear's resistance.
Besides, the PedalPro doesn't offer an LCD or app compatibility like other similarly priced units do. This lack of essential features may cause this unit to face some stiff competition.
However, if you are a beginner who requires something fundamental and want to train occasionally, the PedalPro bike turbo trainer may tick all the right boxes.
Pros
Simple to use
Perfect for beginners
Has a solid structure
Suits all standard sized wheels
Portable and lightweight
Cons
Doesn't offer LCD or app compatibility
Provides insufficient resistance and manual control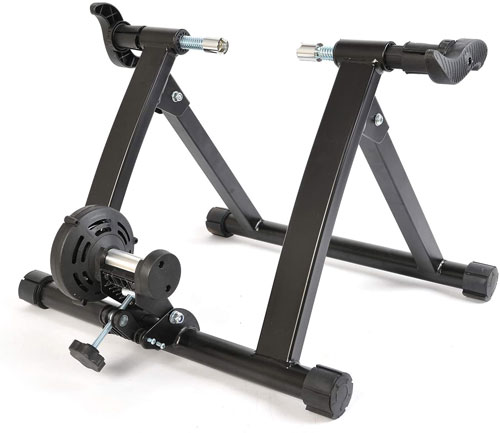 Are you tired of owning the best fitness equipment for your home gym that does not fold? Unfortunately, that's quite a common design problem with most training tools as they take lots of storage space around the house.
However, with the Rockbros bike trainer, you don't have to worry about this aspect. This unit folds quickly when not in use. Besides, it can also be stored easily in the most compact spaces.
The Rockbros trainer is super convenient to assemble and install. Thanks to its simple lock design, this unit allows a secure riding experience every time. Moreover, it can adjust to five different height levels for added safety.
This bike trainer has a solid steel body and can hold a maximum weight of 135kgs. That's quite an impressive limitation. Moreover, it offers magnetic resistance for quiet performance.
However, it doesn't offer a good value for money as with even basic features, and it has a price similar to most high-end trainers. Moreover, the resistance levels are pretty limited and may not work for challenging workouts.
Pros
Foldable design
Lightweight
Lock design for better security
Impressive weight limit of 135kgs
Solid structure
Cons
Doesn't offer good value for money
Limited resistance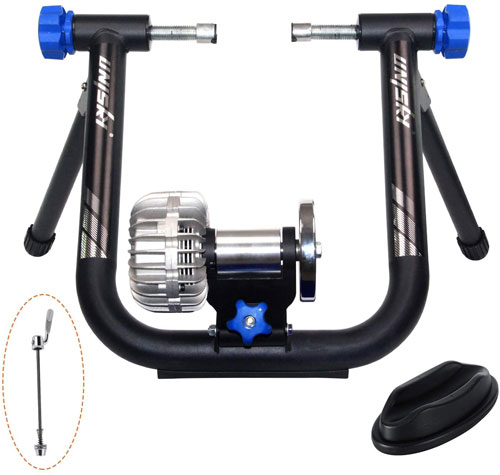 Do you aim to enjoy a more realistic experience when pedalling on an indoor bike? If yes, then the unisky fluid trainer may become your best option.
Moreover, this unit offers a secure performance through its well-designed lock system. This feature keeps your bike fixed in one place and reduces unnecessary movement. However, many consumers feel the system is unnecessary and do not offer a quick release.
Moreover, this unit offers a secure performance through its well-designed lock system. This feature keeps your bike fixed in one place and reduces unnecessary movement. However, many consumers feel the system is unnecessary and do not offer a quick release.
This bike trainer has a U-shape design that blocks irrelevant shaking. The structure also adds to the overall stability and gives you an uninterrupted riding workout.
Besides, the trainer's aluminium body has a solid base to hold 149kgs at a time. This is an excellent weight limitation and can suit many indoor cycles.
The unisky bike trainer is quick to install. Moreover, it has a foldable design and so can be stored easily. However, there have been complaints from customers about this trainer making noise.
Pros
Fluid trainer offers good resistance
Stable design
Foldable unit
Quick to install
Good weight capacity
Cons
Lock system doesn't offer quick release
Many users complained of irrelevant noise while using this trainer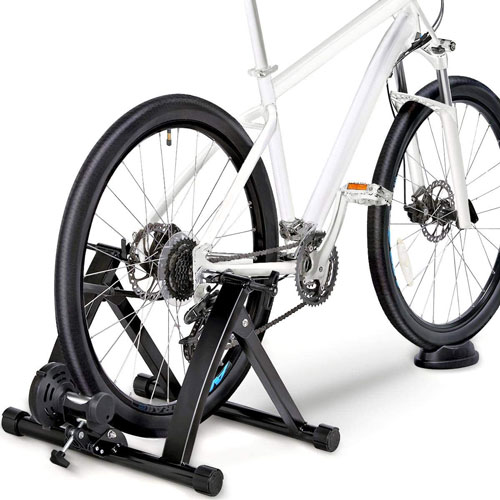 Another compatible bike trainer from Yaheetech, this unit offers many impressive features. For instance, it has a six-speed adjustment that can quickly fluctuate by using the handlebars. You don't have to step down from your bike to change the resistance level according to your comfort.
Moreover, the bike trainer has a solid steel design that can hold a maximum weight of 120kgs at a time. However, if your cycle is bulkier than this limitation, you may want to consider an alternative.
The Yaheetech trainer offers a space-saving design and folds down when not in use. Besides, it doesn't require much effort to install or assemble this unit.
However, while using this trainer, you may experience some noise. If you live in a shared apartment, this drawback may not work well for you.
Pros
Six-speed adjustments offer good resistance
Space-saving design
Compatible with standard-sized wheels
Easy to install and use
Cons
Can't hold the weight above 120kgs
May produce noise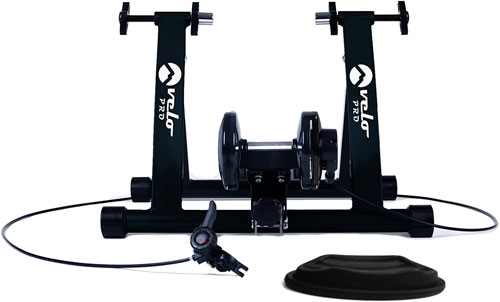 Do you know that a bike with a trainer is far cheaper than purchasing a separate exercise bike for training? And when you have the best units like the Velo Pro turbo trainer in your home, your experience gets better ten-folds.
The Velo Pro trainer is a compatible unit for almost all static bikes. This unit offers six resistance levels that can be shifted using the handlebars. Moreover, the magnetic roller generates smooth spinning and quiet performance.
This trainer is a perfect tool for a home workout as it is easy to install and remove. Moreover, its solid body and well-designed structure enhances stability and gives you a secure riding experience.
However, if your bike has disc brakes, you may want to consider another trainer or buy an adapter to replace the skewer given. Moreover, since this trainer runs on magnetic resistance, the training may not feel very realistic.
Pros
Quiet and affordable trainer
Quick to install
Smooth spinning
Stable body
Cons
May need an adapter with disc brakes
Do not offer a realistic training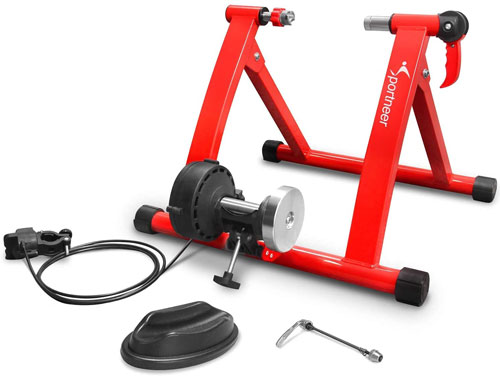 Sportneer is one of the best brands to offer excellent quality training equipment. But does this trainer match Sportneer's standards? Let's find out.
The Sportneer trainer is a loud unit and fails to deliver smooth resistance. However, it has a few plus points that make this trainer good enough to take a spot on this list.
Firstly, this unit has a broad base that increases stability. Moreover, its rubber feet reduce unnecessary movement and allow smooth riding.
The Sportneer bike trainer offers six easily adjustable resistance levels. If you are a beginner, you may want to start with low resistance and go up gradually.
Moreover, the unit offers an easy release design that can accommodate a quick shift from an indoor bike to an outdoor one. Besides, this unit is compatible with a standard wheel size of 700C.
Since Sportneer trainer is an affordable unit, it is pretty popular among users. However, if its drawbacks outweigh its benefits for you, you can always go for another better option.
Pros
Broad base offers good stability
Solid-body
Six resistance levels
Efficient release system
Affordable
Cons
Noisy
Doesn't offer smooth resistance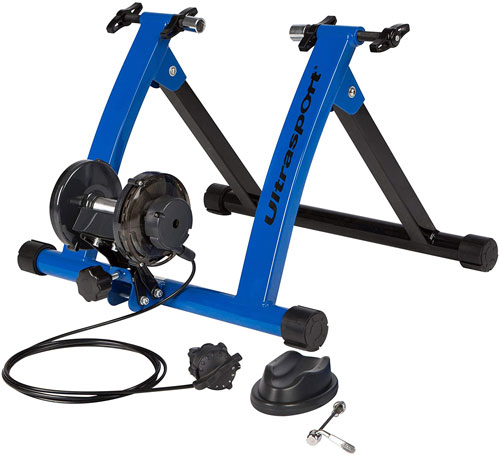 The Ultrasport trainer is a pretty effective unit for all kinds of bikes. The ergonomic design and adjustable resistance allow every rider to experience a regular workout.
Moreover, the steel construction contributes towards better sturdiness and enhances an overall safety level.
Another worth-noting feature of this trainer is that it has a foldable design. When wrapped up after training, it converts into a compact unit that you can store anywhere.
However, since this trainer works on magnetic resistance, expect it to produce noise when in use. Moreover, it doesn't offer a realistic experience, and you may not get any road-like feel while using it.
Pros
Ergonomic design
Adjustable resistance
Stable structure
Foldable
Cons
Produces noise
Doesn't provide a realistic riding experience
How to Pick the Best Bike Turbo Trainer In the UK?
Do you think that all the above options look promising, and it is hard to select one from eight? We understand your confusion and have identified some factors to consider before you purchase an efficient turbo trainer.
Want to know about them? Keep reading.
Compatibility With the Bike
Most trainers fit a variety of bikes without any hassle. However, before you head out to choose a unit for yourself, read its specifications and double-check your bike's specs to avoid confusion.
Moreover, some direct-drive trainers may require you to purchase a separate cassette that should be compatible with the bike's drivetrain.
Fluid or Magnetic Trainer
Every trainer runs on either a magnetic mechanism or a fluid one. If you are buying a basic turbo, you can go for a fluid one as it offers better resistance, supports high-intensity workouts and offers a road-like feel. Besides, the fluid mechanism is also very quiet and works best for indoor training.
However, fluid trainers are expensive and may not fit well within your limited budget.
A magnetic trainer is pretty simple to use and is also relatively inexpensive. However, it lacks performance and may fail to provide enough variance for your workout. But magnetic units are great for beginners or those looking for an affordable tool.
Also, here is a fun fact. Most smart trainers use magnetic technology. However, the one used here is far more sophisticated and efficient than you see in a basic trainer.
Durability
If you aim to use a trainer for intense workouts, don't compromise on the durability of this training unit. Make sure that your chosen trainer is made up of long-lasting and sturdy material.
Moreover, do check whether its design and structure reflect its performance and quality.
Set-up and Connectivity
Before buying a trainer, make sure you understand the procedure to set it up. Some units don't take time to assemble and fix your cycle, while others are pretty complicated.
If you are a newbie without any professional experience, we recommend you to go for a quick-to-assemble unit for your at-home workout.
Moreover, if you have bought an expensive smart trainer, make sure it easily pairs with Zwift or other virtual training programmes. Most users hate facing technicalities with machines, and if you are someone similar, consider this factor very important.
Packability and Weight
Trainers are available in different weights, sizes and shapes. For instance, most wheel-on trainers are lightweight and easy to pack units. On the other hand, direct-drive units are bulkier and complicated to carry from one place to another.
Since this will be your first time using a bike turbo trainer, you will most likely find it cumbersome to set a heavy unit and then pack after every training session. So, before you buy a trainer, make sure to check its weight and portability.
Resistance and Power
Not all turbos produce similar power and resistance. Some provide a maximum capacity of 1500 watts, while others can generate as much as 3,500 watts.
However, if you are a beginner, power between 1500 watts to 2000 watts will suit everyone. But if you are a professional sprinter, even 3,500 watts may seem low for you.
A powerful bike turbo trainer would offer more resistance and a challenging workout. Moreover, it will help simulate a compatible incline from the trainer.
Noise level
A majority of trainers today are less noisy than they were some years back. Thanks to advanced technology, even the loudest on-wheel trainers have become quite sophisticated.
However, if you are looking for a silent unit, there is no alternative to a direct-drive trainer. It works best if you live in a shared UK flat or with a family of many members.
Additional Accessories
Many accessories can accompany your turbo trainer and improve its performance. But that depends on your preferences and the value of those accessories in your training.
For instance, a pulse sensor is a great accessory to track heart rate. However, many cheap trainers do not have this feature, but getting a separate power meter can do the job if you fancy one.
Besides, for some users, a training mat may work perfectly to reduce noise. Moreover, it can also absorb sweat and minimise slippage.
When buying a smart bike turbo trainer, you may have to get an extension to plug the unit with the main electricity supply. Moreover, if you want to connect the trainer with the Swift App, a laptop stand is essential to hold your gadget firmly while you pedal away.
Some of you may not feel the need to buy any of these accessories. But if you think you can't perform well without these things, the best decision is to purchase them.
However, be prepared to increase your overall cost by making this expenditure.
Price
Does the price of a trainer justify its features and performance? Does the packaging include the required adapters, spacers and cassettes?
Make sure to ask yourself these questions before you bring a turbo unit home. It is silly to invest in a machine with a high price tag but zero efficiency and no essential accessories.
Customer Reviews and Ratings
Always go through the latest customer experiences and reviews before buying any training product.
At times, most of us are inexperienced enough to recognise a problem in the unit, and a review can help highlight that point for you.
Moreover, reviews are written by consumers like you who have used the trainer for some time. They understand its performance.
It is why they are the best people to look for before you form an opinion on a trainer.
Best Bike Turbo Trainer Workouts
Has the introduction to different types above helped you to make a decision? If yes, you are definitely on the right path to achieving cycling greatness.
However, do you even know how to use a bike turbo trainer to enjoy maximum benefits? Not sure?
Since you are new to the world of this training tool, we expect you to know nothing at all. And hence, we have prepared a list of four workouts that you can enjoy while cycling under your roof.
To know the details, take a look!
FAQ
Do you think you are just a few steps away from buying the best turbo trainer to enjoy a workout inside your UK home?
If yes, don't skip the questions below, as these can help answer any doubts you still have in mind.