Do you have a weighted vest in your gym gear? If not, you may be missing out on a piece of incredible fitness equipment made to intensify your workouts.
A weighted vest is worn on the upper part of your body and adds additional weight as resistance to your training. It can help elevate your heart rate, improve your endurance and develop muscle strength.
Also, it makes any easy movement challenging, thus increasing the rate at which your calories and fats burn. You can wear it while doing some push-ups or even running on a track. Most enthusiasts sport a vest during Crossfit workouts to challenge their bodies progressively.
So, if you are looking for a perfect weighted vest in the UK to enhance your fitness goals, you are in for a treat. In this article, we have listed the ten best weighted vests for you. Moreover, there is a detailed buying guide for your assistance. If you are ready, let's dig in.
What is a Weighted Vest?
If you think a weighted vest is just an open half jacket with a hook, you may want to reconsider this information. It is a garment made with weights that vary according to your requirement. You wear it on your upper body to increase your workout's overall resistance and level of challenge.
Some weighted vests do resemble bulletproof jackets and make you look pretty classy. However, they come in different designs and sizes for varying body shapes.
While you usually wear them during running and bodyweight exercises, they are pretty helpful for free weight training. Since these vests force you to wear additional weight on your body, they make even the simplest tasks harder.
Besides, wearing a weighted vest during a workout means you hardly get bored. It stimulates your body to perform better and win over all the hindrances caused by the increased resistance.
So, if you are someone who loves a challenge to stay motivated, a weighted vest does deserve a place in your gym attire.
Different Types of Weighted Vests
By now, we are sure you may be interested in adding a weighted vest to your training arsenal. However, there are two different kinds of them, and it is not easy to choose the best one.
So, before you make an error, enlighten yourself with the types of weighted vests available in the market.
Adjustable Weighted Vest
It is the most common type of weighted vest that most gym enthusiasts use. As the name suggests, this item can help you adjust the weight in your vest according to your comfort.
It has many pockets that you can conveniently fill with steel plates and sandbags. These slots have a clever design, so the weights can easily fit in them without hindering your performance.
If you crave better muscle strength, you may want to get your hands on an adjustable weighted vest. It is because you can add more weight and safely progress with your fitness goal.
Moreover, an adjustable weighted vest is appropriate for people who want to purchase a versatile vest to carry out different exercises. For instance, you may wish to use a 60Ibs vest for squats but can't handle more than 10Ibs for push-ups.
In that case, you don't have to invest in separate equipment. You can conveniently add and minus weights in an adjusted weighted vest and get the job done.
Fixed Weighted Vest
A fixed weighted vest comes in a single size. You can't make any adjustments, and you will have to use it for all kinds of exercises. Since it isn't flexible about weight, a fixed weighted vest is mainly best for cardio training.
This category of vests is perfect for people looking for something sleek and easy to put on. A fixed weighted vest covers only a tiny part of your body as it has a pretty compact and well-fitted design.
If you don't care about adjusting the weight as you progress with your workout, you may find a fixed weighted vest ideal for a gym wardrobe.
To stay on the safe side, you can buy a 10Ibs vest and carry on with your running and cardio. If you think you are capable of more, you can buy another vest if you want.
The Best Weighted Vests You Can Buy in 2022
Here's hoping the information above has made you a weighted vest expert by now. So, if you are clear about what you want and can't wait to explore the best options in the market, read the reviews below.
We have researched and selected the best weighted vests to buy as soon you finish reading this article.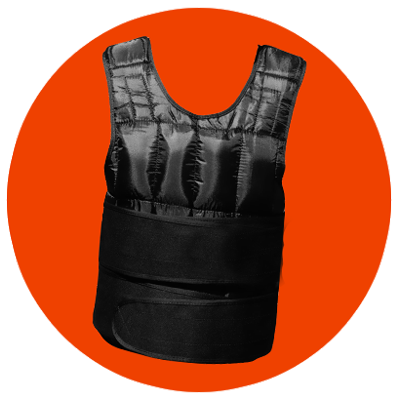 Suppose you fancy an effective and comfortable weighted vest while running or weightlifting; you may want to consider the BodyRip weighted vest for your workouts. Made with durable neoprene, this vest may help you achieve your goals. Moreover, it comes with large straps to offer you a secure and tight fit.
To maintain the shape and weight of this item, the sandbags are evenly spread throughout the vest. Besides, these bags are removable and can be swapped with metal pieces to increase the weight of this equipment.
One of the best characteristics of this vest is that it doesn't readily absorb sweat. The padded lining and flex fitting gives this equipment a comfortable body that doesn't make you stink even after a continuous session of vigorous exercise.
If you love running after sunset, the reflective surface of the BodyRip vest makes the experience safe for you. Moreover, it is super convenient to clean using your hands only.
The BodyRip weighted vest may be a little over-sized for some, but it doesn't hinder your movement much. However, you should tighten it properly to prevent unnecessary rubbing and chaffing.
This weighted vest can help accelerate your fat-burning process during cardio training and enhance your fitness standard to a great level.
Safe with large straps
Made with neoprene and reflective elements
Doesn't absorb sweat easily
Accelerate fat burning
May look too big to handle
Large straps may open with pressure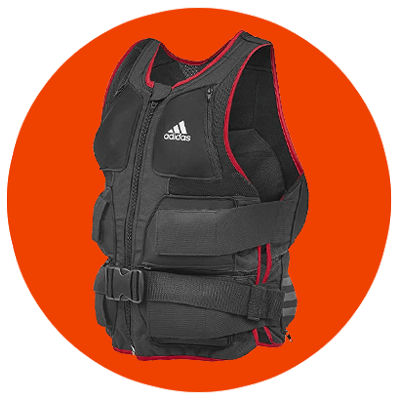 The intuitive design and stylish features make the Adidas Weighted Vest pretty popular among fitness enthusiasts. Since Adidas is a big name, it is pretty apparent to expect it to deliver top-notch quality with all its products.
This vest covers your whole body and may look like you are wearing a coat, but the well-thought-out design doesn't allow it to feel obtrusive. Moreover, it is pretty lightweight, so you can comfortably run in it without much resistance.
It has weight packs smartly placed throughout the vest to ensure performance, comfort, and proper balance.
However, the Adidas weighted vest cannot exceed the 10kg weight mark. So, if you want to buy this vest to increase the overload progressively and grow muscles, you may consider alternative options. This vest is much more suitable for runners and sprinters who want a fixed vest.
According to Adidas, this vest is a carefully curated item made with the support and ideas of a few top athletes. And to be honest, it is pretty visible in the end product.
It has a front zipper and a strap supported by a buckle to make it an adjustable piece of equipment for users with chest sizes between 38 and 50 inches. Moreover, it uses durable material that can withstand even extreme pressure without tearing the vest apart.
Also, as a part of its ergonomic design, the two D-rings allow you to attach a parachute with the vest to experience explosive workouts.
While looks may not be a significant factor when finding a weighted vest, Adidas takes that seriously as well. A black body with red borders and an Adidas logo in front makes this weighted vest quite a classy piece to own.
Ergonomic design with eight pockets and a zipper
Adjustable design for different body sizes
Durable material
Stylish Features
Weight limited to 10Kg
Not ideal for progressive workouts
Expensive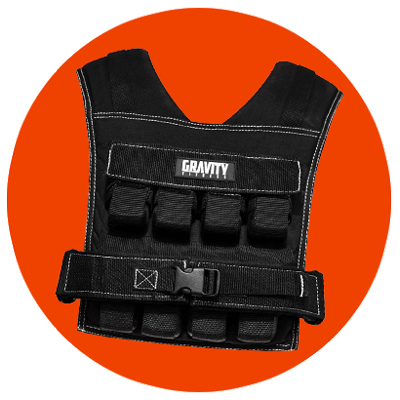 Based in the UK, Gravity Fitness is an emerging company that excels in fitness equipment and is slowly making efforts to become the leader in this industry. It aims to provide quality with stable features so that every athlete can benefit from its excellent products.
The Gravity Fitness weighted vest is one of the most impressive pieces of equipment from the product line that sits well with the company's objectives. It has a nylon body which makes the vest quite breathable and hard-wearing.
Moreover, it has 20kg of weight included in its design to push yourself to your limits and enhance your stamina.
While it isn't one of the cheapest weighted vests on this list, its unique features make it entirely worth the money. Unlike other brands, the Gravity Fitness weighted vest uses iron weights.
Sandbags take more area and make the vest feel bulkier. However, the iron weights provide versatility with workouts and act as great training aids. Moreover, they are pretty much removable so that you can adjust the weight according to your ease.
The foaming padding and the velcro straps give immense support to your body. The vest fits all sizes and feels like a part of your regular gym wardrobe.
Moreover, the tight fit allows you to carry out all kinds of movements without rubbing the surface. The product comes with a five-year warranty. However, with such excellent quality, you would hardly need such backup.
High-quality nylon body
Uses adjustable iron caste weights
Breathable
Support from straps and padding
Fits all sizes
Expensive than many
Not waterproof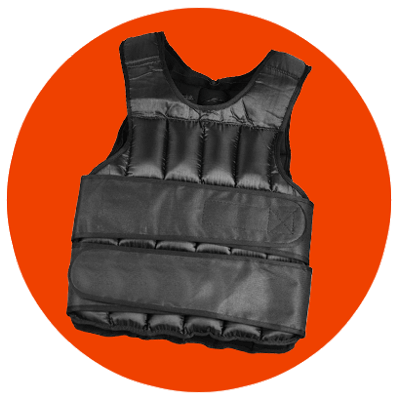 It is hard to find a top-quality weighted vest that doesn't feel like a burden on your limited budget. But if you are looking for a mid-range vest, you may want to consider JLL weighted vest as a possible option.
Available in the 10kg to 30kg weight range, the JLL weighted vest can make a pretty versatile addition to your gym gear. You can conveniently use it for hardcore training or even simple home workouts.
It has an innovative ergonomic design with lots of pockets to adjust the overall weight according to your desire. Want to challenge yourself? A progressive overload will push your body and increase your stamina to do better every time.
It is a secure vest, thanks to two big velcro straps. However, with 20kg+ vests, the straps open easily with intensified workouts and are pretty tricky to handle.
Moreover, the pockets also have their belts, but they are not very supportive at times. With exercises where you have to move upside down, the sandbags may fall off with unsafe openings.
The JLL vest uses breathable fabric that doesn't make you stink, thanks to its poor sweat absorption characteristic. Moreover, the material is machine washable, but remove the weights before giving this vest a good spin.
The padded design adds flexibility to this product. You don't have to worry about your size when buying this vest. It can comfortably fit all body sizes without making you feel uneasy.
Budget-friendly vest
Available to add versatility to different weight workouts
Breathable material
Machine washable
Weak straps on the pockets
Hard to wear a 20+kg vest
Main straps open with increased weight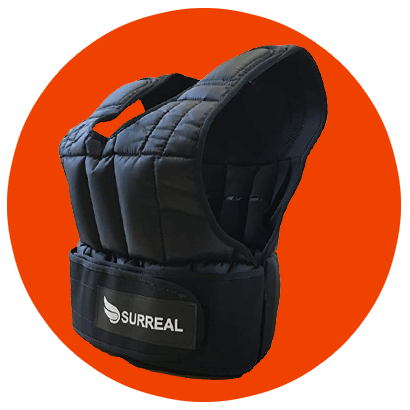 This adjustable vest is one of the most popular options for athletes worldwide. Thanks to its comfortable layout and versatile features, you may want to invest in this vest for your cardio training sessions.
It is pretty rare to find a vest that supports and balances your body perfectly. However, the Surreal weighted vest is a beautiful exception.
The vest comes with weights adjusted in the front and two weight rows on the rear part of the vest. Moreover, the two straps are perfect for holding your body in place so that you can comfortably perform your best.
The Surreal weighted vest can provide you with the convenience of wearing 20kg on your body without feeling the load. You can remove and adjust the weights according to your ease and experience a hassle-free workout.
This vest uses sandbags that are available in different ranges of weight. You can wear the vest and go running or Crossfit. Or, if you want to challenge your body more, you can use the 20kg vest to perform some push-ups and chin-ups.
The Surreal vest has a body made with waterproof and breathable fabric that is durable and long-lasting. It also comes with excellent padding that allows you to increase your weights without any wear and tear. The vest is reasonably priced and makes a good investment.
However, some customers complained of sandbags being fiddly. Moreover, a few users have experienced poorly stitched pockets.
If you want to consider this vest, go through reviews and analyse whether the benefits outweigh its possible drawbacks.
Good build and padded design
Made with breathable material
Strong straps and versatile weights
Reasonable price
May have poorly stitched pockets
Comes with fiddly sandbags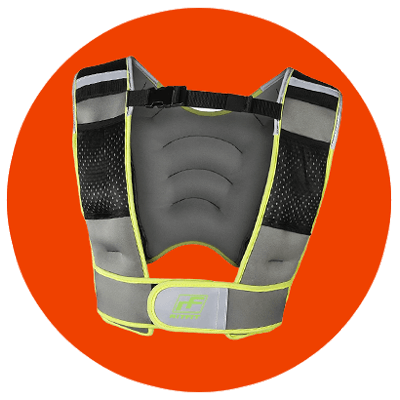 If you crave increased muscle strength and extensive weight training, the RitFit weighted vest may help you accomplish your goals. Available in different weight options, this vest is ideal for both men and women who love to work out every day.
Made with neoprene, this vest is amazingly breathable and soft. Since neoprene doesn't absorb sweat easily, you won't smell bad even after the most rigorous workouts. The vest uses chemical-free iron sand that helps to increase the overall balance and support of your body.
The RitFit vest has mesh pockets in the front to store your essential belongings like keys or a smartphone while you are out for a jog. It also has side and front adjustable straps to support any type of body weight. You don't necessarily have to have a sleek waist to wear this vest.
Also, the double strap ensures flexibility so you can be carefree with your physical activity. However, there have been cases of straps coming off with hardcore workouts.
The RitFit weighted vest has reflective strips as part of its ergonomic design. This feature ensures your safety during an evening outdoor workout.
The vest's shoulders have wide tapes to prevent any bruise or fatigue on the upper body part. All these impressive features make this weighted vest quite a deal worth taking.
The RitFit weight vest is easy to clean with a wipe or sponge. As per the manufacturer, make sure to hand wash this vest to maintain its quality for a longer time.
Available in different weights and provides an adjustable design
Comes with straps to support all body types
Breathable material
Flexible pockets
Easy to clean
Heavier than a 20kg dumbbell
Straps may come off with hard training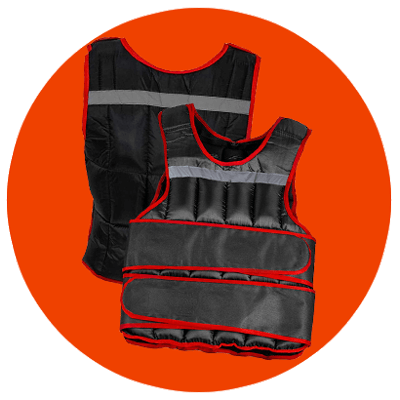 The Xn8 weighted vest will help bring a significant change to your daily workouts. If you are into bodybuilding and loves spending time on hardcore training drills, you may want to wear this vest and witness a positive change in your stamina and muscle power.
It is an adjustable vest that comes with sandbags as weights to achieve a required balance. Moreover, the front pockets help store your weights safely to prevent any accidents while training.
This vest has a neoprene body for a long-lasting and durable finish. Moreover, this material is super soft so that it doesn't irritate your skin in any way. The visible straps allow you to use this vest even during late-night workouts.
The internal padding provides an added comfort, and the front straps make sure the vest is easy to put on. Even if you are moving your body rigorously, the straps will keep the vest in place.
It is a well-made vest with an affordable price tag. However, while it is inexpensive, it has a few loopholes in its design.
The Xn8 weighted vest doesn't have a compact design which may disappoint many of you looking for a slim vest. Also, it lacks good stitching, and there are many customer complaints to back this stance.
Made with neoprene for a durable finish
Breathable
Comes with visible straps
Strong straps
Affordable
Lacks good stitching
Not for people looking for a compact vest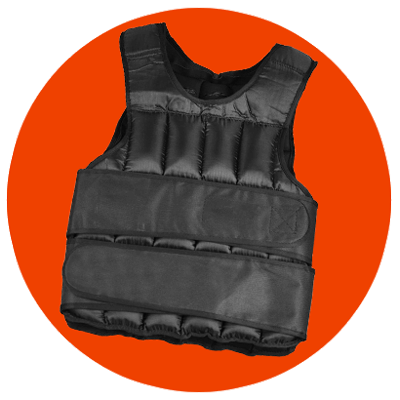 This vest is one-size-fits-all equipment and is one of the most cherished items available on the TNP product portfolio. While it isn't the cheapest weighted vest in the market, it has a few noteworthy features that make it stand out from its competitors.
The vest has a sweat-proof body and uses materials that are both soft and durable. This weighted vest also has shoulder padding that is quite a necessary feature. It prevents any shoulder bruise or fatigue and makes your workout session hurdle-free.
Besides, the TNP vest has double straps to hold your body together and keep the weights intact in their position. It uses removable sandbags to adjust the weight of your vest so you can conveniently train at your own required pace.
While this isn't a fancy-looking vest, it can make a brilliant candidate for athletes who want to invest in good quality equipment.
Made with sweat-Proof material
Comes with shoulder padding for better support
Durable straps
Uses removable sandbags as weights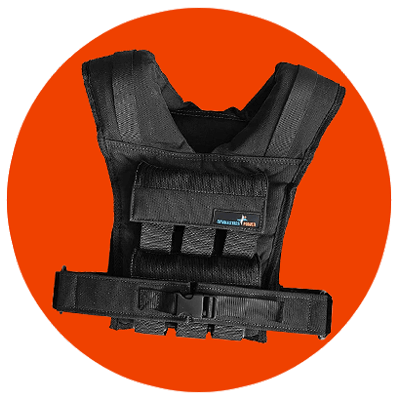 A stylish weighted vest that helps to increase your stamina and improve muscle strength is everything a good athlete looks for incompatible gym gear. The Gymnastics Power weighted vest offers that and much more.
It has 16 iron cast weights as a part of its compact design to keep your body achieve a perfect balance during a workout. Each weight measures 1kg, and you can adjust them according to your preference.
When it comes to durability, this vest doesn't disappoint. It uses nylon fabric which is pretty strong and doesn't tear easily. Moreover, the vest's shoulder straps have foam padding to provide maximum comfort even during long and tiring workout sessions.
The weighted vest hugs you well when you are training. It suits all body types, but overweight individuals may find it a little tight. Moreover, it can result in overheating if worn for long consecutive hours.
Made with strong fabric
Has padded shoulder straps for support
Uses iron weights for better performance
Comfortable slim fit
May not be appropriate for broad chests
Can cause uncontrollable overheating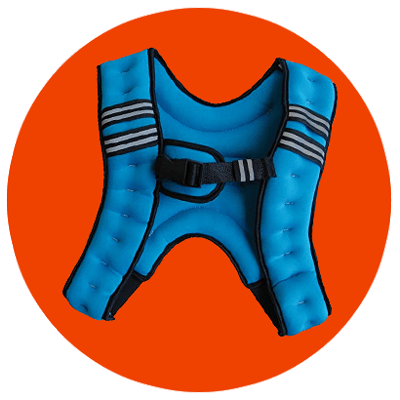 Taking the last spot on the list of the ten best weighted vests, Vailge vest is a valuable gear for both men and women trainers. It has a body made with neoprene fabric that makes this vest super soft and elastic to wear.
It uses iron sand as weights to achieve the right balance for your body. Moreover, multiple dividers keep the sand pebbles separate from each other for equal distribution.
The Vailge vest has an ergonomic design that features adjustable straps to prevent the vest from sliding while you are busy burning calories. Moreover, it has double stitches that portray quality craftsmanship.
The thick shoulders deliver an even balance and prevent your body from all kinds of fatigue. While this vest fits most people, it doesn't have an attractive design. Moreover, it is a little too expensive as compared to its competitors.
Made with neoprene to provide a soft and elastic vest
Uses iron sands for better support
Adjustable straps
Quality stitching
Not a vest with an attractive design
Pricey than many similar products
How to Pick the Best Weighted Vest?
While the above reviews will help you choose the one, you may want to explore other unmentioned weighted vests that may strike your fancy. In that case, it is vital to look at a few factors before you pick your favourite.
Know the Body Type
Do you have broad shoulders, or are you a sleek person? Are you a woman with curves or flat muscles? Whatever you are, you should be clear of the kind of body you own and buy the vest accordingly.
A weight vest comes in different sizes and shapes. Some are made specifically for women. So, if you want to purchase a vest online, read the description and see whether it supports your body type.
However, if you're going to buy it from a shop, try it once before bringing the vest home.
Compact Design
To make sure a weighted vest is comfortable to wear and supports your training, it should have a compact design. While a fixed vest does meet this criterion, many adjustable weighted vests cover the whole body and make it hard for you even to move.
Breathable Material
If you want to wear a vest and exercise for hours, make sure it uses breathable material. It is not a great feeling to smell like a stinky human during a workout.
So, for that, choose a vest that provides excellent ventilation for your sweat. A thin vest that covers just a tiny part of your torso will be a great option.
Price
This factor depends from person to person. But if your pocket allows you, invest in a high-quality weighted vest. It is more important if you are a fitness enthusiast who would use this equipment for an extended period.
Most expensive vests offer better mobility and provide enough capacity for additional weight. Moreover, they use good material and fabric for a comfortable experience. Some branded and famous vests are also odour-resistant and waterproof.
Customer Reviews
Don't forget to consider customer reviews and ratings on your chosen product to make a perfect choice. You will get a good idea of why a particular vest is good and why it isn't. Moreover, you can also watch expert reviews on YouTube to help you solve all your queries.
Benefits of a Weighted Vest
To help you understand this product better, here is a list of the most prominent weighted vest benefits. If you are still confused about whether you should buy one or not, read through the information below and help yourself in making the decision.
Enhances Intensity
Are you into calisthenics, cardio, or even simple home workouts? Regardless of what you like doing to stay fit, a weighted vest can help enhance the intensity of your activity to encourage you to reach your goals faster. Moreover, a heavy vest amplifies the overall workout power.
But you shouldn't go overboard with your vest's weight just because you want to burn calories faster than your peers. The chosen weighted vest should be safe and sustainable for your body so you can enjoy a long session without harming yourself.
Builds Muscle Strength
With increased resistance, your muscles grow and get strong. By wearing a vest, you exert pressure on your muscles and force them to break down. Once they do, muscles re-grow and become enormous with enhanced strength.
While you may choose a dumbbell to do a similar job, a vest provides you with the benefit of working out with your hands, free of any gym tools. Moreover, it is a safer and minimalistic option, provided your vest's weight is perfect for you to carry out any physical activity.
Helps to Lose Weight
If you crave a lean body, you may want to give a weighted vest a shot. It accelerates the burning of calories and fats and gives you the body that you desire. However, to make them happen at a good pace, you need to follow an effective bodyweight workout with discipline.
Moreover, you should also visit a nutritionist and get an appropriate diet plan to balance the calories lost in training. Without a healthy balance between your activity and food intake, even a weighted vest won't make much difference.
Improves Bone Density
For those unaware, fitness is not just limited to muscle strength. If you want to call yourself fit, you may need to gain a few bones too. Similar to weightlifting, a weighted vest helps to increase your bone density and strength.
An improved bone density is essential to balance your body and support its structure. Moreover, it enables a strong posture and makes you look youthful even in your 50s.
Grows Endurance and Stamina
If you are a beginner or even a regular gym-goer for years, you would understand how difficult it is to build stamina and endurance. A disciplined fitness life helps you develop a robust body, and a weighted vest accelerates that process to a great level.
To develop better stamina, you need a strong mindset and an improved lactate threshold. A weighted vest helps to achieve just that and more. Running with a vest on and then removing it after you finish will make you appreciate the difference it makes to your endurance.
Boosts VO2max
Do you know how much oxygen your lungs can absorb at a single time? VO2max is a term that defines the capability of your lungs to take in a certain amount of oxygen. If your muscles are continuously working with force, they will demand more oxygen to grow.
When you exercise with a weighted vest on your body, the extra pressure on your muscles and bones persuades the lungs for more oxygen. It helps improve your V02max and prevents you from going breathless after just a few push-ups.
Increases Power And Speed
Who doesn't fancy a powerful body that can run with the speed you desire? We all do! While it's hard to become Usain Bolt in a day, you can always wear a weighted vest to boost your power and body's strength to achieve an explosive speed.
If you want to train yourself to become a good runner or sprinter, a weighted vest can help you do that. Wear one regularly for a month during your training, and you will witness a visible difference.
FAQ About Weighted Vests