Do you wake up every day to trawl the internet only to look for the best spin bike? If yes, you are not alone. Many users like you are usually on a hunt to find a compatible bike for a regular home-workout.
But why? Here are a few reasons.
Exercising at home has become a norm these days, which may continue for a long time.
Moreover, the unpredictable UK weather makes it far easier to train in your safe space. No one likes to drench in the rain on their way to the gym, right?
But most importantly, the best spin bikes in your tiny home gym allow you to stay fit at your own space. You can exercise whenever you want and enjoy the fantastic flow of endorphins in your body. 
What Is a Spin Bike?
Before you look for a spin bike, you need to be clear whether this machine is perfect for you or not.
And for that, you should know what it is.
A spin bike comes under the category of stationary bikes and has adjustable gears to control resistance. The machine is excellent for cardio training and can help burn calories at a faster rate.
These bikes have an incredible ergonomic build with a sturdy structure and a unique wheel design. As a result, they can easily hold your body's weight without restricting your cycling motion.
A spin bike has only one wheel with no rear ones. It is called the flywheel. Moreover, a spin bike has pedals with straps to keep your feet in one place, even at high speeds.
Also, most bikes are made with extra-strong steel to bear the pressure of continuous movement. Moreover, they usually have smaller seats than regular exercise bikes to maintain your workout position.
But, most users may find this feature quite uncomfortable.
Why Should You Buy a Spin Bike in the UK?
There is no better way to burn calories or improve your stamina than pedalling to your heart's content. However, with most cities closed due to Covid, it is pretty hard to leave your home every day.
Moreover, even if the gyms are open, their memberships aren't affordable for everyone here. So what do you do? Do you delay your idea of staying fit for another year?
Definitely, not! Investing in a spin bike will help you counter all the issues mentioned above. You won't have to leave your home, and you will easily find a machine within your budget to meet your fitness goals.
Moreover, a spin bike has many amazing benefits that make it far better than any other exercise machine.
How to Set Up a Spin Bike?
Before you buy a spin bike or any other exercise machine for that matter, you should be clear on how to set it up. To enjoy all the benefits above, it is crucial to understand the basic technique.
So, here are a few things that you may have to look into to make sure your bike is perfect for a spin.
Adjust the Seat According to Your Height
Start with fixing the seat according to your comfort level. The proper adjustment will help you comfortably position your body and also prevent any injuries.
To adjust the saddle, bring it parallel to the hip bone while you are standing. That's the height most people prefer.
However, there is no strict rule, and you are free to amend it as per your ease.
Set the Handlebars
To prevent unnecessary pain in your back and neck, make sure your handlebars are correctly tuned. They should be positioned perfectly, so your shoulders are parallel to your hip while you pedal.
If you suffer from an injury, make sure the handlebars are a little higher to prevent any pressure on a weak point. However, if you are perfectly healthy and want to boost your workout efficiency, lowering the handlebars will benefit you greatly.
Fix the Pedals
For a secure experience on a spin bike, make sure your pedals are properly fixed. Moreover, position your feet properly to reduce the risk of any slippage.
On bikes with toe cages, lock your feet accurately and recheck for assurance. However, with no clips or locks, make sure the cleats are supportive enough to secure your feet.
Check the Switches and Knobs
Security is critical when you are on an exercise machine. So, before you hop on a spin bike, check all the knobs and tighten them properly.
It is vital to avoid any unnecessary accidents at home.
Our Top Picks of the Best Indoor Spin Bikes
We hope by now you have a clear picture of a spin bike. It is a wonderful invention that deserves a place in your home.
So, if you are ready with your money, here are our 12 best spin bike recommendations. You can either choose from any of these or consider this list a good start for your search.
So, despite the long hours of searches, if you have still failed to find the best machine in the UK, you have nothing to worry about. Simply dig into this article for our 12 recommended top-quality spin bikes and a plethora of information you may require to make the best choice.
If you are ready to spin, here we go!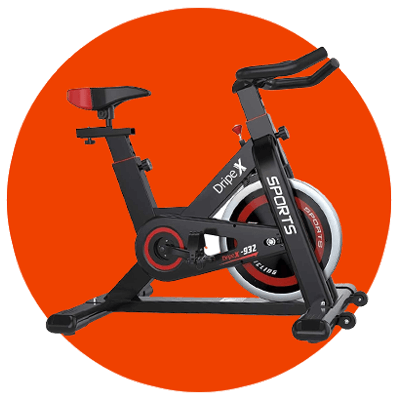 The Dripex Upright Indoor bike may stand out as one of the best options for many different reasons.
Firstly, this machine has a stable design that gives you an immediate impression of safety.
Moreover, it only weighs 27 Kgs. That makes it pretty lightweight and easy to use for your home workout. Also, the structure and colour scheme makes this bike look like a gym-worthy model.
Another feature that attracts everyday users is its infinite resistance. This concept is excellent for those who want to upgrade the level of their training. However, if you are a beginner, you can adjust the resistance levels through a clockwise and anti-clockwise movement of the knobs.
The customisation is not limited to resistance only. This bike's handlebars offer six different settings, and the seat can adjust for eight height levels.
The Dripex Upright bike UK also offers comfort throughout its design. For instance, the anti-slip pedals come with adjustable straps to avoid any accidents.
Moreover, the belt drive system ensures you enjoy a quiet and noiseless training time at home.
All these smart elements with a sturdy frame allow the user to push harder and experience great workouts.
When it comes to the flywheel, the Dripex Upright bike UK shines again. The unit has quite a heavy bi-directional flywheel that offers various tension levels. This characteristic allows you to intensify your home workout and burn the required calories.
The Dripex spin bike also has a pre-assembled monitor that displays your progress. From speed to calories burnt, the inbuilt screen keeps you updated throughout your training session. However, the monitor only shows one stat at a single time.
Pros
Durable and stable structure
Limitless adjustable resistance for all users
Adjustable seat and handlebars
Lightweight unit
Quick to assemble
Cons
No tablet holder
LCD doesn't display multiple stats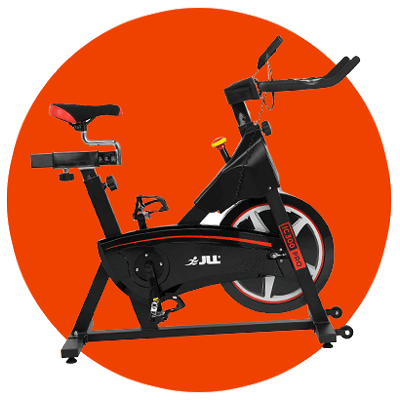 JLL is a UK brand famous for supplying top-quality fitness equipment across the globe. It uses long-lasting material and advanced technology in its products.
The IC300 Pro Indoor spin bike is one of their most amazing products. It has high specs and a stunning design that one rarely finds in good exercise equipment.
This spin bike for your home gym has a stable and sturdy profile. Also, it has a pretty broad base that gives it a strong frame.
Moreover, with an enormous footprint, this machine can easily accommodate tall users.
The JLL IC300 has a weight capacity of 130kg, and that's impressively high. But, if you weigh more than this figure, you may want to consider an alternative option.
However, the IC300 Pro itself weighs 45kg which makes it a little heavy to move.
When it comes to the IC300 bike's performance, this unit has a lot to deliver.
The magnetic resistance gives this bike a long-lasting life and a minimum maintenance requirement. Moreover, it also allows this machine to run smoothly and quietly. You can easily adjust the resistance level through knobs below the console.
Other features that make this spin bike standout are a heavy flywheel and a belt drive system. Both of these parts contribute towards a challenging yet smooth workout at home.
The JLL IC300 also has handlebars with sensors. They record your heart rate while you work out.
Moreover, the pedals with adjustable straps ensure your safety even at high speeds. They also have toe cages that lock your feet and save you from any slippage.
The JLL IC300 comes with an electronic monitor that delivers all-important statistics. However, there are no pre-set programs that you may require for your cardio training at home.
Pros
Robust build
Stable body
Can accommodate the weight of 130 kg
Contains many safety features
Adjustable handlebars and seat for comfort
Cons
Heavy unit
No pre-set programs available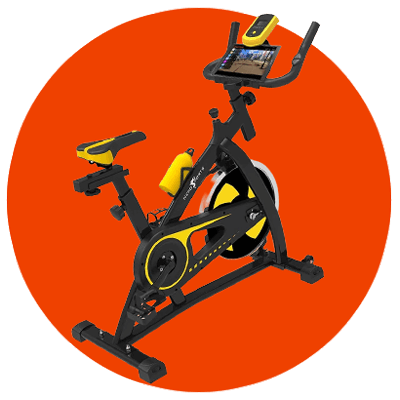 If you crave a stylish and compact spin bike, the Nero Sports Upright machine will strike your fancy. With its distinctive curves and a yellow and black body, this bike will blend well with the other furniture in your home.
The Nero Exercise bike has a sleek design with a broad base. Also, the steel frame gives this machine quite a durable body. These characteristics contribute to the stability you look for in every spin bike.
However, it has a maximum weight capacity of 120 kg only. If you weigh more than that, this bike may not feel sturdy for you.
It comes with a 12kg flywheel that offers smooth resistance. However, you can manually adjust the resistance levels through a dial fixed below the console.
Other impressive features include transport wheels, adjustable and soft seat and flexible handlebars. The bike also has 3-piece cranks and pedals with safety straps to avoid any accidents while you challenge your abilities.
The Nero Bluetooth Upright bike has an inbuilt console. It is simple to use and can connect to many programs through Bluetooth. You can even download Zwift and cycle through mountains and beaches to feel refreshed.
Pros
Compact design
Beautiful profile
Durable and sturdy frame
Contains safety features like straps on pedals
Affordable than many
Cons
May not suit a tall user
Can't support a weight heavier than 120kg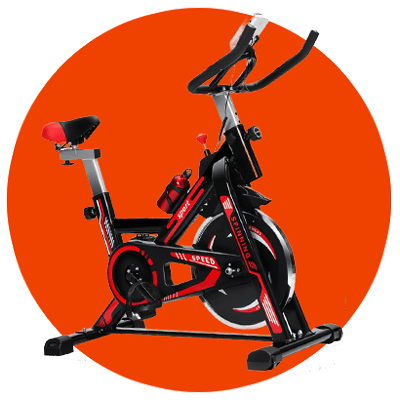 It is hard to find a competitive spin bike in the UK that is both affordable and high-performing. However, the Furiousfitness bike is an exception.
With a solid steel body and many adjustable features, you can trust this machine to deliver a smooth experience. The 8kg bidirectional flywheel offers excellent resistance and adds value to your home workout. Moreover, the belt drive system ensures you enjoy a noiseless training session on even the highest resistance level.
The bike also offers a comfortable seat. The cushion padding and the five-height adjustable feature ensure you have a smooth ride every time. Moreover, the pedals with toe cages and non-slip handlebars make your experience worth every pound.
The Furiousfitness spin bike comes with an attractive LCD. The screen shows your speed, calories, burnt and the duration of your training. There is also a phone holder that you can use to adjust your gadget and watch a movie while you spin in a safe home environment.
Overall the Furiousfitness bike is worth consideration. However, if you weigh above 120kg, you may not find this machine suitable to carry your body.
Pros
Solid frame
Affordable
Padded seats and adjustable handlebars
Attractive LCD
Cons
Can't carry weight above 120kg
Flywheel may not feel too heavy for professional trainers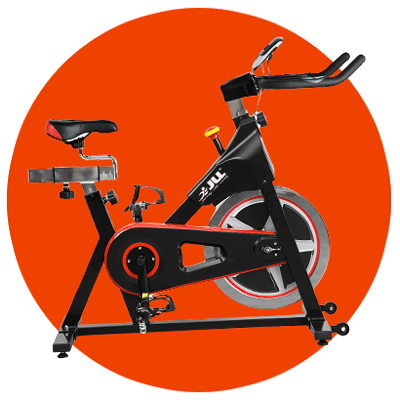 As a fitness enthusiast, don't you feel delighted after finding a machine that ticks all the right boxes? We are sure you do, and the JLL IC300 will bring a smile to your face.
This unit is one of the best spin bikes that deliver outstanding performance and motivates you to work out every day. Made with advanced technology, this beast can challenge your capabilities in many ways.
For instance, it comes with an 18kg flywheel which is quite heavy for even some professionals. Moreover, the adjustable resistance levels it provides cater to all enthusiasts who love intense cardio sessions.
But it is not just the hard workout that it excels at. The JLL IC300 has a comfortable seat, handlebars and pedals that make this unit stand out from its competitors. Both saddle and handlebars are adjustable, and there is also an armrest to provide you with comfort.
Besides, an easy-to-use LCD monitor displays your progress through vital statistics. From heart rate to speed, you get every information you require to upgrade your performance. However, the console doesn't have any pre-recorded training programs, which many users look for in a spin bike.
While the JLL IC300 is a 42kg heavy machine, it can easily hold a maximum weight of 130kg. But if you are overweight, you may want to consider some other bike.
Pros
Comes with a heavy 18kg flywheel
Offers high resistance levels
Comfortable and adjustable handlebars and seats
Initiative LCD
Has wheels for easy movement
Cons
May feel a little heavy
Doesn't offer pre-set training programmes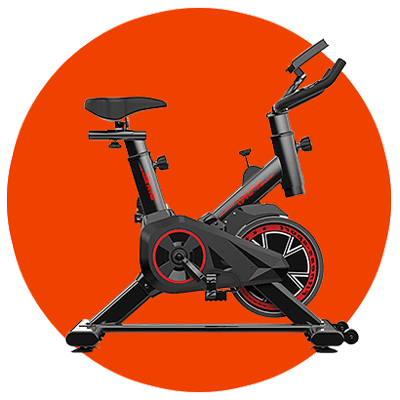 If you are a beginner who wants to lose weight and build stamina, the Ajumker indoor spin bike may make an excellent addition to your gym equipment. It has an 8kg flywheel which is perfect for people who are starting their fitness journey.
Moreover, you don't have to be an adult to work out on this bike. The adjustable resistance serves people of all ages and genders to tone their thighs, arms and legs.
The Ajumker indoor bike has a solid frame made of steel. It also has a soft seat and adjustable handlebars to make your ride effortless.
However, the bike doesn't accommodate anyone with a height above 5'7. Besides, there have been complaints about unsafe pedals made with plastic rather than aluminium.
This spin bike comes with an intuitive LCD that monitors your pulse rate, speed and distance covered. Also, there is a gadget holder to keep you close to your tablet while you are busy pedalling and sweating.
The Ajumker indoor bike is quick to assemble and comes with a one-year warranty. In addition, since it is battery-powered, you don't have to worry about placing it near a socket every time.
Pros
Great for beginners
Offers adjustable resistance
Steel body with soft seat and handlebars
Comes with a clear LCD
Has a gadget holder
Cons
Seat not comfortable for tall users
Unsafe pedals with loose straps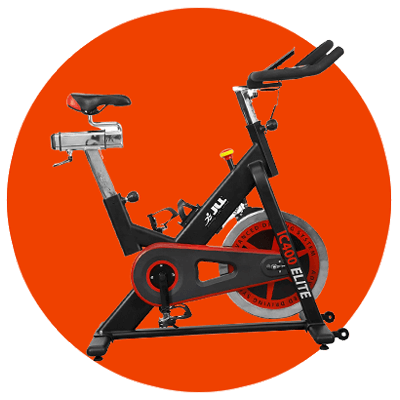 A smart bike with a super compact portfolio, the JLL IC400 spin bike is quite a catch for your home gym. This indoor unit offers a classy red and black design with excellent curves at a competitive price.
However, the JLL IC400 bike is not for beginners. With a 20kg flywheel, this machine provides a challenging workout. Besides, it has an advanced yet complex belt drive system that only serious athletes can handle.
The robust build and sturdy frame allow this bike a maximum weight capacity of 150kg. This feature is quite rare with spin bikes, but the name elite is here for a reason. However, you may find this bike heavy to move from one place to another as it weighs a whopping 48Kg.
The adjustable seat and handlebars make this machine perfect for all your family members. The versatility it offers with its resistance makes it always in demand.
The JL IC400 also comes with a display that offers seven functions. For example, from time spent to calories burnt, you can track your performance to achieve better results.
However, despite the above positive points, this beast also has some designing flaws. For example, the seat isn't comfortable for short people. Moreover, some people have found the angles of the bike relatively unimpressive.
While it is one of the best spin bikes with great performance, many of you might find it more expensive than its competitors.
Pros
Massive flywheel for experienced trainers
Adjustable seats
Strong Build
Seven function LCD screen
Exceptional weight capacity
Cons
Not suitable for short people
Expensive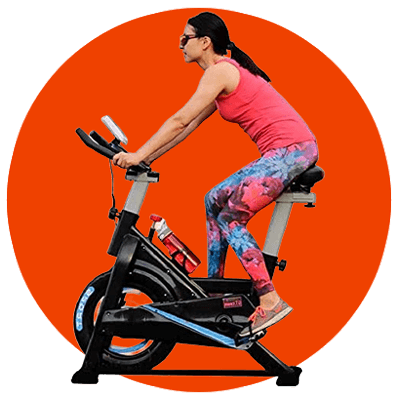 With an attractive design and brilliant performance, the GT.team spin bike has made it to many homes in the UK. This exercise unit offers plenty of details that most users look for in a training machine.
A broad and sturdy base makes the GT. team spin bike, perfectly safe for all users. Moreover, the 8Kg flywheel ensures you have an effortless ride without much noise.
The GT. team bike also has different levels of resistance for both beginners and expert users. The knob under the main frame allows you to adjust the resistance level according to your comfort and goals.
Now coming to the design, the GT. team bike is similar to any other high-quality machine. There are safe handlebars that are perfectly positioned to maintain your safety.
The GT. team bike has a small LCD and a bottle holder to access all your primary requirements. Also, since it's battery-powered, you can place it anywhere you want to burn some calories.
However, keep in mind that this bike has a maximum weight capacity of just 120kgs. Moreover, it can't accommodate users with a height of more than six feet.
Pros
Comfortable bike for both beginners and professionals
Offers many features like an LCD screen and adjustable resistance
Comes with a bottle bolder
Safe handlebars and seat
Good value for money
Cons
Can't hold weight more than 120kgs
Maximum height capacity is just six feet
Pointed and uncomfortable angles on pedals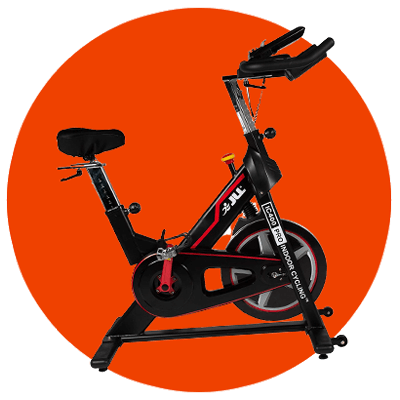 The JLL IC series is pretty popular worldwide. This UK company is consistent with its every product and doesn't compromise on quality.
So, if you have been a fan of JLL's fitness equipment, you may want to try the IC400 Pro indoor bike for your home training.
But what does it offer that the other similar bikes don't?
Well, it's the excellent workmanship and highly functional features that make this bike take all the limelight. Its sleek body and aesthetically pleasing profile will blow your mind.
Also, the black and red plastic moulding hide all the internal components, so you get a clean finished product.
We won't call the IC400 Pro a cheap bike, but its features deliver far more than its costly price tag. The 22kg flywheel performs smoothly, so you enjoy your training without any breaks.
Moreover, the belt drive system enables a quieter experience that many of us expect from an indoor bike.
You can conveniently control the magnetic resistance using the well-constructed dial on the console. This action helps you monitor your speed and keeps you motivated to do better every time.
Like many other best indoor spin bikes, the IC400 Pro isn't foldable. However, with transport wheels and a narrow base, you can place this machine in any part of your home.
The IC400 Pro offers adjustable handlebars and a padded seat for everyone in your family. Moreover, its strong pedals are well-built for your security.
However, with all the positives, it is also important to mention a few drawbacks.
This spin bike doesn't offer a user-friendly console. The display is too small, and you may find yourself bending towards the screen to check the stats. However, the LCD connects with iConsole and other apps to provide an extra function.
Pros
Well-built bike with a solid frame
Offers adjustable magnetic resistance
Has wheels and a narrow base
Padded seat for your ease
Secure pedals
Cons
Small console
Expensive
22kg flywheel may feel difficult to handle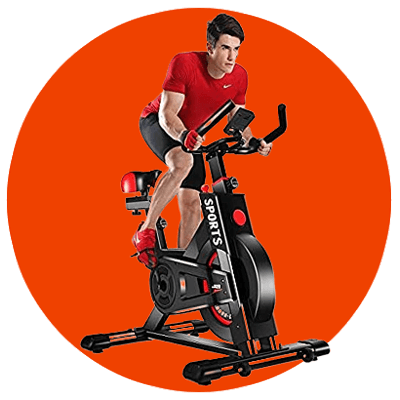 As per customer reviews, this bike is an ultra-silent product by Dripex. This characteristic is because of the smooth magnetic resistance and well-built flywheel. That's quite an appealing factor as most homes in the UK are small with thin walls.
Moreover, there are also a few fantastic features that are worth mentioning here. This smart spin bike can prevent exercise fatigue at all speed levels. The breathable seat offers nine adjustable height levels so that you can settle down on the bike easily.
Besides, the handlebars are incredibly flexible and can move as per your physical demand.
Also, the bike has an emergency brake that can stop your workout by pressing a button only.
The Dripex machine also features an LCD to track your performance like calories burnt and speed covered. In addition, there is a bottle holder and a gadget frame to keep all your necessities within your reach.
But the bike does lack a few qualities. For instance, it is a little heavy to move from one place to another. However, the two transport wheels make the movement much more accessible.
Also, there have been customer complaints about the quality of pedals. So, whenever you consider this bike, make sure to go through all specifications carefully.
Pros
Smooth ride with magnetic resistance
Breathable seats
Flexible handlebars
LCD with bottle holder
High weight capacity
Cons
Uncomfortable pedals
Heavy machine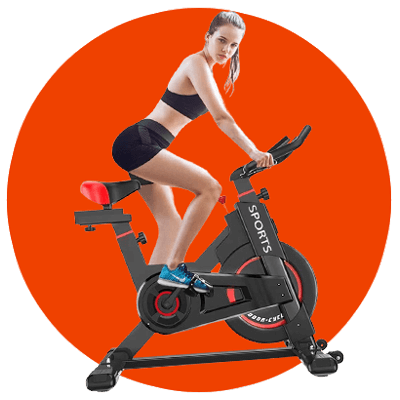 There are many benefits of a home workout. For instance, you can train in a room of your choice and also watch your favourite movie while you do so.
However, without the best spin bike, the above comforts may not feel fun enough.
So, to enjoy a complete cardio workout under your own roof, you may require a bike similar to the Delfy Stationary Exercise machine.
But why do we think it's worth an investment? Read the review to find out.
With a super-efficient flywheel and adjustable resistance, this bike can hold a maximum weight of 150kg. Also, thanks to its heavy steel body, and well-thought-out triangle design, you will never feel unstable while pedalling.
Besides, the easy resistance control system allows you to work out at your own pace. If you feel like stopping, you can always press a button for an emergency brake.
The Delfy spin bike is appropriate for both men and women. You can adjust its seats for eight different heights. Moreover, you can also move it backwards and forwards for the best position.
The ergonomic design of this machine also provides excellent handlebars. In addition, they come with pulse sensors that can help record your heart rate.
Also, The LCD monitor keeps track of your performance and encourages you to upgrade your speed.
However, this easy-to-assemble bike is way too heavy to move around your home. While the front wheels offer some support, you may find it difficult to carry if you are a short person.
Pros
Sturdy structure
Smooth resistance and flywheel performance
Adjustable seat and handlebars
Pulse sensors to monitor heart rate
Perfect for overweight individuals
Cons
Too heavy
May take a vast floor space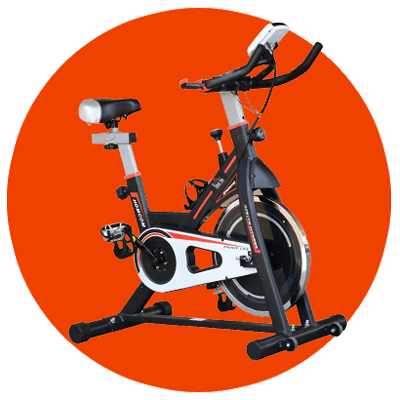 Taking the last spot on the list of the best spin bikes in the UK, the Homcom stationary exercise machine is no less than any of the above options. It is an excellent value for money equipment that offers a stable experience throughout your training session.
Its amazing features make the Homcom spin bike quite a brilliant buy. If you are a beginner, the 8Kg flywheel can accommodate you pretty well. Also, a range of resistance levels assists you in choosing the appropriate intensity for your initial workouts.
The Homcom bike has a heavy steel frame with a great weight capacity. However, if you are above 130kg, you may not fit well on the bike.
This machine comes with an intuitive LCD to show your stats. So, if you are struggling with exercise, you can check your performance regularly as an encouragement to do better.
Moreover, it offers a comfortable seat design and handlebars for your ease. The pedals are also well-constructed to handle your pace.
The Homcom bike is sleek and won't take much space in your home. But, it may be too simple for professionals who love high resistance levels.
Pros
Perfect for beginners
Great value for money
Compact design
Intuitive LCD
Cons
Not for professionals
Can't accommodate overweight people
Benefits of Using a Spin Bike
The above sections may have given you an excellent portrayal of a spin bike, but is it any good? Does it have any advantages?
To find out, read the list of benefits below.
Great for Burning Calories
Do you know that spinning on a bike for even 30 minutes a day is directly proportional to an increase in calories burnt? So if you have been eating late at night for a few days, a session on a spin bike every morning can help balance the weight gained.
Moreover, if you have ever taken a spinning class at a gym, you would know how sweaty and breathless this exercise machine can make you. That's because even on a low resistance level, this unit requires you to exert lots of strength and muscle power to move the pedals.
An average spinning session can help you burn 400 calories. However, if you are consistent with your pace, you can also burn as much as 100 calories after every 10 minutes. While it depends on your stamina and focus, a spin bike has the potential to make you lose weight in a short time.
Also, if you are overweight and can't run on a track, this equipment can be an excellent alternative to embark on a fitness journey.
Tones Muscles
When you plan to lose weight, you also feel motivated to tone your muscles. A toned body makes you look fit and healthy.
A daily session on a spin bike increases the size of your muscles and develops their shape for good.
Improves Heart Health
While most of us exercise to lose weight, it is also essential to look at the long-term benefits. For example, spinning on a bike can make your heart healthy and improve blood flow.
A workout on this equipment enables your heart's muscles to pump faster, increasing their activity and making them strong.
Moreover, like any other cardio exercise, spinning improves oxygen transfer to different organs in the body. As a result, it helps to improve your lung activity and regulates your breathing.
A healthy heart reduces the risk of strokes, heart attacks or other severe health conditions. So, if you want to spin for the sake of your heart, this machine is worth an investment.
Boosts Brain Functions
Do you know working out on a spin bike has many neurological advantages? This equipment helps to improve focus, memory and enhances your attention power. In addition, continuous pedalling accelerates the production of hormones and improves blood flow to your brain.
A healthy brain function is vital to improve balance in your body. It is crucial for people who suffer from heart and brain problems.
With a spin bike, you can amend your posture and reestablish lost body balance.
It also strengthens your legs and reduces all the risks of falling.
Increases Immunity
We are always looking for ways to improve our immunity to fight against dangerous viruses. It is why strong immunity has become far more critical today than it was ten years back.
While a good diet helps to improve your defence mechanism, a daily session on a spin bike also adds value to your immunity.
According to a study, elderly cyclists that use spin bikes or cycle daily have a healthy thymus similar to a young individual. Since the thymus usually starts to shrink after you turn 20, this news is quite impressive.
With strong immunity, you fall less ill and feel more empowered to exercise every day. Also, when you are doing this in your home, you are safe from all the harmful viruses around you.
Enhances Endurance
Have you ever felt that your muscle power and endurance is not up to the mark? If yes, you may want to try out a few sessions on a spin bike and witness a difference.
This exercise machine builds your muscle strength and makes them more robust than ever.
By moving your arm, belly and legs, you enhance your capability to handle more pressure and stress.
Builds Mental Strength and Reduces Stress
We all know how exercise can reduce stress levels. The same goes for a spin bike. Using this machine every day, you can improve your mental strength and make yourself feel good.
The hormone production encourages you to spin and feel refreshed after a long workday. Also, when you sweat, you feel accomplished to have burnt enough calories and fats.
Enables Better Sleep
Do you often struggle with sleep? If yes, it may be because of no physical activity in your daily routine. Of course, many other factors also influence your sleep pattern, but a lack of exercise is a major one.
Sleep can disrupt your body functions and increase stress levels. However, with a spin bike at home, you can push these problems away. It is because when you pedal on a bike, you utilise your muscles till they are tired.
And all an exhausted body wants is sleep. So, exercising on a bike before bedtime can help you rest for longer hours without any disruptions.
A Machine for Everyone
One of the best things about a spin bike is that it is for everyone. You don't have to be a regular cyclist or a professional to enjoy the benefits of this machine.
With adjustable resistance levels, you can easily control the intensity of your workout. For example, if you have arthritis or suffer from any heart condition, you can move the medals according to your comfortable pace.
Even if you are a beginner who knows nothing about exercise, you can start with low resistance and move up to a high level to build stamina.
How to Select the Best Spin Bikes?
There are a million indoor spin bikes available in the UK. But how should you make sure that your chosen one is the best for you?
A spin bike is a complicated machine with many features and parts. But you don't have to worry about that when we have your back.
Before you choose your favourite spin bike, make sure you are aware of some specific factors.
Here are a few major ones:
Durability and Stability
Every exercise machine looks perfect in photos, but the reality is often different. You don't want your chosen spin bike to crumble when it's under the limelight.
And for that, you should make sure it doesn't creak or wobble when you are on it. Again, it is imperative if you are overweight.
So, make sure that your spin bike is stable enough to handle your speed and weight. If it has a strong body made with sturdy material, you may want to consider the bike as an option.
Moreover, some cheap spin bikes have narrow legs with a compact frame. But, unfortunately, these features don't make them stable.
So, the best indoor bike is one that has a wide bottom or legs. This characteristic is essential to prevent any accidents at higher speeds.
Dimensions
Since you will have to adjust the bike in your home, you should be clear about its dimensions.
For a tight space, make sure your equipment is compact and sleek. There are many such bikes available in the market and you can easily find one within your budget.
Weight Limits
It is silly to buy an indoor bike that doesn't meet your weight limits.
If you have above-average height and weight, make sure your bike's capacity matches your requirements. This factor plays a significant role in your performance and the stability the bike offers.
Basic Design and Other Ergonomics
We are sure that you would want to use your spin bike for at least three to four years. Since it is a long-term investment, you should make sure it is worth every pound.
The ergonomic design of the best bike should have all the essential features made for your ease. So, you should pay serious attention to its pedals, seat and handlebars.
Almost all spin bikes have different variations of drop handlebars. Most of the handles point opposite to the unit and rise when moved.
However, many stay parallel with the floor. Whichever handle style you go for, make sure it is strong enough to support you while you are spinning.
Also, the handle design is one that is adjustable so you can tailor your bike according to your movement.
Similarly, the seat of your indoor bike should also be comfortable and adjustable. A decent and robust saddle will help you enjoy a continuous workout without you crying for a break.
Your feet will always be on the pedals, so they should be secure and accessible. Some bikes have clips that wrap around the pedals to keep your feet entact in one position.
Suitable Flywheel
A flywheel is a wheel in the front of every spin bike that supports its weight. It connects with the pedal and is very important when it comes to stable movement.
When testing the flywheel of a bike, you should look at two significant factors. The first one is its weight. A heavy flywheel means high resistance and a challenging workout.
If you are a beginner or suffer from weak mobility, you may want to go for a lightweight flywheel.
The second factor is the ease of movement.
The best spin bike should have a flywheel that moves smoothly. A dodgy part isn't worth your money or time.
Resistance
There is no one resistance level on an indoor spin bike that works for all. So, make sure that your chosen machine should offer various adjustable resistance levels.
Also, you should look at the type of resistance the bike offers. For instance, some machines have a cable wrapped on the flywheel to create resistance.
We won't recommend such equipment because the cable can slip easily at high speed and even make loud noises when in use.
Then there is manual resistance that works similarly to a gearing system. While it is better than cable resistance, it doesn't provide many benefits.
The most expensive yet efficient type of resistance is magnetic. Magnetic resistance works silently and prevents the flywheel from any wear and tear.
Drive
Since indoor spin bikes are stationary machines, they do not move by themselves. So, they either have a belt or a chain as their drive system.
Both these systems are excellent in their way and suit different users.
Chain drives are mostly long-lasting and far cheaper than belt ones. However, they require weekly maintenance. To make sure your spin bike moves smoothly, you may have to lubricate the chain and tighten it every now and then.
On the other hand, belt drives are costly but do not demand maintenance. Also, a belt-driven bike offers a smoother and much quieter experience than a chain one.
Other Features
If you plan to invest in a spin bike, you should make sure it has all the critical additional features.
For instance, an intuitive display is vital. It helps to track your performance and monitors your heart rate, speed and distance covered.
Also, a bottle holder is quite an essential addition too. Who would like to run to the kitchen to grab a glass of water during an intense workout? No one, and so an accessible holder on the bike will help you place your water bottle while you burn some sweat.
Some spin bikes also come with phone or tablet holders. If you enjoy watching movies or listening to music while training, this feature may hold sheer importance for you.
Price
Everything comes with a price tag, and so does a spin bike. But how much should you pay for a machine like this?
It all depends on your budget and requirements.
If your pocket can afford an expensive unit, go for a bike with all the extra features, sturdy body and magnetic resistance. However, if you have a tight budget, you can compromise on a few things.
But make sure don't take the bike's performance lightly. If you are buying this machine to stay fit, both physically and mentally, invest wisely. You don't want your bike to break on the very next day and demotivate you for the rest of your life.
FAQ
To make an intelligent choice, you can also go through some common questions asked by users like you.