Have you ever experienced the happiness of jumping on a mini trampoline? The freestyle bouncing gives so much joy that it becomes tough to resist and stop.
Besides, a mini trampoline is a fantastic invention that can keep both adults and kids active for hours. It is a perfect way to keep your children away from gadgets for a while and involve them in healthy exercise.
If you have been thinking of buying this garden and indoor equipment for a while, we would suggest not to delay any further. Summer is here, and there is no better way to enjoy the warm weather than by jumping to your heart's content.
To help you make this decision quick and easy, we have designed a list of 12 highly recommended mini trampolines in the UK for you. Moreover, there is a buying guide that will answer all your questions and confusions.
If you are excited to add this fun equipment to your home gym, dig in for all the details.
How Does a Mini Trampoline Work?
A mini trampoline is a simple piece of equipment made from fabric, some springs, and a rigid frame. All these essential components join smartly together to create the magic.
When you exert force on the trampoline bed, the springs extend. This extension results in an opposite and equal reaction that gives you the power to bounce.
The springs push your body back with the same force that you exerted initially. As a result, you find yourself flying in the air.
The mat and the durable frame act as supportive features that prevent any accidents. Moreover, they make sure that the springs get enough space to extend so you can jump freely.
The science behind a trampoline is relatively straightforward. However, the benefits of this equipment are far more than you can imagine.
If you think that a mini trampoline is just a source of fun, you may not be entirely correct. There's a lot more to this equipment than what most of us already know.
Best Mini Trampolines for Kids and Adults You Can Buy Today
We hope by now we have convinced you to invest in this indoor equipment. But before you head out to make a purchase, go through our 12 recommendations below.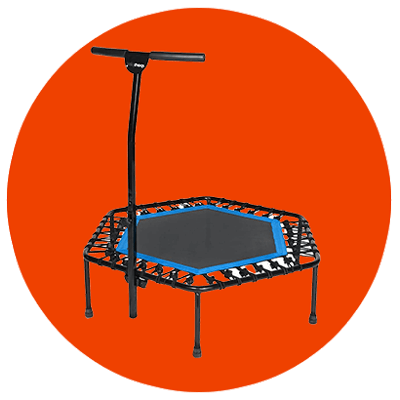 If you are a fitness freak adult, the SportPlus fitness trampoline in the UK is a great option to consider. As a rebounder, this mini trampoline will suit any athlete's lifestyle.
But why do we think it is perfect for keeping you fit? Firstly, the SportPlus fitness trampoline is exceptionally durable. With bungee ropes, the equipment stays stable and also allows a silent workout on any part of the day.
However, the cords are tough to tighten, and you may require help to assemble them.
The SportPlus fitness trampoline also comes with an adjustable handlebar. This feature offers added security and provides support on high jumps. Besides, you can adjust the bar's height for five different levels or even remove it if not required.
The mini trampoline mat is super comfortable and soft. Made with non-slip material, you can bounce carefreely at any pace. The suspensions are also sturdy and don't require a runner rug to stay stable.
This trampoline has a weight capacity of 130kg, which is quite brilliant. Moreover, this affordable equipment has 46 inches of diameter that makes it ideal for all kinds of fitness activities.
However, it isn't foldable, and you may have to find a suitable place in your home to store it.
Pros
Highly durable
Affordable
Comes with a handlebar for safety
Bungee cords for silent training
Non-slip suspension
Cons
Non-foldable
Requires effort on assembling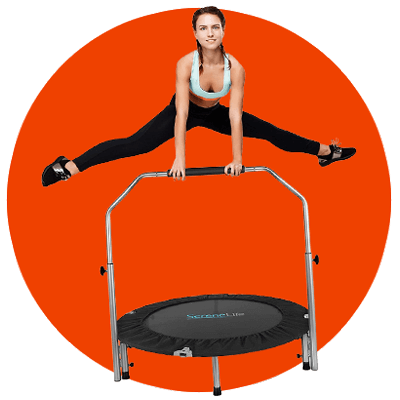 The SereneLife foldable mini trampoline is a treat for both adults and kids. With a safe polypropylene jump mat, you can enjoy this equipment without a worry in the world.
Besides, the mat with coil springs offers high elasticity to ensure flexible bouncing.
The adjustable padded handlebar allows you to control your jump and enables a firm grip for challenging exercise routines. Similarly, the padded frame cover gives you a safe surface to jump on.
SereneLife mini trampoline is easily foldable. So you can carry it around with you and store it in even the smallest corners of your home. The weight capacity of this equipment is approximately 100kg.
However, if you weigh above that mark, you may want to consider something more durable.
Pros
Great for both kids and adults
Safe surface
Coil springs for extra flexibility
Padded frame and handle for safety
Foldable
Cons
Can handle weight above 100kg
Springs don't offer much durability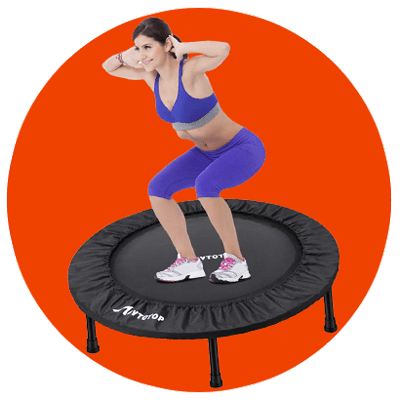 The feeling of jumping in the air while listening to your favourite rock song is pretty amazing. And when you have a durable and comfortable mini trampoline to bounce on, the value of the experience increases.
The Homemaxs Movototop indoor trampoline is a sturdy, long-lasting and highly flexible trampoline for both kids and adults. With steel legs and durable springs, this equipment can last for more than three years without breaking.
This trampoline bed is made of oxford cloth which is both breathable and strong. Moreover, the surface has a weight capacity of 100kgs, which is quite adequate for many users. However, if you are overweight, you may want to go for an alternative option.
The Homemaxs Movototop trampoline has a foldable design for your convenience. You can easily carry it around in your backyard and exercise at your favourite spot. Moreover, when folded, it doesn't take much space and stores easily under a bed.
However, be very gentle while folding this equipment. The cover can tear quickly on high pressures as it can't stretch enough.
Pros
Long-lasting trampoline
Sturdy steel legs
Springs for better flexibility
Breathable fabric
Foldable design
Cons
Can't accommodate weight above 100kgs
Cover can tear if not folded gently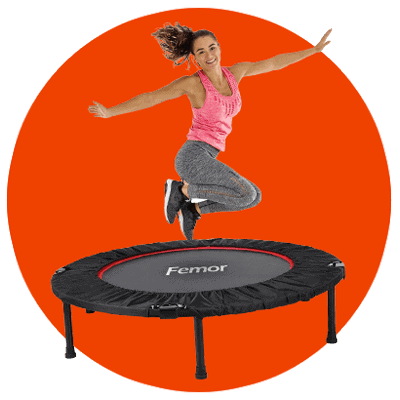 Each adult aims to stay fit. However, without the proper equipment or machine, the dream fails to become a reality.
But with mini trampolines like the Femor Fitness trampoline in your home, you can stay healthy all your life. This smart and foldable unit comes with 32 durable springs that offer seamless elasticity. Besides, six steel stands give the much-needed support this unit requires to carry your weight.
The Femor Fitness trampoline has a polypropylene mat for added durability. Moreover, the padded steel frame offers security, so you can do as many rebound exercises as you want.
This trampoline can hold 120kgs at a time. That's a great weight capacity, but you may not feel comfortable on this equipment if you weigh above this standard.
Moreover, its non-slip rubber prevents unnecessary vibration and noise. Furthermore, the safety cover is so soft that it saves your feet from any painful scratching.
With a diameter of 40 inches, this mini trampoline is a little large. However, when folded, it becomes a compact piece of equipment easily adjustable under a sofa or cabinet.
You can use the trampoline for yourself and also the older members of your family. The joint-friendly features prevent injuries and promote a safe exercise experience.
Pros
Foldable and durable unit
Steel frame with safe padding
Prevent noise and vibration
Great for senior members
Can assemble easily
Cons
Not perfect for individuals that weigh above 120kgs
A bit large in diameter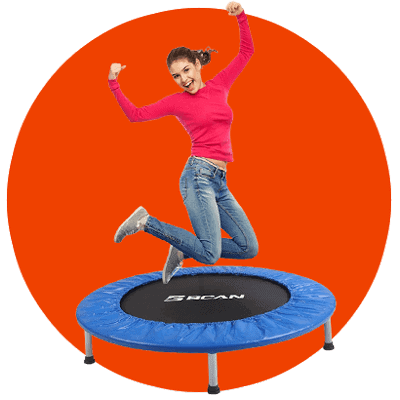 If you live in the UK and own a small apartment, a foldable mini trampoline will work perfectly for you. The BCAN is a 38 inches dimensional product that offers a simple yet effective design. Moreover, it is pretty compact, so you can adjust it wherever you want.
This unit offers a safe design for carefree jumping with an extended pad as a bridge between the mat and frame. Besides, the 32 springs give the trampoline bed a sturdy grip and play a significant role in avoiding accidents.
The BCAN mini trampoline has a waterproof and anti-skid surface which is super easy to clean. In addition, this fantastic equipment folds inwards when not in use and can wrap up in a trunk very quickly.
With an affordable price tag and user-friendly function, the BCAN trampoline deserves a place in your home. However, if you are looking for something big with a higher weight capacity, there are many other options on this list.
Pros
Affordable mini trampolinetest
Foldable and compact
Comes with many safety features
Simple design
Weight capacity 136kg
Cons
Spring guard may tear if folded aggressively
Not made for people with weight above 136kg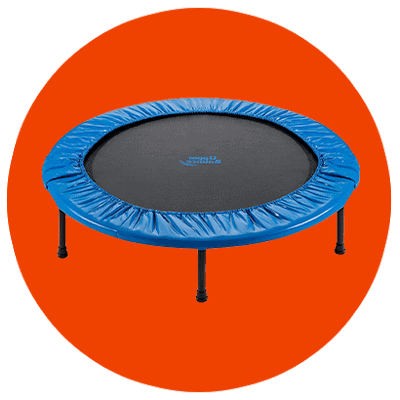 Do you know that a fit lifestyle has become far more critical now than it was three years back? With gyms closed and most of the year spent in quarantine, a healthy routine is essential to keep your mind and body stable.
Luckily, units like mini trampolines are a blessing. This is because they not just open opportunities to perform various exercises but also fit well within your tiny homes.
The Upper Bounce trampoline is an excellent product for your in-house gym. Moreover, if your kids love to join you in an exercise session every day, this equipment will accommodate both of you. You can use it to enhance your muscle strength or enjoy some family time with your children.
This mini trampoline has a steel frame with a durable structure. Moreover, the mesh material used to make the mat offers excellent rebound and prevents any tear.
The Upper Bounce mini trampoline is a well-priced item. However, it has a weight capacity of only 100kgs. Moreover, there have been complaints about the rigid folding mechanism.
Pros
Affordable equipment
Comes as fully-assembled
Durable mesh mat and frame
Perfect for small homes
Cons
Maximum weight capacity is just 100kgs
May require help to fold this unit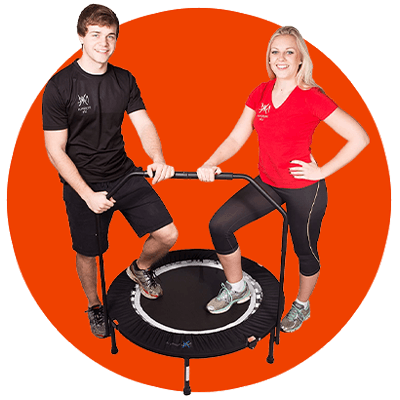 It is super convenient to lose weight with a trampoline as unique as the Maximus Pro Folding rebounder. The equipment comes with a handlebar, some resistance bands, workout DVDs and sand weights to support your training. That's a lot of accessories that many other fitness trampolines fail to deliver.
Moreover, this mini trampoline offers low impact training, so it is perfect for older adults. With just 20 minutes of bouncing on this equipment, you can burn more than 100 calories and not even feel tired.
The Maximus Pro rebounder has several springs for impactful bouncing. Moreover, the non-slip mat adds value to its performance and makes jumping safe for you.
It has a pretty tough steel frame, and the legs have elastic springs for easy folding. The Maximus Pro rebounder is an excellent purchase with a great weight capacity. However, it is a little expensive.
Pros
Comes with many accessories
Great for low-impact workouts
Safe mat and durable frame
Offers easy folding
Cons
Expensive
Some users may find it a little big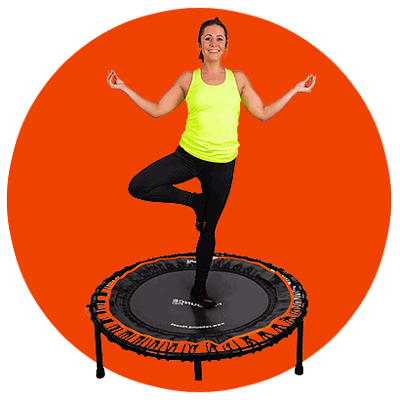 To enjoy effortless bouncing, the Maximus Fit Bounce Pro II trampoline will be a delight for all your family members. From kids to seniors, this unit is pretty accommodating and durable for every user.
Moreover, since it offers low impact bouncing, you can perform all kinds of rebound exercises without hurting your joints.
Besides, this equipment comes with a bounce counter to count your number of jumps. This additional accessory is an excellent way to keep track of your performance.
The Bounce Pro II trampoline has bungee cords to establish ideal support and tension. Moreover, the well-designed structure allows you a silent workout without bothering your neighbours.
This trampoline is super easy to assemble and fold when required. Also, it comes with a carry bag, so you can conveniently take it outside with you.
With a weight capacity of 150kgs, the Maximus Bounce Pro II can accommodate many users. However, it is a little expensive and may not feel bouncier than trampolines that have springs.
Pros
Great for joints
Comes with a bounce counter
Bungee cords offer high durability
Good weight capacity
Easy to fold and assemble
Cons
A little pricier than other options
May not offer a great bounce as the spring trampolines do.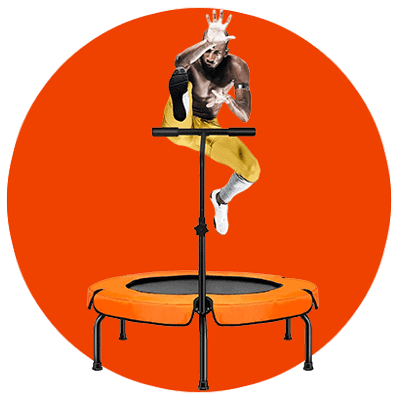 For a satisfying jumping experience, the Happy Jump mini trampoline makes a great candidate. It comes with bungee cords that help to maintain its stability and safety. In addition, the mat can stretch easily, providing you with the much-needed elasticity for a good bounce.
Moreover, the arched legs offer exceptional durability that most conventional products fail to deliver. You can be as heavy as 113 kg to enjoy this unit without the fear of falling.
The bed is made with polypropylene fabric for a comfortable experience. Moreover, this material contributes to the bounce power and improves your performance.
The Happy Jump trampoline comes with an adjustable bar for many rebound exercises. However, you can remove this feature if you feel it is a hindrance.
Overall, this is an excellent unit with lots of safety features to offer.
Pros
Strong structure for durability
Polypropylene mat for better bounce
Comes with bungee cords
Has an adjustable but removable bar
Cons
Cannot accommodate weight more than 113kgs
May not last long with poor screws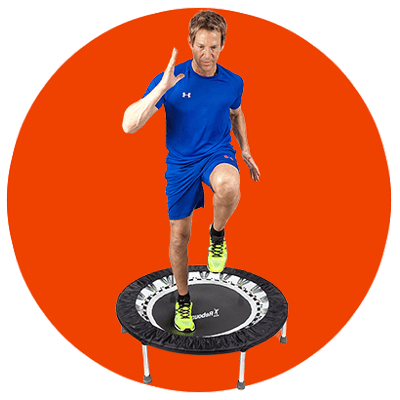 The robust quality of this mini trampoline makes it worthy enough to earn a spot on this list. For core training and cardio sessions, the Maximus UK Pro rebounder is quite a competitive option.
This unit has a weight capacity of 150kg and has a dimension of 40 inches. Moreover, it weighs 12kgs to support your strong rebound moves.
With steel legs, a comfortable mat and a durable structure, this trampoline can make you healthy and fit in no time. Moreover, it comes with seven resistance bands to support your training.
Also, there is a handlebar included in the package for a safe experience. However, it has a few drawbacks. The legs of this unit don't unfold easily. Moreover, there have been complaints about the small spring cover.
Pros
Ideal for training
Best for athletes
Can hold 150kgs at a time
Steel legs add stability
Come with resistance bands and a handlebar
Cons
Some customers complained of unfit spring cover
Legs take time to unfold and assemble.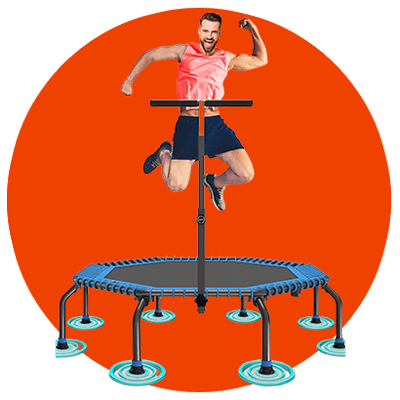 While this trampoline is larger than the standard size, it can make a powerful garden unit for those with huge space in their houses. Supported by elastic bungees cords and a steel frame, the Happy Jump mini fitness trampoline is perfectly safe for both kids and adults.
The polypropylene mat, bungee ropes and steel legs contribute to the performance of this unit. Besides, the arched legs add much more stability and enable a non-slip grip.
The Happy Jump trampoline has a weight capacity of 113kg and can fold into compact equipment. But you may require help to wrap it after you are done bouncing.
Pros
Offers safe impact with bungee cords
Steel frame with arched legs make a strong structure
Mat for excellent grip and comfort
Folds into a compact unit
Cons
Can't support the weight above 113kgs
May require more help to fold this unit
Bigger than standard size do won't fit many home gyms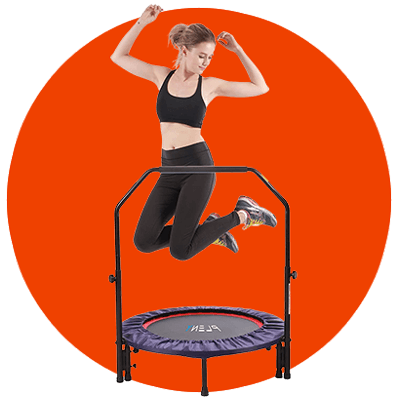 The Pleny mini trampoline has taken the last spot on our list. But that doesn't mean it lacks performance or class.
This unit offers an ideal size of 36 inches for most at-home gyms in the UK. Moreover, its ergonomic design makes it a well-balanced product for both kids and adults.
The Pleny fitness trampoline comes with a handlebar that is completely adjustable according to your height. Moreover, the solid springs and jump mat can accommodate almost 150kgs of weight at a time.
This equipment doesn't have a foldable design. However, its compact body makes it a space-saving item.
The Pleny indoor mini trampoline offers low impact bounce, which is safe for both kids and senior members of your house. Moreover, it is pretty affordable and comes fully assembled.
Pros
Perfect size for small spaces
Well-made structure
Comes with a handlebar for additional support
Can accommodate a maximum weight of 150kgs
Cons
Doesn't fold
Not great for hardcore training
How to Pick the Best Mini Trampoline for Kids and Adults?
The above list may have helped you find the best trampoline to add to your home gym. However, if you are still unsure how to select one, go through some significant factors to consider below.
Size
Do you have enough room to accommodate your chosen trampoline? Is there any storage space to keep the equipment after you are done using it?
If you have a huge house or a backyard, you don't have to worry about the size of your mini trampoline. But with little space within your small apartment, you should consider this factor.
The diameter of small trampolines can vary from 36 to 40 inches. So, before you make a selection, don't forget to measure the area where you aim to place this equipment. Moreover, the size of your chosen trampoline should be able to handle your weight and height.
Portability and Durability
Your chosen trampoline should be durable enough to handle all kinds of pressure. If you buy it for your kids, you should ensure that its springs and frame are sturdy enough to prevent accidents.
The same goes for adult mini trampolines made for fitness exercises. A flimsy structure may cause injuries or harm your joints. Moreover, they tend to break very quickly, and that's not what you want, right?
Moreover, like any other fitness equipment, make sure the trampoline is easy to move from one place to another. If it's foldable, you don't have to worry about its storage.
Moreover, if the equipment is lightweight and portable, you can take it along in the park or to a friend's house for a group workout.
Mechanism
Most mini trampolines have springs, while there are many with bungee cords. Both are good in their ways.
Bungee cords are much more durable, and if you are an overweight adult, you may want to consider them. However, springs offer a better rebound and are great for different kinds of exercises.
The proper bouncing mechanism is the one that suits your use. For instance, for a regular exercise session, a trampoline with bungee cords will be more reliable. But if you want an item for your kid or a senior, the springs will do the job perfectly.
Surface Material
Trampoline mats are made of different materials. Pick one that feels comfortable on your feet. Since you will be bouncing barefoot most of the time, the surface shouldn't scratch your soles.
The best and most common material is polypropylene. It is soft, breathable and offers good bounce.
Safety Features
Mini trampolines that come with rugs are worth consideration. Moreover, a rigid frame and a well-made surface ensures your safety and prevents injuries.
However, you should also be careful while bouncing. For example, don't lock your knees. Moreover, make enough space around the trampoline to support you if you end up falling.
Start slowly and increase your jumping speed gradually. Ask your kids to follow this rule too.
Other Accessories
Some mini trampolines have stability bars. This additional feature helps kids and adults who have issues with balance. However, if you can perfectly stand on an imbalanced surface, the bars will probably bother you.
Some units also come with resistance bands and workout DVDs. If you value such accessories, you may have to spend a little more to buy them.
Price
Mini-trampolines are available at a range of prices. However, choose one that fulfils all your requirements.
You shouldn't compromise on the quality of this equipment. A cheaper trampoline with poor durability can cause you injuries and ruin your plans to stay fit this summer.
Benefits of Owning a Mini Trampoline
Before you invest in a trampoline, you should know about all the positives this equipment can deliver. There is no point in spending money on something that would not bring a good change in your life, right?
So, here is a list of a few benefits of owning a mini trampoline:
Burns Calories
If you are an adult thinking of losing weight, a mini trampoline can help you achieve your goals. How? Depending on your jumping intensity, you can quickly burn 400 to 800 calories within an hour.
Moreover, some productive moves such as frog leaps, stomping and split jumps can increase your heart rate to a healthy level. If you have been eating lots of cake and junk lately, a trampoline workout will indeed prevent you from gaining those unhealthy pounds.
Increases Energy
Do you often see your kids feeling lazy even after staying at home all day? Since Covid entered our lives, this is a common scenario in every UK home these days.
However, with a mini trampoline in your backyard or even your lounge, you can change this situation for good. Jumping on a trampoline increases the transfer of oxygen through the bloodstream and immediately aggravates the energy levels.
Even for an adult like you, bouncing on this equipment after a long day at a desk job can improve blood circulation to different parts of the body.
Works As a Low-Impact Exercise
You don't have to be a fit and healthy adult to enjoy the benefits of bouncing. Since a mini trampoline workout offers a low impact exercise, it doesn't strain your joints.
It is because most trampolines come with heightened elasticity that absorbs all the pressure. So, even if you have arthritis, you can jump on this equipment without increasing the pain intensity.
However, make sure to stop whenever you feel tired because an excess of movement can hurt your knees.
Develops Coordination In Kids
Do you know jumping on a mini trampoline every day is a great way to develop coordination in kids? Not just that, but it also helps them to polish their motor skills and find body balance.
Constant bouncing shifts the gravity's centre and allows your kids to respond by adjusting movements and positions. Moreover, it makes them learn to balance their body and prevent it from falling.
If you have a kid with under-developed mobility, a few minutes on a trampoline with your support can make a lot of difference. The repetitive rebounding, concentration and fun can contribute to his/her sensory skills that are hard to achieve otherwise.
Shapes Thighs and Abs
Through controlled and small movements on a trampoline, you can tone your muscles effectively. In addition, some adult rebound exercises focus on some significant body parts and improve endurance.
By incorporating rebound exercises in your bouncing style, you can work out your abs and thighs. When you jump, it's your thighs that make most of the effort. This process then naturally shapes them up.
You don't have to buy a high-end machine when you have a trampoline in your house. Instead, this tailor-made equipment is the ultimate solution to all your goals.
Reduces Stress
Jumping while listening to your favourite music makes everyone happy. Regardless of your age, bouncing on a trampoline for a few minutes every day releases endorphins in your blood.
These hormones are mood boosters and ensure your happiness. On the most stressful days, a mini trampoline workout can do wonders for your mind by reducing anxiety.
Improves Immunity
Bouncing and immunity? How are they related?
Jumping on a trampoline is a great way to detoxify your body and enhance its immunity. Besides, it helps to stimulate your internal organs and improve lymphatic circulation.
Moreover, like any other exercise, bouncing accelerates the removal of toxins from your cells and improves the absorption of nutrients. So, if you are an adult or even a kid with low immunity, buying a mini trampoline may make a fruitful investment.
Encourages Family Time
Is there a better fun family time than jumping on a mini trampoline together? This activity is not just a breath of fresh air but also stimulates family bond. A healthy relationship between parents and kids is essential for both their mental and physical state.
FAQ
Do you know there are millions of buyers like you who are also searching for a perfect trampoline? Here are a few common questions they asked on the internet.
Go through them and clear your doubts as well.