A foam roller is quite an impressive and most-used invention these days. Everyone from personal trainers to massage therapists is using one and raving about this product's performance.
And why would they not? A foam roller is a great tool to enjoy a self-massage and reduce muscle stiffness.
Besides, it works perfectly as a recovery machine to enhance flexibility. You can even get rid of after-workout pain by using a foam roller correctly and consistently.
Almost all top-class therapy centres and gyms have foam rollers. However, as a first-time buyer, which one should you buy for your personal use? We understand this dilemma and are here to help.
It is quite challenging to find the best foam roller from a variety of different options. However, dig into this guide and read through our recommendations. Moreover, check our buying guide to find factors that will help you make your search successful.
What Is a Foam Roller and How Does it Work?
Have you ever experienced soreness after a strenuous workout or sitting in your office for long hours? It is a common problem which most of us go through. However, if you don't want to walk around with pain, it is imperative to take some time for a much-needed self-myofascial massage.
This technique applies pressure on areas with muscle dysfunction and treats them with care. Besides, a self-myofascial massage improves muscle balance, reduces the chances of injury, and generates better motion range in your body.
However, to give yourself this treatment, you need the right tool. And there's nothing better than a good foam roller to do this job.
This often cylinder-shaped firm foam pushes against muscles with soreness and releases tension. Moreover, it also reduces joint pain and enhances your overall mobility.
We hope that the above information has convinced you enough to buy your first foam roller. So, let's not delay this idea anymore and dig into our ten best recommendations.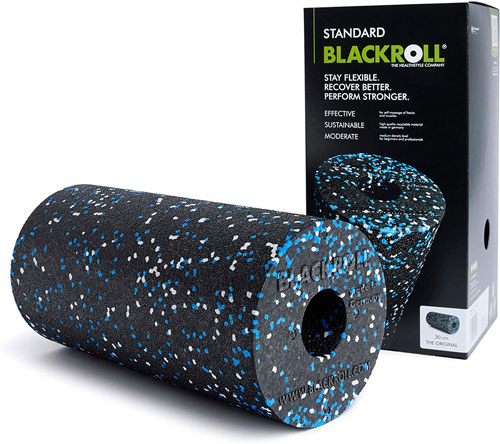 The BLACKROLL foam roller is a high-quality and robust fitness item. As per most customer reviews, this product offers excellent performance and is quite durable.
Built to provide self-massage, this foam roller is made purely from polypropylene and measures 11 inches. While this length may be relatively short for many, most users can use this roller during their frequent travels.
This product has medium-density and can be used to enhance muscle flexibility and fascia training. Moreover, you can place the roller on different targeted areas and allow it to massage your painful muscles.
While the BLACKROLL foam roller isn't relatively cheap, it is worth your pounds. You can use this product to reduce inflammation and pain. Besides, a regular application enhances your blood circulation, which is excellent for your overall body.
This foam roller can be used both at home or outside. Since it has a great design, you can also flaunt it in your gym. However, make sure the roller stays clean after every session and is stored in a safe place before you use it again.
Pros
Robust roller
Medium-density
Significant to reduce pain and inflammation
Enhances blood circulation
Beautiful design
Cons
Not too long enough for legs or entire back
Expensive than many other options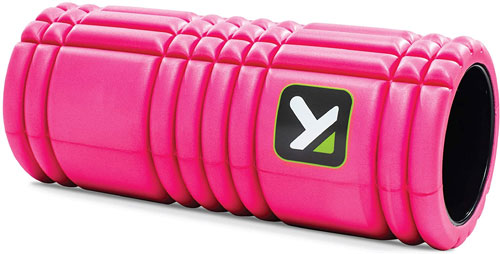 In the pursuit of finding the best foam roller, you will come across many options. However, your selection should depend on the product's performance and your budget.
Taking this thought forward, we have the TriggerPoint foam roller for you. Admittedly, it is a little expensive, but the product's performance is beyond exceptional.
Let's start by reviewing its design. This foam roller features a grid pattern with an exterior offering multiple densities.
For instance, the upper part of the roller features form and high finger-like patterns and the middle part is smooth and flat. There is also a tubular pattern on the roller that feels like fingers penetrating your body. A large variety of grids gives you the taste of a real-life massage and also produces effective results.
Moreover, this roller has a rigid core that represents its firmness and robust structure. You can use it as many times as you want; the high-quality construction won't break even with high pressures.
Most foam rollers are pretty short and are often useless. However, the GRID foam roller by TriggerPoint has a 13-inch length. This dimension might not be enough for many, but you can easily use the roller on many target points and even carry this product easily during your travels.
Pros
Solid construction
Multiple densities
Perfect for travels
Great to target muscles
Cons
Expensive roller
Not too long to target your legs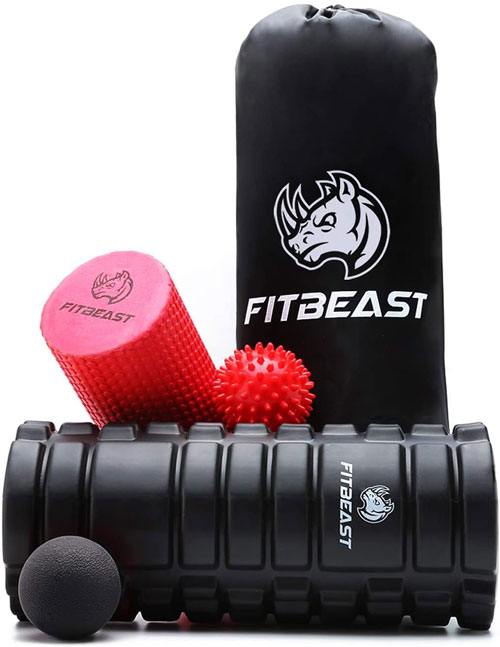 The thing that makes the FitBeast foam roller unique is the accessories that it comes with. This product is a 4-piece set designed to give you a top-quality muscle massage and reduce pain from every part of your body.
This set contains two different types of foam rollers. You can use the soft foam roller to help reduce inflammation and ease the pain caused by shin splints. The other roller is quite dense and is designed to massage your trigger points and give you deep muscle therapy.
The FfitBeast foam roller pack also contains two different massage balls. One of them comes with spikes, while the other features a smooth surface. Both balls are designed to reduce tension and relieve tight muscles.
However, the spiky ball might not be a deal-breaker for many as it feels a bit challenging at times. Besides, the soft roller may fail to make an impact on athletes.
This entire product is made of eco-friendly materials. There are no toxic elements involved, so you can use this product without worrying about hurting your skin. Besides, when using this pack, you won't need to invest in different massagers separately.
The pack comes with a separate carrying bag. It is excellent as you can store all the rollers and balls in one place and take them along with you. Moreover, since all the objects are water and heatproof, it is easy to keep them clean.
Pros
4-piece set
Durable products made with eco-friendly materials
Water and heatproof
Comes with a carrying bag
Cons
Spiky ball may feel hard
Soft roller may be useless for athletes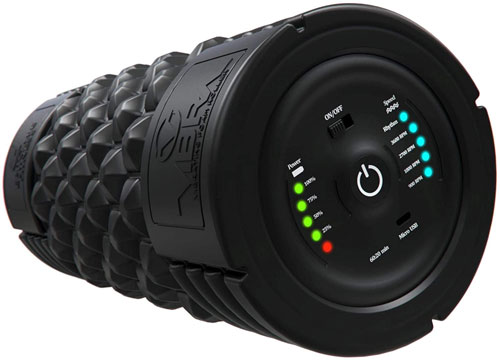 With the Epitome Fitness VIBRA foam roller, you can experience a quick muscle recovery with the power of vibration. While this object may hurt sometimes, you can always control the pulses and vibration speed with the four settings given on the roller. Moreover, each setting is designed to repair your muscles within a single-use.
This foam roller comes with an incredible engine. It delivers very intense vibrations and is capable of producing a maximum of 3600 rotations per minute.
The Epitome Fitness vibrating roller is quite expensive than many other similar products. However, its durable structure and performance are unmatched.
This product can last for 4 hours when fully charged. Moreover, it also comes with a USB cable that you can utilise during your travels.
To put it simply, this product is worth consideration. If you have a reasonable budget for a foam roller, get this instead of the others and experience excellent muscle therapy every day.
Pros
Solid vibrating tool
Comes with four-speed settings
Good battery life
Powerful engine
Cons
Expensive than basic rollers
May hurt some users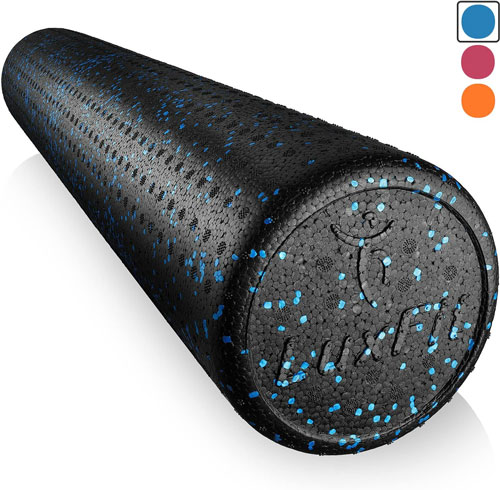 The LuxFit high-density foam roller is a great tool to provide you with exceptional and impactful physical therapy. It might feel too hard for many: however, most users with tight muscles may love it for its firmness and rigidity.
It is an excellent piece of fitness equipment that can help you prevent injury. In addition, the roller can be used to improve your balance, coordination and body posture.
This product is made of polypropylene foam and features a smooth surface. As a result, it won't lose its strength and shape even after heavy and continuous use. However, according to some customers, the fitness of the roller causes it to slip more than expected.
You can get the LuxFit roller in four different sizes. The largest roller is 36 inches long, while the shortest is only 12 inches. However, all of them have a width of 6 inches which is pretty adequate.
Anyone can conveniently choose a roller according to their use. For instance, if you want to target your legs and back, get the 36 inch one. However, if you wish for a roller with a travel-friendly size, the 12 inches or even the 18 inches roller will work.
Pros
Great design and smooth surface
Made from robust polypropylene
Available in four different sizes
Durable
Cons
May slip often
Might be too hard for some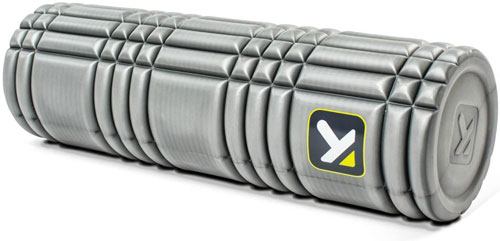 Another fantastic product from TriggerPoint, this foam roller features versatile patterns and is almost 18 inches long. Besides, since this roller has soft density, it works perfectly for beginners or people who can't take much pressure.
This grey-coloured roller is made of Ethylene Vinyl Acetate, considered a much more durable material than polypropylene. Regardless of its soft density, the roller doesn't break down easily, even under high pressure.
The multiple grid patterns on the roller's surface help to target many painful points. As a result, you can use this tool consistently to relieve your pain and improve muscle flexibility.
However, despite its good quality and structure, many customers filed some complaints against this foam roller. For instance, according to some users, the floor becomes slippery after using this product.
Besides, some customers think that the shape of the roller isn't user-friendly. You may have to reposition the roller again and again to get access to the high points.
Pros
Soft density roller
18 inches long
Made with durable material
Versatile grid pattern
Affordable
Cons
Floor becomes slippery after every use
Shape of the roller may not work well and prevents access to high points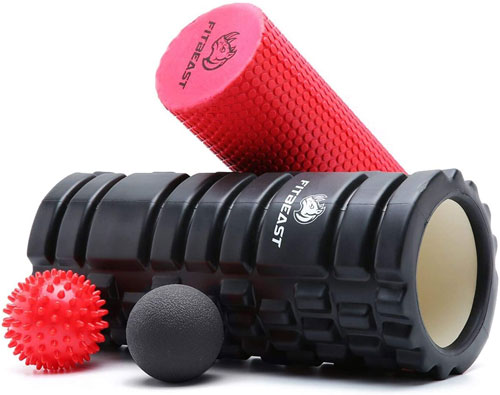 Similar to the other FitBeast recommendation, this foam roller also comes as a set of four pieces. Each piece is designed to improve your blood circulation and get rid of lactic acid from your muscles. When used correctly, the set also helps reduce tension and makes you enjoy a sound sleep.
There are two different rollers in this set. The trigger point roller is famously known to give its users a quick tension release and a therapeutic massage. However, the smooth and soft roller is perfect for reducing pain and preventing injuries after a strenuous workout.
On the other hand, the spikey ball is excellent for a hard massage. However, according to some customers, this ball feels hard in some areas. Besides, the smooth ball works well on your feet and shoulders, but you may not feel its impact on any other part.
While both the balls and rollers have their positives and negatives, we can't deny that every product is made of eco-friendly material. Besides, there are no toxic chemicals involved in the making, so you can use them without worrying about your skin.
The rollers and balls are lightweight and highly portable. While the manufacturer doesn't provide a carrying bag, you can get one for your convenience and take this set with you everywhere.
Pros
Comes as a set of four items
Well-designed rollers and balls
Easy to use
Made with eco-friendly material
Cons
Spikey ball may feel hard
Expensive set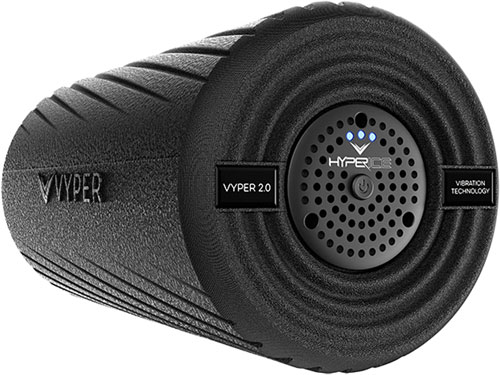 Made with neoprene, this vibrating roller by the brand Hyperice is quite a powerful tool. It not only generates solid vibrations but is also quite stylish.
However, similar to other vibrating foam rollers, this product is a little expensive. But if you have enough money saved in your bank, we recommend you buy this tool right away.
The Hyperice vibrating roller provides an optimal solution to release tension, improve blood circulation and loosen your tight legs. Moreover, it has three settings to adjust the vibration, and hence you can use the product according to your comfort.
By using this tool consistently, you can increase your range of motion by 40%. Moreover, according to the manufacturer, this roller is far more effective than a standard foam roller and provides quick recovery.
However, despite all the positives, this roller doesn't come with a UK charger. That's quite a bummer for many people living in this part of the world.
Pros
Neoprene construction
Comes with three settings
Enhances range of motion
Great for myofascial release
Cons
Expensive item
Doesn't come with a UK charger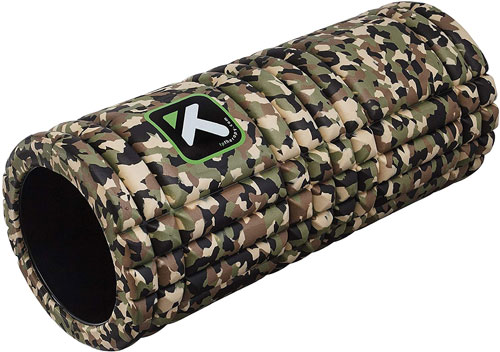 This foam roller has a hollow core and a multi-density exterior that makes it worth your money. The TriggerPoint Grid foam roller is also made with robust and high-quality material, which will prevent it from breaking sooner than expected.
Moreover, with a perfect length of 13 inches, you may use this roller while travelling. However, since it's shorter than many options, you may not be able to use it easily on your legs or the whole back.
When it comes to the grid pattern, you will love this tool for its versatility. For instance, it has a firm and hard finger-like grips on one side, and on the other, the surface is entirely flat. You will also find a tubular grid pattern in the middle that gives an impression of a therapist's hands.
The TriggerPoint foam roller features a unique design and provides urgent pain relief. However, it is an expensive item that may not suit your budget.
Pros
Versatile exterior
Robust quality
Great for travels
Unique design
Cons
Size not enough for a full-body massage
Expensive tool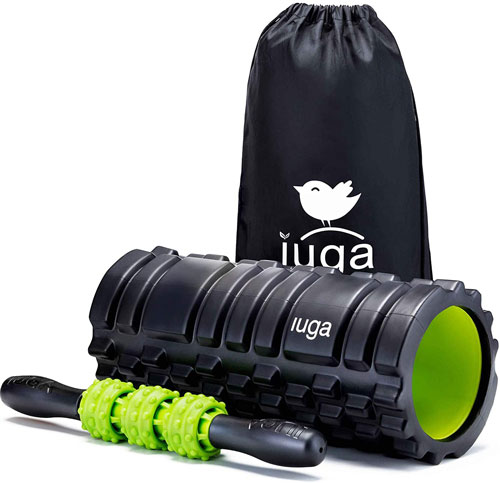 Taking the last spot on this list is the IUGA foam roller and massage stick. While we have placed it in the final position, this product is no less than the other nine options.
It is a costly roller, but you will be amazed by its quality and performance. The roller has medium-density and is very lightweight. It is pretty soft to make you comfortable, but it also offers the right kind of hardness through its ability to penetrate deep into your muscles.
This roller features three different kinds of grid patterns. The small bumps feel like human fingers, while the tubular zone performs like a finger massage. Moreover, the flat and large area on the roller gives you a palm massage.
The foam roller is 13 inches long. While it is a great length, it may offer low coverage for those craving an entire leg or back massage therapy.
Moreover, the massage stick is perfect for releasing tension. Therefore, it can be easily used with the roller to produce great overall results.
This IUGA set of two comes with a carrying back. The stylish bag makes it easy to carry these tools with you at all times.
Pros
Durable set of two
Made with robust material
Grid foam roller
Easy-to-use massage stick
Comes with a carrying bag
Cons
Expensive set
Length of the roller might be insufficient for many
How to Pick the Best Foam Roller?
If this is your first time buying a roller, you may take a long time to make a successful decision. However, if you consider the factors below and match them with your specific requirements, you will quickly select the best foam roller to add to your fitness gear.
Types of Foam Rollers
There are different types of foam rollers available in the market. So, before you head out to spend your money on one, make sure you understand the types and know which one would suit you the best.
Here are brief details on each type:
Soft or Low-density Foam Roller
If you are a beginner, you would love to use a soft roller. This product is pretty light and feels like a cushion when used. Moreover, if you suffer from excruciating pain and can't take a deep massage, a soft foam roller is the best way to gradually relax and loosen your muscles.
Moreover, someone new to the world of foam rolling would like to start with something basic. It is why a low-density roller would be your best option. Then, once you are familiar with this invention, you can shift to a firm one to enjoy a more deep physical therapy.
Firm Foam Roller
We understand that many people are professional athletes. So, for them, there is a foam roller type as well. A firm foam roller is the densest tool available in the market, and also it can feel tough when being used.
However, a firm foam roller is your best bet to experience deep, concentrated, and high-intensity myofascial release. This product reduces the recovery time for athletes and prepares them to train harder. While using one may feel uncomfortable, this roller relieves all your tight muscles and helps reduce soreness.
A firm foam roller works quite efficiently. It aligns all your tissues and breaks their beginnings to eradicate strains. Besides, this tool accelerates the process of lymphatic drainage and helps reduce inflammation.
Short Foam Roller
As the name suggests, this foam roller is shorter than its average size. Moreover, short foam rollers are available in soft and firm densities.
However, their purpose is usually to focus on a specific area. For instance, if you want to target just a tiny muscle in your leg, you can use a short roller so that it manoeuvres smoothly.
Most people who travel a lot use short foam rollers as they are easy to store and fit in tiny suitcases.
Bumpy or Grid Foam Roller
Bumpy foam rollers are great for people who have already experienced foam rolling in the past. If you love experiencing a pain that makes you say, "Oh, it hurts-so-good", this product is worth your investment.
Such rollers come with texture or knobs and are designed to dig into your body. They are great for your shoulders, where most of us feel extreme tightness. Also, these rollers work great in areas with plenty of trigger points.
However, while using a grid foam roller, you should only keep the pain scale up to 7. Pain with a higher intensity will do you no good. Besides, you should be back to your normal state within 30 minutes. If you experience prolonged pain or irritation, you might have overused the foam roller.
Medium Density Foam Roller
If you can't find a suitable roller from the options above, get your hands on the medium density firm roller to be safe. Needless to say that you can use this roller for a variety of purposes. It is designed to be used after exercises or for a good stretch.
Vibrating Foam Roller
There is also a sixth type of foam roller that is being advertised in the market these days. The vibrating roller is a newbie but has the potential to take over all other types. While they are expensive, they offer a game-changing performance and use vibration technology to enhance their use.
Vibrating rollers help minimise your pain while loosening your tight muscles. They don't make you feel uncomfortable and produce quite net results.
There are some other distinctive types as well:
Foam roller balls are ideal for targeting some specific areas
Cold and heat foam rollers are cooled or heated respectively and are often used to reduce discomfort caused by soreness.
Foam rolling sticks are also quite effective and help deal with targeted areas.
Length of the Roller
You will find rollers in different lengths. The ones that are long are versatile and can be used for your whole back. Moreover, the long rollers offer better stability and performance when you want to massage your hamstrings and quads.
On the flip side, a short roller is almost 24 inches long. So it works well on areas like your calves and arms.
Rollers between 4 and 12 inches are the shortest and are great to carry around on travels. Moreover, you can easily use them on limited floor space.
So, depending on your requirements and sources, you can quickly get a roller with the correct length. If you want to use this tool for more than one target area, you can even carry one short and one long roller with you.
Diameter
If you want to experience comfortable and controlled rolling, get a foam roller with a diameter of 6 or 5 inches. However, if you prefer a targeted and deep massage, a roller with 3 or 4 inches of diameter will suit your requirements.
Shape
Foam rollers are available in different shapes. For instance, some rollers have a half-round shape. You can utilise them for leg and foot stretches. Moreover, they are perfect for reducing pain in your feet' arches.
Roller sticks are pretty similar to rolling pins and are perfect for massaging your legs by targeting specific muscles. You can also get flexible rollers to rub your upper back and shoulders.
If you want to massage your lumbar area, a foam ball will make the right choice. However, there are many with varying diameters, so choose a size that suits your curves.
Similar to density's requirements, the shape of your selected roller should depend on your use and the amount of pressure you can tolerate.
Price
You will find a variety of foam rollers in the market with different price rates. However, you should choose one that meets your budget and requirements. Moreover, you should always prioritise quality over price because cheap rollers may save you money, but they won't last long to serve you.
Moreover, while selecting a roller, always give sufficient attention to the brand. Many sports and health companies are manufacturing foam rollers these days, but most of them do not use safe processes and utilise materials of poor quality.
Expert Recommendation and Customer Reviews
Have you ever read through expert recommendations before buying a fitness product? If not, you may want to consider this factor now. As long as the content isn't sponsored, expert recommendations often prove to be suitable. This is because they are primarily the words of professionals who are the best people to compare one product to another.
Moreover, if you can't find a worthy expert opinion on foam rollers, read various customer reviews on many forums. These people are just like you and might have used a particular product more than once to review it properly.
Benefits of Using a Foam Roller
If used correctly and consistently, a foam roller can benefit you in many ways. Here are a few examples:
Eases Pain In the Muscles
As stated above, a foaming roll proves to be quite beneficial against inflammation and soreness. Furthermore, according to a study, this tool can help reduce delayed onset soreness if used immediately after exercise.
As a result, you heal quickly, and you perform well in other exercises as well. With that being said, this topic needs more extensive studies and research.
Enhances Motion Range
While more research is required to prove this advantage, many professionals use a foam roller after a workout improves motion range. As a result, your muscles experience more flexibility and deliver better performance.
As per a study, performing foam rolling with static stretching can prove beneficial for an athlete's range of motion. So, if you want to avail of this benefit, make sure to stretch and then use a foam roller after a strenuous training session.
Reduces Cellulite's Appearance Temporarily
Some users of a foam roller believe that this tool can break fascia. For those unaware, fascia is the name given to your body's connective tissues, and they affect cellulite's appearance.
While rolling may help to increase your skin's smoothness temporarily, there is no or very little evidence on this tool reducing cellulite permanently. However, you can always choose to maintain a healthy life and diet to eliminate cellulite forever.
Decreases Back Pain
Foam rolling is quite effective in reducing back pain. It helps reduce tension and open tight knots. However, you should be very careful while using a foam roller on your back.
A sudden high pressure can damage your back or increase the pain intensity of strain. Also, while using a roller on your back, don't move or arch. It is imperative to prevent uncalled injuries.
You can buy a foam roller ball to relieve pain in your back. It works pretty effectively to release all the knots.
Controls Symptoms of Fibromyalgia
In one of the studies conducted on this matter, most patients with fibromyalgia felt better after using a foam roller consistently for 20 weeks. According to these users, they felt less tired and stiff in their bodies. In addition, this tool also increased their motion range.
Improves Blood Circulation
Using a foam roller on a muscle enhances its ability to become active and demands more blood and oxygen to expand and contract. This request allows your heart to pump faster and accelerate the process of blood circulation in your body.
As a result, you not only benefit from solid muscles but also experience a healthy heart. It also reduces any chance of heart strokes or pain in the heart's muscles.
Reduces Stress and Improves Sleep
We can't stress enough how this fantastic invention helps you to relax and heal after a workout. By reducing tension and pain from your body, a foam roller allows you to sleep soundly without any muscle tension or discomfort.
Besides, since you feel relaxed, this invention helps kick out all the stress hormones from your body. It also contributed towards reducing your anxiety and depression by relieving pain from your shoulders and back.
Portable and Inexpensive
A foal roller is highly portable. It is lightweight and can easily adjust in your bag. Regardless of where you workout, you can keep this roller with you at all times and use it even during your office break hours.
Besides, unlike most other recovery tools, a foam roller is relatively inexpensive. While it is available in a wide variety of price ranges, you can easily buy one that fits your budget.
How to Use a Foam Roller Correctly?
Before you start using a foam roller, it is essential to learn a few basics. Furthermore, it is pretty imperative if you are using this tool for the first time.
You can either watch online videos to better understand or ask a trainer at the gym to guide you on this healing tool. Moreover, you can follow these essential tips to get started:
Make sure to always start with slow and light pressure. Don't rush with a foam roller and only exert pressure that you can easily bear.
You can use your body weight to adjust the pressure exerted on a point. For instance, when using a foam roller on your calf, use an arm to reduce the overall body weight on the roller.
Use a roller for only 10 seconds in the start on painful areas. Once done, increase the duration to 30 and then 60 seconds.
After using a foam roller, drink lots of water. This activity will help with quick recovery.
While using a foam roller for your back, hold it vertically, so it's in line with your spine. Moreover, roll it slowly to prevent any harm to your back.
While you can use a foam roller quite safely, make sure to keep it away from serious injuries. Make sure to have your consultant's permission before using this tool on the affected area.
Also, avoid rolling over your knees or elbow, which contain very small joints. A foam roller can damage them, which may lead to a life-long injury.
Most pregnant women love using a foam roller to relieve tension. However, you need to ask your consultant to use this machine in your case.
Foam Roller Exercises
You can use a roller for both your back and legs.
In order to release tension from your upper back,
Lie with a roller below your spine and relax for a minute or two.
Make sure your arms are spread wide enough while you breathe deeply.
To target your lower back:
Lie with your back touching the floor and place the roller under it.
Bend the knees and bring them towards the chest.
Exert all the pressure on the left side, and allow the right side to rise with a roller beneath it.
Keep this position for a few seconds before changing sides. Repeat this exercise three times at least.
To benefit your legs or calves:
Adjust a roller under your lower leg while placing the other leg on the ground so it can support your body weight.
Press down from your hands and exert weight against calf muscles.
Roll the roller below the knee and repeat for as many times as you feel comfortable.
Frequently Asked Questions
There are so many users like you who ask many questions on foam rollers every day. We are listing them down below and if you have any doubts regarding this tool, clear them before you make your first purchase.