Do you know that the best rowing machine in the UK can give you a full-body workout and help increase your overall strength, stamina, and balance? This incredible invention can make you fit without hurting your knees and joints by utilising your different muscles.
Besides, an indoor rowing machine can help you enjoy the fantastic benefits of a challenging rowing workout without even sitting in a boat. Isn't that great news for people with water phobia?
So, if you want to add a rowing machine to your fitness arsenal at home, we have got you covered. We have compiled a list of the best rowing machines for you, from high-end units to budget-friendly equipment. Moreover, there is a well-researched buying guide below to make this purchase super convenient.
But before you dig into the recommendations, it is imperative to understand the machine's mechanism, benefits, and performance in detail. So, without further ado, let's go!
Best Overall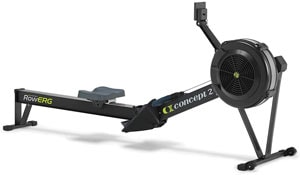 Concept 2 Rowing Machine
Easily Separates into Two Pieces for Storage
Maximum Weight Capacity 227 kg
5-year frame warranty
Best Seller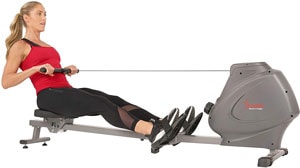 Sunny Health & Fitness
Great for smaller in home gyms
16 Levels of Tension
Best Value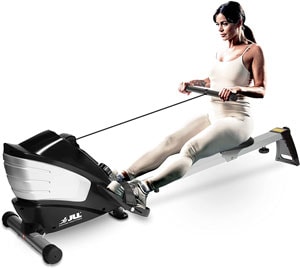 JLL® R200 Rower
10 levels of Magnetic Resistance
LCD Monitor Display
Compact and foldable
What Is a Rowing Machine?
Starting from the basics, a rowing machine is a piece of smart fitness equipment consisting of various components such as a seat, rail, drive mechanism, handlebars/oars, pedals, stabiliser, sliders, and many also have a monitor.
Wow, that's a lot of parts, and each serves a crucial purpose when it comes to this unit's performance.
The best rowing machine is the one that offers a smooth slide movement of the seat with a fluid drive mechanism. Moreover, it has adjustable handlebars and comfortable pedals to provide you with a user-friendly experience.
Four Different Types of Rowing Machines in the UK
To understand a rowing machine in a better way, it is essential to understand each type in detail.
Air Rowing Machine
Do you know that the first air rowing machine came into being in the 1980s, and since then, this type has been quite popular among fitness enthusiasts? Air rowing machines are considered pretty efficient with their performance and use air to produce resistance for the user.
These units have an internal flywheel that has air flowing over it. A chain is used to connect the flywheel with the handle. So, when you pull the handle, the flywheel spins.
This movement enables resistance. As you row faster, the spin moves rapidly, and so the resistance increases.
As opposed to an actual boat, your muscles have to work against air rather than water to generate movement and reap the benefits of indoor rowing. Some advanced air rowing machines have dampers that help to change the airflow according to your requirements.
An air rowing machine provides automatic resistance in a wide range and offers smooth action. Besides, its mechanism doesn't suffer from easy wear and tear.
However, this category of rowing machine is a little noisy for an indoor workout. If you live in a shared property, you may want to evaluate your and your housemates' comfort levels before buying this unit.
Water Rowing Machine
The second type under the spotlight is the water rowing machine. This unit uses the power of water and paddling to create enough resistance for a well-deserved full-body workout.
While many professional rowers chose air machines, the water rowing unit is a favourite for most who prefer a smooth and quiet workout.
Water rowers have a flywheel in a water tank that connects to the handles and a chain. When you pull the handles, the flywheel revolves. This motion moves the water against the flywheel and creates resistance.
Most users of the water rowing machine compare its performance with the smooth and noiseless experience of using a water boat. Besides, since it requires low maintenance, this unit is preferred by people with busy lifestyles.
However, water rowing machines are mostly expensive. Besides, they are larger and may be difficult to store in your small UK home.
Magnetic Rowing Machine
The magnetic rowing machine is the most preferred option for home users. This machine provides a smooth resistance mechanism and has a compact body. Moreover, this unit is pretty quiet and offers a decent workout session for your cardiovascular system and primary muscles.
This machine contains strong magnets and a flywheel, both attached to ergonomically designed handles using a chain. You can use either console controls or mechanical sliders to adjust the level of resistance for your training.
Most magnetic rowing machines are also foldable and easy to store. They also do not require much maintenance and offer many resistance levels.
However, while using a magnetic rowing machine, you may not get the taste of water rowing. This is because this unit fails to simulate that movement properly.
Hydraulic Rowing Machine
Hydraulic rowing machines are famous for two reasons. Firstly, they are budget-friendly, and secondly, they have quiet flywheels.
A hydraulic rowing machine has a simple mechanism. It uses pistons to generate resistance. When the handles are pulled against the fluid or air in the cylinders, pistons create resistance adjusted through clamps or levels.
However, hydraulic machines aren't the first choice of many professional users. It is because this unit requires frequent maintenance. Besides, this unit fails to provide a smooth feel of rowing and uses oil that often heats up and changes the resistance levels on its own.
The Best Rowing Machines Available Right Now
Here's hoping that the above information has familiarised you with a rowing machine in an excellent way.
So, let's not wait further and go through our best recommendations below. There is a machine for everyone and you might find your favourite too.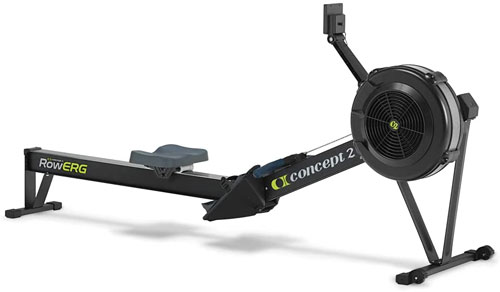 The Concept 2 indoor rower is a perfect machine for a low-impact and full-body workout. In addition, this unit has impressive features that make it worth every pound.
For instance, the 35.5cm seat heat is pretty adequate for many different exercises and users. Moreover, the ergonomic handles and adjustable footrests enable a comfortable workout setting and ensure a smooth experience.
The Concept 2 rowing machine stands out because of its well-organised and accurate PM5 monitor. The display also has an adjustable arm that makes it easy to position. Moreover, if you have a compatible Android or iOS device, you can connect the show with the Concept 2 app ErgData and enjoy more feedback.
This well-designed unit has a responsive flywheel that allows you to control your session. Moreover, the nickel-plated chain doesn't get sloppy and offers you a smooth workout experience.
Overall, the Concept 2 is a tremendous foldable machine. You can conveniently separate the unit into two pieces and store it safely in a drawer or under your bed. Besides, the rower comes with inbuilt wheels to make transportation comfortable.
But with so much to offer, the Model is costlier than its competitors. So, if you plan to get this unit, make sure you have enough funds in your pocket.
Pros
Ergonomic design
Foldable machine
Advanced LCD
Built-in wheels
Slim and compact
Cons
Expensive
Many users may find its LCD features too advanced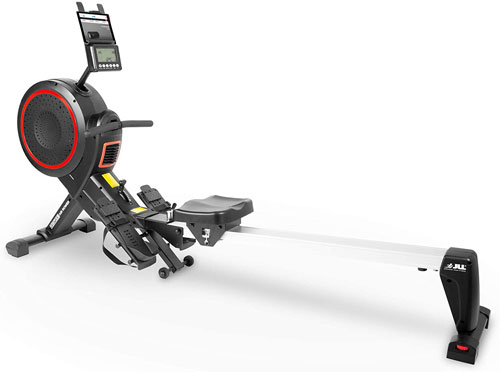 The JLL Vetus air resistance rowing machine can become your best companion, thanks to its excellent user-friendly properties. Moreover, since this is an affordable unit, you can quickly bring it home without thinking twice.
This ideal machine for beginners works on-air as well as eight magnetic resistance levels. That's a lot of competitive resistance options, making this rower pretty adequate for both beginners and professionals.
However, many users have complained of high noise levels as the resistance levels are gradually increased. This drawback may be a letdown for many people living in shared properties or closed neighbourhoods in the UK.
The JLL Vetus rower has a smooth rail system that enables an unhindered workout session. Besides, this unit also features an LCD monitor that records the user's performance and displays imperative data.
This unit is both compact and lightweight. However, it cannot hold a weight above 120kg, which may not suit many heavy users.
Pros
Affordable machine
Good magnetic and air resistance
Smooth rail
Lightweight
Folds easily
Cons
Makes noise on high resistance
Cannot hold a weight above 120kg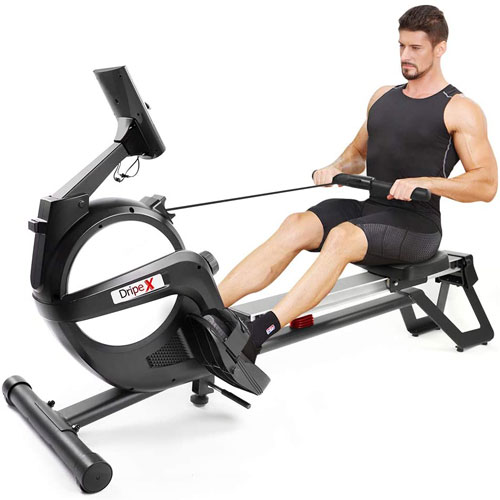 Rowing with the Dripex magnetic indoor rowing machine has never been more fun and more accessible. This ergonomically designed unit features a solid design with unique features that complement a variety of users worldwide.
Made with aluminium, the Dripex rowing machine features 15 magnetic resistance levels adjustable according to your strength and stamina. This combination helps you to achieve significant value and high durability from this time.
Moreover, the rowing machine has a double aluminium rail system. This feature makes rowing super quiet and smooth. Also, the sliding rail has a shock absorber which further reduces the noise level.
You can use the Dripex rowing unit for various exercises, including both upper and lower body workouts. This machine has a weight capacity of 120kg, which is pretty sufficient for many. However, if you are a heavier individual, you may want to try other options from this list.
This unit also has non-slip handlebars and adjustable pedals with straps to keep your body intact while you work out. Besides, the machine features an LCD monitor to track your performance. However, some clients believe the display lacks accuracy.
The rowing machine is a compact unit with a slim design. It means that this unit is super easy to store under a bed. Moreover, you can also keep it in a corner by folding its LCD monitor and making it stand upright.
Pros
Robust aluminium body
Double rail system for a smooth and quiet workout
Compact
Anti-slip pedals and handlebars
Features LCD monitor
Cons
Cannot hold the weight above 120kg
LCD doesn't show accurate data at times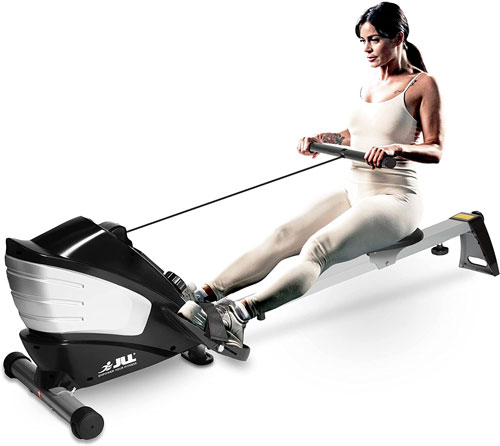 If you are a beginner who has a tight budget and not enough space in your UK home, The JLL R200 is a perfect rowing machine for you. The unit comes with ten different magnetic resistance levels to keep you fit with new challenges. Besides, it features an advanced driving system to give you a luxury performance.
The JLL R200 rowing machine is a reasonably noiseless unit because of the magnetic mechanism rather than air. Moreover, it has an adequate sized LCD monitor to display some significant stats, including heart rate, calories burnt and frequency. This feature allows you to track your performance and gradually become an intermediate rower.
This machine saves space by an easy folding mechanism. Moreover, it has inbuilt wheels that makes it convenient to move the unit from one area to another.
However, despite the great positives above, the JLLR200 has a few drawbacks or limitations. For instance, this machine's maximum weight capacity is only 100kg. That's pretty low and may not serve heavier users.
Moreover, this rowing machine isn't ideal for professionals. Even its highest resistance level is pretty inadequate for users who are regular gym-goers or have used other devices before.
Pros
Compact and budget-friendly unit
Offers ten magnetic resistance levels
Features LCD monitor
Smooth folding
Comes with a travel wheel
Cons
Weight limitation is only 100kg
Not for professionals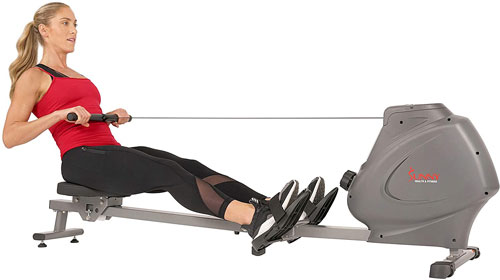 Sunny Health and Fitness is one of the UK's most trusted brands with an attractive portfolio. Included in the product line is a fantastic magnetic rowing machine that meets all the high standards set by this company.
The SPM magnetic rowing machine has a solid frame made with durable alloy steel. Besides, it has an oversized seat with a padded base to provide your hips with comfort.
Moreover, the ergonomic pedals have adjustable straps that make leg movement pretty smooth. Also, the anti-slip handlebars provide a firm grip as you move your body back and forth against resistance.
The rower features 16 tension levels for beginners and intermediate users. However, if you are an expert rower, you may find even the highest level too basic for your needs.
This machine is entirely foldable and takes a small space store. Besides, it comes with a primary monitor to display sufficient data to track your performance.
However, despite the above features and affordability factor, this rowing machine isn't ideal for healthy people. As per some customers, the middle bar that keeps the device locked doesn't touch the floor and may break with an extensive weight.
Pros
Solid alloy steel body
Oversized and padded seat
16 tension levels
Foldable design
Affordable
Cons
Not for professionals
May fail to accommodate heavy users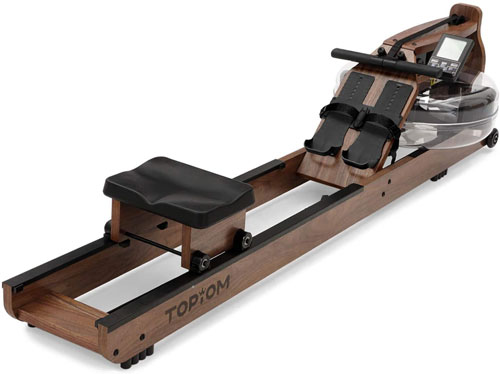 Wooden rowing machines look pretty classic and add an antique touch to your overall home gym look. The TOPIOM rower is made of walnut and ash woods and produces water resistance to challenge your potential.
This unit contains a high-quality water tank that enhances the unit's impact resistance and offers an unhindered performance. Besides, the adjustable footplates provide excellent flexibility on every movement and give you an anti-slip surface to avoid accidents. Also, the extended foot straps can easily accommodate all kinds of foot sizes.
The TOPIOM rower also has an LCD monitor that can connect with your phone via Bluetooth and display advanced stats on the screen. Moreover, the display is located in the centre of the unit to see your progress while working out.
This rowing machine has a weight capacity of 189kg while it weighs 30kg only. Moreover, you can easily fold the unit and store it in a compact space in your UK home.
But before you decide to buy this unit, make sure you have enough savings in your bank because this unit is expensive. Besides, water rowing machines require maintenance of the tank at least twice a week to prevent the machine from any damage.
Pros
Made from solid woodtest
Good resistance and smooth performance
Flexible footplates
LCD monitor
Excellent weight capacity
Cons
Expensive machine
Requires regular maintenance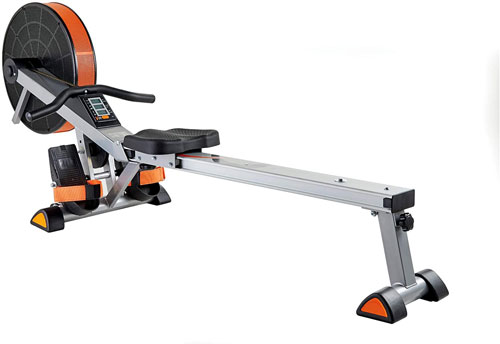 Air resistance rowers are noisy. However, if you live alone and can bear the sound of this machine, the V-fit Tornado air rower is a pretty fantastic option to consider.
If you are a beginner, this club style machine will help you stay fit at your own pace. Made with aluminium, the Tornado air rower comes with a padded seat, oversize footplates, velcro straps and a smooth chain to motivate you to utilise your maximum potential. Moreover, this unit features a small three-screen monitor that displays six different stats.
The V-fit Tornado rower has a weight capacity of 115kg. However, if you are a heavy user, the machine may not be a suitable option for you. Moreover, this rowing machine isn't challenging enough for professional rowers as well.
Pros
Great design
Oversized footplates with firm straps
Smooth rail system
Affordable for beginners
LCD displays six stats
Cons
Can't hold the weight above 115kg
Not ideal for professionals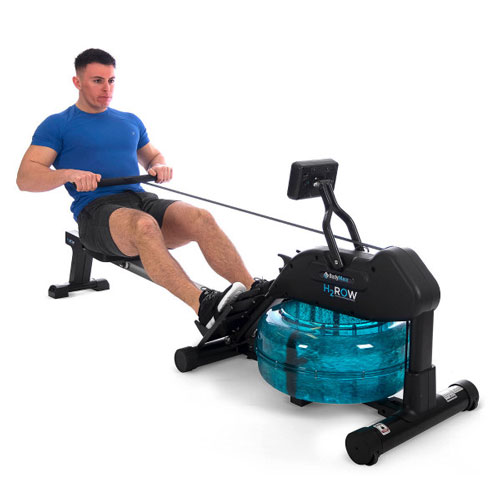 The BodyMax H2Row gives you an experience of water rowing but under your safe roof. This machine mimics the original rowing technique using its innovative rail system and ergonomically designed handlebars and pedals.
This unit also has an appealing design, thanks to its beautiful blue water tank and ultra-sleek frame. The wide padded seat and smooth rail system complement each other and perform comfortably for a relaxing and meditative workout. Besides, the unit only produces a soothing water sound to enable a comfortable experience.
Moreover, the H2Row has a compact and foldable structure. It also comes with inbuilt wheels that increase its portability.
One of the best features of the H2Row is its advanced LCD monitor. The screen displays all the imperative data and also has three pre-set programs for your ease.
However, like any other water resistance rowing machine, H2Row is also a little expensive. Moreover, you will have to replace the water in the tank regularly and keep the tank clean to maintain the unit's performance.
Pros
Mimics original rowing
Large seat slides on a smooth rail
Beautiful design
Compact and foldable
LCD comes with pre-set programs
Cons
Expensive unit
Water needs to be replaced often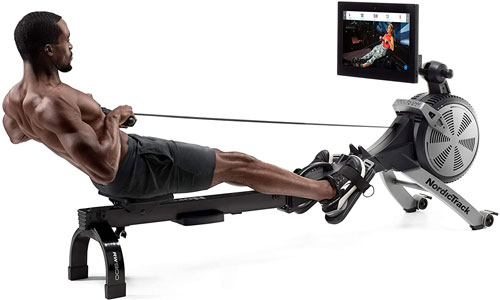 While this unit is a little heavy and may consume your floor space when in use, the Nordictrack rowing machine has a well-organised structure and offers a brilliant performance for beginners and professionals. Moreover, it is pretty affordable compared to its competitors.
The Nordictrack rower features 26 resistance levels that help you enjoy an optimised workout to meet your goals. Besides, the unit has anti-slip handles, large footplates and firm straps to accommodate all kinds of users and their fitness levels.
One of the most luxurious features of this unit is the 22 inches LCD monitor. This screen is wide enough for a clear display and can also connect to iFit workouts via Bluetooth. You can also adjust the angle of your console according to your position.
The Nordictrack rowing machine folds easily and can be stored under your bed. Besides, it comes with inbuilt wheels that help carry the unit from one spot to another.
Pros
Great for both professionals and beginners
Offers 26 resistance levels
Anti-slip handle and large footplates with flexible straps
Huge LCD monitor
Can be stored easily
Cons
Heavy unit
May occupy a vast floor space when in use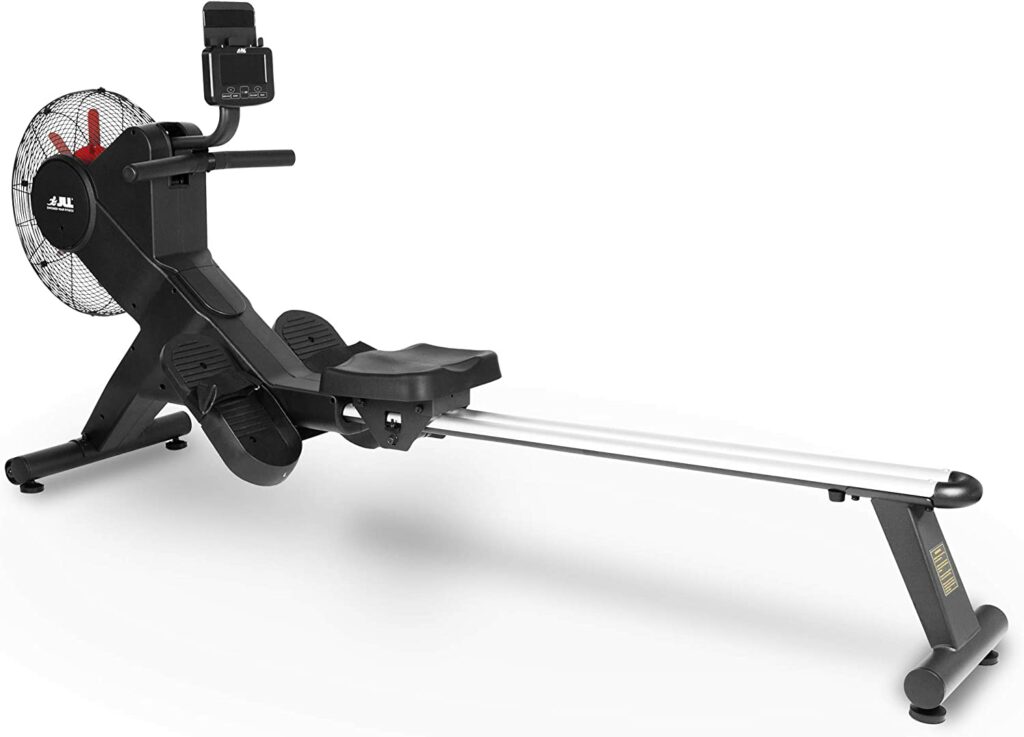 Taking the last spot on our best rowing machines in the UK, the JLL Ventus 3 is no less than any other unit on the list. While it can be a little noisy because of the air resistance, the Ventus 3 provides 16 levels of tension and works perfectly smoothly at even the highest resistance mark.
Moreover, the unit comes with an intuitive LCD monitor that displays 22 programs and stats to track your performance. You also get a heart rate band to record your pulse rate while you are working out.
Thanks to its compact body and foldable design, the JLL Ventus 3 rowing machine is perfect for home use. Besides, it features inbuilt wheels for quick transport.
The weight capacity of this unit is 120kg. That's pretty impressive. However, if you are someone heavier, you may want to consider other options on the list.
Pros
19 tension levels
Compact design
LCD plats 22 stats and programs
Comes with a heart rate band
Foldable structure with transport wheels
Cons
May produce noise
Can't hold the weight above 120kg
How to Pick the Best Rowing Machine?
Before you decide and pick the most suitable rowing machine for your use, consider some primary factors below. This step will help you to choose the best device without any regrets or doubts.
Type and Resistance Mechanism
We have already discussed the different types of rowing machines and the resistance mechanism they produce. However, which one you should get is still a dilemma.
Considering you are a first-time user who wants to use this unit for your home workout, an air resistance machine or magnetic resistance machine would be perfect for your needs. While the former may be a little noisy for small spaces, it is very durable and provides a wide range of resistance levels for many users in your UK home.
On the other hand, magnetic rowing machines are pretty smooth and quiet. Moreover, they are also compact and usually have consoles to adjust resistance. However, with magnetic devices, you may struggle with a limited level of resistance.
The other two types can be a little expensive and louder than our recommended units. However, the final decision rests with your requirements and budget.
Weight Capacity
Most rowing machines have a higher weight capacity than others. You should only spend your money on the one that can hold at least your weight comfortably.
Avoid units that have low weight limitations as they can break easily. But simultaneously, also consider your budget as high capacity units are a little expensive.
Seat
While selecting a rowing machine, you should also pay attention to the size and comfort of the seat. The seat on a rower should have an ergonomic design and must support your hips at all levels of intensities.
The best seats are those that come with a cushioned padding. Also, the seat should be adjustable and should cater to people with mobility issues.
Rail
The quality of the rail is also an imperative factor to consider before you spend your pounds. This component ensures the seat's stability and decides the amount of noise a seat will make while it moves.
Many rowing machines feature a double rail mechanism to enable a smooth and secure movement of the seat. Moreover, some models also have a rubber layering on the rail to prevent noise.
So, before choosing a machine, make sure to select between the single and double rail system first before handling the manufacturer your money.
Handlebars
Ideal rowing machines should have anti-slip handlebars to prevent unnecessary slippage. This feature is imperative to avoid accidents while using the machine at full intensity with your sweaty hands.
Some rowing units also have handlebars with pulse sensors. These help record your heart rate and save your money from buying a separate chest strap. However, handlebars with sensors do increase the overall cost of the rowing machine, which may be a problem for some people with limited budgets.
Design and Durability
You can find both metal and wooden rowing machines easily. Both have high durability and may look stylist in your training area. Moreover, with the wooden rowing units, you can choose from various colours to complement your other pieces of furniture.
Folding/Storage
You can either buy a foldable rowing machine or choose the upright stored units. The latter does not take much space and can be placed in a corner when not in use.
Moreover, if you can, go for a rowing machine that comes with transport wheels. This feature helps to move the unit from one spot to another without putting in any extra effort.
Console
Most advanced and even some basic rowing units come with consoles to monitor your performance. Some ordinary consoles will only display basic stats, while the expensive ones may have calories counters, heart rate devices and pre-set workout programs.
If you have a reasonable budget planned for this machine, you can also choose a unit that connects with an app and allows you to enjoy a virtual workout.
Price and Brand
You will come across a variety of brands offering the best rowing machines at competitive rates. But the one you should go for should have good delivery services, friendly customer assistance and user-friendly exchange and return policies.
Also, when it comes to price, this is a subjective matter. Any rowing machine that meets your budget and fulfils all your requirements is the best option to get.
Customer Reviews
If you want to make your selection quick and easy, read through customer reviews and learn from their experiences. Honest testimonials from consumers usually have reliable facts that only a person who has used a machine can tell. This factor will give you a fair picture of your chosen product, build honest expectations, and guide you to spend your money wisely.
Benefits of Using a Rowing Machine
If you are successful in acing the technique mentioned above, the best rowing machine will provide some benefits that many other expensive equipments fail to offer.
Provides a Full-Body Workout
You might have already understood how a rowing machine involves your upper and lower body in many ways. This machine uses 86% of your body's muscles to move and create resistance.
As per experts, a single rowing stroke uses 35% of your upper body movement and utilises 75% of your leg work.
Here is the list of parts with muscles that a rowing machine engages to work:
Upper back
Arms
Pecs
Obliques
Abdominal Muscles
Quadriceps
Glutes
Calves
Hips
Perfect Machine for People With Different Fitness Levels
You don't have to be a professional gym enthusiast or an athlete to buy a rowing machine and use it in your UK home. You can also be a beginner or an unprofessional individual to start working out with this unit.
Also, according to a study, a rowing machine is also considered safe for people with poor vision.
Offers Low-impact Workout
Rowing burns fat and calories without much impact or hurting your joints and knees. The best thing about a rowing machine is that it allows you to take all the control and move the handles and pedals according to your comfortable pace. Besides, this unit accelerates the process of recovery.
A rowing machine is sometimes also recommended to patients suffering from osteoarthritis. Similarly, it can be used by older members of your family who would want to work out for a few minutes without getting too tired.
Increases Weight Loss
Using a rowing machine consistently with a healthy diet can help accelerate weight loss. Rowing helps you to lose weight by burning your calories and fats at an accelerated rate.
According to a study, using a rowing machine for 30 minutes can burn at least 255 calories.
However, the weight you lose or calories you burn depends on several factors. For instance, your metabolism, resistance intensity, body size, and your consistency play a great role in this process.
Builds Muscles
For those unaware, using a rowing machine frequently can help you gain and build muscles. However, you may want to add other resistance training plans such as weights and bands to achieve this benefit sooner than expected.
In addition, resistance training can be performed between intervals, such as in Crossfit workouts.
Improves the Health of Your Lungs and Heart
Using a rowing machine is categorised as a cardio exercise. Rowing helps strengthen your cardiovascular system, including your heart, blood, and blood vessels. This machine helps to make your heart pump faster and accelerate oxygen distribution in different parts of your body.
Moreover, an even and increased supply of oxygen improves the capacity of your lungs and gives them a healthy form. Overall, using a rowing machine with your other fitness equipment can reduce the risk of heart and lung diseases by a significant percentage.
Rowing Is Meditative
Do you know that you can reduce stress and feel relaxed by working out on a rowing machine for a few minutes? The gliding motion of rowing combined with repetitive movements can give your mind a relaxing break and allow you to kick the stress hormones out of your body.
Moreover, rowing also increases the production of endorphins in your body. This hormone makes you feel happy and content about yourself and keeps anxiety and depression at bay.
Portable and Compact
The most advanced and best rowing machines have a compact design and cater to home workouts. Besides, they do not have any complicated mechanism, making them very user-friendly.
Also, most units are portable and easy to store. That's quite a plus point, provided the limited storage space most of you may have in your UK home.
How Should You Use a Rowing Machine Correctly?
Regardless of the type you go for, every rowing machine workout follows a basic technique. While this machine may look intimidating at first, you should remember that it requires more power than speed.
We are sure you don't want to experience a sore back in your first session of rowing at home and then never use this incredible machine again.
So, to avoid that, focus on your lower-body muscles, push your body out and gently come back to your starting position.
Before we explain the technique of using a rowing machine in detail, let's understand some common terms that may assist in your workouts.
Strokes Every Minute
This term refers to the times you stroke in one minute. As per experts, your strokes per minute should be 30 or below. You should avoid moving your body rapidly forward and backwards without focusing on your power.
Split Time
Split time is a term used for the duration required to row for a distance of 500 meters. Make sure to keep this time below two minutes. If you want to enhance your pace, push with power and prevent pumping your arms aimlessly.
Mastering the Form of Rowing Machine
Here are a few steps to use a rowing machine while maintaining a proper and safe form:
Apply Leg Isolations
Start with sitting on the seat and adjusting the straps on your feet. Now, hold the oars while extending your arms and bending your knees. Moreover, make sure to keep the weight on your feet's ball. This form is famously known as the catch.
Push back while keeping your back straight and engaging the core. Make sure to use only your legs to accomplish this movement. Also, extend your arms throughout this motion.
Include Arm Isolations
After you have aced your leg isolations:
Move towards your arms.
With your straight and extended legs, pull the hands in the direction of your chest.
Bend the elbows and allow the oars to touch the chest's bottom.
Hold the oars lightly and engage your upper body, except for shoulders and biceps, and pull the handle towards you.
Mix Both the Movements
Push your lower body back and utilise the upper back to pull the oars in the direction of your chest.
Then bend the knees and release the arms to slide back to the base position. It is the recovery position.
Follow the rule, Legs-arms-legs-arms to repeat.
Common Mistakes to Avoid While Using Rowing Machines
If this will be your first or even the fifth time using a rowing machine at home, you might make the following mistakes:
Hunch the Back
Constantly hunching the back means that you might be using your shoulders rather than your upper back to do all the work. It isn't the proper forum for rowing and may hurt your upper body after a workout.
To fix it, make sure your shoulders are pushed backwards and downwards while rowing. Besides, keep your back super straight and breathe deeply.
Perform Scooping Motion
A scooping motion can be very harmful to your form and back. It involves bending your knees before entirely extending your arms. It is a standard error, and this action may lead to other mistakes as well.
Raise Arms Very High
Don't go too high with the rowing handle. If you are pulling the oar above your chin, you apply more energy to this workout than required.
To avoid this mistake, keep the oar just below the chest. While doing so, bend the elbows above 90 degrees and keep your forearms even with the rib cage.
Drop the Knees to a Side
You might make this mistake to relax. However, dropping the knees doesn't work well with your rowing workout. This motion hinders the engagement of your thigh muscles and deactivates the hip flexors.
To fix this issue, make sure to utilise the inner thigh muscles and hold both your knees together. Moreover, you can also use straps to keep your feet firmly. Place the adjustable strap on the base of the toes but shouldn't be too tight to prevent the bending of toes and resisting their movement.
Workouts for Strength and Endurance
Have the above benefits finally convinced you to get your hands on the best rowing machine? We understand your excitement and are entirely rooting for you to get one as soon as you can.
However, before you rush to our recommendations, stay here and see the kind of workouts you can do using this fantastic invention.
But before that, follow the steps below for a warm-up.
Warm-up Before Rowing
This is a ten-minute warm-up that is named the Pick Drill. It involves only partial movements and helps to wake up your muscles.
Start with keeping your legs and back straight.
Extend your arms and move them towards your feet.
Bring them back to their original spot while keeping your shoulder relaxed.
Repeat this move for two minutes.
Now for engaging your back, hinge forward and lean back in a complete upright position.
Warm-up your legs by slightly bending your knees and pushing the legs forwards.
Once properly warmed up, you can use your rowing machines for the following exercises:
This workout is just 20 minutes long and can roughly burn 300 calories. To achieve excellent results, keep the rate of strokes between 26 and 30 and control your pace accordingly.
In the first interval, sprint for 30 seconds before taking a rest for the next 30 seconds.
Repeat for five rounds, followed by two minutes of air squats.
In the second interval, sprint for another 30 seconds for five rounds.
Follow this with two minutes of push-ups.
Repeat the first interval before moving on to the next workout.
This workout can help improve your strength and endurance. The tip with the Pyramid Power workout is to make sure to keep your pace consistent at all intervals.
The Pyramid Rowing workout is almost 42 minutes long and can burn as many as 450 calories.
Warm-up for 10 minutes.
Start with one minute for rows and one minute for rest.
Repeat but give two minutes to rowing and two minutes for resting.
Change the rowing and resting time for three and then four minutes gradually.
Once done, reduce the timing to three, two and then one minute for each rowing and resting phase.
Most rowing machine workouts are aerobic. However, the Lean Leapfrog exercise is different and is anaerobic. This routine is quite similar to weightlifting and can help burn 700 calories in just 40 minutes.
Start with warming up for ten minutes.
Then move to the main exercise that involves one minute for sprinting and one minute for relaxing for a total of five times.
Once done, take two minutes rest for recovery.
Repeat the printing sequence for three rounds before you plan to call it a day.
The above list of exercises is perfect for both professionals and beginners. Moreover, the list doesn't cover many other unique workouts that you can do using a rowing machine.
Therefore, to discover and enjoy new exercises, you will have to bring the unit to your home and experiment with different training yourself.
FAQ