Inventions like the stepper machine are a blessing for people with busy lives and routines. Yes, there we said it, and we can prove it too.
Have you ever thought of staying fit and being consistent with your exercise but failed every time? We understand your situation because while maintaining and balancing private and public lives, fitness takes a back seat for many.
But don't you think this approach is harmful to your present and your future? Won't that take a toll on your health and may ruin all the plans you have made for yourself?
If you cannot exercise because your job doesn't spare you some "me" time, think about getting a stepper machine at home and become fit. This fantastic unit will change your life for good and help you achieve strength and stamina without interfering with your work and personal routine.
Dig into this article to know more and enlighten yourself with some interesting information. Moreover, go through our recommendations and buying guide to select your favourite unit for your home.
What Is a Mini Stepper Exercise Machine?
Basic mini steppers feature anti-slip pedals or footplates, an LCD screen, a motor or a hydraulic system, and many also come with resistance bands. Since this unit has a compact body and design, you can keep the machine under your feet while you attend meetings, watch Netflix or enjoy a gathering with friends.
From the description above, a mini stepper may sound like a miniature version of a treadmill. However, it isn't.
This machine is much simpler and less technical than a treadmill. A treadmill is more appropriate for running while a mini stepper is made for, well, you guessed it right, stepping.
Besides, a treadmill is a noisy unit because it operates through a motor. Moreover, even the most miniature treadmill is enormous in size and is mainly found in gyms or vast home workout spaces.
On the other hand, a mini stepper is compact and can be placed anywhere you want. Moreover, since it is a portable device, it can be conveniently used in an office space, a friend's apartment or even in a park.
In short, a mini stepper is a supportive and fundamental tool that engages you in physical activity. With a stepper machine in your home, you have no excuse left to stay lazy and skip a workout.
If you are still not convinced, go through the section below to know more about this fantastic unit.
How Can You Use a Mini Stepper Exercise Machine?
If you have been sitting on your desk for a long time, here's how you can use a mini stepper while you prepare for a meeting:
Place the machine under your desk and over a rubber mat. It is essential to prevent the stepper from moving unstably on the floor.
Your mini stepper should also be placed near your chair to help your knees bend comfortably at a 90 degrees angle.
Once settled, turn on the stepper. Some of these units come with manual controls and do not run on batteries. However, many advanced steppers use a power supply and even display your resistance and other related data on an LCD screen.
Put both your feet on the pedals and make sure they are carefully adjusted on the centre of the metal steps.
Now start pressing the footplates from your one foot followed by the other. Use your motion range fully and raise your knees as high as possible to engage the hips and thighs.
You can safely use a mini stepper for 30 minutes for five days in a week. Besides, while stepping on a stepper, make sure your laces are tightly tied in a knot and you do not suffer from a foot injury.
Moreover, do not step on this machine barefoot and perform your exercises slowly before increasing the pace gradually.
If you are using a stepper while standing, keep your core and upper body perfectly straight. Avoid slouching or bending over.
It is imperative to maintain your stability and engage your core muscles. Besides, if you fail to balance correctly on this mini machine, stand against a wall to support your back while you try to exercise.
Our Top Mini Stepper Machine Picks
The wait is over. After understanding almost everything about a mini stepper exercise machine, it's the right time to check our recommendations.
Each of the mini steppers in the list is amazing in its own way. Select one that ticks all the right boxes for you.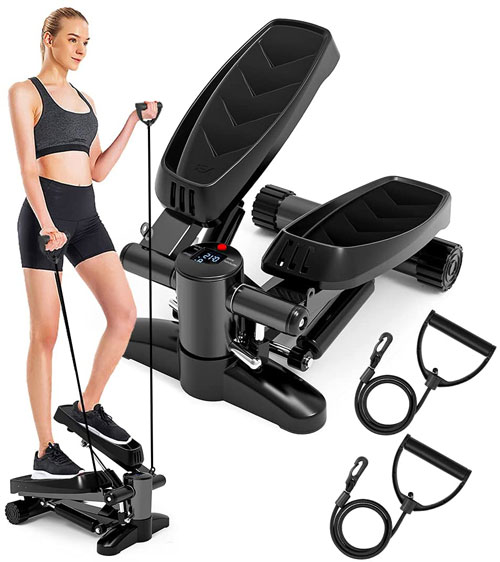 The Dachuang mini stepper machine has impressive features and a user-friendly mechanism. Starting from pedals, this unit has textured footplates with a rigid texture to hold your feet in one place tightly. Besides, the pedals are pretty huge, so you can comfortably place your feet and prevent any slippage.
This mini stepper exercise machine available in the UK has an ergonomic design with a solid hydraulic system. The motor supports your consistent movement for a long time and saves your joints from any pressure or jerks. Besides, it produces a sound of as low as 40db, making this machine pretty valuable for offices and crowded places.
The 38 degrees angle of the machine protects your ankles and waist, helping you move smoothly in a healthier motion. In addition, the pedals are covered by an ABS layer to prevent slippage during a workout.
The Dachuang stepper exercise machine features an LCD screen. You can use it to track your workout frequency, exercise duration, calories burnt, and any other data that you may require to progress.
This unique stepper unit also comes with two resistance bands and a floor mat. The bands are detachable and can be used to tone your upper body while you enjoy stepping. Besides, the rug saves your floor from any damage and prevents the mat from slippage.
Overall, the Dachuang home stepper is a brilliantly designed product. However, it may be a little expensive when compared to many similar steppers in the market. Besides, it may not work well with overweight users.
Pros
Huge footplates
Solid structure and design
Features LCD monitor
Comes with a floor mat and resistance bands
Produces low noise
Cons
Expensive
May not suit overweight individuals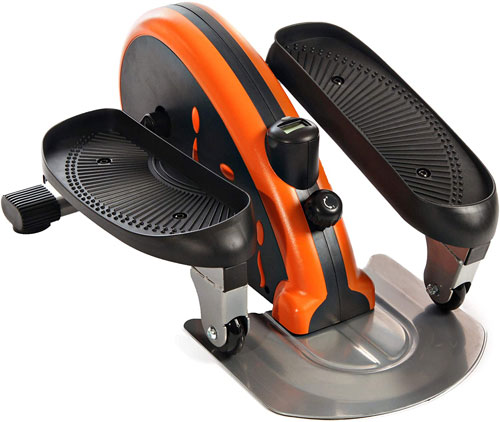 When choosing a mini stepper machine for your workout, make sure not to overlook the solid construction. After all, you will step on the device and exert some pressure for it to move. Therefore, the unit should be stable enough to bear that force and convert the pressure into motion.
The Stamina 55-1602 is a similar product with a solid steel structure. Besides, it features non-slip pedals that convert your pressure into motion without giving you jerks and causing accidents. Moreover, this elliptical unit comes with padded pedals that absorb all the pressure and support your movement throughout.
This unisex trainer by Stamina is also excellent when it comes to its tension control. You can easily choose an intensity level of your choice and make your workout less or more challenging.
The Stamina 55-1602 unit also features an LCD monitor. The screen displays your exercise time, workout frequency, calories burnt, and all the stats required to progress and stay motivated.
This unit is pretty promising for many reasons. However, it is imperative to mention a few functional drawbacks to draw a fair picture.
According to some customers, the Stamina 55-1602 is a noisy machine. Moreover, it gets louder as the resistance rises.
Besides, it slips a lot if not placed over a mat or smooth surface.
Pros
Solid steel design
Non-slip pedals
Padded pedals
Adjustable resistance
LCD screen
Cons
Produces loud squeaking when used
May often slide without a smooth surface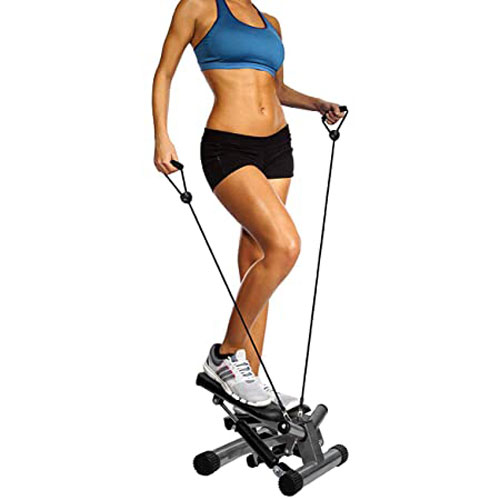 The adjustable stepper machine by BalanceFrom is not only affordable but also has some noteworthy features. For instance, the unit features anti-slip footplates that keep your feet in one place and prevent unnecessary slippage.
Moreover, the mini unit has adjustable knobs that help change the stepper's motion height according to various exercise routines. However, many customers have complained of weak knobs that need to be tightened frequently to prevent accidents.
The BalanceFrom stepper machine features a smooth hydraulic system that offers good resistance and power. Besides, the system makes sure that this unit works silently and doesn't disturb the people around you.
This fantastic unit comes with detachable resistance bands. You can fix the bands with the machine and perform waist, arm and belly exercises to achieve great results. But be very careful as some users believe the cords of the band are of poor quality and hinder a solid workout.
Pros
Affordable machine
Anti-slip footplates
Adjustable knobs
Low noise unit
Comes with resistance bands
Cons
Weak knobs
Poor-quality bands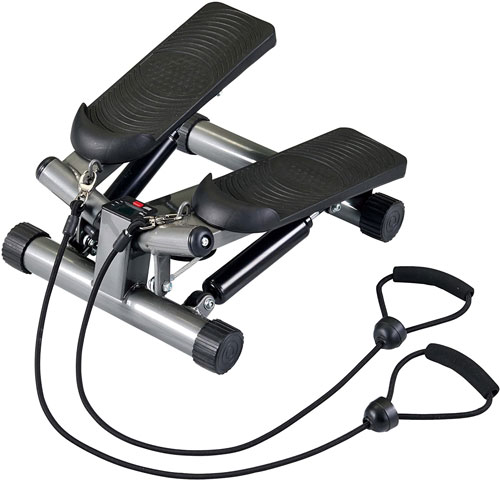 While this stepper machine is a little heavy and squeaks constantly, you may want to try the Body Sculpture BS1320 stepper for its affordability and sturdy design. This unit comprises heavy-duty steel that gives it a sturdy design that can last for a more extended period.
Besides, the BS1320 has anti-slip foot plates that keep your feet firm in one position on any level of resistance. So you can work out at your own safe pace without worrying about falling or slipping frequently.
The Body Sculpture mini stepper comes with bungee cords that allow you to enjoy a full-body workout every time. The stepping motion can help tone your legs, thighs and glutes, while the resistance bands can shape up your waist, arms and shoulder.
This unit also features an intuitive LCD monitor. You can use it to see your calories burned, workout duration and workout frequency. The LCD screen is perfectly placed in the centre so your eyes can see the required data without leaning over too much.
Pros
Sturdy unit
Anti-slip footplates
Comes with bungee cords
Intuitive LCD
Affordable unit
Cons
Heavy
Squeaks constantly when in use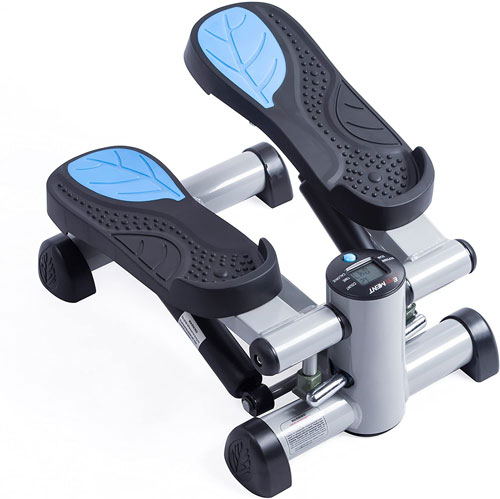 The Efitment mini stepper machine is also one of the best units available in the UK. The device runs using a hydraulic system that provides enough resistance for a smooth workout every day. However, the motor is a little noisy and may disturb your surroundings while you use this unit.
This stepper machine features wide pedals with a textured and non-slip surface. The footplates keep your feet secure and firm while you move the pedals up and down.
Moreover, the weight capacity of these plates is 100kg. This is a low weight limit for many. However, if you are someone heavier, you might want to try other options on the list.
The fitness stepper also has an LCD monitor. You can use the screen to track your performance by calories burnt, workout frequency, and time spent stepping.
Pros
Hydraulic system drives the smooth motion
Textured footplates
Non-slip surface
LCD monitor
Affordable unit
Cons
Low weight capacity
Noisy unit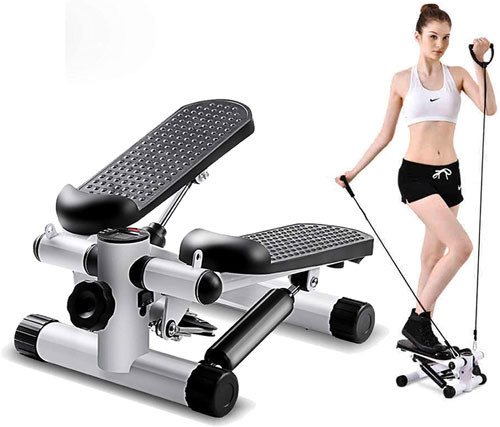 Vinteky is a well-known UK brand with a fantastic product portfolio. The company features amazing fitness devices, including the Up-Down mini stepper.
This training apparatus has a robust frame that runs on a silent drive system for as long as you want. Besides, the unit comes with certified resistance bands that help you utilise this tool for your upper-body workout.
The Vinteky stepper also features non-slip and wide pedals that keep your feet stable in one place. In addition, the textured surface provides a solid grip on your feet and prevents them from slipping. However, many customers have complained of slight disturbances with the foot placement on high-intensity levels.
This solid unit can hold a weight of 100kg at a time. However, if you weigh above that limit, you can try other more stable units from this list.
Overall this stepper machine is pretty adequate when it comes to its price tag. But if you want to experience better performance and sturdiness, you may want to increase your budget and get your hands on the expensive recommendations.
Pros
Silent performance
Comes with certified resistance bands
Non-slip and wide pedals
Affordable
Cons
May not hold the weight above 100kg
Foot placement issues on high-intensity stepping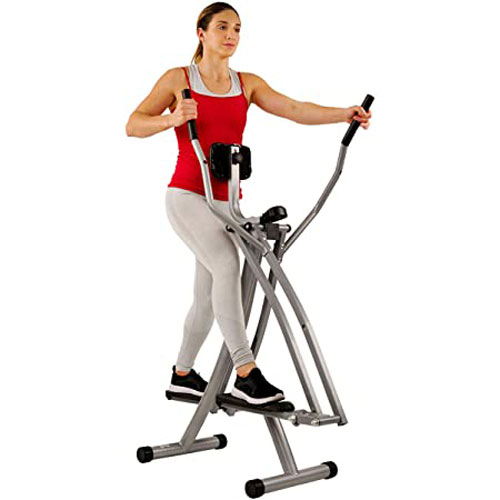 It is hard to find a compact machine that can offer an excellent full-body workout. However, the Sunny Health and Fitness trainer is a brilliant exception. While it may look a little advanced and more significant than a basic mini stepper machine, you can easily use this equipment for your training in your UK home.
The Sunny Health and Fitness trainer assembles within five minutes. Besides, it is compact enough for small spaces. Moreover, the machine comes with non-slip pedals that help maintain your motion and correct foot placement throughout your workout.
This unisex training unit also features an LCD monitor to track your progress. The screen records your calories burnt, total distance covered, and workout frequency.
The Sunny Health and Fitness trainer has an adequate stride length that allows your legs to move comfortably. Besides, its solid steel structure can easily hold a weight of 100kg at a time. However, that's a very low weight capacity and may not suit many users.
Overall, this option looks fantastic for all kinds of users. However, this trainer is an elliptical machine that doesn't offer resistance. You might think it's impossible, but that's true. This drawback is a big let-down for users who want to challenge their bodies to achieve better stamina and strength.
Pros
Compact unit with handles
Assembles quickly
Non-slip pedals
Good stride length
Has an LCD monitor
Cons
Provides no resistance
Low weight capacity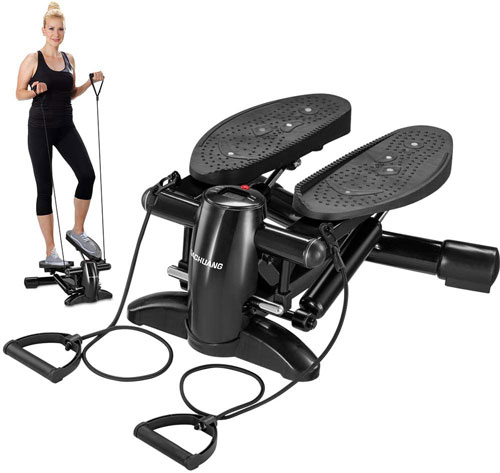 Taking the eighth spot on this list, the Dachuang stepper exercise machine is also one of the best options available in the market. Like any other competent fitness unit, this one also has anti-slip pedals and a wide surface to place your feet comfortably on.
Moreover, this device runs on a hydraulic power system that makes a noise as low as 20db.
The Dachuang mini stepper unit has a unique design. It has a U-type hose and an oval cylinder structure that helps to increase the weight load of this unit. Besides, this unique design provides good resistance, sturdiness and stability.
However, a few customers have filed complaints with the manufacturer about the structure getting weak and parts coming out within a month of use.
The Dachuang stepper is a compact unit that is easy to store and use anywhere. Besides, it comes with resistance bands to maintain your upper body as well.
But, despite the high-quality standards of Dachuang, the resistance cords are not as strong and flexible as they should be.
Pros
Wide and anti-slip pedals
Unique ergonomic design
Compact unit
Comes with resistance bands
Less noisy
Cons
Customers have complained about the parts coming off
Non-flexible resistance cords
Why Should You Get a Mini Stepper Machine in Your Home?
Why do you think we want you to invest in a mini stepper machine in the UK? Read the benefits below and see if you can figure out the answer. A mini stepper :
Improves Heart Health
A mini stepper machine is a brilliant piece of equipment that allows you to enjoy the benefits of a low-impact cardio workout from the comforts of your UK home.
Working out with a mini stepper machine is like walking stairs but without leaving your seat. It may sound a little unrealistic, but that's what this invention is about.
Depending on your speed and frequency, this unit can help you improve your heart health in a short time. By moving your feet on a pedal, you can enhance your heart rate and accelerate the oxygen flow in your body. Besides, a mini stepper workout also enhances the health of your lungs and improves your breathing capacities.
Reduces Weight
While a mini stepper may look small, it packs a powerful punch and helps your body burn many calories and fats. This decrease then leads to a gradual drop in your weight and body size.
Tones Muscles
A mini stepper exercise machine engages your calves and hamstrings and tones your muscles effectively. Moreover, since it provides you with a lower body and low-impact workout, this machine is ideal for people living with joint pains and severe immobility problems.
Moreover, you can also use a stepper to tone your bum. However, you will probably have to exercise using a challenging resistance level and use this machine while standing.
Besides, you might also want to try leaning into this stepper while working out. This motion will help accentuate the activation of your glute and hips.
Establish Balance and Coordination
Do you think that a lack of physical activity in your life has harmed your balance and coordination? For example, sitting on a seat for five to eight hours consistently every day can ruin your body's posture and balance by a great deal. Besides, if you suffer from an underlying condition, your coordination can get worse with time.
To improve your body's balance, muscle activity is imperative, and a mini stepper helps you achieve just that. Besides, it can easily reactivate your muscles that you might have forgotten to use in a long time.
Increases Strength and Stamina
Just like any other fitness machine, consistent use of a mini stepper can help build your strength and stamina with time. Moreover, it can increase your bone mass and provide you with a strong body within a short duration.
Benefits Emotional Health
Have you ever experienced extreme stress during work? Or do you feel depressed often? If yes, you might want to buy the best mini stepper to pull you out of these mental health issues.
Living a monotonous life with no physical activity can hurt your emotional health. However, with a mini stepper always within your reach, you can work out wherever you want and kick your stress hormones out of your body.
Besides, low-impact cardio at least thrice a week accelerates the production of serotonin in your body. This hormone makes you feel happy and content about yourself and motivates you to work hard and progress in your professional and personal lives.
Stores Conveniently
If you live in a small home in the UK, we can understand how impossible it is to develop a well-equipped gym in your limited space. However, this limitation shouldn't stop you from getting a compatible fitness machine for your home workouts.
A mini stepper machine is a perfect choice for a small UK homeowner. It is a compact tool that doesn't take much space when being used. Besides, it can easily be stored under your bed and drawer without occupying your floor.
Saves Your Money
Mini steppers are far more inexpensive than treadmills or other big workout units. Moreover, if you are someone who works out occasionally and just wants to enjoy low-impact training within your safe space, it is wise to invest in a stepper rather than a heavy-duty machine.
Besides, mini stepper machines are readily available and often have a basic design. The user-friendly structure allows you to utilise this unit to its full potential and get a return from your investment right away.
Can Be Used Safely By All Family Members
Since this machine has an easy operation, a mini stepper can become an excellent companion for every member of your UK family home. From kids to adults, everyone can enjoy the benefits of this unit in their own ways and live a healthy life together.
How to Pick the Best Mini Stepper Machine for your UK Home
Picking the best stepper might be a little daunting. How can you make a selection when all the options seem wonderful?
Well, try our technique. First, go through a list of some factors below. Match them with your requirements and then your shortlisted steppers.
The stepper that meets all the standards and your demands is worth your money. It is as simple as it sounds.
Durability
Have you ever bought a fitness machine that lasted a week only? Did you not consider its durability before purchasing it?
Taking durability for granted is one of the most common mistakes most of us make. However, it should be our first priority when buying expensive or even cheap equipment for that matter.
When choosing a mini stepper, make sure it is durable enough to withstand your physical movement. Most of these units are lightweight and inexpensive, but that doesn't mean you should compromise on the quality of your selected stepper machine.
Steppers with frames made of aluminium are pretty solid. Moreover, units made of hard plastic are also quite competitive. Either option is durable and better than poor-quality materials.
Besides, make sure the hydraulic systems also have high specs and have quiet, smooth and solid pistons.
Size
Almost all steppers are compact and travel-friendly.
However, while they are mostly small in size, they should have a stable, solid and large enough base. This factor especially applies to steppers with no handles.
So, in short, select a mini stepper exercise machine in the UK that displays a perfect balance between its weight, size and sturdiness. For instance, if you want to use this machine under your office desk, make sure the step height is not more than 13 inches.
Noise
No one likes to work out with a noisy machine in their UK home. A workout machine should be a source of motivation and comfort for its user rather than a way to annoy your housemates unnecessarily. Besides, a mini stepper exercise machine that makes noise is a source of embarrassment, and you can't use it in an office space or a crowded location.
Before you pick a mini stepper for your use, make sure to test the quality of hydraulics. Some mini steppers make a loud noise every time you use them. This is because of their poor mechanism.
Moreover, if your budget allows, choose a stepper that uses high-quality pistons that make no or little noise.
Tracking
A majority of mini stepper machines feature a tracking system so that you can monitor your performance throughout your training session. However, most screens are small and located far away from your eyes. That's a waste of a feature that you may require to progress in your training.
To avoid that, make sure your chosen mini stepper unit has a large and bright display. Moreover, it should be centrally located and should display significant digits on the screen. So, even if you are using a stepper while standing, you don't have to bend down to see your performance.
Moreover, if you are spending your money, make sure the tracker displays all the essential data. For instance, it should show your calories burnt, step counts, time duration and speed.
Resistance
The best mini steppers in the UK should provide an easy and smooth adjustment of resistance. This factor will help you to increase the tension level as you gain strength with time.
Make sure the adjustment of the tension is easy and quick. Moreover, there are no jerks involved while you are moving from one level to another.
Some expensive mini stepper machines also come with remote controllers to fluctuate the resistance. This accessory allows you to adjust the tension without bending down and fixing it manually.
Other Accessories
You can use a mini stepper in many ways, thanks to some extras that may or not accompany your selected machine. For instance, some best mini exercise machines in the UK come with handles.
These handles usually have pulse sensors that record your heartbeat while you are stepping up and down. Moreover, they are also detachable, so you can use your stepper under a desk if required.
Some other mini steppers have resistance bands. These bands are attached to the stepper's base and are pretty helpful to perform lower and upper body resistance training. Resistance bands add a great value to your money and provide a new variety to your workout.
Price
The best mini stepper is the one that can meet your budget and also fulfils all your requirements. However, since almost all stepper machines are mostly budget-friendly and almost look alike, you may be lured to buy the cheapest ones to save money.
However, that would be the biggest mistake you would make.
While selecting the best mini stepper exercise machine, always prioritise the quality and performance above the price. If you can't afford a reliable mini stepper today, it is wise to wait and save some money before you bring one home.
Expert Recommendations and Customer Reviews
Have you ever read through expert recommendations before purchasing an exercise unit? If not, you might want to start doing that from now on.
Experts are the best people to trust when it comes to buying a technical fitness machine. However, while relying on their suggestions, you should make sure their content isn't sponsored and what they are sharing is all true.
You can also read customer reviews before selecting your mini stepper. These testimonials are often honest and come from people who have already experienced the machine's performance for some time.
FAQ
Here are a few common questions asked by users like you. If you are interested to know more about a mini stepper machine, find their answers and clear any doubts.