It doesn't feel comfortable watching yourself pulling weights in one of the gym mirrors while working out. Your body doesn't look flattering, and you can easily see sweat everywhere.
However, this practice is more important than looking good. It helps execute the correct technique and saves you from many injuries.
So, if you haven't bought one of the most fantastic gym wall mirrors for your private workout space yet, it's about time you do that. But with so many options available, which one should you get?
Before you start panicking, calm down and read through the article below. We have curated a list of the best mirror gyms recommendations for you. From cheap to premium options, there is quite a wide variety available.
Besides, as a bonus, we have a buying guide and many interesting facts on gym mirrors to make your decision quick and easy.
Dig in to find all the details!
Gym Wall Mirrors Vs. Regular Mirrors
You can't replace a gym mirror with a regular mirror because the former has a suitable type and a particular setting procedure.
There are four main types of mirrors. Let's discuss each!
Glass
Most traditional mirrors that are often found in your vanity are made of basic glass. However, most gym mirrors also have glass making and are very common.
These glass mirrors offer clear reflection, are scratch-resistant and are pretty rigid. Moreover, they do not bend easily and are used for various purposes.
However, glass mirrors are expensive, heavy and quite vulnerable. Moreover, it is hazardous to shape glass or drill holes in it. A glass mirror can shatter and break without any warnings.
Acrylic
Acrylic mirrors are the best alternative to regular glass mirrors. It is a form of plastic that uses metallic foil with a reflective property.
Acrylic mirrors are called glassless mirrors and are cheaper, lighter, quicker to clean, convenient to mount and more accessible to shape than regular glass mirrors.
Moreover, they have a substantial impact resistance that prevents them from breaking easily. However, unlike glass, acrylic can bend easily and may form scratches on its surface.
Mylar
Mylar mirrors are made with a reflective foil that transmits light better than even glass. This property allows mylar mirrors to give a clear and clean picture every time.
However, since mylar is foil, it can bend easily and lose its strength. Besides, it can damage easily, making mylar mirrors less durable for a long-term investment.
Smart Mirrors
If you are a tech-enthusiast, smart mirrors may strike your fancy. They are either made of plastic or glass and have an LCD behind them. You can play anything through the LCD on your screen and then switch it off to use as a regular mirror.
Smart mirrors are expensive, complicated, and, to be honest, unnecessary. However, if you love cool stuff and love chic items in your home, this mirror can make an impressive addition.
For instance, smart mirrors can help track your progress, record your stats, and connect you with various training programs.
Which Mirror is Best for Your Gym?
So, after going through the options above, which material is best for gym mirrors? Unlike regular mirrors, a majority of gym wall mirrors are made of acrylic and glass.
It is because these materials are long-lasting, readily available and are available for different sizes. Besides, they can be easily installed, and you can fit them on any of your chosen walls.
You can also go for smart mirrors in plastic and glass, if your budget allows. However, for most of you, an acrylic mirror or a simple glass mirror would be enough to keep a check on your workout performance.
6 Best Gym Mirrors for Your Workout Space
So, are you ready to spend some pounds on the best mirror gym? Go through the reviews below and carefully evaluate each option. We are sure you will find a perfect match from our well-researched recommendations.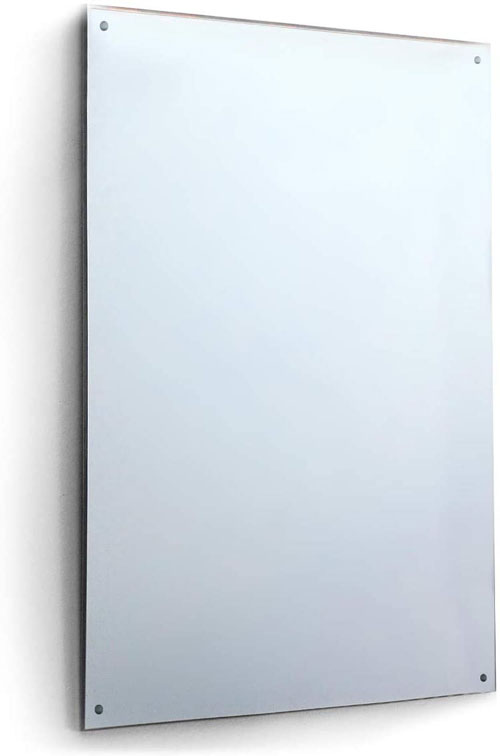 This sizable frameless mirror by MirrorOutlet is an ideal choice for tall users. With a length of six feet and a width of four feet, this mirror can fit most walls conveniently.
The MirrorOutlet gym mirror has a rectangle shape and comes with a safety backing. Besides, it weighs 23 kgs and can mount easily on a wall without exerting any extra pressure. You won't require many skills to fix this object, but you might need an extra hand to hold the mirror.
This item comes with screws, head caps and washers to make the installation process convenient for you. However, some customers have complained about the cheap quality of screws that need replacement within a week of use.
Besides, some customers have also pointed out the rough edges of the mirror. This feature may be a letdown with many users living with kids.
Overall, MirrorOutlet is an excellent glass gym mirror on a budget. The manufacturer delivers this product for free, and all exchanges or returns are also without any cost.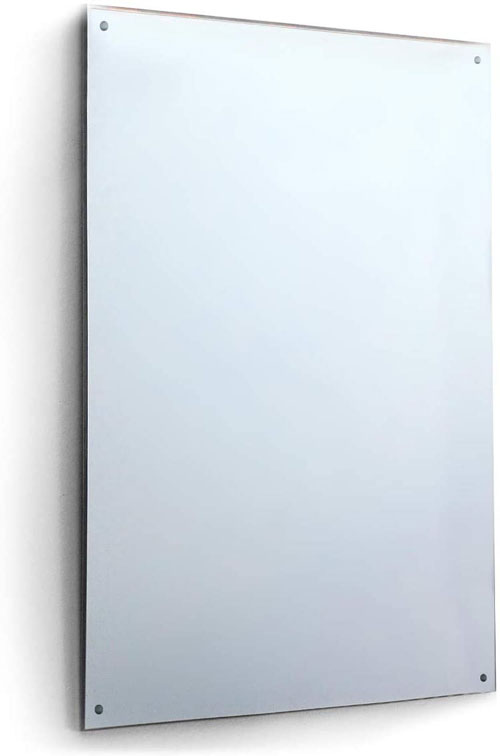 If you are looking for a lightweight glass mirror for your UK gym studio, the MirrorOutlet 4mm mirror will tick all the right boxes. This item weighs only 14.4 kgs and is lighter than the above three options.
However, it is smaller than the first three recommendations. The MirrorOutlet glass mirror has a length of five feet and a width of the feet. If you are someone taller than these dimensions, you will have to go for other options on this list.
This 4mm thick glass mirror has the ideal thickness for home gym purposes. But without a solid safety backing, you may find this too fragile to handle.
Besides, this mirror features sharp edges. It is a standard design error in all MirrorOutlet mirrors, and they should take it seriously before their sales go down.
The 4mm glass mirror can be easily installed using an adhesive. However, while mounting this object on your wall, don't hesitate to help with the correct positioning.
When compared to other options, this glass mirror is pretty inexpensive. Moreover, it is backed up by a manufacturer that offers free delivery and returns.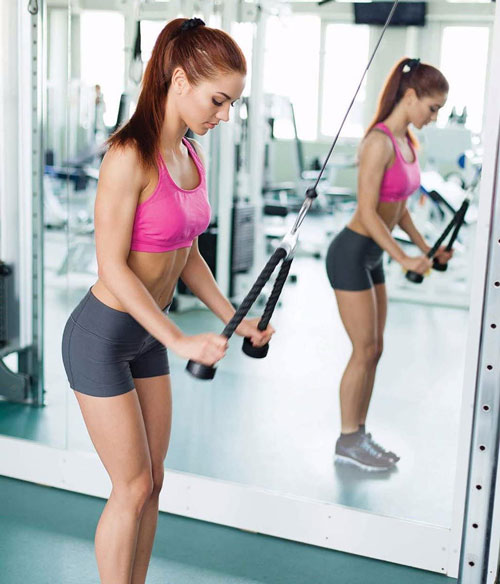 None of the above mirrors provided the safety feature of safe edges. However, this thick mirror glass by MirrorOutlet offers excellent value for money and has all the ideal characteristics of the best gym wall mirrors.
The MirrorOutlet glass mirror is six feet tall and four feet wide. Besides, it weighs 23kg which may feel a little heavy to handle and mount. However, heavy mirrors don't break easily and usually have safety backing to prevent any mess.
This frameless mirror comes with polished edges, which enhances the overall safety factor. You can place this mirror in a room with kids without worrying about any injuries.
Moreover, this mirror doesn't require any tiring installation process and can be fixed on a wall using a simple adhesive. However, hire a professional to do this job because the mirror is too heavy to carry alone.
Overall, the MirrorOutlet glass mirror ticks all the right boxes. However, you may find it more costly than most options on the list. But looking at the features and its making, it is safe to say that the positives outweigh the higher price any day.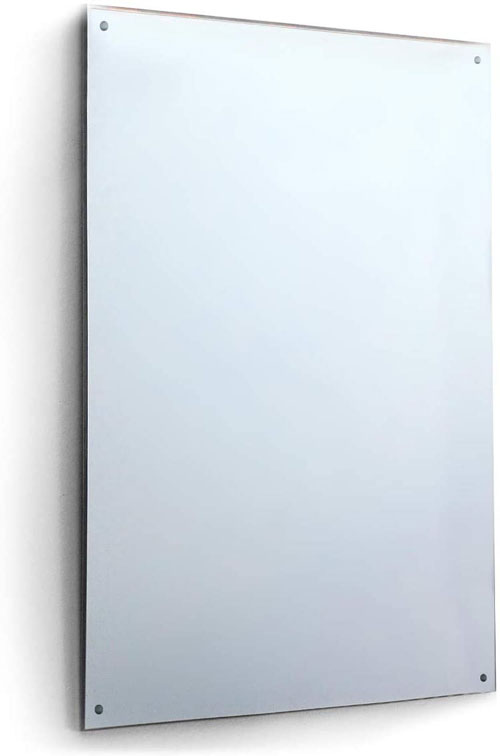 Glass mirrors are generally expensive, but they offer better clarity and also look solid. The 4mm glass mirror by Mirror outlet is just that and more.
With an ideal thickness, length and width, this mirror can easily mount on any wall and act as a great support in your workouts. Besides, it is well-suited for both tall and short users looking to shape their bodies and gain strength.
The MirrorOutlet mirror weighs 23kg and comes with a frameless body. Moreover, its rectangular shape and solid structure make this mirror pretty useful for a home gym.
However, unlike many other gym wall mirrors, this item has sharp edges. That's quite a bummer, and anyone with safety issues may reject this product right away.
The MirrorOutlet glass mirror can be installed using adhesive. But as per the manufacturer, you will have to pay a professional tradesman some extra pounds to get the job done.
MirrorOutlet offers free delivery, returns and exchanges on this product. Moreover, their customer service is quite commendable.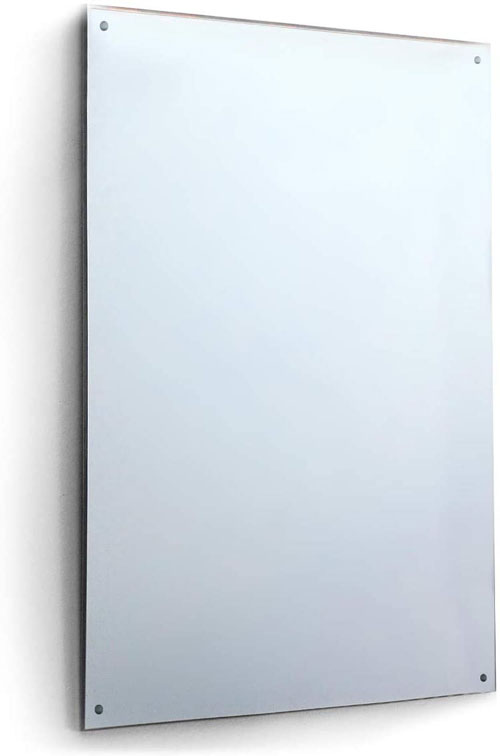 Despite hectic routines and long workout sessions, have you failed to ace a yoga posture? If yes, you might be needing one of the best gym wall mirrors to identify your errors and re-learn the technique.
The MirrorOutlet Bevelled glass mirror is a reasonable recommendation in many ways. Firstly, this mirror has an ideal 4mm thickness which is appropriate for home gym users. Besides, it is lightweight and can fit on all walls comfortably.
However, it is five feet long and three feet wide. If you are a tall individual, you may find these dimensions too low for your use. Also, it doesn't have a safety backing, increasing the risk of shattered glass particles on your floor if the mirror falls.
However, it is five feet long and three feet wide. If you are a tall individual, you may find these dimensions too low for your use. Also, it doesn't have a safety backing, increasing the risk of shattered glass particles on your floor if the mirror falls.
The MirrorOutlet glass mirror can be easily installed using an adhesive. That reduces your efforts on any cumbersome drilling.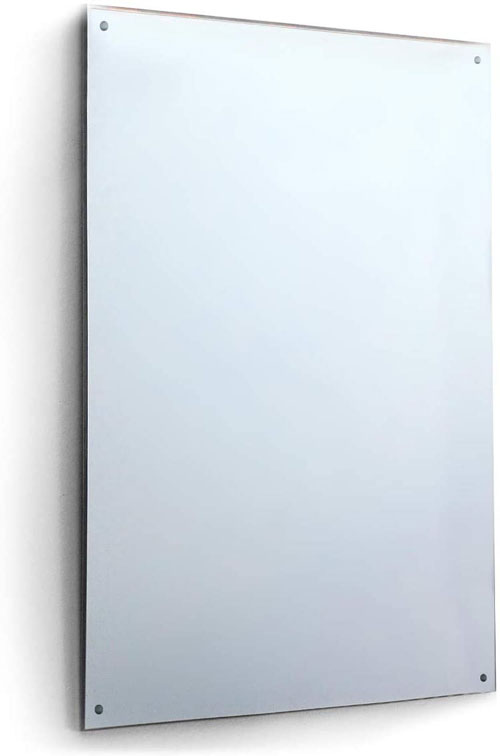 MirrorOutlet is a famous brand in the UK and is known for delivering quality through its unique mirrors. A new addition to its product portfolio is the six-foot-tall and four-foot-wide mirror glass with four holes in each corner.
This rectangular mirror can be conveniently mounted on your gym wall through screws and washers provided with the product. However, be careful as according to some customers, these screws are pretty loose and may break easily.
Moreover, the MirrorOutlet glass mirror doesn't come with a safety backing. This missing safety feature will allow the mirror to shatter into pieces if it falls.
Some customers have also complained of the mirror's rough edges. Unfortunately, it is again a vital design error that may result in many injuries.
But if you look at the MirrorOutlet's price, you will find that this product is more affordable than many. Besides, the customer service and free delivery can easily lure you into spending your pounds on this glass mirror.
Also, this item will look great in your home gym. Its ergonomic design and sleek structure will motivate you to practise your favourite moves every day.
How to Pick the Best Gym Wall Mirrors?
Have the above recommendations left you a little overwhelmed? We know it can happen as each option is perfect in its way.
However, you can easily pick one gym mirror by considering a few significant factors. First, evaluate the considerations below and match them with your preferences. Once done, read the specifications of your chosen product and see whether the mirror suits your requirements or not.
Size
There are two different sizes that you should consider before buying a mirror. One is the required size of your mirror that fulfils your purpose.
Second is the size of the area available to handle the mirror. You should make sure to take appropriate measurements of each before you spend your money. A short wall and a large mirror won't make a good match, nor will a big wall and a small mirror.
Thickness
Thick gym wall mirrors are more durable and long-lasting. In addition, they do not crack or break easily, even on high pressures. Most gyms have 5mm thick mirrors, but they are costly and may not adjust well on your thin home gym walls.
A mirror with 3mm to 4mm thickness will work best for your ideal UK gym home space. However, make sure you have enough money in your pocket to buy such gym wall mirrors.
Shape
Most round and oval mirrors look super stylish and fancy, but they are best for your vanity only. Gym mirrors should either be rectangular or square.
Moreover, while putting more than one gym wall mirror in your UK workout area, adjusting square or rectangular mirrors together rather than a circle or oval-shaped ones is easier.
Safety Features
If you are super clumsy or have kids in your house, make sure to evaluate the safety features of a mirror before buying it. For instance, gym mirrors with polished edges and solid safety backing are worth your pounds. On the other hand, sharp edges may cut your hands and leave you injured.
Moreover, safety backing works as a plastic wrap that makes sure the mirror pieces stay together in case it breaks. This feature is imperative as, without it, plastic or glass mirror pieces may spread all over the floor and may harm individuals and pets living in your house.
Frame or Frameless
Almost all gym mirrors are frameless. It is because they are lightweight and are more suitable for home gyms. You can hang two to three frameless mirrors easily together.
However, frameless mirrors may chip and crack easily.
On the other hand, framed mirrors are easy to install, but they take a lot of space on your wall. . Moreover, they are costlier and heavier than frameless mirrors.
Portable or Fixed
If you would ask us, we will always recommend you to go for the best wall-mounted gym mirrors only. They do not come in your way; save space in your gym area and give a better overall view.
However, most of you love changing your workout spots frequently, and for that, portable gym mirrors may suit you more. Also, if you live in a rental space and can't make changes to the walls, movable mirrors will be your only best options to utilise.
Company's Delivery and Return Policies
This factor doesn't affect the mirror directly, but you should check it to prevent any mishaps. If a company offers free delivery of your chosen mirror, it is worth trying out that brand.
Moreover, if you receive a cracked mirror, the company's return policies should be user-friendly enough to allow you any exchanges or returns.
Price
If a gym mirror meets your budget but fails all your requirements, it is wise to wait for some time and collect enough funds to get the best mirror for your space.
Remember, do not compromise on the quality of a gym mirror because it will serve you for a long time and help you gain the body you have always wanted.
Why Do You Require Gym Mirrors in Your UK Home Workout Area?
Gym mirrors are primarily expensive, so why should you spend your saved pounds and get one? Well, the answer is simple.
Gym mirrors are more of a requirement than a luxury. They help to boost your training experience, track your progress and allow you to follow the proper technique.
The benefits of installing a gym mirror in your workout space are endless. So, go through the list of positives below and enlighten yourself with some.
Gym Wall Mirrors Guide You on Executing the Correct Posture
Despite working out for hours in your gym, do you feel no change in your abs or obliques? Ever wondered why is that so?
There could be many reasons, but the primary one is practising the incorrect form.
For instance, bicycle crunches are considered pretty adequate for your abs, but they can cause injuries or utilise momentum rather than muscle strength when done wrongly.
This often results in a severe neck strain and minimum muscle mass in your abs. Regardless of your time and efforts, you achieve nothing but depression and demotivation.
However, by placing the best gym mirror in your workout area, you can easily prevent this from happening. This accessory can aid your workout posture and allow you to align your body correctly.
Placing a gym mirror on the wall is far more important for beginners than it is for professionals. It will help you understand the fundamentals of various exercises to progress and achieve your workout goals easily.
Gym Mirrors Improve Your Workout Technique
While correcting your posture, a gym mirror also improves your technique to achieve all the expected results. This benefit especially applies when you are learning a new yoga pose or have joined a training program.
If you are into weight lifting, the wrong technique can leave you with life-long injuries. A sudden slip can also lead to a broken chest and back. However, a gym mirror can help you figure out your mistakes and give you a chance to correct them before anything wrong happens.
These days most of us are quick visual learners. In that case, a gym mirror supports our visualisation and allows us to enjoy a clear understanding of safe alignments and techniques.
Gym Wall Mirrors Make Space Look Bigger and Brighter
Is your workout area dark and small? If yes, it should be demotivating you to work out daily. However, that's the last thing you want to come between yourself and your workout goals.
So, what should you do?
By fixing one of the best gym mirrors on a wall, you can light up your room and keep demotivation at bay. Mirrors spread light and make a tiny room look bigger. Moreover, they help reflect sunlight and give you a warm and comforting feeling while you shed some sweat.
So, instead of taking your gym area for granted, create the right atmosphere and enjoy a workout every day.
Gym Mirrors Improve the Aesthetics of Your Space
Imagine a workout space with a few bulbs and walls with moulds. Will you feel motivated to enter that area every day and train your body? Definitely, not!
To keep yourself boosted, your gym space should reflect your personality and add value to your good mood. While a gym mirror is not the only element that can improve the aesthetics of an area, it is a major one to enhance the appealing factor.
Moreover, gym mirrors give your space a homely vibe. This factor makes you feel more secure and allows you to give your best to your workout without any external resistance.
Aren't gym wall mirrors amazing? They are. However, how can you differentiate between a regular mirror and a gym mirror?
What if you place your vanity mirror in your workout area instead of buying a new gym mirror? Won't that work?
Best Way to Install Gym Mirrors
Now that you know what kind of mirror would sit well with your gym setting, it's time to understand how to install one so you can use it every day.
Before installing a mirror, you should be very clear on how and where to place it. For instance, gym mirrors are usually fixed in a unique position which involves their top part bending forward. This position allows your upper body to look bigger than usual, which is quite the opposite of what you see with regular mirrors.
Regular mirrors in shopping malls mostly lean away. It makes the user look slim while trying out different dresses.
Choosing a Spot
Gym mirrors should be installed on a wall that is closer to where you work out. There should be enough space around it so you can practise your favourite moves and see your reflection in the mirror.
The best places to fix a gym mirror are:
On the back of the power rack: This place is where you use your weights and perform other bench exercises. All of these movements are risky and hence require a mirror to check your form and technique.
Close to the spot where you use dumbbells: Most dumbbell workouts require you to stand or sit. This implies that you can easily use a mirror to track your workout progress.
Near your floor exercises' spot: Floor exercises like pilates and yoga are incomplete without performing correct poses. If you are a yogi or plan to become one, start practising in front of a mirror to excel in the basics.
If you perform all these exercises in one place, you can choose a common spot to place a mirror.
Choosing the Right Mounting Height
Before installing your gym mirror, make sure to leave a two feet gap between the floor and your mirror's base. This allows you to see your full reflection in the mirror, including your feet.
Besides, the two feet clearance prevents any encounter with power outlets that may be installed on the your chosen mirror wall.
Installation
When it comes to installing gym mirrors, there are many factors to consider. For example, the size and shape of the mirror play a significant role in the final installation procedure.
But if we are generally discussing, start with choosing a flat surface to hang your mirror on. It is essential for the overall functionality and safety of the mirror. Moreover, flat surfaces enable a firm grip and prevent the mirror from falling.
Suppose you do not have a flat wall in your UK home gym and have no plans to perform a resurfacing; cover the wall with a textured surface. For instance, an MDF sheet will work best in this case.
Once this issue is sorted, you will have to find the proper method to fix the mirror. If your chosen mirror is lightweight, you can buy adhesive hooks and conveniently attach them to your chosen wall. This method involves no drilling and is ideal for rented properties.
However, if you own a heavy mirror for your gym, nothing will work as effectively as proper drilling. Moreover, for added safety, you may want to fit a ledge under your mirror.
Wasn't that too simple? If you ever thought that bringing one of the best mirror gyms to your home would be a hassle and lots of work, we hope we have changed your perspective for good.
FAQ
To understand gym mirrors in a better way, find answers to the most common questions asked by users like you. Our replies may help clear your doubts and assist you in making the right decision.