Have you ever thought of buying a solid dumbbell rack to keep all your dumbbells organised? Did you ever plan to invest in this valuable piece of equipment for the sake of safety in your home gym?
We spend thousands of pounds on fitness equipment, but unfortunately, we fail to provide them with a safe home. Most people choose to keep their dumbbells on the floor while others just leave them on exercise machines.
That's the worst thing to do and we won't let you make that mistake
That's why we have come up with this amazing guide. So, dive into it to explore all the details about a dumbbell rack. Moreover, read the buying guide and our top reviews on recommendations to help you make a purchase.
What Is a Dumbbell Rack?
A dumbbell rack is a piece of kit built to accommodate your dumbbells in an organised manner. It is usually made of solid steel and comes in various designs, sizes and shapes.
Moreover, each dumbbell rack has a particular weight capacity that helps it carry a certain number of dumbbells at a time. This piece of kit also features ergonomic shelves of various shapes and angles to keep your dumbbells stable in one place.
Different Types of Dumbbell Racks
Now while learning about the best dumbbell rack, you will come across various options. Below is a quick detail for each category.
Vertical
Do you suffer from back pain every time you bend to pick your dumbbells from the floor? If yes, you should get a vertical dumbbell rack and shouldn't let the pain happen again.
A vertical dumbbell rack has a good height that can reduce the need for you to bend over and get hold of a dumbbell. Besides, this rack is entirely appropriate for people who require more floor space in their small workout area.
However, while using a vertical dumbbell back, be careful about the overall weight of this piece of kit. The centre of gravity of this particular type is high, and it might fall over when equipped with excess weight.
Horizontal
Similar to vertical dumbbell racks, horizontal racks are also great for saving space. However, unlike the former, this type can hold more weight and is far more stable.
However, like anything else in this world, this type of dumbbell rack also comes with a few headaches. For instance, it isn't easy to rack dumbbells on this kit without banging the weights on its upper shelf.
A-Frame
This is one of the most common types of the dumbbell rack. This option looks pretty similar to a vertical stand and is great for people who do not own big gym spaces. Moreover, since A-Frame dumbbell racks aren't very sturdy, they are great for lightweights.
However, unlike a vertical rack, this option looks like an A. Furthermore, all its notches are fully staggered, which makes this rack quite ideal for easy access.
Staggered Frame
If you love working out with heavy weights, nothing else will work for you other than a staggered dumbbell rack. This option has a very sturdy design and structure, making it quite useful for heavy dumbbells with different shapes and sizes.
Moreover, a staggered dumbbell rack has an angled out design, so you easily replace or move them without hurting your hands. However, unlike the other types above, this type takes more floor space, and hence you should plan its placement way before you get one.
Tree
Do you fancy a compact workout in your office room? If yes, you might want to get hold of a tree-shaped dumbbell rack to enjoy light training in your office suit every day.
This dumbbell rack can only hold a few dumbbells at a time and is relatively small. So, make sure you only place neoprene dumbbells on this one.
Our Picks of the Best Dumbbell Racks for Home & Gym
Has the above information convinced you to get your first dumbbell rack? If yes, you might want to see our reviews on the top 8 recommendations below. While each of them is different in many ways, they are all worth consideration.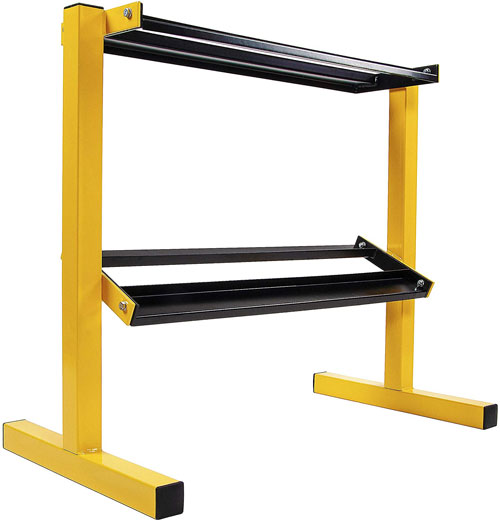 Do you want to get a dumbbell rack of high quality but at a low price? If yes, you might try the BalanceFrom 2-tier dumbbell rack and see if it fulfills your purpose.
Made with solid and top-class steel, this durable rack features massive shelves that can accommodate many dumbbells at a time. Besides, there is ample space between the two shelves so that there is zero interaction between tools on both stands.
Moreover, the shelves feature practical angles, making it easy to add and remove dumbbells from this dumbbell rack. It means that you won't add up scratching your hand while loading or unloading your tools.
The BalanceFrom dumbbell rack has a compact design. Moreover, it has a weight capacity of 600 pounds which is quite impressive. However, if you own heavier weights, then you can try other options on this list.
You can use it for dumbbells of all sizes and also save space on your floor. Besides, available in yellow and black colour, this item looks pretty stylish and may blend well with your other furniture.
However, if you aim to use the rack for other equipment as well, then this item may not be adequate to serve you. It doesn't come with compartments and hence is only ideal for dumbbells.
Pros
Durable rack made with steel
Comes with well-angled shelves
Great design and colour
Can load dumbbells with many sizes
Affordable
Cons
May not hold the weight above 600 pounds
Doesn't come with compartments to accommodate tools other than dumbbells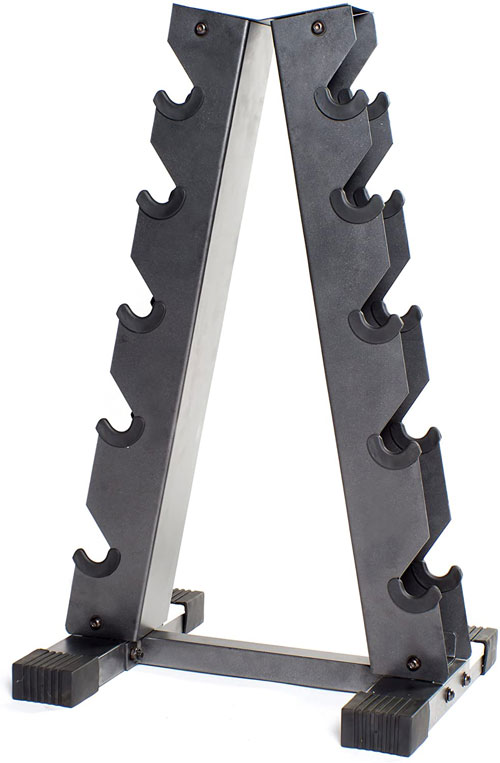 Have you ever thought of placing a small dumbbell rack to keep in your office room? This kit is a great way to keep your lightweight dumbbells within your office space so you can work out wherever you get some time off.
So, if you are considering one, the Cap Barbell A-Frame rack would make a good choice. It is made with solid steel and features a durable dark grey finishing.
Moreover, this item features rubber inserts that help create a barrier between the rack and dumbbells. Also, the rubber caps on the bottom save the floor from any damage.
You can use this rack to store five pairs of your favourite dumbbells. However, make sure they are lightweight as this rack can hold a maximum of 200 pounds at a time.
This rack has a length of 20.5 inches and a width of 17 inches. Moreover, it has a height of 34 inches which is quite enough for people with limited spaces.
Overall, this product is an affordable rack, but you might question its quality when it comes to its stability. So make sure to load a few weights and check their performance before placing the rest of the dumbbells.
Pros
Made with solid steel and features durable finishing
Great for office spaces
Include rubber caps to prevent floor damage
Affordable
Cons
May trip over on heavyweights
Maximum capacity is just 200 pounds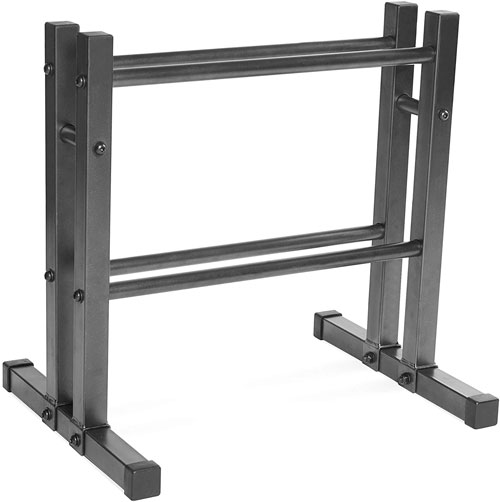 While this option may look quite basic and uninteresting, if you need a simple-looking and durable rack for your dumbbells, look nowhere else. The Cap Barbell 24 inches rack offers solid construction that can hold your dumbbells in one place and keep your floor clutter-free.
This piece of kit offers two levels for storage, with each having a length of 24 inches. Moreover, using the tubular steel construction, you can use this rack to store your kettlebells or medicine balls. 
The construction of this item is quite top-class, which can accommodate a total weight of 300 pounds at a time. Besides, the whole rack is coated with a durable paint to prevent unnecessary rusting or damage to this valuable piece.
However, according to some users, this rack isn't relatively easy to assemble. It comes with a fragile allen key that takes lots of force to tighten all the nuts and bolts.
Moreover, despite the rack's low price tag, the return policy is quite expensive, which affects your budget. So, make sure to consider all these factors before bringing this item home.
Pros
Solid rack
Comes with two storage levels
Can be used for storing other items as well
Coated with paint to prevent rusting
Affordable
Cons
Doesn't assemble quickly
Expensive return policy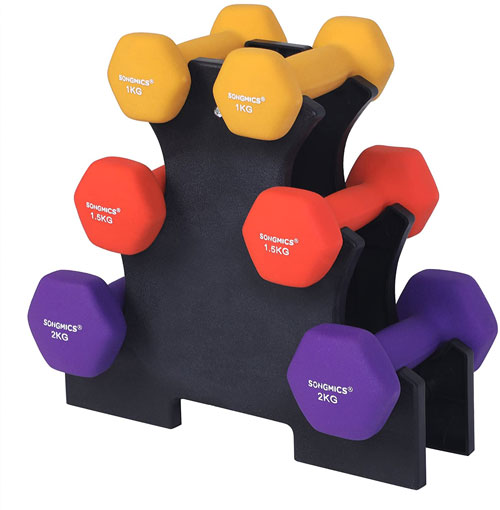 If you are a woman in search of a quirky looking rack for your dumbbells, the SONGMICS stand can tick all the right boxes for you. While it is not one of the most durable racks in the market, it comes with dumbbells and makes a compact holder for your small workout space.
This product contains six dumbbells with three different colours, hexagonal shape and matte finishing. The stand comes for free, which is excellent for people who might be just planning to start their workout journeys. However, if you already have dumbbells, you might find this product pretty useless.
The dumbbell rack has a tree design and is painted in black paint. It is made of plastic and doesn't take long to assemble.
Moreover, this set is quite inexpensive, making it an ideal option for people with limited budgets. We recommend you buy this set only if you are planning to get a stand and dumbbells together. If you have the dumbbells available with you, you might want a rack that can accommodate their specific weight.
Pros
Well-built stand
Comes for free with a set of dumbbells
Compact and lightweight
Inexpensive
Cons
Plastic is non-durable
May fail to hold dumbbells other than provided in the set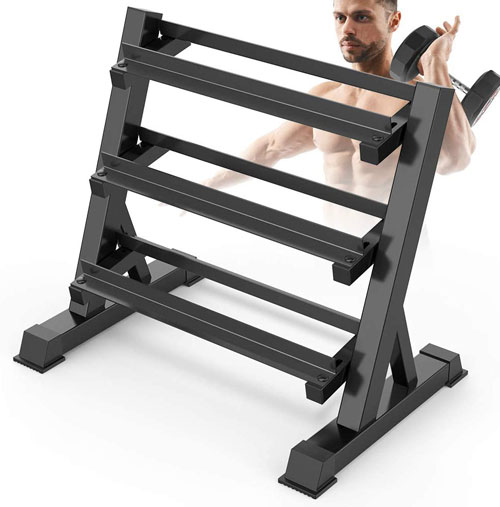 Dripex is a well-known brand in the UK that has a pretty fantastic product portfolio. The company also features a dumbbell rack with three tiers and is quite ideal for your homes or personal gym spaces.
The Dripex three-tier rack is made of solid steel that can last you a very long time. Besides, the structure of this product is fully coated to prevent rusting on the rack.
Also, unlike many similar dumbbell racks, this option has rubber and anti-slip covers under its feet. This feature provides better stability to this item and also decreases the risk of any floor damage.
Another good thing about this rack is its angled tiers. The three shelves are designed to hold both big and small dumbbells and are completely adjustable according to your need.
While this item is a little expensive, it doesn't take much space in your workout space and reduces clutter from your floor. Besides, it has a good weight capacity which might suit many users.
Pros
Made from steel
Comes with a complete coating
Rubber feet increase stability
Three shelves with angled and adjustable design
Cons
Expensive rack
May slip weights when overloaded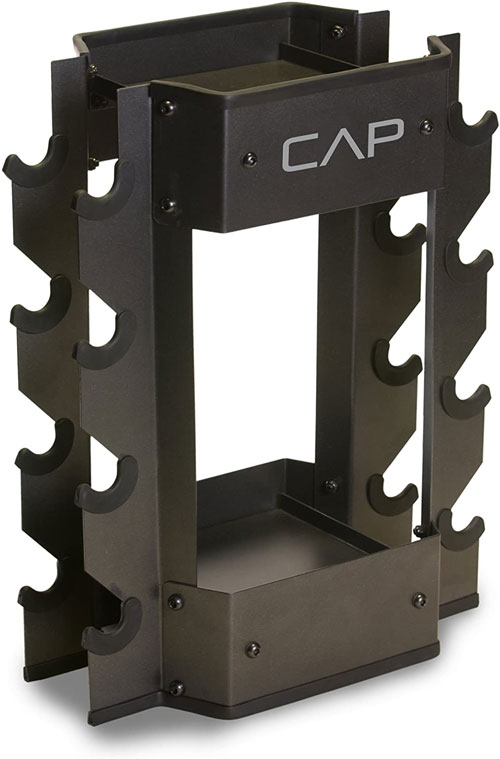 Do you want a small dumbbell rack for your tiny workout space? Are you looking for something that can store both your kettlebells and dumbbells at a time?
If yes, you might want to give the Cap Barbell storage rack a try. Although it might not look like your traditional rack and may also be unstable at times, this product suits most people who own lightweight equipment for their everyday workouts.
Made with solid steel, this rack can hold a maximum weight of 300 pounds at a time. Besides, with a length of 20.5 inches and a height of 24 inches, you can quickly put this item in a corner without letting it take so much of your available space.
While this rack may wobble on heavyweights, it comes with rubber cradles and edges which make it withstand high weights for a long time. Besides, the rubber base prevents any damage or scratches to your floor, which is excellent for non-carpeted surfaces.
You can store four pairs of dumbbells on this rack at a time. Moreover, this item also contains additional trays to keep other tools as well.
However, with that being said, don't expect this rack to be affordable. Despite its compact structure and limited weight capacity, this item is expensive, so make sure you have enough money to make this purchase possible.
Pros
Great to store multiple tools
Made from steel
Features rubber edges and bottom
Can store four pairs of dumbbells
Cons
Expensive dumbbell rack
Wobble at times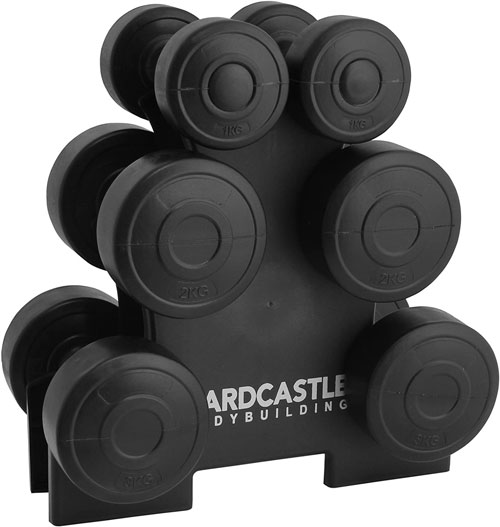 The Hardcastle dumbbell set may grab your attention if you want to get some lightweight dumbbells with a rack. While it lacks sufficient durability and isn't built for professionals, you can also consider this low-price option to start your fitness journey.
The set contains a total of six weights with a tree-shaped black-coloured dumbbell rack. This stand has a weight capacity of 26 pounds which might be too low for many users. However, if you want something compact for your personal gym space at work, this set may work for you.
All the weights and the rack comes with a durable vinyl coating which is great for the set's longevity. Moreover, the product serves its purpose by keeping the dumbbells away from your floor.
Pros
Cheap rack with dumbbells
Compact
Can hold a weight of 26 pounds at a time
Great for tiny workout spaces
Feature vinyl coating
Cons
Lacks durability
May not suit more than six dumbbells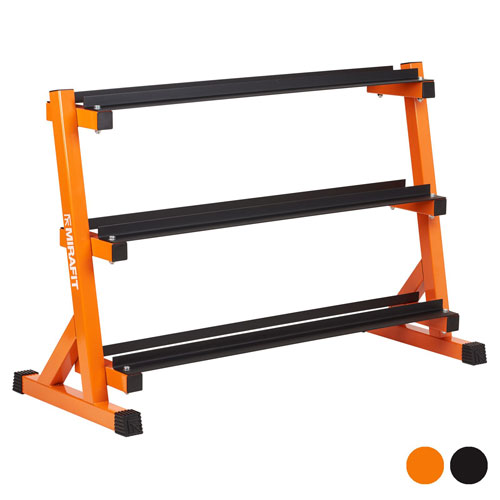 MIRAFIT is again a well-known sports brand, and we can't help but mention its high-quality dumbbell rack on this list. This item is a lot more expensive than most other recommendations above; However, if you are professionals who work with heavy weights, you might find this product unique in every way.
Painted in orange and black, the MIRAFIT dumbbell rack comes with three shelves designed to store your hex dumbbells. Moreover, each tray is 47 inches wide and can easily accommodate dumbbells with a handle width of 11cm. You can also get this rack in other colours, which is excellent for people who like matching their fitness equipment with the rest of their furniture.
This gorgeous rack is made from heavy-duty steel and features powder coating. You will be amazed to read about its weight capacity, which is almost 800 pounds. That's an impressive number, and considering its price, you expect nothing less than that.
However, compared to other options, this rack is long and has a substantial height and width. So, before putting your money on this suggestion, measure your available area with accuracy to match it with the dimensions of this rack.
Pros
Great brand
Perfect for heavy dumbbells
Built for professionals
Can hold a weight of 800 pounds at a time
Available in many colours
Cons
Expensive recommendation
Longer and wider than most suggestions above
How to Pick the Best Dumbbell Rack?
It is not easy to select one dumbbell rack from a list of eight. So, to make this selection process more accessible, we have come up with some crucial factors to consider before buying a dumbbell rack.
We have already discussed the types available, and that factor should be your first concern before selecting a rack. Once the type is chosen, you can go through the list below to explore other significant factors.
Construction and Material
A dumbbell rack is designed to hold dumbbells of different weights and sizes. So, its sturdy construction and solid material are vital to helping it perform its purpose.
A majority of dumbbell racks are made of steel. However, they have varying steel gauges and thicknesses. Steel with high thickness has a low gauge and is often considered appropriate. So, if you want to buy a dumbbell rack, make sure to go with one that features 14-gauge steel.
Some racks also come with iron coating. They also make a good option as iron saves the frame from any scratching or premature chipping issues.
You should also look for racks that come with rubberised feet. This feature prevents damage to the floor. Racks with rubber trays are also worth a try, and they offer good support to your dumbbells.
Moreover, while testing the construction of the rack, you should also check its overall durability. For example, a frame might look great and solid, but it may fail to accommodate your tools when loaded racks. So make sure to check this factor physically before you bring a rack home.
Available Space Vs. Rack's Dimensions
The most imperative reason to invest in a dumbbell rack is to save space in your gym room. However, this purpose won't be served until the rack's dimensions fit well with the available space. If, when assembled, the stand takes up a lot more area than you had planned, it would be a waste of money for you.
Almost all manufacturers mention their product's dimensions on the profile so you can have an idea beforehand. This information can then help you compare the measurements with your available space and then make a decision. For example, if you have limited space, you can also go for a three-tier rack.
With dimensions, you should also consider the depth of the rack. If it isn't deep enough, it might fail to hold your dumbbells correctly.
Weight Capacity
The weight capacity of your chosen rack should match your requirement. For instance, getting a rack that can hold your dumbbells safely should be your best bet if you work with heavy dumbbells.
Besides, if you want a rack with a compact structure for lightweights, it isn't wise to spend on an item with a huge weight capacity. Instead, a low weight-capacity and inexpensive rack would do too.
However, if you plan to use the same rack for your kettlebells and weight plates, you would have to consider durable, heavy, and sturdy ones. This decision lies with you only, so make sure you know your requirements and the aim behind buying the dumbbell rack.
Closed Vs. Open Design
You can get a closed or open rack as per your demand. While closed racks are great to place against a wall and save you some floor space, open frames are more accessible and can be placed anywhere in a room.
Value for Money
Whichever dumbbell rack you go for, make sure your purchase exhibits an excellent value for money. Even if you choose a cheap option, it should show great qualities that meet your expectations.
Similarly, if you want a high-end rack for your room, make sure it adds more value to your space than it does to your expenses. In short, your chosen item should portray a good balance between quality and price.
Expert Recommendations and Customer Reviews
It is always wise to go through some expert recommendations before choosing an item. So, in this case, you can go through some online non-sponsored reviews by experts on dumbbell racks that they have used and experienced.
Moreover, you can also check customer reviews to look for racks that many people like you have used and found worthy of their money. But before trusting their words, don't forget to check the authenticity of the reviews.
Benefits of Using a Dumbbell Rack
Now that you know pretty much everything about a dumbbell rack, here is a list of a few benefits that will most probably convince you to get your hands on one.
Helps Organise Your Weights
We have already discussed this benefit in a one-liner, but here is a full explanation of this advantage.
A dumbbell rack offers perfect storage space for all your dumbbells. It helps to keep all your dumbbells in one place according to their sizes.
This characteristic makes it relatively easy for you to get hold of a weight that you want without wasting time by looking here and there. Besides, this rack makes it quite easy to figure out the dumbbells you have already used.
If you do not own many dumbbells, the correct rack type will help you realise the available room for expanding your collection. You would readily understand which sizes you already have and which ones you want to complete your set. This exercise will help to avoid any duplication.
Moreover, with a dumbbell rack, there aren't any rules associated with organising the weights. For instance, you can either choose to put your dumbbells according to their sizes or their weights.
Besides, if you have a two-tier rack, you can choose to place the dumbbells on the first shelf and then move to the second. Your selected organisation method depends on your ease and satisfaction.
Gives a Home to Your Dumbbells
Do you often keep your dumbbells on the floor or other exercise machines? If yes, you might be reducing their life by allowing them to get covered with dust and germ particles.
Like any other piece of equipment, your dumbbells need to be kept in a clean space so they can be used for a long time. And hence, getting a dumbbell rack is your best bet. This kit will help keep your equipment above the floor level and ensure that it is safe from your animals and kids.
Allows You To Grab Any Weight With Ease
Most people hate waiting and hurting their workout momentum only to find and grab the right dumbbell. However, with a dumbbell rack, you can have the pleasure to get access to the correct weights in a limited time because you would know where they already are. This activity will not break your stride and will allow you to work out at your comfortable pace.
Most Racks Take Limited Gym Space
Have you ever worked out in a gym without a dumbbell rack? Did you notice how the weights are often scattered on the floor in such spaces, which limits the area you might need to train or even stretch?
Even a tiny dumbbell rack can help you increase your floor workout space by a significant amount. First, however, make sure that your chosen frame is perfect for the room and isn't too big.
The area spared with the help of a rack can be used to place a mat or can also be utilised to perform various floor exercises.
Use a Dumbbell Rack for Other Things As Well
While most dumbbell racks are designed to accommodate dumbbells only, you might also find some options that may give you enough space to organise other fitness equipment as well. For instance, some racks have compartments that can be used to store your gloves or jumping ropes.
This benefit is a great plus for people with small gym spaces. There is nothing better than having a safe home for most of your tools at the right price.
Racks Make Your Workout Space Safer
Have you ever tripped on the floor because of a dumbbell? Did you ever face a toe injury while performing a workout with all your focus? If yes, did you find a solution to avoid this from happening again?
Getting hurt while working out isn't worth your efforts and time. So, to avoid that, invest in a rack that can hold your equipment for you.
Good Variety Available
As mentioned earlier, a dumbbell rack is available in different designs and materials. So, you don't have to worry about not getting a piece of kit that won't strike your fancy. There is something available for everyone so that no one feels deprived of this fantastic invention.
Moreover, you can get a rack that falls within your preferred price range. For instance, there are cheap options available and those that might be a little high-end. However, you should always find one that can meet your budget and live up to your expectations.
FAQ
If you still have any doubts about the best dumbbell rack, check these common questions that users like you ask. We hope their answers would help you understand this item in a better way and make your purchase more quick and easy.