A back support belt is a fantastic accessory that can help you reduce debilitating back pain and allow you to stay active and healthy.
While some spinal conditions such as scoliosis, osteoporosis and cancers only get better with medical intervention and surgeries, a back support brace can work perfectly to reduce mild to severe pain.
Besides, this tool saves your spine from any additional and unbearable pressure. Moreover, if you are into sports or activities involving lifting, this fitness accessory is quite helpful.
We hope the above introduction has convinced you to know more about a back support belt. So, if you are ready, let's dig into this article. From the benefits of this belt to our eight recommendations, you are in for an informative treat.
Simply put, a back support belt or back support brace is a gear that one wears to support and hold their back in one place. This device usually features rigid plastic and elastic bands that help put and adjust the belt on your body.
Most people use a back support brace to promote recovery, prevent injuries, improve posture, and reduce lower back pain.
You can get both prefabricated belts and customised ones from the market. Belts with prefabricated designs are readily available for many shops, and they do not require any kind of additional adjustments and fittings.
How Does a Back Support Brace Work?
The mechanism of a back support brace is quite simple. This invention unloads additional weight from your back and helps it to transfer to your abdomen area. As a result, your spine feels much lighter with less pressure and reduces muscle tension.
As mentioned above, a back support brace or belt also offers proprioceptive input that encourages users to improve their posture and utilise their body mechanics. According to a study, wearing a brace for three weeks at a stretch can reduce back pain and improve the posture of the back.
Types of Back Support Belts or Braces
Now that we have a basic knowledge of a back support belt, let's explore its different types:
Adjustable Elastic Belts
If you have mild back pain or your work depends on lifting tasks, you can wear an elastic back support belt. This belt category is often made of breathable material and has velcro closures.
Elastic belts, also known as soft braces, help compress your abdominal region and reduce additional pressure on your spine. This belt also keeps your body's skeletal structure in place and improves its motion.
You can also find elastic belts that can be worn all day while doing house-related chores. Moreover, these belts come in a variety of sizes and shapes to cater to your required area. For instance, some braces start from your chest and end to the hips, while many are pretty narrow and look similar to large belts.
Since an elastic back support belt is adjustable, you don't have to worry about any customisation. You can get a one-size-fit-all belt and use it however you like.
Rigid Back Belts
These back support belts are often made of solid plastic material, which isn't quite stretchy. However, these braces are breathable and offer the correct amount of compression without compromising your comfort. Moreover, most rigid back belts are non-bulky and have a low-profile design that makes them relatively easy to wear.
The rigid back belts are often worn after a surgery or a painful injury. Besides, people who are into regular heavy lifting can wear this back support belt to carry out their workouts or work tasks.
These braces come with back and front panels that help improve their performance. For instance, these panels enhance the belt's overall stability and also maximise the compression produced. You can also wear these belts to reduce any degree of inflammation.
Our Top 8 Favorite Back Support Belts
Have the above information and exciting facts convinced you to spend some money on a back support belt? This tool is a need of the hour and if you want to experience a healthy body without pain, getting a belt is the first step to improve your current state.
So, without any further ado, dig in to find our eight best recommendations. While each of these suggestions is amazing, choose one that ticks all the right boxes for you.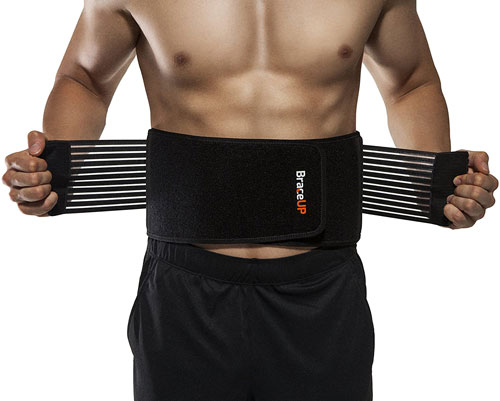 The BraceUP back support belt is nothing less than a top-quality product, and that's why it has taken the first spot on this list. This item not only supports your back but also makes sure that you experience immediate relief from your pain.
This back support brace features straps with dual adjustments. The ability to fit the belt according to your comfort gives you customised compression and fit. Moreover, the belt wraps easily on your body without demanding any external help from your side.
The BraceUP belt also has eight-firm support stays that help to keep your body in one place. This benefit allows you to give your lower back much-needed support and comfort. The stays fit snugly against the back and help prevent unnecessary resistance or pressure.
The design of this belt supports your daily activities such as household chores or workouts. It offers you a good range of motion while also providing the best lumbar support.
Made with breathable, lightweight and durable materials, this back support brace is a long-lasting product. It features a mesh panel that releases excess moisture and heat, so you don't feel smelly and heavy while working out. Besides, you can wash and dry the belt super quickly before putting it on again.
Overall, this item is unique in many ways. However, we can't help but mention some drawbacks to draw a clear picture.
While this product has user-friendly features, it is a pricey belt and may not suit most people with limited budgets. Besides, according to some customer reviews, the belt doesn't offer a double-stitched design, affecting its durability.
Pros
Adjustable straps
Breathable material
Comes with stays to offer a good fit
Easy to put on and remove
Washes quickly
Cons
Expensive item
Doesn't come with reinforced double-stitching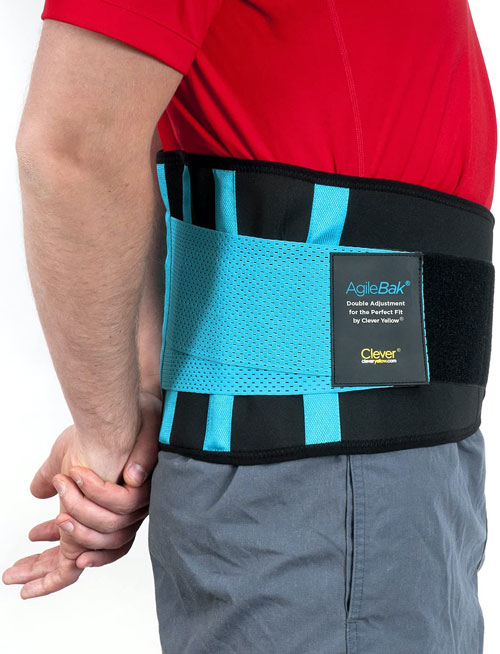 While this belt is a little expensive, it features a design that can help you get rid of your back pain with consistent use. You can wear this belt during workouts, long walks or even while performing basic house chores. In addition, it offers a great fit that doesn't let you lose control of your back.
The Clever Yellow back support belt is made up of neoprene, which is a breathable material and relatively lightweight. This belt also uses mesh fabric which prevents the accumulation of heat and sweat on your body. Therefore, you can choose to wear the belt over or under your clothes without any hesitation.
This fantastic back support brace comes with vertical columns for support. The unique design feature provides therapeutic support for your back and muscles. Moreover, it helps improve your posture and reduce pressure on your spinal area.
Unlike many other belts in the market, this product is pretty adjustable and super easy to wear. You are only required to wrap the back support brace around your back and pull the bands as per your body's shape. This item won't roll unnecessarily and will stay in one place regardless of your movement.
The Clever Yellow back support has a velcro enclosure. While this mechanism is considered user-friendly, some clients complained of a premature wearing off of the velcro after a few washes. If you want to clean your belt regularly, make sure to communicate this issue to the manufacturer before buying this product.
Pros
Made with breathable neoprene
Vertical columns offer good support
Adjustable belt
Easy to wear
Flexible
Cons
Expensive
Velcro might wear off quickly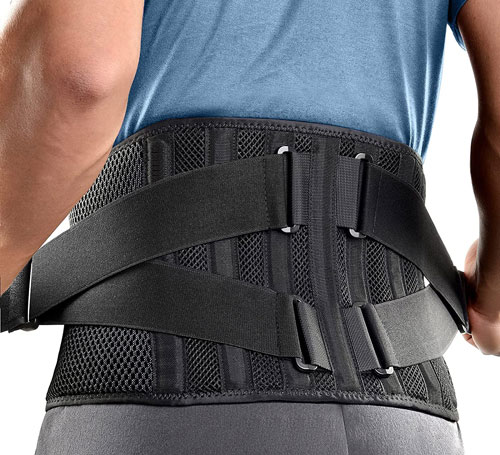 Do you love spending time at your home gym but can perform many exercises because of a weak back? Does the pain affect your goals and demotivates you to stay fit? If yes, you might want to bring the FREETOO back support brace home and wear it to feel a vast difference.
Made with air mesh, this product is exceptionally breathable and sits comfortably on your body. It prevents the accumulation of sweat and moisture and reduces the chances of any skin infections or rashes. Moreover, this belt features a 4-way stretch technology which offers a silky touch on your skin, thus making it comfortable to wear under your shirt.
Another commendable thing about this belt is that it contains four aluminium stays. These provide 360 degrees of support to your back and relieve mild to moderate pain caused by conditions like arthritis, spinal stenosis and disc herniation.
The belt features two anti-skid silicone bands on its sides that help to keep your back in a fixed posture. Moreover, the velcro is pretty broad, with two straps that offer maximum stability. However, if you are a disabled person or someone with mobility issues, the belt may feel hard to wrap and secure, and you might require help.
This product is available in different sizes, so you can always find one for your body. However, while choosing a size, make sure to measure your waist correctly beforehand.
Pros
Made with durable material
Features 4-way stretch technology
Offers sufficient compression
Comes with velcro straps for stability
Available in different sizes
Cons
With so many sizes, you might make an error with the best fit
May be hard to wear for people with disabilities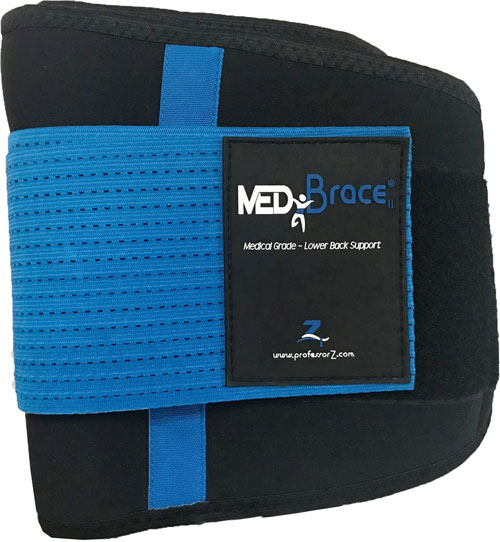 If you have been suffering from long-term back pain, the MEDIBrace back support brace can do wonders for you. While it is a basic-looking item and quite wide, the brace supports your lumbar region and helps you attain a good posture in a limited time.
Moreover, if you are into regular workouts and exercises, the belt prevents your lower back from an injury and helps you perform your movements without feeling restricted.
This back support brace is made from lightweight neoprene, which is both durable and breathable. Besides, it features double adjustable velcro straps that are purely elastic. However, according to some clients, the straps lack double stitching, making them quite vulnerable to premature wear.
While the MEDIBrace back support brace is a little expensive, you will love the product for its quality. It suits all body types and makes you feel pretty comfortable. Moreover, it doesn't feel bulky, which allows you to walk, run or even jog while wearing this belt on your body.
Pros
Great support for lower back
Prevents injury during a workout
Made with breathable material
Doesn't feel bulky
Cons
Expensive item
Velcro straps do not have double stitching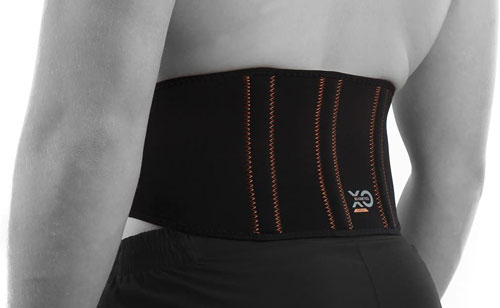 XO Kinetics is a well-known brand in the UK and has many unique products in its portfolio. However, while each item is quite impressive, the back support belt by this brand has become quite popular within a short time.
This belt features premium quality and design. While it has a slim profile, the back support brace helps to support and compress tired muscles and tendons without creating any discomfort. Moreover, this product also features a support system made with struts that help maintain the belt's structure.
However, according to some customers, the struts are not very durable, and you might want to consider this complaint before purchasing the item.
The XO Kinetics support belt also features adjustable fasteners that can help to increase or decrease tension according to your requirement. So you can use the belt while working out and achieve your goals without worrying about this item coming off your body.
According to the manufacturer, this belt has anti-odour and anti-itching characteristics. While this might be right, many customers have complained about experiencing skin rashes after using the belt regularly. Since skin sensitivity varies from person to person, make sure to discuss this issue with the brand before making a move.
Pros
Great support for muscles
Affordable
Lightweight
Adjustable belt
Anti-odor
Cons
Non-durable struts
May cause rashes on sensitive skin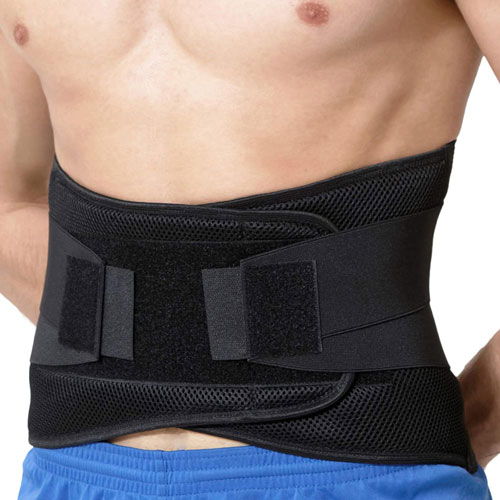 This belt is made from a combination of nylon, polyester and elastodiene. All these materials are breathable and offer excellent elasticity to enhance the stretchiness of the brace.
Moreover, the NeoTech back support brace is adjustable and contains side panels to keep your waist. However, make sure you choose an accurate size only to benefit from this fantastic invention.
The NeoTech back brace has a broad back. This feature allows the belt to cover a maximum part of your lumbar region and give much-needed support against pain.
Another thing that's quite amazing about this product is its durable stitching. All the loops and hooks are finely stitched, thus reducing any chance of early tear.
With a double pull mechanism, this brace is perfect for enjoying an ideal compression. However, you will have to have a good budget plan before buying this item since it is expensive. Besides, since this belt is a little wide, it may look bulky under clothes.
Pros
Adjustable belt
Broad back for better support
Durable stitching
Made with breathable and elastic materials
Cons
Costlier than many options
May look bulky under clothes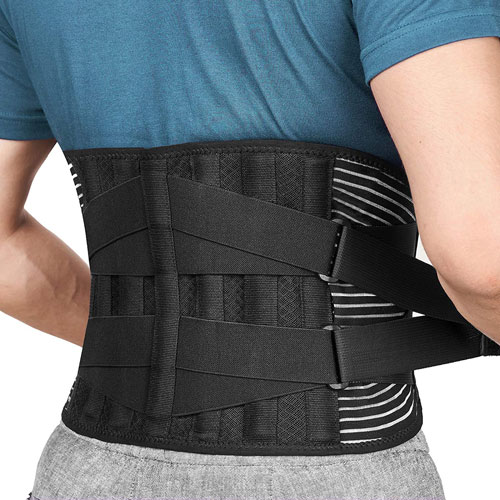 Another back support brace from the brand FREETOO, this item comes with a commendable design and properties. The four support stays accompanied by two spring strips provide your back with immense support and prevent all kinds of lumbar injuries during workouts.
The elastic waistband keeps the pressure uniform along this brace and provides a custom fit for all users with a waist size between 26 to 44 inches. Of course, if you have a broad physique, you can always opt for other options from this list.
Moreover, since the product offers a slim fitting, you can also wear this brace under your clothes. It is also exceptionally lightweight and doesn't look so bulky under a shirt.
This brace is made from breathable and soft fabric. There is also a layer of mesh design that insulates sweat and moisture from your body.
The FREETOO back support brace has a velcro enclosure made from PVC. According to the manufacturer, the velcro won't scratch or damage your skin or clothes. However, if washed regularly with an incorrect method, the velcro may easily lose its adhesion power.
Overall, this product is quite effective for your back. However, since it offers many features, make sure you have enough money in your pocket to spend on this belt.
Pros
Comes with support strays
Offers customised fit
Made from soft and breathable fabric
Velcro are solid and do not scratch
Cons
Cannot fit people with waists above 44 inches
Velcro may lose adhesion power after some time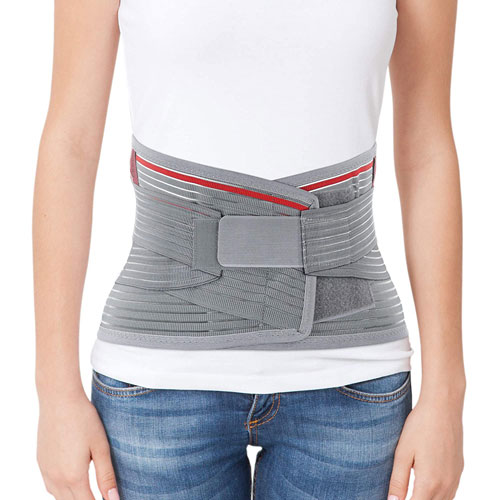 The ORTONYX lumbar belt is the final product of this list. It is a durable, lightweight and flexible belt that comes with a knit fabric for better insulation. Besides, the belt's slim design makes this product quite simple to use.
While this back support belt is a little pricey, it fits well with all waist sizes. Moreover, it offers instant relief for your back with the proper compression and impact.
However, as some customers complained, the belt has a velcro enclosure that loses its strength with time and requires a replacement. Besides, since this belt isn't rigid, it may not work well for people with severe back conditions.
Pros
Lightweight belt
Durable
Made with breathable material
Fits well
Offers right compression
Cons
Velcro may wear off
Not ideal for people with serious injuries
How to Pick the Best Back Support Brace for You?
It is easy to get confused while choosing the best back support belt for yourself. With so many options available in the market, selecting one is quite challenging.
However, considering some factors before making a purchase can help you make a quick and successful deal. If you want to know those primary considerations, read below for all the details.
Support Level
Do you want a belt to reduce extreme pain, or something with an ability to decrease mild pains in the back would suffice? Asking this question to yourself will help you find the right type of back support belt.
For instance, rigid belts are effective for severe injuries and extreme pains. However, flexible belts are suitable for treating mild pains only, and they allow you to limit motion to reduce discomfort for some time.
Moreover, elastic braces will work for you if you require a belt for your daily use or just to improve your posture. Since they are easy to put on and adjust, you can use them every day.
Fit and Size
As mentioned earlier, you can get both one-size-fits-all and customised belts. If you can use a belt with adjustable wings and straps, the ones available in the shops will work for you.
However, if you suffer from a severe back injury and require a belt with a certain length and width, it is safe to get a customised one.
But whichever belt you go for, make sure it covers the painful part of your back entirely and doesn't feel too tight or too loose when wrapped around. Moreover, its thickness shouldn't make you uncomfortable while you perform an exercise or daily household chores.
Material
Back support belts are made from a variety of materials. For instance, the adjustable belts are usually made of neoprene, canvas or cotton. Besides, the rigid belts consist of materials such as leather and hard metal.
Bets made especially for sports enthusiasts often use materials that help to induce sweat and heat. But even if you aren't into regular sports and just a simple gym-goer, your belt should be made of breathable material so that you don't feel smelly or sweaty after a workout.
Maintenance and Durability
Unfortunately, belts that stretch a lot lose their durability after some time. However, if they are maintained according to the manufacturer's instructions, the above may not happen for a long time.
Moreover, while choosing a belt, make sure to read about its cleaning instructions. It isn't easy to hand-wash belts every other day. So, those products that can be cleaned in machines should be your priority.
Price
A back support belt is available at a wide price range. You will easily find both cheap and expensive belts in online stores and physical shops. However, choose according to your budget and without compromising the quality.
For instance, if you want a back support belt to reduce your serious back pain, make sure its material, making and fit is perfect for the job before looking at its price. A cheap belt might not harm your pocket, but it may not be good enough to reduce your pain.
In a nutshell, invest in a back support brace that exhibits a good balance between quality and price. If you can't find a practical back support belt that suits your budget, save for some time and then make a purchase instead of buying a poor quality one.
Expert Recommendations
You should also go through expert recommendations and customer reviews before making this investment. Such information draws a clear picture of the product and helps you understand its quality and performance from a user's point of view.
However, before following a recommendation or suggestion, make sure the review isn't sponsored or paid. Only trust on honest testimonials so that you don't get trapped in a brand's marketing strategy.
Benefits of Using a Back Support Belt
We have already discussed some significant benefits of wearing a back support belt above. But there is more to this tool than meets the eye. Continue reading to know what we mean.
This Tool Increases Back Immobilisation
Do you know that an unnecessary movement of your spine and back can help prevent injury and accelerate your recovery process? Sometimes immobilisation is essential to heal your pain and bring you back to your normal form. So, it is imperative to wear a back support brace for some time to become healthy again.
This gear restricts your back movement and prevents you from rotating or flexing unnecessarily. Unfortunately, these restrictions disallow your back to use its full potential and take a break from its regular functions.
A Back Support Belt Supports Your Posture
We have already briefly discussed how a brace helps to improve your posture, but what does that mean? Isn't our everyday normal posture proper?
Well, it may be correct if you walk with your shoulders back, core tucked in, chest raised and spine settled in an upright position. However, if you slouch and walk with a curve in your spine, your posture isn't healthy. It can cause you extreme back pain and even lead to long-lasting deformities in your spine.
Besides, walking with a bad posture isn't good for your confidence or your personality. It exhibits many weaknesses, and people perceive you as someone shy and weak.
However, by wearing a back support belt, you can get rid of your wrong posture. This tool makes sure the healthy alignment of your spine and helps you build stronger muscles to support your body.
Back Support Belts Are Easy to Use
Wearing a back support belt doesn't require any cumbersome technique. This tool is quite simple to put on, and there are no advanced mechanisms required.
You can wear one in your home, at the gym or work. The belt doesn't make you feel bulky, and if worn correctly, no one would know of its existence.
However, to reap maximum benefits from this belt, do not adjust the straps too tightly or loose. Instead, keep the tightness comfortable and mild so that the belt does its job correctly.
A Back Support Brace Allows Your Body to Lift More
Do you love weight and powerlifting but can't excel in these exercises because of back issues? If yes, you might want to wear a back support brace right away.
This tool supports your spine and reduces any pain, thus giving you the confidence to lift more. Besides, it ensures that you progress in your workouts and focus on your training without worrying about your weak back.
This Belt Strengths Back and Core
Are you aiming to get into good shape? A back support belt strengthens your core and empowers it to hold all the weight. This act makes your abdominal muscles more robust than ever, which indirectly saves your spine from unnecessary pressure.
Moreover, by wearing a back support brace, you experienced a straightened spine and a tucked tummy. This posture makes you look fit and healthy, which is excellent for your overall confidence.
How to Wear and Use a Back Support Belt?
Most back support braces come with individual instructions that help to guide you through wearing and using this tool correctly. These guidelines often include the best fitting required and any maintenance tips.
If worn wrongly, the belt may worsen your pain, so it is better to follow everything the manufacturer has instructed. First, however, since you are a first-time buyer, let us help you to understand the wearing procedure through some general steps:
Start with wrapping the back support belt around your back.
Make sure the wings are against your torso.
Now connect the two ends of the belt using a velcro closure.
Adjust the belt for the correct pressure and tightness. You can use the pull tabs on both sides of the belt to make such changes.
If you suffer from extreme pain in your back, wrapping the belt on your body yourself might be a challenging task. So, make sure to take help from a friend or family member.
You can also avoid this pain by placing the belt on a chain with its wing opened. So that when you settle on that chair, the wings fall on the opposite sides of your body. This position can help you hold the wings correctly so that when you stand, you can easily secure the back support brace.
Most people wear a back support belt without clothing. However, while it depends from person to person, we suggest you wear a shirt before putting on a belt. This act helps to minimise any contact between the belt's material and your body, thus reducing any chance of irritation.
You can wear a fitted or soft shirt below the belt. However, baggy clothes might aggravate the skin and reduce the intensity of the belt's support.
However, if you want to wear your belt without one, make sure its material is soft and skin-friendly.
How Can I Keep My Back Support Belt Clean?
To keep it maintained and solid for a long time, here are some ways that you can use to clean your back support brace:
Use Water and Soap Daily
Separate all the parts of your back support brace, including the padding and clean each component with a mild soap and water solution. This method helps to remove odour and bacteria from your belt. Make sure the belt is properly dry before you wear it again.
Apply Rubber Alcohol Once Every Week
You can also use cotton dipped in rubber alcohol over your brace. This solution dries easily, so you don't have to wait much to wear the brace again. Besides, rubbing alcohol also removes any soap residues that might be present on your brace's lining.
You should also keep your skin under the belt clean every day. This habit will help remove any dead skin and dirt that might lead to unnecessary soreness and irritation.
FAQ
Here are some common questions asked by users like you. If you still have any queries regarding a back support belt, go through the answers below and clear any confusion.