Believe it or not: a weighted hula hoop workout can be a life-changing addition to your daily cardio training. Not only is it fun, but it can help burn as many as 200 calories in just 30 minutes.
Moreover, this training works effectively for weight loss and helps tone your hips and abdomen muscles pretty smoothly.
A weighted hula hoop is very different to the plastic ring you used to play with as a child. Moreover, this equipment has become a mainstream fitness tool that even celebrities like Beyonce and Selena Gomez proudly flaunt.
So, with so much to offer, why not get yourself a smart hoop and enjoy its benefits? If you are even a tiny bit interested and want us to convince you further, read the guide below.
From the benefits of using a weighted hula hoop to our ten favourite picks, you are in for a treat. So dig in for all the details and buckle up for some much-needed swinging.
What is a Weighted Hula Hoop?
A weighted hula hoop is a bit heavier than a standard plastic hoop. This solid ring of goodness can easily weigh between 0.7kgs to 3.7 kgs.
Moreover, this equipment provides a much higher resistance that helps reduce weight, improve stamina and increase strength.
It can be available in different materials and shapes. For instance, some of them come with a small diameter and have a weighted ball fixed on its body through a string. At the same time, many rings have their weight distributed evenly throughout their standard diameter.
Most of them come with separate pieces that are manually joined to suit your body type. Besides, they have durable padding to prevent any injuries.
Simply put, a hula hoop is a fitness tool with a round design and basic structure. However, don't get fooled by its simplicity.
There is a special way to use this equipment appropriately. To know what that is, keep reading.
What Is the Right Way to Use a Weighted Hula Hoop?
Good news: if you have used a plastic hula hoop in your childhood days, you won't find it hard to use this equipment now. However, you should make sure to follow certain steps to manage the proper technique effortlessly.
Place it around the waist.
While doing so, keep your back straight.
Keep your feet at a distance equal to your shoulder-width.
Move the hips backwards and forwards so the overall weight shifts conveniently.
Spin it in your comfortable direction.
While moving the ring, start with moving your feet steadily and gradually pace up.
Hooping is only beneficial when it is done with the correct body posture. While using a weighted hula hoop, keep your best form. Involve your glute and core in the workout and activate the muscles you want to use.
Moreover, for a safe workout, save your back by bending your shoulders. Besides, keep the chest straight and prevent your ribs from lowering.
If you aren't good with establishing a rhythmic movement, start with a big hoop and wear baggy clothes to get used to a weighted hula hoop. But once you get used to this tool, incorporate your favourite dance moves, jumps and waist exercises to enjoy it to the fullest.
Benefits of Using the Best Weighted Hula Hoop
Using a weighted hula hoop requires the proper technique, as mentioned above. But if utilised correctly, this equipment has many advantages.
The hula hoop workout can easily blend with your regular fitness arsenal and can give you the same benefits as aerobic training does.
To give you an idea, here are some ways using a hula hoop can change your life:
Increases Aerobic Health
According to experts, 150 minutes of low-impact aerobic workout or 75 minutes of high-intensity aerobic training every week is essential for your overall health.
And incorporating hula hooping into your exercise regimen can help you achieve a healthy body. For instance, using a weighted hula hoop can:
Improve your blood flow benefitting your heart and other parts of the body
Enhance oxygen flow and give your lung the much-needed fuel to work properly
Strengthen your immune system and keep all the diseases at bay
Boost the cognitive functions of your brain and improve your focus, attention and memory
Reduce stress levels and improve your mental health
Decreases Cholesterol Levels
High levels of bad cholesterol can be hazardous for your cardiovascular health. However, by incorporating aerobic exercises, such as hula hooping, in your fitness routine, you can keep these health issues at bay.
A disciplined hula hooping workout can help reduce your harmful cholesterol levels faster than regular walking.
However, this exercise alone cannot do this wonder, and you may have to incorporate some other forms of training and a good diet to achieve this goal.
Burns Calories and Reduces Weight
As mentioned in our introduction, a weighted hula hoop as part of your fitness arsenal can help burn up to 200 calories in only 30 minutes. This is equal to calories burnt by performing activities like ballroom dancing or walking for an hour.
By using a hula hoop according to your fitness goals, you can increase the pace of weight loss and enjoy a fit body within a short time.
Reduces Body Fat
As per a study, hula hooping involves your hip and waist muscles to carry out different movements. Therefore, a consistent routine of this exercise can help reduce inches in these areas within six weeks.
Moreover, using a weighted hula hoop can also help reduce your belly fat and get you a toned abdomen.
However, for the above statement to prove correct for you, follow a consistent training program with this tool. Moreover, take care of your diet and also practice other exercise routines to achieve a balance.
Enhances Muscle Mass
To keep the best weighted hula hoop balanced around the waist area, you need to activate and engage your core muscles. Because of this involvement, these muscles are used at their full potential, which increases their mass and strength.
Engages Family in a Fun Workout
It is hard to find fitness equipment that brings the whole family together and gives them a chance to develop a strong bond. But a weighted hula hoop may make this dream possible and allow your kids to join you in an aerobic session as well.
Give your kids a plastic hula hoop, and you use a weighted one and start spinning together. You can also put some music in the background and create an environment that can encourage you to practice this workout every day.
Motivates You for More Exercises
Unlike other fitness tools, a weighted hula hoop is a piece of fun equipment that offers recreation and fitness opportunities at the same time. According to a report, women who opt for hula hooping in a group are motivated to perform other exercises.
It is a unique benefit and may work out for people who run away from exercising. If you are similar, bring a hula hoop home and experience your perspective towards fitness change for good.
Portable and Inexpensive
The weighted hula hoop is an inexpensive fitness tool. You can easily buy it by saving a few pounds.
Moreover, it is highly portable and can be used in your living room or garage. Moreover, you can carry it around anywhere as it disassembles into small components really quickly.
This list of benefits definitely makes the best hula hoop an item to own this year.
But with so many hoops available in the market, which one deserves a place in your fitness kit?
The Best Weighted Hula Hoops on the Market 2022
Here's the list of the ten smart weighted hula hoops that we think you should consider. While each one of them is perfect in its way, go through individual specifications and pros and cons to make an intelligent evaluation.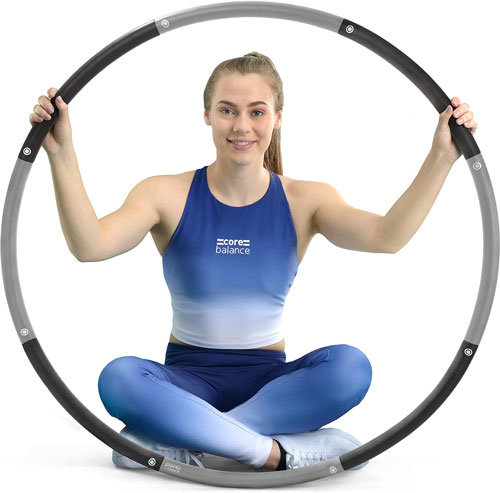 Do you aim to get a flat belly through a fun workout? If yes, the smart hula hoop will strike your fancy. Designed to offer a smooth momentum, it helps burn many calories and engage your core enough to increase its strength.
It comes with powerful waves that help tone your spine, hips and waist while you spin. However, if you have never used a wavy ring before, you may find your body's encounter with the waves a little painful at the start.
On the other hand, the model is perfect for beginners and feels relatively easy to use. However, it may not offer a grip as firm as a curvy one but can burn similar calories as the latter.
Since weighted hula hoop is an adjustable product, you can customise it according to your size requirements. While the diameter remains 38.5 inches for all, the sizes can easily shift between 30 inches and 34 inches.
This hula hoop weighs 1Kg which is quite ideal for both intermediates and beginners alike. However, if you are a full-time professional, you may require a heavier ring for more resistance.
It features foam padding that prevents your joints from any injuries. Besides, the foam layer is non-absorbent and blocks bacteria. Also, it is super convenient to clean using a damp piece of cloth.
Overall, this product is pretty reasonably priced and has all the user-friendly features. However, there have been some complaints on fragile sections and connectors that make assembling quite hard.
Pros
Comes with both wavy and smooth sections
Great diameter for all users
Perfect weight for beginners
Foam padding for better grip
Affordable
Cons
Doesn't weigh enough for professionals
Complaints on fragile connectors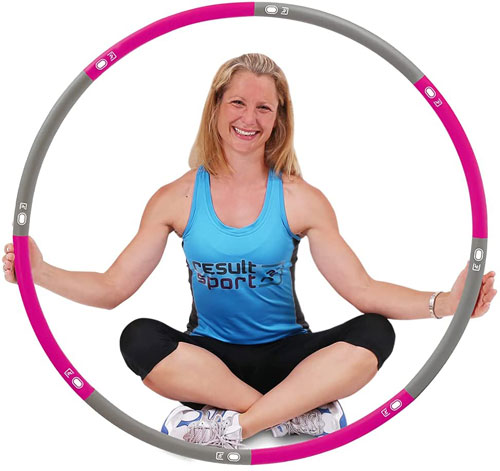 As a beginner, you may find it hard to choose a weighted hula hoop that ticks all the right boxes and is backed by many customers. However, by exploring ResultsSport's fantastic product portfolio, you may get the perfect one.
The model comes disassembled with eight different pieces. However, with simple-to-use connectors, you can join the pieces and make them of your preferred size. Once assembled, you can use it for various exercises and burn good numbers of calories.
It weighs 1.2 kgs and measures 39 inches in diameter, which is quite adequate for beginners. However, if you are an expert, you may want something heavier to challenge your potential.
This smart hula hoop also comes with foam padding, saving your bones and joints in case of injuries. Moreover, the thick foam offers a solid grip for your hands, so you can practice your favourite moves for as long as you want.
Overall, this product is well-designed and serves its purpose. However, it may not be suitable enough for tall individuals.
Pros
Easy to assemble
Ideal diameter
Foam padding for comfort
Well-priced
Customisable
Cons
Not for professionals
May not suit well with tall individuals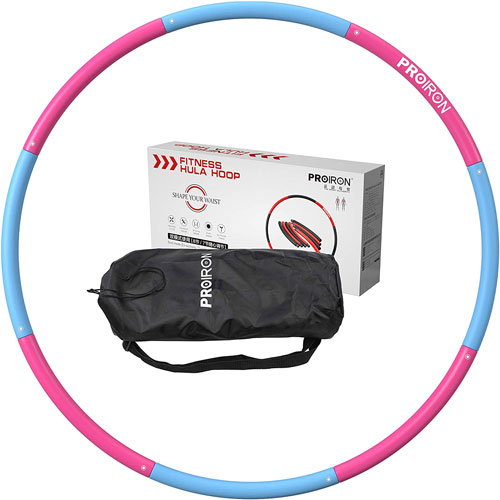 Proiron weighted hula hoop is another well-constructed product for beginners and kids. This item features a mute and weighted design that divides the weight evenly throughout the loop for a comfortable workout.
Besides, the smart hula hoop assembles pretty quickly and can also be carried around as it disassembles into eight pieces when not in use. You can also store the ring conveniently in a bag or in a drawer to save space in your apartment or house.
The Proiron features soft foam padding, which is super easy to clean and use. For instance, you can clean the ring using a damp cloth and wipe off all the sweat and dust. However, before using the item, make sure the foam is completely dry and gives a solid surface for your grip.
This product weighs 1.2kgs and is ideal for beginners. However, if you are a professional trainer, you may find the weight too low for your preferred resistance.
Moreover, this item has a diameter of 39 inches that suits intermediate users and beginners well, including kids of age above seven years.
Pros
Perfect for beginners and intermediate users
Comes with eight pieces
Stores easily
Padding easy to use and store
Weight ideal for beginners
Cons
Weight too low for professionals
Many not offer much resistance for high-intensity workouts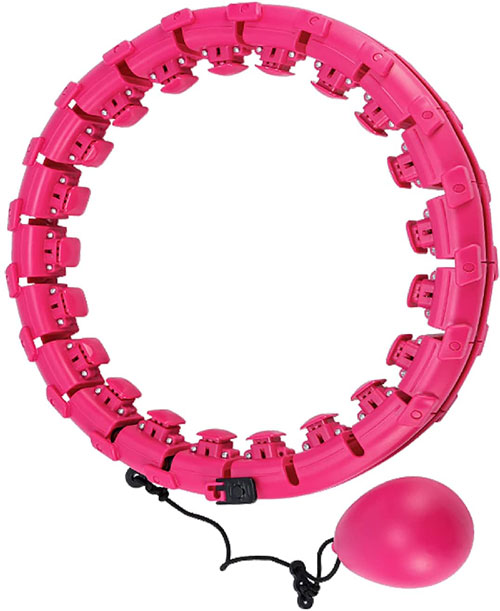 Do you fancy a weighted hula hoop with a smart design and unique functions? While it may cost you some extra pounds, getting it for a workout will benefit you in many ways.
This product offers two functions, massage and fitness. When used, the rubber heads massage your body and simultaneously eliminate fats from your belly and waist area. Moreover, it reduces fatigue and gives you well-deserved relaxation therapy.
It comes with 24 detachable pieces. You can reassemble the pieces and adjust the loop according to your preferred size. However, many users believe the number of components is too much to assemble this product quickly.
This hula hoop is made with top-quality plastic that is comfortable to use. However, a lack of foam padding may not provide you with a grip as solid as you get with others on this list.
Overall, this option is great for adults who love to own fancy products that can serve their needs. This weighted hula hoop also comes with a gravity ball that can tone your body and give you a figure of your dreams.
Pros
Smart design
Can work as both a massage and fitness product
Features rubber heads to reduce fat and increase comfort
Made with top-quality plastic
Comes with a gravity ball as an added accessory
Cons
Expensive
No foam padding
Too many pieces may make assembling a hassle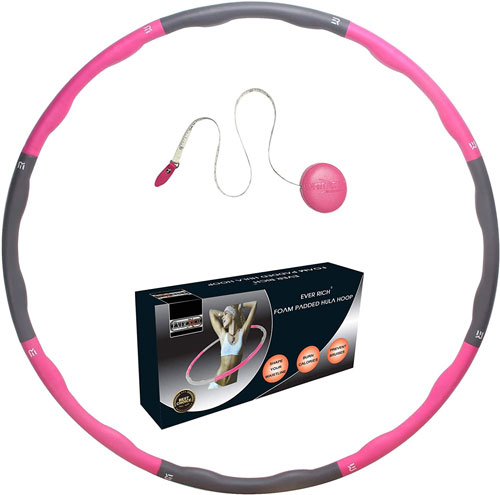 The Ever Rich weighted hula hoop features a wavy pattern to provide outstanding resistance for all kinds of trainers. Moreover, it comes fully padded with foam to provide you with much-needed comfort during a strenuous workout session.
This fitness product contains eight detachable parts that can be attached according to the user's size preferences. Moreover, this affordable and best hula hoop doesn't take long to disassemble and stores easily in a simple carry bag. Also, it comes with a free measuring tape to measure your waistline for any workout results.
However, despite the above positives, it weighs only 1.24 kgs. This weight may suit beginners and intermediate users but might not be challenging enough for professionals.
Besides, the 35 inches diameter is lower than what you find in an average.
Pros
Wavy pattern for high resistance
Comes with foam padding
Eight detachable parts
Affordable
Comes with a free measuring tape
Cons
Weight too low for professionals
Below average diameter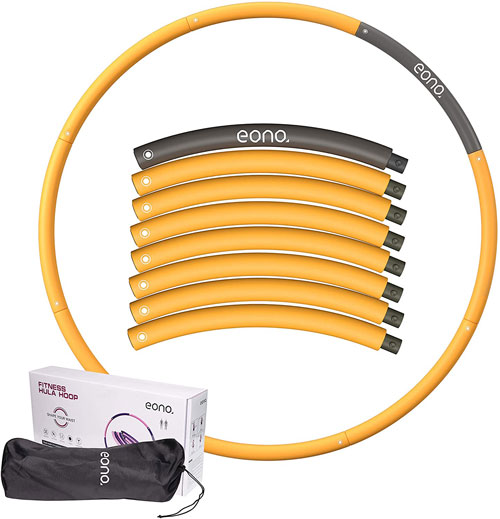 This hula hoop is a product of the Amazon brand, Eono and features quite a competitive design. Made with solid plastic and durable foam padding, this fitness tool comes in eight pieces and a small carry bag.
The weighted hula hoop features even weights throughout its diameter to give you the best workout experience. Besides, this product is super quick to assemble and disassemble by snapping the clasps between the pieces. However, there have been complaints of connectors coming off on high-intensity hooping.
You can use it for both indoor and outdoor training. Also, it can be utilised by teenagers and adults without any restrictions.
However, the model is ideal for beginners as it doesn't offer much resistance and has an average diameter.
Pros
Durable plastic and foam padding
Comes with a free carry bag
Even weights
Perfect for both adults and teenagers
Affordable
Cons
Clasps may release on a high-intensity workout
Not for professional trainers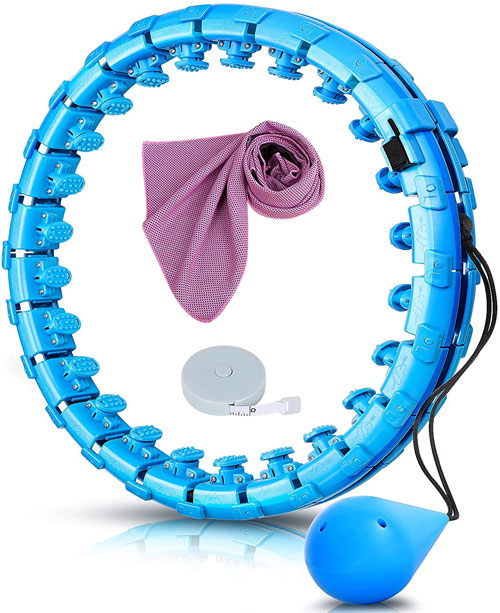 Spinning requires good balance and coordination. But, if done using the right weighted hula hoop, this unique workout movement becomes super easy to perform.
It is a well-designed fitness item made with durable ABS plastic. Moreover, it is lightweight and super comfortable for beginners to use. However, the low weight does make it pretty basic for professionals who look forward to a challenging spinning session.
This smart weighted hula hoop features rubber heads that tone your body and massage your waist to eliminate fatigue. Moreover, you can customise the hoop sizes by decreasing or increasing the number of detachable pieces used in the ring.
The OOTO hoop comes with a gravity ball to maintain balance. Besides, it is an affordable fitness tool that can produce effective results if used consistently and appropriately.
Pros
Made with solid ABS plastic
Rubber heads provide massage and fitness
Detachable parts for customisation
Comes with a gravity ball
Affordable
Cons
Too lightweight for professionals
No foam padding for comfort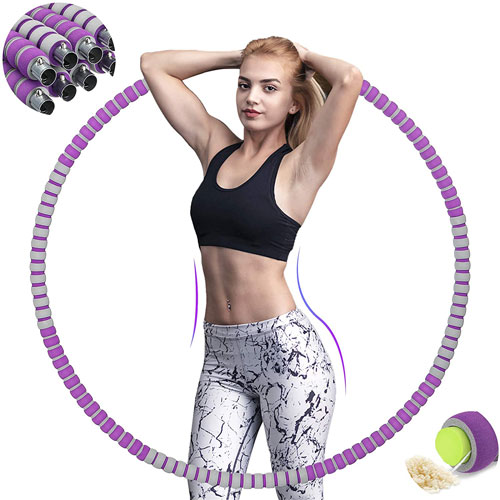 Do you know that you can use a weighted hula hoop for some yoga moves and as a prop for pilates? This multi-functional tool has many uses, and so it deserves a place in your home gym. But not all fitness hoops offer good quality, and you should be very careful while selecting one.
It has many features to become your best companion on a workout day. Made with stainless steel, this product is quite durable for both low-intensity and high-intensity spinning. Besides, the foam padding improves the hoop's strength and maintains its shape.
However, It comes with a hollow space. Therefore, you will have to fill it with rice or sand to gain a weighted structure. It may be a hassle for many, and most users may fail to achieve an even weight throughout the hoop.
The Safetyon weighted ring comes with eight detachable pieces that can be connected easily through steel connectors. Moreover, this product disassembles into small parts that can be stored conveniently.
The maximum weight of this weighted hula hoop is 1.3 kgs. That's entirely appropriate and lightweight for beginners. However, if you are a trained aerobic athlete, you may find this hoop too basic and useless.
Pros
Multi-functional fitness tool
Made with steel and foam padding
Comes with eight detachable pieces
Easy to store
Great for beginners
Cons
Requires you to add weight which can become a hassle
Not fit for professionals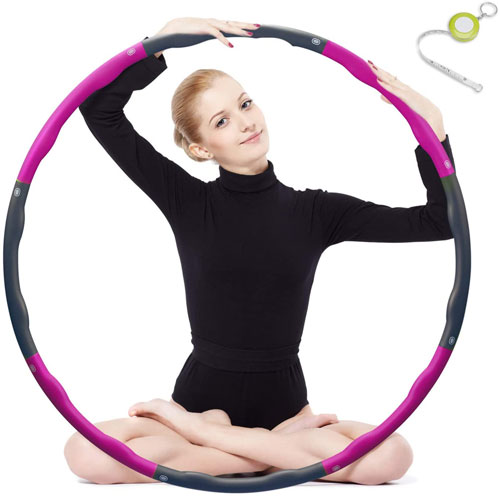 Hula hooping is an art and if you're a woman who loves it, get your hands on it right away. Made especially for ladies, this soft and ergonomically designed hoop can massage your waist while allowing you to lose some calories and weight.
The model comes in eight sections that you can adjust and join according to your waistline. Besides, this tool features 34 inches diameter that can fit a majority of women.
However, if you are on the heavier side, It may be too small for your use.
This weighted hula hoop is lightweight and super easy to carry around.
However, an expert hula hooper may find its resistance level too basic for their abilities. Simply put, it is excellent for beginners and learners but may not suit many established trainers.
Pros
Ergonomic design
Foam padding
Lightweight
Easy to store
Affordable
Cons
Offers low resistance
May not suit heavier women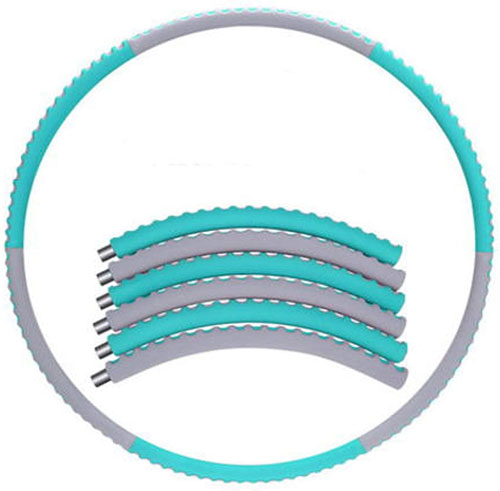 Taking the 10th spot on the best weighted hula hoops list, the Ever Rich FitnessWave is a good product for teenagers and adults. Featuring a durable foam body and power wave design, this equipment can help you learn hooping quickly.
Besides, it offers a foam surface for solid grip to avoid any accidents.
It is a smart tool that weighs only 1kg. If you are a beginner, this weight limit will suit you perfectly.
However, it won't offer much resistance to professionals and may not be enough to provide a challenging workout.
The Ever Rich hula hoop is available in different colours and prices. That gives you a variety of options to choose from for your workout.
However, there have been complaints about this product causing bruises if not used correctly. So, consider trying out this item properly before finally purchasing it.
Pros
Made for both adults and teenagers
Solid foam body
Lightweight for beginners
Available in different colours
Inexpensive
Cons
Too basic for professionals
Customers have complained about this product causing bruises
How to Pick the Best Weighted Hula Hoop for a Home Workout?
Can you connect with a hula hoop reviewed in the list above? If you are still unsure which one to get, read about the factors to consider before you pick the right one.
Weight
While choosing a weighted hula hoop, make sure the item's weight is bearable for your muscles and bones. For example, a heavy ring can hurt your joints and make your muscles weak. Besides, light equipment may break easily or fail to create enough resistance for your workout.
However, if you are a beginner with no aerobic experience, start with a light weighted hula hoop and gradually shift to a heavier one after you have gained enough experience and strength.
Size
For a beginner, a giant hoop is easier to use. However, as an expert trainer, get your hands on a small weighted hula hoop to enjoy high resistance.
Whichever size you go for, make sure that the hula hoop reaches your navel when it is adjusted in an upright position. Also, keep in mind that the selected tool sits comfortably between your mid-chest and waist.
A weighted hula hoop with wrong or uncomfortable size can leave you with injuries and a broken motivation.
Durability
Are the hoop connectors durable? Can the individual pieces bear high-intensity hula hooping? To check the durability of your selected product, make sure to find an answer to these questions before making a purchase.
You would never want to break the hoop within a week of bringing it home. So, to save yourself from that stress, do not compromise on the durability of the smart weighted hula hoop.
Padding
If your selected weighted hula hoop fails to provide you with secure padding, investing your money in that item is risky.
A safe foam padding on the hoop ensures a firm grip and prevents unnecessary slippage. Besides, it helps maintain the momentum that encourages you to use this product for an extended period.
Assembling
No one has the time and patience to invest hours in assembling and adjusting a weighted hula hoop. So, if you plan to use this equipment every day, make sure it assembles comfortably and quickly.
FAQ
To develop a better understanding of using a hula hoop, go through some common questions asked by users like you. This section will help you clear any doubts and assist you in making your final decision.