Have you ever thought of buying a LAT pulldown bar and making it a part of your fitness gear? Working out with this fantastic strength unit can help you build a muscular and more robust back. Besides, this bar can improve your posture and add stability to your spine.
If you have been aiming to achieve the above benefits for your body, let us assure you that you are just one step away from your goals. First, read this article and find yourself the best LAT pulldown bar available. Then, bring it home and start working out!
To know all the details, dig into this guide right away.
The Best LAT Pulldown Bar Product Reviews
Here's hoping that the above facts have convinced you to buy your first LAT pulldown bar. If yes, we will help you make this purchase.
Below is the list of six unique and solid LAT pulldown bars for you. Each of these is pretty brilliant in its own way. However, you should only choose one that ticks all the right boxes for you.

Have you ever dreamt of solid shoulders and toned biceps? If yes, we might help you fulfil your desire by recommending you get the Yuhqc LAT pulldown bar right away.
It may look like a simple tool, but this bar features an ergonomic design that can support your fitness goals. Made with durable steel, this product has a load capacity of 500kg and can be utilised for various target muscle exercises.
Besides, the pulldown bar's rubber handles ensure you experience grip every time you hold this bar. In addition, the well-designed flat knobs prevent unnecessary slippage and give you the comfort you require while trying out new moves.
The bar is 28 inches wide. While this length is ideal for many, some people with broad shoulders may not feel comfortable working out with this too. Besides, owing to its user-friendly features, this LAT pulldown bar is a little expensive, but somehow its quality overpowers its price tag.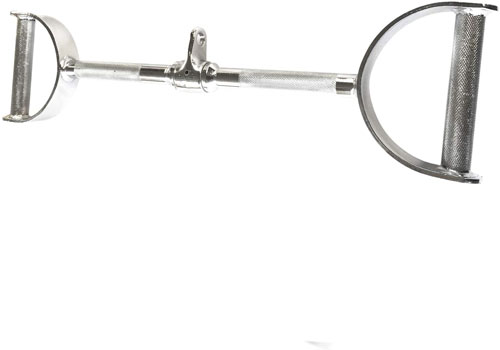 Made from heavy-duty and durable steel, the Senshi Japan LAT pulldown bar features an ergonomic design and construction. As a result, this bar can be ideally used as an attachment for cables and is ideal for pulldown workouts in both your home and private gym.
The bar comes with grip handles that offer a secure grip every time. Besides, the anti-slip surface allows you to perform various exercises such as reverse grip pulldowns quite conveniently.
While the bar is a little heavy, it works perfectly to create enough resistance while you train your shoulders and back. The handle of the bar features knurling that enhances the grip even further. However, according to some customers, the knurling is uneven and quite a disappointment.
You can attach the bar to any shackle or carabiner using the carabiner hole on its top. The hole can fix all hook sizes, thus making this product pretty ideal for different cable machines.
The Senshi Japan LAT pulldown bar is a little more expensive than many of its other competitors. However, the product's guarantee and performance make it worth every pound.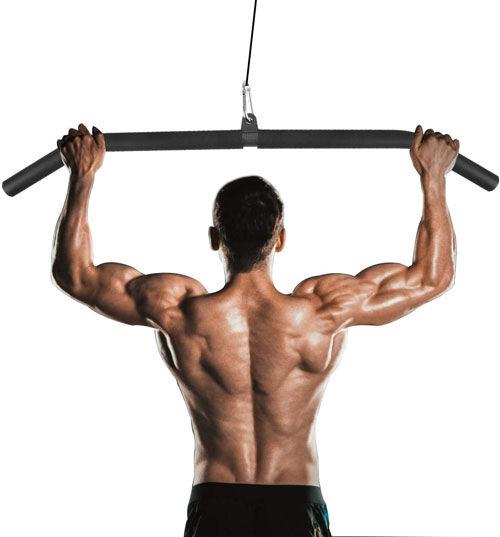 Do you feel your workout has been affected by staying at home every day? We understand your concern and recommend you get a LAT pulldown bar from omotor and continue with your fitness journey.
This tool is made of rugged steel and can tolerate a maximum weight of 272 kg. Moreover, the bar features slip-resistant handles to accommodate your solid grip.
When you buy this bar, you also get a rope and a hook. The nylon rope makes the bar movement controllable, while the lanyard hook helps to attach the bar and rope with a sturdy anchor point.
This product is so easy to assemble. You only have to pass the hook through the hole on top of the bar. This step will connect all the parts.
You can then attach the rope with pull rods and power racks according to your convenience.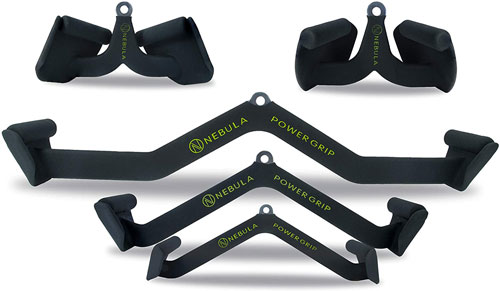 The Nebula LAT pulldown bar is also a competitive product available in the market. This product includes a bar set with various lengths and grips to accommodate many exercises. Besides, with five attachments, you have enough margin to experiment with your muscles.
Rounded handles accompany all the bars to reduce strain on your arms and put more pressure on your back muscles. Moreover, the multiple grip options help different users to utilise their bar comfortably. The slip-resistance coating on the handles gives you control over your hand movements and also prevents painful blisters on your palms.
Overall, this recommendation offers good value for money. At a competitive cost, you get many attachments from a single item.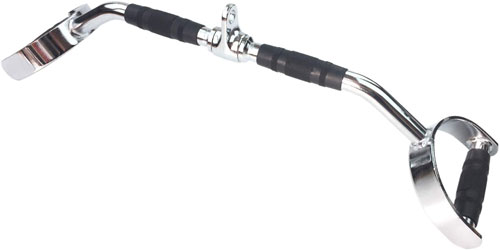 Another recommendation from Senshi Japan, this LAT pulldown bar is also quite impressive in many ways. With a solid steel body and anti-slip handles, this product can be your ideal companion in performing various back and shoulder exercises.
This LAT bar has rubber padding on its handles and main body. Rubber padding prevents sweat and also helps you to form a firm grip. Besides, it works as a comforting surface to place your hands on and work out against high resistance.
You can conveniently attach the bar with a cable and work it out wherever you want. Also, with a reasonable price tag, this bar is a pretty affordable option to other similar ones.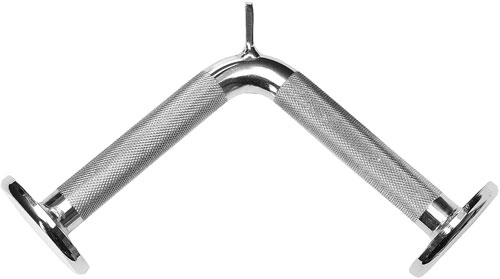 Taking the last spot on this list, the A2ZCARE LAT pulldown bar is no less than other recommendations. This bar is made of heavy-duty steel and has a finishing of durable chrome.
It also has textured handles and secure knobs to prevent your hands from losing grip.
This pulldown bar is almost 6.5 inches long and has a diameter of 1 inch. The V-shape design looks pretty classic and also fits well with all kinds of cable machines.
You can use this bar to perform various back and shoulder strengthening exercises. Also, it can serve you well in a tricep workout session.
How to Pick the Best Lat Pulldown Bar?
Have the above recommendations left you a little overwhelmed? Since all the six options look promising, it is hard to select one.
But if you consider the factors below, you can easily make a choice. Read through the list of considerations, match them with your requirements and find a bar that meets the overall criteria.
Length
It is not entirely simple to determine the length of the pulldown bar. What may work for others may not suit your use.
However, the ideal length of your chosen bar shouldn't be very wide for the grip. Instead, it should be just a tiny bit longer than your shoulder width.
A length unnecessarily long can be too challenging to balance, and the same goes for short bars.
Shape
You will come across two different LAT pulldown bars during your search. These are bent and straight bars.
According to many users, bent bars are far easier to work out with when compared to a straight one. It is because they offer an excellent design for your grip and allow your wrists to adjust perpendicularly, thus reducing pressure.
However, again, the best shape doesn't work for everyone. So, make sure you understand what structure goes well for your grip and then buy accordingly. You can either try a bar in a gym to see its impact or ask a trainer to recommend you according to the strength of your wrists.
Material
LAT pulldown bars are made of different materials. However, bars crafted using steel are solid, secure and much more durable. They are also very sturdy and suit many other users.
However, steel is an expensive material, and you may find such bars failing to meet your limited budgets. While chrome bars are also quite common and much more affordable than steel, they do not offer competitive durability and lack longevity.
Grip
A LAT pulldown bar may come with different variations of grips. For instance, some bars have deep knurling while there are many rubber padding around their handles. You will also find bars with handles on both ends.
Every design has its advantages. However, the one that will suit you would depend on your comfort. Here are a few things to consider when choosing the suitable grip variation:
If you feel more comfortable with rough grips, get a LAT pulldown bar that features deep knurling and is made for most pro athletes.
Rubber or padded grips mostly suit beginners or users who can't take the risk of straining their hands. Besides, rubber grips prevent your hands from getting slippery with sweat.
As an additional measure, you can also wear gloves while pulling the bar down.
Value for Money
As mentioned above, different materials and designs play a role in deciding the price of the lat pulldown bar. But you should avoid spending on a product that you may plan to use regularly. Cheap bars have poor quality and don't last for long.
On the other hand, don't go overboard with your purchase. If a budgeted bar serves your purpose, make that your final choice.
Benefits of Using a LAT Pulldown Bar for Workouts
The benefits of using a LAT pulldown bar for workouts are many. Take a look at a few:
Strengthens Your Target Muscles
Consistent use of a bar for LAT pulldown exercises helps strengthen the latissimus dorsi. This is a pretty large muscle of your body that covers the top of the rib cage area. Besides, this muscle supports the extension and abduction of your shoulders.
While pulling a bar, you can easily feel these muscles getting tensed, and the tension is slowly released as soon as you release the bar to its starting point. This movement engages the lats and assists your shoulders to lift the bar's weight.
Makes Synergist Muscles Strong
Do you know what synergist muscles are? These are the muscles that support your latissimus dorsi and aid its movement. By performing pulldown exercises, you can also tone these muscles and make them more robust than ever.
Alleviates Tension and Pain
Do you sit on your computer all day and are often hunching forward? If yes, you might be suffering from severe tension in your shoulders and back.
To relieve this tension and uncalled pain, it is necessary to utilise your lats, activate them and allow them to move to increase their strength. By using a LAT pulldown bar, you accomplish just that and more.
Develops Solid Back
In addition to strengthening your shoulder and rib muscles, pulldown exercises with a bar also benefit your lower and upper back. It is because your back muscles perform in tandem when you pull the bar down against resistance.
A strong back helps support your overall body and gives you the chance to perform well in different sports and exercises. Moreover, a solid back holds your spine in place and improves your posture.
Improve Blood Circulation and Lung Capacity
Like any other exercise, LAT pulldowns help accelerate your heartbeat and improve your blood circulation. Working out against weight is not easy, and a consistent workout with a lat pulldown bar forces your heart to pump faster and circulate oxygen to the shoulder and back muscles.
This action not only improves the pumping speed of your heart but also allows your lung muscles to expand and increase the production of oxygen. An even distribution of oxygen in your body leads to healthy organs and smooth muscle and tissue development.
Can Be Used Conveniently at Home or Gym
Since a LAT pulldown bar is a compact tool and can be used easily at home and in your office space, you don't have to visit a gym, especially to reap its benefits.
You will only need to attach the bar with a cable if you don't have a machine in place. The set-up is quick and cheap.
However, ensure the security of the bar. Make sure it is attached firmly and would not release with high pressure. Also, the cable should be able to withstand the weight of the bar.
How to Attach a LAT Pulldown Bar With a Machine?
It is effortless to attach a LAT pulldown bar to all kinds of cable machines. The bar comes with a solid carabiner hole fixed with any shackle or carabiner on a rack or machine.
However, you should only make sure that the bar is secure enough to perform LAT pulldown exercises. Try pulling the bar down many times before finally adjusting your body to get to the real business.
How to Use It Correctly?
This bar may seem like a simple-looking tool; however, you need to follow specific rules to make it work for you. A small technique error can lead to an unbearable wrist and back sprain. Moreover, in extreme cases, you may also get an injury.
So, to avoid a mishap, make sure you use a LAT pulldown bar correctly and perform all exercises safely.
To start, attach the bar with a sturdy unit. Simply hook the bar with a point and secure it well.
Lock your legs and adjust the knees to give you the correct posture.
Now, while making the palms facing towards you, grab the bar tightly.
Make sure the grip width should be more than your shoulder width.
Now, lift your chest, lean your back slightly and make the torso taut.
Squeeze the shoulders and pull the bar towards your upper chest.
Allow your elbows to move downwards while you perform the above step.
Avoid leaning back, or else you might hurt it.
Now, release the bar slowly and let it go to its starting point.
Repeat the steps and feel the burn.
The Dos' and Don'ts of Using a LAT Pulldown Bar
Don't use a bar with a weight that you can't handle. If a bar weighs more than your capacity, you may see yourself slouching a lot. This posture doesn't work well for any exercise.
Engage your lats while pulling the bar towards you. Don't over utilise your biceps and let them do all the work.
Make sure to exhale when bringing the bar towards you. Then inhale while releasing the bar slowly backwards.
Avoid being fidgety with the elbows. Take control of them and allow the elbows to adjust close to the body.
Don't lose control over the bar until it has finally reached its starting point. This tip is imperative to prevent unnecessary overstretching of your back.
Don't hold the bar too wide. If you are a beginner, make sure to keep your grip just a tiny bit outside the shoulder length.
FAQ
Do you have some other queries in mind? Here are some common questions asked by users like you. If you have similar doubts, find their answers in the section below and clear your mind to bring the best LAT pulldown bar home.