The two most popular kinds of home rowers are the magnetic rowing machine and the air rower. Both of them use the same motion and work out more or less the same muscle groups. The difference is in the resistance.
The air rower hooks up your pedals to a fan-like device, which generates air resistance as it spins. The faster you row, the faster it goes, and the more air you have to push against.
The magnetic rowing machine generates its resistance from a metal disk surrounded by magnets. You can probably see where this is going. Your resistance dial moves the magnets. The closer the magnets are to each other and the disk, the harder it feels to row.
Each of these styles has its strengths and weaknesses. The style that will be better suited to your needs depends on things like how much space you have, how much you value your volume, and whether you prefer more control or more realism.
Today, we're going to focus on Uk indoor magnetic rowing machines with home use in mind. We'll talk a bit about their pros and cons, and then we'll give you our honest thoughts on a few of the top models on the market. We hope this article helps you make an informed choice about which rower is best for you.
The Best Magnetic Rowing Machine Deals
Dripex's Magnetic Rowing Machine is a simple, solid rower with a few interesting perks. The body is made from aluminum and heavy-duty steel. A few users mentioned that it has sturdy welds with a very little wobble when you row.
The Dripex rower prides itself on its smooth rowing stroke. The rolling seat slides effortlessly across its polished aluminum rail, which is mounted on a coiled shock absorber for extra flow. The extra shock absorption also helps dampen the already minimal noise.
This rower's magnetic resistance has 15 levels, which gives you detailed control over the difficulty of your stroke. You can use the low levels for cardio, the high levels to build muscle, and the middle levels to lose weight.
If you're an aesthetically minded athlete, you'll love this trainer's fluid, futuristic look. The sleek lines and gentle curves work together to frame a machine that won't look wrong even beside the most tasteful décor.
The padded seat and adjustable-angle non-slip pedals make the Dripex magnetic rowing machine extra comfortable even if you have long legs. The transport wheels and adjustable rear stabilizers make them user-friendly. The simple LCD monitor doesn't have any flashy distractions but does a good job of keeping track of your progress.
This trainer is about the size of an average UK man lying on his side on the floor. At 120 kilos, it's almost double his weight. If you're concerned about space, you can store the Dripex rowing machine upright behind a door or in a closet. If you have durability on the brain, it comes with a full warranty that lasts for your first 12 months.
Hardly any wobble
Extra shock absorption
Beautiful design
Stroke a bit shorter than most commercial rowers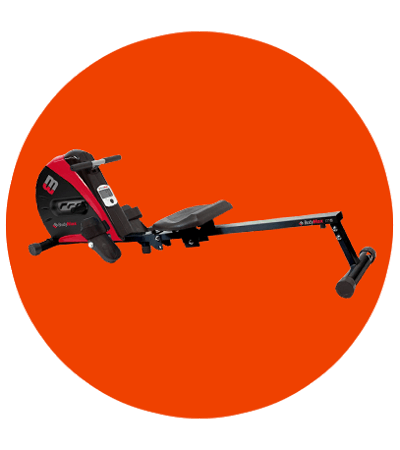 The Sportplus MR-008 magnetic rowing machine is designed around a synthetic leather seat mounted with ball bearings on an aluminum rail. We read many customer reviews that say the build is sturdy with low wear and tear even if you use it robustly.
The seat on this model is lower than most rowers. If your knees aren't at their most stable, you'll love the low step over. Getting up may be a bit challenging, though, so we recommend installing the MR-008 next to some higher stable surface you can use to help you up.
This trainer has eight levels of magnetic resistance, which users say isn't exactly quiet but isn't loud either, even during HIIT exercise. On the floor, it's about the size of a single bed mattress lying on its side. It folds up to about half the floor footprint. It has a maximum user weight of 150 kilos and a maximum user height of 180 centimeters.
Sturdy build
Low wear and tear
Fitness Reality 1000 Plus Rower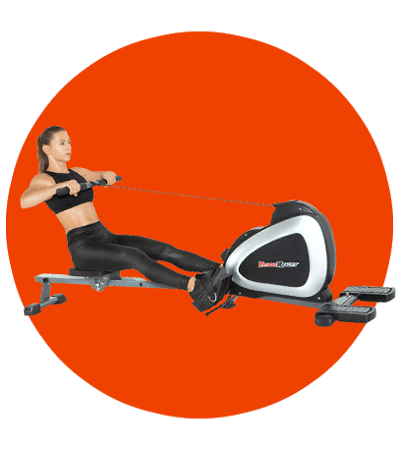 Fitness Reality's 1000 Plus rower comes with 14 levels of magnetic tension. The dual transmission lets you accelerate quicker and feel less shock when you change levels.
The cable on this magnetic rowing machine is a thick nylon cord. Users say it gives you a cleaner catch and provides minimum bounce during the return stroke.
This trainer's most unique feature is the front stabilizing foot pads that anchor its body to your floor. This allows you to use it as a low pulley for standing shoulder and triceps exercises.
At 225 centimeters long, this is the longest magnetic rowing machine on our list. It's ideal for tall people, with a suggested maximum height of 201 centimeters. The machine is about as long as Shaq lying down, although it's considerably thinner. The rail can fold upward to cut the floor footprint in half and double the height.
The 1000 Plus comes with Bluetooth, allowing you to connect with its included app to set goals and monitor your progress. It's also the most expensive trainer on this list.
Thick cord for minimum bounce
Stabilizing front foot pads let you do standing upper-body exercises
Great for tall people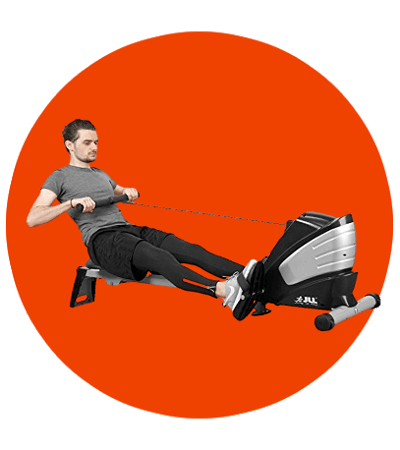 This rowing machine by JLL has ten levels of magnetic resistance connected to a high-tech direct-belt drive. Users say the movement gives it a smooth, rhythmic motion that makes the stroke feel like you're flying.
On your floor, this magnetic rowing machine is about the same length and width as the above Dripex rower. As usual, it folds upward to twice the height and half the length.
Weighing only 26 kilos, some customers mentioned it could slip around a bit on smooth floors. You may want to install it on a carpet or non-slip mat. With a maximum weight of only 100 kilos, tied for lightest on our list, it's probably not a good choice if you're on the heavy side.
All the reviews we read raved about the well-made components that make this rower reliable and long-lasting. People who have had to use the 12-month warranty report good experiences.
Smooth, rhythmic motion
Well-made parts
Reliable warranty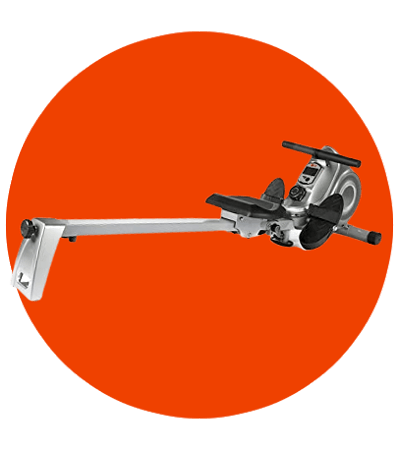 XS Sports says their foldable magnetic rowing machine is designed to last a lifetime. Most of its still-living users agree that it has a solid frame and say it slides smoothly across its ten levels of resistance.
The dimensions are about average, both unfolded and folded. It's the lightest machine on our list, although an impressive number of reviews we read mentioned how stable it is on the floor. The maximum weight is only 100 kilos, although the maximum height is 190 centimeters.
More people than usual said the poor instructions made it difficult to assemble, but all eventually figured it out. A lot of people raved about the accuracy and simplicity of the mounted LCD display.
Sturdy and smooth
Lightest rower on list but stable on the floor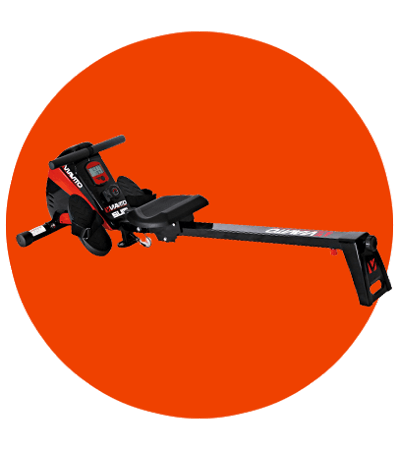 The Viavato Sumi magnetic rowing machine gives you ten levels of quiet, friction-less tension. Many people who bought the machine say that the top resistance levels are pretty hard, although the motion itself is incredibly smooth.
The smoothness comes from its ergonomic seat mounted with four rollers on a robust rail made from high-grade steel. Several reviews also mentioned that this rower was one of the quietest models they'd ever tried.
At about average size and weight, the Viavato Sumi looks kind of like a sleek, slightly oversized weed eater. It is foldable but doesn't lock in the folded position, which makes it a bit tough to move around. Some people also pointed out that a few exposed wires sometimes get in the way of the folding mechanism.
The machine comes with a longer-than-average warranty of 24 months.
Quiet and smooth
Difficult resistance levels
Long warranty
Problematic folding mechanism
Why You Might Want a Magnetic Rowing Machine
Size and Price
If space and heft are a concern to you, make sure to double-check your dimensions when making this decision. Magnetic rowing machines are usually more suitable for smaller spaces.
Magnetic models tend to be lighter than air-based models. They also take up a little less space on the floor. It seems counterintuitive, but the air rowers are the bigger, heavier ones.
It's not an exact science, but smaller spaces sometimes correlate with smaller pocketbooks, which is another area where magnetic models shine. They tend to be more affordable than their air buddies. The cheapest air models cost above £200; the lower-end magnetic models cost about only half as much.
Control Your Resistance
Another of the most significant differences is how the resistance feels when you row. If you like to calculate your resistance precisely, you'll probably prefer the magnetic rower. You can choose exactly how hard you want your stroke to feel, and then you can row as fast or as slow as you want without the resistance changing.
With an air rower, rowing slowly creates low resistance, and rowing fast creates high resistance. There's no way to row slowly with high resistance or vice versa. If you want to double your speed on an air rower, it takes about eight times as much effort.
Magnetic resistance gives you greater control over the intensity of your workout. Manual magnetic models use a dial to adjust the resistance, and automatic versions usually use either a button or a touch screen for even less hassle.
With this more precise control, it's easier to set the resistance just right so that you can focus on a particular muscle group. You can turn the resistance down low for a casual day, crank it up high for some HIIT intervals, or cycle between low and high-intensity sets.
Tracking and Programming
It's also easier to track your progress over time when you know exactly how many reps you can do with exactly how much resistance. That means magnetic rowing machines work great with preset workout programs.
The precise resistance opens up all kinds of possibilities for interactive or pre-programmed workouts. Magnetic rowers often come with interesting presets that can bring a little extra spice to your exercise. You can simulate a rowing race against your favorite Olympic champion or row a virtual marathon using reps plus an exact amount of resistance to calculate your distance.
Shhh!
When I row, I like to listen to podcasts at double speed to motivate me to pick up the pace. If you're a multitasker as well, this next point will be particularly relevant to you.
Magnetic rowing machines are so quiet! If you've never been on an air rower before, we recommend you look up a few air rowing videos with your sound turned on. You won't have to listen very carefully; it sounds like you're rowing in a hurricane. If you like watching TV while you work out or don't want a constant background whoosh, magnetic fields don't make much noise.
FAQ About Magnetic Rowing Machines