Have you ever tried working out with a battle rope in a gym? If yes and your experience was great, it's about time you bring this equipment home.
As per research, training while using a battle rope can burn 335kcal in just 30 minutes. Moreover, it can help tone your muscles if you work out regularly.
However, there's more to this simple-looking tool than meets the eye.
So, if you are interested to know everything, read the guide below. We have selected the best eight battle ropes for you to buy in the UK.
Are you ready to dive in? Let's do this!
Battle Ropes 101
Before we head over to the recommendations, here is a simple-to-understand introduction to an exercise rope. This equipment is pretty simple. However, it offers high-class design and performance for any fitness enthusiast.
Battle ropes look like heavy ropes with a nylon cover. This fabric layer helps to withstand high pressure and prevents this tool from unravelling.
Moreover, an exercise rope has vinyl or rubber handles on both ends for a solid grip. This feature makes sure you don't lose your focus and strength while training.
Before using an exercise rope, anchor one end of the rope against a point and hold the other in your hands. Once the rope is securely fixed, move back, and slam, whip or wave the rope until it starts burning your calories.
Best Battle Ropes of 2022 , According to an Expert
Doesn't a battle rope sound worth your investment? If you agree, delay no more.
To help you find out the best battle rope in the UK, we have curated a list of eight recommendations below. Go through each option in detail and find the suitable rope for your use.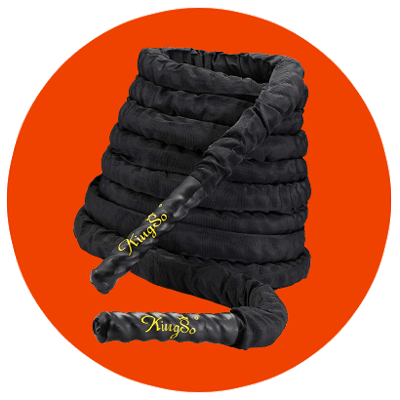 Made with nylon sleeves and a poly dacron body, this battle rope by KingoSo is quite a reliable fitness tool to own. It is 1.5 inches in thickness and is almost 9m long. These are standard dimensions and ideal for multiple users.
Moreover, the KingSo rope weighs only 7.7kgs, making it pretty appropriate for beginners and advanced fitness enthusiasts. You can attach this tool with a free anchor and fix it on a wall or floor of your home gym in the UK. However, avoid using it on a carpeted surface, as it may ruin it when in use.
The KingSo exercise rope has 7.5 inches of heat-shrink handles that offer plenty of area for your firm grip. Overall, this product is one of the most durable and long-lasting items on this list.
Pros
Made with durable poly dacron
Ideal length and weight
Comes with a free anchor
Heat-shrink handles for a firm grip
Cons
May ruin carpet surface
Doesn't have a mounting strap to avoid wear and tear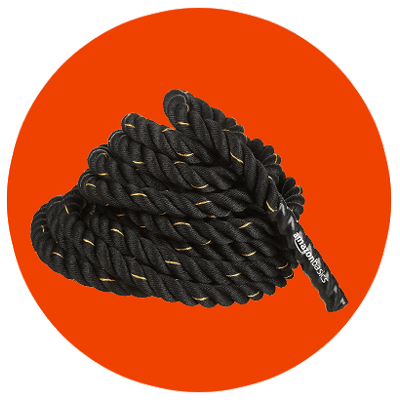 As a product of the well-known Amazon Basics Store, this exercise rope will make a great addition to your fitness arsenal. This battle rope is 9m tall in length and has a thickness of 1.5 inches. These dimensions are pretty appropriate for anyone who wants to enjoy a full-body workout at least twice a week.
Besides, the Amazon Basics rope comes with a 3-strand design for added flexibility and security in your performance. In addition, the polyester blend makes sure you enjoy an unhindered workout.
You may want to consider this battle rope for your tiny house in the UK as it folds conveniently and adjusts in small storage space. Moreover, you can fix it with a pole or a tree and exercise whenever you want.
However, this product isn't quite ideal for high-intensity workouts. There have been complaints of breakage and poor quality. If you are a consistent user, you may want to consider something more durable.
Pros
Perfect length and thickness
Comes with a 3-strand design
Foldable
Easy to carry around
Cons
Not durable enough for long-term use
Isn't made for high-intensity workouts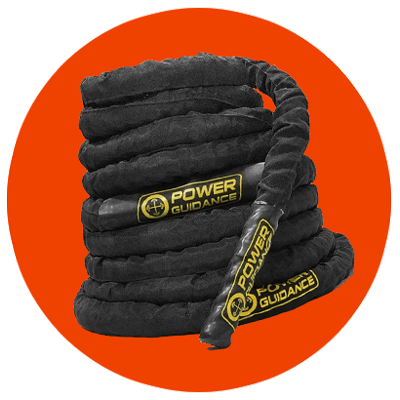 The Power Guidance battle rope is considered one of the most efficient and reliable products for fitness enthusiasts worldwide. As the name suggests, this rope is a power-house in every way.
This product has a nylon sleeve covering its entire body to prevent the product from any unnecessary friction. Moreover, it is made from dacron that adds quality and durability to this product.
Besides, the Power Guidance exercise rope has a 9.8 inches heat-shrink grip to enhance your comfort and performance. Besides, you have the choice to buy a 9m long rope or a 15m one. Similarly, you can also choose between the different thicknesses available.
The longer and thicker the rope is, the heavier it will be. Therefore, if you are seeking a challenging workout, go for heavier battle ropes for efficient results.
Pros
Durable rope
Offers options of lengths and thicknesses
Nylon sleeve reduces friction
Value for money product
Cons
May twist a lot
Not ideal for a workout on carpeted surfaces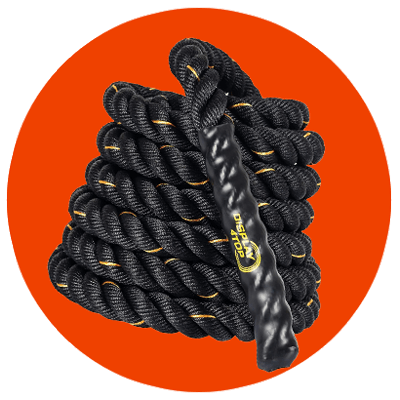 Is your monotonous routine making you sluggish and bulky with time? If yes, you may want to bring the Display4top rope home and spend some minutes shedding sweat and laziness every day.
This battle rope is available in different lengths and offers perfect thickness for all users. Moreover, it weighs only 7.5kg. So, if you are a beginner, you will find this item quite comfortable to use. And since it's affordable, you will find it worth trying.
The Display4top rope also has rubber seals on both ends to avoid fraying. However, there have been complaints of inferior quality nylon used as a covering. If you are a professional trainer, we recommend you go for a much durable option from the list.
Pros
Good for beginners
Available in varying lengths
Appropriate weight
Rubber seals for better grip
Affordable
Cons
Poor quality nylon used
Not best for professional trainers or high-intensity workouts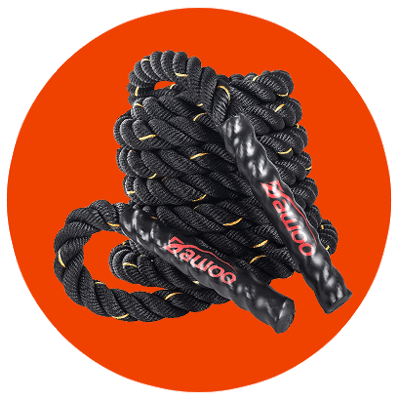 Regular strength training is a great way to stay fit and active all your life. And there is no better way to offer you that benefit than at least a 30 minutes session with a battle rope thrice every week.
The Dawoo battle rope is quite a compatible option on this list. While this is an expensive rope, you should give it a try to start your fitness journey.
This exercise rope by Dawoo is made up of high-quality poly dacron material and has rubber bands on both its ends. Besides, this product offers a well-designed 3-string structure to provide better flexibility in its performance.
The Dawoo rope is available in different lengths with a perfect thickness of 1.5 inches. Moreover, it weighs just 7.9kgs, which is sufficient for a low-intensity workout.
Despite the above excellent features, this battle rope isn't robust enough for professional training. However, if you are an occasional user, this product may suit your needs.
Pros
Offers varying lengths for different users
Has an ideal weight, size and thickness
Good for starters
Perfect for occasional users
Cons
Expensive
Not sturdy enough for high-intensity workouts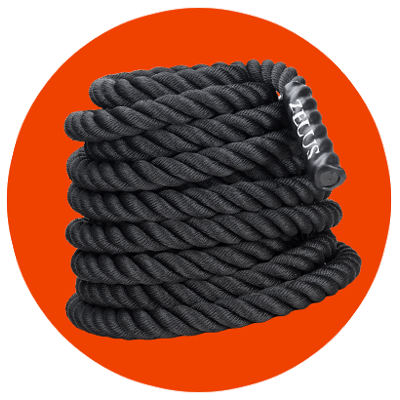 Zeus is quite a well-known brand when it comes to finding the best exercise ropes in the UK. This company offers reliable quality, and the products live up to the users' expectations.
The Zelus battle rope is made up of durable polyester that offers superior sturdiness. Moreover, the multi-strand design enhances flexibility to generate top-class performance.
This rope has ergonomic handles for your security and comfort. The heat-shrink caps also maintain the shape of the rope and offer a firm grip.
Strap kits accompany the Zelus battle ropes as anchors. These additional accessories prevent any unnecessary scratching and increase the overall life of this product.
This high-end fitness rope may be a little expensive, but it works well for all kinds of users. However, make sure to use it on a plain surface and leave the surrounding area empty.
Pros
Reliable rope
Durable material
Great features and quality
Comes with strap kits as sturdy anchors
Expensive
Cons
Expensive
Do not work on carpeted floors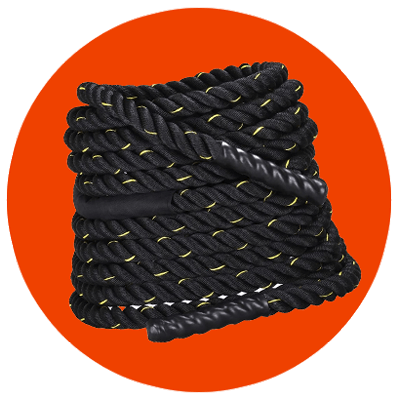 Working out with the Yaheetech battle rope will beat all your physical and mental worries. Made with solid polyester material, this product is both wear-resistant and perfect for high-intensity workouts. Besides, it comes with shrink caps at both ends to prevent your hands from any damage.
This exercise rope offers a perfect thickness for many users. However, it is only 9m in length. If you are looking for a longer rope, try other options on this list.
Also, the Yaheetech exercise rope weighs 10.2Kgs. Many beginners may find this a little on the heavier end. Most appropriate fitness ropes weigh 7 to 8 Kgs and are considered perfect for a majority of fitness enthusiasts.
Pros
Wear-resistant material
Great for high-intensity workouts
Good thickness
Comes with shrink caps for safety and better grip
Cons
Available in just 9m of length
Heavier than other options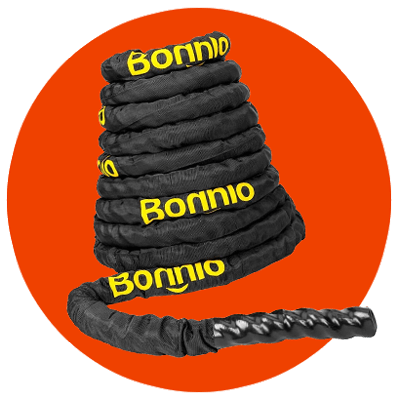 Have you been enjoying too many cakes and bread lately? We know it is hard to resist bakery items in the UK. However, you can balance your food intake by training with a Bonnet battle rope.
This rope has a twisted design, a body made of poly dacron and a nylon cover to offer you a long-lasting fitness tool. Besides, it is available in different lengths and a 1.5 inches thickness to cater to all kinds of users.
The Bonnlo rope also has a powerful grip, so you can grab the rope firmly and avoid accidents. This product gives you a chance to enjoy versatile workouts and improve your fitness level while enjoying your favourite food.
Pros
Strong design and bodytest
Offers a range of lengths
Appropriate thickness
Powerful grip
Cons
Expensive than many other options
May require a firm anchorage point for better performance
How to Pick the Best Battle Rope?
If you have still failed to select a battle rope from the list above, don't panic. Instead, go through some worth-considering factors below before you pick the right option.
With the below points clear in your mind, you won't make the wrong decision.
Appropriate Material
A majority of battle ropes are made from either poly dacron or manila. Manila is an excellent material when it comes to strength, environment and organic fashion. However, this material is slowly getting out of the market.
Manila ropes are expensive and can damage easily. Moreover, while in use, you will find tiny strands of this material all over your floor and asking for an urgent clean-up.
On the other hand, poly dacron ropes offer strength but are lightweight. However, most cheap poly dacron battle ropes are ineffective as well. So. make sure if you buy one, invest smartly to prevent any regrets.
Suitable Length
When it comes to standard lengths, exercise ropes are available in sizes 15m, 12m and 9m. However, for a more intense workout, a long rope proves more beneficial. A longer length adds more weight and fluidity to your training and offers better results.
Moreover, the length of your chosen rope also depends on the available space. Let's discuss this factor in the next point.
Available Area
For your tiny apartment in the UK, a shorter rope is far more suitable than a longer one. However, if you have a huge garage, you can experiment with any length however you like.
Portability
A battle rope folds and wraps up to half its original size. You can store this tool easily under your bed or in a corner. Moreover, you can also easily take it along to a friend's apartment for a group workout.
Thickness
Similar to length, an exercise rope is available in different thicknesses. However, the 1.5inch rope is the most recommended one for all users.
It is because this thickness is perfect for wrapping the rope around your arms. Moreover, a 1.5inch rope forms a firm grip that you require for safety purposes.
Also, the thickness increases weight which will drain you out quite quickly. If this is your first time exercising with a battle rope, start with 1.5 inches and gradually move upwards. Try this tip, and you will thank us later.
Anchor Points Alternatives
Before you pick a battle rope, make sure you have an available point to anchor this tool. Unfortunately, some rented properties in the UK don't allow you to drill holes in the walls or floors to form an anchor.
However, that shouldn't be a reason not to buy this tool.
Find an alternative way around your home or garage. We are sure you will successfully spot one.
However, make sure you don't wrap the rope around the water pipes.
Price
Depending on your budget and use, we will always recommend you to buy a battle rope that offers better suitability and durable design. However, if that means paying more, please do as this tool will bring you far more return than your investment.
Don't compromise on the quality just because you have a limited budget. If you don't have money to purchase a good-quality exercise rope, wait and save for some time before you are ready to buy this tool.
Benefits of Battle Rope Exercises
The movements above may sound simple, but they are complex and require real toughness. However, all the efforts are worth it as these exercises create results way above your expectations.
Read the section below to know what these consequences are and how a battle rope is good for you.
Provides a Full-Body Workout
You need to work out with a rope to experience this benefit. This tool may utilise your arm muscles only, but it makes sure your whole body is involved in the exercise.
From hips and legs to abdominal muscles, battle rope training can help build a strong body and accelerate fat loss.
Offers a Variety of Exercises
It is hard to find a fitness tool that offers a variety of different exercises when in use. However, a battle rope is an exception and is quite suitable for people who look for new movements every day.
You can utilise an exercise rope to practice different grip options or enjoy low-level bursts. Simultaneously, this tool can be used to enjoy cardio slogs and high-intensity exercises.
Great to Establish Balance
Since you are using your arms independently to move the rope, your body automatically starts enhancing its balance and strength. Moreover, with an outstanding balance, you start improving your posture as well.
Improves Heart And Brain Health
A vigorous session with the ropes every day can improve your heart health and blood circulation. Moreover, battle rope training can increase the oxygen flow to your brain and enhance its cognitive functions.
For instance, working out with a battle rope establishes a better focus and concentration.
Reduces Stress
Moving the ropes up and down with high intensity is a great way to eliminate all your frustration. Besides, with increased fat loss and calorie burn-out, you feel good about your body, which eventually reduces your stress levels.
A training session with a battle rope just an hour before bedtime can make you tired enough for a sound sleep. Furthermore, it can improve your sleep schedule and automatically reduce your mood swings.
Works Out As a Great Alternative
Did you forget to walk today? No worries, a short HIIT workout will do similar wonders as your daily walk routine does.
If the UK weather fails to support your healthy walk regimen, bringing an exercise rope at home will prove to be an effective alternative. You can follow the exercises mentioned above or enrol in online programmes for more options.
Fun in Every Way
If you hate exercising but can't avoid it because of fitness reasons, an exercise rope may become your fun companion. How?
Once you become a pro, moving the rope up and down in a rhythmic motion starts feeling hypnotic. Besides, the results it produces for your body are pretty comforting.
Battle Rope Exercises
You must be wondering what kind of exercises one can do with a tool that looks like a mere string. Isn't it?
To end your curiosity, here are some common movements with a rope that you can do in your UK home. All the exercises mentioned below offer full-body workout and can produce quick results when performed consistently.
The list of exercises doesn't end here. A battle rope offers great versatility and can be used in many ways.
FAQ
To clear any doubts, also go through the common questions below. We have tried to answer them in detail to enhance your overall understanding of battle ropes.