Are you in search of the best yoga mat these days for your at-home workout? However, with so many options available, are you unsure which one to choose and which to reject?
First of all, congratulations on deciding to practice yoga at home. You might have done it before in a gym with professionals, but this exercise under your roof gives another level of comfort and zen.
Secondly, you don't have to worry about the best yoga mat when this guide is here at your service. Whether you are a full-time yogi who adores sun salutation or a dedicated runner who loves to stretch out your legs and hips, there is a mat for everyone in this article.
Dive in for some amazing facts on the best yoga mats, followed by our 10 top picks to suit your needs. Moreover, there is a buying guide to make this selection quick and easy for you.
So, are you ready to stretch and experience mindful flows? Let's do this!
What is a Yoga Mat?
Yoga is one of the best forms of exercises that enhances your mental and physical health. Moreover, it makes you experience a meditative state that no other workout offers.
Besides, yoga is perfect for toning your muscles, strengthening your bones and improving your posture. However, to achieve all these benefits, you need to carry out this exercise on a reliable and comfortable foundation.
As it is unsafe to perform jumping jacks without a comfortable sports bra, yoga is a floor-based workout that doesn't feel right without a grippy best yoga mat. It works as a base to support your body and different poses.
But there is more to this fitness tool than meets the eye.
Read the two sections below to understand the different types of mats available and how a suitable mat can get you the support you require for yin or restorative yoga.
Different Material Types Available for Yoga Mats
A yoga mat is available in four different varieties, and each uses a unique material with varying properties.
PVC Yoga Mats
Some yoga mats are made of PVC, a manufactured and durable material. Moreover, PVC mats are also lightweight and cheap, which makes them quite suitable for beginners.
However, this material isn't environmentally friendly and contains some toxic substances that may react with sensitive skins.
Rubber Yoga Mats
While rubber mats are expensive, heavy and can't be placed under sunlight, they are appropriate for yoga and other exercises.
Rubber is an eco-friendly material. Moreover, this material is pretty sticky and is perfect for excellent grip.
These properties make rubber mats quite suitable for both beginners and expert yogis.
Polymer Environmental Resin Mats
Polymer environmental resin or PER mats are also biodegradable, affordable and non-toxic. However, they lack a good grip which is quite crucial to avoid any injuries during yoga.
Thermoplastic Elastomer Mats
Commonly known as TPE, this material is exceptionally lightweight, available in different textures, biodegradable and safe to use. But TPE yoga mats lack durability and may wear out way before your expectations.
Some yoga mats are also made of jute, but they are only reliable for meditation. It is because such material isn't thick enough to support most yoga postures and moves.
The suitable material for your yoga mat depends on your expectations from this product.
If you prefer an excellent grip with eco-friendly material, then rubber mats can make a perfect choice. However, if you are looking for something durable and affordable, PVC is a nice choice.
How Does a Yoga Mat Differ from a Basic Fitness Mat?
It is pretty normal to confuse these two products and buy the wrong mat for your specific workout. However, if you don't want to waste your invested money, read the differences below.
Since yoga is a low-intensity exercise and covers floor-based vinyasa, crows and flows, it uses a thin mat with adequate padding.
However, fitness mats are usually used for high-impact training and are far thicker with good cushioning than even the best yoga mats.
Besides, most fitness mats are very durable and are made with sturdy material. It is because they have to be strong enough to bear the pressure of dropped weights and rugged foot movements. However, a yoga mat is mainly made of TPE or rubber and is comparatively delicate.
While both of them may look similar in many ways, a yoga mat has a different purpose than a fitness one. And so, you should be very careful when choosing either of them for your workouts.
The Best Yoga Mats to Buy This Year
Now that you know how beneficial a yoga mat is, it is time to make a much-needed investment. Below is a range of top-quality mats for all your dancer, downward dog and warrior poses.
Scroll through each and learn about their features before you bring one home.
There is a mat for both experienced yogis and beginners alike.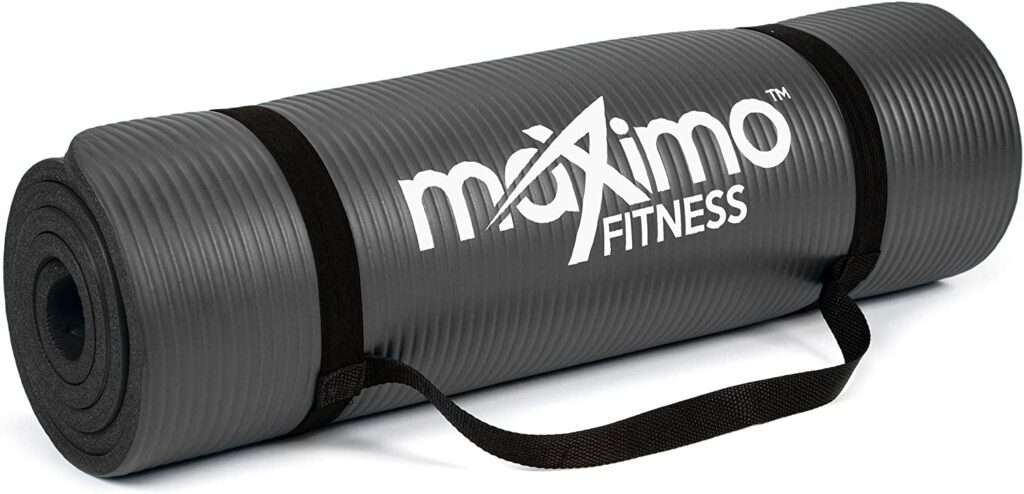 The Maximo yoga mat is a multi-purpose product that can be your best companion on a productive yoga session. Made with high-quality rubber foam, this product is eco-friendly and ideal for comfortable training. Moreover, it is sufficiently padded and offers a good density for lengthy and frequent yoga sessions.
However, according to its manufacturers, this product isn't suitable for HIIT workouts. Moreover, if you are looking for a firmer mat, this product may disappoint you.
When it comes to its surface, the Maximo mat ticks all the right boxes. It offers a non-sticky foundation, thanks to its water-resistant material.
Besides, the mat is super easy to clean after a build-up of sweat.
Another good thing about this product is that it is pretty lightweight and portable. Since this yoga mat comes with a carrying handle, you can conveniently transport it from one place to another.
The Maximo yoga mat is available in different colours and makes a reliable gym accessory.
Pros
Made with rubber so durable for yoga
Padded with high density
Non-slip base
Easy to clean
Comes with a carry handle
Cons
Not made for HIIT workouts
Not a firm mat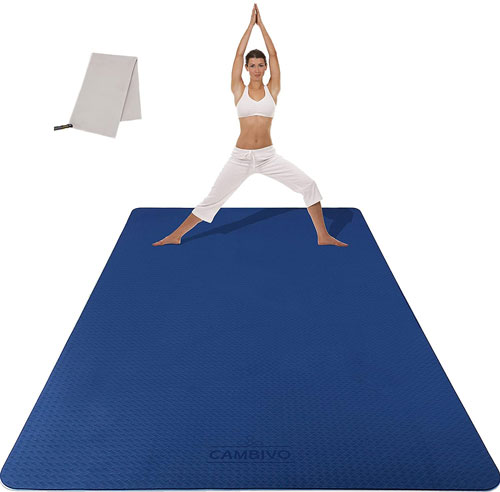 The Cambivo yoga mat is perfect for those who prefer an ample personal space for yoga. For instance, this unit offers sufficient length and width so you can stretch out with ease. Moreover, since it is made of TPE, you get a lightweight and safe accessory to use in your UK home gym.
However, TPE isn't a durable material, and so this yoga mat may show signs of wear and tear pretty quickly. But that depends on the frequency of your use and storing measures.
The Cambivo yoga mat has a non-slip design to accommodate all your movements. Besides, the wavy texture prevents the product from moving unnecessarily on the floor.
This gym accessory is pretty thick to support your yoga poses and relieve any pressure points. Besides, the well-padded surface prevents any injury to your knees or elbows while you shift from one yoga movement to another.
The Cambivo large mat is pretty lightweight and portable. It comes with storage straps and a carrying bag for you to take along anywhere. Also, this product is accompanied by a free towel as a part of the package.
With so much to offer, the Cambivo yoga mat is a little pricey compared to many other similar options. But if the price isn't an issue, this mat can make a promising addition to your home in the UK.
Pros
Lightweight and made from TPE
Non-slip design
Textured surface for better grip
Sufficient thickness
Comes with a towel and storage straps
Cons
Expensive
May not be very durable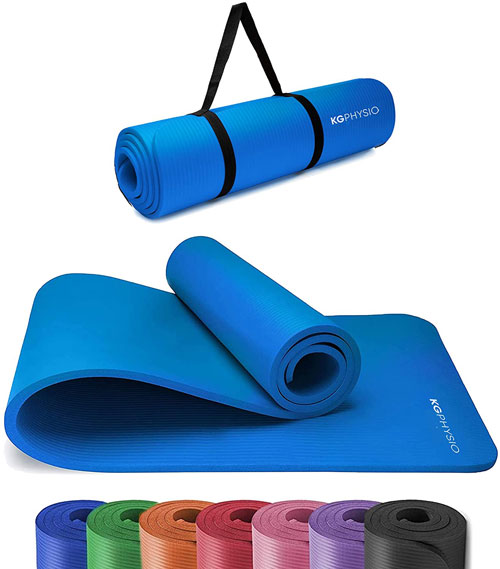 If you care about the environment and prefer only eco-friendly products, the KG Physio yoga mat may tick all the right boxes. Made with TPE, this product is non-toxic, safe and extremely lightweight. Besides, it is made using the latest technology that enhances the mat's performance to a great level.
The KG Physio yoga mat is perfect for all genders and is available in different colours for your soothing eyes. Besides, this unit features a non-slip surface and sweat-resistant material to accommodate even the most challenging yoga postures. However, since TPE isn't the most durable material out there, don't use this mat for high-intensity workouts.
This yoga mat is 0.4 inches thick, which may suit most users. But professional yogis may require a thinner mat for more feeling.
The KG Physio mat comes with carrying straps for easy transport. Moreover, it rolls in a compact shape and can be stored anywhere around your UK home.
Pros
Made with eco-friendly material
Offers non-slip design
Swat-resistant material
Comes with carrying straps
Perfect for both genders
Cons
Not very durable for high-intensity training
Too thick for some professional yogis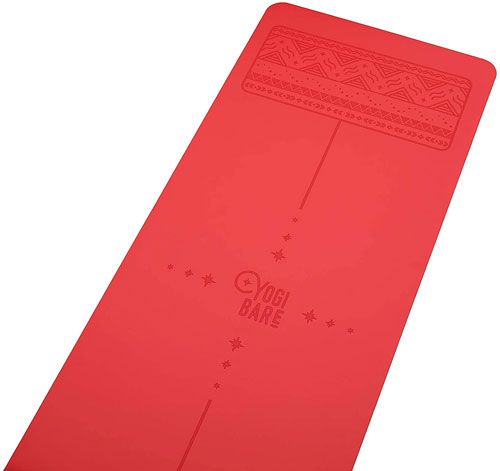 The Yogi Bare Paws is a rubber mat with a firm grip and exceptional durability. Its well-designed surface reduces sweat absorption and prevents your hands from sliding while posing. However, the Yogi Bare Paws mat doesn't work well with HIIT and Hot Yoga training.
This yoga mat features a well-thought-out design for your guidance. A line runs in the middle of the mat to align your perfect position.
Moreover, the boxes in the two corners of the mat are designed to keep your hands and feet.
With this clever design, the Yogi Bare yoga mat is an ideal choice for beginners with no idea about this form of workout.
The Yogi Bare mat is 0.15 inches thick and is 70 inches long. Both the figures are very close to the ideal thickness and length. However, if you are looking for a more padded yoga mat, select another option from the list.
This mat is super easy to wipe. According to the manufacturer, using warm diluted lemon water for spot cleaning will work well with this accessory.
Pros
Rubber mat with a firm grip
Unique design for guidance
Good for beginners
Easy to clean
Cons
Not perfect for a Hot Yoga workout
Expensive than TPE mats on the list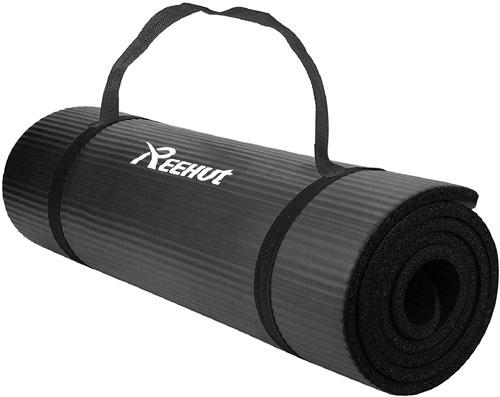 Do you know that a yoga routine is great to enable healthy breathing and heartbeat? However, for this exercise to benefit you, you need to follow the correct posture and frequent training to establish balance.
Moreover, you also require a safe rubber mat, like the Reehut yoga mat, to experience a good chance. This yoga mat ensures comfort at all levels.
With a 0.5 thick body, this premium mat offers a comfortable and padded support for your knees, spine, hips and elbows.
Besides, with a textured surface on both sides, the Reehut mat provides excellent grip and slip resistance to avoid accidents.
The Reehut yoga mat is also quite portable and lightweight. It comes with free straps that make it easy to carry around to different places.
However, this option is a little more expensive than most PVC or TPE mats. Besides, there have been complaints about the mat not lying flat and curling frequently.
Pros
Rubber mats offer better durability
Textured surface for a firm grip
Slip resistance
Portable and lightweight
Cons
Expensive
Doesn't lie flat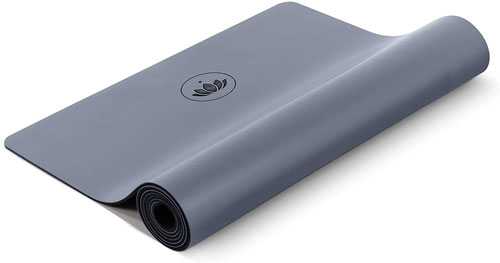 The Lotuscrafts mat offers some excellent features that can work well with different users as the best yoga mat on this list. Firstly, it is made of pure rubber that guarantees the mat's durability and strength.
Moreover, the Lotuscrafts mat has a non-slip and shock-absorbent surface to hold your body every time you go for a new yoga pose.
This yoga mat also features sufficient width and thickness for different exercises. Besides, it is made up of biodegradable material that is safe for your skin.
However, the Lotuscrafts mat is pretty heavy, almost 2.5 kgs. Moreover, unlike most other mats, this one doesn't come with straps and has a low portability.
But overall, this yoga mat is innovative and ideal for even high-intensity workouts.
Pros
Made with natural rubber
Non-slip surface
Good thickness and width
Great for both experienced yogis and beginners
Cons
Heavy
Doesn't come with straps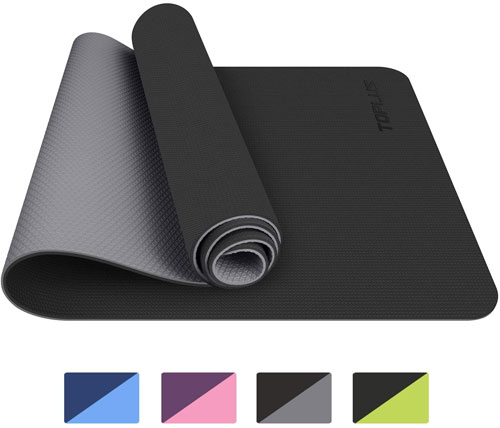 Made with TPE, the Toplus yoga mat is quite a competitive unit on this list. This mat is an affordable, non-toxic and well-designed product available in the market today. However, similar to other TPE mats in the market, this mat doesn't offer more durability than rubber ones.
The Toplus yoga mat features a non-slip texture and optimum cushioning for excellent grip. Moreover, with a 0.2 inches thick body and high density, the mat works well with most yoga routines.
This mat has a weight of just 1kg and is compact enough to store under your bed. However, it doesn't come with any carrying bag or straps to make transport easy.
Pros
Affordable mat
Non-slip texture
High density
Lightweight
Cons
Not as durable as rubber mats
Doesn't come with carrying straps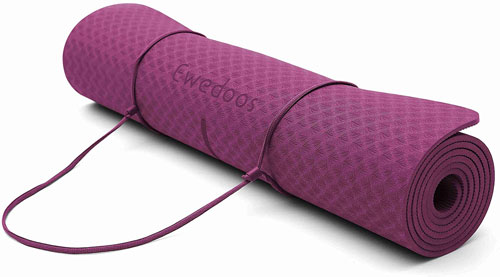 Are you new to yoga and don't know how this exercise works? Don't worry, as some online training videos and the Ewedoos yoga mat will guide you in every way.
Made with TPE material, this mat is eco-friendly, lightweight and affordable. Moreover, it is non-toxic and provides sufficient durability. However, this product may not be durable enough for a Hot Yoga routine.
The Ewedoos yoga mat is made explicitly for women and exhibits an innovative alignment system. It has a line design that guides you to place your hands and feet in the correct position. If followed with focus, the alignment system prevents injuries and helps you to prevent mistakes.
This mat is 0.25 inches thick and comes with a non-slip surface to accommodate all your movements. Besides, its wavy texture enables a firm grip, so you can concentrate on learning new yoga techniques.
With a carry strap and easy-to-clean surface, the Ewedoos mat ticks all the right boxes as an ideal fitness product. However, there have been complaints of visible marking on the mat within a few days of use.
Pros
Lightweight and affordable
Comes with an alignment design
Wavy texture for a solid grip
Sufficient thickness
Easy-to-clean mat
Cons
Not as durable as a rubber mat
Complaints of visible markings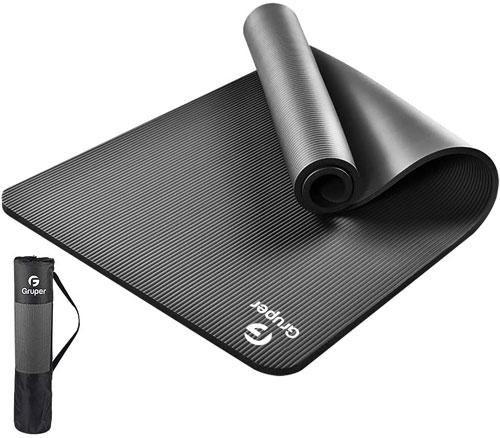 If you are interested in making yoga a regular part of your fitness life, the Gruper yoga mat may help you achieve that goal in every way. This classic mat is perfect for meditation, stretching and even pilates at times.
Moreover, since it is available in two thicknesses, you can easily make a choice. The Gruper mat is 0.4 inches and 0.5 inches thick. Depending on your use and comfort level, you can go for either of the two options.
The Gruper yoga mat is made up of high-quality rubber, which is both flexible and soft. Moreover, this product is biodegradable and eco-friendly, so you will be saving your environment by purchasing this mat.
However, there have been complaints of extreme sticky surfaces and synthetic smell coming out of this product.
This mat is 72 inches in length and 32 inches in width, making it a pretty large surface. Besides, it is lightweight and comes with straps for convenient transport.
Pros
Made with durable rubber material
Offers two types of idea thicknesses
Flexible
Large in size
Lightweight
Cons
Too sticky surface
May produce a synthetic smell when in use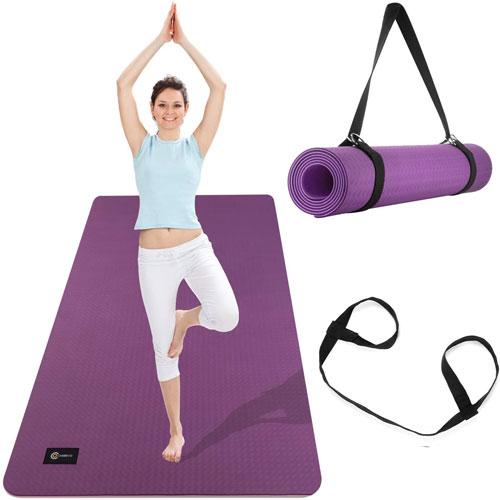 The Cambivo brand has taken one more spot on this list with another unique yoga mat. This product is 72 inches in length and offers a width of 31 inches. It means you will have a lot of area in your UK home gym to practise your favourite yoga moves.
Moreover, the Cambivo mat is 0.2 inches thick, which is again adequate for many users.
Made for all genders, this mat has a solid grip, thanks to its texture. Moreover, the wave pattern on its bottom surface prevents this product from sliding on the floor.
The Cambivo yoga mat is tear-resistant. However, when compared to rubber mats, it may not be very durable.
This product is extremely lightweight as it weighs just 1kg. Besides, it comes with carrying straps to accompany you at all times.
Pros
Good length and width
Solid grip
Non-slip surface
Tear-resistant
Lightweight and portable
Cons
May not be very durable
May not support high-intensity workouts
Benefits of Using the Best Yoga Mat for a Home Workout
Why should you invest in the best yoga mat? What difference does this piece of fabric make for your workout?
To find out, read some benefits of placing a yoga mat under your body while you stretch.
Prevents Injuries
Do you know that your hands and feet can go very sweaty while you try out various poses? Moreover, they can slide on the hard floor and can make you fall.
Besides, if the floor is super-slippery already, you may fail to move correctly without injuring yourself. There are so many ways in which you can get hurt while practising poses on a floor.
But to prevent this from happening, a reliable yoga mat comes as a saviour. It can save you from unnecessary falls and hurting your joints.
This fitness tool acts as a secure base to prevent your hands and feet from losing their grip and causing any damage to your body and motivation.
Provides Comfort
You can't enjoy yoga until and unless your body isn't in a relaxed state. Stretching can get tough without a soft foundation under your knees, hands and feet.
Without a yoga mat, you may experience sore joints, shoulder and back pain. These physical disturbances can get worse if you already suffer from medical conditions such as arthritis.
That is why you need a well-padded yoga mat to prevent these uncomfortable experiences from happening.
Offers a Clean Yoga Space
How many times do you mop the floor and wait till it dries before you lay over it to stretch and pose? Doesn't it waste your time and energy?
However, with a yoga mat at your convenience, you don't have to worry about any such thing. This foundation will keep all your sanitary worries at bay and block your interaction with a dirty floor every time.
Helps Establish Balance
Yoga poses require you to maintain balance. Some moves use your shoulders as support.
However, it becomes tough to perform such movements with a wooden or slippery surface without experiencing a sliding body.
But with a cushioned mat, balancing becomes far more manageable and effective.
Works Great In Winters
In winters, the floor of your house is the coldest and isn't a suitable surface to be used for yoga. But that doesn't mean you should stop exercising in winters.
By spreading a yoga mat, you can shift your body's heat to the mat and get a warm surface to exercise on comfortably.
Isn't a yoga mat a fantastic invention? We think it is a necessity and deserve a place in your fitness arsenal.
But there is a common question regarding this product that confuses most users.
Continue reading to see what it is and clear your doubts as well.
How to Choose the Best Yoga Mat for Your UK Home Gym?
Are you overwhelmed by the above options? We understand your feelings and know it is hard to choose the best mat without any background knowledge.
So, to help you, here are some factors (other than the material type already mentioned above) worth consideration before you invest in a yoga mat.
Thickness
The ideal thickness is between 0.12 inches to 0.2 inch, but most users opt for thicker mats to experience a softer base for their back and joints.
However, don't buy a yoga mat that is more than 0.5 inches thick. Extensive thickness doesn't offer the true essence of this mat, and you may struggle with your workout.
Some users prefer buying mats thinner than 0.1 inches. While they are uncomfortable in every way, thin mats are perfect for balance and stability. Moreover, they are mostly preferred for extreme and dynamic yoga routines.
So, buy a yoga mat that meets your yoga goals and provides the suitable thickness.
Length
The standard length of an average yoga mat is 72 inches. However, if you prefer less area for your workout, you can also get a shorter mat.
Texture
For a yoga mat to benefit you for an extended period, it should have a non-slip texture to enhance your grip.
A coarse surface is perfect for holding your body and posture while you stretch to the best of your abilities. However, a smooth base may cause slippage and fail to provide enough stickiness.
Portability
If you buy a yoga mat to be spread on one fixed spot in your home gym, portability may not be an issue. However, if you are changing your workout area every day, make sure the mat is lightweight and compact to carry around.
Some people also take their mats while travelling. So, if that's also the case with you, make sure your chosen product folds properly and fits within a luggage bag without increasing the overall weight.
Moreover, some mats also come with a carrying bag or straps. If you can get your hands on one of those, you can conveniently carry this product wherever you go.
Customer Reviews
Do you read customer feedback and reviews before buying a fitness product? If not, you may want to consider this factor right away.
Customer experiences hold great value in buying a yoga mat as they draw an accurate picture of what this product looks like when in use. Moreover, most consumers rate a mat after using it for some time which makes it easy for you to understand the longevity and durability of the product.
Price
As mentioned under the heading of materials, yoga mats are available in a wide price range. However, the best mat is one that can meet your budget and also fulfils your comfort requirements.
FAQ
A yoga mat is an essential fitness tool. So, before you buy one, make sure to know all the facts you require to make a decision.
Go through the frequently asked questions below and see whether any of these queries answer your relevant doubts.