Today, we're going to look at one of the fastest-growing trends in the world of fitness, the vibration plate. Countless different options for fitness equipment are springing up every day. This makes it hard to keep track of what each does and know whether it's effective or just a passing trend.
That's why I'm going to give you a rundown of the benefits of vibration plates. I'll explain what they're capable of doing and demonstrate how effectively they can fulfil a wide range of needs. I'll then show you a list of the best available options and tell you why each earned its spot.
This should provide you all the information you need to decide if a vibration plate is right for you. So, if you are thinking of buying one but aren't 100% sure yet, we highly recommend reading on.
The Benefits Of Vibration Plates
Vibration plates provide several benefits, which make them suitable for different people.
Perhaps the most popular benefit of vibration plates is their potential to help you lose weight or tone up. Using one to raise intensity makes it a fabulous way to maximise the effect of simple bodyweight exercises. This even works with the most basic options, such as squats, press-ups, and crunches.
They are also a fabulous way to help those dealing with injuries or suffering from chronic pain. A vibration plate stimulates blood flow which soothes aching muscles and dramatically speeds up recovery. Likewise, this will also assist with issues such as joint mobility and flexibility.
Vibration plates even have the ability to give you a massage, with many machines featuring shiatsu coverings to the plate. This means on top of improving your workout; they'll also help you relax, de-stress, and reduce soreness when you're done.
How To Choose A Vibration Plate
With so much choice available, there are numerous factors you must take into account when choosing a vibration plate. Otherwise, you could end up with a vibration plate that you can't use, or that simply doesn't meet your needs.
For starters, vibration plates come in many shapes, sizes, and styles. If you have limited space available, you're going to want to select a compact version that's easy to store. If that's not possible, perhaps choose the one you find attractive, so it isn't an eye sore if it's left out.
Then you need to know exactly what you plan to use it for. For example, someone who's specifically interested in massage will likely favour a different option to those who prioritise working out.
It would help if you even decided how versatile you want it to be. Options can range from 10 to 299-speed levels and a variety of different accessories and resources. This means more experienced users should opt for a vibration plate that provides as much choice as possible.
Finally, you also need to pay close attention to the price of the machine. While none are cheap, vibration plates are an item that can be quite expensive. Make sure you set yourself a clear budget, to begin with. That way, you won't fall in love with a machine that you aren't able or willing to pay for.
The Best Vibration Plates You Can Buy Today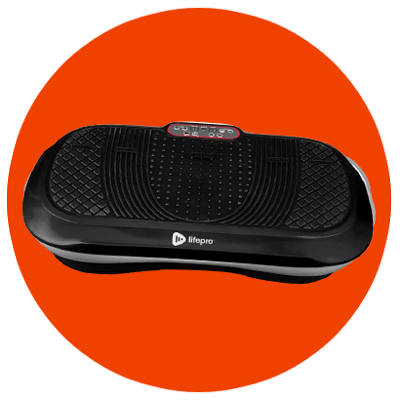 The LifePro Vibration Plate is a stylish, compact machine, suitable for use by even those with the greatest spatial limitations. Available in a choice of colours, it's perfect for matching your décor or simply slipping away when you're done.
Featuring incredible 99-speed settings, it's a vibration plate that fulfils the needs of everyone, no matter your experience. Equipped with handles and resistance bands, it's ideal for those seeking a varied workout in the comfort of their home.
Those looking to push themselves even harder will particularly enjoy the online personal training manual and ebook included. Meanwhile, the lifetime guarantee will leave you confident your vibration plate will last, no matter how hard you use it.
Despite everything it offers, the LifePro Vibration Plate still offers an incredibly reasonable price tag. This makes it attainable to a variety of different users, no matter what your budget may be.
Pros
Compact and easy to store
Comes with numerous handles, training guides, and a lifetime guarantee
99 different speed settings
Cons
Some users may find the smaller size limiting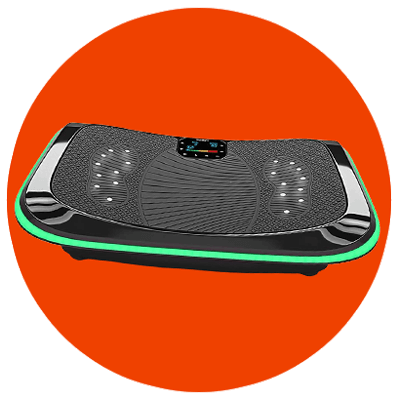 Made by Bluefin Fitness, the 4D Triple Motor Vibration Plate is a high-tech.
Its multicoloured LED system allows you to gauge how hard you are working easily. Meanwhile, the built-in Bluetooth speakers are ideal for following a trainer's instructions or listening to music to power your session.
The triple motors allow the plate to provide vibration, oscillation, and micro-vibration. They can do this either one at a time or all together. Combined with its smooth, curved surface, it provides an incredible range of options, giving users the most well-rounded workout possible.
This is further compounded by the 7 manual levels and 3 pre-set programs it features. Then there are the handles, resistance bands, and remote control bundled with the vibration plate.
These allow you to mix and match, so your sessions are convenient and perfectly tailored to your own needs.
You will also find magnetic therapy sensors built in to improve blood flow and provide a gentle massage. This will help relax your muscles after a workout before simply sliding your vibration plate away.
Pros
The triple motors offer a combination of vibration, oscillation, and micro-vibration
Easy to store
Built-in speakers
Cons
Quite expensive
More limiting than some of the larger models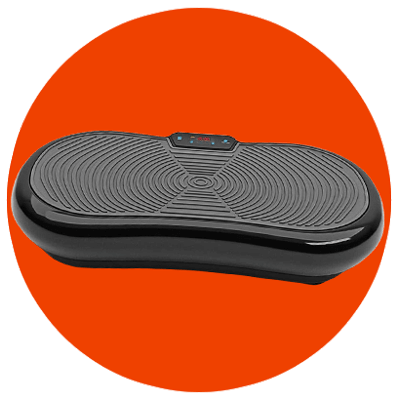 The Bluefin Fitness Ultra Slim Vibration Plate intentionally features an incredibly sleek, smooth design. This makes it perfect for users who have severely limited space. Combined with its "no-noise" silent vibration drive motor, it is perfect for exercising without disturbing those around you.
An incredible 180 levels of vibration speed and 5 pre-set programs allow it to provide an incredibly diverse workout. This is especially true when considering the handles and resistance bands that are included with it.
It even features a thick, non-slip surface, ensuring you stay safe, no matter how much you sweat during a session.
Despite all this, it still boasts a price that competes with some of the budget vibration plates on the market. This becomes even more incredible when you look at some of the features we have yet to mention.
With powerful Bluetooth speakers and exercise and nutrition guides, it's much more comparable to the available luxury options.
Pros
Incredible range of vibration speeds
Ultra-slim for easy storage
Non-slip surface for added safety
Huge range of extra features, including no-noise motor, Bluetooth speakers, training, and diet guides
Lifetime support
Cons
Smaller size can make it slightly more limiting than other models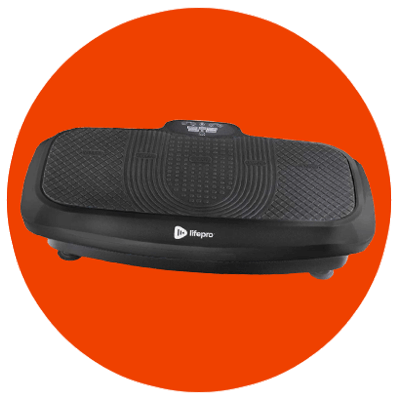 The LifePro 3D Exercise Machine is a vibration plate primarily aimed at those rehabbing injuries. The triple motion produced by its dual motors provides pain relief, even for those suffering from chronic conditions.
It also improves flexibility and range of motion, as well as helping you regain strength and improve bone density. In addition, some of the other benefits it offers include improvements in balance, strength, and muscle tone.
LifePro is confident this is the only vibration plate you'll ever need, so include a lifetime guarantee and guidance. This ensures you will get full use and value from the product for years to come.
A comprehensive library of online videos and tools, plus 6 resistance and loop bands are included with the machine. This means it is very little you can't do on the LifePro 3D Vibration Plate Exercise Machine.
Pros
Specifically designed for those suffering from injuries or chronic pain
Lifetime guarantee and support
Dual motors provide triple motion
Great range of additional accessories and resources
Cons
More expensive than some of its competitors
Less stylish than many other options available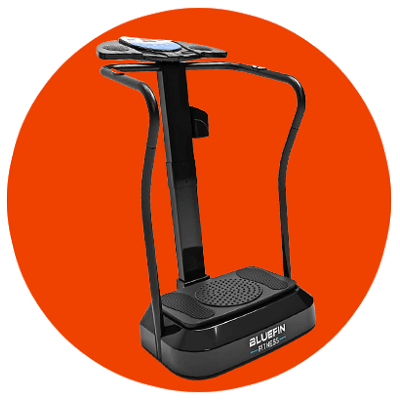 The Bluefin Fitness is the first full-size vibration plate on our list. It features comfortable arm supports, 360-degree rotation options, and a clear and easy-to-read display.
This will not be as convenient for people with limited space as some more compact options. However, it provides much more versatility than you would find on those types of vibration plates.
10 pre-set programs, 180 different intensity levels, a pair of resistance cords, and a workout poster are all included. This gives you plenty of options to ensure your workouts remain effective and entertaining.
It even manages to do all of this with silent motors, ensuring you don't end up disturbing those around you.
The options don't end there either. Bluetooth speakers and diet and nutrition guides give you access to fitness professionals from around the world. This allows you to get coaching and advice throughout your fitness journey.
This is by no means the cheapest vibration plate on the market. That said, it still manages to provide great value, given the incredible amount you get for your money.
Pros
Great range of difficulty settings and additional features
Silent motors allow you to train without interrupting others
Full-size options provide greater versatility than the compact vibration plates
Cons
Quite large and will require a decent amount of space to use and store
Reasonably expensive, compared to similar options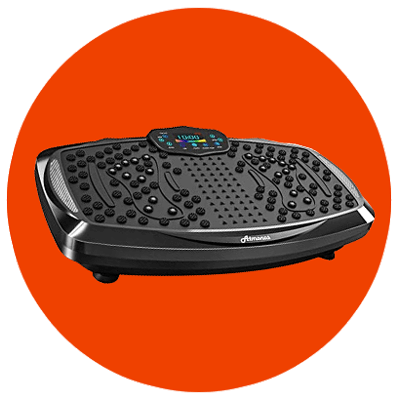 The Atmonas Oversized Vibration Plate is one of the cheapest options on the market. This makes it a great choice for those with even the smallest of budgets. Despite the price, you get plenty for your money, with Bluetooth speakers, resistance bands, and loop bands included as standard.
With 199 speed levels, 5 program modes, and an exercise guide, it offers incredible versatility, no matter your experience level. Its XXL design makes it suitable for bigger, heavier users and those simply seeking a little additional stability.
However, what truly sets this vibration plate apart from its competition is the shiatsu mat surface it features. This allows it to provide users with massages from the comfort of their homes. That makes it ideal whether you're battling an injury, looking to relieve muscular tension, or just want to relax.
Pros
Incredible range of speed levels available
Shiatsu surface allows it to provide effective massages
Specifically designed with stability in mind
Fabulous value for money
Cons
Very large compared to other compact vibration plates but not as versatile as full-sized options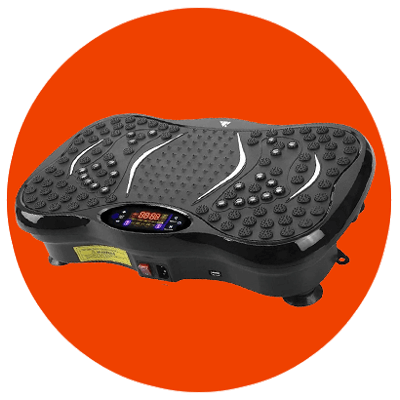 The EVOLAND bills itself as the smallest vibration plate on the market. This makes it a fabulous choice for those with limited space. It also features one of the lowest price tags around, making it equally suitable for those on a tighter budget.
With a shiatsu finish, 5 different program modes, and loop bands included, it can help with all manner of goals. These include things such as muscle toning, pain relief, cellulite reduction, injury rehabilitation, increased blood flow, and even stress reduction.
An LCD intelligence monitor allows you to conveniently track important stats, such as the length or intensity of your session. It is then finished off with a powerful speaker, which can be connected to by either Bluetooth or USB. This allows you to work out along with professional trainers or simply enjoy some music during your session.
Pros
Incredibly easy to store
Great Value for money
Shiatsu finish makes it extremely versatile
Speaker and LCD screen allows you to track your stats and train with the pros
Cons
More limited in terms of program and resistance levels than other vibration plates
Compact size can make it more awkward to use for those with larger feet
Has a lower maximum weight limit than many other options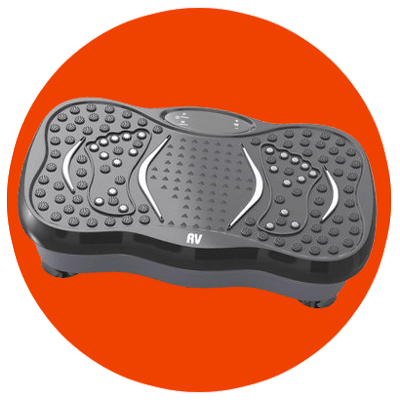 The Roneyville features an astounding 299-speed level. This is the highest among all vibration plates currently on the market.
It then has a price that earned it the "Best Value For Money Vibration Plate 2020" title from The Sun. This combination makes it perhaps the most well-rounded vibration plate on the market today.
The "8-in-1" part of its name refers to the combined functionality that it offers. This includes a vibration plate, blood circulation machine, massager, audio player, leg exerciser, body toner, fitness machine, and magnetic therapy device.
With its shiatsu finish, 5 pre-set programs, and resistance loops, there's truly little you can't do on this vibration plate.
Weighing just 9kg, it also makes it incredibly easy to pick up and transport. Meanwhile, its maximum user weight of 150Kg makes it suitable for a wide range of users. Amazingly, it manages to do all this while remaining completely silent, thanks to the power of its single belt drive.
Pros
Offers the greatest range of speeds of any vibration plate on the market
Incredibly easy to store and transport
Great value for money
Can be used for a huge number of different purposes
Cons
Limited number of accessories or resources included
FAQ About Vibration Plates
Before we finish, we want to go over some of the most frequently asked questions people have about vibration plates. Hopefully, this will resolve any lingering doubts you have and ensure you select a product that matches your needs.
Conclusion
So, there you have it, the best vibration plates you can buy in 2021. Admittedly, they are not an item that will be right for everyone. That said, they can offer several benefits that make them incredibly useful for the right people.
Hopefully, you will now have all the information you need to decide which vibration plate is most suitable for you.