Gone are the days when a skipping rope was only considered ideal for either boxers or children. Today, this incredible invention is available for everyone to experience a full-body workout, strengthen their bones, build stamina, tone muscles, and boost coordination.
Moreover, most skipping ropes are affordable and are used as the best and versatile fitness equipment for your home-bound workouts. They also save space and are easy to store.
It's just the start of the article and we are already convinced that a skipping rope deserves a place in your arsenal. If you agree with us, find all the details below before taking the leap.
Go through this guide to find the best skipping ropes available in the UK. Moreover, read about the factors you should consider before making the final purchase.
What Is a Skipping Rope?
If you haven't experienced skipping while you were a kid, chances are you are clueless about what a skipping rope may look like. While a rope used for a workout is quite different to the one kids use in their pastimes, the shape and structure are pretty similar.
A fitness skipping rope has a cable usually made of either nylon, PVC, fabric, leather or even steel at times. Besides, this fantastic tool has handles on both ends to take control of the rope while you skip through it. The handles are mostly made of plastic or aluminium, but there are many high-end ropes with wooden ones as well.
While learning about a skipping rope, it is imperative to know that this equipment has three types.
Basic Skipping Rope
A basic skipping rope has a thick cable that works perfectly for a solid grip. If you are a beginner, you would want to start with this option before experiencing the advanced versions.
Weighted Skipping Rope
As the name suggests, this rope holds extra weight on its cable and handles. A weighted skipping rope is ideal for advanced skippers or professionals looking to increase the strength of their bodies.
Speed Skipping Rope
If you plan to improve your pace and footwork, a speed skipping rope can become your perfect match. This rope is light and thin, with flexibility that helps you to achieve your goal.
Our Top picks of the Best Skipping Ropes
After learning about a skipping rope in detail, it's about time we explore our ten recommendations. While all the options below are perfect in their ways, your selection should be based on your requirements.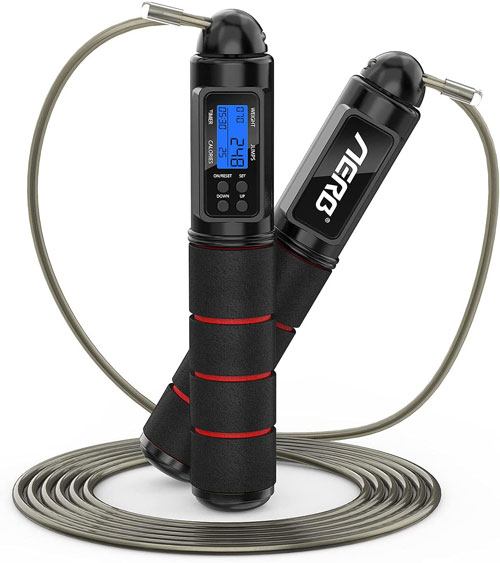 Taking the first spot on the best skipping ropes list, the Aerb rope is pretty popular among the masses. Of course, it is because it has a solid structure, but it is also quite stylish in many ways.
This rope has a PVC embedded cable to give you a fantastic workout experience. The built-in steel cable is very durable and doesn't break easily. Moreover, the PVC wrapping doesn't hurt your body and saves your floor from any damage.
The Aerb skipping rope also has an adjustable length that can suit various users. The 9.1ft long cord doesn't bend or knot easily, and you can also cut it from the ends if required.
It is worth mentioning one of the best features of this skipping rope here. Unlike many other ropes available in the market, this product has a backlit display that shows your calories burned, number of jumps made, weight and workout time. Besides, the dual-chip makes sure that all the data displayed is authentic.
This product is ideal for both beginners and professionals. The ergonomic handles ensure a firm grip and help to keep your pace consistent.
However, considering the above excellent features, this rope may feel a little expensive than its competitors. Besides, this rope may not be suitable for speed skipping as much.
Pros
PVC embedded rope
Durable
Adjustable length
Backlit display
Accurate presentation
Cons
Not ideal for speed skipping
Expensive because of the extra features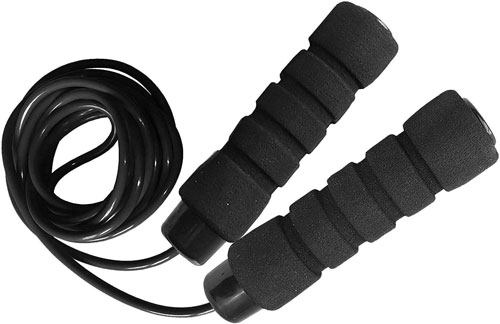 Another adjustable skipping rope on the list, this product can easily convert into your desired length within a few seconds. While the whole cord measures 9.8ft, you can adjust it into a smaller one and use it for an intensive workout session.
The Limm skipping rope has a basic design with ergonomic handles. In addition, they come with foam padding to offer you a firm grip and prevent your hands from slipping with sweat.
This skipping rope also features high-quality ball bearings that help execute a smooth spinning movement. But according to some users, this rope tangles, which is quite contradictory to what the manufacturer has stated.
Other than the positives above, this product is pretty portable and lightweight. You can conveniently use it in a park or take it along to the gym without worrying about its storage issues.
Also, since this rope is available in many different colours, you can easily choose one that compliments your personality. Skipping should be fun, and this rope believes in that too.
Pros
Adjustable rope
Affordable product
Ergonomic handles
Solid ball bearing for smooth skipping
Lightweight
Cons
Can tangle a lot
Doesn't have many special features
AUTUWT Weighted Skipping Rope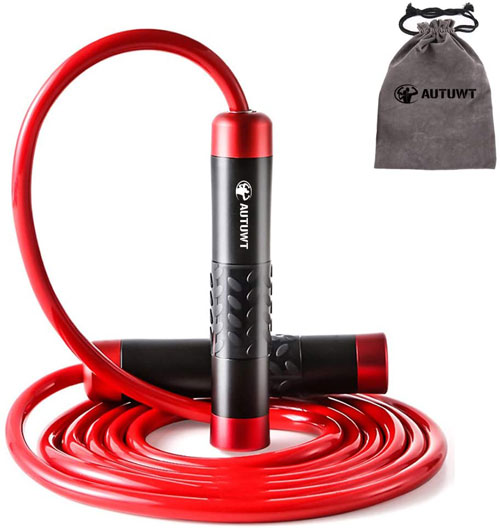 It is a heavy-duty jump rope option for people looking forward to enjoying some serious skipping. The AUTUWT weighted rope can help you build muscles and increase your strength through a consistent workout.
This rope has an adjustable length. You can use the screws to cut off the cord to your required size and customise the rope according to your comfort. While it seems easy, many customers have complained of the fabric fraying after the resizing is performed.
Since this is a thick and heavy rope, the ball bearings ensure a smooth rotation without making you feel exhausted sooner than expected. Moreover, regardless of the rope's heavy profile, this product doesn't tangle even in high-intensity workouts.
This PVC rope has plastic handles that help you form a solid grip. However, since they aren't padded, you may feel your hand slipping more than often with sweat.
The AUTUWT skipping rope comes with a small carry bag for storage. You can keep the cord in the bag and take it along to a park or a gym for a fruitful workout session.
Pros
Thick rope for high-intensity skipping
Adjustable length
Smooth rotation
Solid grip
PVC cable adds durability
Cons
The fabric may fray after resizing
Heavy for some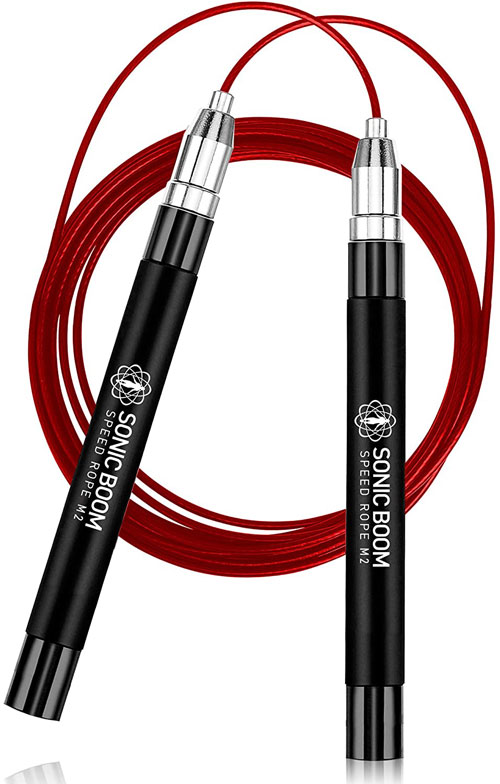 Speed skipping is an art, and to accomplish it, you will have to use a rope as solid as the Sonic Boom M2 by Epitome Fitness. This product is made up of stainless steel and can suit serious athletes in the UK.
The M2 speed skipping rope has a killer quality. The 360-degrees ball bearings ensure a smooth rotation of the rope regardless of the intensity. Moreover, the anti-slip silicone grips encourage a consistent skipping workout without any hindrances.
One of the best features of this rope is its self-locking system. There are no screws involved which means you do not have to struggle with a loose screw while working with focus.
The M2 jump rope has a customisable length. It comes with two adjustable cables so you can work out the size you are comfortable with.
Overall, this high-end skipping rope works like a charm for many people. However, some users believe the cord is too light and keeps hindering the feet movement. Moreover, since it is a luxurious rope, it may be pretty expensive for some people with limited budgets.
Pros
Made of solid steel
Anti-slip handles
Self-locking system ensures safety
Adjustable length
Ball bearings for smooth rotation
Cons
Expensive rope
Too lightweight and can hinder feet movement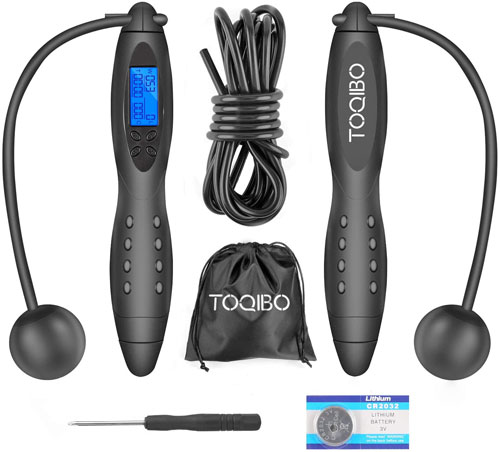 Here is another speed skipping rope on the list, and it's safe to say that this product is also pretty promising in many ways. This high-end rope is pretty innovative as it allows you to experience both cordless and rope jump at a time.
The TOQIBO skipping rope has a creative design that allows you to jump with or without a rope. It primarily works well with kids who may not know how to skip using a rope yet.
This attractive rope also features an LCD that displays your weight, jumps and frequency to keep track of your performance. Besides, the stylish design with four buttons helps you to stay fit and lose weight with time.
Made of PVC, this skipping rope is tangle-free, adjustable and has ABS handles that provide an anti-slip grip. In addition, the 360-degree ball bearings enhance the rope's performance and assist in a smooth rotation.
Overall this product is perfect in many ways. However, if you want to purchase this one, make sure you have enough money in your pocket, as this rope is a little more expensive than other options on the list.
Pros
Innovative design
Can be used for cordless skipping
Adjustable
Solid ABS handles
Stylish LCD
Cons
Expensive rope
May not suit beginners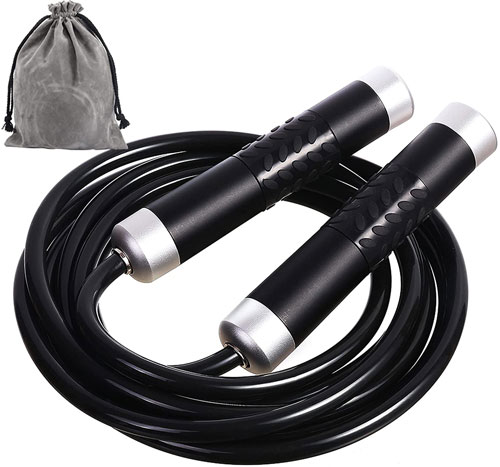 If you are a slow skipper or someone who is just about to begin skipping for the first time, the Gaoykai weighted rope may strike your fancy. Made with a combination of aluminium and PVC, this rope helps you establish a correct posture and allows you to learn about skipping timing.
It is an adjustable rope with a 10ft length. You can use the provided screwdriver to customise its size according to your comfort.
The Gaoykai weighted rope also features a silicone sleeve design that is anti-slip for your solid grips. Moreover, the aluminium handles are durable and ensure you enjoy a hinder-free spinning session. The premium ball bearings support effortless rotation and prevent the rope from twisting or bending unnecessarily.
Since this is an affordable rate, the above features are more than enough for any user. However, with the absence of an LCD, many users may not track their skipping performance, affecting their progress.
Pros
Great rope for beginners
PVC rope
Adjustable length
Silicone sleeves and aluminium handles
Ensures effortless skipping
Cons
No LCD screen
Not for professionals or advanced skippers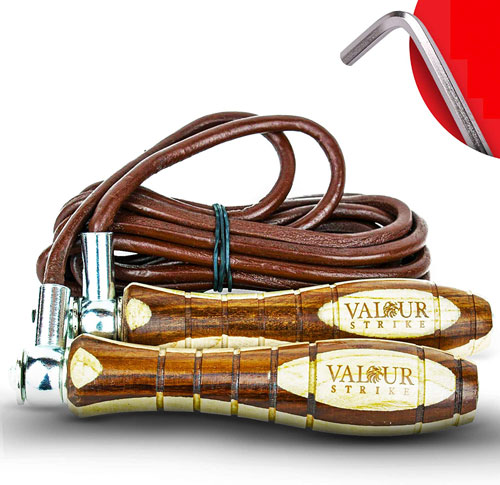 Leather skipping ropes are ideal for boxing as they are more challenging and faster than PVC ropes. While leather can be a little heavier than other materials, it is very durable and looks quite good in an athlete's hands.
The Valour Strike skipping rope is a 9.2ft long adjustable rope with 6 inches long handles with grooves to maintain your grip. The ergonomic design of the handles prevents the sweat from leaving your hands slippery and causing any interference. Moreover, the 360-degree rotation perfectly compliments the handles and helps you move the rope at your own comfortable pace.
This skipping rope also features two removable weights that can help you enjoy high-intensity workouts if you like. These detachable additions can help you burn calories faster and gain stamina within a short time.
However, despite the above positives, some customers believe the rope creates a rattle noise when used, which can be very annoying. Besides, unlike most other high-end ropes, this one comes in a plastic wrap rather than a bag which is a big disappointment.
Pros
Durable rope
Has an adjustable length
Solid wooden handles
Detachable weights
Great for boxing
Cons
Creates a rattle noise
Doesn't get delivered in a bag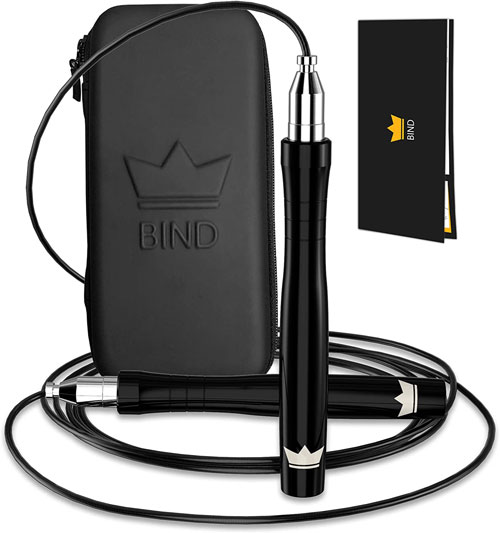 The BIND skipping rope offers a unique design that effortlessly assembles using your thumb. So you do not require complicated tools to get this rope ready for a workout.
With this rope in your arsenal, you don't have to waste money on other products. With just fixing the rope with the handles, you are ready to take your first leap. The metal handles are lightweight and easy to hold. Besides, they are perfectly weighted to entertain all your skipping moves.
The BIND rope has an adjustable length that doesn't take time to customise. Moreover, you can use the rope outdoors without worrying about hurting the floor or breaking the cable.
The rope comes with a fantastic case that provides much more protection for your cord than a bag. However, while this skipping rope can make an excellent investment, it may not suit beginners and might be a little expensive for people who have just started learning to skip.
Pros
Unique and compact design
Easy to assemble
Metal handles
Adjustable length
Comes with a case
Cons
May not suit beginners
Expensive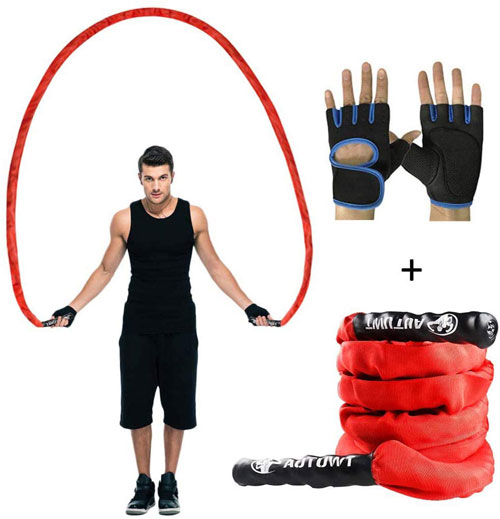 Another rope from the AUTUWT brand, this product is ideal for heavy-duty workouts in your UK home or gym. This weighted rope is made of solid polyester and comes with a nylon sleeve that enhances its durability. Moreover, the cord is accompanied by gloves to protect you from hurting your palms.
While the rope isn't adjustable, it is available in different sizes to accommodate varying heights. You can always read the size chart before investing in this product.
Moreover, while this is a solid rope, it may be too heavy for beginners.
Pros
Weighted rope with nylon sleeves
Durable rope
Available in different sizes
Comes with free gloves
Ideal for high-intensity workouts
Cons
Heavy for beginners
Not adjustable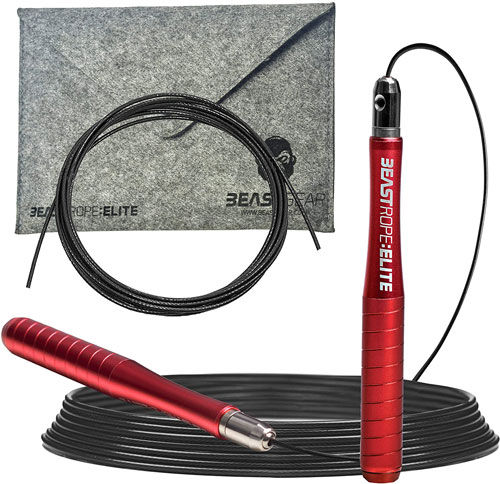 Taking the last spot on the list, the Beast Gear speed rope is a premium rope for advanced athletes. Made from alloy steel, the rope has aluminium handles that fit well in hands and provide a solid grip.
This skipping rope also features well-engineered ball bearings that take care of the rope's speed, control and whip. If you are a professional skipper, you will find this product pretty smooth to use.
While this rope is slightly expensive, it features a compact design and a durable structure to facilitate boxers, Crossfitters and martial artists worldwide. However, if you are a beginner, you might find this rope a little intimidating to use.
Pros
Made from premium material
Solid handles
Top-quality bearings
Compact structure
Ideal for professionals
Cons
Not for beginners
Expensive product
How To Pick the Best Skipping Rope In the UK?
The skipping rope market in the UK is vast, and you will easily find a manufacturer producing incredible ropes in town. However, choosing the best one from an excellent lot is your duty.
But how can you do that? It's easy!
Find a list of some crucial factors below. Each of these characteristics helps to play a role in the selection process. Match the factors with your requirements and search for a rope that fulfils your criteria.
Material
As discussed earlier, skipping ropes are made of various materials, but each serves a different user and purpose. For instance, fabric ropes are pretty common and cheap. However, they have a lot of friction and are too heavy to use.
On the other hand, PVC ropes are pretty popular among beginners and advanced athletes. Besides, these skipping ropes are available in varying colours, types and cable thicknesses.
Ropes made from plastic are ideal for simple workouts and jumps. But their cables' weight and thickness don't allow them to accommodate speed skipping. However, you can use a PVC rope outdoors without worrying about any wear and tear.
There are steel cable skipping ropes as well and are ideal for most CrossFit athletes. Such cords accommodate high speeds and are more suitable for high-intensity workouts.
Other than the above options, you will also come across leather ropes that most boxers use. They are faster than both plastic and fabric ropes and hence help to improve coordination and leg movement.
Choosing a material for your skipping rope depends on your fitness goals and purpose. Make sure to invest in a rope that offers high durability and is easy to work out with.
Length of The Rope
While choosing a skipping rope, the right length of this tool plays a significant role. As per an expert, get a skipping rope with a size that is three feet more than your height.
It is essential to ensure that you do not end up getting a rope too short or tall for your purpose. Moreover, the right length reduces the risk of injuries and prevents your body from adapting to the wrong form.
How Can You Measure the Length of Your Rope?
To measure your rope's length, stand in the cord's middle and pull the rope's handles. The handles' bottom should be able to touch your armpits.
You can also choose adjustable ropes if given an option. This way, you can modify your rope's length according to your ease.
Weight
If you are a beginner, it is wise to choose a lightweight rope first and then move to a heavier one after consistent practice.
It is imperative to prevent accidents and let your body get used to this tool.
Thickness of Cable
You will find two types of cables, 2.5mm and 4mm. While the former creates less fatigue when used, they aren't recommended for beginners as they produce little feedback and are harder to use.
The 4mm cables have a thicker coating and are more durable. Besides, such cables allow high skipping speed and are best to train you for resistance.
Handles
Skipping ropes with anti-slip handles are the best to consider. This factor is essential to consider because it decides the firmness of your grip and overall skipping speed.
Handles covered with memory foam protect the rope from any damage and absorb any sweat from your palms.
Ball Bearings
Skipping ropes with ball bearings are far more durable than those with not. Ball bearings are located in the centre of the outer and inner rings of the rope's handles and help the rope to create a smooth rotation.
So, if you want to enjoy speed exercises with a rope, make sure it has sturdy ball bearings to support your fast movements.
Special Features
Some skipping ropes have heavy handles to accommodate better grip and frequent use. Besides, some models come with easily detachable extra heavier handles to change the intensity of your skipping with time.
Believe it or not, some skipping ropes have calorie counters and timers on their handles to record your performance while you burn fat and lose weight. Special features may add to the overall cost of your rope, but they offer a good user experience and are crucial for some people.
Here are a few common questions asked by users like you. Find their answers and solve any doubts you still have about a skipping rope.
Benefits of Using the Best Skipping Rope in the UK
While a skipping rope may look like a simple tool, it has many benefits and can positively impact your body. Here are a few ways this essential equipment can change your life for good.
Boosts Heart Health
Do you know that skipping is one of the best cardio exercises for both men and women? The constant jumping over a rope improves your heart circulation and enhances oxygen flow to different parts of your body. Besides, it increases the pumping speed of your heart muscles and allows them to thrive.
A healthy heart means a stable body and brain. Besides, it also helps to keep many diseases like strokes and heart attacks at bay.
Improves Concentration and Coordination
Using a skipping rope consistently helps establish better coordination in your body. The idea of not falling off while skipping improves your balance and enhances your concentration with focus. Skipping demands your attention, and that's what works positively for your brain.
Reduces Fatigue and Improves Stamina
Have you ever felt tired after a workout? While this is common, fatigue after your favourite exercise routine is a sign of poor stamina.
However, you can always revive your lost energy through regular skipping. This exercise is fun and allows your body to recollect itself and enjoy a boost of power.
You can always enjoy a skipping session after a strenuous workout and kick all the tiredness away.
Enhances Flexibility
Skipping helps you to gain flexibility with time. The constant jumping allows your muscles to relax while maintaining their strength and shape. This flexibility helps you with many exercises that you might want to follow for your fitness.
Reduces Anxiety and Depression
It is common to feel anxious at times. But instead of crying over your miseries, finding a solution to improve your mental health is the best way to go.
A humble skipping rope can help you achieve the best plan to reduce depression at your UK home. The continuous rhythmic motion of jumping increases the blood circulation to your brain and helps kick the stress hormones out of your system.
Moreover, since skipping is a fun workout, the motion gives you pleasure and increases the level of endorphins in your body. This happy hormone then changes your depression to a happy mood and makes you feel better.
Strengthen Your Bones
If you use a skipping rope correctly, this tool can help increase your bone density and strengthen your bones. Strong bones reduce the chance of diseases such as osteoporosis from harming your mobility.
Burns Belly Fat
Skipping as part of your HIIT workout can help reduce your belly fat by a significant amount. In addition, it strengthens your abdominal muscles and tones your belly to give it a lean shape.
Burns Calories
Do you know that skipping can burn as many as 20 calories every minute? Moreover, an average skipper can burn almost 300 calories by continuously using a skipping rope for 15 minutes. According to these facts, skipping is far more effective than exercises such as brisk walking.
Accelerates Weight Loss
Many users often ask the most common question before purchasing a skipping rope: does this tool accelerate weight loss? If you have the same query, let us break the good news and let you know that it does.
As mentioned above, skipping can burn many calories in a short time. Besides, it helps improve the fat-burning process and give you a body you have always wanted.
However, weight loss requires much more than physical activity. It demands a balanced diet and healthy lifestyle habits to give you your dream results. So, while you enjoy skipping, make sure to follow a diet plan and improve your sleep habits simultaneously.
Gives You a Glowing Skin
Like any other workout, skipping also gives you glowing and healthy skin. The accumulated sweat clears all the dust and grime from your face and makes you look clean and fresh post-workout.
How to Use a Jump Rope? -Tips and Guidance
Have the above positives encouraged you to buy a rope as soon as possible? We understand the rush, but to reap the benefits of skipping, you should know how to use a skipping rope correctly. A simple mistake in the technique can leave you with injuries and a demotivated body.
However, before you get started, it is vital to invest in a suitable skipping rope. To help you find one, you may choose to read the "How to Pick" and "Recommendations" sections below.
Once you have successfully found the best rope, you will have to run through some simple rules to learn the art of skipping.
Sizing the Rope
Before you hold the rope and start a workout, make sure your cord is sized according to your requirements. As a beginner, choose a long rope to practice slow skipping first.
Holding the Skipping Rope
While holding a skipping rope, you should take care of a few things:
Make sure that both your hands are in asymmetry. For instance, each hand should be the same distance apart from the centre of your body.
Allow your wrists to move the rope. Your shoulders and elbows should only move slightly.
Correct Bounding
Skipping is all about continuous bounding. While skipping, make sure you are only one to two inches away from the ground. It is essential to minimise the distance between you and the floor.
Besides, avoid tucking in your knees or moving your feet backwards. Also, keep your toes slightly bent while making a skip.
Performing the Basic Jump
To start, learn the steps of a basic jump below:
Grab the handles of the rope with your fingers.
Keep your elbows together and hold the rope in front of you. This is called the starting position.
Perform an easy toe catch by moving the skipping rope behind your back and running it over the head.
Let the rope cross your toes before you lift the heels, and allow the rope to sweep under your feet.
Repeat this process until you feel comfortable with the rhythm.
Follow the above steps with a jump now.
Improve your speed gradually and get used to the correct timing.
Serious Considerations While Skipping
Keep your body straight while jumping. Don't hunch or bend forward during skipping.
As mentioned above, don't take high leaps. Let skipping be a low-impact workout.
Always go for a single bounce at a time. Pause after every jump and avoid jumping twice on each spin.
FAQ