Gymnastic rings are one of the most versatile fitness tools you could possibly get for your at-home workouts. They are practical, affordable, and can conveniently be set up.
But above all, gymnastic rings help tone every muscle of your body and give you the strength of a champion. In addition, since these rings offer unstable training, these rings activate your upper body and core better than most traditional and expensive machines.
You don't only have to be a gymnast to try these tools in your UK home gym. A non-gymnast can also benefit from these rings and build big muscles gradually.
So, if you are interested, dig right into this article. From recommendations to a buying guide, we have everything already sorted to assist you in your purchase.
What Are Gymnastic Rings?
For those unaware, gymnastic rings are simple-looking tools and contain three different components. While you can find various rings in the market, they usually have a similar and general structure.
Here is a breakdown of parts:
Rings are generally made of either wood, plastic, or metal. The thickness of rings varies according to the user's requirements.
Straps help to suspend the gymnastic rings and help fix the structure to your chosen anchor point. A majority of straps are made from solid nylon webbing.
These rings have buckles that enable securing the straps and rings. They also assist you in adjusting the height of the rings.
The Best Gymnastic Rings, According to an Experts
This section will help you find the best gymnastic rings in the UK. Our eight recommendations are versatile and have been used by various customers worldwide.
Read through to find that one set that may tick all the right boxes for you.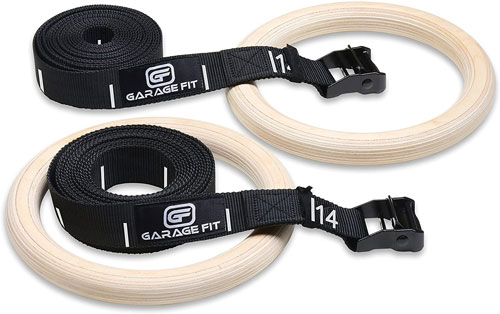 If you want to invest in the best wooden gymnastic rings, the Garage Fit gym rings are worth consideration. This fitness set contains rings with a width of 1.25 inches and is smooth without any rough edges. While the wood does lack a proper finishing, it is sanded well to avoid any disappointments.
These gymnastic rings come with thick and quite durable straps. In addition, the straps have marks to make height adjustment convenient. This design feature helps the rings get a precise position every time.
When it comes to the buckle system, the Garage Fit gym rings don't disappoint here as well. The buckle clasp is made of metal and features many teeth to secure the strap firmly.
Overall, these gymnastic rings do not take long to set up. They are also super easy to use. However, since the box doesn't have any installation instructions, you may find yourself making an error when installing the rings for the first time.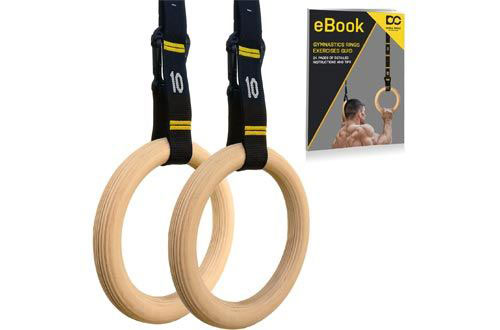 The Double Circle gymnastic rings are a little expensive, but they have many distinctive features that make them stand out from their competitors. For instance, the wooden rings have a width of 1.25 inches and are crafted with perfection in mind. The rings are also durable and solid, with a non-slip surface for your grip.
These rings are accompanied by 1.5 inches wide, robust straps with excellent load capacity. Moreover, these straps have four carabiners that offer additional security to your training. The numbered hooks and carabiners can be adjusted for various heights, allowing you to use the rings conveniently.
To put it simply, the Double Circle rings are great for both professionals and beginners alike. You can install them in your garage or to S-hooks in your living room area and enjoy flexible workouts every day.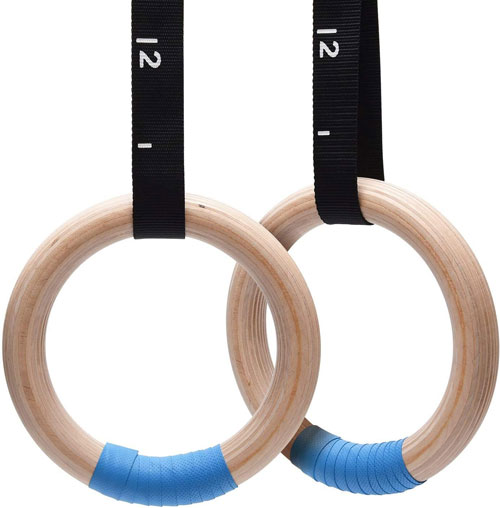 With a total load capacity of 450kg, the PACEARTH gymnastic rings are crafted with birch wood. They have a thickness of 1.1 inches, which may not be enough for beginners but works well for professional gymnasts.
These solid rings are accompanied by 1.5 inches wide solid straps with a length of 14.5 feet. The straps are pretty durable and strong enough to withstand a majority of bodies. Furthermore, these straps are numbered and hence adjust quite conveniently.
Unlike most other rings, this product comes with adjustable cam buckles. However, the buckles are made of metal and are pretty solid.
The rings come with some black stickers and blue straps. These accessories are consumable, and their life depends on your general use.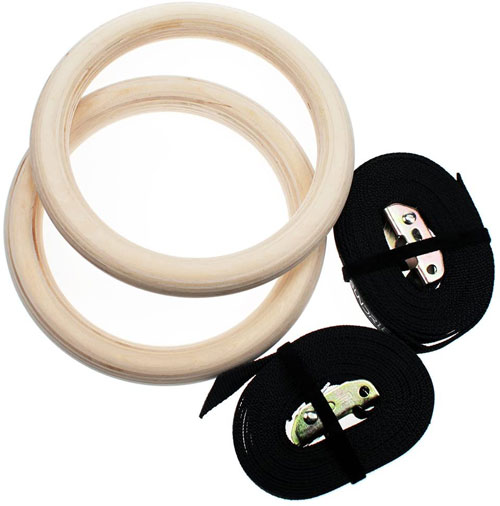 The Sundried wooden gymnastic rings are sturdy and robust enough to be used by both beginners and professionals. Made with premium quality material, the wooden rings come with adjustable straps that lock conveniently. Moreover, the straps are made of tough nylon with a width of 0.98 inches.
These gymnastic rings have a weight capacity of 225kg per ring. That's quite an impressive load capacity which makes these rings ideal for challenging cardio and strength training.
However, before buying this product, make sure to go through some customer complaints briefly. For instance, according to a user, the fastening clips on the straps snap pretty easily. Moreover, some customers experience the wood surface turning bad within a few months.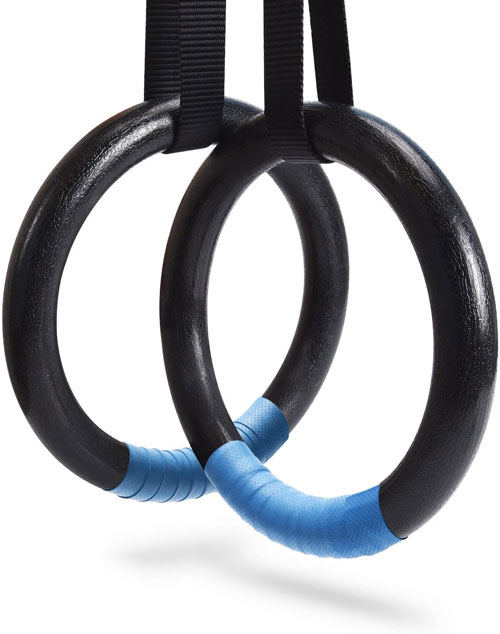 These PACEARTH gymnastic rings are no less than the other products mentioned on this list. Made from ABS plastic, these rings have a weight capacity of 725kg and exhibit a safe and firm design.
Moreover, the rings have an anti-slip design which accommodates your solid grip and supports your performance. Besides, the anti-skid tapes work great for users who experience lots of sweat on their hands while working out. You can wrap the tape around the rings and increase slip resistance.
The PACEARTH rings are ideal for performing push-ups, dips, muscle workouts, and rows. Moreover, they can be used for your yoga training and help relieve stress after work.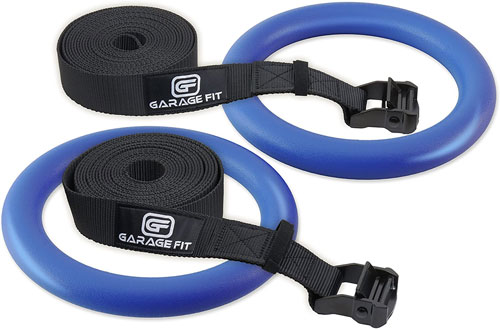 If wooden gymnastic rings are not your thing, it's better to go for plastic ones and make your life easy. The Garage Fit gym rings are made of premium quality ABS plastic that offers excellent performance and is much cheaper than many wooden counterparts.
These rings have a thickness of 1.1 inches and a total diameter of 9 inches for each. Moreover, they come with nylon straps with a length of 15ft.
The straps have a width of 1.5 inches and are secured by steel buckles that hardly snap.
However, the straps do not have any markings, making it hard for beginners to install the rings for the right height.
While plastic rings are not as durable as wooden ones, they are waterproof and can easily be washed to clean any accumulated sweat.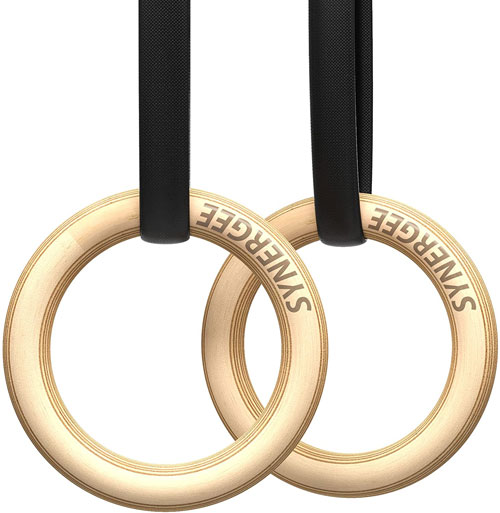 The Synergee wood gymnastic rings exhibit class and style. They have an Olympic standard design that anyone would love to train on. These rings are available in both 1.25 inches and 1.1 inches width, thus catering to all kinds of users.
Moreover, the rings are accompanied by solid black straps that can hold a maximum weight of 362kg at a time. The 1.5 inches wide straps are made of nylon and are pretty adequate for both professionals and beginners. However, you might find the straps a little disappointing because they do not have any numberings.
The straps have robust metal clamps on their ends to connect the rings with an anchor point. So you can easily hang the rings with your garage ceiling or a pull-up bar in your gym area.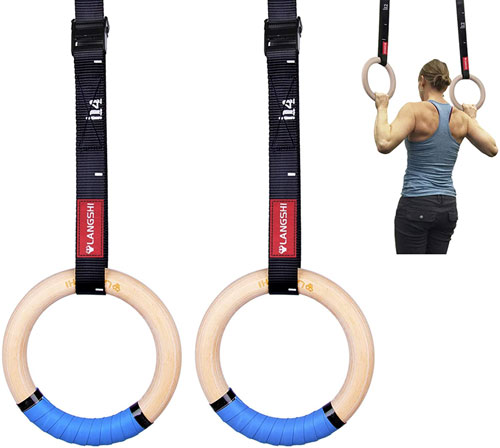 DYSD is a well-known fitness store in the UK, and it has a broad portfolio. Included in its fantastic range of products, the wooden gymnastic rings are quite popular among various users. Made from solid birch wood, these rings have a width of 1.25 inches and have a smooth surface to accommodate your grip.
Besides, the rings come with 1.5 inches wide straps that can easily hold a weight of 350kg at a time. The metal clamps connect the straps with your chosen anchor point immediately and take less than five minutes to set up.
The DYSD wooden rings have 14.4ft long straps, which is pretty much what you expect from a standard design. You can easily strap according to your height requirement and can use the serrated buckles to enhance flexibility.
These rings come with hand tapes for people who get sweaty hands quickly. You can wrap the tapes on the rings and make them more slip-resistant.
How to Pick the Best Gymnastic Rings?
Selecting one set of rings from an excellent lot above might be challenging for you. So, to make this process easy, here are a few factors to consider before making the final purchase.
Material
You will find gymnastic rings made from three different materials. They are wood, plastic, and metal.
Wooden rings are durable, smooth, and long-lasting. In addition, they offer a solid grip and help prevent splinters.
Plastic gymnastic rings are less expensive than wood and metal ones. Besides, they often come with a textured finish to help the user form a firm grip. Besides, they are ideal for beginners.
Unlike plastic and wooden rings, metal ones are not very common. However, they are more durable than their counterparts.
Considering your use and skill level, buy rings that you will easily use every day. Moreover, also keep your budget in mind.
Weight Capacity
The best gymnastic rings will usually have a weight capacity between 270kg and 900kg. However, which one you should go for depends on your weight. Choose rings that can easily support your body weight and give you the confidence to enjoy your favourite movements carefreely.
Width
Gymnastic rings are available in two different sizes. The 1.1 inches of width is ideal for professionals and meets the competition standards. However, the rings with 1.25 inches of width are great for training and beginners.
You can purchase rings with either width size for your home workouts. However, the 1.1 inches wide rings are ideal for small hands, while 1.25 inches rings suit large hands. Moreover, the latter width provides better security through a thick grip.
Straps
Straps with good loading capacity are worth your attention.
Most excellent gymnastic rings come with 1.5 inches wide straps and are 14 to 15 feet long. However, you should always buy rings that have solid straps and can hold your weight and height.
Buckle System
You will come across two different types of buckle systems:
Cam Buckles are pretty standard, durable, and always do an excellent job holding any load. However, cam buckles take a long time to adjust and may create complications while setting up with straps without markings.
On the other hand, have you seen a harness used by most mountain climbers? It has a carabiner buckle system which is often relatively easy to adjust and is far more secure than cam buckles. However, gymnastic rings with carabiners are more expensive than ones with cam buckle systems.
Expert Recommendations and Customer Feedback
Gymnastic rings are pretty standard among fitness enthusiasts, and you can easily find various feedbacks regarding a particular manufacturer producing this equipment. So, before you pick your favourite, make sure to go through these detailed reviews to find any problems if there could be.
Moreover, by reading expert recommendations on various articles online, you can also analyse your choice from a professional point of view.
Benefits of Including Gymnastic Rings In Your Fitness Arsenal
We hope the above information has enlightened you with many facts regarding gymnastic rings. Now it's time to learn about the various benefits that these tools can provide you if used consistently.
Gymnastic Rings Help Move Your Muscles
These fitness rings have an unstable nature. It means that they demand a high intensity of performance from your side to do their job. For instance, a simple pull-up may require you to push firmly and maintain your body's balance while hanging in midair.
This intensity increases deep muscle stimulation and also recruits many muscles during the process. In simple words, a workout with gymnastic rings activates many muscles in your body which may not have moved for quite a while.
They Offer Low-impact Training
Gymnastic rings allow you to move freely. Unlike stationary bars, they provide you with the flexibility to adapt to your natural poses and avoid putting unnecessary pressure on your joints and muscles.
Moreover, while using these rings, you enjoy the liberty to change your position and grip whenever you want. This shift helps to prevent any shoulder pain and results in an effective workout.
Gymnastic Rings Are Versatile
Unlike many other fitness tools, you can attach these rings anywhere you want. As discussed above, installation options are unlimited, and you can change your workout spot every day if you like.
They Offer Playful Training
When was the last time you used a fitness tool that helped you implement your creativity within the training? For example, working out with gymnastic rings is quite creative and feels more like a game than a tedious chore.
Gymnastic Rings Improve Your Flexibility
Professional gymnasts are famously known for their incredible flexibility and mobility. However, you can also achieve these attributes by using gymnastic rings consistently. These tools help stretch your muscles and improve their movement to prevent immobility.
Moreover, ring training improves your performance transference, thus helping you perform better in other sports as well.
These Rings Build Strength and Muscles
Similar to weight training, gymnastic training also helps build muscles, strength, and stamina. However, it is not easy to stay suspended above the ground for an extended period of time.
The movement requires tremendous muscle movement and body control. As a result, you gain stimulated muscular adaptations and strength. If you are consistent with your ring training and also follow a healthy routine simultaneously, there is no way you won't achieve a great body within a short time.
How to Use It Safely?
Once you are satisfied with the installation of your gymnastic rings, move ahead and familiarise yourself with handling them. Spend a few hours learning about your proper grip and practice a maximum of just two repetitions for any chosen movement.
Besides, perform a warm-up routine for five minutes at least before working out using the rings. It is imperative to prevent any injuries and maintain your stability while you hang.
Below is the most basic pose that you should ace before moving on to the complicated exercises with gymnastic rings.
Top Position
This is the fundamental position for any gymnastic rings workout. Acing it is necessary because many exercises often initiate with this movement.
Hold your body in the gymnastic rings.
Make sure your body weight is well-adjusted.
Lock your arms firmly and stay upright
Allow your shoulders to pull down and avoid bending your hips.
Make sure to hold this pose for a long time before you move ahead for complicated exercises.
After accomplishing this position, you can conveniently perform assisted push-ups and plank holds. These are also some common beginner moves that help you get to know the rings in a better way.
How to Set Up Gymnastic Rings In Your Home?
Before setting up gymnastic rings, the most crucial thing to consider is finding a solid anchor point. This point should be a stable structure that can conveniently withstand your body weight and can also support the rings.
Here are a few factors worth considering when installing rings in your chosen place:
Rings' Height
Make sure your ring is installed in a position that provides you with enough floor and overhead clearance space. It is imperative to perform various exercises without having a concussion fear.
Distance Between Rings
Your rings should be installed at a distance of 50cm from each other. Or, in simple terms, measure your shoulder width and fix the rings at a slightly wider distance. This factor is essential to enjoy effortless and comfortable training.
Surrounding Space
Regardless of the type of training you perform on the rings, make sure to keep a six to eight feet clearance around you to experience unhindered movement.
Sturdy Anchor
Your chosen anchor point should be solid and sturdy enough to hold a weight two times heavier than your body's. Moreover, it shouldn't be rocking or loose to hinder your performance.
So, if you find an environment in your home that meets these requirements, make it your hanging spot there and then.
Here are some suitable places to install your rings:
In Your Garage
To install the gymnastic rings in your garage set-up, you will need to take measures to hang the rings with the rafters.
Suspend your rings on the rafters.
Make sure your anchor point is at least 14 inches high.
Loop the straps over the rafter and secure the set-up with the buckles.
You can adjust the distance between floor and ceiling by feeding a chosen amount of straps through the rings' buckle.
In Your Living Room
You can hang the rings through S-hooks installed in your living room. First, make sure the hooks are drilled into a horizontal beam and are secured by solid eye bolts. This way, you can conveniently detach the clips by removing the bolts.
To install the rings, use a binder clip on a rod and unhook and hook the rings. A custom pulley rig also enhances the adjustability and makes it easy to remove the rings when they are not in your use.
In the Gym Area
Do you have a pull-up bar in your at-home gym? If yes, you might make this a solid anchor point to hang your rings without any drilling or extra work. Simply loop the rings over the pull-up bar, and that's it.
However, while choosing this installation solution, take care of a few things. For example, if you have a short rack, but you are a tall individual, you may find resistance in your motion while using these rings.
Outdoors
If you love working out outdoors, you can easily find a point to fix your rings with. For instance, you can hang these tools with swing sets or monkey bars with horizontal frames. Moreover, by channelling your inner minimalism, you also have the choice to suspend the rings with a tree in the backyard.
However, make sure the branch of the tree is smooth and doesn't have sharp edges. Moreover, loop your rings over only horizontal and solid branches.
FAQ
Here are a few common questions that potential users like you often ask us. Go through them and see if our answers can help you solve any doubts left.