Let's face it – many of us don't have spacious exercise corners in our homes. Fortunately, adjustable dumbbells are a thing, so you don't have to compromise on equipment range.
Although they're just like regular dumbbells, adjustable versions are space-saving, thus, being suitable for home gyms. Plus, they are available in different weight ranges and styles, giving you a number of options to choose from.
However, it may be hard to choose an adjustable dumbbell when you're overwhelmed with the number of options. We've rounded up the best adjustable dumbbells, ranging from high-end to pocket-friendly options below. So, read on and take a pick.
What Are Adjustable Dumbbells?
With the Covid-19 pandemic shutting down everything, including gyms, home gyms have become somewhat of an interior decor necessity right now.
However, that doesn't mean everyone has the finances or time to convert their garage or spare room into a hardcore gym-goer's dream. It's likely you live in a shared space where you can't even do a full burpee.
That's where adjustable dumbbells come in. They're a single pair of dumbbells that can be adjusted to make them lighter or heavier. The set you buy will determine the weight increments, maximum, and minimum weight.
You can change the weight on an adjustable dumbbell via different mechanisms, such as pins, dials, and levers.
Benefits Of Adjustable Dumbbells
Some people consider adjustable dumbbells must-haves for home gyms and for all the right reasons. Here are some advantages of adjustable dumbbells over their conventional counterparts.
Fewer Restrictions
When using barbells, your hands are forced to stay in a certain place, leading to discomfort in some cases. On the other hand, adjustable dumbbells have fewer restrictions with respect to mobility, making home workouts more comfortable.
Portability
When using barbells, your hands are forced to stay in a certain place, leading to discomfort in some cases. On the other hand, adjustable dumbbells have fewer restrictions with respect to mobility, making home workouts more comfortable.
Since adjustable dumbbells are made for convenience, they're easily portable. If you live in a small apartment or a shared space, you won't have the luxury of keeping your workout equipment in one designated space.
Owing to the easy portability of adjustable dumbbells, you can keep them anywhere – in your closet or under the bed.
Space-Saving Design
Here's the thing about adjustable dumbbells: you only buy a single bar on which you can add adjustable weights to make it as heavy or light as you want. Since these bars can be removed, you save a lot of space.
Most dumbbells have ten different weight adjustments, while some, such as the Bowflex SelecTech Adjustable Dumbbells, have up to 15 weight options.
As adjustable dumbbells don't take up a lot of space, they're considered an excellent choice for people living in smaller spaces.
Versatility
Since you have full control over the weight of the adjustable dumbbells, you can do a wide range of exercises and engage different body parts, depending on the workout you're aiming for.
If you're a beginner, you can start with a lighter load and then increase the number of plates as you get better. Since adjustable dumbbells are available in different increments, you can make your workouts more extensive at your own pace.
The Best Adjustable Dumbbells You Can Buy Today
As we've already established above, adjustable dumbbells can amp up your home exercise routine. So, it only makes sense to invest in a pair of your own rather than borrowing them from your buddy every other day.
Here are a few adjustable dumbbells to choose from.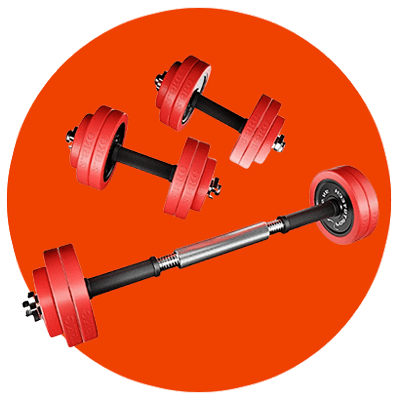 The Sportstech adjustable dumbbells are an eclectic pair with a unique colour scheme that's bound to attract your attention on days when you're trying to be sneaking around skipping a workout.
The AH300 model has a 2-in-1 construction, which means you get a dumbbell and a barbell for the price of one. Moreover, it's a space-saving option since both the equipment can be stored conveniently.
On top of that, Sportstech dumbbells have anti-slip handles to offer ultimate support and prevent any accidents. The star locks let you adjust the weight plates onto the dumbbells and fasten them in place.
Plus, the removable cover is made of silicone to resist any scratching. Additionally, it's durable enough to stay good as new even after floor damage.
As for the weight plates, you'll get 1.25kg and 2.5kg weight plates made of cast iron. The adjustable dumbbells are 30mm in diameter and have an extra-thick foam to provide you comfort during strength training.
Depending on your expertise and preference, you may opt for a 20kg or 30kg set. The company has introduced 'Intelligent Training', which means you can convert the dumbbells into a barbell by simply connecting both of them together.
Thus, you can use this 2-in-1 set to perform multiple exercises, including shoulder presses, bicep curls, and tricep presses.
Finally, the cost of these adjustable dumbbells is also relatively reasonable, considering it's a convertible model and comes with floor protection.
Pros
Can be converted into a barbell
Anti-slip design
Removable silicone cover
Resists floor damage and scratching
Cons
Removable covers are tricky to take off
Rubber retains the sweaty stench after workouts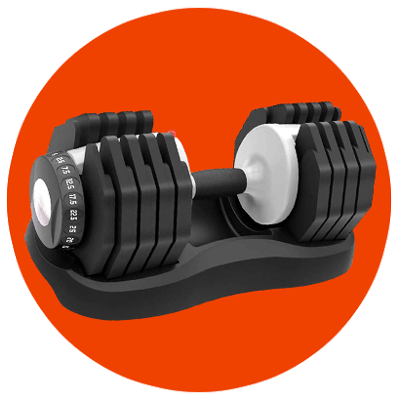 AtivaFit isn't an unknown name for fitness enthusiasts. The company makes all sorts of exercise equipment, and their adjustable dumbbells are one of the best you'll find in the market.
First off, they're made of durable material – chrome-plated steel, to be precise. Owing to this, you will not only be comfortable while working out but also ensure that the dumbbells last the test of time.
The overall design is sleek and well-made – right up to the company's regular standards. Since it's a unisex design with a comfortable handle and elegant appearance, you and your spouse can share it.
Meanwhile, the weight adjustments are also quite practical, making them suitable for everyone from a beginner to intermediate.
The dumbbell's weight can be adjusted from 2.5kg to 25kg. You can add the plates in 2.5kg increments as you require. Thus, the AtivaFit adjustable dumbbell allows you to diversify your workout regimen by making it tougher and more extensive every day.
Like all other adjustable dumbbells, this dumbbell also has a space-saving design. Since you can convert the same dumbbell into ten different weight-adjusted variants, you save a lot of space in your home.
Moreover, the dumbbell's versatility also lets you do different exercises. Whether you want to perform basic body exercises or strength training, these dumbbells are up to the mark.
Even if it's your first time using adjustable dumbbells, you won't have any trouble since this AtivaFit dumbbell is easy to adjust with a single turn of a dial.
Although there's no denying that the AtivaFit dumbbells are a great option for a home gym, you might want to consider a different option if you have a limited budget since the dumbbell is well over a hundred pounds.
Pros
Easy to adjust
Functionality of ten dumbbells
Ergonomic grip with a soft handle
Cons
Comes as a single dumbbell, rather than a pair
Pricier than other options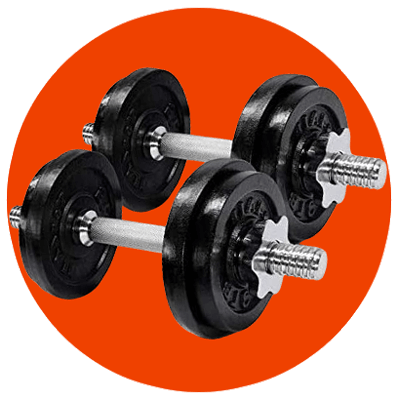 If you're looking for slightly more affordable adjustable dumbbells, these ones from Yes4All are an ideal choice. These neoprene dumbbells have cast-iron weights, so there's no compromise on quality or durability. Additionally, they won't get damaged or bend with excessive use.
As compared to vinyl, neoprene is more durable. Thus, it won't split apart, making these dumbbells suitable for people who plan on making their home gyms a permanent thing.
Since they can be adjusted to multiple weights, these dumbbells are suitable for total-body workouts. For instance, you can use them to sculpt your arms, back, or shoulders. Additionally, they're good for weight management and strength training.
If you're a bit creative, you might find a way to bring them into your cardio and yoga routine too. Moreover, the dumbbells are versatile enough to be used for outdoor workouts too.
Therefore, you can use them for chest presses, bicep curls, and much more. The dumbbells are colour-coded and have stamped weights printed on the end caps, making it easy for you to identify them.
Plus, they have an anti-rolling design. So, they don't roll away from the place of storage, causing a tripping hazard. You can comfortably store them under your bed or in a corner after you're done working out.
Considering that it's a 25kg set, the price is surprisingly reasonable. So, if you're on a tight budget, you might want to get your hands on this pair of dumbbells.
Pros
Pocket-friendly
Cast-iron construction for durability
Highly versatile for full-body workouts
Anti-rolling design
Cons
Stamped weights are slightly off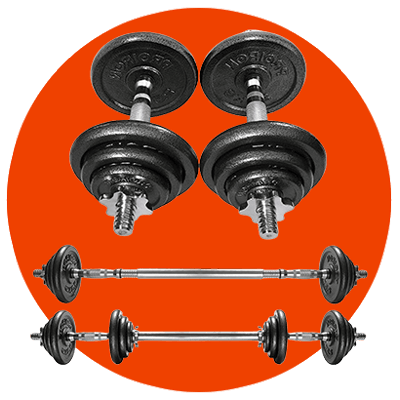 The Proiron adjustable dumbbells come in a set containing these components: four collars, an extended bar, four 2.5 kg plates, and four 1.25kg plates. Thus, it's a whole exercise set to work everything from your arms to your glutes.
Besides the functionality, the company has also focused keenly on the construction, making it as durable as possible. The dumbbells are made of phthalate-free materials and have a unique O-ring rubber design that doesn't get loose or slip away.
Plus, they have cast-iron weights since they prevent cracking and have more promising longevity than cement-filled weights.
Additionally, the steel tube allows you to convert the dumbbell into a barbell as required. In this way, the adjustable dumbbells offer immense versatility, being suitable for a wide range of workouts.
Plus, you can increase the weight – when using the steel connection tube – from 4kg to 33kg, inclusive of the bar weight. So whether you want to give yourself a tough time or take it easy, the dumbbells have provisions for everything.
To ensure a firm grip, the dumbbell sets have ergonomic handles that keep your hands comfortable while exercising. Besides, the handgrip is 143mm wide, so there's sufficient space for you to keep your hands.
Taking the convertibility and cast-iron construction into account, we must say that the cost of these dumbbells is reasonable.
Pros
Phthalate and lead-free material
Connection tube converts them into barbells
Cast-iron weights for high durability
Ergonomic knurled grip
Cons
Not suitable for serious lifters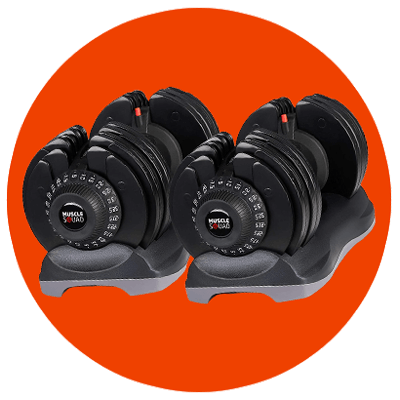 The MuscleSquad adjustable dumbbells don't exactly look like regular dumbbells, and that's because they're not. Being a high-end pick, these dumbbells are chrome-plated and feature an elegant design.
However, their looks are not their only attraction since these dumbbells also offer an all-around workout to engage all parts of your body. You can adjust the weight from 5kg to 32.5kg, converting a single dumbbell into thirteen variants.
As compared to some other adjustable dumbbells on our list, the MuscleSquad ones have a higher functionality as most competitors only have up to 10 weight-adjusted variants.
Owing to this, the dumbbells also save a lot of space since you get thirteen dumbbells while allocating space for just one. Besides basic workouts, you can also use them for strength training and core fitness exercises.
Also, it's pretty easy to adjust the weights as you merely have to turn a dial on the side of the dumbbell. Plus, you don't need to adjust both sides. When you press the red button, the dumbbell automatically chooses the correct weight adjustments for both sides.
On the whole, these adjustable dumbbells feature black-polished paint that's resistant to chipping and scratching. Plus, they're highly wear-resistant.
However, you should be ready to spend a few hundred pounds if you want to enjoy the sleek finish and functionality of these adjustable dumbbells.
Pros
Automatic weight adjustment on both sides
13 different weights
Wear-resistance and space-saving
The Anchor adjustable dumbbells are an excellent choice for people who want a versatile workout at home. They allow you to perform different exercises, ranging from the upper arm to tricep extensions.
Moreover, you can use them for leg and arm strengthening exercises too. The vinyl dumbbell set has a professional appeal to it. Moreover, it's highly durable, thanks to the rubber grips and vinyl construction.
With a total of 20kg weight adjustment variation, the dumbbells have spinlock collars that offer a safe way to secure the plates on the bar. Plus, the handle features an ergonomic grip so that you don't injure yourself while working out.
Since the dumbbells come with 12 different weights, you can adjust the intensity of your workout accordingly. Plus, you get a workout guide on your purchase, which provides a perfect plan to get started.
When you want to adjust the weights, you just have to unscrew the cap on the side. As for the price, that's comparable to most other adjustable dumbbells.
Pros
Versatility of use
Ergonomic grip
12 weight options
Comes with a workout guide
Cons
Flimsy lock collars
Bars look a bit cheap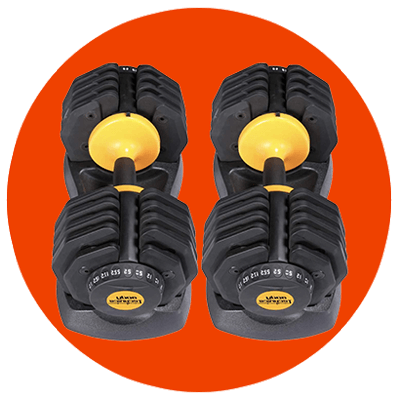 Before we get into detail about the functionality of these Iron Fitness adjustable dumbbells, we must appreciate their striking design that's sure to bring a pop of colour to your home gym.
Moreover, the dumbbells have a solid construction that allows them to last for years to come without getting damaged or retaining scratches from the floor. Like most other dumbbells, these also come with 10 weight adjustments.
You can adjust the weights in 2.5kg variations up to your preferred setting. To do so, all you have to do is spin the dial on the side. It's pretty straightforward.
The handle length is nearly 13cm, which is sufficiently long for everyone.
Coming to the price, it's slightly higher but justified by the quality and functionality of the dumbbells.
Pros
Solid and durable construction
10 weight adjustments
Button for adjusting weights
Ergonomic handle grip
Cons
Slightly expensive
Not ideal for beginners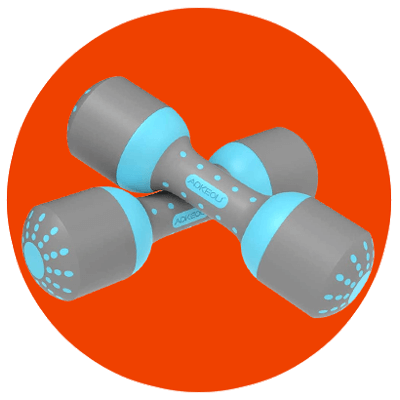 If you're looking for adjustable dumbbells to share with your spouse, the Koolsen dumbbells are a great pick for you. They are equipped with removable weight bars, allowing you to make them as heavy or light as you want them to be.
You can open the ends of these dumbbells to add more bars to them, as required. Thus, instead of purchasing multiple dumbbells, you get the same versatile functionality with one pair.
These dumbbells come with 2 large and 16 small block weights, with the large being around 0.75kg and the small being 0.18 kgs.
After you've added the weight blocks, you can increase the weight from 1kg to 5kg per dumbbell. It's best if you add similar weights on both sides to keep the dumbbell balanced.
Working out at home means you'd be devoid of the professional guidance of a trainer. However, there's no need to worry as these adjustable dumbbells are versatile enough to be used in different ways. So, you can simply watch online tutorials and use them accordingly.
You can perform multiple exercises with the same pair of dumbbells. These include working out the deltoid muscles, abs, biceps, etc.
Plus, they have non-slip handles to keep you worry-free during exercise. The ergonomic design allows you to have a firm grip on the dumbbells to prevent any injury. Additionally, the rubber construction keeps the dumbbells safe from floor damage.
More importantly, the company has 24-hour customer service to answer all your queries. Keeping all these perks and the quality construction in mind, the cost of these dumbbells is right up to point.
Pros
Multiple weight adjustments
Ergonomic handle grip
24-hour customer service
Engage all muscle groups
Cons
Not suitable for heavy lifters
Might be too flashy for some people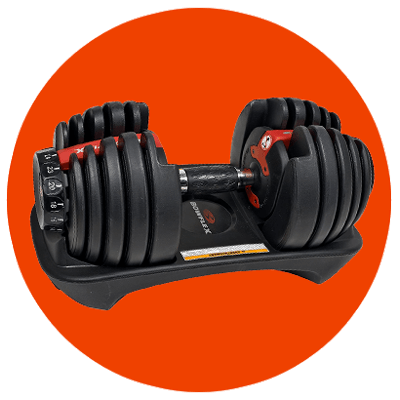 Although we have kept them for last, the Bowflex adjustable dumbbells are a supreme addition to your home gym. They're ideal for people who love mixing their workout routines but don't want to include different equipment.
The dumbbells have a dial mechanism that you can use to adjust the weight from 2.3kg to 23.8 kg, depending on your expertise. The weight adjustments are made in 1.1kg increments, which is quite helpful if you're trying to up your workout game one day at a time.
With 15 different weight adjustments, you can personalize the workout experience as much as you need. Plus, the dumbbells have an automatic locking mechanism, which locks your selected weights into the handle and leaves the rest in the tray.
As for design, the dumbbells are superior to most competitors since they have premium grips that provide additional stabilization. Plus, the metal plates have mouldings around them to keep your workouts quiet and smooth.
You can also use the Bowflex SelectTech app, which contains a library of workouts, to determine how you want to use the dumbbells.
Since each dumbbell measures just 40 x 20 x 23 cm, the equipment is space-saving enough for you to have a little gym in one of the corners of your room.
Pros
Up to 15 weight adjustments
Have a locking mechanism
Easy to use dial adjustments
Come with an app
Cons
Relatively expensive
Bulky shape might make exercising a bit challenging
How to Choose The Best Adjustable Dumbbells?
When you're looking for adjustable dumbbells, you must approach the market with the thought in mind that this is a one-time investment – at least, for most people. Thus, you'll have to be vigilant about the quality, weight range, durability, and price point.
Below, we discuss a few pointers that will help you choose the right dumbbells for your needs.
Ease Of Use
Yes, you're working out, and you'll be sweating yourself out. However, this should be due to the intensity of the workout and not the difficulty of equipment use.
Like any other equipment, adjustable dumbbells should also be easy to use so that you don't have to deal with their complications instead of following your workout routine.
The ease of use depends on a few things. First off, it must be straightforward to adjust the weights on the dumbbells. Nowadays, dumbbells have quick and convenient mechanisms that hardly take a minute for weight adjustment.
Secondly, the dumbbell should be easy to transport. That's the whole point of them being adjustable, isn't it? They should be easy to move from your gym area to the storage space.
Thirdly, the ease of use must extend to different workout types rather than basic body exercise.
Handle Grip
Keep in mind that you'll be holding the dumbbell with the handle. So, it must be one of the first things you consider when purchasing a dumbbell. If it's too slippery, you're likely to lose your grip and get injured.
It's best to look for dumbbells with anti-slip handle grips. Some options have knurled grip, which further prevents slipping and gives you a firm hold on the dumbbell.
Women lifters should go for dumbbells that have thinner grips since they're easier to hold. On the other hand, bulkier handle grips can be uncomfortable.
Shape
The design of a dumbbell will somewhat determine its shape too. If you're buying dumbbells for a commercial gym, you can opt for hexagonal or circular options.
Meanwhile, don't select circular dumbbells for your home gym since they roll away from the storage area, even if there's a slight slant in the floor.
Fortunately, there are many adjustable dumbbells these days, so you'll be spoilt for choice. Additionally, some of them have anti-rolling features, keeping them safe in their storage space.
Weight Range
The weight range refers to the maximum and minimum weight you can adjust the dumbbells to. Choosing this is a personal preference since there's no standard for the best weight range. If you're a beginner, the 20kg dumbbells might be suitable for you.
However, serious lifters and fitness enthusiasts might want to look for a broader weight range.
For instance, if you want to buy dumbbells to build muscle, you must opt for weights that will challenge your body after eight to ten reps. If you get a pair of 10kg dumbbells, they'll present a challenge during shoulder presses.
However, when you're doing bicep curls or squats, it becomes too easy. So, you have to choose a weight range that caters to all sets of exercises you plan on doing.
Durability
Besides looking at their functionality, you must also consider the design of adjustable dumbbells. What material are they made of? What's the exterior coating? Normally, vinyl or rubber dumbbells with cast-iron weights are considered durable.
Read the product description to determine if the dumbbells are resistant to floor damage and scratching. If you're paying such a hefty price, you'll surely want the dumbbells to last longer than a few months.
Although you'll mostly find adjustable dumbbells with cast iron construction, the longevity of steel dumbbells is unmatched.
Cast iron dumbbells are susceptible to cracking, rusting, and corrosion. On the other hand, their iron counterparts can withstand weather elements and the wear and tear of daily use. Plus, if they have a premium coating, there's no need to worry about corrosion or rusting.
Price
The price range of adjustable dumbbells is quite broad, with some costing hundreds of pounds while others are just fifty. Keep in mind that the price depends on the company, quality, and features of the dumbbells.
The more features and high-end construction a pair has, the higher its price will be.
Weight Increments
Weight increments refer to the increase in the weight of the dumbbells when you add a new plate. It's best to opt for dumbbells that allow you to make both smaller and larger increments.
If you're a professional, you'd need a set with larger increments, such as 2.5kg, so that you can instantly go from lighter to heavier weights. On the contrary, if you're just getting started, opt for dumbbells with smaller increments, such as 0.5 kg, so that you can progress at your pace.
Spinlock dumbbells often come with customized options so you can select your preferred increments. Meanwhile, dial-a-weight dumbbells come with predetermined weight increments.
Convertibility
Some dumbbells, such as the Sportstech 2in1 Dumbbell & Barbell Set, can be converted into barbells. However, this functionality is not present in all dumbbells. So, it's up to you to decide if you want a convertible option or prefer having just the dumbbells.
In most cases, the convertibility affects the price minimally, so that shouldn't be a concern.
Miscellaneous
To make their dumbbells more appealing than the competitors, some manufacturers offer additional features. For instance, the Bowflex SelecTech Adjustable Dumbbells come with the company's app.
You'll find a ton of dumbbell training exercises on the app to try at home. However, do note that these dumbbells are pretty expensive. It's likely you might not want to spend extra money on miscellaneous perks.
Meanwhile, the Anchor 20kg Adjustable Dumbbells come with a workout guide included in the package. Since they're a more budget-friendly pick, you may want to take a look at them.
Meanwhile, some dumbbells also have additional features, such as knurled grips and anti-rolling designs. They add convenience to your workouts and you shouldn't hesitate to pay for them if money is not a concern.
Make sure you're not overlooking the important features in search of unnecessary ones.
Types Of Adjustable Dumbbells
In general, there are two types of adjustable dumbbells, dial-a-weight, and bolt-ons. Both these kinds have their advantages, but one may be better for you than the other.
You can choose the type of dumbbell based on the criteria we've discussed above. These dumbbells are categorized on the basis of their load and unload mechanisms, shapes, and functionality. Here are some types of adjustable dumbbells.
Spinlock Dumbbells
Spinlock adjustable dumbbells differ from other dumbbells in the respect that they have threaded sleeves. You have to slide the plates on the sleeves and use a spinlock to secure them in place.
As you adjust the spinlock on the dumbbell, it threads onto the ends unless it comes in contact with the plates. That's when it's tightened up against them. Here are some reasons to choose spinlock dumbbells:
Price: As compared to other types, spinlock dumbbells are less expensive because they're not as 'fancy.' Moreover, they do not have the docking stations that are present in dial-a-weight adjustable dumbbells. For instance, a pair of spinlock dumbbells will cost you around 150 pounds, while if you get the same weight adjustments in a dial-based model, you'll have to pay double the price.
Lower Footprint: Furthermore, the footprint of these dumbbells is even lesser than other adjustable models. Since they can be stored in any position and don't have docking trays, you can practically put them anywhere.
Simple Operation: With spinlock dumbbells, you simply have to screw the end caps on and off. Even beginners will learn it in a jiffy.
Dial-A-Weight Dumbbells
Dial-a-weight dumbbells typically have a docking system. You just have to twist the dial, and it will lock your desired weight plates into place. The rest of the plates will be left behind in the tray.
These dumbbells are popular because switching between weight plates is a no-brainer. If you're doing a quick workout in which you have to change the weights multiple times, this is a good option.
However, when you buy these dumbbells, make sure the docking tray is made of durable material so that you don't have to replace it from time to time.
Do note that there's a learning curve to adjusting weights on dial-a-weight dumbbells – as opposed to bolt-on models – so they're more prone to human error. However, that doesn't instantly make them more dangerous – you just need to be more careful.
Bolt-On Dumbbells
On the other hand, bolt-on dumbbells have a conventional design. You have to add the plates manually and bolt them in place. Since you can deconstruct them easily, they're convenient to store.
Plus, unlike the dial dumbbells, these are not super chunky. So, you will not experience any hindrance in movement.
Most importantly, these dumbbells don't have any plastic components. So, they are long-lasting and don't retain damage like the plastic components – docking stations – of the dial-a-weight models.
FAQ