Do you want a free standing punch bag in your training arsenal? If you love combat sports such as boxing, fencing, wrestling and judo, and are serious about your passion, buying a punching bag is the first thing you should do to make a start.
Even if you are not into sports, working out with a free standing punch bag provides fantastic mental and physical benefits. It helps to establish your muscle strength, enhance cardiovascular endurance, improves balance and hand-eye coordination.
Moreover, making a few punches every day relieves you from stress and boosts your confidence.
If you have been looking for a quality punching bag for a long time but have failed every time, we are here to help. In this buying guide, we have reviewed and designed a list of the ten best free standing punch bags that may deserve a place in your home gym.
Moreover, we have also looked at the factors that may help you choose the right one to punch your worries away.
Also, there is a section on all the relevant information you may need to understand this product. So, if you are ready, let's start our quest.
Why Do You Need a Free Standing Punch Bag?
In a world with a large variety of boxing punch bags, why should you invest in a free standing punch bag only? Aren't standard heavy bags or a wrecking ball punch bag compatible enough for your home training?
A free standing punching bag doesn't hang but instead mounts on a stand. It has a base filled with sand or water that balances it and holds it up-right.
Most of our homes do not have enough space or proper hooks to hang a heavy bag. In that case, a free standing punch bag comes as a blessing in disguise.
It doesn't require any complex set-up, nor does it consume much space. Once done with your training, you can always place it back in the corner of your room.
To summarise, these bags are convenient to use and make perfect companions for your little indoor gym.
Our Top Picks of the Best Free Standing Punch Bags
To help you find the best free standing punch bag, we have researched and shortlisted ten products for you. Have a look and see if any of these tick the right boxes for you.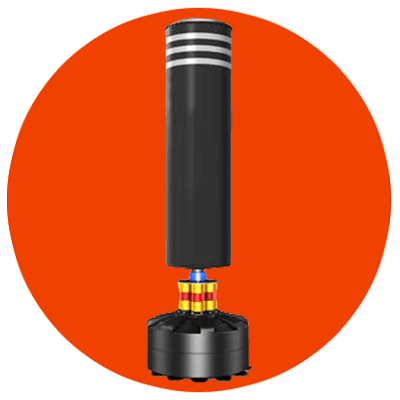 The Dripex Adult free standing punching bag will make a good option for those looking for a high-quality punching bag with an affordable price tag. With an impressive height of 175cm, this item comes with some fantastic nifty features that you rarely find in other similar products.
The Dripex Adult punch bag has shock absorbers made with PVC. They help to minimise noise and shock when you are training. However, you can remove the absorbers in case you need a responsive tool.
Moreover, the bag's base has 12 suction cups to keep it stable after even the hardest hits. However, the cups are not an alternative to sand or water that you will have to add anyway.
With the addition of water, the bag roughly weighs 137lbs, but with sand, it goes up to 182lbs. As per the manufacturer, sand is the right option to achieve better stability but it can affect the overall portability.
When it comes to the quality of this product, Dripex doesn't disappoint. The outer layer of this punching bag has durable leather. In addition, the inside of the leather has a covering of high-density foam for better durability.
With so much effort put into the material and design of this item, Dripex free standing punch bag is a well-balanced and responsive product that doesn't damage even after long sessions of strikes. Moreover, its competitive price makes it quite a winner and a possible good addition to your training assets.
Pros
Affordable punch bag with excellent quality
Comes with shock absorbers for better performance
Made with durable leather and foam
Provides Stable experience with suction cups

Cons
Height isn't adjustable
A bit too heavy for a beginner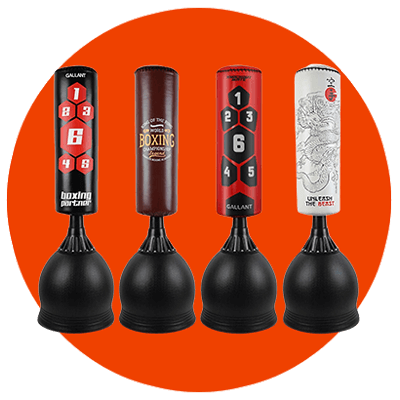 If this is your first time buying a punching bag for kickboxing, you may want to consider the Gallant 5.5ft free standing punching bag. This product has a good medium height and can be an ideal tool to practice for boxing and mixed martial arts.
When it comes to its build, the Gallant punch bag will blow your mind. It has a faux leather outer layer that stands strong even after a good beating. Moreover, leather gives a shiny and classic finish to the overall look of the bag.
There is a thick foam padding within the leather covering that is lightweight, strong and shock absorbing. A third layer made with microfiber materials adds much-needed resilience to the overall structure of the bag. While the leather is soft and the padding offers a safe landing for your punches, don't forget to wear gloves to avoid any injuries.
This 5.5ft standing punch bag has a narrow base, which many professionals may not consider stable. However, the addition of sand makes it perfectly balanced.
Moreover, a thin base allows you to carry it anywhere you want and place it in even the tiny corners of your room.
The gallant free standing bag is easy to assemble and comes with just two pieces. Also, it is available in different colours and designs, so you have a variety to choose from.
However, because of its non-adjustable height, this punching bag may not be suitable for tall people. Also, it doesn't come with many accessories but costs similar products that do.
Pros
Sturdy build
Made with high-quality leather and padding
Perfect for both kids and adults
Easy to assemble
Available in different colours and designs
Cons
Not ideal for tall users
Doesn't come with any extra accessories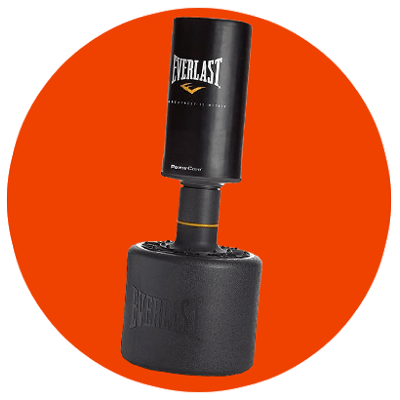 Unlike the above two options, the Everlast Powercore heavy bag offers a height adjustment setting. It is probably one of the most impressive features for all users, training to become better boxers and mixed martial artists.
The height setting allows you to adjust the bag according to your needs. It can change from 54 inches to 65 inches pretty comfortably. Other than this remarkable feature, the Everlast heavy bag offers a sturdy plastic base that uses sand or water to fill.
The Everlast heavy bag also has some other praise-worthy components. It features a shock-absorbing ring and a steel plate. It is called a Power Transfer Ring that hinders base movement and minimises the overall impact.
Both the collar and the punch bag have a nylon canvas coating. Moreover, the base is large enough when filled and offers immense stability.
Despite the above great points, Everlast Powercore punching bag is not the quietest item on this list. So, if you live in a shared property, your flatmates may not appreciate your punching so much.
Pros
Provides height adjustments
Comes with a removable collar and offers stability
Perfect size for both tall and short users
High-quality nylon coating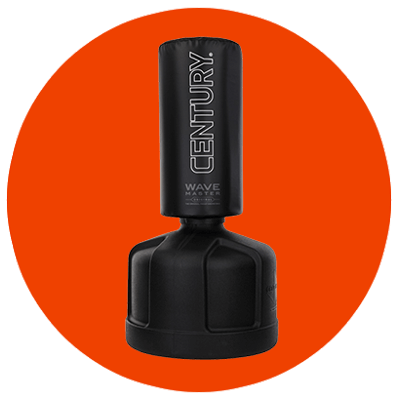 Century is a well-known brand when it comes to fitness products, especially punching bags. It has many such items in its product line, and Century free standing bag Original Wavemaster is quite a renowned one.
Available in black, this punching bag is made with high-quality foam and a vinyl covering. Both materials used are highly durable and offer optimal resistance.
The bag also has a rounded base to enhance movement. When filled with sand or water, it stays stable for a long time. However, the filling adds to the overall weight of the bag, making it less portable.
The Century Free standing punching bag has a height adjustment feature. It can conveniently adjust from 52 inches to 70 inches in six increments. While it is a great bag, it doesn't absorb noise very well.
Pros
Provides good resistance
Sturdy structure with round base
Adjustable heights
Cons
Not quite portable after filling with sand or water
Doesn't absorb noise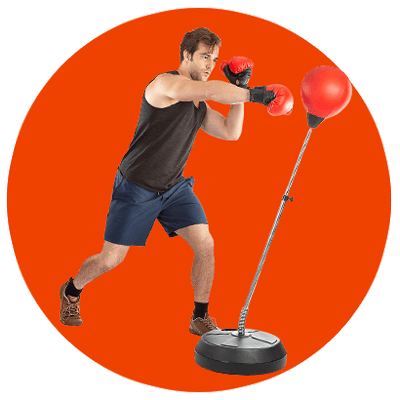 Most height adjustable heavy bags are great for both kids and adults. However, if you are looking for something similar, the Tech Tools punching bag may strike your fancy.
The speed bag comes with a durable plastic base, a long shaft and boxing gloves. The rod is adjustable so that you can customise the height according to your need. Moreover, this punching bag also comes with an inflation pump to fill the air in the ball when needed.
The Tech Tools standing punching bag has a design that keeps the user's safety in mind. The shaft has a spring attached to the bottom for the required elasticity. As a result, the bag bounces back to its original position every time you blow a punch on its surface.
It is a flexible tool which means you can set the height according to your personal preference. The punch bag can get as long as 58 inches and can work perfectly for tall people. For better stability, just add some water to the base and carry on with your boxing session.
Pros
Adjustable punching bag with durable structure
Affordable option for kids and adults
Comes with many accessories
Flexible to use
Cons
Not as sturdy as the rest of the options on the list
Plastic base can break easily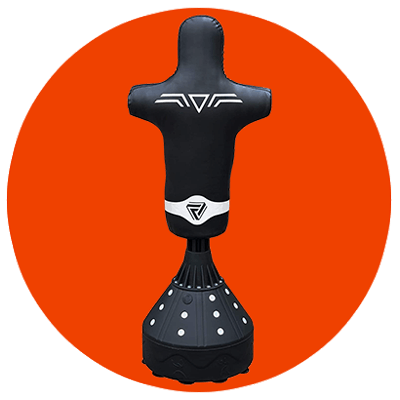 Do you fancy a tough punching bag with a great design? If yes, you may want to try the BodyRip free standing bag for your home gym.
BodyRip is famous for its quality fitness products and affordable prices. The free standing punch bag follows the same values and is a great tool to stay fit and active.
This punching equipment has a rigid construction. Made with leather and a foam sheet, the BodyRip punch bag offers excellent resilience, durability and good shock absorption. Moreover, it comes with a sturdy polythene base that makes it more balanced when filled with sand.
You can use this bag for some light jabs or even take out your frustration in distressing times. However, it may test your patience during the sand-filling process as it is quite a task. Moreover, the free standing bag isn't quite appropriate for professional wrestlers.
Pros
Attractive design
Durable material and build
Sturdy base
Cons
Tough to fill with sand
Not made for professionals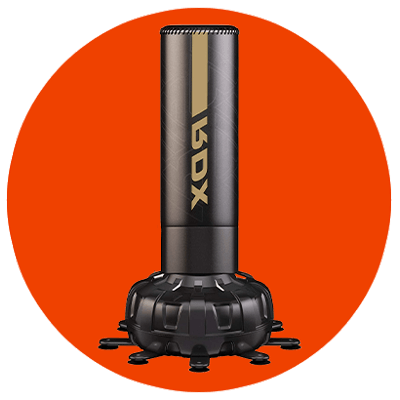 The RDX free standing punch bag offers superior durability with a fantastic design and performance. It has layers of top quality leather and special density padding. Perfect for beginners, this punching bag may help you to start your boxing journey.
It won't be wrong to say that this product is pretty resilient when it comes to its height and width. It is 181 cm tall and has a 35 cm diameter. The colossal structure gives you enough room to practise your punches and learn new techniques.
The base of the bag has eight extendable legs. This unique feature allows the RDX free standing bag to stay firm on its position for as long as you want. In addition, the 17 suction cups add more stability to the already well-balanced structure.
This product comes with high-quality gloves made with leather. The materials used for the mittens effectively absorb shocks and prevent your hands from any unwanted ruptures.
Pros
Excellent build and resilience
Durable and extremely sturdy
Comes with high-quality gloves
Easy to assemble
Value for money
Cons
Not for beginners
Stays sturdy with sand filling only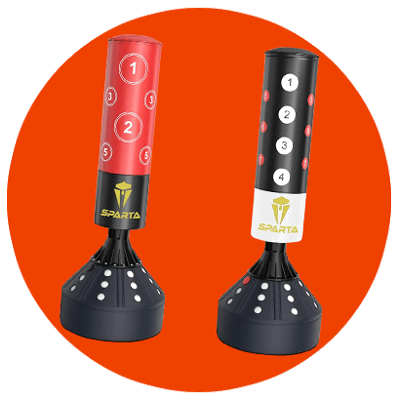 If you think of giving a punching bag to your teenage kid or even an older brother, the Athens free standing punching bag will make a great present. This heavy-duty punching tool is a pretty great option to train for kickboxing or martial arts.
This equipment has stainless steel that connects all the parts of this multi-layered item. The bag's design uses PU leather, EPE foam and a fabric buffer.
Moreover, the material used is tear-resistant and offers sufficient durability. However, the bag isn't quite tough for professional boxers.
Athens free standing bag has 12 suction cups in its base to prevent any unnecessary movement. Moreover, sand filling contributes to better stability. However, only use dry sand and avoid water.
Pros
Great for teenagers
Made with excellent leather
Durable structure for reduced movement
12 suction cups to enhance stability
Cons
Not a sturdy option for professional boxers
Doesn't use water filling, so that it may add up to the cost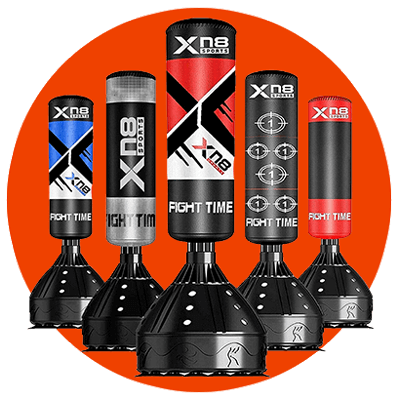 Who doesn't crave a solid and heavy bag that can bear all your strong punches without breaking down? We all do, and that's why we have the Xn8 6ft punching bag on this list.
This fully padded bag with EPE foam can absorb all your hits and stay firm for as long as you want. Moreover, the leather outer covering makes this equipment look incredibly classy and durable.
Like any other item on this list, the Xn8 standing bag also comes with suction cups to maintain a sturdy structure. Besides, the option to add water or sand to the base contributes to stability.
It is a perfectly engineered punching bag with a noise-absorbing body and an easy-to-assemble design. However, the Xn8 free standing punching bag is expensive and may not be appropriate for beginners.
Pros
Durable punching bag test
Great design
Has suction cups for stability
Easy to assemble
Cons
Not for beginners
Expensive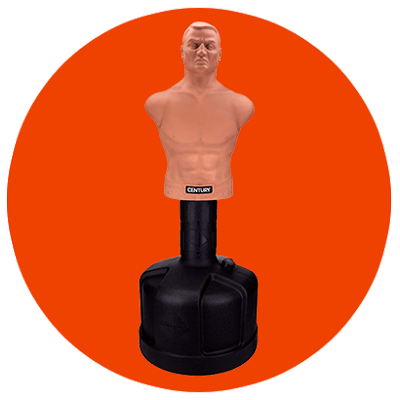 While this isn't one of the cheapest punching bags in the market today, Century BOB is quite competitive equipment to train yourself for boxing and martial arts. BOB stands for body opponent bag and can become one of the essential parts of your training gear.
It has an outer layer of vinyl and an inner coating of high-density foam. That's quite an impressive make to withstand all kinds of hits.
Moreover, the base of the bag can be filled with water or stand to achieve stability. However, with this filling, the bag's weight rises to 120 kg, making it less portable.
A BOB punching bag is a flexible tool with a height that can vary between 60 and 78 inches.
Pros
Durable and well-designed bag
Adjustable height
Strong base with filling
Cons
Expensive
Not very portable with base filling
Buying Guide: Factors to Consider Before Choosing a Free Standing Boxing Punch Bag
You will encounter an alarming amount of misinformation circulating on the type of punching bags you should purchase. The attractive advertisements can easily lure you into buying a particular heavy punching ball without considering its pros and cons.
The above list of punching bags will help you find a compatible product for yourself. However, if you still want to search on your own, you may need to consider a few factors.
Purpose
Do you want a bag to develop strength in your kicks or punches? Or are you looking for something for a fitness session every day? The purpose of buying the bag is essential to make the right choice.
If you want to enhance your kicks and punches, you may need a punching bag that is wobble-free, durable and can stay stable. However, if you want a bag to keep fit, a compact structure will be sufficient.
Space
While a free standing heavy bag is far more space-friendly than a hanging punch bag, it may still require enough room to store conveniently.
A free upright boxing punch bag is pretty large with a heavy base. This is why you may need sufficient area to use it without bumping into other parts of the room.
A free standing punching bag provides 360-degree spatial access. So, you shouldn't put it close to a wall and restrict its movement.
Moreover, before purchasing this equipment, measure your ceiling's height. It is vital to ensure the roof and the bag is at least 24 to 36 inches apart.
Material
A free standing bag uses a variety of materials. Some come with vinyl coating, while others have a leather shell.
Leather is much more durable; however, it requires high maintenance and can get smelly from sweat. So, if your pocket doesn't allow it, opt for synthetics that clean easily and are inexpensive.
Also, cotton, foam, and hay make a free standing bag worth some value.
When looking for a boxing punch bag, you should also look at the density of the materials used. A bag should be firm but not too hard to cause any injuries.
Also, most standing bags are pretty adjustable and have a zipper on their top. So you can conveniently remove or add the foam filling to make the bag ideal for your use.
Weight And Base
If you want something long-lasting and perfect for your use, buy a punching bag that has a stable and broad foundation. Most bags have suction cups that increase the stability of the base. Moreover, the addition of sand or water makes the structure well-balanced.
Benefits And Drawbacks of a Free Standing Punch Bag
Here is a list of a few benefits and drawbacks of investing in a free standing boxing bag:
No Necessary Installations
Not every user has the facility of a hook or a beam to hang a punching bag. Moreover, many people do not have the tools or experience to set an object as heavy as this one.
For your ease, a free standing punching bag is the best choice to consider. You just have to fill the base with sand or water, and you are good to go.
Doesn't Require Much Space
You don't need a huge space to keep this bag. It requires a small area, and you can adjust it in a corner when not in use. These bags are portable, and you can quickly shift them from one property to another.
Perfect for Cardio Workouts
Since these heavy bags have long cores, they are ideal for kicking and strikes. They make excellent tools to polish your defence and offence skills. A free standing bag works as an effective tool for enjoying a versatile cardio training session and burning many calories.
Safe for All Family Members
Almost all free standing boxing punch bags have a suitable height. Moreover, they do not have a rigid surface, making them comfortable to use for everyone, including kids.
Comparatively Cheaper
Free standing bags are comparatively cheaper than ordinary heavy bags or those that come with an extra pole. If you are a beginner and don't want to spend on anything expensive, choose a free standing punch bag and start your training.
They May Often Move
The free standing punching bags often start moving when in use. However, you can overcome this problem by placing a rubber mat underneath its base. While it may cost you a few pounds, it will help keep your floor safe and the bag stable.
Cheap Bags Are Not for Professionals
There is a variety of standing punch bags, but the cheap ones are not for professionals. They fall easily and even break in some cases. So, if you are a pro in kicking and punching, you may want to invest in an alternative.
Types of Free Standing Punch Bags
Now that you are aware of the importance of a free standing punching bag for your use, here is some more information to make you understand this product in a better way. There are three different kinds of free standing boxing bags.
Bags for Combat Sports
These are extra-large, highly stable and immensely durable punching bags for those looking for a real fight. While this category of punching equipment is pretty expensive, it can conveniently stand the high power of solid punches and long kicks. If you want a punching bag to train for a sport, you may need to consider something similar.
Punch Bags for Beginners
If this is your first time with boxing bags, you may want to buy something light for learning the basics only. In that case, look for equipment that is less expensive and is easy to punch. While it may not be powerful enough to withstand power strikes, it is the best option to start your fitness journey.
Bags for Cardio Workouts
Are you specifically looking for a bag to enhance your cardiovascular endurance? If yes, you may want to look for a free standing punching bag that is lightweight and easy to hit.
But if you are an experienced fitness freak, you may try a heavyweight bag to improve your heart's performance.
It is essential to select the correct type of a free standing punching bag to meet your goals and energy levels.
For instance, if you are a big guy with a powerful punch, you should invest in a bag perfect for combat sports. However, if you are a beginner who knows nothing about punching or boxing, it isn't wise to invest in something expensive or extremely heavy.
FAQ
Here are some common questions most people ask before buying a free standing heavy bag: