The pandemic has made it impractical for us to go outside and exercise. In this situation, dip bars are getting trending day by day. The dip bar is one of the best options for home gyms because it costs less and results in better outcomes than commercial ones. These Parallel Bars will help you get into shape with minimal cost.
Unlike other complicated gym equipment, these bars are straightforward to use. Do not underestimate its simple design; these are enough to support a full-body workout. Not only that, but you can also practice body balancing at different levels with it. Summing it up, these all features makes the dip bars must-have equipment for you.
There is no one position limitation; these bars can be used to practice several Parallettes poses such as explosive push-ups, L sits to V sits and L sits to handstands, Tiger bend push-ups, Bent Planche, and other variations. Without proper instruction and especially without the guidance of trainers, professional types of equipment can be very difficult to choose and use.
With that said, let's get straight to the product reviews.
Our 8 Top Picks For Dip Bars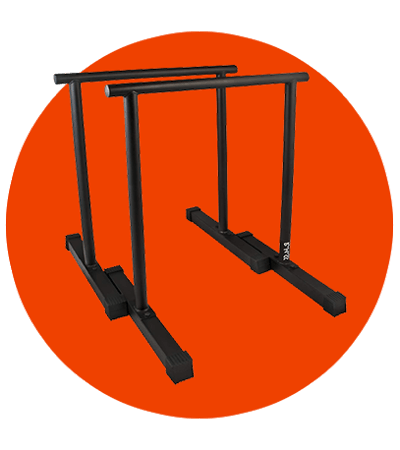 With its bar size of 4 cm diameter, it is easy to maneuver even during long-hour workouts. The RAMASS Dip Bar has 66cm x 85cm x 50cm dimensions, allowing it to be used by all body types and ages. Made up of high-quality steel and is favored by professionals.
One thing that makes the Ramass dip bar outperform many others on the market is that the equipment is easy to assemble. You do not need any professional's help in this regard. Follow the simplified instructions provided by the company to get things done for you.
A wider 50 cm base foot makes this parallel more stable than others. Using this design, you will have perfect angles. With a new range of non-slip rubber end caps, this workout tool is safer to use and can be deployed on any surface such as carpet, wood flooring, tiles, outdoors.
Guaranteed Performance
Easy To Assemble
Heavy-Duty Construction
Stable and Durable
Some customers face delivery problems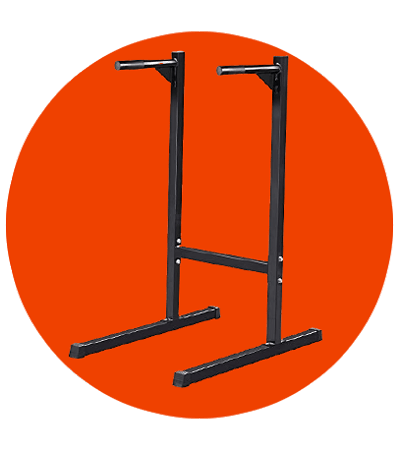 Dip bars made by Yaheetech are constructed with a 2″ steel bar that increases the sturdiness of the device. It is designed specifically for chest, arms, and shoulder workouts. These bars can comfortably hold 660lb weight and can serve varying needs of athletes.
In addition to reducing strain, the comfortable diameter bar will optimize workout time. Yaheetech never compromises the build quality. It is made up of sturdy iron to efficiently perform heavy-duty workouts. Safety is enhanced by utilizing metal nuts that are equipped with inner non-slip washers.
Highly efficient rubber feet hold the dip bar at its position. In addition to holding it in place, it protects the floor from damage. Dip stands from Yaheetech can be used to work out the chest, shoulders, arms, and triceps when you're on the go.
Affordable
Non-Slip Rubber Base
Handles have ridged foam for maximum grip
Bar Distance is not adjustable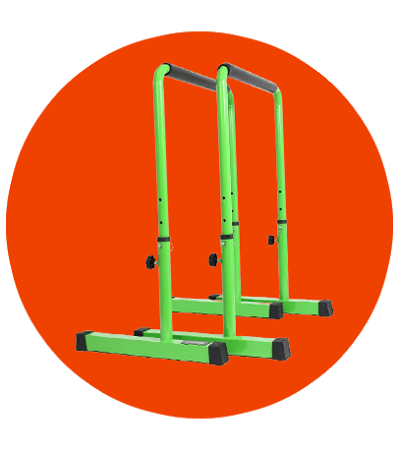 The power guidance dip bar offers everything that a workout-lover needs. The company provides stylish bars that will make you feel like a beast by strengthening your body.
Unlike traditional dip bars, Power Guidance allows you to adjust the height at your convenience. It is different from other dip bars as it offers 4 levels of height adjustment. You can choose your favorite depending upon your physique!
These Bars provide direct support for your chest, shoulders, arms, abs, and back. Through regular workouts, you'll lose body fat, tone your muscles, and improve your posture.
High-quality dip stand bars are perfectly designed with a stable, functional dip station. Stabilizing challenger bars provide excellent support for you. Because parallel bars have a perfect alignment, the exercise machine will not tremble, allowing users to feel safe.
Great Dip Frames & Soft handles.
Adjustable Height and Rubber Feet
Full-body Workout
Affordable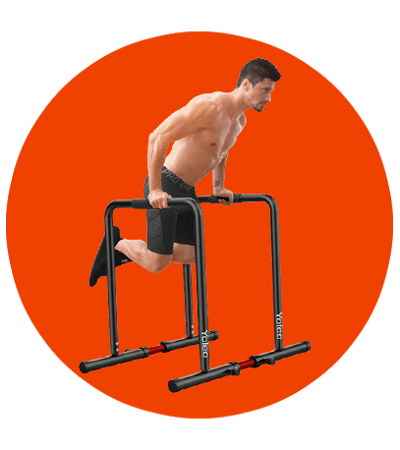 For those searching for an affordable yet highly functional dip bar, YOLEO is the best choice. Despite its affordable price, it offers the most practical features on the market.
The presence of multiple adjustment options further enhances its desirability. With the ability to be adjusted in both height and width, it can be used for a variety of exercises. The height can be adjusted at three levels and the width at six levels. In order to do some activities, a large bar height is necessary; that's why this unique feature has been added to the dip bar.
Its solid construction is what makes this dip bar one of the best values on the market. The dip bar can hold up to 500 pounds of weight. It has a sturdy construction that guarantees durability and stability.
Dip bars from YOLEO have two safety connectors and height and width adjustments, so they are incredibly versatile. With this device, dipping becomes more relaxing and comfortable. Additionally, you can assemble and disassemble YOLEO bars quickly, and they'll last for years with proper maintenance.
Space-Saving Design
Affordable
Adjustable Width and Height
Heavy Duty Steel Frame
It sways a little when used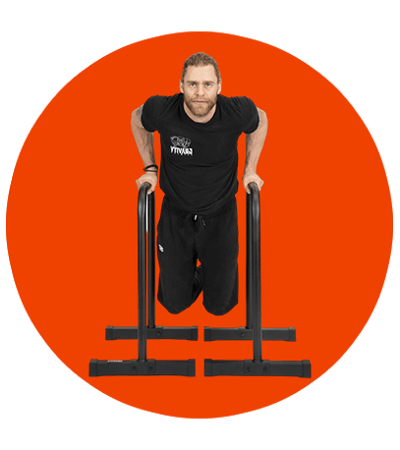 Gravity Fitness is professional-level bars and preferred by many athletes! It features robust bars that never fail to meet users' expectations in terms of reliability and performance. Its remarkable stability and grip make it ideal for all workouts.
Dip bars from Gravity Fitness are trendy among athletes. These dip stands are made of heavy-gauge steel, powder-coated matte-black, with 38 mm handles that help you hold on tight and reduce wrist strain. All these features make this product ideal for both domestic and commercial purposes.
A maximum user weight of 20 stone is recommended for this product. About dimension, you can visit the product online.
Gravity Fitness also provides reliable customer care support. The customer service is good in case you want to make any queries or complaints. Matt black powder coating offers ultimate protection and grip for the parallels.
The parallels are built using class-leading equipment to guarantee the safety of the user, unlike other parallels available in the market. Featuring non-skid rubber feet that measure 50x50mm, these feet can be used on any floor type. You will feel a great deal of strength and change in your body after a training session with this equipment from gravity fitness.
Sturdy Construction
Strong Grips
Lifetime Warranty
Only Available in black color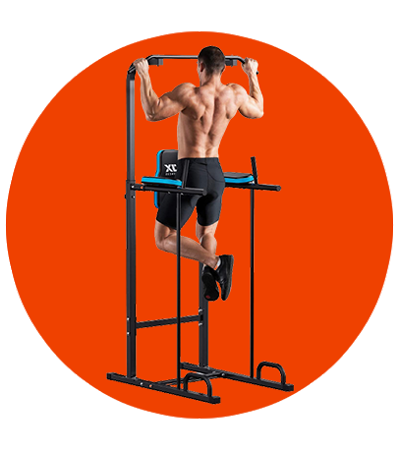 If you are seeking something with various features, this is the one you should choose. It contains an excellent combination of features that makes it stand out from its competitors. Furthermore, these bars offer 5 different adjustments and a variety of multi-purpose exercises too.
This product is height-adjustable at 5 different levels via a knob, making it an excellent product that meets the requirements of different users. This product also includes cushioned knee pads, thickened stabilizer crossbars, and many others that make it suitable for health-conscious individuals.
Moreover, It boasts a pull-up bar with angled and laser engraving anti-slip grips. You can do abdominal, muscles, biceps, triceps, and back exercises using this power tower, which has a weight limit of 265 pounds.
Users cannot be confident about what they are doing when the equipment wobbles. To prevent accidents, users need more stability. With the H-shaped base and extra anti-slipping pads, the user becomes more stable and secure when exercising. Parallel bars are positioned at the bottom of the rack for muscles and triceps exercises.
Thick Rollover Stabilization Cross Bar
Load Bearing Vertical Rod
Anti-Sway Gasket
Ergonomically designed with High Stability
A bit pricier than equivalent models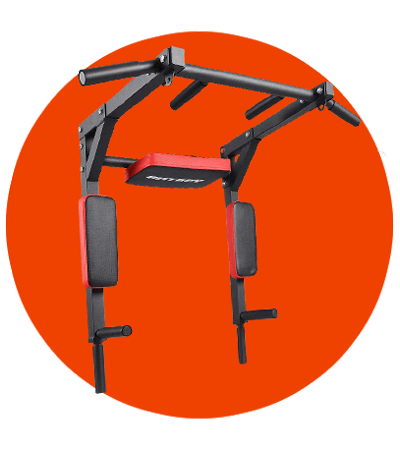 It's made of heavy-gauge steel, with a non-slip back and armrests, as well as high-density non-slip grips, which offers strong stability and rigidity.
This triangular design and two steel pipe supports allow it to support 440 pounds. There is a thicker base and a larger surface area in this wall-mounted dip bar for enhanced efficiency. In addition, it features a very comfortable cushion for a truly relaxing workout.
Wall-mounted dip bars should not be installed on drywall, cavity walls, or plaster walls. Detailed instructions are included in the manual to make installing the device simple. It's essential to read the user manual carefully for more information about this product.
You can hang punching bags and resistance bags from anchors; these anchors have enough strength to support heavyweights, so you do not need to worry about hanging equipment. The footrest is made of heavy-duty steel in a triangular shape for excellent stability. The grips are anti-slip to prevent blisters and calluses.
Larger And Thickened Base for Greater Stability
Hangers for Punching Bags and Resistance Bands
Multi-functional Fitness Machine
Wall Mounted Comfortable Design
Permanent Installation On Wall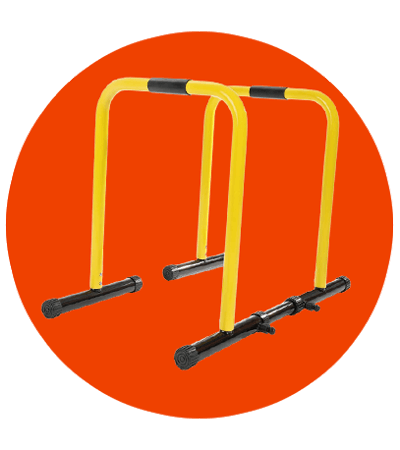 RELIFE REBUILD dip bar is another product that offers high value to customers. Stainless steel bars provide safety and ensure user comfort while exercising. The easy adjustment of the height and the foot straps make it comfortable for you.
The height of the bars can be adjusted between 76.96 and 86.99 cm. The adjustable design makes the stool suitable for people of all heights. The dip bar station lets you adjust the angle to suit your needs.
The dip station functions by turning a knob on its base that consists of four holes. It has a foot strap that can be adjusted in such a way that it does not wobble on the ground.
Depending on your preference, the connector length can be adjusted, increasing stability. The Safety Connector with the longest dimension is 104.95 x 63 x 89.2 cm, and the shortest dimension is 87 x 63 x 78.1 cm.
The foam is breathable, comfortable, and strong in grip. In order to make the feet non-slip and adjustable, the feet are made from stainless steel. Depending on the base surface and position of the feet, the foot strap can be adjusted.
Soft Padded and Foam Grip Handle
Weight capacity: 300lbs
Adjustable Safety connector
Non Slip feet made of Rubber
What To Consider While Buying Dip Bars
Strong Grip And Base
When buying exercise equipment, the first thing you should pay attention to is the grip. If the grip is comfortable and robust, your training experience will be more enjoyable. With Dip Bars, the situation is the same. They need to be stable and ensure a strong grip since they are Parallettes equipment.
The dip bar must stay in place while doing explosive push-ups. It can lead to serious injuries if it moves even a little bit and disturbs the balance. In order to prevent severe injuries, make sure the grip is secure and strong enough to hold your weight.
Capacity to Lift Weight
As a parallel dip bar's durability is determined by its weight lifting capacity, it must safely support the maximum load. When it comes to dip bars, they only support the weight of the user, so be sure to verify whether or not they can lift you comfortably while you shop.
Furthermore, you have to consider the additional weight that you will add. People add weight to their bodies, such as a dip belt, to gain muscular strength. In terms of weight capacity, the above-mentioned Dip Bars are the best options since they are capable of bearing maximum weight, and their sturdiness and grip make the best dip bars to purchase.
Take your space into consideration
Space is another thing that you should consider before making a choice. In general, parallel bars take very little space in your home gym, and they can be placed in a corner once you no longer need them.
Dimensions
Must consider the dimensions of the dip bar before you buy them. In Its size, the most important factor to consider is the width of the Dip Bar. The width will determine its stability and operational efficiency. There are some with narrow gaps, and some have larger gaps. They both are used for different purposes.
Dip Bars with narrow gaps focus on building triceps and shoulders. The one with a wide gap allows you to work your pectoral muscles because it emphasizes chest size and strength. So you must consider the width gap before buying.
FAQ About Dip Bars
Conclusion
We researched the market upside down to get the best Parallel Dip Bars and Stations For Home Gym for you! Our top pick is RAMASS Fitness Tall Parallettes because it has multiple features and can bear maximum weight.
The dip bar from RAMASS fitness is adjustable, and you can adjust its size as per your demand. That's why it is worth spending money to buy our recommended dip bar.