Do you want to add the best push up bars to your fitness equipment kit? If yes, we can't blame you.
When appropriately utilised, push-up handles are considered practical tools that can increase your strength and give you a drool-worthy upper body. Moreover, they help reduce joint stress during workouts and enhance movement variations.
We have a lot to say about this special equipment, but you will have to read the whole article for that. Besides, if you want to get your hands on the most amazing push-up handles in the UK, you will find the eight best recommendations within this content.
So, spare a few minutes and go through the review and buying guide below. We are sure by the end; you will successfully find a new addition to your UK home gym.
Doing regular push-ups can give you toned muscles and improve your stamina. They are the most common form of exercise that even amateur trainers love performing.
However, not everyone can reach their desired fitness level when doing push-ups without any assistance. And for that, they require support such as push up bars or handles to get the job done.
If you are someone similar, getting your hands on the best push up bars will help fulfil your fitness goals. Moreover, this equipment will assist you in performing your favourite push-up exercises in a regulated manner.
There's more the push-up handles can do than you can imagine. Read below to enlighten yourself with some of the benefits of using this fitness invention.
How To Utilise Push Up Bars Properly?
Have the above benefits convinced you to invest in a bar right away? While we applaud you for your enthusiasm, there is something you should know before putting your money in compatible push up bars.
To enjoy the above advantages of using push-up handles, you should know how to use the equipment correctly. Without the proper technique, you may injure yourself and fail to use the tool ever again.
Go through the step-by-step guide below to learn the correct way:
Put the bars on your usual floor spot that you would place your hands on for a push-up.
Get hold of the handles firmly and place your body in a plank setup.
Lock both your elbows and always keep your body straight. Don't push your buttocks outwards and prevent bending your back.
Make sure there is tension in your legs, back and rib cage throughout the exercise.
To prevent stress on elbow joints, don't stretch the arms too much.
When lowering down your body, keep your position controlled and don't rush. The aim is to perform precise push-ups rather than many movements in a short time.
While pushing yourself up, take your time and maintain a safe form.
A disciplined and successful implementation of the above steps will ensure a safe and efficient experience with push up bars every time.
8 Best Push Up Bars You Can Buy Today
Have the above facts on push up bars made you a fan already? If yes, we are here to help you find the best ones for your home workout.
Go through the list below and see if any of the items strike your fancy.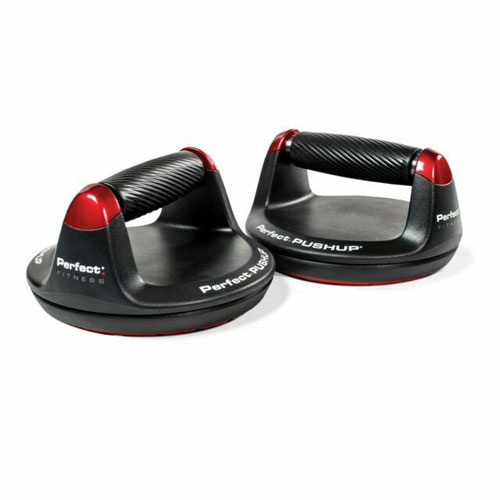 The Perfect Pushup Elite is one of the most popular push up bars for home workouts. Since this product rotates slightly, your body experiences a good muscle engagement, and you gain strength at a faster rate.
This pair of bars feature ergonomically designed handles for a solid grip. Besides, the structure distributes the overall weight evenly and prevents joint pain in your wrists.
The Perfect Pushup Elite has a weight capacity of 181 kgs which is pretty awesome. However, if you weigh above that weight limit, you may want to consider an alternative.
This fitness tool is pretty lightweight and affordable. Besides, it is appropriate for both advanced trainers and beginners, finding ways to stay fit.
But there have been some customer complaints that are worth mentioning here. For instance, some users felt the handles are too wide to maintain balance. Moreover, this bar may slip on wooden floors, and you might have to use a rug to avoid that.
Pros
Rotates slightly for good muscle engagement
Strong grip
Good weight capacity
Lightweight
Affordable
Cons
Handles too wide for some
May slip-on wooden surface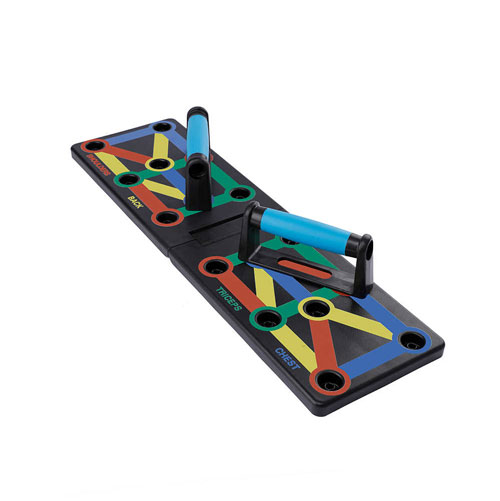 Do you remember how fun and easy it was to use colour boards to learn new things when we were kids? To experience that childhood memory again, but for fitness purposes, the Cretee push up board is a perfect item to own.
This colour-coded board features a pair of soft handles and holes. By changing positions, you can experience a variety of exercises and target different muscles. Moreover, this product allows you to add innovation to your workout and keep boredom at bay.
Made with durable material, this multi-functional board has an excellent maximum weight capacity. Moreover, with a smooth base, this item stays stable on any surface.
The Creete push-up board has a foldable design and is relatively lightweight. Moreover, it doesn't require complicated assembling and can easily be used wherever you go.
However, as an entire board, this product may cover more floor space than traditional push up bars. Besides, the board bends frequently on high-intensity push-ups.
Overall, the Cretee push up board is an excellent choice for beginners looking to venture into a full-time training routine. Also, since this product is affordable, you can easily invest in it with your limited budget.
Pros
Offers a variety of push-ups options
Affordable
Lightweight
Features non-slip handles
Great for beginners
Cons
May occupy ample floor space
Bends on high-intensity push-ups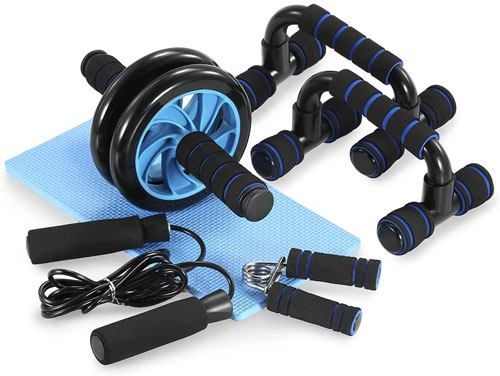 Tomshoo is famous for producing top-quality fitness equipment for its UK customers. Since you are one, the Tomshoo fitness set will make you its fan.
This training equipment contains more than one item you require to stay fit. It features a jump rope, a pair of push up bars, hand grabbers, a knee pad and AB rollers. All the tools are pretty helpful, but in this review, we will discuss the pros and cons of push up bars available in this kit.
The push up bars are made up of metal and offer a solid structure. Besides, it has a foam covering for your soft and comfortable grip.
Moreover, the Tomshoo bars offer a stable base that doesn't slide easily. However, if you feel frequent slippage on wooden or tiled floors, place a mat below the bars to avoid unexpected disturbance.
The Tomshoo fitness bars are available with other tools which add their value. However, don't expect this equipment to have a good weight capacity.
If you are a beginner, you may find this kit quite a catch. But for an experienced trainer, the tools lack quality.
Pros
Kit made for beginners
Features solid bars for strength training
Comfortable foam grip
Affordable set
Easy to assemble
Cons
Bars may slip on wooden surfaces
Don't have a competitive weight capacity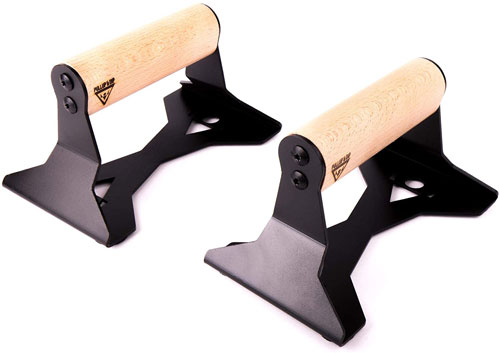 If you are an experienced fitness enthusiast looking for solid and reliable push-up handles, the Pullup and Dip wooden push up bars will suit your needs. Made with beechwood, these bars offer excellent grip and comfort for your wrists and hands.
Besides, the wooden handles are supported by firm stands that enhance overall stability. The anti-slip pads on the bottle of the bars protect your floors from any damage and reduce the risk of unexpected slippage.
The Pullup and Dip push up bars are made for high-intensity workouts at home. However, they lack a few features that may make them inconvenient for many users.
For instance, these push up bars are heavy. Made with solid wood, don't expect an easy transport of these bars from one place to another.
Moreover, this product is expensive. So, if you are a beginner or someone with a limited budget, try other options from this list.
The Pullup and Dip bars offer a chic and unique modern design. If you love flaunting your fitness tools, this equipment deserves a place in your home gym.
Pros
Modern and chic
Made with solid wood
Great grip
Perfect for professionals
Sturdy structure
Cons
Expensive
Heavier than many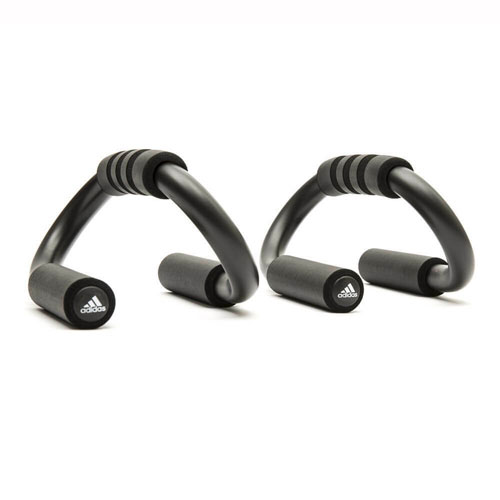 Adidas is a famous sports brand and features many fitness tools. This company believes in quality products and doesn't compromise on its values.
But are Adidas push up bars a reflection of this brand's high standards? Let's read further to find out.
The Adidas push up bars have a design that can easily support strength training. Made with solid metal and a firm grip, you can always expect a stable workout while working out with these bars.
Moreover, these push up bars feature a robust structure that can hold a weight of 250kgs at a time. That's an impressive weight capacity and makes this product perfect for many different users.
The Adidas bars have soft-grip handles that provide gentle flex to reduce strain on your wrists. Besides, the foam padding prevents unnecessary slippage and absorbs pressure from your hands.
Another great feature that deserves mention is the padded base of these bars. This thoughtful addition prevents your floor from any damage. However, regardless of the sturdy base, you will have to spread a rug or mat on your UK gym floor before practising your push-ups.
With so much to offer, Adidas push up bars are pretty reliable. However, they come with a price and that too a high one. So, make sure to plan a big budget before buying these bars.
Pros
Solid design and structure
Great weight capacity
Soft grip handles
Padded base
Cons
Expensive
May need to spread a rug under the bars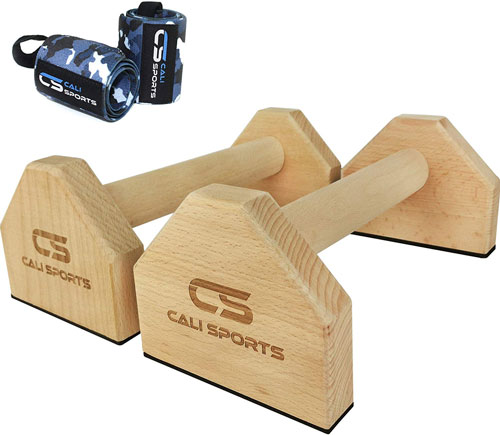 Do you fancy doing a handstand with your chosen push up bars? If yes, the Cali Sports Calisthenics parallettes will help you achieve that goal.
According to the manufacturers, these Cali Sports push up bars are the most studier tools you will ever encounter. They do not slip or wobble and are made with high-quality wood to maintain your balance.
The Cali Sports bars have rubber feet that reduce any slippage risk. Moreover, they offer Olympian-level quality handles with smooth finishing to support your hands comfortably.
However, the handles do not have foam padding, which many users may find necessary for their wrists. But the Cali Sports bars come with free wrist wraps to make up for that crucial design error.
These push up bars come fully assembled and are super convenient to use and store. However, many users may find them heavy and difficult to carry around because of their wooden making.
Pros
Strong wooden bars
Great for handstand
Rubber feet to reduce slippage
Comes fully assembled
Accompanies by free wrist wraps
Cons
Heavy to store or carry
Handles do not have foam padding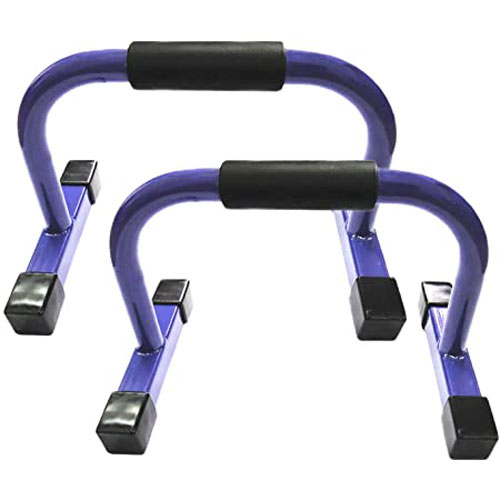 Every fitness enthusiast deserves durable and solid push-up handles for their workout. And the Juperbsky bars make an excellent choice.
Made with solid steel and featuring an ergonomic design, the Juperbsky push up bars are perfect for introductory and advanced push-ups training. The broad base is the highlight of the structure and reflects stability and performance.
Moreover, each side of the base is covered with rubber to prevent slippage or any damage to your floor.
The Juperbsky push up bars have a weight capacity of 997 kgs. It is quite an extraordinary weight limit, making this equipment entirely appropriate for people of all sizes.
These push up bars feature TPR covers on their handles for a steady and soft grip. Moreover, the handles are perfectly angled to improve your motion performance and reduce wrist fatigue.
Overall, the Juperbsky push up bars offer excellent quality for different users. However, since they are expensive, you may want to save enough money in your wallet to buy these beauties.
Pros
Steel structure reflect the strength
Wide base
Rubber feet for stability
Impressive weight limit
TPR covered handles
Cons
Expensive
May slip on tiles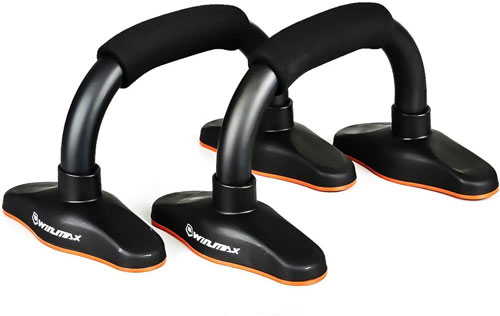 Last but not least, the Winline push up bars have taken the eighth spot on the best bars list and offer good competition. With a strong steel body and ergonomic design, these bars are every professional's dream come true.
The Winline push up bars feature soft foam handles that feel super comfortable to hold. Besides, the well-thought-out broad base and anti-slip design increase overall stability and save your floor from any damage. However, you may have to add pipes to the bottom surface of the bars to avoid unnecessary shaking.
These bars are detachable and highly lightweight. Moreover, they do not take time to assemble and are easy to carry around in a bag.
The Winline bars have a weight capacity of 200kgs. However, if you weigh above that weight limit, try out the other options from this list.
Pros
Soft handles
Wide base
Anti-slip design
Lightweight
Portable
Cons
Can't handle weight above 200kgs
May require pipes in the base to stop movement
Benefits of Push Up Bars and Handles
Push up bars can be integrated into your daily workout routine to benefit you in the following ways:
Work Gently on the Wrists
While performing push-ups without any assistance, your wrists may experience a painful backward bending. This tortuous moment can put stress on your ligaments and tendons, resulting in severe joint pain.
However, with push-up handles in both your hands, this situation can rarely occur. The equipment makes sure to align your wrists, hands and forearms in a neutral and comfortable position.
Develop Strong Grip
Does your UK home gym have tile flooring? Some of us live in rented spaces with laminated or tiled floors. Since it is hard to change the design of the house without getting permission from the landlord, we stick to what we have.
However, this limitation prevents us from doing things we love, such as safe push-ups.
On a tile floor, your sweaty hands may often slip while performing this exercise. This action may lead to an unexpected injury, demotivating you for the rest of your life.
But with a push up bar within your fitness kit, you will never have to worry about this problem. With a smooth and non-slip base for your hands and wrists, this equipment strengthens your grip and is perfect to avoid unnecessary slippage every time.
Offer Great Workout
Working out with push-up handles can accelerate your calorie-burning process and increase your stamina more efficiently. In addition, push up bars enhance the ROM or range of motion and make you experience better muscle strength and development.
Since your hands and wrists are placed in an elevated position on the bars, you can lower your chest comfortably. This attribute contributes to your chest development and targets many other untouched muscles.
Tone Abdominal Muscles
Push up bars can tone your abdominal muscles and can help you get rid of your belly fat. However, for that to achieve, you should follow a proper exercise routine regularly. In addition, there are some specific push up bar movements designed for this purpose only.
But while you work out, make sure to look after your diet and follow a healthy plan. Diet and exercise go side-by-side, and to achieve results faster, both these components should be appropriately balanced.
Provide Adjustability and Convenience
Most push up bars are adjustable and can adapt to your workout intensity. Besides, most of them are pretty portable and can be carried around easily.
Unlike most other exercise tools, you can pack your favourite push-up handles in a bag and use them in a park outside your UK home.
Besides, if you plan a team workout in an office or gym, they can be your best companions for a challenging training session.
Can Be Used for Other Exercises
Push-up handles can be used as multi-functional tools. For instance, they work great with handstands and dips.
However, if you aren't using this equipment for push-ups only, make sure you are careful with their use.
How to Select The Best Push Up Bars and Handles to Stay Fit?
All the recommendations look perfect. But it is pretty hard to pick one, right?
Yes, the bars mentioned above are excellent. However, you can easily select one by considering a few factors before making the final purchase.
Don't understand what we mean? Then, go through the list of characteristics below and match them with your requirements to make sure your chosen bars prove fruitful for you.
Material
You will come across push up bars made from either rubber or metal. However, which material should you consider?
When choosing push-up handles, the material that can hold your weight and stay durable for a long time is worth your money. For instance, chrome bars are solid and can withstand higher stress than plastic ones. Moreover, metal bars have better longevity than plastic or rubber handles.
However, if you travel a lot and like taking your fitness kit with you, metal push-up handles may prove hard to handle. It is because they take too long to disassemble and may occupy your luggage space.
You should also consider the material of the grip while buying your bars. For example, does your chosen item come with a non-slip and rubber base for stability? Besides, do the handles have a foam lining or padding for a comfortable grip?
The material plays a vital role in the overall performance of the best push up bars. Hence, give a lot of attention to this factor and save your money from being wasted.
Weight Capacity
If your chosen pull up bars fail to accommodate your weight, you can face unexpected injuries that can leave you demotivated for the rest of your life. So, to avoid that from happening, go through the product's specifications and limitations carefully.
Essential Features
Push-up handles are considered slightly new than the traditional bars. Moreover, they are made with advanced technology and are more user-friendly.
Some of the handles are available in a circular shape and offer better stability. Besides, they can be used for a variety of exercises. If you value such features, push-up handles may make a great addition to your arsenal.
However, if you consider the tried and tested classic push up bars as effective, you can also find a variety in them. But remember, not all bars are perfect for you, so always go through the specifications.
Portability
Best push-up handles are generally lightweight and easy to carry.
However, some bars are heavier than others and if you value the portability of your fitness equipment, do consider this factor important.
Accessories
Do you fancy additional items like whistles and bells with your push-up handles? Many users do, and this factor plays an imperative role in their final decision.
Moreover, some bars also come with downloadable training programs, a calendar and a workout DVD to enhance the product's usability. If you are a beginner, you may find these accessories fruitful, and you will try to invest in a tool that offers them.
However, if you are someone experienced, you might ignore this factor and pay attention to other characteristics.
Value
The bars and handles in the recommendation list above are available at different prices. However, what price suits you depends on several factors.
For instance, your budget, frequency of use, product's warranty and customer service contribute to the overall value of this tool.
If high-priced bars fail to provide you with any of the above necessities, it would be useless to spend money on such equipment.
Push Up Bars and Handles Workout
Now that you know how fantastic push up bars are, it's time to explore some common exercises that you can practice at home using this tool every day.
There are many more push up bars exercises that this list doesn't cover. Besides, each one can help target a particular muscle and help you get your desired body.
FAQ
Before buying the ultimate push up bars, also go through some common questions asked by users like you. These queries might answer your doubts and help you in making your final decision.