Do you want to level up your workout game and get your hands on the best plyo box? If yes, you have landed on the right page.
A plyo box is an essential tool to experience plyometric workout every day. Many of you may not know already, but plyometric exercises offer high-impact training that can play a crucial role in your fitness journey. They may have a complicated name but the science behind them is pretty simple.
During a basic plyometric movement, your muscles go through a stretch reflex or a stretch-shortening cycle. Similar to jumping, when you stretch, the muscles lengthen but contract when you reach the shortening part. This movement adds strength to your legs and increases your endurance.
However, to achieve this muscle power, you will need to buy a box and make sure it's the best one for you.
To help you in this process, there is a plethora of information waiting for you. Read through every section below and get one step closer to your final purchase.
Plyo Box Basics
It is always wise to know and understand a product before you invest in it. So, to make that possible for you, here is a detailed introduction to today's piece of fitness equipment under the spotlight, the plyo box.
What Is a Plyo Box?
A plyo box, also referred to as a jump box, is a sturdy and straightforward platform often used by gym enthusiasts for plyometric movements. It is used to step up and jump on while exercising and is quite durable to handle powerful impacts.
The best plyo box has a solid structure and a flat top. Moreover, some also come with a padded surface with a firm grip to hold your feet.
Some plyometric movements allow you to jump on a box from the ground, while other exercises may require you to leap from one box to another at high speed. These exercises are great for your speed, strength and coordination. Moreover, they engage your core and also contribute to weight loss.
However, for a movement to attain success, the correct plyo box is essential. This fitness accessory is available in different types, and choosing the right one can make a significant difference to your overall workout.
Available Types of Plyo Boxes
Here are the four main types:
Wood Plyo Box
A wood plyo box is a classic yet super easy to use jump box for plyometric exercises. Since it doesn't offer much bounce, a wooden plyo box is best for a cardio workout and helps reduce time in the middle of reps.
However, this type of box isn't entirely effective for explosive training. If you aim for high reps but within a low explosive workout, only then the wood jump box will suit your needs.
Soft Plyo Box
Are you a beginner or someone who is careful while performing your fitness training? If yes, a soft plyo box will tick all the right boxes for you.
Made with padded rubber or leather, a soft plyo box can save you from bloody shins that you may get while using a wood jump box. Moreover, since it offers a safe surface, you are more confident to utilise your maximum limits.
However, unlike a wood plyo box, the soft one is very absorptive and isn't suitable for a high rep workout.
A soft plyo box works well for low-intensity movements with high jumps. Moreover, if you aim to keep your joints safe for the rest of your life, this option is the one to get.
3-in-1 Plyo Box
This category of plyo jump boxes is quite versatile and works great for home workouts. A 3-in-1 box offers a different size for each side and can be used by both men and women.
Since this type offers an adjustable height, it is a far better option to buy one 3-in-1 plyo box than investing in multiple jump boxes and limiting your gym space.
Moreover, 3-in-1 plyo boxes are available in either wood or padded leather. So, you can go for your favourite material for the most flexible plyo box.
Stackable Plyo Box
If you like variety in your jumps, stackable plyo boxes may come in handy. They are made of wood, steel and plastic and are best for training sessions with many attendees. Moreover, they offer good utility.
However, assembling and reassembling these boxes may take some time every day. Besides, stackable plyo boxes may only work well for team workouts.
Depending on your use, select a box type that meets your needs and buckle up for your favourite plyometric exercises.
However, if you are new to this workout, read some everyday movements below that can benefit your body in many ways.
Our Top Picks of the Best Plyo Boxes
We hope the above facts have convinced you to invest in an appropriate plyo box for your home workout. Isn't it?
If you are ready with your pounds, go through our eight recommendations below. Each plyo box in the list is different from the rest and deserves to be a part of your fitness arsenal.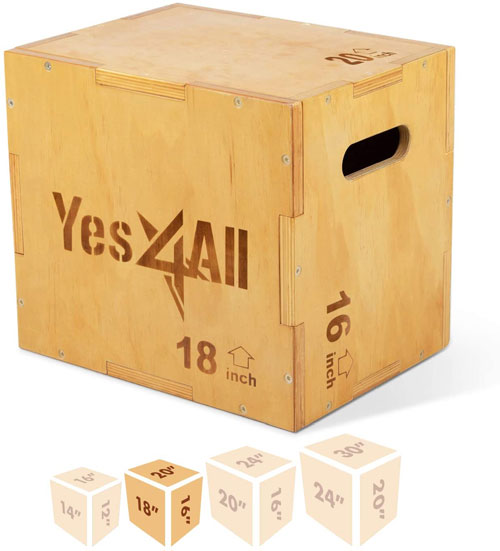 The Yes4All 3-in-1 wood box is quite a deal in many ways, which may make it the best plyo box for your needs.
Firstly, the Yes4All wood box offers 16 inches, 18 inches and 20 inches height levels. This characteristic allows this jump tool to serve as a multifunctional item and it can be used for different exercises such as crossfit, plyometric exercises, and mixed martial arts.
Also, the varying heights make the Yes4All box quite useful for many fitness fanatics in your UK family.
This unit is made of heavy-duty wood that is highly stable and strong. A secure structure means that it offers a good weight capacity and can suit many overweight individuals. Besides, the Yes4All 3-in-1 plyo box has a non-slip surface for better grip and performance.
The Yes4All 3-in-1 box has a pretty smart design. It comes with pre-drilled holes that make assembling quite convenient. Moreover, the box features rounded corners to keep you safe from any injuries. Also, the Yes4All wood plyo box has an poly-coated external layer to prevent any premature wear and tear.
However, this box's width might be too small for people with long feet. Moreover, it weighs almost 13kgs, which may make it hard for you to move this box from one place to another.
Pros
Three heights offer adjustment
Great for many exercises and users
Strong structure
Good weight capacity
Rounded corners for safety
Cons
May not be wide enough for many
Heavy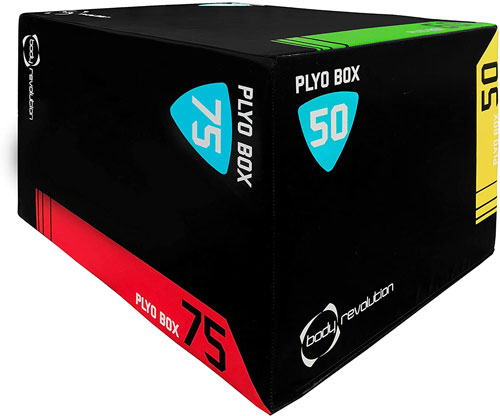 If you are a beginner, the Body Revolution 3-in-1 foam plyo box may work out for you. This equipment is made of soft and high-quality foam that reduces the chance of injury and encourages you to utilise your full potential.
Moreover, this box comes with three varying heights and that are 20 inches, 24 inches and 29 inches. These height levels are pretty adequate for both new and experienced trainers. Besides, this 3-in-1 feature allows you to regularly tune your workout and build speed, power, and agility by various plyometric moves.
The Body Revolution foam box has an anti-slip surface that guarantees good grip and safety. Also, the dry-wipe top is super easy to clean and prevents the accumulation of dirt and sweat on the box.
However, the plyo box itself is pretty lightweight, and some users have complained about its weak stability. Also, unlike a wood plyo box, this option doesn't have a competitive weight capacity and may not benefit many fitness enthusiasts.
Pros
Perfect for beginners
Soft foam prevents injuries
Three heights for a variety
Anti-slip surface
Dry-wipe top prevents dirt accumulation
Cons
Lightweight so may not be very stable
Doesn't have a competitive weight capacity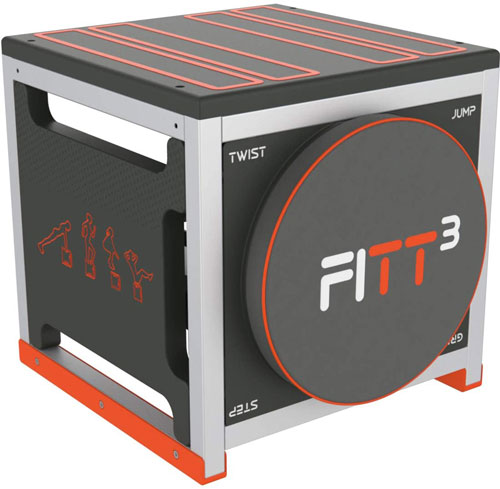 The new Image FITT Cube is a dynamic fitness tool designed specifically for your UK home workouts. This compact plyo box can easily support 100 exercises and power moves, giving you a chance to enjoy a full-body activity at your own pace.
It has a weight capacity of 110kgs, which may suit many. But if you weigh above that limitation, you should try some other option from the list.
The New Image FIIT Cube comes with an integrated step counter tracker to record your performance. Besides, this tool is easily portable, easy to store and compact.
Made with hard-core steel, the FIIT Cube is quite a durable gym accessory to own. Besides, it features a non-slip grip that enhances your and the box's stability. However, there is a design error that is worth mentioning here.
The grips on the FIIT Cube have orange plastic coverings on them. However, these covers are only present on three sides of the box, and are fixed using three loose screws on each side.
Besides, the plastic tapes feel slippery and may peel off after some use, creating a workout hindrance.
Pros
Made with durable steel
Well-engineered structure
Comes with calories and a step tracker
Portable and compact
Comes fully assembled
Cons
Features orange plastic that doesn't cover all sides and feels slippery
Can't hold weight more than 110kgs
Not adjustable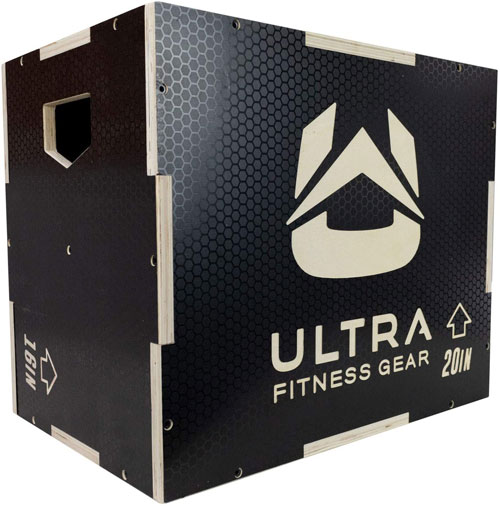 The best plyo box is one that offers excellent durability and reliable performance. While it isn't right to expect a product to be completely flawless, a compatible plyo box should ensure your safety and serve good value for money.
The Ultra Fitness wood box has a 3-in-1 design that can accommodate many exercise routines and users. Besides, it is made with a hard-core plywood body that reflects its strength and durability.
This product comes with pre-drilled holes that make this box easy to carry around. Also, the well-designed handle openings enhance the product's usability. The Ultra Fitness 3-in-1 wood box has radius corners for your safety and features smooth surfaces.
However, there have been complaints about the box instability when used on the concrete floor. Moreover, some users think it is impossible to jump on this box while wearing socks.
This one has a weight capacity of 204kgs, which is pretty commendable. Besides, it is available in different sizes for all kinds of potential users.
However, the Ultra Fitness plyo box isn't an affordable fitness tool. If you want to get your hands on this box, make sure you have a high budget in mind.
Pros
Durable as made with wood
Comes with handle openings and pre-drilled holes
Radius corners for safety
Huge weight capacity
Adjustable heights
Cons
May not work on concrete floors
Feels slippery with socks
Expensive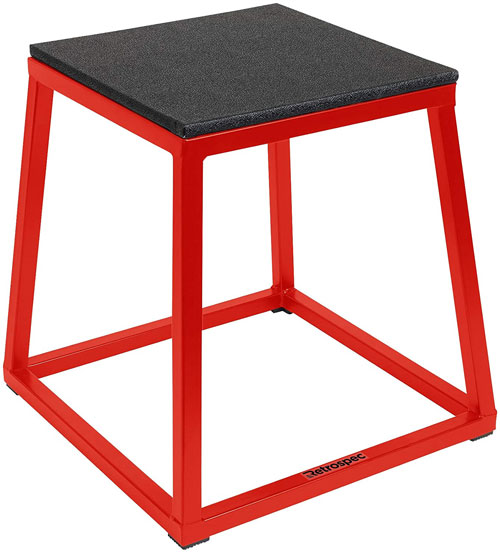 The Retrospec plyo box features a unique design and construction. Made with hard-core steel, this fitness tool offers excellent durability and a stable structure. You can use it for your favourite plyometric movements or make it a part of your CrossFit body workout.
This plyo box comes with a non-slip top to maintain your optimum performance and balance. Besides, the well-constructed surface offers a solid grip to ensure your safety.
The leap plyo box has rubber stoppers on its bottom to prevent it from sliding on any surface. However, this tool has pointed corners which may cause injury if you aren't careful.
The Retrospec box has a compact body and can be stored easily. Besides, when in use, this equipment doesn't take much floor space and give you enough room to practise other exercise moves.
Also, with a weight capacity of 150kgs, this tool will suit most users. However, since this isn't adjustable equipment, you may fail to implement versatility in your training.
Pros
Steady structure
High weight capacity
Compact body
Good grip
Cons
Pointed corners
Not adjustable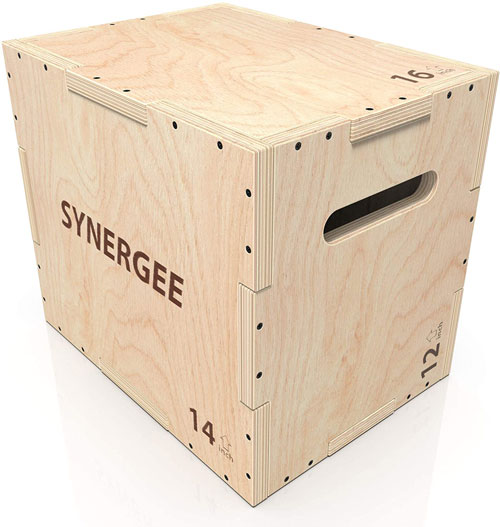 Is your fitness arsenal deprived of a well-constructed and solid plyo box? If yes, you may want to consider the Synergee 3-in-1 unit as a reliable and potential option.
Why? You will have to read the review below to find out.
The Synergee 3-in-1 plyo box can make a versatile addition to your training routine to stay fit and healthy. This unit is made of premium quality wood that is highly durable.
Moreover, its well-engineered construction can hold a maximum weight of 204Kgs at a time. This is a very commendable weight limitation and will suit many users.
The Synergee 3-in-1 box is ideal for step-ups and box jumps. Besides, you can utilise this fitness tool within your strength and cardio training.
Since this is an adjustable unit and offers three different heights, you can enjoy this box at every skill level. Available in heights 12 inches, 14 inches and 16 inches, you won't get bored by challenging your potential every day. If you find yourself advancing quickly, this box will serve you for a long time and can also accommodate your other family members.
However, while mentioning the positives, it is vital to tell you some drawbacks as well. The Synergee wood plyo box is an affordable piece of equipment, but it's design has a few drawbacks.
For instance, the holes aren't pre-drilled accurately. Besides, the main screws are incredibly soft and may break with pressure.
Pros
Durable and solid wooden box
Great weight capacity
Comes with three heights and offers versatility
Non-skid surface
Affordable
Cons
Poorly drilled holes
Screws too soft and lack security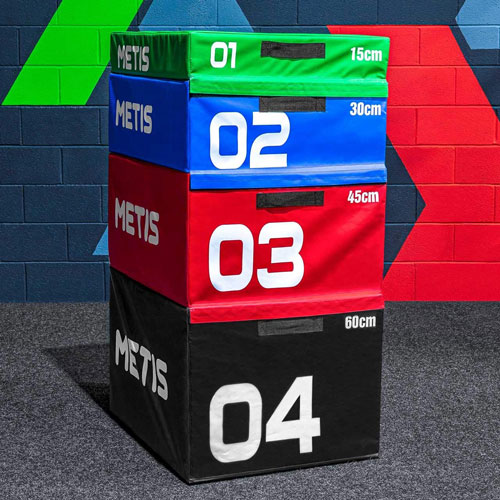 Stackable plyo boxes aren't the ideal pieces of equipment when it comes to storage. But if you attend a team workout regularly or love training with your other family members, the Metis plyo box may strike your fancy.
Available in the form of a set, this fitness unit offers adjustable heights to challenge your skills at every level. It includes four boxes in different colours.
The green unit has a height of 6 inches, while the blue one is 12 inches tall. Moreover, the red box features a 17 inches height while the black is the tallest at 24 inches.
The Metis jump box set is made of low-density foam that offers a safe and soft landing. Moreover, the shock-absorbent surface reduces stress on your joints while you jump with your maximum potential.
However, foam isn't considered the most durable material for high-intensity workouts. But if you are a beginner and only want to try low-impact jumps, the Metis plyo box set may work out for you.
This unit has a non-slip surface made with PVC material. PVC is long-lasting and doesn't require much maintenance. Besides, it is easy to clean with a quick wipe every day.
Pros
Set offers boxes with varying heights
Low-density foam provides a soft landing
Great for beginners and kids
PVC covering reduces slippage
Easy to clean
Cons
May require ample storage space
Foam not durable for high-intensity workouts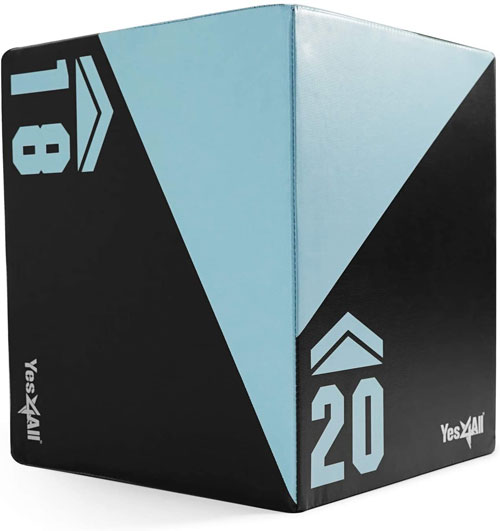 So what is the first thing you look for in the best plyo box? Safety and performance, right? The Yes4All box has a well-thought-out design that prioritises your safety and performance before anything else.
This fitness equipment features high-quality foam and a solid vinyl covering. The intelligent combination of two materials enhances the product's strength and makes it suitable for many high-impact workouts.
The Yes4All plyo box is also super convenient to clean. A damp towel will wipe off all the sweat and dirt, and the box will be ready to be used again.
Since this is a 3-in-1 plyo box, you have three different heights to play with. This adjustability allows you to experiment with your workout and include various exercises within your routine.
The Yes4All has a weight capacity of 159kgs. That's a reasonable weight limitation but invest in a sturdier wooden structure if you are a heavier individual.
Pros
Made with soft foam
Features vinyl covering for added durability
Cleans easily
Offers three height levels
Cons
Bulky box
Can't hold the weight above 159kgs
Factors to Consider Before Choosing a Plyo Box In the UK
The eight options above all look promising, don't they? But since you have to select only one, you require a list of factors to consider before purchasing the correct item.
So, without delaying any further, scroll through some essential characteristics below that can help to make your purchase worth every pound.
Structure
Before choosing a box, make sure its structure is solid and sturdy. Since you have to use the plyo box for jumping up and down, you should be clear on its firmness to avoid any accidents.
Safety
Regardless of the intensity of a workout, your safety comes first. Plyo boxes with rounded corners or leather-covered tips can help avoid injuries.
Moreover, the proper position of the box also saves you from unnecessary accidents.
Adjustability
As you will progress with your plyometric training, your body will demand more challenges. Moreover, with increased speed and strength, you will require more box height and sturdiness.
So, a jump box that can adjust with time is a smart fitness tool to purchase.
Anti-slip Surface
If you want to avoid unnecessary slippage on the box, get one with a non-slip surface. Plyo boxes with rugged covers have a better grip than the ones with smooth tops.
Moreover, while considering the surface of the box, don't forget to pay attention to your floor's gripping power.
If your floor is too slippery, the box will slide and lose its stability. In that case, a rug or a mat under the plyo box will come as a saviour.
Weight Capacity
Can your chosen jump box hold your weight?
Like any other fitness tool, a plyo box also has a weight limitation. If crossed, the box may break, and you will hurt yourself.
So, before buying one, read the specifications and choose a product that offers a compatible weight capacity.
Size
Finding the right size is also essential to enjoy a consistent workout. A small box may fail to accommodate your body, and a large one will most definitely move when you step on it.
So, always buy a plyo box that compliments your height and weight.
Moreover, the size of your chosen product should match the available gym area in your UK home. A large plyo box may take up more floor space and make it difficult for you to use your other fitness tools.
Material
Best plyo boxes are those that are made with durable wood or iron. Plastic boxes are a waste of money as they break quickly and fail to offer any security.
However, if you are a beginner, go for boxes made from foam, but choose a steel one if you require an adjustable product.
Value for Money
Depending on your budget, the best plyo box is affordable and meets all your requirements. If you want to stay on the safe side, don't compromise on the quality of the tool.
If you do not have enough pounds to buy a high-quality box today, wait for some time before you can get your hands on a compatible one.
Customer and Expert Reviews
If you are buying a plyo box for the first time, it is always wise to ask experts for guidance. Moreover, go through customer reviews to identify any bad experiences and save yourself from a bad purchase.
Plyo Box Exercises
A plyo box works best for both introductory and advanced routines. Here are a few movements you can perform in your home gym:
There are many more plyo box workouts that this list doesn't cover. You can either join an online class or a personal training program to learn about different plyometric movements and enhance your stamina.
FAQ
Here are a few common questions we often get asked by plyo boxes' interested buyers. Go through them and see whether any of these queries solve your unanswered doubts as well.