Slam ball is an innovative and versatile piece of equipment designed to serve you during strength training, core workouts, and conditioning work. While using this tool, you hit various muscles in your body, thus burning energy, increasing endurance, and building power. 
Moreover, a slam ball can be effectively used to reduce stress. If you have unnecessary explosive power in your body, you can set it free by using a slam ball for a few minutes.
The introduction above is just a tiny snippet of what this ball is all about. If you want to know all the details, you will have to dig into this article.
Read below to find a plethora of information on this equipment. From our recommendations to a buying guide, we have sorted everything for you.
What Is a Slam Ball?
Do you resonate with the name slam ball? Some of you might have heard about this tool in a gym. But since this isn't very mainstream equipment, the chances are that a majority of you might be unaware.
A small ball is well, like a ball but with solid rubber-coated but some balls are also made from PVC. Moreover, it is a weighted tool that can help you perform various exercises.
This ball can weigh between 2 to 100 pounds but has a size similar to an average basketball. However, a slam ball doesn't bounce back or damage the floor when thrown with force.
It can easily replace free weights in your training and increase the overall resistance levels in your workouts. You can also incorporate this tool in your Crossfit training and enhance your endurance with time.
A slam ball is a simple-looking tool and nothing too fancy. However, many people easily confuse a slam ball with a medicine ball.
Slam Ball Vs. Medicine Ball
Most people use these two terms interchangeably; however, the truth is that a slam ball is slightly different from a medicine ball. While they may look similar, a slam ball has a far thicker and more durable surface than a medicine ball.
Moreover, the former is made for impact workouts while the latter simply adds resistance. You can use either of these for slamming, but a medicine ball might break easily and quickly.
In simple words, a slam ball can easily replace a medicine ball, but it isn't possible vice-versa. So if you want to experience a good value for money, always go for the former.
The Best Slam Balls, In Order of Preference
Now that you know almost everything about a slam ball, it's about time you buy your first tool right away.
Here are our six well-researched recommendations for you. Go through each and analyse if any of these suit your needs perfectly.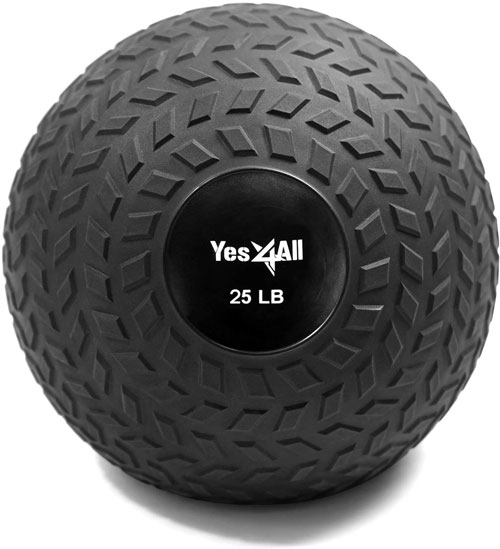 If you plan to use a new tool in your CrossFit training session, the Yes4All slam ball will make a perfect addition. This unit is not only challenging but also has some fantastic user-friendly features to complement your workout.
It features a high-density construction and has iron sand filling to reduce its bounce and increase firmness. The heavy-duty design also prevents the ball from rolling unnecessarily on the floor.
Moreover, the thick surface design of this ball increases its durability and reduces the chances of it breaking easily. The ball's soft shell provides an extra layer of protection against extreme pressures.
The Yes4All slam ball has a groovy texture that helps form a solid grip. This texture primarily works well with sweaty hands.
With a weight of 25 pounds, this slam ball is ideal for beginners but maybe a little lightweight for professionals. Moreover, it is an expensive ball so make sure you are prepared for its high price.
Pros
Solid construction
Durable
Groovy texture provides good grip
Shell design for protection
Cons
Not for professionals
Expensive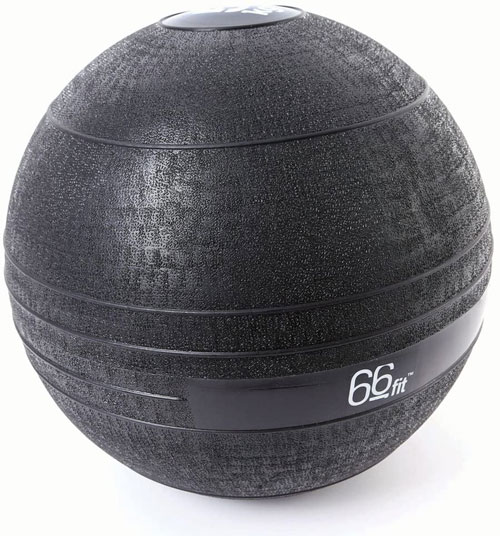 Slightly affordable from the above option, the 66fit slam ball is available in different weights starting from 10 pounds to 30 pounds. In addition, this ball features a no-bounce design to support explosive workouts.
Made from PVC, it features a smooth texture. This factor may hinder better grip but can work for people with small hands.
The inside of the ball is filled with a mix of sand and iron. Both these materials are ideal for supporting the ball's fitness and shape. Overall, this product is pretty perfect for beginners who are venturing into slamming for the first time.
Pros
Affordable ball
Available in different weights
Smooth texture
Filled with sand and iron for firmness
Cons
May not suit most professionals
Smooth texture may allow the ball to slip with sweaty hands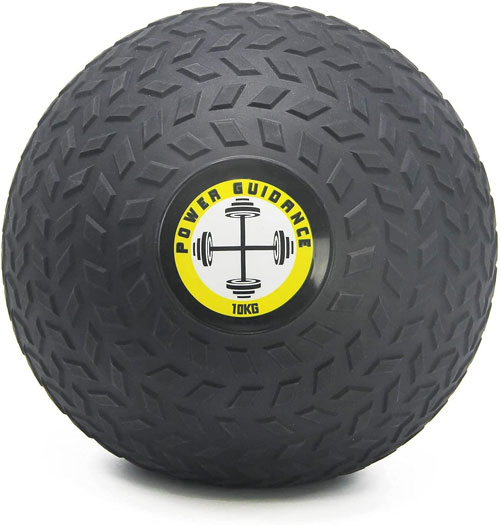 The Power Guidance slam ball is an expensive option, but its durability is unmatchable. This ball is available in different weights, and the heaviest one weighs 33 pounds, making it pretty ideal for both beginners and intermediate users.
Moreover, this product features a grooved texture to help you with your grip. If you regularly suffer from sweaty hands, this option will suit your needs. However, for people with small hands, the grooved texture might be tough to handle.
The Power Guidance slam ball has an adequate diameter for most people. Overall, this ball is worth your investment.
Pros
Durable ball
Available in many weights
Textured grip
Adequate diameter
Cons
May not suit people with small hands
Expensive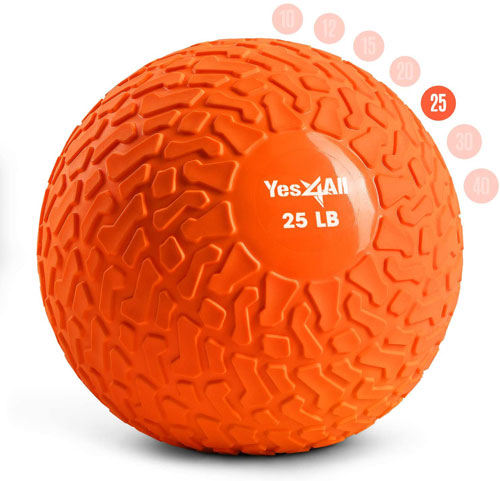 If you are looking for colourful slam balls to match your gym's vibe, the Yes4All balls will definitely strike your fancy. They are available in four different colours and weigh between 10 to 40 pounds. It implies that there is a ball for both intermediate lifters and beginners.
Made with PVC and filled with sand, this ball offers a no-bounce design. It means that the ball is made to withstand extreme pressures from all sides.
However, according to some customers, the ball's texture cuts the hands and makes the ball hard to lift. This means that if you have soft hands, this ball may not suit you well.
Pros
Available in different colours
Filled with sand to prevent bounce
Available in five different weights
Suits both beginners and intermediates
Cons
May not suit professionals
Grooved texture may hurt your hands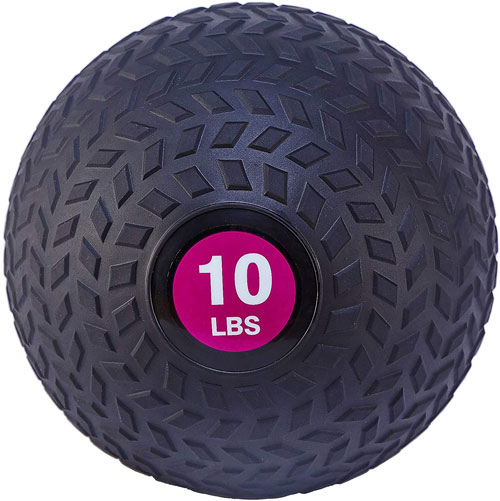 The BalanceFrom slam ball has a weight option for both beginners and professionals alike. You can either start from a 10 pounds ball or choose the 50 pounds option as per your skills.
Moreover, made with solid rubber, this ball is ideal for explosive workouts. Its rugged texture is perfect for a firm grip. However, you may find it hard to hold the ball if you have small or soft hands.
While the BalanceFrom ball is a little expensive, you can always trust its bounceless design to give you a valuable performance.
Pros
Available for both beginners and professionals
Solid rubber design
Ideal for extreme workouts
Rugged texture to support firm grip
Cons
May hurt soft hands
Costlier than many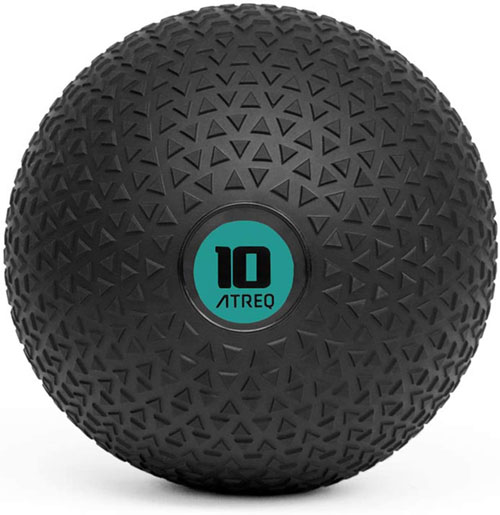 Taking the last spot on this list, the ATREQ Trigon slam ball is made of hard-core rubber and filled with iron dust. This ball doesn't bounce and serves as a great tool to resist extreme pressures.
The Trigon slam ball features a non-slip textured surface to support your grip. However, the triangle pattern may not suit most users with small hands.
As an affordable recommendation, the ATREQ slam ball is available in many weights. For example, the lightest ball weighs 5 pounds, while the heaviest weighs 44 pounds. So, regardless of your skill level, the manufacturer has a ball for everyone.
Pros
Made from durable rubber
Non-slip texture
Available in varying weights
Affordable
Cons
May hurt small hands
Complaints on loose sand harming the ball's balance
How to Pick the Best Slam Ball?
Do you feel overwhelmed by the above suggestions? Is it hard to pick one from a lot of the six best options? We understand your confusion and are here to help.
Below is a list of some crucial factors to consider before you make your final purchase. All these considerations will help you find one that meets your requirements.
So, without further ado, dig in and find out.
Ball's Size
Before choosing a ball, make sure it has the right size or diameter to support your workout needs. For instance, balls with small diameters are ideal for explosive training. However, bigger diameters are best to accommodate functional exercises.
The size of the ball should also be dependent on your skill levels and stamina.
Remember, this factor has a significant impact on your overall performance. It can affect your motion range and muscle usage, so make sure you don't take the ball's size for granted.
Weight
Before choosing a slam ball with the right weight, you will first analyse your skill levels and overall strength. For example, a typical beginner can efficiently work out with a ball weighing between 10 to 25 pounds. On the other hand, for an expert lifter, a slam ball as heavy as 40 pounds will benefit.
However, sufficient ball weight also depends on your goals. For instance, if you want to develop cardio strength in a short time, you can go for a heavy ball and increase the challenge level gradually. But if you plan to achieve results slowly and steadily, starting with a lightweight ball will work for you.
Durability
If you are hitting a slam ball on the floor or in a wall, you would want it to remain intact and not break. If it damages, then that ball wasn't right in the first place. Therefore, durability is vital to consider while selecting a ball.
Your chosen option should be tough and durable. But it shouldn't be too hard to damage your floor or break other items. Make sure that the ball that achieves this balance is worth adding to your fitness kit.
Balls made from solid rubber are far more durable than ones made with PVC. Moreover, the quantity of sand or iron filling also determines the overall strength of this product.
Grip and Texture
Slam balls are available in two grip textures.
Tire tread and heavy grip texture offers a firm grip and hold on the ball. However, since this texture is stiff, you may find it difficult to grab from your small hands. Besides, balls with tire tread grip are not ideal for long workout sessions.
Balls with moderate texture are not too hard on your hands. But unlike tire tread textured balls, these can feel slippery with sweaty hands.
Valves
Many slam balls feature in-build valves. This helps to maintain the balls' air pressure and adjust it when required. For example, you can fluctuate the air pressure to re-adjust the fitness and diameter of the ball.
However, valves are a slam ball's most significant weak point. They can open accidentally and ruin your workout. So, before choosing a ball, make sure its valve is well-secured and is durable enough to withstand all types of beating.
Bounce and Firmness
The air pressure and material of a ball determine its shape, firmness and its bounce intensity. Most traditional balls do not move and have no or minimum bounce.
Soft balls can easily change shape after hitting the floor. A modified profile disallows the ball to pick itself up. However, extreme firm balls might be too heavy for many.
Remember that a perfect slam ball shouldn't bounce. Instead, it should absorb the kinetic energy and fall with a thud without bouncing back. Keep this rule in mind before selecting an option.
Benefits of Using a Slam Ball
If you are successful in acing the above technique and following all the rules, you will love how this equipment will change your life for good.
Here are a few ways in which using a slam ball can benefit you :
Increases Muscle Density
As mentioned above, a slam ball activates both your upper and lower body muscles. When your muscles are challenged, they use all their abilities to support your movements. However, this results in their exhaustion, but it isn't a bad thing.
This process makes new muscles and helps them grow, thus resulting in increased density of muscles. And who doesn't want that?
With a higher muscle density, you achieve a heavier body which helps you do various other exercises. Besides, big muscles look good and give an image of power.
A slam ball can help build your pecs, shoulders, calf and back muscles. Besides, by using this tool consistently, you also gain strong triceps and core.
Enhances Your Athletic Performance
Do you lack enough power and energy to perform your favourite sports? If yes, you may want to start using a slam ball and activate your lost energy. Slamming is a great way to improve your stamina and produce a good performance every time.
Besides, if you have a low aerobic capacity, you can regularly work out with a slam ball and gradually build it. A substantial capacity helps you perform various aerobic workouts and also aid better health.
Improves Heart Health
Like any other tool, using a slam ball also helps to improve the health of your heart. It accelerates the blood flow in your body, thus initiating an even distribution of oxygen in different organs. In addition, since your muscles are working out at their total capacity, they demand a quick flow of oxygen to repair, grow and develop.
A pumping heart is a sign of good health as it keeps you away from diseases like strokes or cardiac arrests. Moreover, during this process, your lungs also improve their capacity by sending oxygen around the body. This allows them to expand and ensure a smooth oxygen flow every time.
Develops Mental Health
By exercising with a slam ball consistently, you also benefit your brain and mental health. Slamming relieves stress and encourages the production of serotonin in your body. This hormone kicks stress out of your system and makes you feel happy.
Besides, this equipment can also reduce your depression and anxiety. For example, have you ever felt good after throwing an object on a wall during an anxious moment? Did that help you release the negative energy that was building up for a long time?
You can throw the ball a million times on the floor and feel a change in your mental health. Moreover, unlike any other object, the slam ball doesn't break easily, nor does it harm the floor.
Builds Coordination and Balance
As mentioned earlier, a slam ball workout requires you to use your arms, lower body and upper body to create a movement. Without one part balancing the other, you would fail to achieve the desired results.
So, while you use the slam ball during your training, you improve your balance and allow your body to develop better coordination. This achievement helps you with many sports like sprinting and golf.
Works as an Inexpensive Tool
You don't have to spend millions to buy a slam ball. It is an inexpensive fitness tool that can be used both at the gym and in your home. However, while purchasing a ball, make sure to look for durable and long-lasting options only.
How to Use?
You might think using a slam won't be a big deal; it's just a ball after all. Well, it might be valid to some extent, but like any other exercise, using a slam ball also requires a technique, which you need to do correctly to avoid injuries.
To use a slam ball, you may require an open space. If you have a limited area available, make sure to clear it out properly to avoid any hindrance.
Start with standing tall and placing your feet at a shoulder-width distance. Make sure your hips and knees are a bit bent.
Hold your ball at the level of your torso. While standing with this posture, engage the core and push the shoulders back.
After acing the pose, load the ball's spring and squat down. Then, inhale powerfully and press your heels to rise.
While rising, extend the hips and knees. This move should support the arms' swing and help lift the ball over your head.
Keep the ball behind your back and keep the arms straight. Now utilise your arms and core to slam down the ball with lots of power and force.
Make sure the ball goes straight between the feet. Exhale while you do that and bend your hips and knees inwards to exert more pressure.
Now squat down again and pick up the ball. Move to the next slam and engage your calves, hamstrings, glutes and quads to stand again.
Continue the above procedure for a whole set or as long as you want.
Mistakes to Avoid
The above steps may look easy, but they require effort. Besides, here are some common mistakes to avoid to ensure you enjoy this fitness tool safely.
Using a Heavy Slam Ball
You might get lured to start working out with a 30-pound ball as soon as you see it, but this decision may not benefit you much. It is because a workout with a slam ball requires you to slam the ball with high velocity and force.
So, you need to make sure you can afford to handle the ball's weight and use it efficiently.
A ball heavier than your potential will most probably slow down your body and make it unable for you to exert force.
Getting Too Over-enthusiastic
If you think three sets of slamming followed by a minute of rest isn't too much, you might be wrong. As a newbie, you might feel exhausted earlier than expected.
So, instead of going out with high set schemes, start with short repetitions and fewer sets. Then, between each slam workout, take an extended break to restart the process.
Remember, your goal should be to perform each set with perfection rather than with speed. As long as you follow the right form, even four repetitions will feel pretty challenging and enough for the day.
Not Exerting Enough Force
Weak throws are not ideal for building performance. If you fail to engage the lower body while slamming, you would be wasting your time with the ball. So, while using this tool, hit with full force without any hesitation.
Using Upper Body Only
The most common misconception regarding slamming is that it is an upper-body workout. While you will be using your arms and upper body most of the time, you should also focus on your lower body to exert as much power as you can.
Before starting to work out, look at your form in the mirror. Verify whether you are utilising your hips and knees carefully to swing the arms or not. Involve all the parts to reap maximum benefits.
FAQ
Here are some common queries asked by slam ball users like you. Go through them and see if they can help clear all your doubts.