Are you in search of the best mini exercise bike to elevate your cardio game? A machine that may seem like just a pair of bike pedals, a mini exercise bike serves more than it portrays.
Also known as a pedal exerciser or under-desk bike, this equipment can easily fit in a tiny space and is perfect for a leg day at home or even work. Just because you can't go to a gym doesn't mean you shouldn't stay active.
With a mini exercise bike under your desk or in the corner of your indoor gym, you have no excuse to delay your fitness journey. But is it worth your money? To find out, continue reading.
The Benefits of Having a Mini Exercise Bike
Before buying gym equipment( or anything for that matter), it is important to evaluate it properly so you know you are investing in the right product. Here is a list of a few benefits of buying a mini exercise bike:
Portable And Small
There is no exaggeration when we say you can use a pedal exerciser in your home or at work while preparing your presentations. This equipment is so portable and small that it can fit any space comfortably.
Most of you hesitate to invest in a gym machine because of the lack of space in your home. But, with a mini exercise bike, this shouldn't be an excuse anymore.
Keeps You Active
Sometimes it is impossible to take out some hours for exercise, especially if you have a desk office job. With no gym equipment within your reach, you stay demotivated to spare a few minutes to indulge in physical activity.
But, with an exercise bike, you can conveniently pedal away while sitting on your desk. You can increase your blood flow, improve the heart rate and stay healthy without putting in so much effort.
Perfect for Rehabilitation
If you have recently suffered from an injury and require rehabilitation, a mini exercise bike can serve the purpose pretty well. Moreover, an hour session on this lightweight machine can help ease your arthritis pain for good.
Best for Diverse Workouts
A pedal exerciser doesn't have a large frame or a seat. You can utilize this machine for your arms, hands, legs, and feet with no hindrances.
You can also use this equipment to benefit your shoulders, forearms, and wrists. The diversity of exercises this tiny machine offers is quite commendable. You can lose calories and weight in many ways using it.
Cost-Effective
Compared to other indoor and upright exercise bikes, a pedal exerciser is quite affordable and budget-friendly. A cost-effective machine that is easy to use and has more than one function is worth considering features.
Now that you know how wonderful this invention is, it is about time you invest in a compatible mini exercise bike. But, with so many options available in the market, it's easy to make a mistake and purchase one not best suited for you.
To save you from making this error, we have done our research and carefully selected eight mini exercise bikes for you. The list below reviews each of them with their pros and cons.
Our Top Mini Exercise Bikes And Pedal Exercisers
Below is a review of the top eight mini exercise bikes available in the market. Read through to select your purchase and pedal to your heart's content.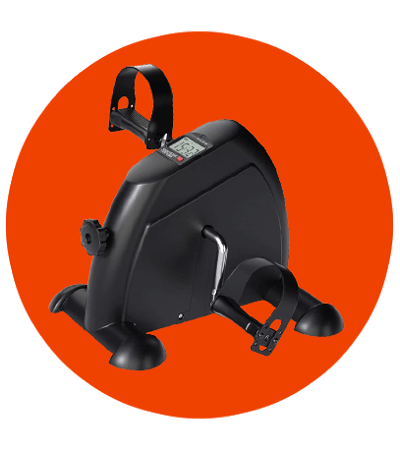 If you are looking for an affordable unit with adjustable loops and customized resistance, you may want to consider the Sportneer under-desk bike as an option. It comes with three-grade straps that are ideal for all kinds of legs and arms strengthening exercises.
Moreover, it offers intensity knobs that you can set according to a convenient level of resistance.
If you want to keep track of your performance, a digital monitor, as part of this bike's design, displays all the calories burnt and distance covered in real-time.
Sportneer mini exercise bike is a noiseless unit. You can use it in your office or home without bothering anyone. Also, it offers a good height and durability, but stability can be a problem with high pedaling speed.
Moreover, it comes with an anti-skid mat to make your training effortless. However, this mat is a little large and takes a lot of space.
Adjustable straps and resistance
Compact design and sturdy structure
Digital monitor great to keep track of performance
Easy to assemble
Affordable
Large mat takes a lot of space
Height needs improvement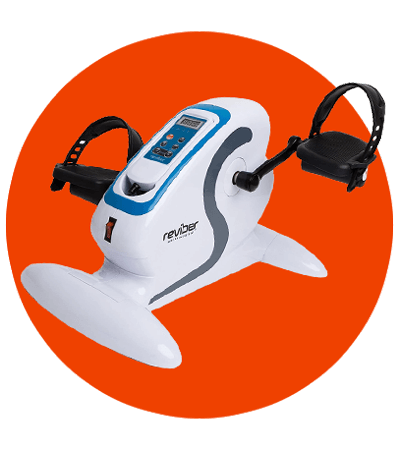 This device works differently. It follows the motorized approach and doesn't associate itself with any manual resistance settings.
Reviber mini exercise bike offers 12 settings for speed and five programs to assist with your desired training. Moreover, it provides smartly designed sequences to enhance your leg fitness. The oversized pedals and a sturdy body make this unit pretty safe to use. However, this feature may not make a difference to people with bigger feet than the pedal.
The machine comes with a remote controller for convenient accessibility and a non-slip mat to control this exerciser. While it is a pretty good product, it isn't quite best for cardiovascular exercises.
Motorized bike with automatic resistance settings
Offers programs for customized training
Huge pedals may help people with tiny feet
Sturdy structure
Remote control for hassle-free operation
Pedals not big enough for bigger feet
Not ideal for cardiovascular exercises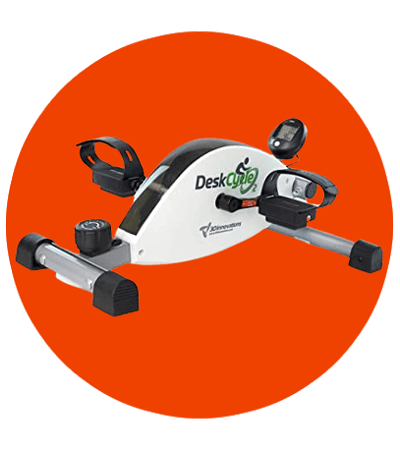 The DeskCycle2 pedal exerciser is a compatible and stylish unit. It comes with magnetic resistance features, an adjustable leg, and premium quality components. Moreover, it can easily adjust under a desk that is as low as 27 inches.
This mini exercise bike offers eight resistance settings to boost your performance according to your capabilities. Moreover, it works silently to avoid any disturbance for your peers. However, if you are in an office space, avoid using it while sitting on a chair with wheels.
The front leg is a rare feature that boosts traction and keeps the machine stable. And the cherry on the top is the LCD that tracks your activity. It also shows your speed, calories burned and any distance covered.
It can be used under many desks of different heights
Offers magnetic resistance
Noiseless
LCD is quite amazing
Front Leg enhances traction
It doesn't come with an easy manual
Not suitable to be used with rolling chairs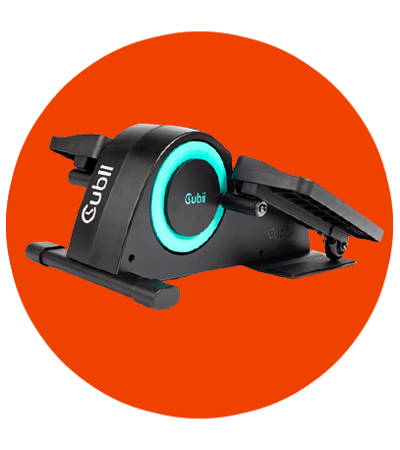 Another mini exercise bike on the list, the Cubii Junior under-desk exerciser, has an ergonomic design. The structure provides a platform for all kinds of elliptical exercises that don't have enough impact on your joints.
It also offers adjustable resistance so that you can use it according to your comfort.
The Cubii Junior pedal exerciser is pretty compact so that you can fit it in even small spaces. Moreover, the display monitor is another feature it excels at.
But, this machine is a little pricey. Also, due to its design, it cannot accelerate your heart rate above the walking heart rate. While it is excellent for the elderly, it may not benefit young enthusiasts looking for fitness equipment.
Ergonomic and stylish design
Perfect for elliptical exercises
Adjustable resistance
Compatible Monitor display
Pricier than others
It doesn't increase heart rate
The slim profile and sturdy structure make the Himaly mini exercise bike quite a great purchase. It is pretty small and lightweight, so you can carry it anywhere you want. Moreover, the non-slip pedals and a stabilizer keep the machine safe at even high speeds.
It offers eight resistance levels so you can train under your comfort.Besides, the attractive but small LCD shows time, calories and distance covered. Also, it has a unique scanning feature to make your exercise more enjoyable.
While it is a small unit, it does take time to assemble. The pedals require effort to adjust appropriately. This extra effort may not be feasible for users with mobility issues.
Slim and compact design
Non-slip pedals for better use
Attractive LCD
Scan mode
It takes effort to assemble
Tiny display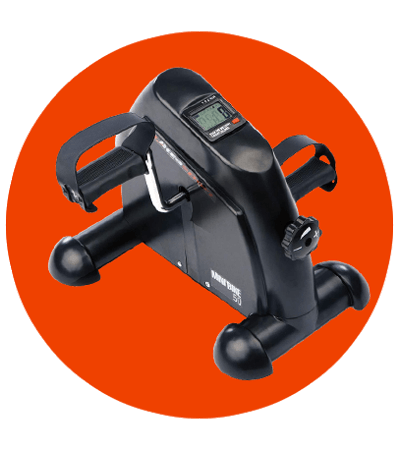 Perfect for both the young and old, the Ultrasport under-desk bike comes with adjustable straps, a large LCD, and a flywheel. While it weighs 6kgs, it can carry a weight of 100kgs quite easily.
The flywheel makes sure you experience a smooth cycling movement without any hindrance. While this is a normal-looking mini exercise bike, it costs a little more than many other machines on the list. Moreover, it lacks a few features that may be important to keep it sturdy for long.
It contains a flywheel for smooth movement
Lightweight but can carry heavy bodies
Intuitive display
Lacks sturdiness
Expensive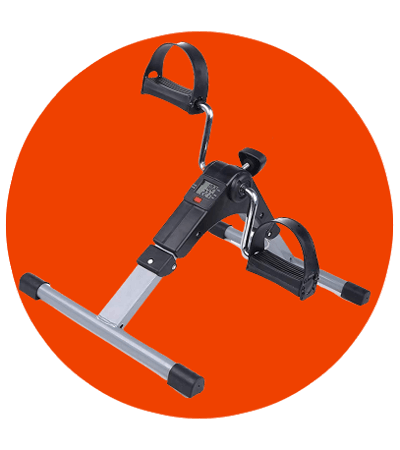 Nothing beats a machine that is both lightweight and foldable. The Himaly pedal exerciser can easily fold after you finish your training. Moreover, it is highly portable and light to move from one point to another conveniently.
The Himaly mini exercise bike has sturdy anti-slip pedals, an LCD monitor, and rotated knots to adjust the required speed level. Moreover, it is quite suitable for any rehabilitation purpose. The bike is convenient to store and lift.
The Himaly mini exercise bike is an affordable unit. However, it has a simple design, and there are no unique features. It is manual, which may not go well for many elderly users.
Lightweight and foldable
Easy to lift
Contains non-slip pedals
Adjustable resistance
LCD monitor to track performance
Simple design
All manual so may not sit well with old users
All manual so may not sit well with old users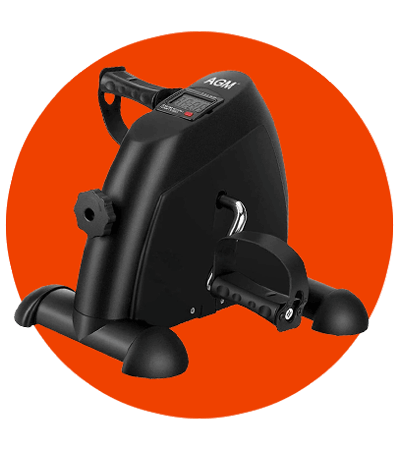 If you are looking for mini exercise bikes for a short-heightened desk, the AGM bike may make a good choice. It is only 12.6 inches high and has a slim portfolio to fix in a suitable tiny space. This pedal machine is lightweight and comes with non-slip pedal straps.
Besides, the customized magnetic resistance mechanism ensures that you train according to the required comfort level. The multifunction LCD displays all the essential exercise data according to your fitness need.
While it offers many features, it may not be the best option for expert users. Moreover, the AGM mini exercise bike can accommodate tiny feet only. Anyone above size six may not find this unit supportive.
Compact design and lightweigh
Affordable
Multifunctional LCD Display to show data
Non-slip pedals
Adjustable magnetic resistance
Can adjust only tiny feet
Buyer's Guide-Factors to Consider Before Picking a Mini Exercise Bike
Here are some factors that you should consider before you bring a small exercise bike to your home:
Durability
If you want to buy a mini exercise bike for long-term use, you should consider its durability as the first crucial factor. You will come across many affordable machines in the market, but they are made with cheap materials and break easily.
If the price of a durable unit exceeds the budget, it is better to wait for a few months till its rate comes down.
Safety
A recklessly built bike isn't a good option for anyone. You should check each feature of the equipment and its material to ensure it is secure for your use.
Power
Some mini bike exercisers operate manually, while others use electricity to work. Some units utilize motors to function. Select the one that ticks all the right boxes for you.
Resistance and Tension
To conquer your fitness goals and achieve note-worthy results, buy the bike that offers correct tension and resistance. You can also look for units that provide adjustability.
This is important so you can use the bike for different workout routines.
Affordability
Don't go overboard with your budget when selecting a mini exercise bike. Evaluate your affordability and usage before picking a bike. Also, make sure the price tag of your chosen equipment matches its qualities.
FAQ