A folding exercise bike is a fantastic invention for your at-home gym. While many people think it doesn't burn enough cellulitis or is unstable to use, this machine with pedals is great for people with heart problems or peripheral neuropathy. Since it is easy to pedal on, you don't have to exert so much pressure to achieve your fitness goals.
Also, if you live in a small apartment with limited space, an exercise bike can be a great source of convenient workout every day. You can unfold the unit for training and wrap it up whenever you finish your workout.
If you have been looking for something similar, this guide will help you find one. With a list of the 12 best folding exercise bikes, you will have enough options to make your decision.
So, sit back and relax as we take you through every information you may require to make the right purchase.
What Is a Folding Exercise Bike?
If you love low-impact cardio training but can't leave your home for a gym, you may find folding exercise bikes worth every penny. These machines provide you with an opportunity to pedal your heart away for as long as you want and give your body the much-needed health benefits.
Even 10 minutes on a fold-up bike can help you improve your muscle strength, increase bone health, enhance lung capacity and promote better blood circulation.
Therefore, if you have been suffering from poor health lately and your sedentary life has made things worse, a folding exercise bike can help improve your stamina and recharge your body.
While this machine isn't very competent for a gym, you can keep a fold-up bike at your home to move your body and burn some calories whenever you feel like it.
Still not sure whether you should invest in an exercise bike? Read through the benefits below to make up your mind.
Folding Exercise Bike Types
There are almost four different types of folding exercise bikes available for your at-home gym. These are:
A Recumbent Bike: If you suffer from joint pain and want to work out, you may find a recumbent bike ideal to use at home.
It allows you to sit in a reclined position and offers a safe posture. Moreover, the bike helps relieve unnecessary pressure on your joints, and you get the freedom to move at your own pace.
An Upright Folding Bike: While an upright bike works similar to a regular one, it allows you to bend on the handlebars while working out. Moreover, it enhances your cardio training.
However, you may find yourself exerting pressure on your joints while giving your best. An upright bike is great for people with healthy bodies. If you have arthritis, look for a better alternative.
A Spinner Bike: This bike is a modified version of the above with small handlebars. Working out on a spinner bike allows you to intensify your workout and burn more calories.
A Semi-Recumbent Exercise Bike: This option allows you to tone your leg muscles and improve your stamina as a mix of an upright and recumbent bike. A semi-recumbent exercise bike has pedals in front, so you push your body enough to experience a great leg workout.
Since each type of folding exercise bike serves a specific user, you should be very clear about your capabilities and fitness goals before choosing a suitable machine.
Best Folding Exercise Bikes You Can Buy Right Now
With all the information shared above, are you excited to bring a folding exercise bike home? Since you've reached here, we take it as a 'Yes!'
So, without further ado, let's dig into our 12 recommendations for the best fold-up exercise bikes.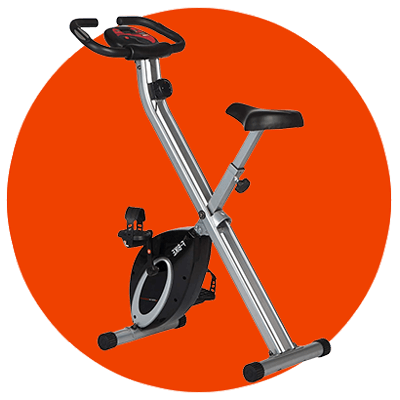 If you want to build strong stamina and muscle endurance, you may find Ultrasport F-Bike and F-Rider perfectly suitable for your small home gym. While this folding exercise bike is one of the cheapest machines available, it comes with a sturdy body and a safe two-year warranty.
Moreover, the Ultrasport exercise bike is pretty adequate for beginners and people with heart problems. While it offers eight different resistance levels, none of them is too difficult to achieve.
However, if you are a professional fitness freak, you may find this bike very basic and look for something more challenging.
The Ultrasport exercise unit is fully collapsible, which means you can improve your fitness and cardio level by monitoring your pulse rate with a reader given at the front.
The bike also has an LCD. This intuitive monitor allows you to keep track of your calories burnt, distance travelled and pedalling speed.
Despite the above positives, you may find the bike's handle sensors to be a little slow.
Besides, the F-bike doesn't have a soft seat design.
Specially made for newbies who prefer short training sessions, the seat looks very firm. If you are uncomfortable, you can get a seat cushion or roll a towel to make it feel more padded.
The Ultrasport exercise bike folds pretty conveniently. However, if you have poor mobility, you may find the bike a little heavy to move from one spot to another. But that factor depends on your stamina and physical strength.
Overall, this folding exercise bike is perfect for people on a restricted budget or those who want to kick-start their fitness journey right away.
Pros
Very Affordable
Made for beginners
Offers eight resistance levels for a challenging workout
Comes with an intuitive LCD
Folds easily
Cons
Has a firm seat which may feel uncomfortable
Feels a little heavy to carry
Slow handle sensors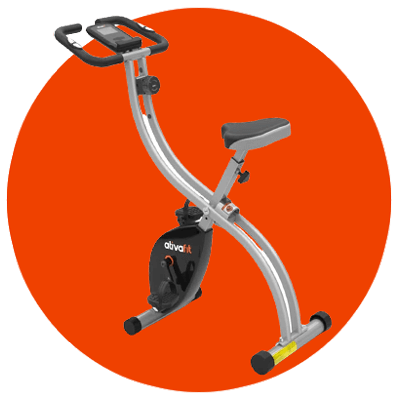 Yet another inexpensive folding exercise bike on the list, the AtivaFit foldable machine provides excellent quality in its design and performance. This bike sports a slim portfolio, which may seem too fragile, but it isn't. The lightweight Ativafit bike is exceptionally sturdy and can make an excellent addition to your small training space.
The AtivaFit folding exercise bike can hold up to 100kg, while weighing only 15kg. That's quite an impressive feature that it proudly flaunts. However, anyone above the 100kg weight mark can't benefit from this high-quality bike.
This machine works on magnetic resistance available at eight different levels. You can move from one level to another through an intuitive controller located on the bike's front. While it provides great resistance, this machine is noiseless, so you can even work out at night without disturbing your neighbours.
While mentioning the impressive features of this bike, we can't forget its oversized and adjustable seat. You can move the seat from 26 to 32 inches, and it is ideal for users as tall as 6 feet. In addition, the exercise bike has sturdy pedals with a non-slip surface, so you can train for hours non-stop without exerting any extra pressure.
The AtivaFit folding exercise bike has an LCD monitor over its handlebars. It displays your heart rate, speed, distance covered and time. Moreover, there is also a phone holder to keep your device stable while you watch your favourite videos during training.
This bike folds pretty easily. It gets as short as 17cm in length when wrapped up to store in a corner. This feature is again impressive considering the limited storage space most of us have in our compartments.
Pros
Affordable bike
Extremely lightweight
Folds easily
Comes with an LCD and mobile holder
Noiseless magnetic resistance
Cons
Not made for people with above 100kg weight
Doesn't offer much resistance for professional fitness enthusiasts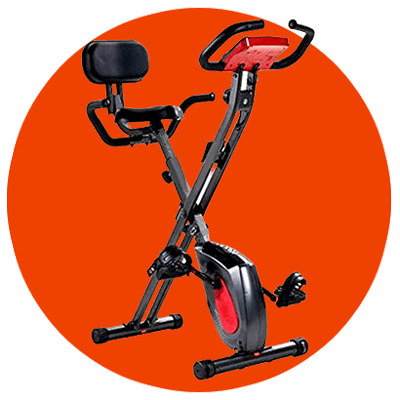 The YYFITT folding exercise bike is one of the most versatile machines you will ever find for a challenging home workout.
Moreover, it is also a stable unit that can carry weight as heavy as 120kg at a single time. This characteristic is pretty impressive for a bike this affordable and carefully structured.
The folding exercise bike model supports your lower back with a semi-recumbent design and offers front and side handles to balance your motion perfectly. If you are looking for a secure unit for your uncontrollable body, you may want to purchase the YYFIIT 2-in-1 unit and embark on a fitness journey.
You can use this bike in two different ways. The YYFITT unit can conveniently convert into a traditional upright bike or a recumbent machine with a short height. You can adjust the structure of the unit according to your ease.
This fantastic machine offers 16 magnetic resistance levels, making it one of the bikes that both beginners and professionals can use. You can fluctuate the resistance using the well-constructed dial on the front.
Moreover, the efficient monitor displays the distance, speed, and heart rate clearly so you can pump up your energy for bigger fitness goals.
For a joyous experience on an exercise bike, you don't have to look elsewhere. The YYFIIT fold-up bike is a noiseless unit with secure pedals and ergonomic handlebars.
There are also some in-built resistance bands to help you perform many light upper body workouts. However, these added accessories may feel unnecessary at times. Overall, this is a competitive bike for a reasonable price and performance.
Pros
Strong body that offers good stability
Can easily convert to an upright bike and a recumbent unit
Offers 16 magnetic resistance levels
Noiseless and comfortable unit
Can carry almost 120kg at a time
Cons
Built-in resistance bands may feel useless
May be a little heavy to handle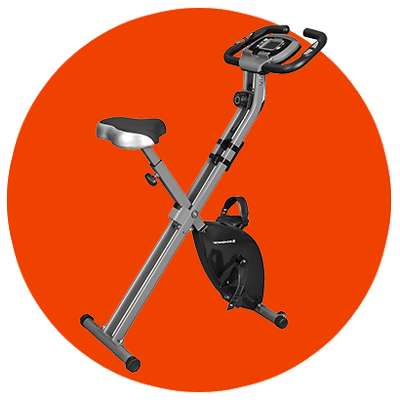 To burn your calories gained from the last late-night feast, pedal away for an hour or so on the Songmics folding exercise bike. While it is again one of the cheapest options available in the market, this bike doesn't take much space and folds up effortlessly.
It measures 78 x 41 x 113 cm and comfortably fits a small space without making it look crowded. However, it gets even smaller when it folds and can easily fit inside a cupboard or under a sofa.
The Songmics folding exercise bike can carry 100kg of weight at one time and stays stable even at high speeds. The best thing about this machine is that it comes with a beautiful floor mat, ensuring the bike doesn't slide on your slippery floor.
The seat of this exercise bike is ideally sized and comfortable. Moreover, the pedals are big enough to support long feet and have adjustable straps for a better grip. However, people with short height may find it a little too extravagant for their use.
Like most other folding exercise bikes on this list, this Songmics unit also has eight resistance levels. The overall resistance may not be challenging enough for professionals but can accommodate beginners pretty well. The bike also has a primary display that features calories burned, distance covered and duration.
You don't have to plug in this unit as it operates through in-built batteries. It means you can use the bike anywhere you want, not just in your home where there is a switch nearby.
Pros
Folds easily
Durable structure
Comfortable seats and pedals
Comes with eight resistance levels
Runs with batteries
Cons
Can't support more than 100kg weight
May not suit short people because of over-sized pedals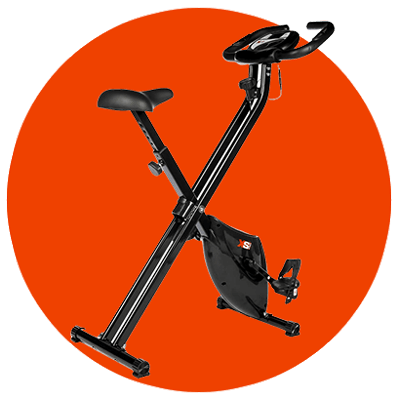 While not made for intense workouts, the XS Sports B210 is quite a catch for people looking to incorporate a basic gym at home for light cardio every day. This unit has a basic portfolio and nothing too fancy. However, the simple features make this folding bike quite attractive for beginners and elderly users.
The XS Sports B210 folding exercise bike frame can carry up to 100kg of weight at a time. Moreover, the foldable structure can wrap up quickly into a compact unit and adjust in any small space like under the bed.
When it comes to performance, this bike offers a 1.6kg flywheel for stable motion. Moreover, the pedals are well-built and have straps for additional safety. You can adjust the overall resistance manually and can even enjoy a HIIT session as you please.
While the XS Sport B210 bike looks quite compatible, it doesn't have an accurate display. That said, some customers have complained about incorrect information provided by the machine's LCD monitor.
Pros
Sturdy body
Offers adjustable manual resistance
Good for beginners
Cons
Can't hold more than 100kg
Inefficient display
Doesn't have a fancy design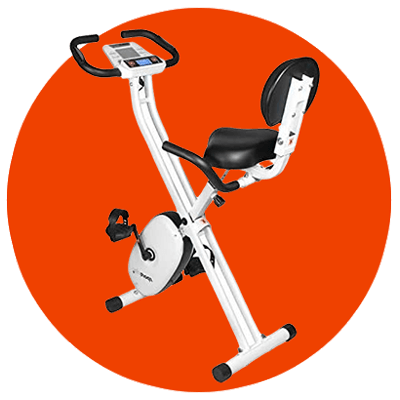 Who doesn't love a maintenance-free folding exercise bike for their mini gym? We all do, which is why we have the SportsPlus X-bike as a participant on this list. With an effective brake system and durable structure, this machine is a well-made unit for class performance.
The SportsPlus X-bike features eight resistance levels that you can manually control through an effective rotary system. Moreover, you don't have to worry about unnecessary tension with magnetic brakes while riding your bike.
When it comes to its functions, this bike looks perfect for training. How?
The unit has eight pre-installed programmes to help you achieve your fitness goals faster. Besides, the bright and large LCD informs you about your calorie consumption, heart rate and speed, so you feel motivated to do much better
Also, the integrated pulse sensors, transport wheels, gadget holder and convenient saddle makes your efforts worthwhile and manageable. However, it doesn't come with a backrest, so it may not suit you if you suffer from back problems. Moreover, the resistance levels it offers are too easy for professionals.
The SportsPlus X-bike is worth any beginner's investment and can make you a fit human in no time.
Pros
Low-maintenance brakes
Sturdy and slim body
Comes with pre-installed programmes to aid your training
Offers pulse sensors, a gadget holder and comfortable pedals
Cons
No backrest, so not ideal for users with back issues
Professionals may find it too basic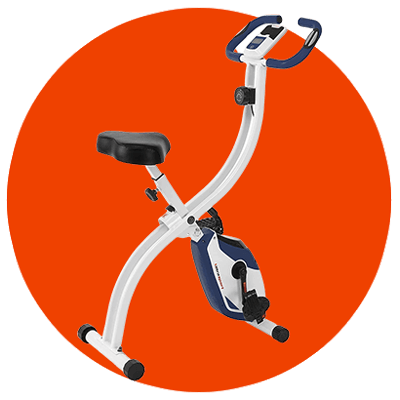 The Ultraspot Unisex exercise bike deserves a spot on this list with a sleek body and a slim portfolio. Backed by one of the best sports brands in the UK, this bike is perfect for all home users who want to increase their existing fitness levels.
This ultra-compact folding exercise bike has a collapsible design that helps to enhance your cardio training and build your stamina. With a pulse reader in the front, you can keep track of your performance and push yourself beyond your limits.
Moreover, the curved body and an easy folding mechanism ensure the bike is easy to set up as soon as you are motivated to perform your best. The Ultrasport advanced exercise bike offers eight levels of resistance. You can adjust the performance according to your capabilities using the well-built pedals.
This machine has 100kg of weight capacity and features a well-balanced seat. However, if you find it too firm, you can roll a cushion and sit on it while doing your cardio.
Pros
Collapsible and sturdy design
Has a padded seat and practical pedals
Offers eight levels of resistance
Cons
Can hold 100kg of weight only
May not be ideal for professionals
Suppose you are an overweight individual looking for an exercise bike to meet your requirements. In that case, you may want to consider the Exerpeutic heavy duty folding exercise bike as a compatible option. With a weight capacity of 180kg, this unit offers an extraordinarily durable steel frame to support your physical activity.
This bike is an excellent upgrade to the Exerpeutic Folding Magnetic Upright Bike. Its eight resistance levels ensure you enjoy a challenging training session every time. Moreover, the oversized padded seat offers a comfortable surface for you to workout tirelessly for long hours.
Besides, the enormous frame perfectly suits any individual with a height between 5'1" to 6'5". Not all bikes can do that, and this is a pretty unique feature that most manufacturers overlook.
The Exerpeutic folding exercise bike has a large intuitive LCD that also works as a scanner and pulse meter. Available in gold colour, this unit will look pretty classy with the rest of your furniture. Moreover, since it folds to half its size, you don't have to worry about finding ample storage space for this gigantic unit.
While this bike is a little more expensive than the other options on the list, you can't deny that its features and performance brilliantly serve all types of users.
Pros
Best for overweight users
Made with strong steel
Accommodates both short and well-heightened individuals
Comes with a good LCD
Cons
Expensive
Made be a little heavy to handle for users with poor mobility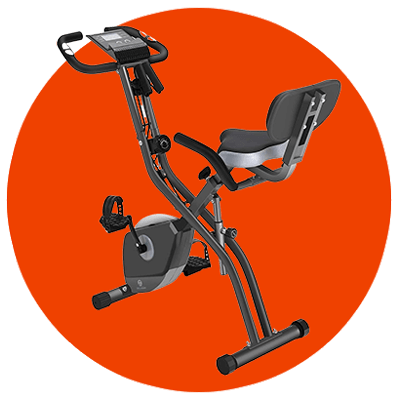 This machine is an adjustable recumbent bike perfect for supporting your fitness aims without making you leave your safe space. The Magic Life Folding Exercise Bike is an ultra-silent unit, thanks to its magnetic wheels. While riding on this bike, you don't have to worry about your sleeping kids.
Moreover, it comes with ten levels of resistance, something quite rare. You can fluctuate your activity by moving from one level to another and enhance your stamina.
Besides, the bike has a supportive seat to make all your efforts smooth and successful. You can adjust it according to your height so that your workout intensity doesn't suffer just because of an uncomfortable posture.
Other than the above positives, Magic Life Folding Exercise Bike offers a convenient and clear display to monitor your performance for improvement. The tablet stand allows you to enjoy your favourite movie and music while you pedal with all your energy.
The Magic Life folding bike has a weight capacity of 119 kg. So, if you are an overweight individual, you may want to give this unit a try.
Pros
Adjustable bike with ultra-silent performance
Can take more than 100kg weight
Magnetic wheels support better performance
Comes with many extra features
Easy fold-up
Cons
Heavy unit
Takes more space than an upright unit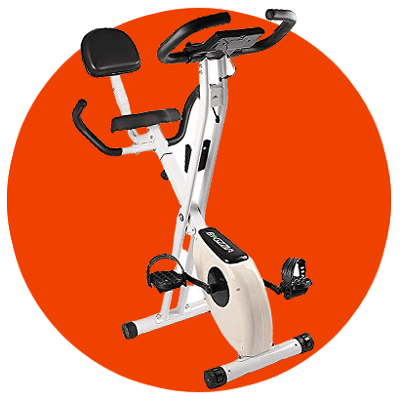 If you are on a hunt for an upright bike that also has the benefits of a recumbent one, you may want to read through the reviews of the Bigzzia exercise bike. To experience versatile sweat-burning training, you can use it as an upright machine or enjoy a slow workout as you do on a recumbent bike.
The weight capacity of this model is almost 100kg. So, if you are overweight, you may want to consider other options. However, if you are below the 100k mark, this bike offers many great features for your convenience.
Its cushioned and adjustable seat will make you want to continue your cardio training for more than an hour. Moreover, you can easily adjust the pedal according to your secure foot position. It also has a backrest seat design to support your back and waist.
Besides, like any other good quality folding exercise bike, this one also has an LCD and pulse sensors. Moreover, an iPad holder will help you to stay entertained for as long as you want. An easy to move bike with eight levels of resistance and an intuitive foldable design, this exercise unit by Bigzzia is a beautiful invention in many ways.
Pros
Works both as an upright and recumbent bike
Cushioned seat with adjustments
Easy to move and fold
Comes with an LCD and holder
Cons
Can't support more than 100kg
Offers basic resistance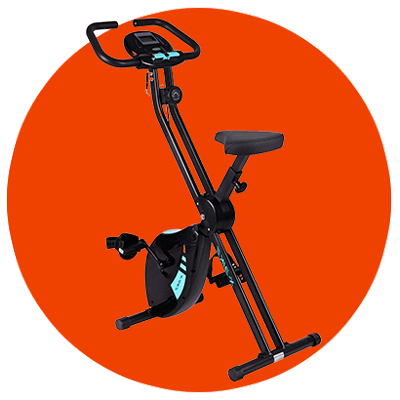 The best folding exercise bikes are those that come with a sturdy X-design and have a durable structure. The Birtech exercise bike is just that and more.
Made with solid carbon steel, this folding exercise bike can hold a sufficient amount of weight without breaking or making you fall. Moreover, its impressive magnetic flywheel lets you enjoy a noiseless ride while you burn some calories.
The user-friendly monitor displays all the required information you need to upgrade your performance in every training session. Moreover, the magnetic resistance levels allow your body to challenge itself and enhance the overall stamina.
However, while this bike is a tremendous possible purchase, it has a few drawbacks.
Firstly, the Birtech folding bike doesn't have wheels, so you will have to drag it from one corner to another. Moreover, even the highest resistance level fails to accommodate a user with muscular leg strength.
But, if you are a beginner, you may find this bike worth every pound.
Pros
Durable structure with ergonomic design
Magnetic flywheel for noiseless experience
Great display
Best to build stamina
Cons
Doesn't have wheels, so hard to move
Not suitable for regular gym-goers with a muscular body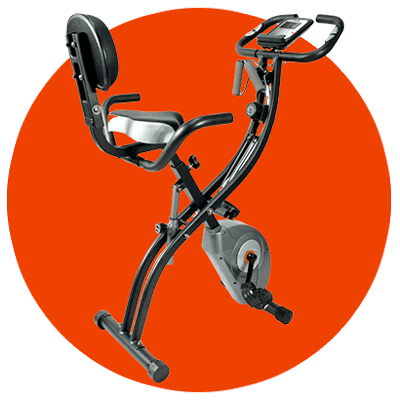 As AtivaFit is a renowned name in the fitness industry, we can't really miss their famous folding exercise bike on our list. The design of this machine follows the X-type physical concept, which ensures the bike stays stable and safe for all.
The AtivaFit F-bike has transport wheels that allow anyone to move it from one place to another comfortably. Moreover, when talking about resistance, this machine doesn't disappoint. It comes with eight levels of resistance that you can adjust easily.
The bike's flywheel runs through magnetic power and reduces the noise level to nil while you are training. This machine is a great option to purchase if you live in a shared apartment.
To ensure you stay comfortable on the bike even after an hour, the AtivaFit folding exercise bike comes with an oversized seat with a backrest. This feature makes it the ideal equipment for users who have severe back issues. The foam handles with rubber padding raise the bar of comfort and enhance a user-friendly experience.
With non-slip pedals, foot straps and resistance bands, you can feel your legs and arms push to their limits and enjoy a good training session. The AtivaFit comes with an LCD monitor that displays your heart rate, speed and distance covered. Moreover, it has a phone holder attached to its bottom to support your gadgets.
While it is an affordable folding bike and has all the great positives mentioned above, it may not suit an elderly user because of its weight. Moreover, it can only take 120kg of weight. Anyone above that mark won't find this bike helpful.
Pros
X-type design for better stability
Offers eight levels of resistance
Comfortable seat
Non-slip pedals and user-friendly foot straps
Affordable
Cons
Can't hold more than 120 kg
Not for the weak users
How to Pick the Best Folding Bikes In the UK
With a wide variety of unique folding exercise bikes available in the market, you may get confused and invest in something wrong. However, with this guide at your service, you may not make that mistake.
Here are few factors to consider before you purchase a folding exercise bike:
Height and Weight Capacity
Often one of the most ignored factors, the height and weight capacity of your exercise bike, matters a lot. Your chosen machine should be strong enough to handle your weight perfectly. If it is too light, you may break it just after short use.
Moreover, if you are too tall for the bike, you may have to bend your legs and hurt your knees to pedal with power. And if you are short, you may have to stretch your body every time to reach the bottom of the machine.
To save yourself from all these hurdles and painful experiences, make sure you buy a bike that has compatible dimensions.
Resistance
Don't forget to try out the level of resistance a bike offers. Some beginners may opt for a machine that provides an average resistance at the topmost setting. However, for pro enthusiasts, a unit like that may be too basic to train on.
If you have been a regular gym-goer for years, choose a foldable exercise bike with high resistance. This choice will help you challenge your body in a better way.
Portability
The point of purchasing a foldable exercise bike is to have a gym at home to wrap up as soon as you finish exercising. But you may have to move your machine from one point to another before you get ready to burn some fat in all this.
Your bike's portability depends on its material. For instance, steel machines are heavier than aluminium. So, if you are a small person who can't move much weight, you may want to consider a bike made with the latter material.
However, some heavyweight exercise bikes have wheels that ensure easy movement. In that case, the material won't matter much.
Folding Capabilities
If an exercise bike folds and converts into half its size, it is genuinely the one you should purchase. However, before making a choice, make sure it wraps up quickly without any struggle from your side. Convenient folding is a pretty vital factor.
Seat Design
You can't sit and exercise on any bike that has an uncomfortable seat. Who wants a sore back or hips after an hour of workout? No one!
In that case, you may want to look for a machine with padded and soft seats. Comfort is critical so that you can stay motivated every day.
Additional Features
Do you like having an LCD screen on your bike? Or love a bracket at the side to hold your gadgets? If yes, you may want to consider all the additional fancy features in a fold-up bike.
Price
Last but not least, the price of your folding exercise bike plays a significant role in making the correct decision. You can easily find a machine within your budget.
However, make sure it has all the necessary features essential for your comfort.
The Good Side of a Folding Exercise Bike
Here are some major benefits of owning a foldable exercise bike at home. While some are pretty obvious, others may surprise you a bit.
Great Machines for Beginners
Are you someone who hasn't exercised all their life but is now gaming up to change this habit? If yes, you may want to start with something easy to workout with, to stay motivated for long.
Considering you are just a starter, a foldable exercise bike will help you burn calories faster than you can imagine. It may won't challenge your body enough like many high-tech gym bikes but can keep you active throughout the day.
Perfect for a Low-Impact Training
If you are pregnant or ill or don't have a good fitness level, you may like to spend a few hours of your day on low-impact cardio training. A slight movement is better than no physical activity at all.
So, if you want to keep your heart healthy and body fit, a fold-up exercise bike can help you maintain good stamina without making you tired.
Doesn't Take Much Space
We understand most of us don't have enough space in our homes to design a big in-house gym. But that shouldn't be an excuse for you to do nothing for yourself.
If you can't go to a gym, you can keep a folding exercise bike at home and work out your muscles. Also, once you finish sweating your heart out, you can conveniently fold the bike and place it in a corner.
Moreover, since a fold-up exercise bike is pretty portable, you can use it to exercise in different rooms or corners of your apartment for a change. That way, you won't get bored quickly and enjoy burning some calories every day.
Keeps Your Heart Healthy
You can select the appropriate intensity for yourself and avail all the cardiovascular benefits while using a folding exercise bike at home. Start with low resistance and gradually increase the pace to improve your blood circulation.
Moreover, a healthier beating heart will transport higher oxygen levels to your lungs. This, in turn, will lead to an increased lung capacity and improve the flow of oxygen to other parts of the body.
Better breathing has miraculous advantages. You can do more physical work in less time without getting tired and feel energetic throughout the day.
Helps With Better Sleep
People who stay at home all day and don't work out find it hard to sleep at night. While many other factors also contribute to this problem, a lack of physical activity keeps your body awake, and your sleep clock disturbed.
Moreover, some people cannot sleep because of stress. It is again a common problem that requires therapy and meditation to solve. However, taking some time and pedalling your anxiety away on an exercise bike can help relieve your worries and push your stress hormones out of the body system.
Affordability
One of the best things about a folding exercise bike is that it is pretty affordable. This machine is available in different price ranges and comes with varying features.
If you fancy a bike with a limited design and functions, you can conveniently find it through a bit of research. Moreover, since it doesn't cost much, you won't regret buying a bike if your exercise schedule doesn't go as planned.
Most bikes come with console devices installed in them. If you like a high-quality bike and don't mind crossing your budget, you can buy one of these to keep you entertained during your training.
Best for Multiple Exercises
You can play around with a foldable exercise bike according to your fitness level. Also, you can add or less weight and resistance on your own. A folding exercise bike is an excellent equipment to challenge your capabilities and improve them for better performance.
Regular practice on an exercise bike at home can help you develop strength and increase your stamina to take up much more challenging exercises.
FAQ
By now, you may have enough information to assess what kind of folding exercise bike you want. However, if you have any further questions, go through the common queries below to find your possible answers.