Have you ever thought of buying a treadmill model with an appealing design and special functions? Of course, we all do, but it is often hard to find both these things in one unit.
However, the Reebok One GT40S is an exception. This treadmill has all of this and much more. So, if you want to initiate your fitness journey, hopping on this unit is a perfect way to start.
But first, it is vital to know everything, including the bad side, of this machine. After all, you need to have a clear picture before making a fair decision.
So, sit back and relax as in this article, we have reviewed the GT40S treadmill in detail. Here's hoping that you will be in a better position to analyse by the end of this writing piece.
Features
The Reebok One GT40S treadmill has a solid build and functions that can easily support your at-home workouts. In addition, it works as an effective unit with gym-like qualities, so you never feel the urge to go to commercial space for your workout.
Here are a few main features present in this unit:
Feature Highlights
2HP motor
Maximum Speed 16kph
12 incline levels
LCD console
MP3 connectivity
Built-in speakers
110 kg of maximum weight capacity
Running surface 51×17 inches
36 pre-set programmes
Auto-stop safety feature
Dimensions and Assembly
Here are the details of the Reebok GT40S treadmill's dimensions:
Size when not folded: H52xW33xD66
Folded size: H58xW33xD41
This treadmill model offers gym quality, so don't expect it to be lightweight. The unit weighs 75kg alone, and with a box, the weight increases. So, even if you have to pay extra, spend a little and request the company to deliver it themselves and then place the unit in its exact place.
Delivery and Setup
The delivery procedure is prompt and easy. Once the unit has arrived, you only have to do the basic assembling. For instance, you will just have to tighten a few screws and remove the safety caps.
The assembling process takes about 40 minutes only. Moreover, you can also go through manual instruction.
But unfortunately, it only contains a few illustrations, which many of you may find useless. However, you can visit the brand's store online to get additional help.
Console and Data Tracking
The Reebok One GT40S treadmill has a pretty large console. It has an easy and clear display that helps track all the necessary data such as pulse, distance, time, calories and speed. Besides, since the screen is sizeable enough, anyone with poor eyesight will find it easy to see their performance.
The display has a pretty user-friendly position. It is right in the centre, so even if you are working out under bright light, the readings on the console look pretty visible.
Right below the display are two built-in speakers. You can use an aux cable to connect your phone or MP3 player with them.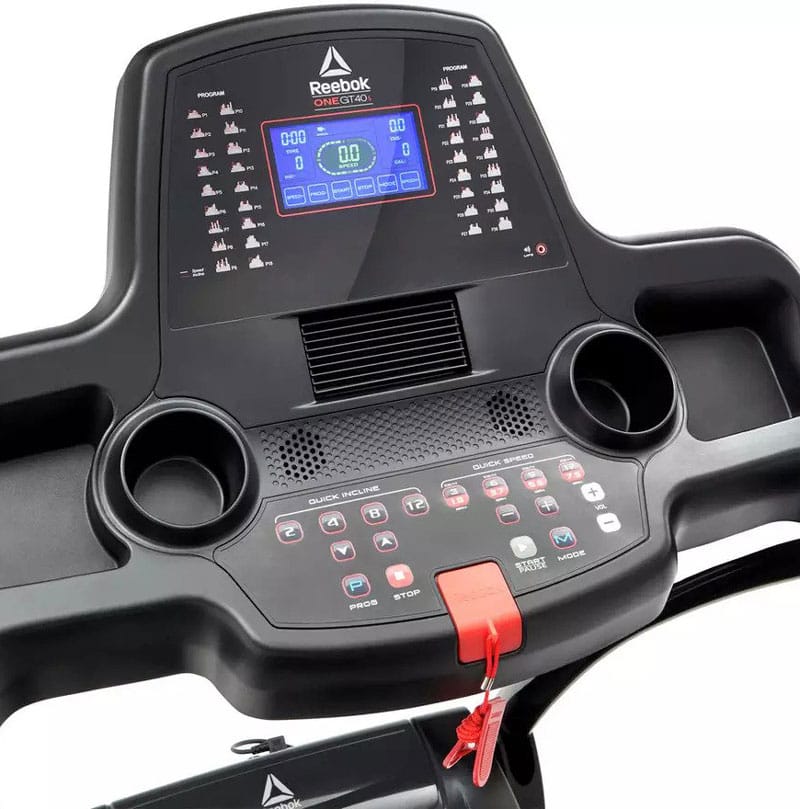 However, like most other Reebok treadmills, this model also doesn't have the facility of Bluetooth connectivity. So, if you are too fond of this technology, you may find it hard to work out on this unit.
On either side of the console are bottle holders and a tray to keep things like a towel. These features work pretty well for people who feel a lot sweaty and thirsty during their training. Access to water all the time means that you do not have to leave the treadmill in the middle of your strenuous training and rush to the kitchen for some much-needed H2O.
The treadmill's console has big buttons that have labellings so anyone can operate the unit using them. You can manually change the settings to increase or decrease your speed while running.
If you want to use the 36 pre-set programmes for a workout, you can play any available plan and track your performance on the bright console. The LCD screen displays your calories and speed and gives an idea of the challenges you might face next.
Speed and Incline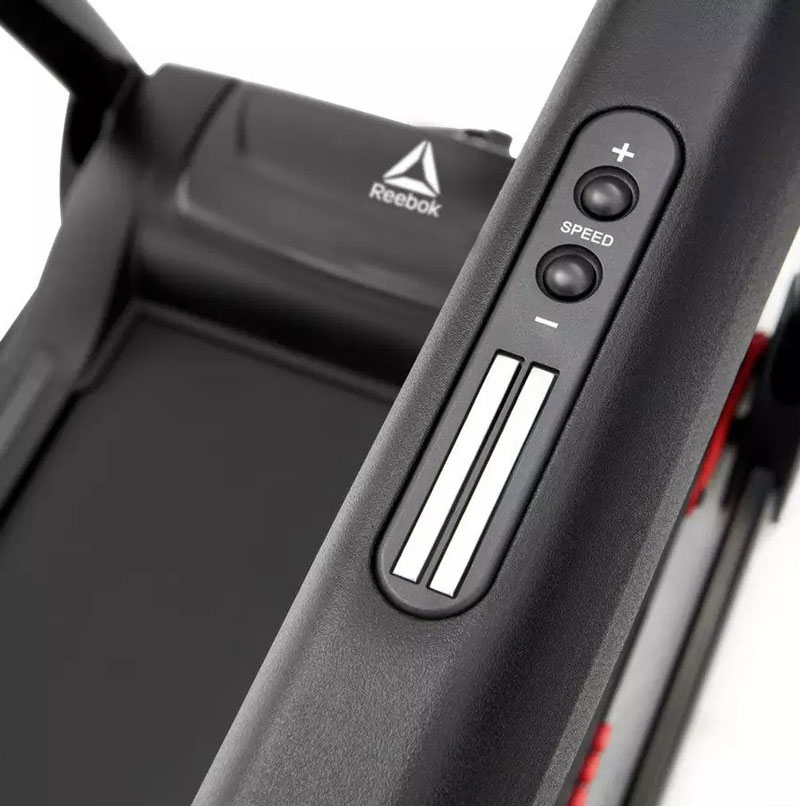 While talking about speed and incline, it is imperative to mention what the GT40S treadmill model offers.
The unit comes with 12 incline levels which you can change through the console. The settings allow you to shift gradually from shallow to steep inclines as per your comfort.
Since the incline is electronic, you can change it while running. This characteristic works well for pre-set programmes that fluctuate inclines automatically.
This treadmill has a 2HP motor which can help you enjoy a maximum speed of 16kph. The speed is quite adequate for long-distance running, and some of you may also find it challenging. If you want to create more hardship for yourself, simply increase the level of incline and run on the treadmill's maximum speed.
However, some professional runners might find the 16kph limit inadequate. And if that is you, you should invest in any other models available in the market.
As mentioned earlier, there are speed buttons on the console that can help you make any changes. But you can also find a few buttons on the treadmill's handrails that can help you decrease and increase your pace.
Noise
Reebok makes sure that all its treadmills perform quietly, and that's precisely the case with GT40S as well. As a result, this unit doesn't make much noise even at high speed. This characteristic helps you to perform on high levels of incline and speed without any distracting sounds.
Besides, you can comfortably work out at an odd hour without having a fear of bothering your neighbours or flatmates. Of course, noisy machines can also harm your focus, but with the GT40S, you won't have that issue.
Running Deck
The GT40S' running deck has a length of 51 inches and a width of 17 inches. Thus, the size of the deck is pretty adequate for all types of runners.
Besides, made with solid material, the deck can easily hold a maximum weight of 110kg at a time.
One of the most impressive features of this treadmill model is its unique cushioning system. As per experts, the cushioning absorbs shock and minimises pressure and impact on your joints. This feature works great for many long-distance runners.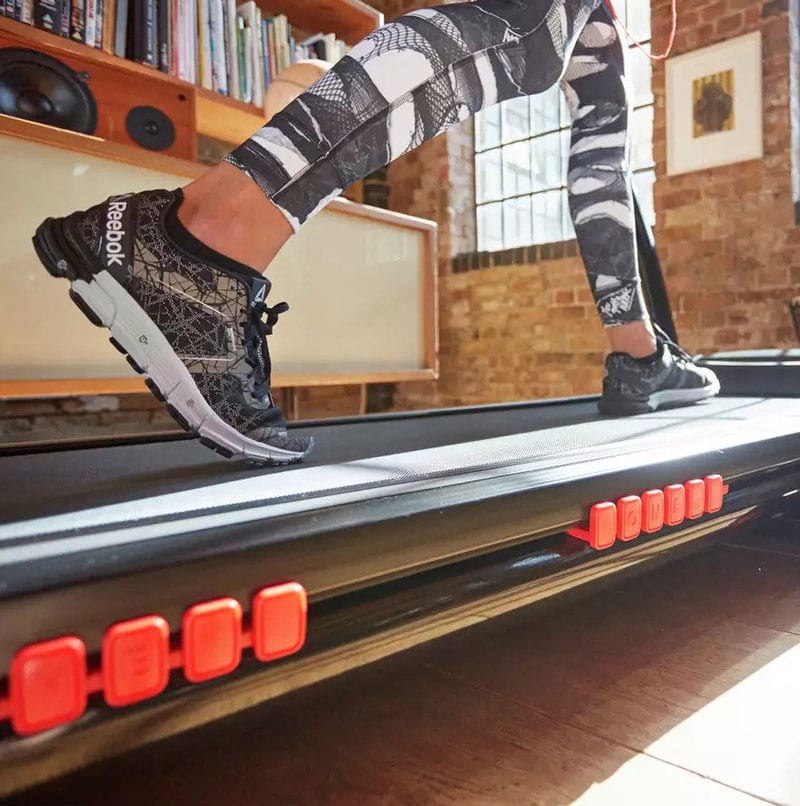 As per Reebok, there are three zones of the running deck, and each has cushioning pads. However, they have different designs and serve a unique purpose.
For instance, the front cushion supports you with a soft landing, the rear cushion pushes you to move faster, and the middle cushion helps you experience a smooth transition.
We think that this cushioning system increases stability and balance while you perform a run. Besides, with soft padding under your feet, you save your weak joints from jerks or unnecessary shocks.
Safety Features
This treadmill doesn't have many safety features, but it contains the auto-stop clip like any other Reebok treadmill model. This pin is usually attached to the treadmill's front through a magnet. When clipped on the clothes, the pin helps stop the machine if the user drifts apart or loses balance.
Other than this feature, the stable structure of the treadmill helps provide immense support to your body. In addition, the treadmill is made of solid materials with top-class durability so that no user suffers from an accident.
Moreover, since the treadmill comes with transport wheels, transferring the unit from one spot to another becomes less challenging or risky.
The cushion padding also plays a role when it comes to the user's safety. It reduces unnecessary pressure on the joints. Besides, even if you fall, the belt doesn't feel hard or painful on the body.
You can also use the handlebars in the front for support. By holding the treadmill's arms, you can gain balance and stay stable while the belt moves at a certain pace.
Warranty
Reebok offers an excellent warranty on its treadmills. This is why the brand's machines are one of the best in the market.
The Reebok One GT40S treadmill comes with a lifetime warranty on its frame. This fact is a reflection of the manufacturer's trust in the machine's durability and longevity.
This treadmill model also has a 2-year warranty on parts and a 10-year warranty for its motor. These tenures are also quite adequate and longer than what most other similar brands offer.
According to Reebok's return policies, you can return the treadmill if it fails to perform well. However, make sure to get this done within 30 days of delivery. Besides, ensure that the state of the machine is the same as it was in the beginning.
Reebok One GT40S Pros and Cons
While the above review should have helped you comprehensively analyse GT40S, we are sure you need a summary of all the pros and cons to make a quick decision.
So, without any delay, read the section below.
Pros
This treadmill is stylish and exhibits gym-like qualities.
It comes with a great console with easy-to-use buttons.
The assembling procedure is easy, and delivery is prompt.
This treadmill model comes with a powerful motor and 12 incline levels that makes workouts challenging.
You can use the machine whenever you like because of its low noise levels.
The cushion padding reduces impact and prevents your knees from any shocks.
This unit has two bottle holders and a tray to keep your towel.
The warranty periods of parts, motor and frame, are quite adequate.
One of the safety features, the auto-stop function, stops the unit and prevents injuries.
Cons
The GT40S doesn't come with a Bluetooth connection.
This treadmill model can't hold a weight above 110kg.
While it has transport wheels, the machine is quite heavy to move from one floor to another.
The unit comes with a useless manual that makes assembling a little tough.
Professional runners might find the 16kph speed limit inadequate.
It doesn't have a cooling fan.
Reebok GT40S Vs. Other Treadmills
You might have found many units that look pretty similar to GT40S, but they have varying prices. So what could be the reason behind this difference? Obviously, quality and some distinct features play a significant role in giving a unit a particular price tag.
The GT40S treadmill has two main competitors. While GT30 is its older version, the Jet 100 is another well-received Reebok treadmill.
Below is a detailed comparison of these three models:
Average Price
The average price of GT40S is £599.99, and the same goes for Jet 100. This price is quite reasonable. However, GT30 is only worth £350, which means that this model might be more affordable for people with tight budgets.
However, there are many other things that you might find in GT40S but may not in GT30.
Speed/Incline/Motor
As mentioned above, GT40S has a 2HP motor and can help you reach a maximum speed of 16kph. The same is true about Jet 100, but GT30 only has a 1.5HP motor. However, with a less powerful motor, it can still help you reach a maximum speed of 16kph.
But do you think that the process would be smooth? We highly doubt it!
Other Features
The GT40S treadmill model has two bottle holders and a tray to keep your essentials. But unfortunately, these features are missing in GT30.
Besides, when it comes to cushioning, the GT40S offers better quality than its predecessor. The same is true for the running deck and the console settings.
Final Verdict
The GT40S treadmill model by Reebok is a wonderful unit with gym-like properties. It is available at an affordable price but still offers impressive features that no fitness enthusiast can resist.
From an adequate running deck to good safety features, this treadmill model doesn't disappoint. While it is heavy, it does fold well to make space in your tiny apartment.
However, this treadmill is quite similar to Jet 100. Both of them are available at a similar rate and have almost the same features. So, if the manufacturer wants to increase the sales of GT40S, they will have to spend a lot on its marketing and advertising.