The Reebok Jet 300 treadmill is a durable machine with remarkable features. In addition, this machine exhibits a great structure and performance that any fitness enthusiast would find hard to resist.
However, like any other piece of fitness equipment, the Reebok Jet 300 treadmill also has some flaws. While they are not too major, it is vital to know about them before you make an investment.
So, if you are thinking of buying this unit in the next few days, dig in to find all the details about Jet 300 and then analyse its strengths and weaknesses.
Reebok Jet 300 Treadmill Features
The Jet 300 treadmill is a wonderful addition to Reebok's eminent Jet series. It comes with many unique features that you would hardly find anywhere else.
Below is a detailed explanation of its various characteristics:
Ease of Use
If you have used many treadmills before, you will clearly notice how the Jet 300 treadmill offers many user-friendly and easy-to-handle features.
For instance, the 27 pre-set programs are pretty straightforward and quick to change. Moreover, some generic requests such as controlling speed and changing the incline also don't take much effort. So even if you haven't used a top-quality treadmill before, you won't require a helping hand to operate this machine.
Secondly, the Jet 300 treadmill has a fan within its main display. You can turn it on while working out and feel the cool air clearing the warm sweat. This feature helps maintain your workout pace.
The machine comes with two cup holders that can work as your phone holder. Moreover, you can also keep your water bottle in them.
The cup holders increase convenience as you don't have to rush to your kitchen every time to fulfil your thirst. Moreover, they are unique as you won't find such cup holders in most Reebok units like the GT30.
When it comes to ease of use, we can't help but mention the transport wheels. One of the best features of the Reebok Jet 300 treadmills is its tiny wheels located at the base. These wheels help move the unit from one spot to another, which is excellent for changing the workout scene every day.
More Features
This unit has very simple program buttons. They are pretty similar to what you will find on a Jet 100. However, the buttons are bright and clear, so even first-time users or old runners can use them conveniently.
Lastly, the Jet 300 comes with built-in speakers that easily connect with your MP3 player if you love music. Don't expect too much from the sound quality, but having them is way better than working out with no music.
Console and Data Tracking
The Reebok Jet 300 treadmill has a sizeable 5.5 inches console. This beautiful screen displays all the essential feedback with great clarity.
You can know about your pulse rate, calorie count, and incline level. This console also displays diagrams that will inform you of a particular program's progress.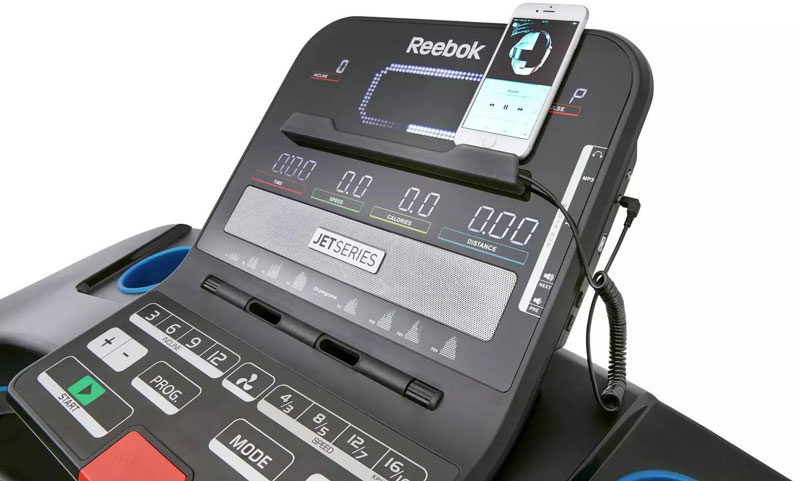 Unfortunately, this machine features integrated Bluetooth, which implies that you can't connect the Jet 300 treadmill to the Reebok Fitness Equipment App. The absence of a Bluetooth connection does create a problem for people who wish to connect the machine with their tablet or mobile phone to enjoy the music or movie of their choice.
Motor and Horsepower
This machine runs on a big 2.5HP motor which can easily move this machine to a speed of 20kph. That's quite commendable, and runners with great stamina and experience would love to spend time on this unit.
The motor helps you to reach maximum speed across 15 different incline levels. In addition, the electronic incline offers various workout experiences and challenges your body to build an endurance base. As a result, you burn more fat and calories that help you achieve your fitness goals.
Noise
According to experts, the noise levels of this unit fall below Jet 100. Moreover, it is safe to say that the Reebok Jet 300 treadmill is among the lowest noise-producing machines available in the UK and worldwide. That's quite fantastic news for people who work out in a shared gym or live in a small apartment with thin walls.
Durability and Structure
You will find the Jet 300 treadmill's structure quite slim than many other treadmills. Moreover, since it is made of hard plastic, you won't face any issues with its durability.
The unit exhibits a modern design made with advanced technology. As a user, you will experience entertainment, safety, and fitness by running on this unit. Moreover, with a comfortable running area, people with all body types will have a chance to attain their workout goals.
Another thing that makes the Jet 300's structure stand out from the rest is its folding mechanism. The addition of the soft-drop property takes care of space efficiency. So, even if you are running short on storage space, you can fold this treadmill and adjust it in a room's corner.  
To sum it up, this treadmill is made from the most excellent parts and materials. Moreover, it has a robust structure that is pretty long-lasting.
Tread Belt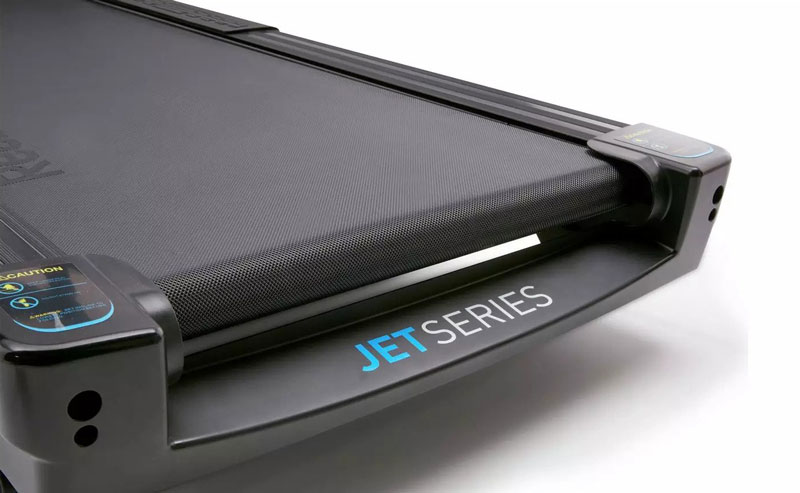 The tread belt of this treadmill has a dimension of 59*20 inches. A high-quality material has been used to give this belt an excellent shock absorption quality.
The Jet 300 treadmill also has spring plates that help to reduce impact and absorb shock while you are running. However, if you suffer from extreme joint pain, we would recommend you to talk to your GP before using any treadmill.
Safety Features
When choosing a treadmill for your workouts, it is imperative to buy one that comes with many safety features. After all, no one wants to experience an injury just because of improper support or a broken belt.
The Reebok Jet 300 treadmill comes with a variety of safety features. For instance, the auto-stop function allows the machine to stop automatically.
There is a red cord fixed on the unit's front that you can clip on your cloth. When pulled, the cord removes the magnet, and the machine will make an emergency stop.
Air Motion Technology adds value to the overall performance of the belt. This feature reduces impact and helps create a smooth running experience. As a result, you can conveniently use the treadmill for interval training or a steady workout without overusing your joints or muscles. 
This technology is also present in Jet 100, but here, it feels softer and efficient. Moreover, since the running track of Jet 300 is wider than Jet 100, it gives better protection and enough area to work out.
Additional Modes
The Jet 300 doesn't come with any other additional modes, but the console is a seven window display accompanied by a heart pulse sensor. This device helps measure your live heart rate and then shows it on the screen for your knowledge.
Decline and incline levels are quite helpful in achieving new targets and making the user feel motivated for all the challenges.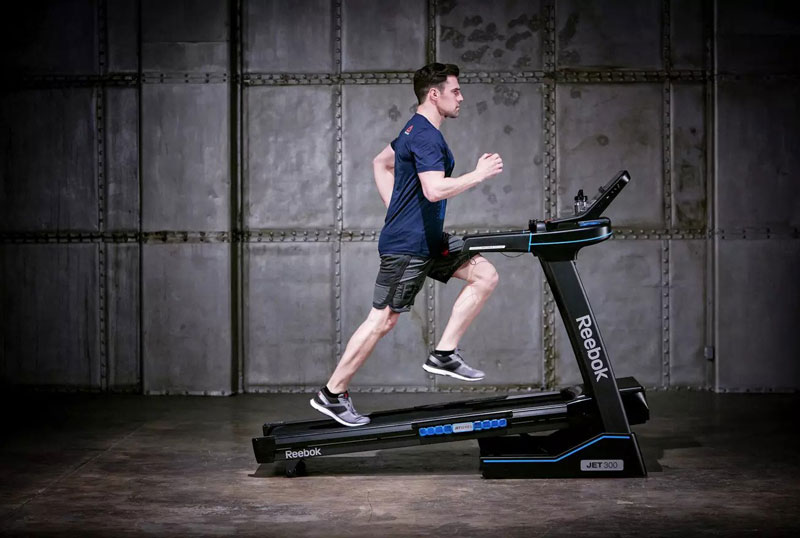 Reebok Jet 300 Warranty and Return Policy
Reebok is quite famous when it comes to providing excellent customer support and warranty. For the Jet 300 treadmill, Reebok provides a lifetime warranty on its frame. This clearly depicts the overall quality of this unit.
There is a 10-year warranty on the treadmill's motor and a 2-year on all labour and parts. 
The delivery policy of Reebok is also quite simple. You can return the unit within 30 days from the delivery date.
While doing so, make sure the treadmill is in perfect condition. Moreover, the representative of Reebok will perform an analysis before taking the treadmill back.
Reebok Jet 300 Treadmill Pros and Cons
Here is a summary of all the positives and negatives of this machine:
Pros
Comes with a durable structure
Has a great weight capacity
Runs on a big motor and offer 15 incline levels
Equipped with many safety features such as the Air Motion Technology
Comes with wheels for transport
Foldable design
Cons
Doesn't have an edgy LCD
Lacks a stylish structure
Expensive treadmill
May not suit people who want to use the unit only occasionally
Delivery and Setup
If you hate assembling big machines or do not have enough support to help you, the Jet 300 treadmill is an excellent investment for you. The unit is delivered as a ready-to-use unit and comes as 95% assembled. So, you will only have to make the minimum and basic adjustments before you step on it.
Since it is delivered as an already folded and compact unit, you don't have to arrange a proper area on its arrival. 
Here is basic information on the dimensions to give you a clear idea of what to expect from the machine's structure.
The packaged treadmill weighs 95 Kg and has dimensions of 81 x 35 x 15 inches.
The folded dimension of the Jet 300 is 64 inches in height, 23 inches in width, and a diameter of 45 inches.
Reebok Jet 300 Vs Competitors
The Afton Sole F63 treadmill is quite similar to the Reebok Jet 300 in many ways. This fact makes these two quite great competitors. However, if you are confused about choosing one, we would recommend the Jet 300 treadmill any day.
The Jet 300 comes with many pre-set programs that are not present in the F63 treadmill. The latter only has only five manual programmes and four customised.
Besides, the Jet 300 has popper cushioning to reduce the impact which is great for people with arthritis or mild joint pain.
Moreover, the Afton Sole F63 treadmill also doesn't come with a fan. Also, it doesn't fold, which is a significant design loophole for people living in small apartments.
While the Afton Sole F63 has a bigger and powerful motor, it doesn't offer an excellent maximum speed as Jet 300 does.
However, Afton Sole F63 has a weight capacity of 360 Kg, which is quite more than what Jet 300 can handle. In addition, the average price of Jet 300 is £849.99 but Afton Sole F63 is available for £811.
Both Jet 300 and F63 are designed for domestic use. However, when it comes to value for money, Jet 300 doesn't disappoint its users.
Reebok Jet 300 Vs. Other Reebok Treadmills
While the Jet 300 is an upgrade of Jet 100, there are not many differences between the two. For instance, the Reebok Jet 300 treadmill is a few inches longer than Jet 100 as the former's length is 75 inches and the latter is 67 inches long.
Besides, Jet 300 offers much better maximum speed and has more weight capacity than Jet 100. The jet 100 has a user capacity of only 110kg.
The Jet 300 treadmill has a bigger console, three more levels of incline, and a much effective motor. 
The price of Jet 100 is £599.99, much less than Jet 300 treadmill. 
Similarly, when compared to the Reebok Jet 200 treadmill, we do find a few differences here as well. For instance, Jet 200 is designed for commercial and domestic use, while Jet 300 is mostly considered appropriate for domestic use only. 
Besides, the Reebok Jet 300 treadmill offers a foldable structure, but this prominent design feature is missing in the Jet 200 treadmill. Moreover, the running surface area of Jet 200 is also smaller than that of Jet 300. For instance, the surface length of Jet 300 is 59 inches while the same length of Jet 200 is 55 inches.
However, the average price of Jet 200 is only £699.99, which is also quite less than Jet 300.
There is also a Reebok Jet 300+ that has a similar motor to a Jet 300. However, it comes with more pre-set programmes and a much better touchscreen display. So, if these factors affect your performance, you may want to go for 300+ rather than a Jet 300 treadmill.
Reebok's GT30 treadmill is also quite famous among fitness enthusiasts. However, when compared to Jet 300, the GT30 doesn't have a powerful motor. Moreover, its user weight capacity is also pretty low, which is only 110Kg.
The Reebok ZR9 treadmill has a great console and adequate weight capacity. But it has only 12 incline levels and fewer pre-set programmes than the Jet 300 treadmill. Besides, it has a concise workout deck and may also require some degree of assembling on arrival.
Overall, the Jet 300 treadmill looks pretty great, but it is a costly unit. It is more expensive than Jet 100 and Jet 200 treadmills.
So, buy this machine only if you have a good amount of savings and are adamant to use this unit regularly.
Verdict
So, what do you think? In our opinion, if you haven't used a treadmill and this is your first time, go for the Reebok Jet 300 treadmill. This machine works best for both beginners and expert trainers.
This option also works if you have already used many treadmills and want something solid. 
You might have to pay a little extra for its top-quality motor and high-performing features. But, believe us when we say that every pound spent on this unit would be worth it.
The Reebok Jet 300 treadmill is an overall great machine that will accompany you on your daily workouts. So if you aim to lose weight, look nowhere and step on the Jet 300 treadmill to witness a tremendous body change.